Ailing Marv Marinovich Should Have Realized He Had a Son, Not a Science Project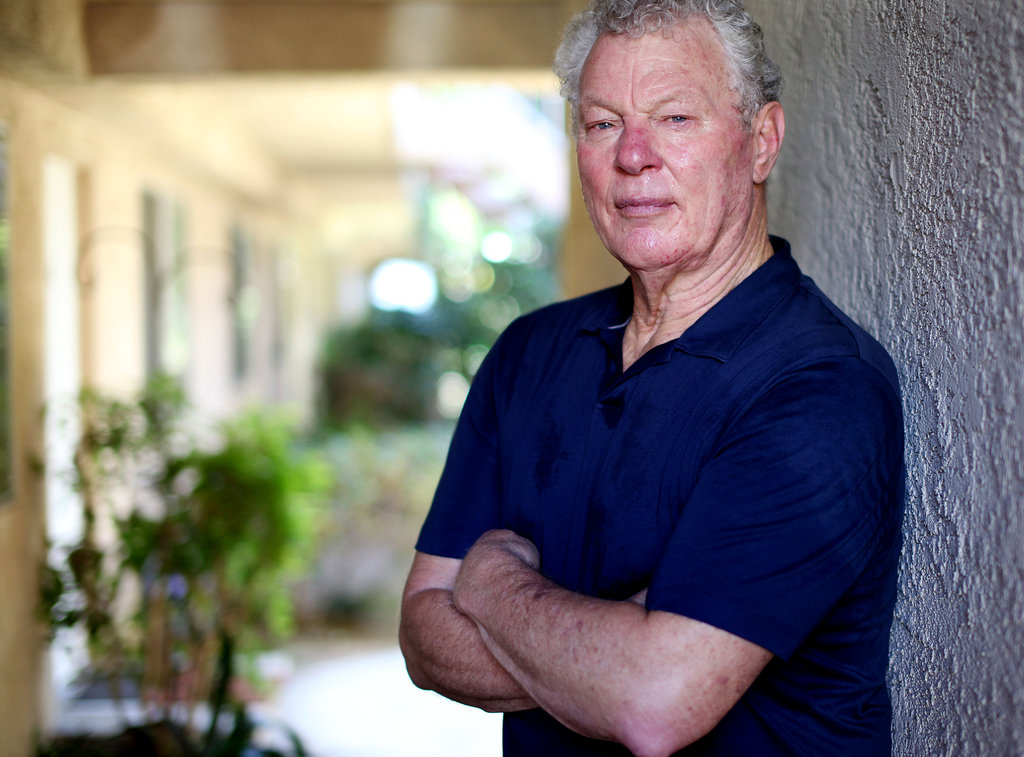 The father, now 79, has a memory being wiped slowly clean by the ravages of Alzheimer's disease, so perhaps he remains oblivious to the horrific damage done to his family by his selfish if perhaps well-intentioned plan for creating an athletically flawless son. Then again, human history should have alerted Marv Marinovich to the folly of conducting scientific experimentation in flesh and blood, an exercise in self-aggrandizement periodically repeated by tyrants and madmen who thought it was all right for them to attempt to play God. The difference is that slaveholders intent on breeding their fittest specimens like cattle, and Hitler's blueprint for creating a master race through a form of mass murder known as ethnic cleansing, did not involve the ongoing infliction of abuse and paralyzing pressure upon someone the obsessed experimenter purported to love more than anyone or anything.
Maybe Marv Marinovich really has loved his son, Todd, now 49, whom the father was always intent, even before his wife's pregnancy, on making not just into a quarterback, but one crafted over time to someday represent perfection at the position. But it was not simply for Todd Marinovich's own sake that so much time, effort and money was poured into an ultimately failed project; the companion goal all along was for Marv to be recognized and hailed as the genius he imagined himself to be.
The sad, tragic saga of the Marinoviches has been examined at length at various stages, through alternating moments of giddy highs and plunging lows. But the full extent of what went wrong has been laid bare in the current issue of Sports Illustrated, in a lengthy article authored by Michael Rosenberg. Entitled Learning to be Human, it is a follow-up to a similar SI story, Bred to be a Superstar, that appeared in the magazine's Feb. 22, 1998, issue. Twenty years ago some particulars of Todd's slide from grace, a downward spiral that saw him go from a first-round draft choice of the then-Los Angeles Raiders in 1991 (he was selected ahead of some guy named Brett Favre) and even deeper into drug addiction, were mentioned, but so too were elements of the big lie that still persisted at that time. If Todd had not capitalized as much as he might have on the advantages afforded him by his tunnel-visioned and deep-pocketed father, then at least some of the blame had to be his own fault, right?
Genetically well-suited for the kind of success plotted by Marv (more on that later), and relentlessly poked and prodded by the 14 specialists employed by the father, including biochemists and psychologists, to help squeeze out every ounce of the kid's performance potential, Todd eventually was done in by a more gentle side of his nature.  An introvert, he liked football well enough, but he found a more satisfying way of expressing himself through his fine art studies at USC.  Then again, Marv hadn't set out to create an improved version of Picasso or Monet, and try as he might no amount of parental bullying was going to instill into the son the same competitive fire that was forever raging inside Daddy Dearest's internal blast furnace. It therefore should not have come as a shock to the psychologists on Team Todd that the young man nicknamed "Robo QB" began self-medicating himself in high school with all manner of pharmaceutical substances, eventually graduating from marijuana to cocaine, LSD and heroin while at USC.
As recently as eight years ago, an emotionally wrecked Todd still was delusional enough to parrot the key element of the big lie, that he had been a willing and even eager participant in a joint venture with his control-freak father that hadn't really been foisted upon him since birth. "Someday people will realize what a genius you are," Esquire quoted him as telling Marv.
But now those segments of the big lie that haven't already been exposed as false are being revealed for what they were. The oft-repeated mantra that Todd had never consumed any unhealthy fast foods, carbonated beverages or desserts with refined sugar? The kid greedily gorged on Big Macs and Oreos slipped to him on the sly by his maternal grandparents, who wanted the boy to enjoy some small semblance of a "normal" childhood denied him by the son-in-law they also had come to fear. The whopper of a mendacity that Marv, under the guise of raising his only son with a brand of tough love that never crossed the line into brutality? The reality was that Marv smacked Todd around as if he were a sparring partner who was never allowed to strike back or even brook dissent. All it took to initiate a beating was for Marv to determine that Todd had not performed perfectly in that particular day's practice or game, and he never did, at least not to his demanding father's satisfaction.
As the father of two children that he fears he never will be able to raise as well as he knows he should, given that his own life is a perpetual morass of personal weaknesses and jagged scars upon his psyche, Todd at least has come to terms with the realization that continuing to repeat the big lie does no one any good. He now describes his father as a "raging beast" whose dictums he was powerless to reject or resist.
Only some of the facts of the Marinoviches' tortured relationship were available to me when I interviewed Marv, who then was training MMA superstar BJ Penn, in advance of Penn's main-event bout against Kenny Florian for UFC 101 on Aug. 8, 2009, the first such event to be held in the Wachovia (now Wells Fargo) Center in Philadelphia. Penn – who forced Florian to tap out on a rear-naked choke hold in the third round – was effusive in his praise of Marv's somewhat unorthodox techniques.
"Everything happens the way it should. If I had won my last fight (a fourth-round stoppage loss to Georges St. Pierre in UFC 94 on Jan. 31, 2009), I probably wouldn't have wound up with Marv," Penn said. "But being that I did lose, I started thinking about going in another direction. I was frustrated; some people were beginning to question my desire.
"Then some buddies of mine introduced me to Marv, and it's like losing my last fight was a blessing in disguise. I've always trained hard, but I trained like everyone else trained. Marv has opened my eyes to a different way, a better way."
The Marv I interviewed then – by phone, as he had not traveled to Philadelphia with Penn – did not come across as a raging beast. Then again, Penn was merely his client, not the son whom he was doggedly determined to make over into his own image.
"BJ had some definite physical weaknesses," Marv pointed out. "If you compete with weak links, you have to compensate and maybe even overcompensate for those problem areas. It can lead to injuries and stamina issues. Without question it can and does affect overall efficiency.
"They say athletic training in the past was prehistoric. I think it's still prehistoric. Coaches in all sports – basketball, football, baseball, whatever – still believe the ability to lift heavy weights slowly is going to make you explosive and fast and increase limb speed. Nothing can be further from the truth. That's why you don't see boxers do traditional weightlifting. All that does is slow down the rate of muscular contraction. Bench-pressing, squatting and dead-lifting not only puts your body out of balance, it destroys limb speed. If you want to jump high and run fast, lifting heavy weights is not the answer. But people over here (in America) still think that it does. You've got strength-and-conditioning coaches all over the country who cling to the old methods."
The training methods espoused by Marv Marinovich leaned heavily toward those devised by his counterparts in Soviet Bloc countries, which is hardly surprising. His over-the-top obsessive-compulsive personality might owe in large part to genetic makeup; his Croatian grandfather, J.G. Marinovich, is said to have been in the Russian Army and overseen the battlefield amputation of his own arm. Marv thus was raised to believe that he was from a line that was tougher than tough, so therefore his mission in life was to perpetuate the family tradition of absolute dedication to whichever task its members sought to undertake. And for Marv, the path to the higher purpose that defined his existence was on a football field. He was a starting guard on the USC Trojans' undefeated national championship squad in 1962, a relentlessly driven and vocal leader so intense that his teammates voted him "most inspirational."
It hardly mattered to Marv that his own NFL career with the Oakland Raiders lasted only three disappointing seasons and was marked by frequent injuries stemming from overtraining. He simply would funnel all the hopes and ambitions he once reserved for himself into the son he knew would be special, having specifically selected a USC swimmer, Trudi Fertig, as his bride not only because of her athletic  makeup but because she was the sister of his Trojans teammate, quarterback Craig Fertig. How could Marv's yet-unborn son be anything but great with all that going for him, and especially with the expert technical assistance Marv planned to introduce into the child's upbringing?
"It's very sick," Marv's other child, a daughter, Traci, whom he shamefully neglected while solely focusing on Todd, said of a dysfunctional family dynamic that saw the father's volcanic temper erupt with disconcerting regularity. It was one thing for Marv to lash out at strangers with balled fists, quite another when he took out his frustrations on Todd and Trudi, whom he once picked up and threw across a room onto a dining room table. The couple divorced in 1985.
So immersed in the notion of athletic dominance within his family circle was Marv that, when Traci got married in 1988, he refused to give her away and almost skipped the ceremony. His objection: Traci's fiancé, Rick Grove, was not athletic enough. Marv even refused to shake his new son-in-law's hand, or to be there for the births of the three children that Traci bore.
Imitation being the most common form of flattery, you have to wonder what might have been the result had an undamaged Todd blossomed into the superstar quarterback he was supposed to become instead of the drug-addled head case that now stands as a cautionary tale to all fathers who might otherwise be inclined to follow the Marv Marinovich playbook in the raising of their children. Even as Todd was refining his footwork and arm-angle release of his passes under the watchful eye of the experts brought in by Marv, the Robo QB was emotionally coming apart at the seams, an inevitable dissolution which must have been apparent to everyone but his father. Todd played only eight unspectacular games over two seasons with the Raiders prior to his release, and in 2004 the editors of ESPN.com placed him fourth on their list of all-time sports flops. One ESPN columnist absolved Todd of at least some of the blame, chastising Marv, with ample justification, as one of the worst sports dads ever.
While the road to ruin trod by the Marinoviches – forget football stardom, Todd may never become a fully functional human being and the Alzheimer's-stricken Marv no longer can bathe himself without assistance or control his bodily functions – represents something of a worst-case scenario, theirs is a story that was, is and again will be played out by others, more than a few of whom have ties to boxing. It is a fine line that separates necessary commitment to the achieving of a goal and borderline insanity, and examples of those who tight-rope walk along that border are legion.
The pitched battles between International Boxing Hall of Famer Wilfred Benitez and his trainer-father, Gregorio, are the stuff of legend and caused Teddy Brenner, the late, great matchmaker at Madison Square Garden, to weigh in on a topic of eternal interest. Just who does or should run the show once a son, so used to acquiescing to his father's unyielding discipline, decides he must live his own life?
"I've noticed it since (Wilfred) won the title and people began to pat him on the back and he realized he was an individual," Brenner said. "Rebellion sets in. It happens all the time in the boxing business between father and son. Never fails."
Former heavyweight contender Gerry Cooney, now 62, had an ironworker father, Tony, whose  implementation of parental authority was nearly as stern as Marv Marinovich's, minus the bloated crew of technical advisers. Author Charles Euchner, in an article entitled The Rise, Fall and Redemption of Gerry Cooney, examined the conflict faced daily by young Gerry, a gregarious sort who long sought the love of his dad, who either chose not to acknowledge his son's needs or didn't know how to.
"Sons with troubled relationships with fathers struggle to develop their own identity," Euhner wrote. "They desperately want attention and approval, but they also want separation and independence. When they get too far away, they veer back toward their dads, no matter how much pain they get for the effort."
Said Cooney, of his subsequent battles with depression, alcoholism and drugs, twisted relationships and squandered possibilities: "(Tony) would belt me with his hands, his belt. How do you do that to your kids? He drank and was very physical. He kept us under control. He kept us (Gerry is one of Tony's eight kids, including three brothers) separated. We all had different hiding places. Mine was in the basement."
It is a terrible thing when a bond that should have been based in love takes on the trappings of hatred, even if the end result is not always totally negative. Rosalio Pacquiao, father of Manny, took his son's dog away from him, cooked it and ate it in front of him, inciting a traumatized Manny years later to run away on a ship headed to Manila where he turned to boxing; Fernando Vargas and James Toney so detested their absentee fathers that they imagined every opponent to be the man who had abandoned them, further fueling their desire to inflict beatdowns; and Shane Mosley, Roy Jones Jr. and Floyd Mayweather Jr. all fired their trainer-dads.
Nor is Marv Marinovich's smothering obsession a detrimental trait exclusive to fathers who were absent the day patience, understanding and compassion were handed out. Masha Godkin, now a psychologist specializing in counseling performers, remembers what it was like to be constantly dragged to auditions by a stage mother who wanted to live out her dreams through a daughter who simply wanted a regular childhood.
"I felt if I didn't get roles, I wasn't good enough," Godkin said. "Everything revolved around pleasing my mother. She wanted to be an actress. She assumed I did, too."
Few if any magazine articles about sports are as significant as the one about the Marinoviches. After all, what is the most important job any man can have? President of the United States? Well, maybe. But with the possible exception of confirmed bachelors with playboy tendencies, for most males it is the linked responsibilities of being a husband and father. As the former for 50 years, and the father of four children (two sons and two daughters), I know I have not fulfilled those duties as well as I might have, but I hope to God I have met at least an acceptable standard in each instance. Both my sons are around Todd Marinovich's age. I count myself fortunate that they sought and found their own path, and not one I attempted to force upon them.
Bernard Fernandez is the retired boxing writer for the Philadelphia Daily News. He is a five-term former president of the Boxing Writers Association of America, an inductee into the Pennsylvania, New Jersey and Atlantic City Boxing Halls of Fame and the recipient of the Nat Fleischer Award for Excellence in Boxing Journalism and the Barney Nagler Award for Long and Meritorious Service to Boxing.
Check out more boxing news on video at The Boxing Channel
To comment on this article in The Fight Forum, CLICK HERE
The Avila Perspective, Chap. 43: Welterweight Wars Coast to Coast and More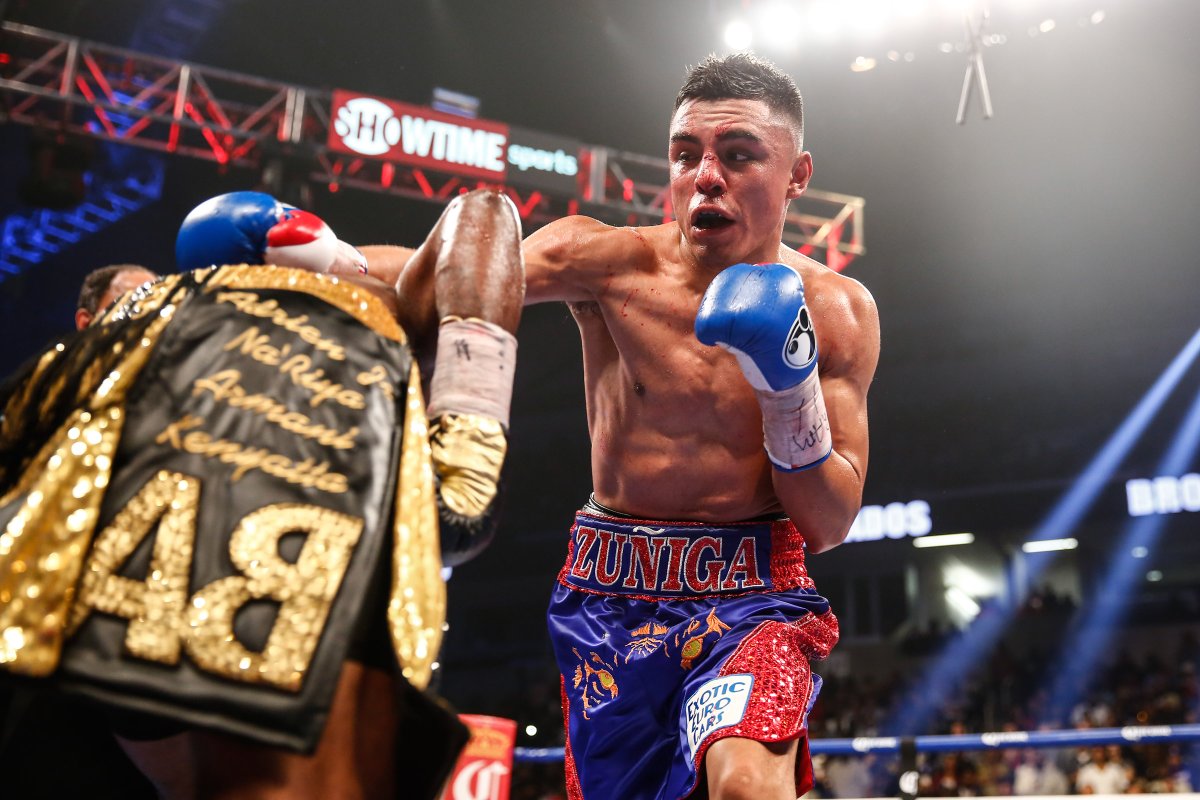 In a twisted development a couple of East Coast guys are headed to Los Angeles to battle while another pair of West Coast guys are headed to New York City.
Makes sense I guess.
Former two-division world champion Danny "Swift" Garcia of Philadelphia faces Adrian Granados of Chicago at the Dignity Health Sports Park in Carson, California on Saturday April 20. The PBC card will be televised by FOX.
Dignity Health is the new name attached to the complex formerly known as the StubHub Center and before that it was the Home Depot Center. Ironically, Dignity Health owns most of the cemeteries in Southern California.
Is that an omen?
Garcia (34-2, 20 KOs) is a counter-punching Puerto Rican who needs someone to fight that's always on attack mode in order for him to shine. When he's matched with another counter-puncher the crowd goes to sleep.
That's where Chicago Mexican Granados (20-6-2, 14 KOs) fits in.
Granados (pictured) has never fought in a snoozer in his life. He probably kicked his way out when he was born. In fights against slow developers like Adrien Broner and Felix Diaz he made them fight for their lives. If this were ancient Roman times he would be fighting in the main event armed with a tooth pick against a lion. Blindfolded.
But he's weary of being labeled as merely an entertaining fighter.
"I'm tired of it," Granados, 29, said. "I want the title or I'm out of here."
World titles are something Garcia knows about. He's held the WBC and WBA super lightweight titles and the WBC welterweight title. In unification clash with Shawn Porter last September he lost by a razor close decision. He feels naked without a strap around his waist.
"I'm going to make a statement," said Garcia about his pending battle with Granados. "I definitely want a rematch with Shawn Porter or Keith Thurman."
Granados eyes Garcia with slight envy whenever they're in the same room.
"I'm trying to cash in baby," said Granados. "I just got to go in there and do my thing."
Another interesting bout on the PBC card includes undefeated Brandon Figueroa (18-0, 13 KOs) a southpaw super bantamweight fighting Venezuela's Yonfrez Parejo (22-3-1) for the interim WBA title. The actual titleholder is Los Angeles fighter Danny Roman who fights next week at the Inglewood Forum.
Other fighters of interest are Andy Ruiz, Alfredo Angulo, Omar Juarez and Carlos Balderas. It's an extremely long card and begins at 3 p.m.
Friday is Thompson Boxing
Headlining a boxing card at the Doubletree Hotel in Ontario, California is featherweight Erick Ituarte (20-1-1) versus Jose Estrella (20-15-1) in a 10-round main event. Ituarte is the stablemate of WBA champion Danny Roman. Estrella hails from Tijuana and has fought some tough customers like Miguel Marriaga and Christopher Diaz.
The Thompson Boxing Promotions event also features a solid looking welterweight Richard Brewart (4-0) against Vincent Morales (2-2-2) in a four round bout. Another interesting fight showcases Uzbekistan's Murodjon Akhmadaliev (5-0) a southpaw slugger trained by Joel and Antonio Diaz in Indio. The lefty faces former world title contender Carlos Carlson (23-5) in a super bantamweight clash.
Thompson Boxing always delivers solid boxing cards and you never know which new boxing jewel will be discovered by them. They have a 20 year history of finding outstanding talent. You can also watch it streamed on Thompson Boxing's page on Facebook.com.
Doors open at 6:30 p.m. For more information call (714) 935-0900.
New York Card
If you plan on staying home on Saturday night a solid fight card at Madison Square Garden features a welterweight world title fight between WBO titlist Terence Crawford and former two-division champion Amir Khan. It will be shown on ESPN pay-per-view at $59.95.
It's a loaded card with Top Rank unfurling its best. Of course the best is Crawford who in my opinion is the top fighter pound for pound. And I was a late convert.
Nebraska's Crawford (34-0, 25 KOs) is based in the Midwest and heads east to fight England's Khan (33-4, 20 KOs) who trains in California. They're fighting for the WBO title and it should be a very good fight.
Khan has always been a favorite of mine. He's blessed with speed and agility and also has a lot of guts. Not just because he fought Saul "Canelo" Alvarez at middleweight, but because he's a true prizefighter looking for the biggest fights in the world. He's been criticized by his own countrymen for not fighting some of his fellow Brits, but Khan looks at everything globally, not nationally. He especially wants fights that Americans want to see. They want to see this fight.
"I wanted this fight because I wanted to fight the best. Terence Crawford presented the greatest challenge to me at this point in my career. Listen, the Kell Brook fight was there, but fighting Terence gives me the opportunity to show I am a pound-for-pound fighter," said Khan.
Of course thousands of Brits will be flying across the Atlantic Ocean for a glimpse of this showdown. First because it's New York, second because it's boxing and Brits love boxing. Gotta love them Brits.
Crawford, like Khan, is blessed with speed and agility too. And he also has several ways to attack. He's not a one-dimensional fighter. He's like a jazz musician; he can take it wherever it needs to go. Whether its hip hop or improvisational he can easily slip into another tempo. That's his magic.
"Amir Khan is undefeated as a welterweight and can't be underestimated. He has great hand speed, movement, and some power as well," said Crawford. "I want to showcase all of my talents in this fight."
Keep your eyes open in this fight.
Other bouts on this high quality fight card:
Top Rank has a couple of their prospects jumping up to face contenders. First you have Shakur Stevenson (10-0) meeting former world title challenger Christopher Diaz (24-1) of Puerto Rico in a 10-round featherweight clash. If it were any other prospect I might say the kid is moving too fast. But Shakur has eye-popping talent.
Another prospect going against a contender is Brooklyn's Teofimo Lopez (12-0) meeting Finland's Edis Tatli (31-2, 10 KOs) in a lightweight match. Lopez, 21, already has fought in three 10-round fights and has the NABF and USBA lightweight belts. Tatli has the EBU lightweight belt. Whose belt means more in this fight?
Puerto Rico's highly touted Felix Verdejo (24-1,16 KOs) lost a year ago to Mexico's Ines Lozada Torres by knockout. Then he returned to win by knockout last November. Now he's back against a tough customer in Bryan Vasquez. It's not an easy fight for either fighter.
Verdejo was Top Rank's golden child a couple of years ago and ran into some personal problems before running into Lozada's fists. Now he has Vasquez, a slick fighting Costa Rican who arguably could have won a world title had he been given the decision after fighting Raymundo Beltran two years ago. Beltran won by majority decision that night in August 2017, then proceeded to win the WBO lightweight title against Paulus Moses. That could have been Vasquez's title.
It's a strong boxing card.
Lights Out
Next Thursday on April 25, former middleweight, super middleweight, light heavyweight, cruiserweight and heavyweight world champion James "Lights Out" Toney will be the honored guest at the Golden Boy Promotions boxing card at Fantasy Springs Casino in Indio, Calif.
Toney spent the last 25 years in Southern California where he first trained at the Wild Card Boxing gym in Hollywood. Over the years he became one of the most popular prizefighters by fans who loved his aggressive style and off-the-charts boxing skills. The Michigan native had more than 90 fights as a professional against some of the best to ever put on gloves.
Many boxing writers, including myself, consider Toney one of the best, if not the best prizefighter in the last 60 years. He's beaten some of the best in the business and performed at a high level for decades in classic fights. Among the gems were his knockout wins against Michael Nunn, Tim Littles, Vassiliy Jirov, and Evander Holyfield.
Toney, 50, will be available to sign autographs and take photos with fans. Be sure to be there and meet the great multi-division champion.
One of the featured fights is Oscar Negrete (18-1-1) in a rematch against Joshua Franco (14-1-1) who fought to a draw last October. It was one of the best fights of the year. The NABF bantamweight title is the prize.
For tickets or information call (800) 827-2946.
Check out more boxing news on video at The Boxing Channel
To comment on this story in The Fight Forum CLICK HERE
Damon Feldman, the `16 Minute Man,' Aims to Bring His Wild Story to Silver Screen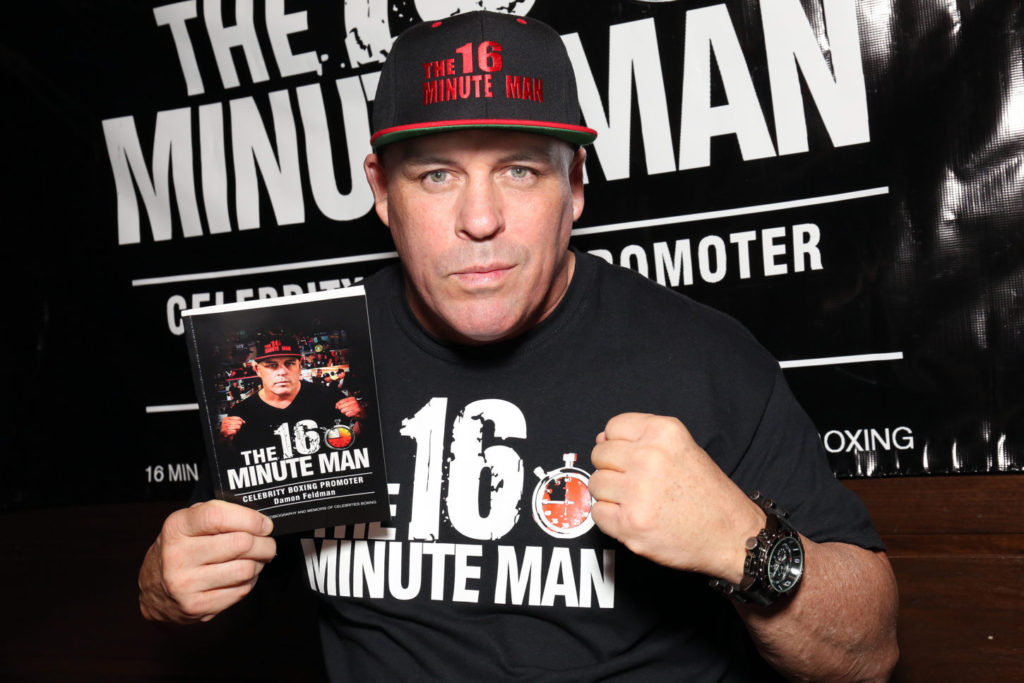 What do Jose Canseco, Tonya Harding, Rodney King, Danny Bonaduce, Joey Buttafuoco, Lindsay Lohan's father, Vai Sikahema, El Wingador, Octomom, a semi-notorious Philadelphia TV meteorologist and an aging Philly sports writer attempting to channel his onetime inner tough guy have in common?
At first glance, most people outside of Delaware County, Pennsylvania, would conclude there couldn't possibly be a link attaching such disparate individuals. But that assumption would be incorrect.
Meet Damon Feldman, the undefeated former super middleweight turned Celebrity Boxing huckster and unifier of all those seemingly mismatched parts. Once labeled "King of the D-List" in a Philadelphia magazine article that was something less than complimentary, the now-44-year-old Feldman is aiming for an alphabetical upgrade to another title of sorts, possibly "King of the B-Flicks." Earlier this month he hosted a gathering at a Drexel Hill, Pa., restaurant that drew two media members (I constituted half of the press corps) and about 50 prospective donors for the movie he intends to make about his occasionally tragic, sometimes infuriating, relentlessly optimistic and thoroughly improbable life.
If enough well-heeled backers can be brought on board, 16 Minute Man, the same title as Feldman's 2017 book that never made it onto the New York Times bestseller list, will reach silver screens nationwide sometime in 2020. He hopes to raise $50,000 in developmental money, a tiny acorn which, if all goes as planned, will transform into the mighty $5 million to $10 million oak he said it would take to make the film – if it actually advances beyond the theoretical — as much as a commercial and critical success as 2010's The Fighter, the tale of scrappy "Irish" Micky Ward and his drug-addicted brother-trainer, Dicky Eklund, which was nominated for seven Academy Awards and won two.
"Jackie (Borock) and Scott (Weiner) were doing a documentary on me," Feldman noted. "After watching Mark Wahlberg's movie about Micky Ward, who no doubt was an accomplished fighter, I thought, `I really do have a story to tell, too.' I wrote my book in jail (more about that later), Jackie jumped on board and, well, here we are."
But, meanwhile, the show must go on. Feldman – that "16 Minute Man" moniker refers to the 15 minutes of fame avant garde artist Andy Warhol once predicted everyone in the future would have – figured quasi-celebrities whose time limit as public figures had expired might need some fast cash or an ego boost that would accompany a bit of renewed exposure. Those sufficiently desperate for either or both reasons thus were susceptible to the sales pitch thrown by a natural self-promoter whose thwarted dream had been to become a world champion fighter. But harsh reality has a way of sometimes morphing lofty ambition into something less grandiose. Feldman's 68th Celebrity Boxing card will take place on June 8 at the Showboat Hotel in Atlantic City, with the main event pitting Natalie Didonato, most recently seen on the reality TV show Mob Wives, against female pro rassler Scarlett Bordaux. In the on-deck circle for June 29 in Los Angeles: Mark Wahlberg's best friend Henry "Nacho" Laun, featured on still another reality TV series, The Wahlbergers, vs. Megan Markle's half-brother, Thomas Markle Jr.
Just who would pay to see such low-rent matchups? Well, probably more than might be imagined. Rubber-neckers inevitably gather to see barroom brawlers or schoolyard kids go at it, and the stakes are hiked if the punch-throwers have retained even a thin vestige of fame or familiarity.
For Feldman, his legitimate goals sidetracked, the realization of the different course his life was about to take came after he was obliged to retire as an active boxer.
"I took odd jobs. I was down the (Jersey) Shore one weekend and saw these two guys fighting, a bar fight, and I thought, `We should do this in the ring,'" Feldman recalled in the Philadelphia magazine article authored by Don Steinberg which appeared in the December 2009 issue. His start was relatively modest, the staging of a Tough Guy tournament which drew eight participants of varying skill levels and 500 or so spectators for the one-night event. After expenses were paid and a winner announced, Feldman came away with a profit and the notion that what worked once would work again, and bigger, if presented as outrageously as possible and with a loquacious front man – himself –serving as carnival barker.
In retrospect, Feldman probably was destined to spend a large chunk of his life in some form of boxing.  Son of noted Philadelphia trainer Marty Feldman, his interest in the fight game and his inevitable place in it spiked when he was one of the "Faces in the Crowd" featured in the Aug. 15, 1983, issue of Sports Illustrated. There on page 69 was a photo of the then-13-year-old Damon and a caption that read: Damon Feldman, Broomall, Pa. Damon, 13, scored a second-round knockout of Joe Antepuna to win the Philadelphia Junior Olympic boxing title in the 13-and-under 112-pound class. He has been boxing since age five and has an 8-1 record with two KOs.
There was never any question that Damon, who was and still is billed as the "Jewish Rocky," would continue to hone his craft and assume his rightful place in the family business as a pro. Maybe, if he could just catch a break, he could go even further than his dad, who fashioned a 20-3 record with 17 KOs as a hard-hitting middleweight before transitioning as a trainer, most notably as the chief second of world-rated brothers Frank "The Animal" Fletcher and Anthony "Two Guns" Fletcher, as well as IBF light heavyweight titlist "Prince" Charles Williams. Also bearing the Feldman imprimatur was Damon's older brother David, five years his senior, who would go 4-1 with four KOs before hanging up his gloves.
Damon's history – his mom, Dawn Feldman, who had divorced Marty, was brutally attacked by an unidentified assailant shortly after their divorce in 1974 and suffered a broken neck that left her a quadriplegic – and ethnicity made him a popular and sympathetic figure as he stitched together a 9-0 record that included four KOs. Only four years old at the time his mother was assaulted, Damon and his brother never lived with her again. It speaks well of the now-deceased Dawn that, despite her physical limitations, she became something of an artist and poet despite spending most of her remaining years in rehab facilities. Nor was she the only victim of a horrific crime that was never solved; for the next six years, until they moved in with Marty, who had been struggling to earn a living, Damon and David were human pinballs, bouncing around to three different foster homes.
Was Damon good enough to someday rise above undercard status at the Blue Horizon? He says yes, definitely. "All I ever wanted to be was a world champion," he said. "It was my hope and dream to drive down to North Philadelphia every single day and train in the same gym as Bernard Hopkins, Robert Hines and all those guys. I wanted that belt more than anything."
Feldman's promoter, J Russell Peltz, said he tried to pair the likeable local kid with beatable opponents, but it would take a leap of faith to imagine him seeing his world-championship dream through to fruition. Nor is Peltz the biggest fan of Feldman as the face of low-grade Celebrity Boxing. "Damon has always been more about promoting himself than his events," Peltz is quoted as saying in the Philadelphia magazine story. "He's more about the sizzle than the steak."
Whatever Feldman could have been as a fighter became a moot point when he slipped outside a grocery store in Broomall and took a nasty fall. "The curb broke as I walked off it and I just fell," he recalled. "I hit my neck and my head, messed my disk up." He never fought again, at least in a sanctioned bout, and, despondent and angry about his adjusted circumstances, entered into what might be described as the infuriating and reprehensible phase of a topsy-turvy existence.
Although he tried his hand at promoting legitimate fight cards, five of which came off, Feldman proved to be less than an exemplary businessman as well as something of a loose cannon. He began drinking more heavily until it became a problem, although he is adamant in refusing to state he is or ever was an alcoholic. His promoter's license was revoked by the Pennsylvania State Athletic Commission when, in 2005, an argument over tickets and money at a pre-fight meeting turned violent. The other promoter placed his hand upon an increasingly agitated Feldman, who scored a one-punch knockout with a left hook.
Even worse, in October 16, 2016, he struck a woman, with whom he had been involved romantically, several times with a closed fist and enough force that police, upon arriving at her home, found her bleeding from the nose, head and face.
Feldman served 13 months of a two-year jail sentence after pleading guilty to simple assault and recklessly endangering another person. He now says the incident that led to his incarceration was the "stupidest mistake of my life, but I learned from it and I came back. I'm not a quitter."
So why is Feldman, who said this most recent redemptive chapter of his thick volume of ups and downs owes in large part to his parental devotion to his 12-year-old son and 16-year-old daughter, still as much or more of a celebrity as the D-Listers who populate his fight cards? It might be because, warts and all, he's essentially an impassioned salesman of himself and his brand. He has been a guest on Howard Stern's nationally broadcast radio program, at last count, 10 times and on Philadelphia drive-time sports station WIP, hosted by Stern's Philly equivalent, Angelo Cataldi, perhaps 10 times that. Former Philadelphia Daily News gossip columnist Dan Gross regularly featured references to Feldman and any of his off-the-wall gimmicks because what else is a gossip column about?
Feldman's first foray into Celebrity Boxing, in 1997, was limited in scope, the main event pitting Diego Ramos, a Philadelphia disc jockey, and John Bolaris, a weatherman for a Philly TV station. But Bolaris, a good-looking guy who got frequent mentions in Gross' gossip column for his man-about-town squiring of a steady stream of beautiful and high-profile women, was the prototype of the type of participant Feldman knew could fill a 500- to 800-seat room. Bolaris would have been an even more surefire draw if his appearance had come 13 years later, when he was drugged by a couple of Russian bar girls working for an international crime syndicate in Miami's South Beach. Seeking to confront the women, Bolaris met with them again, was slipped another roofie and awoke hours later with a pounding headache and $43,000 worth of charges on his American Express card. He contacted law enforcement officials, which led to 17 arrests, but instead of being hailed as a hero for the busting of so many nefarious types, as Bolaris had hoped, he was roundly derided for finding himself in such a humiliating situation and was fired by his station.
In other words, Bolaris at almost any stage of his television career was just the sort of "celebrity" that Feldman has sought out like a heat-seeking missile.
"I was a young guy, suffering and depressed," Feldman said of his state of mind after his boxing career ended and his promoter's license yanked. "Doing Celebrity Boxing shows became, like, my high. I just loved doing what I was doing. Anybody whose name was in the tabloids I tried to get in my ring. It's like my nickname. I try to give all of them their 16th minute of fame."
For appearance fees ranging from $1,500 to $5,000, Feldman has successfully enticed a string of down-on-their-luck notables to swing away at others of their ilk. Even when he failed to make sensationalistic bouts that were purposefully leaked to the media, he got the kind of publicity that promoters of "real" boxing would kill for. He attempted to pair Rodney King, the "Can't we all just get along?" victim of a 1991 beatdown by Los Angeles cops, with one of the police officers involved in the incident, which drove the Rev. Al Sharpton to near-hysterics. The LA cop didn't participate, but King mixed it up with an ex-cop from Chester, Pa., Simon Aouad, whom King defeated.
Another proposed fight that got lots of media attention but didn't happen would have pitted Marvin Hagler Jr. against Ray Leonard Jr., the non-boxer sons of legendary fighting fathers. But it's not just the near-misses with which Feldman has generated headlines; his most successful promotion to date was a matchup of Canseco, the steroid-fueled slugger of 462 major league home runs and the author of a tell-all book which outed Oakland teammate Mark McGwire as a fellow juicer, and a grown-up Bonaduce, the freckle-faced, red-haired kid everyone remembered from his time on TV sitcom The Partridge Family. Canseco seemingly got the better of Bonaduce, a friend of Feldman's, over three rounds, but the fight ended in a controversial draw (even Celebrity Boxing outcomes apparently can be disputed), leading to accusations that the fix was in.
Canseco, maybe more than any Celebrity Boxing contestant, is associated with Feldman. The large and heavily muscled former baseball player, at 6-foot-4 and 240 pounds, unwisely consented to duke it out in 2008 with former Arizona Cardinals and Philadelphia Eagles punt returner Vai Sikahema, who celebrated his touchdowns by whacking away at padded goal posts as if he were still the kid from Tonga who had been groomed by his father to become a champion boxer until he decided he liked football better. Sikahema, a two-time Pro Bowler who was then a sports director for a Philly TV station, tore into the much larger Canseco like a famished lion going after a stricken wildebeest. "I think I can safely say that 105,000 Tongans are well aware that I am fighting Jose Canseco," Sikahema said before the bout. "I do not intend to disappoint them."
Perhaps remembering the thrashing he took from Sikahema, Canseco, who was scheduled to appear in the main event of a 2011 Feldman-promoted event in Atlantic City, chose to stay home and sent identical twin brother Ozzie to fight in his stead. The ruse was immediately apparent when Ozzie stripped off his shirt and his upper-torso tattoos were different from Jose's. The fight was called off and Feldman sued Jose for breach of contract.
Feldman also was instrumental in Celebrity Boxing making it all the way to network television in 2002, with Fox airing two hour-long episodes featuring celebs who were a cut above D-Listers, at least in terms of how famous they once had been. In the first installment, Bonaduce floored Greg Williams, of The Brady Bunch, five times before Williams' corner threw in the towel in the second round. Tonya Harding, the disgraced figure skater who also fought for Feldman, had her way with a clearly frightened Paula Jones, alleged consort of former President Bill Clinton, who at one point attempted to hide behind the referee. Jones surrendered in the third and final round, allowing Harding to skate away with a TKO victory.
But it was a Ripley's Believe It Or Not matchup in the second installment that had to qualify as the most memorable Celebrity Boxing bout ever. In one corner was ultra-skinny former NBA center Manute Bol, all 7-foot-7 of him, against 400-pound-plus former NFL defensive lineman William "The Refrigerator" Perry. The Fridge basically ran out of gas moments after leaving his corner for round one, but he somehow stayed on his feet to the final bell, eating a smorgasbord of jabs from Bol, whose 102-inch reach might have been more incredible than his height.
Although TV Guide ranked Celebrity Boxing on Fox No. 6 on its "50 Worst TV Shows of All Time" later in 2002, Feldman takes pride in having had a hand in it. "I worked out a deal with (Fox) because it was my concept," he said. "They only did the two shows, but they did pretty good numbers. After that I just continued to do my own thing."
Full disclosure: I did a Celebrity Boxing turn for Feldman in July 2002, for no compensation, with any money I would have received going to the Don Guanella School (now closed) for intellectually disabled children. My opponent was Philadelphia attorney George Bochetto, a former commissioner for the Pennsylvania State Athletic Commission best known in boxing circles as the lawyer who represented former heavyweight contender Randall "Tex" Cobb in his libel lawsuit against Sports Illustrated, which resulted in a $10.7 million judgment for Cobb, later overturned on appeal. Bochetto – younger, leaner and a guy who regularly trained as a boxer three or four days a week – had everything going for him. But I was the son of a left-hooking former welterweight, and I wanted to see what, if anything, I had left. I did not inform my wife of my intentions until it was announced in my newspaper, which led her to ask, at a higher decibel level than I'd ever heard from her, "Are you nuts?"
George preferred to fight at a distance that suited him, and he was more accurate than I expected with the overhand right. But I bored in at every opportunity, trying to force him to the ropes and unloading left hooks and uppercuts with both hands. In effect, he was making Muhammad Ali moves and I was doing my best Joe Frazier impersonation. The split decision went to George, but the judge who had me ahead, the late, great Jack Obermayer, had been ringside for thousands of fights so I'm always going to think I really won.
Win or lose, though, my wife told me I was retired forever. Probably a wise decision on her part.
For those interested, more information on the movie project can be found at 16minutemanmovie.com.
Bernard Fernandez is the retired boxing writer for the Philadelphia Daily News. He is a five-term former president of the Boxing Writers Association of America, an inductee into the Pennsylvania, New Jersey and Atlantic City Boxing Halls of Fame and the recipient of the Nat Fleischer Award for Excellence in Boxing Journalism and the Barney Nagler Award for Long and Meritorious Service to Boxing.
Check out more boxing news on video at The Boxing Channel
To comment on this story in The Fight Forum CLICK HERE
GGG vs. Steve Rolls (Say Who?) is On; Lemieux vs. Ryder is Off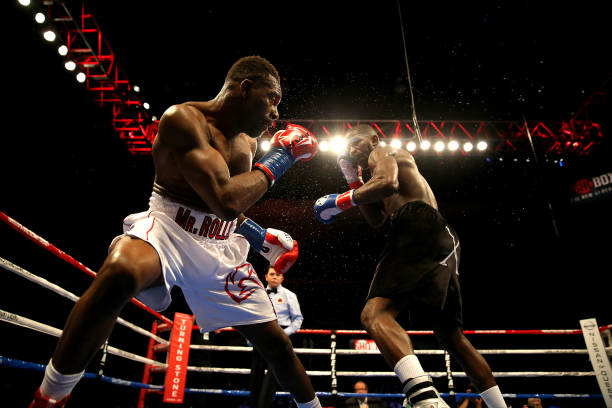 Yesterday (April 16) in a story submerged by a bigger story that broke later in the day — namely Jarrell Miller's failed drug test — it was announced that Team Gennady Golovkin had selected Steve Rolls as GGG's next opponent. GGG vs. Rolls is a go for June 8 at Madison Square Garden.
There was a collective groan when the pairing was announced. It was widely understood that GGG would go soft in advance of a likely third meeting with Canelo Alvarez in September, but choosing Rolls (pictured on the left against Demond Nicholson) was seen as tantamount to fighting an exhibition. The bookies will likely install GGG a 100/1 favorite, which in the old days was shorthand for a newspaper line, meaning a line crafted for conversation purposes only. Even today, with off-shore sports books jockeying for market share, no sensible bookie would take a straight wager on this fight save perhaps a peanut from a steady client as a courtesy to keep him in the fold.
Both Golovkin and Rolls had birthdays this month. GGG turned 37; Rolls 35.
Rolls, a Canadian, was reportedly 83-14 as an amateur. He's undefeated as a pro (19-0, 10 KOs), but a casual fan wouldn't recognize the name of any of his opponents with the possible exception of the aforementioned Nicholson. Rolls won an 8-round split decision over Nicholson (currently 23-3-1) in Verona, NY, in June of 2017. The verdict was controversial. The "ShoBox" broadcasting trio of Barry Tompkins, Steve Farhood, and Raul Marquez all had it 77-74 for the other guy, giving Nicholson the last six rounds.
Rolls is promoted by Lou DiBella who was in Full Damage Control mode when he addressed members of the press. "Steve Rolls is not some bum," DiBella was quoted as saying. "Steve Rolls can fight. He doesn't deserve this disrespect he's getting on social media."
That elicited this snarky retort (which I paraphrase) from a writer on an internet forum: "If Lou DiBella was in the business of selling bologna sandwiches, he would tell you it was ribeye."
Golovkin vs. Rolls will reportedly be contested at the catchweight of 164 pounds. We would guess that when GGG-Canelo III finally transpires, it too will be contested at 164. Canelo weighed 167 ¼ for his last match against Rocky Fielding. Plus, the third meeting will be a mega-fight regardless of whether any title is at stake.
GGG vs. Rolls can be seen as the downside of the great flurry of professional boxing that has accompanied the live-streaming transmutation. Whenever an industry experiences rapid growth – when there is a sudden need for more manpower – there's usually a lag before there are enough qualified applicants to fill all the slots.
That may be overstating it. The main reason that fight fans don't get the fights they want to see is because of a lack of cooperation between the major promotional groups. Moreover, as for marquee fighters choosing soft opponents, that's been going on forever. Joe Louis defended his title eight times in the 15 months leading up to his first encounter with Billy Conn. In the aggregate, his opponents were so hopelessly outclassed that sportswriters adopted the term "Bum of the Month."
Lemieux-Ryder Goes Poof
It hasn't been a good week for Eddie Hearn. Hearn promotes John Ryder who was slated to fight David Lemieux on May 4. The match between Lemieux (40-4, 34 KOs) and Ryder (27-4, 15 KOs) was penciled in as the chief undercard bout on the Canelo-Jacobs PPV card at the T-Mobile Arena. But Lemieux injured his hand in sparring and has been forced to pull out.
There was little sympathy for David Lemieux when he withdrew from his Dec. 15 bout with Taureano Johnson at the 11th hour because of severe dehydration. He should have managed his weight better. However, this is a bad break for him and it's hard not to sympathize. A fan-friendly fighter, Lemieux would have been making his first start as a super middleweight and, barring a mishap, would have energized an already strong 168-pound division.
Golden Boy Promotions, which is orchestrating the May 4 event, has had some strong undercards over the years but not on their biggest shows. The undercard for Canelo-GGG II was very weak.
As it now stands, the new co-feature on May 4 pits Vergil Ortiz against Mauricio Herrera. That simply won't cut it, a situation that isn't lost on the Golden Boy matchmakers who are reportedly working overtime to find a new co-feature.  Let's hope they find a good one.
Check out more boxing news on video at The Boxing Channel
To comment on this story in The Fight Forum CLICK HERE