Ringside at the Toyota Center: Munguia Rebuffs Relentless Inoue
Houston, TX — Undefeated WBO junior middleweight champion Jaime Munguia found himself in the pit of hell against previously unknown Japanese pressure cooker Takeshi Inoue on Saturday night at the Toyota Center in Houston. Inoue forced Munguia to dig deep over the course of 12 grueling rounds, which saw both fighters swing for the fences for all three minutes of just about every round.
At the end of a hard-fought battle, Munguia (32-0, 26 KOs) survived his third, and most difficult, title defense, winning the action-packed fight by scores of 120-108, 120-108 and 119-109. While the scores might seem too wide to some observers, it's important to note that not all close fights are scored that way in boxing.
Munguia began his professional prizefighting career at the tender age of 16 in Tijuana, Mexico. Almost six years later, averaging a grueling schedule of five fights a year, primarily within the confines of the city limits in which he was born, Munguia entered the ring having essentially punched his way out of Tijuanan obscurity into the new global sports streaming space pioneered by sudden industry leader DAZN.
Inoue (13-1-1, 7 KOs) didn't care about any of that. All the 29-year-old stocky puncher seemed concerned with heading into the biggest fight of his prizefighting life was shocking the world.
Having seen Munguia's monstrous frame tower over his comparatively diminutive opponent during prefight festivities, when the two met in the center of the ring, it looked a lot like what one might expect when seeing a parent pick up a child after school.
Except that when the bell rang here, it wasn't going to be an audio cue for the kids to pack up their books and saunter toward the exits. Instead, the bell's ominous toll meant it was time for Munguia to wreck Inoue with what might as well be G-O-D-Z-I-L-L-A emblazoned across his trunks.
Come to think of it, this fight seemed at the outset to be the shortest, most unnecessary portion of the Godzilla movie franchise yet. Bring forth the army! Call forth the National Guard! Nah, nevermind. Just bring in this lonely little man in the center of the ring far from home with nowhere to run.
Except that Inoue did run, and it was right into the action. He was a brave, defiant challenger leaving everything he had of himself inside the ring during every round.
Overall, the fight boiled down to what happened during the first round repeating itself over and over again. Munguia was content to box from a distance, throwing hard jabs, deep left hooks and sizzling straight right hands all over his would-be usurper's head and body.
But Inoue was undeterred. He lunged forward like an angry bear, landing hard punches coming from wide, looping angles whenever he could get close enough to Munguia to land them, which had to be way more often than Munguia had hoped.
Munguia took the best of Inoue when he could stay off the ropes and out of the corner, but Inoue seemed to get him in one or both of those places for at least some portion of every round.
Both landed hellacious shots. At times, they took turns snapping each other's head back, only to realize when their heads came back down that both them and their opponent was somehow still standing right there.
The fight was simply this: hard punch, defiant smirk, rinse and repeat. Over and over and over again, Munguia boxed with precision, power and class. Over and over and over again, Inoue kept charging forward.
Munguia came very close to getting the defining moment he probably wanted when he countered Inoue almost into oblivion. But almost is never good enough in a fight like this, and Inoue withstood the storm with just seconds left in the round.
Both men fought bravely. If the wideness of the scores bothers Inoue, it shouldn't. That's just how math sometimes works in fights where one fighter just happens to edge out most all of the rounds by a hair. Inoue fought excellently and should be commended for the amazing performance, as should Munguia who had clearly just been in the fight of his life.
If you think about it, Munguia was the anti-Inoue of 2018. Like Inoue, the Mexican was also an unknown when he was presented to the Nevada State Athletic Commission as a possible opponent for Gennady Golovkin in May.
But unlike Inoue, fate kept Munguia out of harm's way when the NSAC wouldn't authorize him as a credible opponent. Or maybe it was just Nevada.
Because in retrospect Inoue's resume looks way worse than Munguia's did. How was this fight approved while the other one wasn't? Would Nevada have sanctioned this one? Most anyone who witnessed what happened in Houston was probably glad they didn't have the say.
Perhaps the most amazing thing is that Inoue, who incidentally isn't related at all to bantamweight superstar Naoya Inoue, had no credible wins–at least at the world level–on his resume before bravely storming across the Pacific Ocean to make his American boxing debut.
The fact that Inoue was able to compete for Munguia's world title at all is an example of how politics almost always trumps perceived fair play in the grand, ole sport of professional boxing, and sometimes that might not be a bad thing.
Because Inoue didn't look like a worthy challenger. He didn't win his first fight, a six-round draw against Daishi Nagata in 2014 and hadn't fought outside his home country of Japan except once.
Inoue's last three wins didn't look great on paper either. He had notched victories over two single-digit win fighters, Niwat Kongkan and Iku Nagahama, and a 41-year-old Yuki Nonaka.
And Munguia?
His rise had been fast and furious in a way that bookmakers tabbed him a -5000 favorite against Inoue. A 22-year-old world champion going from zero to hero in less than a year, title belt in tow with a lucrative opportunity to help usher in this new global boxing streaming age was surely going to wreck this no-hope fighter from all the way around the world.
Wasn't he?
But that's not what happened. Munguia, perhaps destined to become boxing's next big thing, and Inoue, a fighter some considered just a Japanese club fighter flown in specifically so he could be butchered for the sake of some predetermined, 10-second-or-less, Mungia-hyping video assets, fought an excellent fight that no one saw coming.
Can Upsets Rojas for WBA title
Nobody expected featherweight Xu Can to defeat Jesus Rojas in the co-main event of Munguia-Inoue, but Xu used relentless combinations and old-fashioned stick-to-itiveness to secure his first world title honor.
Rojas, 32, had the odd displeasure of defending his secondary WBA featherweight world title right after losing his last fight, a 12-round unanimous decision to Joseph Diaz in August 2018. But Diaz missed weight for the fight, so despite grabbing the win, he didn't walk away with Rojas' title.
So Rojas made good on the opportunity created by the WBA rule, which allowed him to stay champion despite the loss, and Can, 24, made good on the wishes of a surprisingly strong and vocal contingent of Chinese fans to produce some stylistically scintillating action on the way to the upset victory.
Rojas is an aggressive, come-forward fighter who only moves back at times to catch his breath. Can is more of a boxer, but really lets his hands go both inside and out. The result was some true featherweight fireworks in a fight DAZN's Chris Mannix called an early Fight of the Year candidate for 2019.
Both fighters fought to win, but neither possessed enough power really to hurt the other significantly. The judges favored Can (16-2, 2 KOs) because of his harder thrown punches and the way he kept the pedal to the metal when Rojas (26-3-3, 19 KOs) would tire.
Judges scored the fight 118-110, 117-111 and 116-112 for Can.
Ortiz Jr. Continues KO Streak
Junior welterweight prospect Vergil Ortiz Jr. defeated Jesus Valdez by fifth-round knockout running his impressive stoppage streak to 12 KOs in 12 fights. Ortiz (12-0, 12 KOS) might only be 20 years old, but he fights with an aggressive sort of patience befitting an older, more experienced fighter. The Dallas native sure looks like he's on his way to a bright future.
Ortiz wore Valdez (23-5-1, 12 KOs) down, battered him into a bloody mess and secured the stoppage win when the referee had seen enough of Valdez's blood hit the canvas. Ortiz is a hard puncher, but more impressive is the gumption with which he instigates the action and his ability to counter his opponent's combinations.
Those are the kinds of things that bode well for the prospect's future. Before the fight, Ortiz said he intends to challenge for a world title by the end of 2019. He's probably not quite ready for that, but he could be with a few more of the right kinds of fights in the near future.
Other Undercard Bouts
Junior featherweight prospect Alberto Melian (4-0, 2 KOs) stopped Mexico's Edgar Ortega (10-2-2, 5 KOs) in the 10th round to remain unbeaten. The fight started rough for the Argentinian, but Melian's Olympic pedigree came through as the fight progressed to the later rounds.
Dallas-based junior middleweight prospect Alex Rincon, 23, beat a very game, Jeremy Ramos in a six rounder. Rincon (6-0, 5Os) had to work hard but stayed unbeaten by steadily outworking Ramos (10-6, 4 KOs).
His older brother, George Rincon (6-0, 3 KOs), knocked out Emmanuel Valadez (5-7, 4 KOs) in the first round of the opener. Rincon, 27, dropped Valadez less than a minute into the fight. The bout was halted soon after.
Photo credit: Amanda Westcott
Check out more boxing news on video at The Boxing Channel
To comment on this article in The Fight Forum CLICK HERE
Philadelphia's Danny Garcia Wins in LA (is Manny Next?) and Undercard Results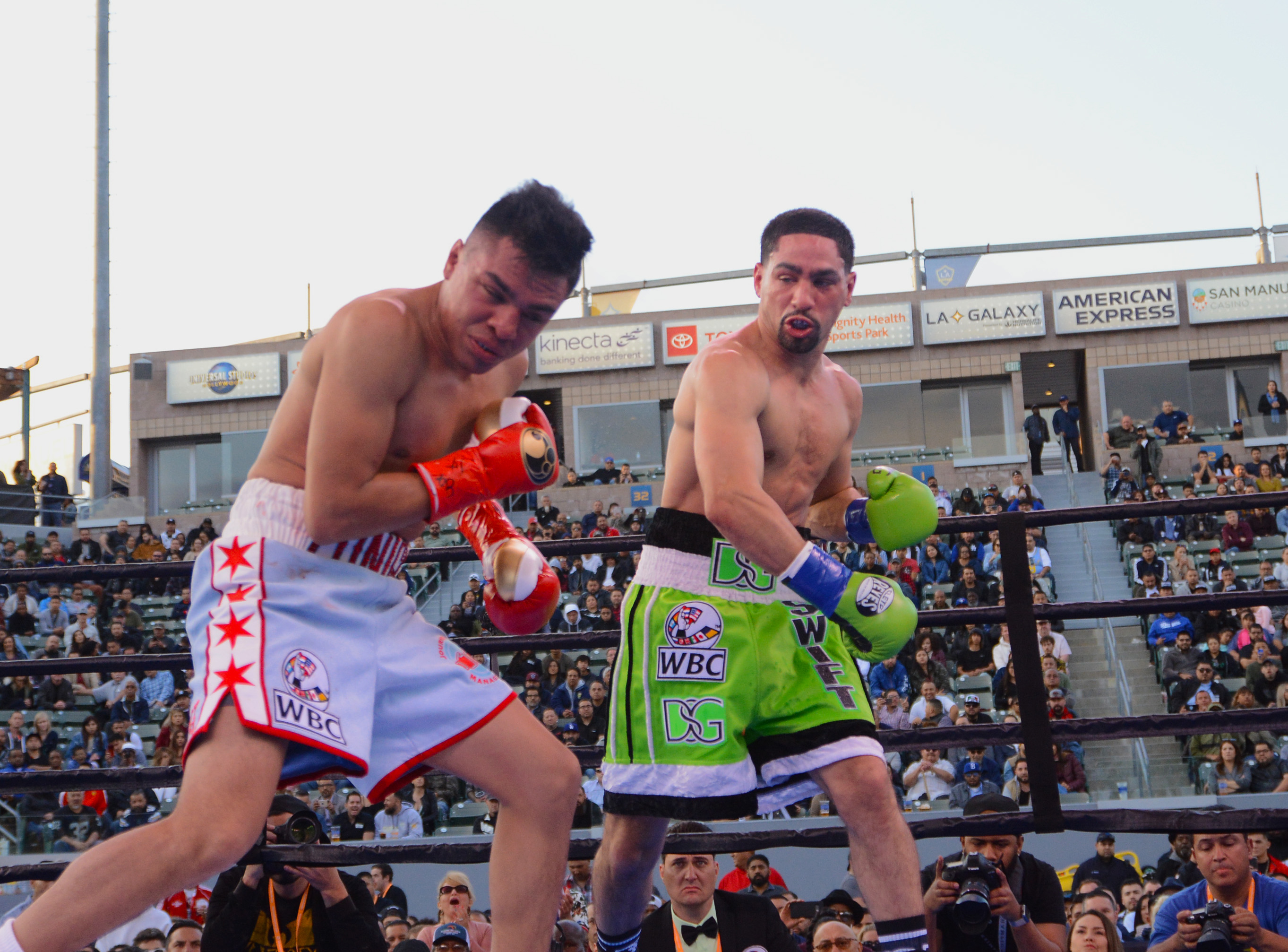 CARSON, Calif.-Former two division champion Danny "Swift" Garcia had too much firepower for Adrian Granados and simply overwhelmed the gritty fighter from Chicago before winning by knockout on Saturday.
No world title was at stake but future prizes were.
Philly fighter Garcia (35-2, 21 KOs) had predicted he would mow through Granados (20-7-2) who was moving up in weight again for this fight and was just too heavy handed before a crowd of more than 6,000 at the Dignity Health Sports Park. The PBC card was televised by FOX.
After a casual exchange of punches in the first round Garcia started bringing the thunder in the second round and connected with a double left hook to the body and a left hook to the head of Granados. The blows resounded throughout the arena and drew oohs from the crowd. Then Garcia caught Granados with a counter left hook that sent Granados sprawling across the ring. He got up and beat the count. Another exchange saw Garcia land a counter right cross and down went the Chicago fighter. He beat the count again but looked hurt. He survived the end of the round.
Garcia stalked Granados who moved more cautiously for the next two rounds but was still catching rights.
In the fifth round a straight right floored Granados while he was against the ropes. He survived the round again.
Granados tried every move he could think to change the momentum but nothing seemed to work. In the sixth both fought inside but Garcia soon began pummeling Granados with the referee looking closely. He allowed the fight to continue into the seventh round but checked with the corner twice.
With the crowd murmuring, Garcia gave chase to Granados and caught him near the ropes with a lead right and another right before unleashing a four-punch barrage. Referee Tom Taylor jumped in and stopped the beating at 1:33 of the seventh round to give Garcia the win by knockout.
Philadelphia's Garcia had won in Southern California once again. He had beaten Robert "The Ghost" Guerrero by decision three years ago in Los Angeles.
"This is what makes Danny Garcia one of the best fighters in the world," said Garcia. "I had to be the first man to stop him and I did that today."
The win puts Garcia as a strong candidate to face multi-divisional world champion Manny "Pacman" Pacquiao who now holds the WBO welterweight world title.
"I hope I didn't scare him away. Frankly I would love that fight or Keith Thurman or Errol Spence," Garcia said.
Other Bouts
Brandon Figueroa (19-0) of Texas rumbled to a knockout win over Venezuela's Yonfrez Parejo (22-4-1) to win the interim WBA super bantamweight title. The battle was fought mostly inside, forehead to forehead, but surprisingly, neither fighter suffered cuts from butts.
Figueroa and Parejo slugged it out inside until the sixth round when Parejo took the fight outside and scored well from distance. But Figueroa kept hunting him down and digging to the body and head. Finally, in the eighth round Figueroa began catching the moving Parejo with digging shots that seemed to affect the Venezuelan boxer. At the end of the round Parejo signaled he had enough.
Figueroa was deemed the winner by knockout.
"Honestly I thought I was going to finish him the next round," said Figueroa.
California's Andy "the Destroyer" Ruiz (32-1) won by knockout over Germany's much taller Alexander Dimitrenko (41-5) in a heavyweight fight set for 10 rounds. Despite the size disparity Ruiz was the aggressor throughout and attacked the body with punishing blows. In the third round Ruiz almost ended the fight when Dimitrenko was severely hurt. After the end of the fifth round Dimitrenko's cornered signaled the fight was over and referee Ray Corona waved it off. Ruiz wins by knockout as the crowd cheered loudly.
Ruiz was recently signed by PBC and may have found a home more suited for his weight division. It was his first fight under the PBC banner.
"I'm ready for the next one, I kind of seen that coming," said Ruiz who admitted to eating a Snickers for energy. "The game plan was dropping the body down."
Alfredo "El Perro" Angulo (25-7, 21 KOs) used the trusty knockout to win for the first time in four years. The victim was Evert Bravo (24-10-1) a super middleweight from Colombia who had his own losing streak like Angulo.
Both punished each other with hard combinations the first round, but in the second frame Angulo found his rhythm and fired a barrage of blows that left Bravo slumped along the ropes. Referee Rudy Barragan stopped the fight at 1:23 of the second round to give Angulo his first victory since he defeated Hector Munoz at the Staples Center on August 2015. He now trains with Abel Sanchez in Big Bear.
"I found a good coach," said Angulo.
More than 1,000 fans remained to see Angulo perform long after the Garcia-Granado's main event. He's still a draw, especially in Southern California.
Former US Olympian Carlos Balderas (8-0, 7 KOs) stopped Luis May (21-14-1) with a barrage of blows in the fourth round of their lightweight clash. Balderas knocked down May several times but the crafty May used every means to survive including multiple low blows. Finally, at 1:07 of round four, Balderas unleashed several blows that saw May go down and a towel was thrown from his corner. Referee Ray Corona stopped the fight.
Fontana, California's Raymond Muratalla (7-0) floored Mexico's Jose Cen Torres (13-12) three times in the third round to win by knockout at 2:58 of the round in a super lightweight bout. Muratalla dropped Torres with a short right uppercut for the first knockdown. A right to the body sent Torres down a second time. A double right cross delivered Torres down a final time as referee Ray Corona immediately stopped the fight.
Las Vegas fighter Rolando Romero (9-0, 8 KOs) knocked out Colombia's Andres Figueroa (9-5, 5 KOs) with a left hook during an exchange of blows at 1:27 of the fourth round in their lightweight scrap. Figueroa landed with a thud and was unconscious for several minutes and sent to the hospital.
Denver's Shon Mondragon (2-0) battered Mexico's Hugo Rodriguez (0-4) in the third round forcing referee Eddie Hernandez to end the fight at 1:55 of round three in a super bantamweight match.
Nelson Hampton (5-2) of Texas beat Phillip Bounds (0-3) by decision after lightweight fight.
Other winners were Jeison Rosario by split decision over Jorge Cota in a super welterweight fight. Omar Juarez beat Dwayne Bonds by decision in a super lightweight bout. Featherweights Ricky Lopez and Joe Perez fought to a draw after 10 rounds.
Photo credit: Al Applerose
Check out more boxing news on video at The Boxing Channel
To comment on this story in The Fight Forum CLICK HERE
Fast Results From NYC: Crawford TKOs Khan but not Without Controversy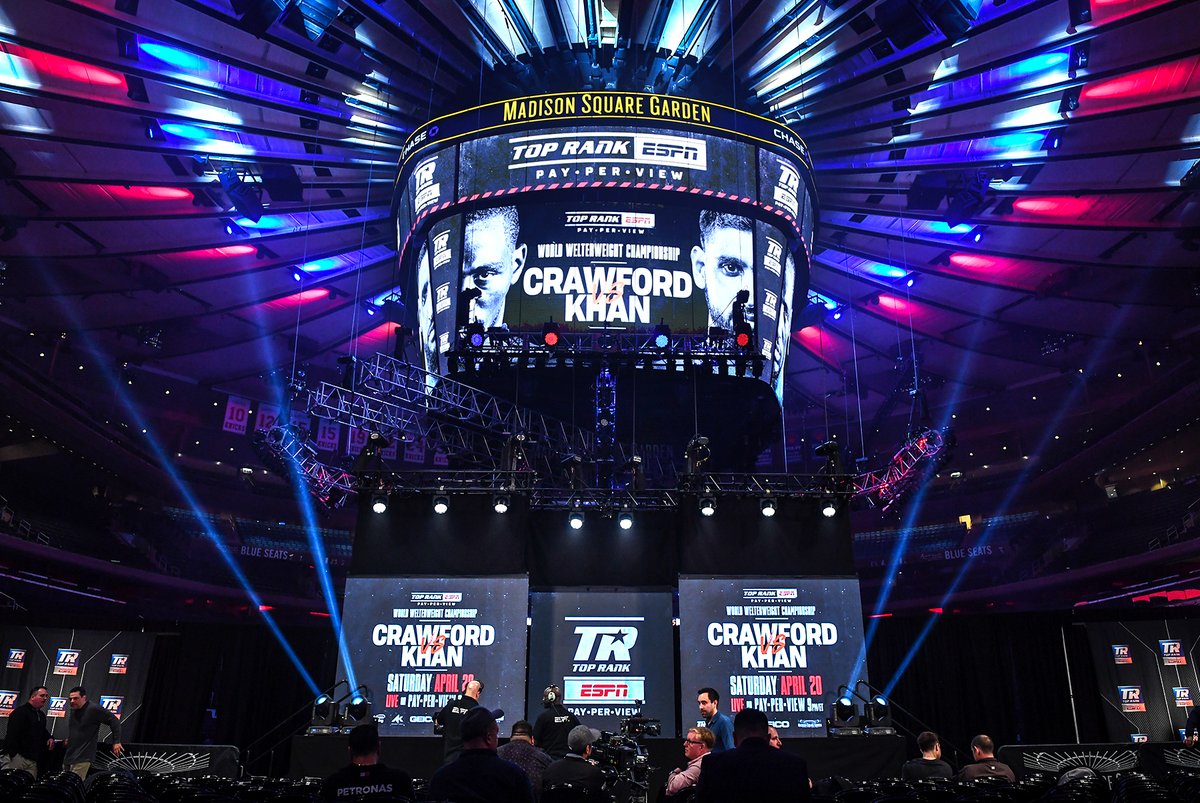 Amir Khan, who doesn't shy away from tough assignments, was in New York tonight opposing WBO welterweight champion Terence Crawford, a man who is on everyone's short list of boxing's top pound-for-pound fighters. The general assumption was that Khan had the slickness to win a few rounds but that his chin would ultimately betray him.
Khan won one round at the most — and that's being generous – before the bout was stopped after 47 seconds of the sixth frame with Khan in pain from a low blow. Referee David Fields stopped the action to allow Khan to recover and then stopped the fight on the advice of the ring doctor with the apparent encouragement of Khan's trainer Virgil Hunter. Because the low blow was accidental, Crawford was declared the winner by TKO.
It appeared that this fight would end in a hurry. In the opening round, Crawford decked Khan with an overhand right. Khan got to his feet but was in distress and for a moment it didn't appear that he would last out the round. But Crawford did not press his advantage in round two and Khan regained his composure.
Crawford was in complete control when the fight ended, having raked Khan with combinations and a series of body punches in the fourth and fifth stanzas. Although the final punch of the fight was way south of the border, Khan's refusal to continue was widely seen as an act of surrender. After the bout, Crawford called out Errol Spence.
PPV Undercard
Lightweight Teofimo Lopez, whose highlight reel knockouts and brash demeanor have made him arguably the most exciting young prospect in boxing, found a new way to conclude a fight tonight, collapsing Edis Tatli in the fifth round with a body punch. Lopez, who was born in Brooklyn and raised in a suburb of Miami (his parents are from Honduras and Spain), improved to 13-0 with his 11th knockout. Tatli, a Kosovo-born Finn making his U.S. debut, suffered his third loss in 34 starts. A two-time European lightweight champion, Tatli hadn't previously been stopped.
Fast rising featherweight contender Shakur Stevenson, the 2016 Olympic silver medalist from Newark, simply outclassed former world title challenger Christopher Diaz, winning the 10-round bout on scores of 100-90, 99-91, and 98-82. The 21-year-old southpaw, now 11-0, was too fast and too busy for his Puerto Rican adversary who fell to 24-2.
In the first of the four PPV bouts, lightweight Felix Verdejo won a unanimous 10-round decision over Bryan Vasquez. Verdejo, a 2012 Olympian for Puerto Rico once touted as the island's next Felix Trinidad, was returning to the site where he suffered his lone defeat, succumbing to heavy underdog Antonio Lozada whose unrelenting aggression ultimately wore him down, resulting in a 10th round stoppage.
Vasquez appeared to injure his left shoulder near the midpoint of the battle, an advantage to Verdejo, now 25-1, who started slowly but outworked Vasquez down the stretch, winning by scores of 98-92 and 97-93 twice. Costa Rica's Vasquez, the husband of prominent boxer Hanna Gabriels, falls to 37-4.
Other Bouts
 Super welterweight Carlos Adames, who hails from the Dominican Republic but has been training with Robert Garcia in Riverside, California, made a strong impression with a 4th round stoppage of Brooklyn's Frank Galarza. The undefeated Adames, now 17-0 (14 KOs), knocked Galarza (20-3-2) to the canvas with a hard left hook and then went for the kill, pinning Galarza against the ropes with a series of unanswered punches that compelled referee Benjy Estevez to intervene. The official time was 1:07.
 Super welterweight Edgar Berlanga, a 21-year-old New Yorker of Puerto Rican descent, needed only 46 seconds to dismiss 38-year-old Brazilian trail horse Samir dos Santos. Berlanga, who began his pro career in Mexico, has now knocked out all 10 of his opponents in the opening round.
Super welterweight Vikas Krishan, a two-time Olympian, improved to 2-0 with a 6-round unanimous decision over Noah Kidd (3-2-1). The scores were 59-55 and 60-54 twice.
A 27-year-old southpaw who as a job waiting for him as a police officer, Krishan is the second notable boxer to emerge from India, following on the footsteps of Top Rank stablemate Vijender Singh.
Bantamweight Lawrence Newton, a Floridian who has been training at Terence Crawford's gym in Omaha, won his 12th straight without a loss with a 6-round unanimous decision over Jonathan Garza (7-3). The scores were 60-54 and 59-55 twice.
In a 6-round junior welterweight match that was one-sided but yet entertaining, Lawrence Fryers won a unanimous decision over Dakota Polley. Fryers, wh is from Ireland but resides in New York, improved to 10-1. The 20-year-old Polley, from St. Joseph, Missouri, fell to 5-3.
Check out more boxing news on video at The Boxing Channel
To comment on this story in The Fight Forum CLICK HERE
Allen (KO 3) and Chisora (UD 10) Victorious in Heavyweight Action in London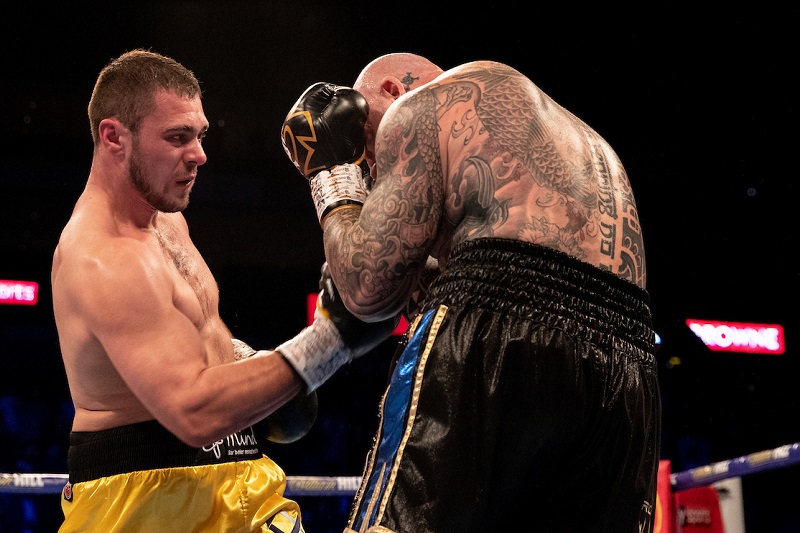 A pair of heavyweight battles topped the card at London's 02 Arena. Both favorites won, but neither bout played out as expected.
Fan favorite David Allen, a 27-year-old Yorkshireman, continued his ascent from the lower depths of the boxing firmament with a one-punch knockout of Australia's  heavily-tattooed Lucas Browne. Allen caved in Browne with a body punch in the third round that brought a sudden end to a bout that the Aussie appeared to be winning.
Browne, who turned 40 this month, made history when he became the first Australian to win a world heavyweight title (WBA version) when he scored a 10th round stoppage of Ruslan Chagaev in Russia. But, in hindsight, that win was a fluke. A gassed-out Chagaev was widely ahead on the cards when his roof fell in. Browne's tenure was brief. He was stripped of the belt after testing positive for clenbuterol.
Allen, nicknamed the White Rhino, has now won four straight beginning with an upset of previously undefeated Nick Webb. His reputation is that of a common brawler, a fighter willing to take two punches to land one, but, regardless, he positioned himself for a nice payday or two going forward. Browne lost his second straight after opening his career 28-0.
The maddeningly inconsistent Dereck Chisora, who engaged in two barnburners with Dillian Whyte, snoozed his way to a 10-round unanimous decision over milquetoast Senad Gashi. The 35-year-old Chisora, a Zinbabwe-born Londoner, improved to 30-9 but did nothing to improve his stock. The well-traveled Gashi, born in Kosovo and now residing in Spain, declined to 17-3 while acquiring the patina of a trial horse.
Other Bouts
Welterweight Josh Kelly, a 2016 Olympian, won a lopsided 10-round decision over stubborn Przemysla Runowski. Kelly (9-0, 6 KOs) had Runowski on the canvas in rounds two, nine, and 10, but the previously undefeated Pole (now 17-1, 3 KOs) stayed the course. Kelly appeared to hurt his hand early in the fight. That may knock him off the Joshua-TBA card on June 1 at Madison Square Garden.
Joe Cordina, a Welshman, now holds the British and Commonwealth lightweight titles after scoring a 6th round stoppage of Yorkshireman Andy Townend (22-5). Cordina started slowly but gradually picked up the pace and scored three knockdowns before the referee waived it off. A 2016 Olympian, Cordina (9-0, 7 KOs) was a heavy favorite despite a dearth of pro experience.
Conor Benn the 22-year-old son of Nigel Benn, was extended the distance for the third time in his last four fights but had little difficulty advancing his record to 14-0 (9) at the expense of Josef Zahradnik (10-3) of the Czech Republic. The referee awarded Benn every round in this 8-round welterweight affair.
Middleweight Nikita Ababiy, a hot prospect with a big upside, was extended into the second round for the first time in his young pro career but eliminated Dmitri Faltin after only 26 seconds of round two. A 20-year-old Brooklynite of Russian extraction, nicknamed White Chocolate, Ababiy (4-0) excelled in all manner of combat sports as teenager. In the ring he doesn't pussyfoot around. He won his pro debut in 28 seconds. Faltin, a 37-year-old Finn, fell to 2-4-1.
John Harding Jr., a 34-year-old middleweight, improved to 7-0-1 with a one-sided 6-round decision over Miroslav Juna (1-2). A protégé of Dillian Whyte, Harding started his pro career late after serving several stints in prison.
Cruiserweight Sam Hyde (14-1-1, 7 KOs) rebounded from his first defeat in fine fashion, blowing out Slovakia's Josef Jurko (5-2) in the opening round.
Super bantamweight Sam Cox (4-0) won a 4-round decision over Bulgaria's Georgi Georgiev.
In a woman's fight, British bantamweight Shannon Courtenay (2-0) outpointed Bulgaria's Roz Mari Silyanova (1-5-1). The ref gave Courtenay all four rounds.
Check out more boxing news on video at The Boxing Channel
To comment on this article in The Fight Forum CLICK HERE