'Common Man' Joe Smith Jr. Aims for Another Uncommon Outcome vs. Dmitry Bivol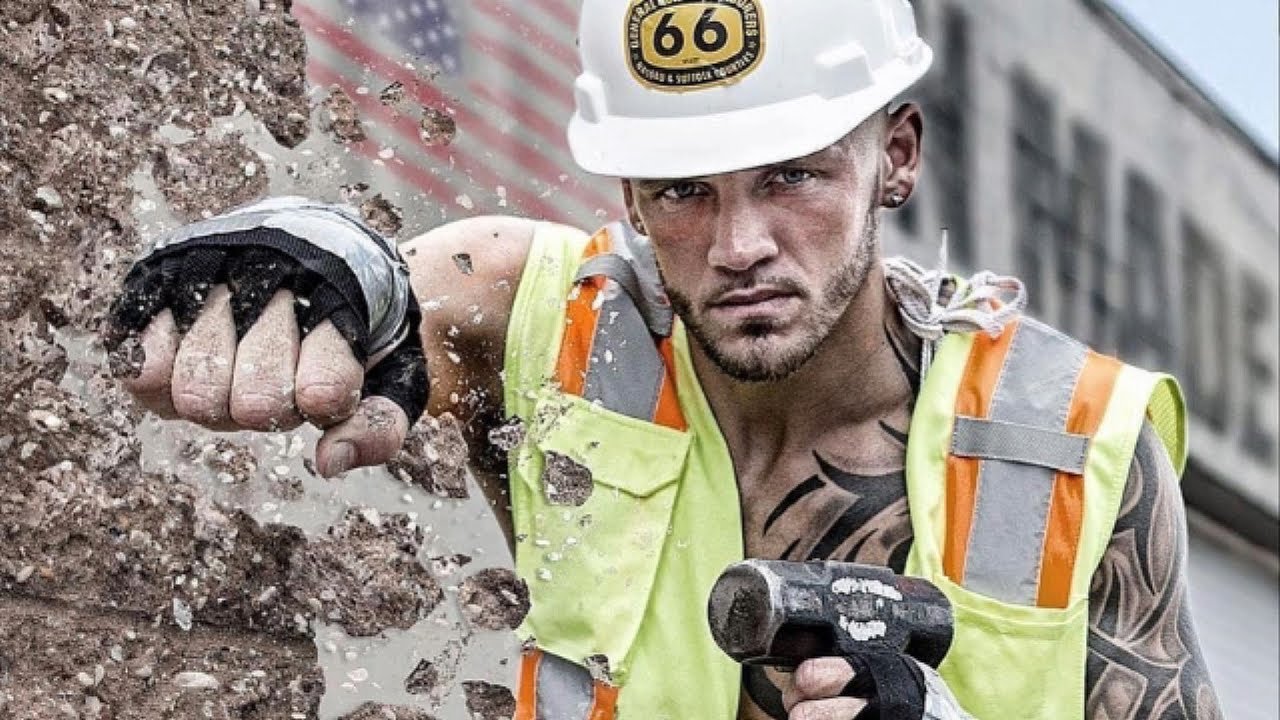 Joe Smith Jr. knows what much of the world thinks of him, in a boxing sense. He was dismissed as a "common" man by future Hall of Famer Bernard Hopkins before they squared off on Dec. 17, 2016, which undoubtedly was as true then as it is now. Even Smith (a common name if ever there was one) acknowledged that, as a fighter, he was and is more blue-collar than blue-blood, a card-carrying union member of Local 66 on Long Island, N.Y., whose day job as a common laborer – which he still holds – involves such working man's chores as pouring concrete, digging trenches, laying sheetrock, power-washing septic tanks and knocking down walls with a sledgehammer. He does that for eight to 10 hours a day before heading to the gym at 6 p.m. to train for an upcoming bout.
It's an exhausting schedule, and one that Smith would just as soon whittle down when and if his personal circumstances allow. But supposedly common fighters, like all common men, must plan for the future while taking nothing for granted in the present.
"Hell, I'm human," the 29-year-old Smith (24-2, 20 KOs), who will be in a familiar underdog role when he challenges WBA light heavyweight champion Dmitry Bivol (15-0, 11 KOs) in the DAZN-streamed main event Saturday night at the Turning Stone Resort Casino in Verona, N.Y., said in a lengthy profile in The Ring a couple of years ago. "Every day I go to work I want to leave. I just push myself to stay as long as I can. I keep myself motivated to go past that pain. But no one can beat down a hard-hat guy who can take anything.
"There isn't a day that goes by when I'm not asking myself, `What the hell am I doing here?' since I have boxing. But I do see how my day job (which pays $38 an hour, with benefits) works well with my night job as a fighter. I don't really think I would be able to do one without the other."
Maybe, just maybe, if Smith again confounds the odds-makers – Bivol is a -2500 wagering choice, meaning you'd have to put up $2,500 to win $100, while Smith is +1000, which would yield a $1,000 return on a $100 bet – he can finally afford to tell his Local 66 bosses that he is turning in his sledgehammer to concentrate on boxing full-time. He almost certainly will receive a payday far in excess of his previous high of $400,000 for the Hopkins fight, although the Oneida Nation Gaming Commission is notoriously hesitant to release such figures unless or until it is absolutely necessary. In any case, taxes and fees paid to his promoters, manager, trainer and other support-crew members will reduce his end by about half, or maybe even a little bit more.
"For a second, I thought about leaving construction, but that's not me and who I am," Smith said after his first six-figure payday ($150,000), and first signature victory, a first-round knockout of the heavily favored Andrzej Fonfara on June 18, 2016, in Fonfara's hometown of Chicago, a bout that was nationally televised by NBC. "Boxing is such a crazy game that you could go months and months without a fight. How will I pay my bills? How will I get the things that I want and do things for my family? I wasn't about to change everything, because working construction and doing all of the things I did got me here. Why change something that isn't broken?"
Smith knows about things than can and do break, like jaws, which might explain his hesitancy to take a leap of faith and bet big on himself as a fighter who everyone agrees is pretty good, and maybe even a bit better than that, but not necessarily elite.
Riding high after his surprise knockout of Hopkins – which, in retrospect, might not have been quite the shocker it appeared to be at first glance – there was talk of Smith snagging a big-money title shot if he got past Sullivan Barrera, no easy task but certainly viewed as doable in light of the way he had pounded Hopkins out of the ring, where he was counted out in the eighth round by referee Jack Reiss. This was not the way Hopkins, who had vowed that the bout with Smith would be the finale of his 28-year pro career, win, lose or draw, had imagined his sendoff would end. He was, after all, a legendary fighter who knew what it was like to lose, but had never lost inside the distance.
Against Barrera, Smith started strongly, flooring the Cuban in the first round and nearly closing the deal with a follow-up barrage. But Barrera recovered quickly and went on to win a unanimous, 10-round decision whose immediate effect was to reduce Smith from flavor of the month to, again, another Average Joe. Shortly thereafter it was revealed that Smith suffered a broken jaw in the second round and would need to undergo surgery. It marked the second time Smith had had his jaw broken during a bout, the first a fourth-round KO loss to Eddie Caminero in 2010.
Since his momentum-blunting setback to Barrera, Smith has fought just once, a first-round blowout of 39-year-old journeyman Melvin Russell on June 30 of last year. That gimme victory probably should not have been enough to boost him into a matchup with Bivol, who is arguably the best light heavyweight in the world at this juncture, but Smith does have those signature wins over Fonfara and Hopkins. It also didn't hurt that the unification matchup of Bivol and IBF 175-pound champion Artur Beterbiev (13-0, 13 KOs), which seemed to be a done deal in January, fell apart when Bivol signed a co-promotional deal with Matchroom Boxing that puts his fights on DAZN while Beterbiev cast his lot with Top Rank and ESPN. Since Bivol needed to fight somebody on March 9, Smith, an available pinch-hitter, was offered his dream shot.
"Joe's been waiting for a while for a world title fight," said Smith's longtime promoter, Joe DeGuardia of Star Boxing, who has entered into a co-promotional arrangement with Matchroom's Eddie Hearn to advance the self-professed common man's ring career. "Joe has made the most of his opportunities. He did it against Fonfara, he did it against Bernard Hopkins. I'm looking forward to him doing it against Dmitry Bivol."
Some have compared Smith to other working-class heroes such as the "Cinderella Man," James J. Braddock, who went from being a longshoreman during the Great Depression to scoring one of boxing's most memorable upsets when he outpointed heavyweight champion Max Baer in 1935, and "Irish" Micky Ward, he of the three unforgettable encounters with Arturo Gatti. The stories of both Braddock and Ward were turned into well-received movies, in keeping with Hollywood's fascination with supposed nobodies who rise up and, when it counts, become somebodies. Who knows, maybe Smith, should he take down Bivol, will get a similar big-screen treatment somewhere down the line.
Then again, maybe not. There are those who insist that Smith got Fonfara out of there with a lucky punch, and that he did to Hopkins what no one else had ever done mostly because Joe was 27, young and strong, while B-Hop was 29 days shy of his 52nd birthday, had not fought in 25 months and chose Smith as his goodbye present to himself as an active fighter only because he didn't think he was all that good to begin with.
"He thought I was nobody dangerous," Smith said of how he believes he was perceived by Hopkins. "But we watched videos of him and we just knew that he had nothing for me. We saw he didn't have much power or anything; he was just slick. We knew we just had to keep the pressure on him and eventually he would fold."
In retrospect, Hopkins sort of agrees. He acknowledged pushing the envelope a bit too far, the result of being overly confident that he was somehow exempt from the ravages of the aging process.
"All credit to Joe Smith, he did what he had to do, but it was also Father Time helping him," Hopkins told me of a fight he now realizes he was perhaps unwise to have taken. "If you stay in this game, and it's a hard game, time will defeat you every time. I have no regrets about how my career went, but I stayed in the game too long. I admit it."
So, does Hopkins, now an executive with Golden Boy, believe Smith is capable of reaching down into his trick bag and pulling out another shocker?
"Joe Smith is fighting a really tough guy, a young guy (Bivol is 28) who has a lot of skills and can really fight," Hopkins said. "Although Joe is not on his level, he does have a really good punch. If you have that, you always have a puncher's chance. I do expect Joe Smith to be at his best that night, but I really don't see him winning that fight unless it's by a knockout."
This is where Joe Smith Jr.'s day job and night job tend to coalesce. In daylight hours, he might be a lunch-pail-carrying, hard-hat-wearing Everyman, but there are occasions when he's asked to whack away at walls or whatever with a destructive tool of his trade. This Saturday night, at the Turning Stone, he will carry a sledgehammer of sorts in each fist, with which he will do his best to tear down the Kyrgyzstan-born, Russia-based Bivol, against whom he really should have little chance of adding to his list of unlikely victims.
But power is the great equalizer in boxing, capable of turning certain defeat into late victory in a way that football and basketball teams, trailing by insurmountable margins with just minutes remaining, can't. Joe Smith Jr. has been written off before. He doesn't listen to the doubters and the naysayers because, well, why should he?
And if things don't go as he hopes they will, there's always Local 66 to provide a safety net of sorts to someone who never has been reluctant to put in an honest day's work for an honest day's pay.
Bernard Fernandez is the retired boxing writer for the Philadelphia Daily News. He is a five-term former president of the Boxing Writers Association of America, an inductee into the Pennsylvania, New Jersey and Atlantic City Boxing Halls of Fame and the recipient of the Nat Fleischer Award for Excellence in Boxing Journalism and the Barney Nagler Award for Long and Meritorious Service to Boxing.
Check out more boxing news on video at The Boxing Channel
To comment on this story in The Fight Forum CLICK HERE
Jonathan Esquivel Remains Unbeaten and Raquel Miller Wins NABF Title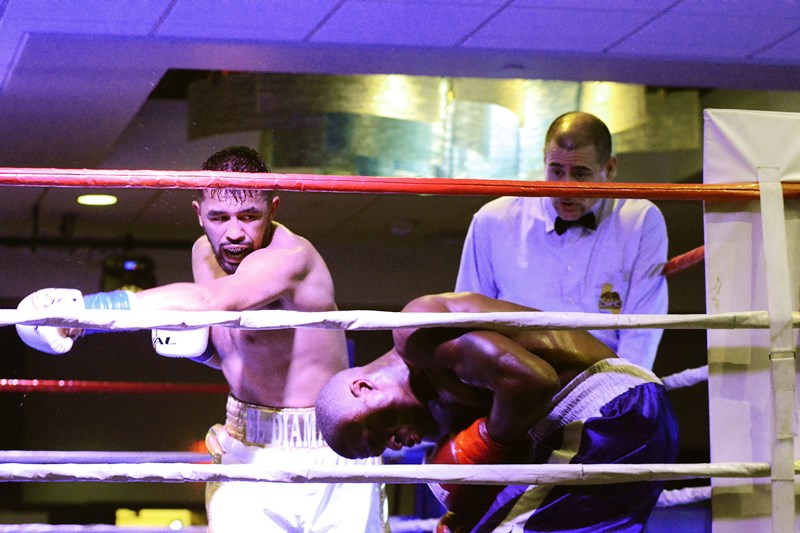 HAWAIIAN GARDENS, Calif.-Undefeated Jonathan Esquivel attracted a large and lively crowd and they weren't disappointed in his knockout win over Tavoris Teague on Saturday.
Esquivel (10-0, 9 KOs) showed the large contingent of fans that sold out the Hawaiian Gardens Casino that the tricky Teague (6-27-4) could not compete for four full rounds in their super middleweight clash.
The fight ended at 2:11 of the fourth when Teague was overwhelmed by Esquivel but remained standing up as referee Zachary Young ended the fight.
Esquivel, who lives in nearby Santa Ana, California, brought more than 200 fans and they saw him struggle a bit with Teague, but after two flat rounds, the southpaw began finding the range and unleashed a barrage of punches that Teague could not avoid. The end came suddenly but the Orange County fighter remains with an unblemished record.
NABF Female Title
Female middleweight contenders headed the main event and former Olympic alternate Raquel "Pretty Beast" Miller (9-0, 4 KOs) showed her professional game is intact with a knockout win over veteran Erin Toughill (7-5-1) to win the vacant NABF middleweight title.
Miller didn't waste time and knocked Toughill down in the first exchange with a short right cross that dropped the veteran fighter who had nearly toppled middleweight contender Maricela Cornejo in her last ring appearance.
Speed was her greatest asset and Miller used it to full advantage as she jabbed her way through Toughill's guard and landed quick three-punch combinations. For the first three rounds Miller was in full control.
Around the fourth round Miller seemed in cruise mode when Toughill rammed several rights against her foe and followed up with more right crosses. All seemed to land flush and Miller was moved backwards with the blows. Though Toughill did not land more punches than Miller, the solid blows were enough to win her first round.
In the fifth round Toughill seemed confident that she had discovered the remedy for Miller's speedy punches and kept ramming rights through the guard. Again Toughill seemed to be able to land the more effective blows, but though they landed they didn't seem to hurt Miller, but rather perplexed her.
Miller seemed more intent to reverse the momentum and launched a quick solid three-punch combination on Toughill who seemed surprised by the blows. After absorbing a Miller right Toughill retaliated with a left hook and another left hook. The change of pace seemed to keep Miller off balance but toward the end of the sixth round a screaming left jab connected followed by a solid one-two combination. Miller had quickly regained the momentum.
The seventh round saw both fighters race toward each other with Miller connecting with a lead right that snapped Toughill's head back. Miller followed up quickly with a snapping jab, jab and left hook that caught Toughill perfectly and dropped her immediately to the floor. She beat the count but when referee Zachary Young asked her to put her hands up:
"She gave me a strange look and I had to end it," said Young of Toughill's response.
When asked what punch caused the knockout Miller was unsure.
"I don't remember what punch I used, I'm just excited to win the title," said Miller who won by knockout at 1:01 of the seventh round.
Miller wins the NABF middleweight title and becomes an automatic contender for the WBC version of the middleweight world title. Claressa Shields is the undisputed middleweight world champion and holds the WBC, WBA, IBF and WBO world titles.
"I'm all about smooth boxing but I can bang if I have to," said Miller.
Yes she can.
Other Bout
Super middleweights Kenny Quach (0-1-1) and Johnny Cisneros (0-0-1) ended in a draw after four closely fought rounds. Cisneros fights out of Riverside and was making his pro debut. Quach fights out of Santa Ana, Calif.
Photo credit: Al Applerose
Check out more boxing news on video at The Boxing Channel
Fast Results from Brooklyn: Wilder Knocks Out Breazeale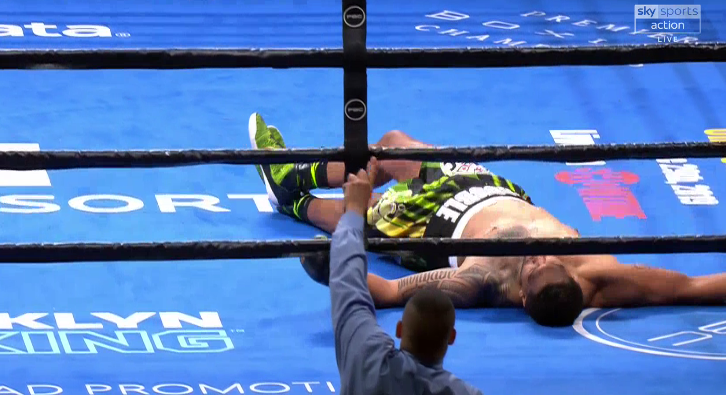 Deontay Wilder vs. Dominic Breazeale figures to be entertaining for as long as it lasts said one pundit and he could not have been more prescient. Entertaining it was although if you were distracted you likely missed it. It was all over in 137 seconds
Wilder, making the ninth defense of his WBC world heavyweight title, stunned Breazeale with a big right hand early in the contest but then walked into a wild right hand by Breazeale and was himself momentarily stunned. He had enough presence of mind, however, to keep his cannon of a right hand unholstered and a few moments later he unleashed it again, leaving poor Breazeale flat on his back. Breazeale made it to his feet, seemingly as referee Harvey Dock reached the count of "10," but he was in dire straits and the bout was waived it off.
This was the same Dominic Breazeale who lasted into the seventh round with Anthony Joshua not quite two years ago. As for Wilder, he remains undefeated with his 40th knockout in 42 pro starts and a match between him and Joshua or a rematch with Tyson Fury looms bigger than ever.
Co-Feature
WBC world featherweight champion Gary Russell Jr. successfully defended his title and completed the hat trick for the Russell Brothers with a fifth round stoppage of Spain's Kiko Martinez. Russell (30-1, 18 KOs) was just too fast for the Spaniard and was on his way to a comfortable win on points when the fight was waived off at the suggestion of the ring physician because of a bad cut over Martinez's left eye. A former IBF 122-pound champion, Martinez (37-9-2) is now 1-4 in world title fights.
Undercard
In the first of the TV fights, North Las Vegas junior welterweight Juan Heraldez remained unbeaten but barely as he was held to a draw by former IBF 130-pound world title-holder Argenis Mendez. One judge had it 97-73 for Mendez but the others had it even. Heraldez (16-0-1) was one of four Mayweather Promotions fighters on the card. Mendez, from Yonkers, New York, via the Dominican Republic, was held to a draw in a second straight fight, bringing his record to 25-5-3.
A previous draw ensued in an 8-round contest between 30-something heavyweights, Robert Alfonso (18-0-1) and Iago Kiladze (26-4-1). Alfonso, a Cuban defector and ex-Olympian who trains with Wilder in Tuscaloosa, weighed in at 254, giving him a 35-pound weight advantage. He had Kiladze fighting off his back foot for much of the contest, but the LA-based fighter from the Republic of Georgia snuck in enough punches to stem a 3-fight losing streak.
Bantamweight Gary Antonio Russell moved to 14-0 with a six-round technical decision over Tijuana's Saul Hernandez (13-13-1). A clash of heads in the sixth round left the Mexican disoriented and the bout went to the cards where Antonio won by scores of 59-55 and 60-54 twice. Hernandez didn't figure to go the distance. In his last three fights, he fattened up his record against opponents who were a combined 0-30.
In a fight slated for eight rounds, junior welterweight Gary Antuanne Russell improved to 9-0 (9) with a fourth round stoppage of Nicaragua's Marcos Mojica (16-4-2) who had the misfortune of being thrust against a former Olympian in a second straight bout. Mojica was on the canvas twice before the referee intervened. He lasted longer than any of Russell's previous opponents, none of whom lasted beyond three frames.
Brooklyn-born Richardson Hitchins, who represented Haiti in the 2016 Olympics, improved to 9-0 (5) when Columbia's Alejandro Munero (4-2-3) was unable to answer the bell for round four. The 21-year-old Hitchins was making his eighth appearance at Barclays.
Dylan Price, a 20-year-old bantamweight from Sicklerville, NJ, improved to 8-0 when the corner of Mexico's Manuel Manzo (4-7-2) stopped the one-sided beatdown midway through the sixth round.
Check out more boxing news on video at The Boxing Channel
To comment on this story in The Fight Forum CLICK HERE
The Tartan Tornado and the Monster Advance in the World Boxing Super Series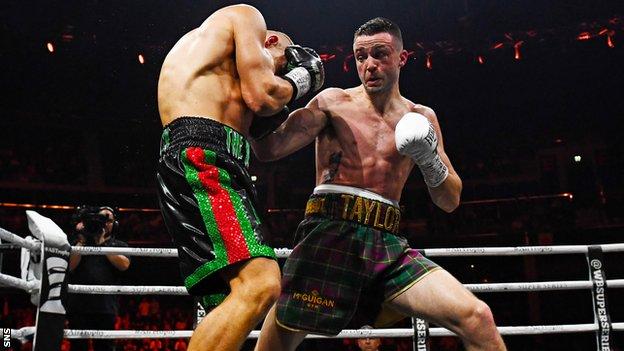 Semifinal matchups in the 118- and 140-pound tournaments of the World Boxing Super Series played out today, May 18, at the SSE Hydro Arena in Glasgow, Scotland. All four participants entered the day undefeated.
In the main go, junior welterweight Josh Taylor, the Tartan Tornado, delighted the home folks by winning a unanimous decision over Ivan "The Beast" Baranchyk. Fighting in the same arena where he won Commonwealth Gold in 2014, Taylor outpointed Baranchyk on scores of 117-109 and 115-111 twice.
Taylor had an anxious moment in the fifth round when Baranchyk landed three unanswered punches that momentarily left Taylor on shaky legs. But in the very next frame, Taylor came up big, knocking Baranchyk to the canvas twice, first with a right hook and then a left to the head followed by a left to the body.
Baranchyk, who pepped for this fight at Freddie Roach's gym in Hollywood, recuperated nicely. Taylor could have played it safe by going on his bicycle in the final round, but he elected to trade with Baranchyk who finished strong, although clearly behind on the cards.
With the victory, Josh Taylor improved to 15-0 and moves on to a contest with Regis Prograis, a bout that will likely land in Glasgow and, if so, will be the biggest fight ever in Scotland. Baranchyk, who was born in Russia but has been residing in Oklahoma, declined to 19-1
The Monster
In the co-feature, Yokohama's baby-faced Naoya "The Monster" Inoue (18-0, 16 KOs) showed that he belongs on everyone's pound-for-pound list with a second round blast-out of Puerto Rico's previously undefeated Emmanuel Rodriguez (19-1). After a fairly even first round, Inoue lowered the boom in the second, decking Rodriguez three times to force an intervention. At stake were the IBF and WBA bantamweight titles. With the win, Inoue earned a date with Filipino veteran Nonito Donaire who was in the building.
Inoue scored his first knockdown with a left hook and that spelled the beginning of the end for Rodriguez. In his previous two bouts, Inoue demolished title-holders Jamie McDonnell and Juan Carlos Payano in the opening round. If he gets past Donaire – and he will be heavily favored – he will be the odds-on choice to be named the 2019 Fighter of the Year.
Check out more boxing news on video at The Boxing Channel
To comment on this story in The Fight Forum CLICK HERE