In Dismantling Povetkin, Joshua Recaptured His Swag among the Heavyweights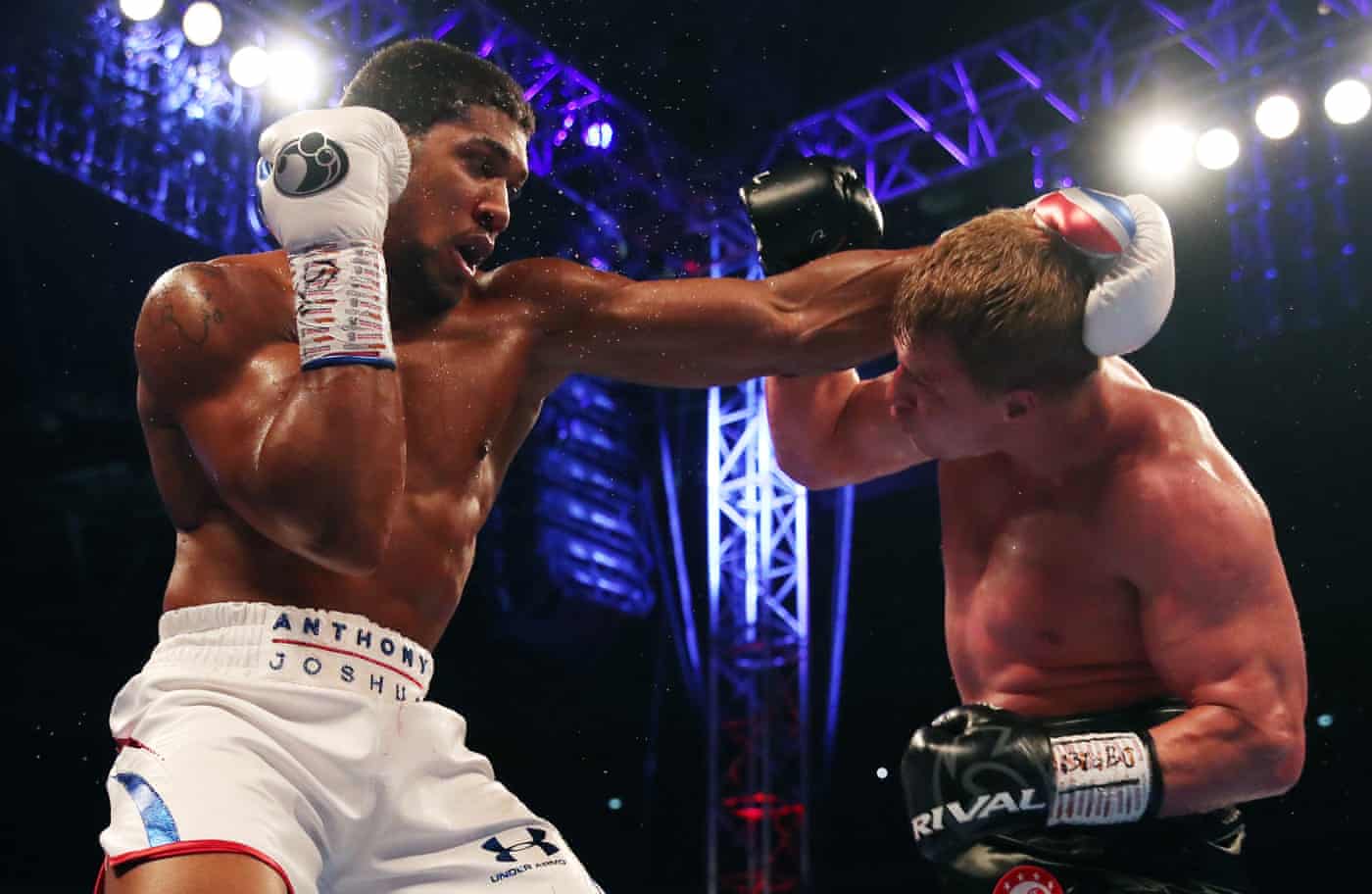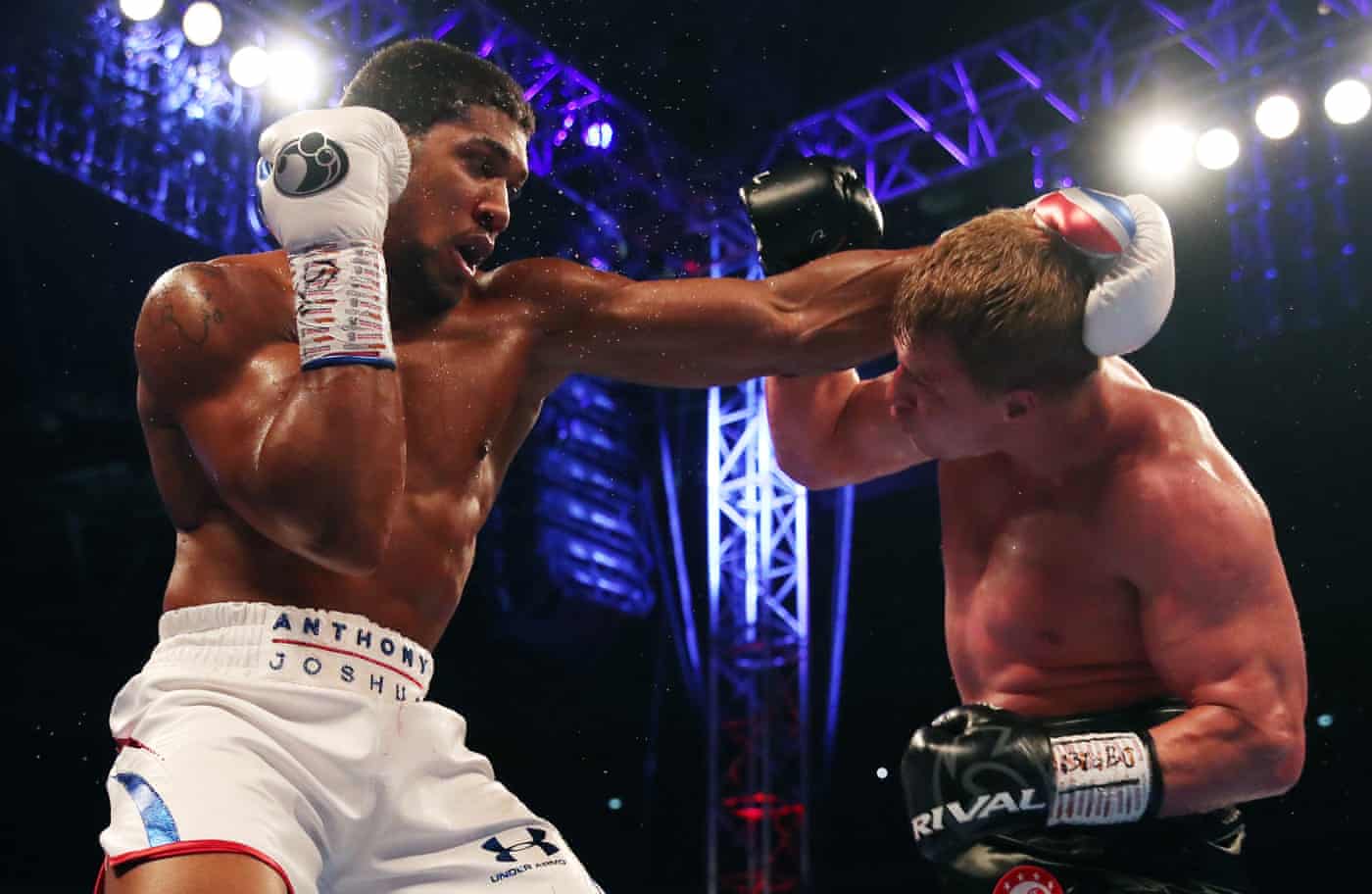 He was in against a very crafty and experienced opponent in former WBA titlist Alexander Povetkin 34-2 (24). And although he was troubled by the dangerous Russian fighting small as he tried to inch his way in and time him, AJ adjusted well and started to take the initiative and dropped and stopped Povetkin in the seventh round, retaining his WBA, WBO, and IBF heavyweight titles and thus becoming the first fighter to ever stop Povetkin, something Wladimir Klitschko failed to do.
During the fight AJ was forced back. He had to adapt to Povetkin making him punch down and that caused him to be a little tentative, especially after being bloodied from a broken nose in the first round. And early on, AJ was a little confused and busy trying to keep Povetkin occupied from outside so he couldn't get in on him. His most effective weapon in doing such was his left jab, delivered to the head or body, although the fight really turned when he began putting his one-two together. Then after a fairly evenly-paced bout, AJ slowed some with the hope it would lure Povetkin to close in a little harder, and he did.
As Povetkin, who came to fight, became more assertive, he became more vulnerable. AJ found the openings for his big right hand and left hook. With the first really solid right hand that bounced off his chin, Povetkin buckled and instinctively went back. Joshua pursued him and then, with near Joe Louis-like accuracy, put his right hands and hooks together, along with a beautiful right to the body in the middle of the assault and finished his game opponent.
Once again it was shown that trading with AJ is almost certain suicide. Povetkin was in great shape and would've been a handful for any other heavyweight in the world because he no doubt brought his A-game. Sometimes it takes AJ a little while to get going, and if you don't do anything to bother him or wake him up, he doesn't fight with the urgency of a "Smokin" Joe Frazier. However, when you wake him up and force him to cut loose, he's so dangerous that he doesn't need too many clean shots to end it. And making Joshua more lethal is that he has both short and inside power in both hands.
After months of hearing how Povetkin was the most serious threat to Joshua, that's now finished business. Prior to the bout The Ring magazine rated the top six heavyweights in the world as follows…..Joshua, Wilder, Povetkin, Ortiz, Whyte and Parker, in that order. Now Joshua is 3-0 (2) versus Povetkin, Whyte and Parker which squashes the narrative that he has fought weaker opposition than WBC title holder Deontay Wilder 40-0 (39) who has only faced Ortiz among the top six.
Today, the most widely levied criticism of any elite fighter is that he didn't fight the best man or men in his division. Fighters can't control who their contemporaries are but they can control fighting the best of their era. Rocky Marciano's era wasn't stellar, but he fought every top fighter who was in line to challenge him. Floyd Mayweather fought in a stout era – the difference is an overwhelming majority of his bouts with big name opponents were strategically manipulated so that he faced them on the downside of their career – and that's a fact, not a theory.
Forty years after his last victory in a title fight, Muhammad Ali is respected and revered as a fighter even by those who don't claim to be a fan of his. Why? He wasn't the most fundamental boxer in heavyweight history nor was he the biggest puncher, and not all of his fights were edge of your seat exciting. The thing that's often cited as to why he was a marvel is that he fought the best of the best during one of the deepest eras in heavyweight history. There were a few times between 1975-77 that he held a win over every fighter ranked among The Ring magazine's top-10. Sure he fought a few Brian London's and Jean Pierre Coopman's, but London was encompassed by Sonny Liston and Ernie Terrell during the 1960s and Coopman by Joe Frazier and Ken Norton during the 1970s.
Anthony Joshua hasn't yet sniffed the greatness of Ali on many levels, but he is on the same trajectory in regards to meeting and defeating the best of his generation. By the end of this month, the WBC heavyweight title fight between Deontay Wilder and former champ Tyson Fury will likely become official with them meeting in early December. And regardless of who wins, Joshua, if he really wants to etch a great legacy, must pressure the winner to meet him in their next bout. In addition to that, he must tell his brain, aka Matchroom promoter Eddie Hearn, to forget about winning the purse war if it is the only stumbling block. If the winner of Wilder-Fury is impressive, he will have earned a 50-50 split.
During the faux negotiations between the Joshua and Wilder camps this past summer the purse split was the focal point. And prior to the prospect of Wilder and Fury meeting, Joshua clearly held the better hand based on his resume and owning three titles to Wilder's single title.  But the Wilder-Fury winner will have closed the gap and Joshua needs to be next while the fighters are at or near their prime. The fact is Joshua versus the Wilder/Fury winner will be the most widely anticipated fight in the heavyweight division since Lewis-Tyson and maybe even since Tyson-Holyfield I. The onus is on the fighters to make it happen and they both have the clout to make sure it does, especially Joshua.
Interviewed in the ring after dispatching Povetkin, AJ said it didn't matter to him who he fought next as long as it's Wilder or Fury, but it was obvious that he preferred Wilder. A lot depends on how Wilder fares with Fury, but until then, here's what we know…..Alexander Povetkin and Luis Ortiz are about on the same level; having never faced each other, it's a tossup as to who'd win. Both Joshua and Wilder scored impressive stoppages over Povetkin and Ortiz respectively…AJ needed seven rounds and Deontay needed ten rounds. During his bout with Ortiz, Wilder was knocked around the ring and had to endure a few big exchanges, some of which he came out second-best. Wilder was also nearly stopped in the seventh round but battled back, summoning great courage and reserve to win a fight he was losing. Against Povetkin, Joshua was more troubled than he was beaten up. And once he found his range and pace and began putting his punches together, the fight ultimately ended when AJ got off with his best stuff. In essence, Joshua was more impressive against Povetkin and had fewer close calls than did Wilder against Ortiz.
Between now and the time Wilder fights Tyson Fury, it'll be debated as to who was more impressive – Joshua against Povetkin or Wilder against Ortiz; the answer is clearly Joshua for the reasons stated. Moreover, when analyzing a fight, A + B doesn't equal C. Joshua will be favored over either Wilder or Fury, but probably along the line of 7-5 and nothing will change that.
The thing that emerged from Joshua dismantling Povetkin is that AJ recaptured some of the limelight and swag he ceded to Wilder this past March. AJ is again the fighter to beat in the heavyweight division and will probably get the bigger purse split regardless of whether he faces Wilder and Fury.
That said, he better not let the fight fall through over it!
Between 1977 and 1982, Frank Lotierzo had over 50 fights in the middleweight division. He trained at Joe Frazier's gym in Philadelphia under the tutelage of the legendary George Benton. Before joining The Sweet Science his work appeared in several prominent newsstand and digital boxing magazines and he hosted "Toe-to-Toe" on ESPN Radio. Lotierzo can be contacted at GlovedFist@gmail.com
Check out more boxing news on video at The Boxing Channel
Angel Rodriguez and Adelaida Ruiz Stay Unbeaten in Pico Rivera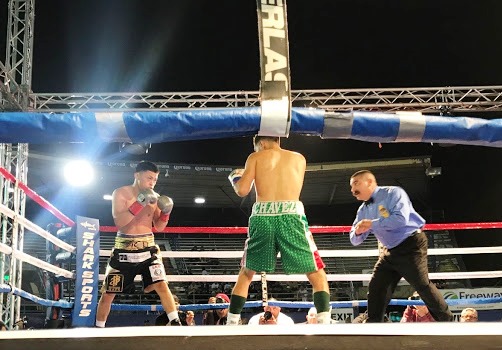 (By special correspondent Tarrah Zeal) PICO RIVERA, Ca.-A large fight card saw Angel Rodriguez and rapidly rising female star Adelaida "La Cobra" Ruiz in co-main events on a cool Saturday summer evening at the outdoor Pico Rivera Sports Arena. Dubbed "Path 2 Glory," the Red Boxing Promotions show featured two bouts with strong female contenders who left the crowd fully entertained.
Local fighter Angel Rodriguez (3-0) of Pico Rivera used his athleticism and speed to derail any hopes of James Stewart gaining a foothold in their lightweight clash and won by majority decision after four rounds.
Despite Rodriguez's many offensive and defensive weapons Pomona's Stewart did not allow the fight to be a run away and maintained a steady course of retaliation in their lightweight clash. It was toe-to-toe action that left the judges in a quandary. Though one judge scored it a draw, the two others saw Rodriguez the winner.
A super bantamweight clash saw South Gate's Anthony Casillas (8-1) out-bludgeon Northern California's Ivan Varela (3-2) to win by a unanimous decision that was much closer than the scores might indicate. Casillas and Varela never waned in throwing punches. It was a fight that had fans cheering lustily with each side thinking they had won.
After four rounds all three judges deemed Casillas the winner 39-37.
The first female fight of the night was an exciting match that had two light flyweight women coming back into the ring with hopes to go home a winner after recent losses on both of their records.
Twenty-three-year-old, Lorraine Vilalobos (3-2) of Whittier, CA. who trains at Grampa's boxing gym in Orange County, was scheduled for four rounds with twenty-four-year-old Danielle Saldanha (2-3) of Fort Collins, CO.
During the early rounds, Villalobos was the aggressor. Saldanha showed her skill by landing a few punches and smooth defense. With Saldanha moving around the ring a lot, Villalobos kept the pressure and stayed technical amidst the constant clashes between the two.
Connecting jabs and overhand rights were setting Villalobos up for what would have been a clear decision that the judges would've given to the stronger fighter of the two, Villalobos. But the fight never got to the scorecards as Villalobos landed a clean left hook to the chin of Saldanha which sent her flat on the canvas.
There was a look of mixed feelings of excitement and shock as Villalobos watched Saldanha struggling to get up, she didn't know how to correctly react to her opponent being laid out, "this was my first knock out in my career."
Villalobos most recent loss was a corner stoppage against Australia's tough pugilist Louisa "Bang Bang Lulu" Hawton (in a scheduled 10-round bout that only lasted five at the StubHub Center in Carson, CA.).
Female co-main
Los Angeles native Adelaida "La Cobra" Ruiz (8-0, 4 KO) continued her undefeated record with a unanimous decision over a strong-willed southpaw, Myrka Aguayo (2-1) from Tijuana, Mexico.
In the scheduled six-round super flyweight contest, Ruiz did what she had always done and that was dominate her opponents with her great technical style and powerful hooks to the body.
Getting too close proved to be a big mistake for Aguayo as she was met with a flurry of body punches every time. But, she wouldn't give up too easily as she set herself up for more of a beating from the "La Cobra" throughout the rounds.
Ruiz used her distance and vicious hooks to the body as the crowd chanted "Cobra, Cobra". The crowd was all too familiar with this fan favorite and her style to never disappoint. The Tijuana's pugilist had a hard time keeping her mouthpiece in.
Even though her last bout was nearly seven months ago, "La Cobra" showed no mercy in finding perfect openings to lay multiple body shots and hooks punishing her opponent as if she never took a day off. Even an elbow to the head of Ruiz' had her right eye slowly closing in the final rounds but, that didn't slow down the constant attacks.
After six rounds of pure punishment, all three judges scored the bout 60-54 for "La Cobra."
Check out more boxing news on video at The Boxing Channel
To comment on this story in The Fight Forum CLICK HERE
Three Punch Combo: Looking Ahead to the 2020 IBHOF Class and More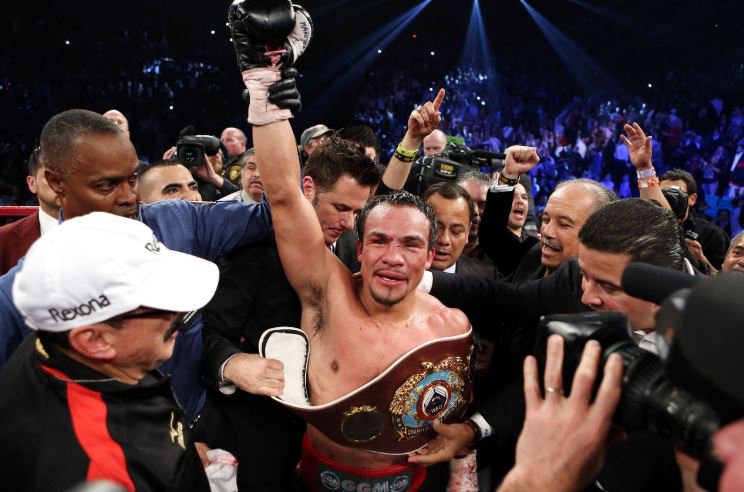 THREE PUNCH COMBO — Last weekend, the International Boxing Hall of Fame in Canastota, NY, held its annual induction ceremony. Julian Jackson, Donald Curry and James "Buddy" McGirt were enshrined in the modern category. With the 2019 induction weekend now complete, it is now time to look forward to the 2020 class in the modern category.
For those not familiar with the process, each year three boxers are elected in the modern category. No more and no less. The modern category is comprised of fighters who had their last bout no earlier than 1989 and have been retired from the sport for five years. So to be considered for the 2020 ballot, the boxer's last fight would need to be no later than 2014.
Last year's class was dominated by holdovers who weren't elected to the IBHOF the first time they were eligible and appeared on the ballot multiple times before finally getting inducted. We also saw something similar in 2016. But for the class of 2020, we have a strong list of first time eligible candidates and given the current voting criteria it is probable that the class of 2020 will be comprised of fighters from this list.
The five notable first time eligible candidates are Juan Manuel Marquez (56-7-1, 40 KO's), Sergio Martinez (51-3-2, 28 KO's), Carl Froch (33-2, 24 KO's), Jorge Arce (64-8-2, 49 KO's) and Marcos Maidana (35-5, 31 KO's).
Of the five, I think Arce and Maidana can safely be eliminated from serious consideration for the class of 2020. They don't have near the resumes of the other three.
Juan Manuel Marquez (pictured) would seem to be a lock. He is a former multi-division champion who fought in some of the most prominent fights of his era and holds wins against some of the best fighters of his generation. This includes wins over Hall of Famer Marco Antonio Barrera and future Hall of Famer Manny Pacquiao.
Sergio Martinez is also a lock. The Argentine may have been a late bloomer but he had a dominant four-year middleweight title reign after defeating Kelly Pavlik in 2010 for the title. During this reign he scored an emphatic second round knockout of Paul Williams which avenged a previous loss and won a decisive 12-round decision over Julio Cesar Chavez Jr.
I sense there will be some debate regarding Froch but I think he will get the nod his first time around. He is a former 168-pound champion and has an incredibly deep resume that includes wins against many of the best in the division of his era. Of his two losses, one was avenged to Mikkel Kessler and the other was to future first ballot Hall of Famer Andre Ward. The resume just speaks for itself and should be more than enough to earn Froch enshrinement on his first go-around.
Of the holdovers, the two most likely to push Froch for the third and final spot are Rafael Marquez (41-9, 37 KO's) and Vinny Paz (50-10, 30 KO's). Marquez garnered a lot of support in his first year of eligibility last year and a lot were surprised when he did not make the final cut. With his brother likely getting inducted this coming year, there could be a push to put the brothers in together. As for Paz, he also picked up some steam last year and seemed to sway more voters to his side.
The Case For Yaqui Lopez
Every year I like to touch upon some fighters who I feel have gone overlooked by IBHOF voters. In past years for example, I have made cases for both Kevin Kelley and Junior Jones. This year, I wanted to go back a little further to a different era and point out a fighter who I think deserves serious consideration in Yaqui Lopez (61-15, 39 KO's).
Lopez never won a world title and I am quickly reminded of that whenever I bring up his candidacy. He fought in an era that not only did not have an abundance of title belts but also featured some of the all-time greats of the light heavyweight division. Lopez lost two close decisions in world title bids to Hall of Famer Victor Galindez. Lopez also was competitive on two occasions in challenging Matthew Saad Muhammad for his light heavyweight title. Their second fight in 1980 was the Ring Magazine Fight of the Year. And Lopez also gave future Hall of Famer Michael Spinks a test before being stopped in the seventh round.
The losses were competitive to these all-time greats. In any other era Lopez would have been a world champion. But there are yet many good wins on his resume, most notably a sixth round stoppage of Mike Rossman in March of 1978. Six months later, Rossman would knock out the aforementioned Galindez to become the light heavyweight champion.
There is another side to the argument for Lopez. Some people hate when I mention this but entertainment matters when considering candidates qualifications. The floodgates were opened by voters in this regard with the elections of Arturo Gatti and Ray "Boom Boom" Mancini and there is no going back. Lopez was not only a very accomplished fighter but one of the most exciting fighters of his era, he was involved in many memorable wars. Add this fact to his resume and Lopez more than meets all the criteria to be inducted into the IBHOF.
Under The Radar Fight
 ShoBox returns on Friday from the WinnaVegas Casino & Resort in Sloan, Iowa with a tripleheader featuring six fighters with a combined record of 91-1. Though I am very interested in all the fights, I am especially interested in the main event, a 154-pound contest between fast rising prospect Sebastian Fundora (12-0, 8 KO's) and Hector Manuel Zepeda (17-0, 4 KO's).
Fundora stands 6'7" tall and is appropriately nicknamed "The Towering Inferno." For a man who stands that tall, he is incredibly athletic and fluid inside the ring. Working from a southpaw stance, Fundora likes to use his height to pepper his opponents from the outside with a sharp right jab. He will work very fluid, heavy handed combinations behind that jab and makes his opposition pay a heavy toll when they attempt to close the distance. And if opponents do manage to get inside, Fundora has shown himself to be a very accomplished fighter at close range.
Defensively, Fundora has some things to clean up. He tends to get involved in exchanges and when he does so will stand straight up with his chin exposed. He's been clipped clean on a few occasions and that will need to be corrected as he moves up in caliber of competition.
There is not a lot of video available on Zepeda but from what I have seen he is a technically astute fighter. He is a boxer puncher by trade who will use frequent lateral movement working behind the left jab from the orthodox stance. Zepeda likes to be first instead of looking for counters and from the fights I have seen has shown to be a volume puncher. As the record indicates, however, he is not a big puncher.
If Zepeda fights the way that I have seen on video, I think we are going to get a fast paced, good action fight. Fundora is clearly the "A" side here and is supposed to win. But make no mistake, Zepeda can fight and this is a step up in class for Fundora.
This is a classic ShoBox fight in which the "A" side could get pushed and I am very interested to see this one on Friday.
Check out more boxing news on video at The Boxing Channel
To comment on this story in The Fight Forum CLICK HERE
Will a Canelo Alvarez Trilogy Turn 'Triple G' into a Mexican Style Piñata?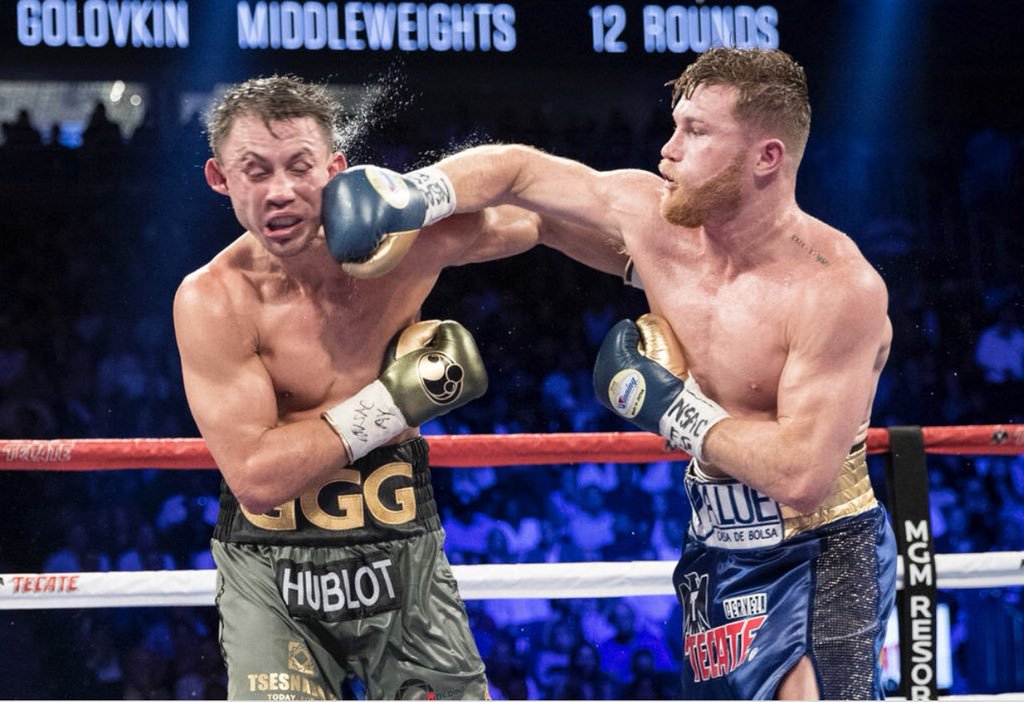 We've all seen the birthday video of some poor kid swingin' for a strung-up stuffed toy but getting back in the face something other than the expected bounty of candies and treats. Dizzy from being spun around in circles and blindfolded against a moving target, a child is beaten by paper mache. Score one for the much-abused piñata. It can only take so much punishment.
Before it opens up—explodes!
Perhaps that's 37-year-old Gennady Gennadyevich Golovkin now in his single-minded desire to fight world middleweight champion Saúl "Canelo" Álvarez, 28, for a third time following a successful comeback KO of Steve Rolls at Madison Square Garden in New York City.
Maybe he'll bust Canelo's belly open. Or maybe this time he'll get busted up? Three strikes in this game; sorry Buster.
"I'm ready. Bring on Canelo," Golovkin told DAZN's Chris Mannix after improving to 39-1-1 with 35 big knockouts. "A third fight is more interesting because we both have experience against each other. I come to open up, he comes to open up…the next fight will be amazing for us."
Their first two title bouts were amazing for fans but they lacked a sense of finality. Neither boxer was ever visibly hurt and there were no knockdowns registered. In two fights, only six points divided the combatants and that includes the despicable 118-110 score from Adalaide Byrd in favor of Canelo in the first meeting. In the rematch, Alvarez was superior—but not by much.
The piñata is still in play.
In his many swings in two HBO-PPV tries against Alvarez, Golovkin came up short of bursting the economic bubble that surrounds Canelo and appears to protect him at all times. Their 2017 contest was ruled a split draw and their 2018 rematch was won by Canelo via majority decision. If Golovkin was cloaked in an aura of invincibility, it was Alvarez who stripped him naked but helped fund a brand-new wardrobe by providing Golovkin with his two biggest paydays by far.
Golovkin's ability to knock out ordinary fighters and second-tier contenders like Vanes Martirosyan remains intact. The offense looks good. Punches still fly like hatchets. However, GGG's defense looked third-rate against Rolls and he's back to taking punches in the face in order to connect with harder punches of his own to end matters early as a "gift" for fans.
New trainer Johnathon Banks wasn't impressed.
As a student of the late trainer Emanuel Steward and caretaker of his KRONK legacy, 'Mister Banks' is a fine human being and an honest man in an industry full of lies told to sell fights.
"It was very uncomfortable for me," said Banks at the post-fight press conference of having to watch Golovkin, now without Abel Sanchez, take shots he shouldn't be taking. On the other hand, Canelo's Golden Boy Promotions promoter Oscar De La Hoya had to like what he saw.
The TSS Truth: The Golovkin who beat Rolls didn't look ready at all for the Canelo who beat Jacobs. And if you listened carefully to the post-fight breakdown by Banks, the trainer knows it's true. What's also true is that as Canelo approaches his peak, Golovkin is approaching age 40.
Can Banks teach Golovkin to correct his mistakes and be better than Alvarez in September—in three months? "If we can grow day to day as trainer and fighter, that can change the outcome."
I'm not so sure.
THE BANK STATEMENT
After getting his head bobbled around by Rolls before dropping the boom in the fourth, GGG didn't sound too interested in a New York rematch with Danny Jacobs or a shot at Providence, Rhode Island's Demetrius Andrade for Boo-Boo's new WBO trinket—and who can blame him at this point? The only big money fight out there for GGG is still against Canelo Alvarez.
It's all about his legacy now. Uno mas en Las Vegas. Third times a charm?
As Golovkin gets another year older, his red-headed target grows another year wiser. Canelo's 24 rounds of experience in the ring with GGG have taught him how to do what nobody else before him could do which was beat Golovkin back and take his unified middleweight titles.
Ask Canelo, as DAZN's Mannix did, and he'll say a third fight with Golovkin is unnecessary. "For me, we are done, but if the people want to see it, we can do it again. And I'll beat him again."
But can Alvarez finish the job and be the first to finish off Golovkin inside the distance? If he wants to get the critics off his back who insist he received two gifts against Golovkin, he'll want to. It worked for Andre Ward against Sergey Kovalev but even then fans cried foul over the TKO.
Can Alvarez make GGG quit?
The way Golovkin got hit by Steve Rolls has me wondering if the counterpunching Canelo has been setting him up all along for a trilogy winning knockout of some sort. Is the rock-solid chin of Golovkin finally ready to burst after years of getting whacked at by eager-fisted title challengers?
Canelo is by no means a knockout puncher against fully fleshed out middleweights but he has grown into the 160-pound division very well over time. His recent unanimous decision victory over Danny Jacobs didn't feature any knockdowns but his win over the 'Miracle Man' was more conclusive than was Golovkin's in 2017. Nobody was claiming afterwards that Jacobs deserved the decision while some still insist that Danny actually beat GGG. If Golovkin is right and both of them open up more in a third fight, Canelo-Golovkin III could exceed expectations.
We've all heard the saying: Be careful what you wish for. Because you just might get it!
There wouldn't be a bigger Big Drama Show in all of boxing than to see the once seemingly invincible Gennady Golovkin dropped and/or stopped by the Mexican Style of Canelo Alvarez.
Boxing Writer Jeffrey Freeman grew up in the City of Champions, Brockton, Massachusetts from 1973 to 1987, during the Marvelous career of Marvin Hagler. JFree then lived in Lowell, Mass during the best years of Irish Micky Ward's illustrious career. A new member of the Boxing Writers Association of America and a Bernie Award Winner in the Category of Feature Under 1500 Words, Freeman covers boxing for The Sweet Science in New England.
Check out more boxing news on video at The Boxing Channel
To comment on this story in The Fight Forum CLICK HERE