Is Deontay Wilder the Real Deal?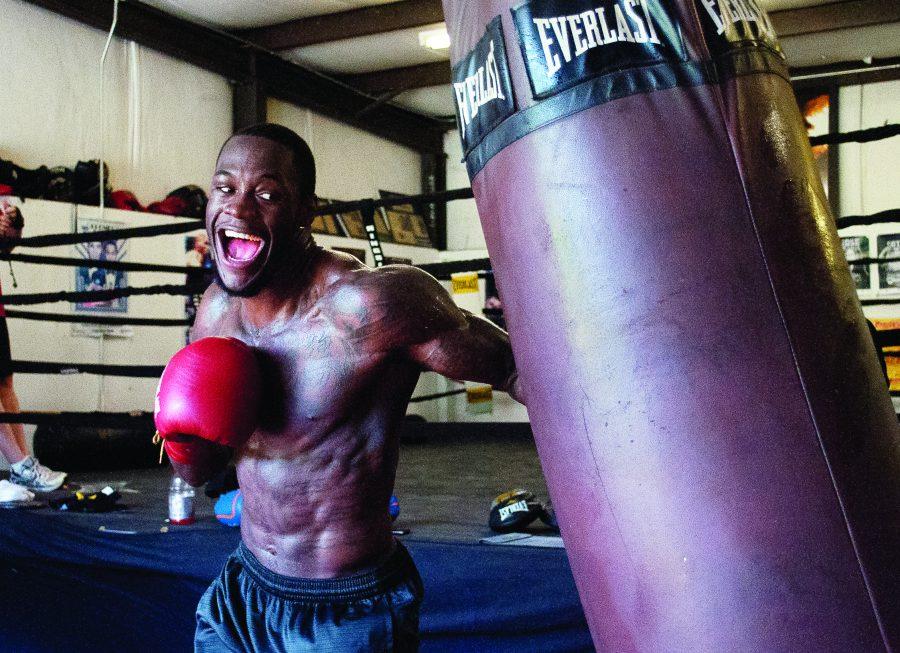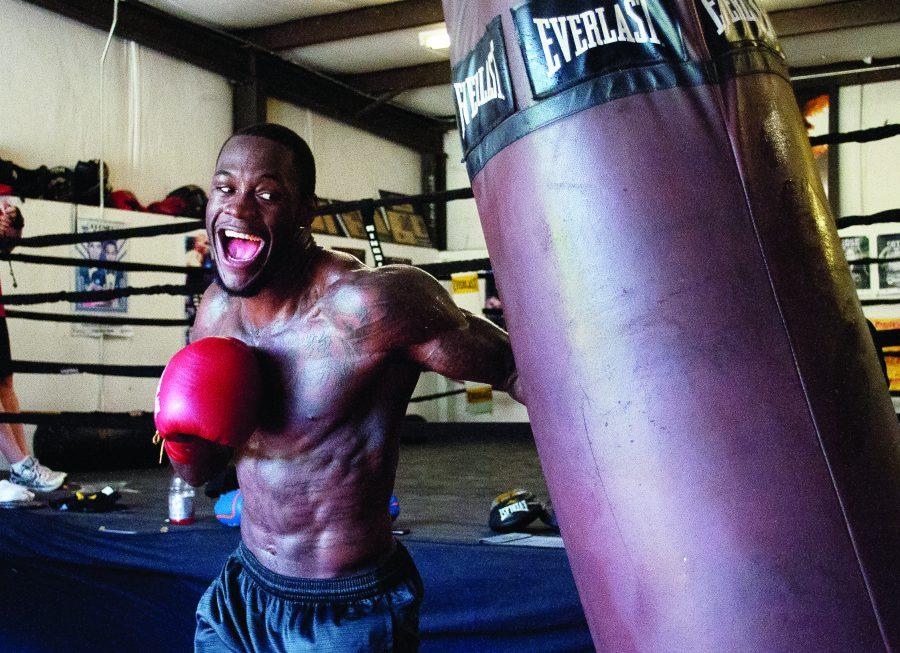 "Excuse me, Holyfield, but I am the real deal, too."
Deontay Wilder is a fascinating individual, so there's never a shortage of reflection-worthy material available after his media roundtables. Whether in person or on the phone, Wilder is one of the best interviews in boxing. He speaks with such joyous emotional clarity and he self- advocates with such strong and evangelical belief that even the previously mentioned Evander Holyfield would probably have agreed to share the his "Real Deal" moniker with Wilder had the fighter not already come up with his own.
But how real is he?
Wilder, aka "The Bronze Bomber," is set to face Tyson Fury on Dec. 1 at the Staples Center in Los Angeles. It's easily the biggest and most important fight of his career, a showdown against former unified champion Fury, who some still consider to be the lineal heavyweight champion.
"This is my time to shine," said Wilder during that same recent media teleconference in which he compared himself to Holyfield. "This is my coming-out party–somewhere I was supposed to have been a long time ago…"
Admittedly, I've never quite understood how Wilder's team landed on calling him "The Bronze Bomber." I understand that it ties Wilder to his bronze medal winning performance in the 2008 Olympics while simultaneously paying homage to another Alabama-born fighter, the immortal Joe Louis, aka "The Brown Bomber," but Wilder's professional aspirations have always been to be the very best heavyweight in the world.
Why forever tie him to the legacy of coming up short?
That prophecy has been a bit self-fulfilling so far. As good as Wilder has looked over his 10-year professional career, he's never been seen by the majority of people in boxing as anything other than the third or fourth best heavyweight in the world. To his credit, Wilder seems unfazed by it, noting that those he sees as denying the truth about what he is as a professional fighter are simply coming late to the party that is already happening.
"I was born to do this," said Wilder. "And the more and more I have fights, and the more and more I'm able to display my talent among the world, the sooner everyone will realize that I am special. I am something that's a gift from God."
A gift from God? That's a bold statement, and while God's supposed gift to the boxing world has largely gone unappreciated by the masses, it's hard to say right now that what Wilder says isn't true. Just because Wilder isn't considered the best heavyweight in world, doesn't mean he might not be someday soon.
Still, with a glossy professional boxing record of 40 wins against zero losses, and a sparkling gold and green World Boxing Council heavyweight championship belt, Wilder often ends up being ranked behind both unified heavyweight champion Anthony Joshua and former lineal heavyweight champion Tyson Fury as the third best heavyweight titleholder in boxing.
Honestly, Wilder was probably even considered fourth best by some pundits until he knocked out Luis Ortiz in March, and it was only begrudgingly that they conceded that he was a better fighter than he appeared to be at first (or even many) glances.
From a certain point of view, Wilder's boxing life to date has been entirely about exceeding expectations. No one in 2008 predicted Wilder, who had just started boxing in October 2005, would even come close to medaling at the Olympics. And many people were sure the previously undefeated Ortiz would be his undoing earlier this year, too. Or that it would be Bermane Stiverne before that. Or someone else before that.
Show of hands, please. How many believe Wilder will be thoroughly outboxed by Fury?
Perhaps many are raised because Wilder, 33, from Tuscaloosa, Alabama, looks more like an incredibly gifted natural athlete who just happens to beat people up for a living than he does an actual world class professional fighter. If you've seen any of Wilder's fights, including his seven WBC title defenses, you probably understand why.
Wilder doesn't fight like any other boxer.
Here are some examples, of which, many more could be put forth: He throws wide and looping punches like he's never been taught proper form. He carries his hands down low like his brain has no concept of defense. He frequently remains still after throwing punches to admire his work rather than pivoting away from danger like any sane and reasonable person would do.
Wilder just looks–at least in comparison to pretty much every other heavyweight champion who ever lived–to be a different kind of fighter. To put it bluntly, he looks plain wrong.
I'm not sure it's really Wilder's fault. After all, most world champion boxers had that special someone in their lives who provided them with what in retrospect seems like a stroke of brilliance in bringing them to their local boxing gym early enough in their lives for it to matter. Even for the rare champion who has to wait for that special middle school bully to urge him into the fold, the common theme among pretty much all world champion boxers is that whatever road they took into boxing, that road came their way before they were 20 years old.
"I just do what I do," said Wilder about his strange looking technique, one he's used to win every single fight to date. I'll say this about Wilder. All he does is win, and no amount of complaining about how it looks or why it shouldn't work has affected him in the least.
That has to mean something.
Everyone who was first at doing anything was probably ridiculed for doing it wrong. While Wilder doesn't fit the paradigm of how a heavyweight champion is supposed to look, how many more title defenses does Wilder have to win before people start admitting that maybe it's the perception of him that is the flawed and not the fighter himself?
After all, Fury will be the most decorated and skilled fighter Wilder has ever faced. He's a heavy puncher, possesses a great jab and knows how to use movement and defense to befuddle his opponents. Would beating Fury be enough to turn the tide?
It's interesting to listen to Wilder talk about his unorthodox boxing style. Wilder, a gifted athlete with incredible power and insane speed says he's more about function over form.
"Everybody can have some type of special ability about them, but if you can't use your powers, then you're useless."
Wilder sure can use his, and that special ability he has is perhaps the single most important attribute any fighter can possess. Wilder knocks people out.
But Wilder doesn't knock people out the way the boxing world is accustomed to seeing it done. While Fury is a fantastic boxer by traditional measures, it's hard to see how well that traditional measure will work for him when it's so obviously failed for every other single fighter who tried it on Wilder before.
More importantly, who does Fury bring in for sparring that can mimic what Wilder does?
"You'll never find that, especially when they're dealing with a fighter that's awkward and don't go by the textbook," said Wilder.  "See, I never been by the textbook. My style is what it is, and I love my style. And if somebody can come and give me a challenge and beat it, my style will always remain the same because nobody can understand it. No one could figure me out, and that what's it all about."
We're all so quick to judge and point our fingers at all the things we think Wilder does wrong. That's certainly a large part of human existence, but if he's so terrible at boxing why is he the WBC heavyweight champ? Why is he undefeated? How did he beat Ortiz?
I'm not sure Wilder really understands what he does on fight night. I am certain almost no one else does either. Neither of those things really matter.
Just because Wilder doesn't fight like Louis or Holyfield or any other heavyweight champion who came before him is of no consequence to Wilder. And just because the rest of us who see boxing as geometry and mathematics can't make heads or tails about how he keeps winning fights doesn't mean we're all right about it anyway and that Wilder's success is wrong because it doesn't fit our expectations about what's right.
Things don't have to look real to be real. The thing that makes something real, a world class boxer or anything else, lies in its realness; not in the ability of something outside of itself to perceive that it's real.
Maybe Wilder is the real deal after all.
Check out more boxing news on video at The Boxing Channel
Tyson Fury Blasts Out Germany's Tom Schwarz in Las Vegas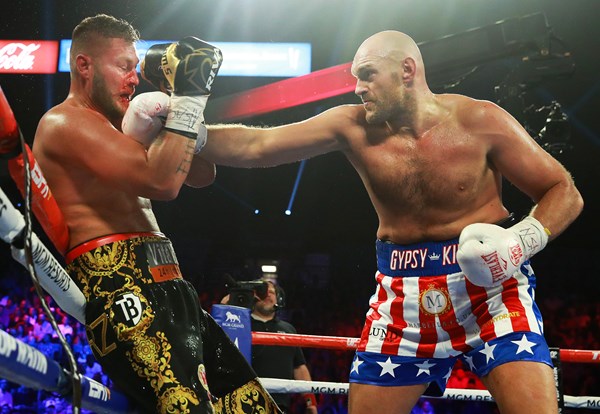 LAS VEGAS-In his first Las Vegas show Great Britain's Tyson Fury showcased a neon light kind of performance with a second round knockout over Germany's Tom Schwarz to retain the lineal heavyweight world championship on Saturday.
"I came to put on a show for Las Vegas and I hoped everyone enjoyed it," Fury said.
Though facing an undefeated fighter like himself, Fury (28-0-1, 20 KOs) proved to Schwarz (24-1, 16 KOs) and the more than 9,000 fans at the MGM Grand there are elite levels in the prizefighting world with a quick, decisive knockout victory.
The heavyweight known as the "Gypsy King" had recently signed with Top Rank after giving a riveting and inspiring performance last December against WBC heavyweight titlist Deontay Wilder. Both electrified the crowd in Los Angeles and around the world proving the heavyweight division is alive and well.
It had been decades since heavyweights had sparked interest outside of Europe. But Fury and Wilder's performance proved exciting despite ending in a majority draw after 12 rounds.
On Saturday, Fury met Schwarz and in his first fight in Las Vegas and easily out-classed Schwarz with his ability to use distance, slip punches and basically hit the German fighter with ease, even as a southpaw.
"Key tonight was telling myself to use the jab, and slip to the side," said Fury.
After a rather tepid first round Fury changed to a southpaw stance and invited Schwarz to try and hit him. In one flurry the German fired a six-punch combination and every blow was slipped by the smiling Fury. He then smoothly slipped around Schwarz and fired his own six punch combination and capped it with a right to the chin that dropped the German to his knees. Schwarz got up and was met with another dozen blows that forced referee Kenny Bayless to end the bludgeoning at 2:54 of the second round. Fury was declared the winner by technical knockout.
"I put on an extra 12 pounds. This time it was only a few months out of the ring and I'm back," said Fury. "I came here a southpaw and I hoped everybody enjoyed it."
When asked if a Wilder rematch was on tap Fury was effusive and declared that promoter Bob Arum of Top Rank assured it would be in September or October.
"I've never seen promoting like this," said Fury. "God bless America."
Once again the heavyweights seem to be the darling division with Fury, Wilder, Andy Ruiz and Anthony Joshua the leading heavyweights.
Mikaela
Mikaela Mayer (11-0, 4 KOs) started slowly but once she figured out the awkward aggressiveness of Lizbeth Crespo (13-4, 3 KOs) she slipped into overdrive with the right cross and right uppercuts and rolled to victory by unanimous decision after 10 rounds. The former American Olympian retains the NABF super featherweight title.
For the first two rounds Crespo scored well with overhand rights and constant punching. Though Mayer scored with solid left jabs, she was countered by looping rights and lefts that caught the taller American fighter pulling out.
Adjustments were made and by the third round Mayer was staying close and using lethal right hands that boomed off Crespo's head and body. After charging hard for two rounds those blows suddenly slowed down the Argentine's attack.
Mayer took over after the third round and kept the momentum going with that lethal right and check left hook. Crespo tried but couldn't solve the right of Mayer.
After 10 rounds the judges scored it 100-90, 99-91, and 98-92 for Mayer.
"Crespo was a tough challenge, but I got through it and I'm ready to move on to bigger things," said Mayer. "I am ready for a world title fight next. It's time for the champions to step up and get in the ring with me."
Other Bouts
Albert Bell (15-0, 5 KOs) proved a little too slick for Northern California's Andy Vences (22-1-1, 12 KOs) and won the WBC Continental America's super featherweight title by unanimous decision after 10 rounds. The scores were all 97-93 for Bell.
WBC International featherweight titlist Isaac Lowe (17-1-3, 6 KOs) won a boring unanimous decision over Wisconsin's Duarn Vue (14-2-2, 4 KOs) after 10 rounds. Lowe ran and ran some more with occasional pot shots but there were long stretches where it was more a track meet than a prize fight. It was like amateur boxing for 10 rounds. The scores were 98-92, 97-93 and 99-91 for Lowe.
Italian heavyweight Guido "The Gladiator" Vianello (4-0, 4 KOs) showed off agility and power before knocking out Louisiana's Keenan Hickman (6-4-1, 2 KOs). Vianello, who is trained by Abel Sanchez in Big Bear, floored Hickman three times before the fight was stopped at 2:22 of the second round.
Germany's Peter Kadiriv (4-0) had no problems with Houston's southpaw heavyweight Juan Torres (3-2-1) and won every round with a steady lead right and occasional combinations. All three judges scored it 40-36 for Kadiriv.
Philadelphia's Sonny Conto (3-0, 3 KOs) knocked out Youngstown, Ohio's Daniel Infante (1-2) with an overhand right at 2:08 of the second round of their heavyweight confrontation. Conto had floored Infante earlier in the round with a seven-punch flurry.
Fight of the Night
In the final fight of the night super middleweights Cem Kelic (14-0, 9 KOs) and Martez McGregor (8-2, 6 KOs) electrified the small audience remaining in the crowd with a memorable slugfest.
Chicago's McGregor started quick and floored Los Angeles-based Kelic in the first round with a right cross. That was only the beginning.
For the next seven rounds the two 168-pounders blasted each other with blows that would have taken out normal human beings. Both gave super human performances until Kelic connected with a left hook that staggered McGregor forcing referee Tony Weeks to halt the fight at 1:45 of the eighth and final round.
It was truly the best fight of the night.
Photo credit: Mikey Williams / Top Rank
Check out more boxing news on video at The Boxing Channel
To comment on this story in The Fight Forum CLICK HERE
Fast Results From Latvia: Mairis Briedis and the KO Doctor advance in the WBSS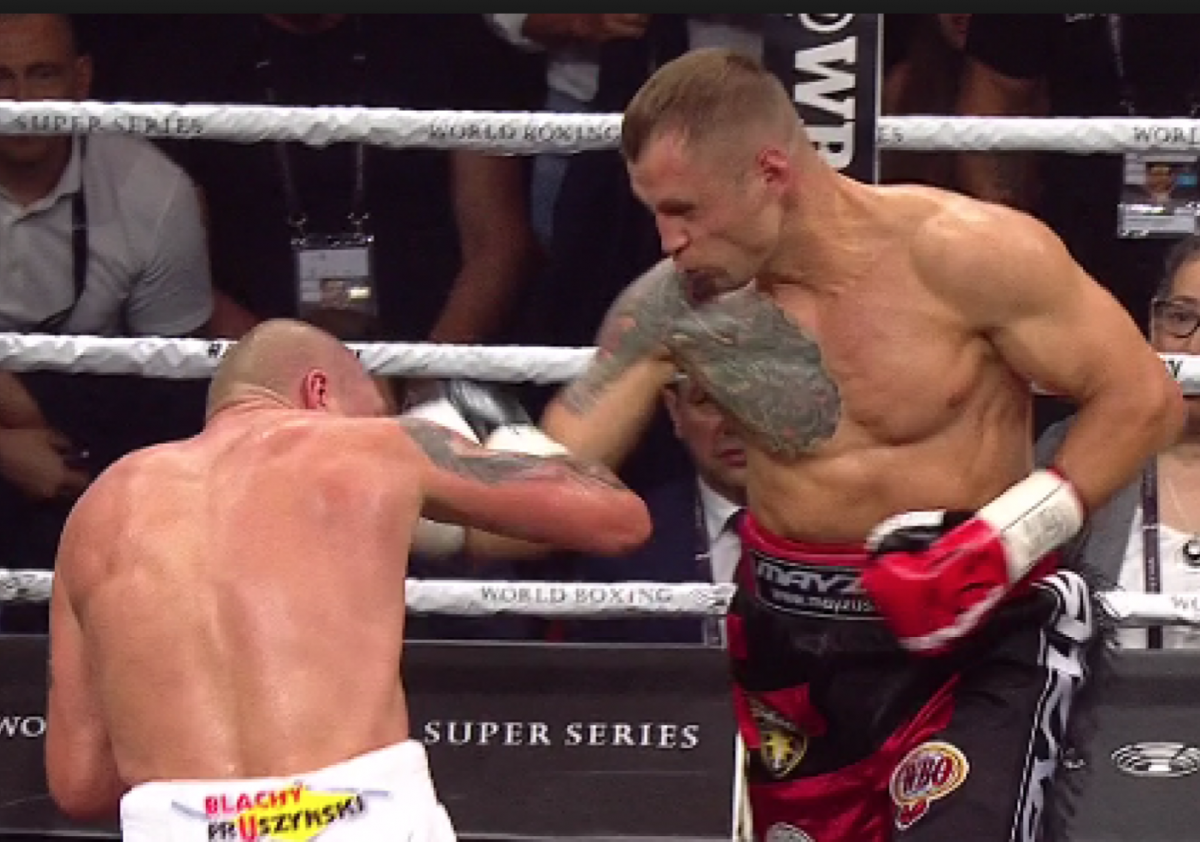 The semifinal round of the Wold Boxing Super Series cruiserweight tournament played out today in Riga, Latvia, the hometown of Mairis Briedis who was matched against Poland's Krzysztof Glowacki. Both fighters had only one blemish on their ledger and in both cases their lone defeat came at the hands of Oleksandr Usyk.
The fans left happily after Briedis (26-1, 19 KOs) knocked out Glowacki (34-2) in the third frame. But it was messy fight that invites a lot of second-guessing and likely a challenge from the Glowacki camp.
After a feeling-out first round, Briedis cranked up the juice. An errant elbow landed behind Glowacki's head, putting him on the canvas. For this discretion, Briedis was docked a point. A legitimate knockdown followed — Glowacki was hurt — and then another knockdown after the bell had sounded. The referee could not hear the bell in the din. It was a wild scene.
The fight was allowed to continue, but didn't last much longer. Coming out for round three, Glowacki wasn't right and Briedis pounced on him, scoring another knockdown, leading referee Robert Byrd to waive the fight off at the 27 second mark. It wasn't Byrd's finest hour.
The tournament organizers anticipated the complication of a draw and assigned extra judges to eliminate this possibility. They did not anticipate the complication of a "no-contest." If the outcome isn't overturned, Briedis, a former WBC cruiserweight champ, is the new WBO title-holder.
Dorticos-Tabiti
In the co-feature, Miami-based Cuban defector Yunier Dorticos, nicknamed the KO Doctor, lived up to his nickname with a smashing one punch knockout of previously undefeated Andrew Tabiti. The end for Tabiti came with no warning in round 10. An overhand right left him flat on his back, unconscious. Referee Eddie Claudio didn't bother to count. The official time was 2:33.
It was easy to build case for Dorticos (24-1, 22 KOs). He was three inches taller than Tabiti, packed a harder punch, and had fought stronger opposition. But it was understood that Tabiti, now 17-1, had a more well-rounded game. Moreover, there were concerns about Dorticos' defense and stamina.
Dorticos was ahead on the scorecards after nine frames. He rarely took a backward step and let his hands go more freely. And it didn't help Tabiti's cause that he was docked a point for holding in the sixth frame. Earlier in that round, an accidental clash of heads left Dorticos with a cut over his right eye. The ringside physician was called into the ring to examine it and let the bout continue.
With the victory, Dorticos became the IBF world cruiserweight champion and moved one step closer to acquiring the coveted Muhammad Ali trophy in what will be, win or lose, the most lucrative fight of his career.
To comment on this story in The Fight Forum CLICK HERE
Angel Ruiz Scores 93 Second KO in Ontario, CA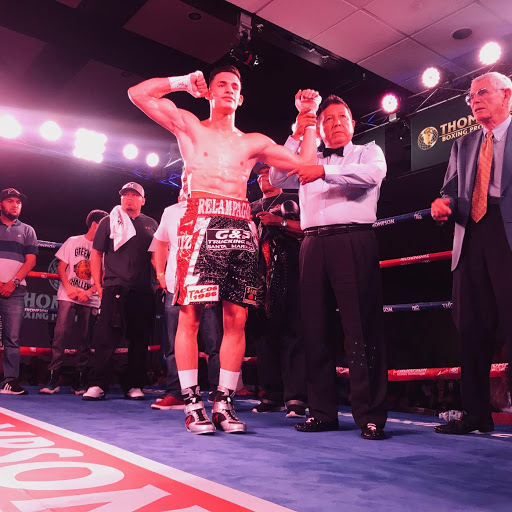 (Ringside Report by Special Correspondent Tarrah Zeal) ONTARIO, CA – "Path to Glory" featured some of Southern California's hottest prospects carving their image into the boxing world through the Thompson Boxing Promotions platform at the Doubletree Hotel in Ontario, CA Friday night.
Undefeated welterweight prospect Angel Ruiz (14-0, 11 KO) of Maywood, CA finished veteran Miguel Zamudio (43-13-1, 27 KO) from Los Mochis, Mexico with an impressive stoppage at 1:33 in the first round scheduled for eight.
At 21 years young, Ruiz (pictured) came into the night with four KO wins in his last four bouts and looking to continue his streak. A second-round body shot win over Gerald Avila (8-17-3) on May 10th and first round KO win against Roberto Almazan (8-9) just this year.
Ruiz was just getting started in the ring using his long distance and power punches to punish Zamudio.
Twenty seconds into the opening round, Ruiz' mouthpiece went flying out and a timeout was called. Once the mouthpiece was placed back in, Ruiz administered a quick flurry of punches but with no exchange from Zamudio, referee Raul Caiz stepped in and stopped the main event fight.
After the fight interview Ruiz was asked about what he saw in the fight, "I see this guy. He wants to fight. He was trying to fight but I'm too hard. I got you." Ruiz said. "I feel ready. I want to fight with the best."
With 89 amateur bouts under his belt, although not signed with any promoters, Ruiz is verbally challenging Vergil Ortiz, "Vergil if you see this video, remember me".
Brewart
In he co-main event, a six round junior middleweight bout, Richard "Cool Breeze" Brewart (6-0, 2 KO) of Rancho Cucamonga, CA won a unanimous decision over Antonio "El Tigre" Duarte (2-1) of Tijuana, Mexico.
Brewart was coming into the fight looking like the faster, more technical fighter of the two. Duarte over-telegraphed all of his punches, allowing Brewart to use his overhand right and awesome agility to angle out of reach.
Even after Duarte checked Brewart on the chin with a strong punch, Brewart's power punches always ended the rounds. The judges scored the bout 60-54 twice and 59-55 for Brewart.
Other Bouts
A victorious unanimous decision at the end of a six-round toe-to- toe bantamweight fight was given to Mario "Mighty" Hernandez, (8-1-1, 3 KO) of Santa Cruz, CA over lefty Victor "Lobo" Trejo Garcia (16-11-1, 8 KO) from Mexico City, Mexico.
Continuous hard punches were exchanged from both brawlers starting at the bell of round one. Fans were excited after a flurry of punches and then a clear push from Hernandez sent Trejo to the floor at the end of round three, giving the crowd excitement for the coming rounds.
It deemed to be a bit of a challenge for both, as orthodox Hernandez managed to match southpaw Trejo's overhand right punches with his own in response. After six rounds of continuous action two judges scored the bout 57-56 and one 59-54 for Hernandez.
In what would be an exciting and entertaining four-round heavyweight bout, Oscar Torrez (6-0, 3 KO) from Riverside, CA took on Allen Ruiz (0-2) of Ensenada, Mexico.
A surprising uppercut from Ruiz, in the beginning of round one, put Torrez on the canvas and every eye in the room were all fixated on both brawlers. The look in Torrez' eyes were more calculated, as he was careful from then on.
Wild punches were being thrown from Ruiz without fear of repercussion, but then a quick liver shot from Torrez sent him to his knees. After a couple of seconds to adjust back into the bout, Ruiz was then checked again by left hook to the chin knocking out his mouthpiece. There were 20 seconds left in round two and the round ended with no mouthpiece.
Torrez showed he was stronger and the more technical fighter and finally ended the bout by KO with a right hook to Ruiz's body at 1:08 in the third round.
Jose "Tito" Sanchez, a rising featherweight prospect with two knockouts in his first two fights and training under star trainer Joel Diaz, out of Indio, CA, took on veteran Pedro "Pedroito" Melo (17-20-2, 8 KO). Even with his low experience in the professional boxing world, Sanchez showed his maturity in the ring by controlling the fight when following Melo around the ring and landing clean left hooks and powerful body shots. After four rounds Sanchez won by 40-36 on all three cards.
Check out more boxing news on video at The Boxing Channel
To comment on this story in The Fight Forum CLICK HERE