Transgender Boxer Patricio Manuel Breaks New Ground at Fantasy Springs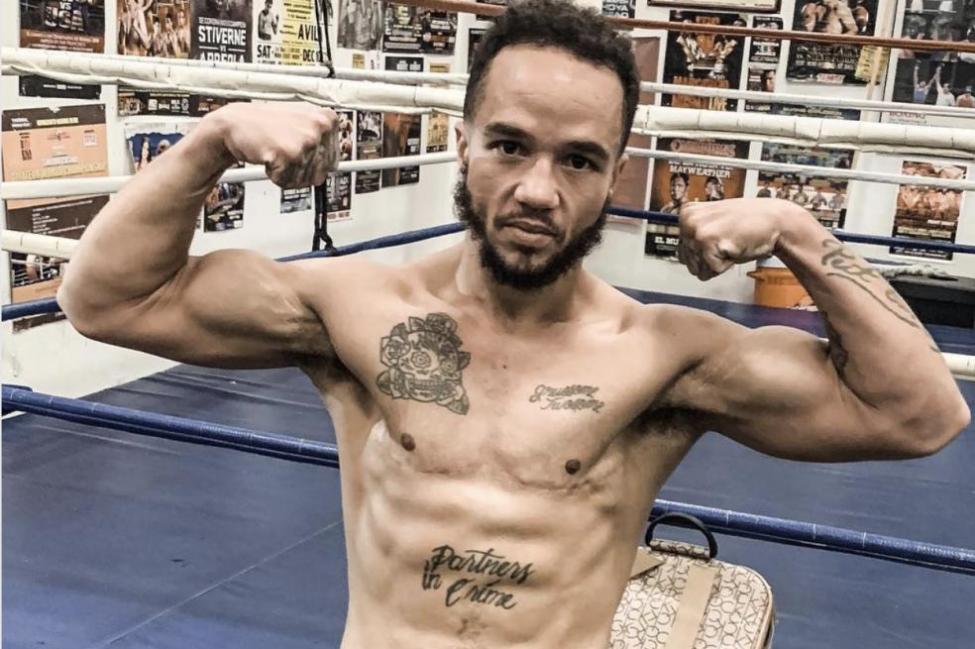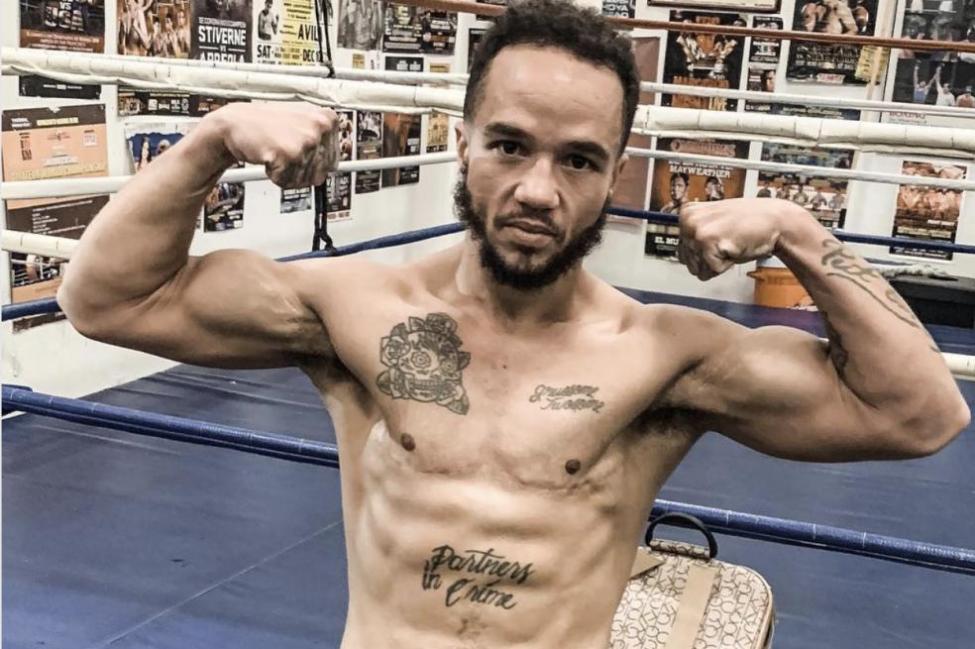 The continuing encroachment of something known as "political correctness" in American and global society sometimes comes as a jolt to stodgy traditionalists, like me. I just had to shake my head, incredulous, at a news report from 2014 I only recently came across that hinted at the radical changes that, for better or worse, are becoming more and more commonplace.
Four years ago the administrators who run the school system in Lincoln, Neb., launched a campaign to make their classrooms more "gender-inclusive," meaning teachers could no longer refer to boys and girls as, well, boys and girls. "We have kids who come to us with a whole variety of circumstances, and we need to equitably serve all kids," Brenda Leggiardo, the district's coordinator of social workers and counselors, told the Lincoln Journal Star. So instead of asking boys and girls to line up as boys and girls, teachers were encouraged to segregate the children by whether they prefer skateboards or bikes, or whether they like milk or juice. The memo also suggested that all transgender students be referred to as "purple penguins," presumably without regard for their preferences regarding liquid nourishment at lunchtime.
The Charlotte-Mecklenburg school district in North Carolina later adopted similar "gender-inclusive" guidelines, which caused me to wonder when this small snowball rolling downhill would become an avalanche, and when a portion of the PC-orchestrated new world order would branch off into the sports world. And then it occurred to me: it already has.
The latest example of athletic gender-bending came on Dec. 8 at the Fantasy Springs Resort Casino in Indio, Calif., when Patricio Manuel, a 33-year-old transgender male who had fought in the 2012 U.S. Olympic Trials as a woman, scored a four-round unanimous decision over Mexican super featherweight Hugo Aguilar. It was the first sanctioned professional boxing match involving a transgender participant, and Manuel (pictured) vowed it won't be the last.
"I wouldn't trade any of it. It was worth everything I went through to get to this point," Manuel, who underwent complex medical treatments, including surgery and hormone therapy, told the Los Angeles Times. "I'm a professional boxer now.
"I've got some naysayers out there – I need to prove that I deserve to be in there as well. I'm not in here for one show, one fight – this is something I love. I'm not done with this sport and I'll be back."
Well, maybe. But much will depend on the willingness of male-from-birth fighters in the "Me, Too" era –in which men who physically abuse women, or use positions of authority to take advantage of them sexually, are rightly chastised — to be paired with Manuel. Some men will reasonably believe that, if they defeat Manuel, and particularly by knockout, they would be criticized for beating up someone who used to be a woman. It is possible, and perhaps likely, that such criticism would arise; an online search I conducted produced a video of a female soldier in the U.S. Army who had bragged that she could whip any male Marine stationed at their joint base in a boxing match. Such a fight was arranged (it can be seen on YouTube) and the Marine pummeled the lady soldier from pillar to post in the first round, whereupon he was booed unmercifully, even by his fellow Marines.
I covered the flip side of such a transgender role reversal in the 1970s, when I authored a feature story on the opposition encountered by tennis player Renee Richards after her sex-reassignment surgery. Formerly known as Richard Raskind, in his earlier incarnation he was an excellent athlete, lettering in tennis, football, baseball and swimming in high school before going on to Yale, where he was captain of the men's tennis team. In the 1970s, however, Raskind came to the realization that he had long felt more female than male and began the process of transition. The transformation complete, the renamed Renee Richards competed as a woman in the 1976 U.S. Open, and shortly thereafter the United States Tennis Association, in apparent reaction to her arrival on the scene, began requiring genetic screening for female players. Richards challenged that policy and the New York Supreme Court ruled in her favor, a landmark case in transgender rights.
But her victory in the courts was not so warmly received by many women on the court, who complained that the 6-foot-1 Richards, despite being in her early 40s, had physical advantages, such as a booming lefthanded serve, that blurred the line between who she had been as a man and who she had become through the auspices of modern medicine.
The most famous male vs. female matchup, one that drew 30,000-plus on-site spectators to the Astrodome in Houston and a huge nationwide television audience on Sept. 21, 1973, pitted 55-year-old former Wimbledon champion Bobby Riggs against Billie Jean King, 29, arguably the top woman player of her era and an unabashed proponent of the feminist movement. The "Battle of the Sexes" was spurred by Riggs' 6-2, 6-1 victory over another standout female player, Margaret Court, and his constant chirping that, even at his advanced age, the chatty chauvinist could take down any of the sport's top women. King accepted the challenge and struck a blow for her cause with 6-4, 6-3, 6-3 victory. She accepted the $100,000 winner's check from, interestingly, smiling heavyweight champion George Foreman.
King's coronation eventually helped bring about parity with the men in purse money at major tournaments, which was significant, but what, really, had it proved? Was it merely an evening of the score for Riggs having embarrassed Court? That a great woman player in her prime could beat the shorts off a geezer of a guy who had not played competitive tournament tennis in 22 years?
With apologies to William Shakespeare, another male vs. female pairing that was full of sound and fury, signifying nothing, took place on Oct. 10, 1999, in Mercer Arena in Seattle, Wash., when boxer Margaret McGregor scored a four-round unanimous decision over fill-in opponent Loi Chow, a jockey by trade who was 0-2 in pro bouts, the most recent coming three years earlier. The then-36-year-old McGregor, who had an extensive kickboxing and boxing background and was 3-0 in pro boxing matches against women, towered over Chow and dominated him from the outset. Snarky commentators regarded the fight as a farce, maybe more than they might have had not McGregor's originally scheduled and more talented opponent, Hector Morales, dropped out.
There has not been a sanctioned boxing match between a man and a woman since, and, hopefully, there never will be another, not in an era when statistics indicate that every nine seconds a woman is facing domestic battery in America.
There is, admittedly, a curiosity element attached to these events. I was at Caesars Palace in Las Vegas on Sept. 25, 1992, for an exhibition match pitting 40-year-old tennis great Jimmy Connors against a female counterpart, 35-year-old Martina Navratilova, in what was billed as "Battle of the Sexes II." Rules aimed at leveling the playing field limited Connors to one serve and obliging him to cover half of each the doubles alleys, four additional feet in all. Despite those handicaps, Connors won, 7-5, 6-2, before a sellout crowd of 13,832 and a national pay-per-view TV audience.
Strangely enough, I have been portrayed as being on both sides of the philosophical divide concerning male/female issues. I strongly support the notion of equal pay for equal work for both genders, and I endorsed the creation of the Christy Martin Award that goes to the Female Fighter of the Year, which was presented by the Boxing Writers Association of America for the first time earlier this year to Cecilia Braekhus in New York. To one regular poster to the TSS site, who apparently is of the opinion that women are only good for baking cookies and bearing children, those positions stamped me as some sort of non-macho pansy. But I also oppose the notion of military women as combat troops, which some would say makes me as much of a hairy-knuckled Neanderthal as the now-deceased Riggs.
As the son of a wonderful mother, husband of a terrific wife, and father of two great daughters, I have always believed that anyone regardless of sexual orientation can achieve as much as their talent and ambition will take them. But whether the deep thinkers on the school boards in Lincoln and Charlotte care to admit it or not, there are some gaps, in an athletic sense, that political correctness cannot bridge. It is patently ridiculous to allow boys to compete in girls' interscholastic sports because their schools don't field boys' volleyball, field hockey or softball teams. Size, strength and testosterone almost always give the guys a winning edge in those instances.
Boxing, more so than in other sports, represents a Grand Canyonesque chasm of separation. Claressa Shields is a two-time Olympic gold medalist, but no one expects her to swap punches with Canelo Alvarez or Gennady Golovkin now or ever. Braekus is undefeated and the undisputed women's welterweight champion, but there is no groundswell to put her in the ring against Terence Crawford or Errol Spence Jr.
We should enjoy our sporting heroes, and heroines, for who and what they are. Let boys be boys and girls be girls and transgenders whatever the heck they choose to be. And a Merry Christmas to all, and to all a good night.
Bernard Fernandez is the retired boxing writer for the Philadelphia Daily News. He is a five-term former president of the Boxing Writers Association of America, an inductee into the Pennsylvania, New Jersey and Atlantic City Boxing Halls of Fame and the recipient of the Nat Fleischer Award for Excellence in Boxing Journalism and the Barney Nagler Award for Long and Meritorious Service to Boxing.
Check out more boxing news on video at The Boxing Channel
To comment on this article in the Fight Forum, CLICK HERE
Will a Canelo Alvarez Trilogy Turn 'Triple G' into a Mexican Style Piñata?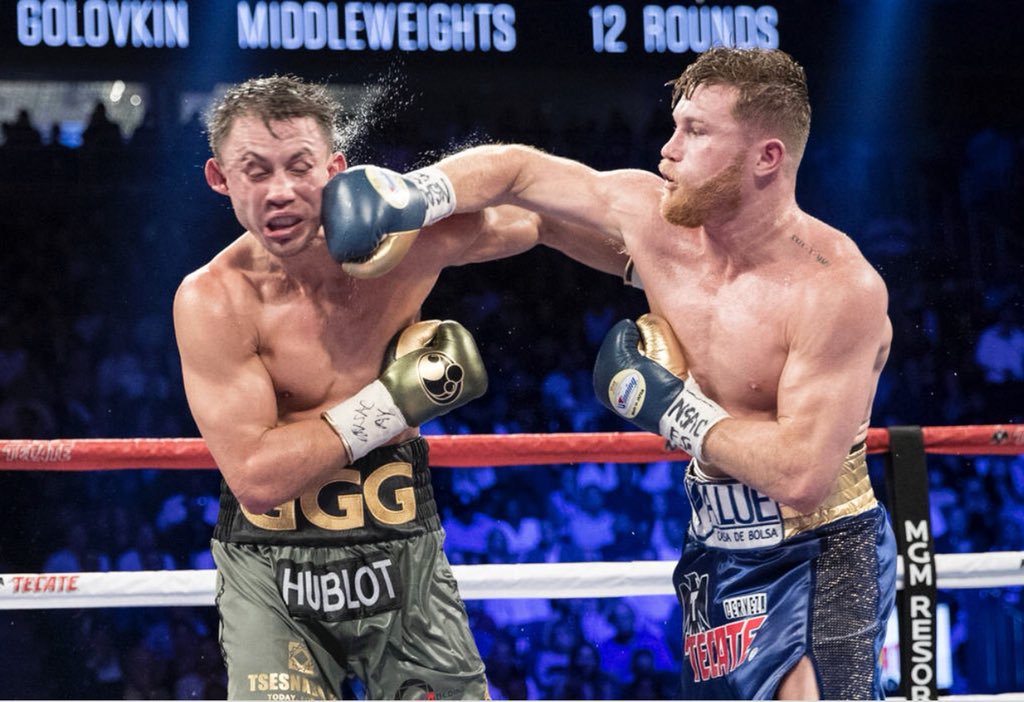 We've all seen the birthday video of some poor kid swingin' for a strung-up stuffed toy but getting back in the face something other than the expected bounty of candies and treats. Dizzy from being spun around in circles and blindfolded against a moving target, a child is beaten by paper mache. Score one for the much-abused piñata. It can only take so much punishment.
Before it opens up—explodes!
Perhaps that's 37-year-old Gennady Gennadyevich Golovkin now in his single-minded desire to fight world middleweight champion Saúl "Canelo" Álvarez, 28, for a third time following a successful comeback KO of Steve Rolls at Madison Square Garden in New York City.
Maybe he'll bust Canelo's belly open. Or maybe this time he'll get busted up? Three strikes in this game; sorry Buster.
"I'm ready. Bring on Canelo," Golovkin told DAZN's Chris Mannix after improving to 39-1-1 with 35 big knockouts. "A third fight is more interesting because we both have experience against each other. I come to open up, he comes to open up…the next fight will be amazing for us."
Their first two title bouts were amazing for fans but they lacked a sense of finality. Neither boxer was ever visibly hurt and there were no knockdowns registered. In two fights, only six points divided the combatants and that includes the despicable 118-110 score from Adalaide Byrd in favor of Canelo in the first meeting. In the rematch, Alvarez was superior—but not by much.
The piñata is still in play.
In his many swings in two HBO-PPV tries against Alvarez, Golovkin came up short of bursting the economic bubble that surrounds Canelo and appears to protect him at all times. Their 2017 contest was ruled a split draw and their 2018 rematch was won by Canelo via majority decision. If Golovkin was cloaked in an aura of invincibility, it was Alvarez who stripped him naked but helped fund a brand-new wardrobe by providing Golovkin with his two biggest paydays by far.
Golovkin's ability to knock out ordinary fighters and second-tier contenders like Vanes Martirosyan remains intact. The offense looks good. Punches still fly like hatchets. However, GGG's defense looked third-rate against Rolls and he's back to taking punches in the face in order to connect with harder punches of his own to end matters early as a "gift" for fans.
New trainer Johnathon Banks wasn't impressed.
As a student of the late trainer Emanuel Steward and caretaker of his KRONK legacy, 'Mister Banks' is a fine human being and an honest man in an industry full of lies told to sell fights.
"It was very uncomfortable for me," said Banks at the post-fight press conference of having to watch Golovkin, now without Abel Sanchez, take shots he shouldn't be taking. On the other hand, Canelo's Golden Boy Promotions promoter Oscar De La Hoya had to like what he saw.
The TSS Truth: The Golovkin who beat Rolls didn't look ready at all for the Canelo who beat Jacobs. And if you listened carefully to the post-fight breakdown by Banks, the trainer knows it's true. What's also true is that as Canelo approaches his peak, Golovkin is approaching age 40.
Can Banks teach Golovkin to correct his mistakes and be better than Alvarez in September—in three months? "If we can grow day to day as trainer and fighter, that can change the outcome."
I'm not so sure.
THE BANK STATEMENT
After getting his head bobbled around by Rolls before dropping the boom in the fourth, GGG didn't sound too interested in a New York rematch with Danny Jacobs or a shot at Providence, Rhode Island's Demetrius Andrade for Boo-Boo's new WBO trinket—and who can blame him at this point? The only big money fight out there for GGG is still against Canelo Alvarez.
It's all about his legacy now. Uno mas en Las Vegas. Third times a charm?
As Golovkin gets another year older, his red-headed target grows another year wiser. Canelo's 24 rounds of experience in the ring with GGG have taught him how to do what nobody else before him could do which was beat Golovkin back and take his unified middleweight titles.
Ask Canelo, as DAZN's Mannix did, and he'll say a third fight with Golovkin is unnecessary. "For me, we are done, but if the people want to see it, we can do it again. And I'll beat him again."
But can Alvarez finish the job and be the first to finish off Golovkin inside the distance? If he wants to get the critics off his back who insist he received two gifts against Golovkin, he'll want to. It worked for Andre Ward against Sergey Kovalev but even then fans cried foul over the TKO.
Can Alvarez make GGG quit?
The way Golovkin got hit by Steve Rolls has me wondering if the counterpunching Canelo has been setting him up all along for a trilogy winning knockout of some sort. Is the rock-solid chin of Golovkin finally ready to burst after years of getting whacked at by eager-fisted title challengers?
Canelo is by no means a knockout puncher against fully fleshed out middleweights but he has grown into the 160-pound division very well over time. His recent unanimous decision victory over Danny Jacobs didn't feature any knockdowns but his win over the 'Miracle Man' was more conclusive than was Golovkin's in 2017. Nobody was claiming afterwards that Jacobs deserved the decision while some still insist that Danny actually beat GGG. If Golovkin is right and both of them open up more in a third fight, Canelo-Golovkin III could exceed expectations.
We've all heard the saying: Be careful what you wish for. Because you just might get it!
There wouldn't be a bigger Big Drama Show in all of boxing than to see the once seemingly invincible Gennady Golovkin dropped and/or stopped by the Mexican Style of Canelo Alvarez.
Boxing Writer Jeffrey Freeman grew up in the City of Champions, Brockton, Massachusetts from 1973 to 1987, during the Marvelous career of Marvin Hagler. JFree then lived in Lowell, Mass during the best years of Irish Micky Ward's illustrious career. A new member of the Boxing Writers Association of America and a Bernie Award Winner in the Category of Feature Under 1500 Words, Freeman covers boxing for The Sweet Science in New England.
Check out more boxing news on video at The Boxing Channel
To comment on this story in The Fight Forum CLICK HERE
Tyson Fury Blasts Out Germany's Tom Schwarz in Las Vegas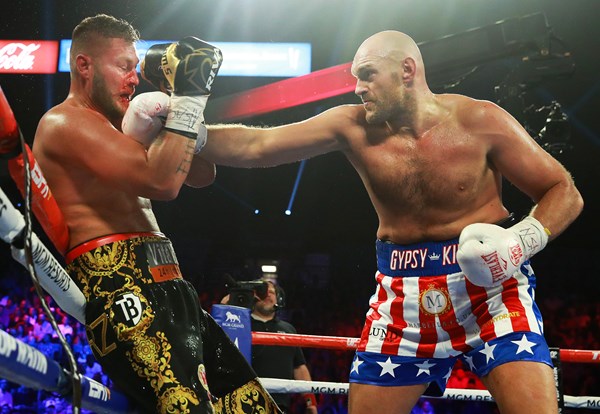 LAS VEGAS-In his first Las Vegas show Great Britain's Tyson Fury showcased a neon light kind of performance with a second round knockout over Germany's Tom Schwarz to retain the lineal heavyweight world championship on Saturday.
"I came to put on a show for Las Vegas and I hoped everyone enjoyed it," Fury said.
Though facing an undefeated fighter like himself, Fury (28-0-1, 20 KOs) proved to Schwarz (24-1, 16 KOs) and the more than 9,000 fans at the MGM Grand there are elite levels in the prizefighting world with a quick, decisive knockout victory.
The heavyweight known as the "Gypsy King" had recently signed with Top Rank after giving a riveting and inspiring performance last December against WBC heavyweight titlist Deontay Wilder. Both electrified the crowd in Los Angeles and around the world proving the heavyweight division is alive and well.
It had been decades since heavyweights had sparked interest outside of Europe. But Fury and Wilder's performance proved exciting despite ending in a majority draw after 12 rounds.
On Saturday, Fury met Schwarz and in his first fight in Las Vegas and easily out-classed Schwarz with his ability to use distance, slip punches and basically hit the German fighter with ease, even as a southpaw.
"Key tonight was telling myself to use the jab, and slip to the side," said Fury.
After a rather tepid first round Fury changed to a southpaw stance and invited Schwarz to try and hit him. In one flurry the German fired a six-punch combination and every blow was slipped by the smiling Fury. He then smoothly slipped around Schwarz and fired his own six punch combination and capped it with a right to the chin that dropped the German to his knees. Schwarz got up and was met with another dozen blows that forced referee Kenny Bayless to end the bludgeoning at 2:54 of the second round. Fury was declared the winner by technical knockout.
"I put on an extra 12 pounds. This time it was only a few months out of the ring and I'm back," said Fury. "I came here a southpaw and I hoped everybody enjoyed it."
When asked if a Wilder rematch was on tap Fury was effusive and declared that promoter Bob Arum of Top Rank assured it would be in September or October.
"I've never seen promoting like this," said Fury. "God bless America."
Once again the heavyweights seem to be the darling division with Fury, Wilder, Andy Ruiz and Anthony Joshua the leading heavyweights.
Mikaela
Mikaela Mayer (11-0, 4 KOs) started slowly but once she figured out the awkward aggressiveness of Lizbeth Crespo (13-4, 3 KOs) she slipped into overdrive with the right cross and right uppercuts and rolled to victory by unanimous decision after 10 rounds. The former American Olympian retains the NABF super featherweight title.
For the first two rounds Crespo scored well with overhand rights and constant punching. Though Mayer scored with solid left jabs, she was countered by looping rights and lefts that caught the taller American fighter pulling out.
Adjustments were made and by the third round Mayer was staying close and using lethal right hands that boomed off Crespo's head and body. After charging hard for two rounds those blows suddenly slowed down the Argentine's attack.
Mayer took over after the third round and kept the momentum going with that lethal right and check left hook. Crespo tried but couldn't solve the right of Mayer.
After 10 rounds the judges scored it 100-90, 99-91, and 98-92 for Mayer.
"Crespo was a tough challenge, but I got through it and I'm ready to move on to bigger things," said Mayer. "I am ready for a world title fight next. It's time for the champions to step up and get in the ring with me."
Other Bouts
Albert Bell (15-0, 5 KOs) proved a little too slick for Northern California's Andy Vences (22-1-1, 12 KOs) and won the WBC Continental America's super featherweight title by unanimous decision after 10 rounds. The scores were all 97-93 for Bell.
WBC International featherweight titlist Isaac Lowe (17-1-3, 6 KOs) won a boring unanimous decision over Wisconsin's Duarn Vue (14-2-2, 4 KOs) after 10 rounds. Lowe ran and ran some more with occasional pot shots but there were long stretches where it was more a track meet than a prize fight. It was like amateur boxing for 10 rounds. The scores were 98-92, 97-93 and 99-91 for Lowe.
Italian heavyweight Guido "The Gladiator" Vianello (4-0, 4 KOs) showed off agility and power before knocking out Louisiana's Keenan Hickman (6-4-1, 2 KOs). Vianello, who is trained by Abel Sanchez in Big Bear, floored Hickman three times before the fight was stopped at 2:22 of the second round.
Germany's Peter Kadiriv (4-0) had no problems with Houston's southpaw heavyweight Juan Torres (3-2-1) and won every round with a steady lead right and occasional combinations. All three judges scored it 40-36 for Kadiriv.
Philadelphia's Sonny Conto (3-0, 3 KOs) knocked out Youngstown, Ohio's Daniel Infante (1-2) with an overhand right at 2:08 of the second round of their heavyweight confrontation. Conto had floored Infante earlier in the round with a seven-punch flurry.
Fight of the Night
In the final fight of the night super middleweights Cem Kelic (14-0, 9 KOs) and Martez McGregor (8-2, 6 KOs) electrified the small audience remaining in the crowd with a memorable slugfest.
Chicago's McGregor started quick and floored Los Angeles-based Kelic in the first round with a right cross. That was only the beginning.
For the next seven rounds the two 168-pounders blasted each other with blows that would have taken out normal human beings. Both gave super human performances until Kelic connected with a left hook that staggered McGregor forcing referee Tony Weeks to halt the fight at 1:45 of the eighth and final round.
It was truly the best fight of the night.
Photo credit: Mikey Williams / Top Rank
Check out more boxing news on video at The Boxing Channel
To comment on this story in The Fight Forum CLICK HERE
Fast Results From Latvia: Mairis Briedis and the KO Doctor advance in the WBSS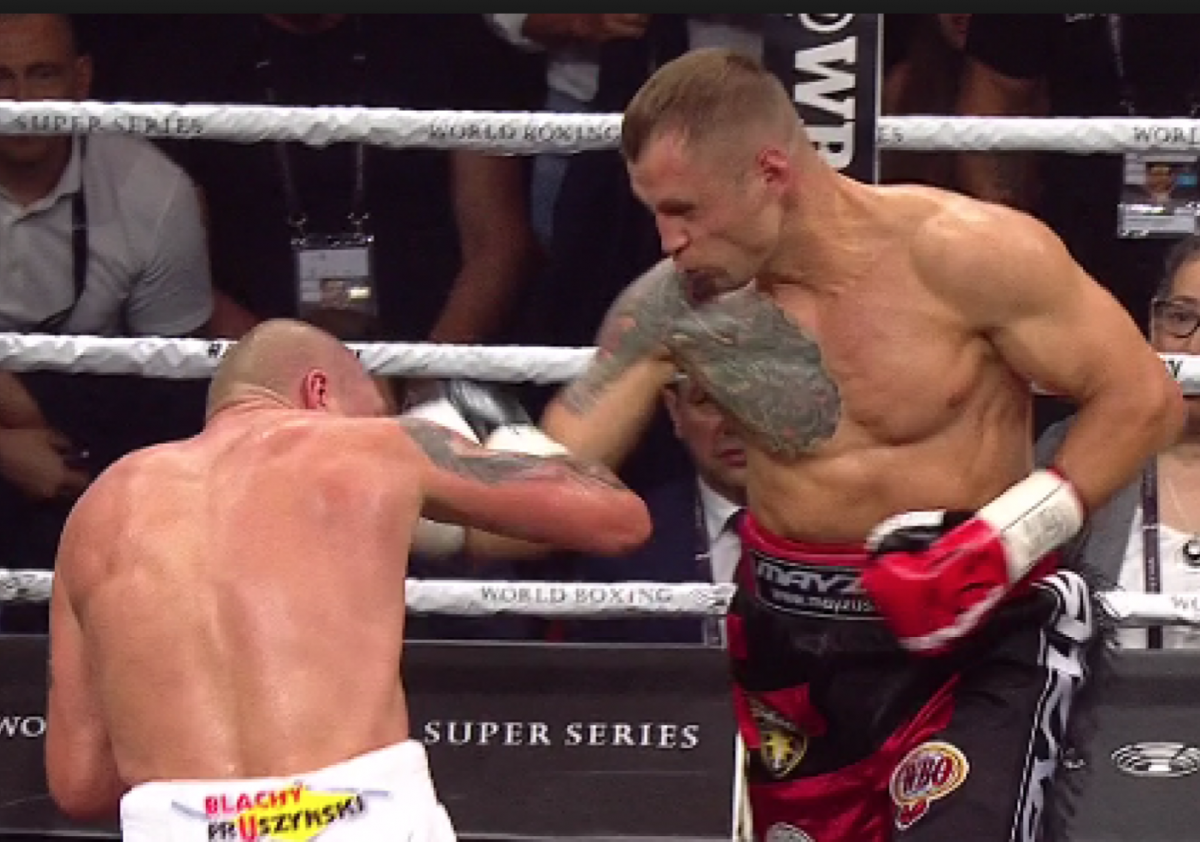 The semifinal round of the Wold Boxing Super Series cruiserweight tournament played out today in Riga, Latvia, the hometown of Mairis Briedis who was matched against Poland's Krzysztof Glowacki. Both fighters had only one blemish on their ledger and in both cases their lone defeat came at the hands of Oleksandr Usyk.
The fans left happily after Briedis (26-1, 19 KOs) knocked out Glowacki (34-2) in the third frame. But it was messy fight that invites a lot of second-guessing and likely a challenge from the Glowacki camp.
After a feeling-out first round, Briedis cranked up the juice. An errant elbow landed behind Glowacki's head, putting him on the canvas. For this discretion, Briedis was docked a point. A legitimate knockdown followed — Glowacki was hurt — and then another knockdown after the bell had sounded. The referee could not hear the bell in the din. It was a wild scene.
The fight was allowed to continue, but didn't last much longer. Coming out for round three, Glowacki wasn't right and Briedis pounced on him, scoring another knockdown, leading referee Robert Byrd to waive the fight off at the 27 second mark. It wasn't Byrd's finest hour.
The tournament organizers anticipated the complication of a draw and assigned extra judges to eliminate this possibility. They did not anticipate the complication of a "no-contest." If the outcome isn't overturned, Briedis, a former WBC cruiserweight champ, is the new WBO title-holder.
Dorticos-Tabiti
In the co-feature, Miami-based Cuban defector Yunier Dorticos, nicknamed the KO Doctor, lived up to his nickname with a smashing one punch knockout of previously undefeated Andrew Tabiti. The end for Tabiti came with no warning in round 10. An overhand right left him flat on his back, unconscious. Referee Eddie Claudio didn't bother to count. The official time was 2:33.
It was easy to build case for Dorticos (24-1, 22 KOs). He was three inches taller than Tabiti, packed a harder punch, and had fought stronger opposition. But it was understood that Tabiti, now 17-1, had a more well-rounded game. Moreover, there were concerns about Dorticos' defense and stamina.
Dorticos was ahead on the scorecards after nine frames. He rarely took a backward step and let his hands go more freely. And it didn't help Tabiti's cause that he was docked a point for holding in the sixth frame. Earlier in that round, an accidental clash of heads left Dorticos with a cut over his right eye. The ringside physician was called into the ring to examine it and let the bout continue.
With the victory, Dorticos became the IBF world cruiserweight champion and moved one step closer to acquiring the coveted Muhammad Ali trophy in what will be, win or lose, the most lucrative fight of his career.
To comment on this story in The Fight Forum CLICK HERE