The Death of Olli Maki Unleashed a Flood of Bittersweet Memories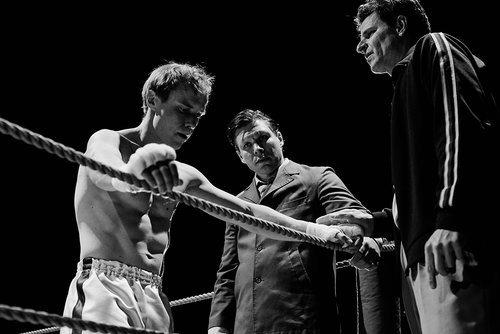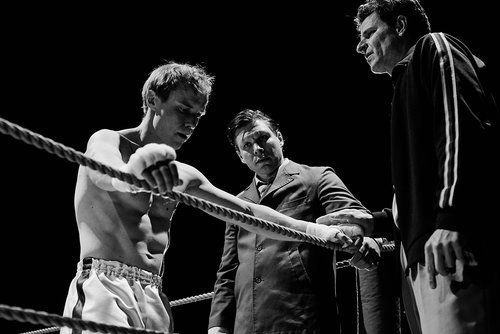 Olli Maki, a former European junior welterweight champion, died earlier this month at a nursing home in a Helsinki suburb at age 82. News of his passing on April 6 unleashed a flood of bittersweet memories.
Maki wasn't a great fighter. He finished his career with a record of 28-14-8. But he participated in an historic fight and he and his opponent Davey Moore became parcels of popular culture, transcending boxing, in Moore's case posthumously.
Maki, a Finn, a baker by trade, was the house fighter in the first world title fight ever staged in Scandinavia. The date was August 17, 1962, and the venue was Helsinki's Olympic Stadium.
Although Maki had a strong amateur background, he had only 11 pro fights under his belt. Moore, the reigning world featherweight champion, hailing from Springfield, Ohio, was 56-6-1 and making his fifth title defense.
Making matters even more daunting for Maki, he wasn't a natural featherweight. He had to boil off considerable weight to make 126 pounds and the endeavor eroded much of his strength. This was of little concern to the promoter, however. A local man, his priority was in creating a grand event, a spectacle. He picked Davey Moore not only because Moore held the title but because his name resonated with many of the locals. Davey had participated in the 1952 Helsinki Olympics, advancing to the third round.
As a spectacle, Maki vs. Moore turned out pretty well. The event attracted more than 25,000 (23,643 paid). As a fair competition, however, the contest failed miserably; Olli Maki had no business being in the same ring with Davey Moore. The Finn was blasted out in the second round, a left-right combination knocking him on the seat of his pants and a second one-two putting him down again and leaving him too woozy to continue.
If you're thinking of moving to Finland, the country has many plusses. There's very little crime, health care costs are low, life expectancy is high and Finland, home to Nokia, is one of the most technologically advanced countries in the world. But be advised that it gets cold there. The average high temperature in Helsinki in August is 66 degrees and this is the second warmest month of the year.
Although Maki vs. Moore was held in mid-August, there was a chill in the air. In fact, referee Barney Ross was shivering as he stood at the back of the ground level seats waiting for the ring to be cleared following the last preliminary bout. Yes, this was that Barney Ross, the former lightweight, welterweight, and junior welterweight world champion.
To ward off the chill, Ross started shadow boxing. This elicited a great roar from the crowd. "I didn't know what they were cheering about and then I figured out it was me," said Ross, reminiscing. "I still can't get over it. It's like giving an ovation to a baseball umpire."
The Finns were in a festive mood but had nothing to cheer about from that point on.
– – – –
When the Moore-Maki fight was announced, boxing aficionados groaned. They were hoping that Moore would proceed straightaway to a match with a young Cuban fighter turning heads, Ultiminio "Sugar" Ramos. The clamor for a Moore-Ramos fight was most intense in Ramos's adopted home of Mexico City where a powerful new organization was emerging to challenge the hegemony of the WBA, the World Boxing Council (the IBF and WBO hadn't yet been born).
Moore vs. Ramos came to fruition on Thursday, May 21, 1963 at Dodger Stadium in Los Angeles. The bout was witnessed by an announced crowd of 28,800 and a national television audience. Both the WBA and WBC belts were at stake. While other entities such as the New York and Pennsylvania commissions had flouted the WBA and ordained their own "world champions," this was the first true unification fight in the featherweight division.
Sugar Ramos, 21, was 38-1-3 with 29 knockouts. His only loss came by disqualification. But Moore, 29, was riding a 20-fight winning streak and was chalked the favorite.
The fight was a humdinger. Moore had Ramos down and almost out in the second and seventh stanzas, but the young Cuban emigrant had more fuel in his tank and came back to stop Moore in the 10th. The final punch knocked Moore into the ropes, causing the ropes to vibrate. As he fell, the nape of his neck struck the bottom strand of ropes. He was saved by the bell but his manager Willie Ketchum decided that Moore had had enough and called the fight off.
Forty minutes after the fight, after conversing with reporters, Moore collapsed and was rushed to White Memorial Hospital where doctors determined that the comatose fighter, the son of a minister, had swelling on his brain stem consistent with a whiplash injury. His wife of 11 years, Geraldine, the mother of his five children, was with him in Los Angeles but hadn't attended the fight. She could never bear to watch her husband fight. At the hospital, she maintained a bedside vigil.
Sugar Ramos was distraught. Dan Smith, a stringer for the LA Times, shadowed Ramos as the fighter entered the hospital through a rear entrance to avoid TV crews and captured this poignant scene as Ramos grieved with Geraldine:
I am very sorry the young man whispered in a choked voice. Then Ramos bowed his head, unable to go on. He began to sob softly.
I want you to understand I'm not blaming you for anything, replied Mrs. Moore. It was God's act.
I'm praying every night, said Ramos, and I'll continue to pray every night. I want to help in any possible way for Davey to recover. With that, the saddened fighter began to weep again.
Davey Moore never regained consciousness. He died at 2:20 am on Sunday morning, March 25. (An unrelated Davey Moore won the WBA super welterweight title in 1982.)
– – –
Moore's death inspired two protest songs, most notably "Who Killed Davey Moore?" by the folk singer Bob Dylan. The song, an indictment of boxing where no one accepts culpability for a ring death, is one of Dylan's more obscure renderings but that did not keep Sports Illustrated senior editor Greg Kelly from putting "Who Killed Davey Moore?" at the top of his list of the best sports songs of all time in a story that ran in the July 4, 2011 issue of that publication. (#2 on Kelly's list was "Surfin' USA" by the Beach Boys, a weird juxtaposition.)
Ultiminio "Sugar" Ramos and Moore's widow Geraldine would hook up once again and here the bitter saga of Davey Moore is leavened with sweetness. In 2013, 50 years after Moore's fatal injury, Ramos, then 71 years old (he died in 2017), was inspired to go to Moore's grave and pay his respects. It was on his bucket list.
He contacted Geraldine Moore who still resided in Springfield and learned that a statue of Moore would be unveiled in September. Ramos promised to be there at the unveiling.
It was a long and arduous trip from Mexico City, what with airplane transfers and the drive in from Indianapolis, 130 miles away. Along the way, Ramos picked up a friend, Luigi Meglioli, a man with a better command of English. Meglioli owned a ceramic tile company in Tijuana. When they arrived in Springfield at the meeting place, Ramos was holding a bouquet for Geraldine and Meglioli a pot of lilies to be laid at Davey Moore's cemetery plot.
The great Dayton Daily News columnist Tom Archdeacon, the dean of sportswriters in southwestern Ohio, led the fund-raising campaign to have the statue sculpted and then have it bronzed. This took a while. Clark County, home to Springfield, sits in America's Rust Belt and has seen better days.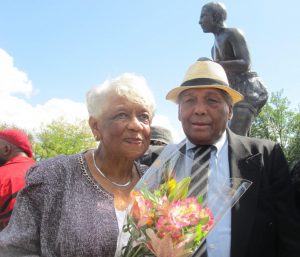 Archdeacon was there to record the moment when Sugar Ramos and Geraldine Moore were reunited after all those many years and this too was a poignant moment. Ramos was apprehensive. Davey Moore's children were all grown now. How would they react to the man whose fists had killed their father? But when the little man in the straw fedora emerged from his vehicle, his countenance betraying his qualms, Geraldine recognized him and rushed to greet him, to assure him that he come to a place where he was welcome. When the tarp was removed from the statue, they stood side-by-side, their arms linked, their faces streaked with blissful tears.
– – –
Olli Maki persevered after being shellacked by Davey Moore. Eighteen months later, fighting at his more natural weight, he won the European 140-pound title with a 15-round decision over Germany's Conny Rudhof. He lost the title in a rematch with Rudhof and failed to regain it when he lost a 15-round decision to the artful Spanish campaigner Pedro Carrasco who was in the midst of a 91-fight unbeaten streak. In retirement, Maki kept his hand in the sport as a coach and boxing official.
In the days leading up to his fight with Moore, Olli Maki was a national hero, as celebrated as the famous long distance runner Paavo Nurmi. His story touched a nerve with Juho Kuosmanen, a young Finnish filmmaker. Kuosmanen directed and co-wrote "The Happiest Day in the Life of Olli Maki" which won a major award at the 2016 Cannes Film Festival.
I have not seen the movie, but I gather that the title was meant to be ironic. As the fight draws near, Maki, played by Jarkko Lahti (pictured), feels more and more put-upon as he is hustled from one meet-and-greet to another by the venal promoter as he puts the finishing touches on the advertising campaign. The frenetic schedule imposed upon him leaves him virtually no time to spend with Raija, the girl with whom he has fallen in love. At its heart, "The Happiest Day…." isn't a boxing movie but a love story. "Raging Bull" it is not. The real Olli Maki and his wife Raija make a cameo appearance at the end of the movie.
Back in 1962 when they crossed paths in Helsinki, no one would have guessed that someday songs would be written about Davey Moore and that a statue, 8-feet-tall, would be erected to honor him. Nor would anyone have suspected that many years later Olli Maki would be immortalized in a critically acclaimed movie that had his name in the title.
Boxing is funny that way. With the passage of time, some seemingly ordinary events become larger, perhaps even monumental. And when they do, they invariably awaken bittersweet memories.
Check out more boxing news on video at The Boxing Channel
To comment on this story in The Fight Forum CLICK HERE
Angel Ruiz Scores 93 Second KO in Ontario, Calif.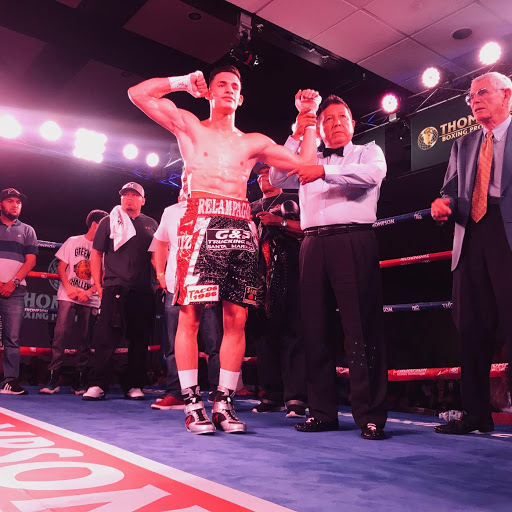 (Ringside Report by Special Correspondent Tarrah Zeal) ONTARIO, Calif.- "Path to Glory" featured some of Southern California's hottest prospects carving their image into the boxing world through the Thompson Boxing Promotions platform at the Doubletree Hotel in Ontario, CA Friday night.
Undefeated welterweight prospect Angel Ruiz (14-0, 11 KO) of Maywood, CA finished veteran Miguel Zamudio (43-13-1, 27 KO) from Los Mochis, Mexico with an impressive stoppage at 1:33 in the first round scheduled for eight.
At 21 years young, Ruiz (pictured) came into the night with four KO wins in his last four bouts and looking to continue his streak. A second-round body shot win over Gerald Avila (8-17-3) on May 10th and first round KO win against Roberto Almazan (8-9) just this year.
Ruiz was just getting started in the ring using his long distance and power punches to punish Zamudio.
Twenty seconds into the opening round, Ruiz' mouthpiece went flying out and a timeout was called. Once the mouthpiece was placed back in, Ruiz administered a quick flurry of punches but with no exchange from Zamudio, referee Raul Caiz stepped in and stopped the main event fight.
After the fight interview Ruiz was asked about what he saw in the fight, "I see this guy. He wants to fight. He was trying to fight but I'm too hard. I got you." Ruiz said. "I feel ready. I want to fight with the best."
With 89 amateur bouts under his belt, although not signed with any promoters, Ruiz is verbally challenging Vergil Ortiz, "Vergil if you see this video, remember me".
Brewart
In he co-main event, a six round junior middleweight bout, Richard "Cool Breeze" Brewart (6-0, 2 KO) of Rancho Cucamonga, CA won a unanimous decision over Antonio "El Tigre" Duarte (2-1) of Tijuana, Mexico.
Brewart was coming into the fight looking like the faster, more technical fighter of the two. Duarte over-telegraphed all of his punches, allowing Brewart to use his overhand right and awesome agility to angle out of reach.
Even after Duarte checked Brewart on the chin with a strong punch, Brewart's power punches always ended the rounds. The judges scored the bout 60-54 twice and 59-55 for Brewart.
Other Bouts
A victorious unanimous decision at the end of a six-round toe-to- toe bantamweight fight was given to Mario "Mighty" Hernandez, (8-1-1, 3 KO) of Santa Cruz, CA over lefty Victor "Lobo" Trejo Garcia (16-11-1, 8 KO) from Mexico City, Mexico.
Continuous hard punches were exchanged from both brawlers starting at the bell of round one. Fans were excited after a flurry of punches and then a clear push from Hernandez sent Trejo to the floor at the end of round three, giving the crowd excitement for the coming rounds.
It deemed to be a bit of a challenge for both, as orthodox Hernandez managed to match southpaw Trejo's overhand right punches with his own in response. After six rounds of continuous action two judges scored the bout 57-56 and one 59-54 for Hernandez.
In what would be an exciting and entertaining four-round heavyweight bout, Oscar Torrez (6-0, 3 KO) from Riverside, CA took on Allen Ruiz (0-2) of Ensenada, Mexico.
A surprising uppercut from Ruiz, in the beginning of round one, put Torrez on the canvas and every eye in the room were all fixated on both brawlers. The look in Torrez' eyes were more calculated, as he was careful from then on.
Wild punches were being thrown from Ruiz without fear of repercussion, but then a quick liver shot from Torrez sent him to his knees. After a couple of seconds to adjust back into the bout, Ruiz was then checked again by left hook to the chin knocking out his mouthpiece. There were 20 seconds left in round two and the round ended with no mouthpiece.
Torrez showed he was stronger and the more technical fighter and finally ended the bout by KO with a right hook to Ruiz's body at 1:08 in the third round.
Jose "Tito" Sanchez, a rising featherweight prospect with two knockouts in his first two fights and training under star trainer Joel Diaz, out of Indio, CA, took on veteran Pedro "Pedroito" Melo (17-20-2, 8 KO). Even with his low experience in the professional boxing world, Sanchez showed his maturity in the ring by controlling the fight when following Melo around the ring and landing clean left hooks and powerful body shots. After four rounds Sanchez won by 40-36 on all three cards.
Check out more boxing news on video at The Boxing Channel
To comment on this story in The Fight Forum CLICK HERE
Is the UFC Purchasing Premier Boxing Champions?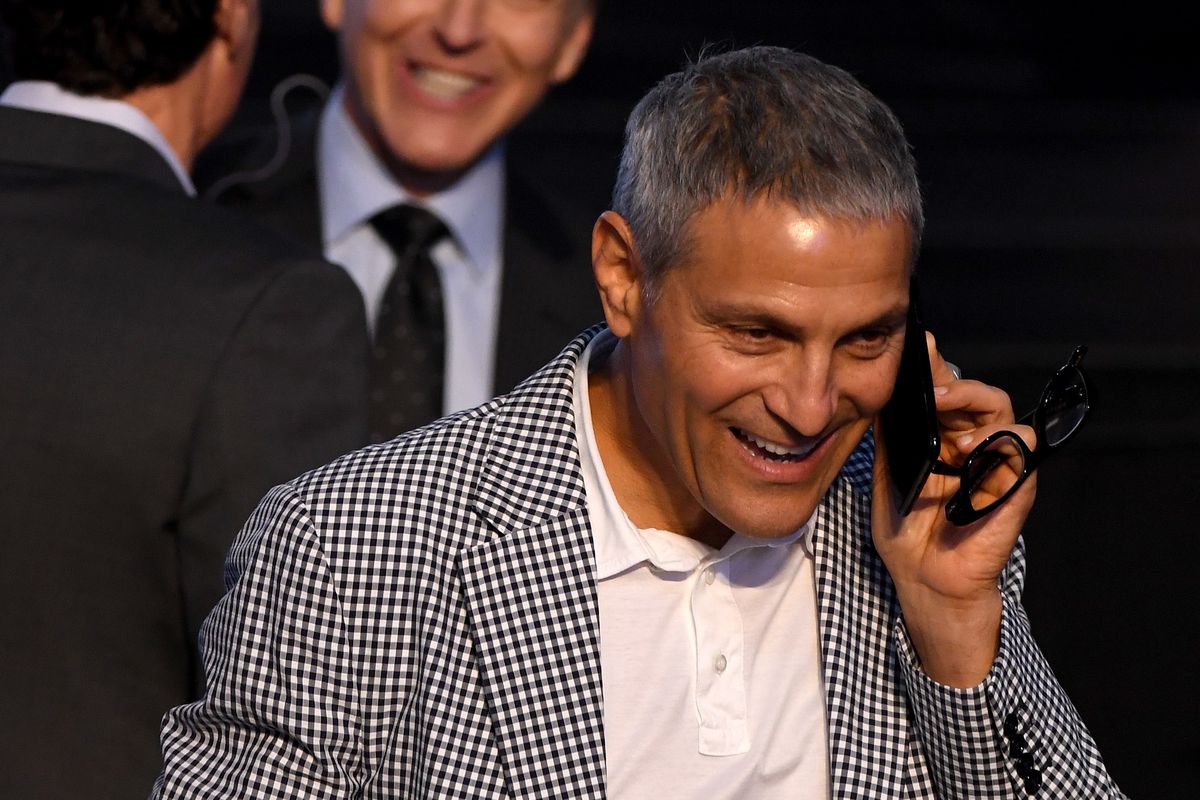 Several news outlets are reporting that the Ultimate Fighting Championship's parent company Endeavor is in talks with Al Haymon to purchase the Premier Boxing Champions. The deal is far from happening and will be complicated if it is completed. Let's look at some of the details.
Dana White has been the face of the UFC since the brand was purchased by Zuffa in 2001 and over the years he has repeatedly hinted about invading the world of boxing. In his early days as the UFC's head honcho, White even challenged his biggest star, Tito Ortiz, to a boxing match. The match never happened but to this day White will tell you he would have beaten Ortiz in a fight under Queensberry rules.
In more recent years the UFC co-promoted the Conor McGregor versus Floyd Mayweather Jr match and White, although he would vehemently deny it, also had to have at least tacitly approved of Oscar De LaHoya's promotion of the third bout between Ortiz and his rival Chuck Liddell. That match-up was likely assessed by White this way: "If Oscar wants to promote MMA let him lose his money," but he didn't stand in the way of De La Hoya and his Golden Boy Promotions.
White's name has also come up in connection with Anthony Joshua. White is said to have had a huge offer ready for the then heavyweight champion, but he backed off when the realization hit that he could not make matches for Joshua in the way he is accustomed because he had no roster of potential opponents. However, White has been insistent that the UFC will "100 percent get into boxing."
Under new owners Endeavor, White cannot operate like he did under old owners Zuffa, but if the deal goes down it is likely because White crafted some type of long term vision that he sold to Endeavor co-founder and CEO Ari Emanuel (pictured).
When Endeavor purchased the UFC in July of 2016 for a reported $4.05 billion, White agreed to guide the company for at least five more years, of which roughly two are up.
On the flipside, it is difficult to see Al Haymon relinquishing control of PBC. More than likely Haymon would stay in charge of the PBC wing and Endeavor would serve as a cash cow to keep what he has built going.
Haymon must stay aboard for another reason, though few will say it. The reason is ethnicity. If Haymon is left out, that would basically leave Leonard Ellerbe and his boss Floyd Mayweather Jr as the only prominent African-American promoters in boxing and that would not be a healthy situation.
Premier Boxing Champions has a diverse group of fighters among the over 200 pugilists under contract. Some are African-American as are many of Haymon's key employees and associates. Frankly, at least a portion of those fighters and employees would not feel the same comfort level they have with Haymon if Emanuel, a member of an influential Jewish family (his brother is former Chicago mayor Rahm Emanuel) and Vegas power broker White were abruptly substituted.
Another effect on the PBC model is on the promotional end. Haymon has cobbled together a group of promoters that operate regionally under his PBC umbrella. The model that Endeavor brings with the UFC will have a more centralized approach to promotion. How will the new owners deal with Lou DiBella in NY, James Leija and Mike Battah in Texas, and Tom Brown in California? Throw in the aforementioned Ellerbe and Mayweather, who operate primarily in Vegas but also in the Washington DC and Baltimore area. How will the promoters who work with the PBC see their relationship change if Haymon left and Dana White was in charge?
Haymon has built the PBC over the years into a big business. He has the PBC on FOX and Showtime whereas the UFC, which previously partnered with FOX, now has a long-term deal with ESPN. This suggests that if a deal is made, PBC and the UFC will have to operate as completely separate entities under the same umbrella, at least for the foreseeable future. And even that might be further away from happening than most people realize.
Check out more boxing news on video at The Boxing Channel
To comment on this story in The Fight Forum CLICK HERE
Seniesa Estrada Scores Fifth Consecutive KO and "Crazy A" Wins Too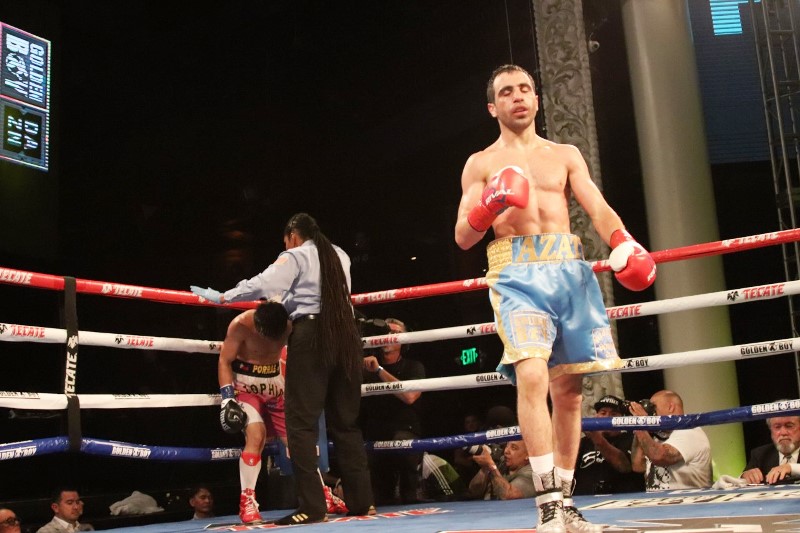 HOLLYWOOD, Ca.-After a turbulent first round Seniesa Estrada turned on the after burners and delivered a savage body attack to defeat Philippines Gretchen Abaniel and score her fifth consecutive knockout on Thursday evening.
It was the first time a Golden Boy Promotions female fight was featured as the main event on a DAZN streamed boxing card.
WBC Silver light flyweight titlist "Super Bad" Estrada (17-0, 7 KOs) was making her second defense of the title and clashed heads with the veteran Abaniel (18-11, 6 KOs) in front of a sold out audience at the Avalon Theater.
"It didn't bother me at all. Blood doesn't faze me," said Estrada who was cut on the side of her head from a supposed head butt.
In the opening round both clashed with a flash of blows inside and perhaps heads clashed. The exchange was furious as both found themselves tangled with each other and unable to find distance or a rhythm.
That would end soon.
The next round saw Estrada switch to southpaw. That seemed to stall Abaniel's attack and then the East L.A. fighter began establishing a left hook as an attacking blow and a countering measure. Abaniel seemed stymied and confused. The quickness of the East L.A. fighter and her ability to hit and get out of range left the Filipina slugger waiting instead of fighting.
It would only get worse.
Abaniel's corner admonished her to attack and forget about trying to out-think Estrada. She almost ran toward Estrada swinging with abandon until the East L.A. fighter hit her with a quick one-two. Then Estrada began targeting the body with punishing blows that drew winces from the crowd at the sound of the blows. Abaniel fought back and launched a five-punch combination. Estrada returned fire with a four-punch combination that saw Abaniel try and counter. Estrada slipped the blow and returned with a lightning quick four-punch combination at the bell.
Estrada had established her distance and rhythm and was now in full control. After several counter left hooks and counter rights, Estrada zeroed in toward Abaniel's body and pummeled her abdomen with resounding shots. Body shot after body shot was sent to Abaniel's body and it was apparent that she was slowing from the punishment. At the end of round four she went to her corner stool and was asked if she wanted to continue. Abaniel's corner halted the fight. Estrada was declared the winner by knockout at the end of round four.
It was Estrada's fifth consecutive knockout win.
"I was landing some really hard shots I had to be careful because her style makes for a really sloppy fight," said Estrada after the fight.
Now the East L.A. light flyweight champion knows exactly what road she intends to take.
"Of course everybody knows the rivalry between Marlen Esparza and me," said Estrada. "The fight I want is Yesenia Gomez the WBC champion. Let's make it happen."
Estrada has no doubt its world title or bust.
 Azat
Super bantamweight contender Azat Hovhannisyan (17-3, 14 KOs) battered Philippines gladiator Glen Porras (32-9, 20 KOs) relentlessly for four rounds until the fight was stopped.
"Crazy A" Hovhannisyan has previously fought for a world title and lost to WBC titlist Rey Vargas and was eager to prove he belongs on the big stage again. Porras, a contender also, just could not match Hovhannisyan's speed or stamina though he did try.
After a 15-punch barrage followed by a 13-punch barrage by Hovhannisyan, the referee Sharon Sands decided she had seen enough and stopped the one-sided match up at 2:08 of the fourth round. Hovhannisyan was given the win by knockout.
"Everything is good, it was a good fight," said Hovhannisyan who arrived with a large crowd and told everyone he wants to the champions and ex-champions. "I want TJ (Doheny) and Danny Roman and Rey Vargas. First, maybe TJ."
A battle between two island fighters saw Puerto Rico's Carlos Caraballo (12-0, 12 KOs) gain his 12th knockout in 12 fights with a second round ending over Dominican Esteban Aquino (12-7, 7 KOs) in a super bantamweight clash.
From the opening bell Aquino showed no fear in opening up aggressively against the left-hand slugger. Both exchanged blows but nothing much in the first round.
Aquino was even more aggressive in the second round and during an exchange ran into a left counter by Caraballo. Aquino resumed the attack and ran into another counter left cross and down he went for the count. Referee Zachary Young ended the fight at 1:52 of the second round.
Arizona's Cesar Valenzuela (15-6-1, 5 KOs) used a stiff jab and right cross to upset L.A's Christian "Chimpa" Gonzalez (19-4, 15 KOs) and win by unanimous decision after eight rounds in a lightweight contest. Valenzuela was the busier fighter throughout as Gonzalez could not pull the trigger. Round after round Valenzuela connected with solid jabs and rights to the body.
Gonzalez seemed listless and unable to mount an offense despite the urgings from his corner. A Valenzuela left hook in the seventh round connected solidly and Gonzalez seemed unable to retaliate. All three judges scored the fight 79-73 for Valenzuela who fights out of Phoenix.
Two-time Olympian Bektemir Melikuziev (1-0) won his pro debut with a single power shot to knock out Argentina's veteran Martin Rios (23-20-4, 13 KOs) in the first round of their light heavyweight match up. Melikuziev, 23, a southpaw from Uzbekistan who is trained by brothers Joel and Antonio Diaz in Indio, used a single left cross to the belly to end the night for Rios at 1:39 of the round. The taller Argentine could not beat the count.
"I wanted the toughest challenge out there," said Melikuziev. "I went in there and took care of business."
Photo credit: Al Applerose
Check out more boxing news on video at The Boxing Channel
To comment on this story in The Fight Forum CLICK HERE