Sugar Ray Leonard and Marvin Hagler Stood Tall in an Era of Epic Battles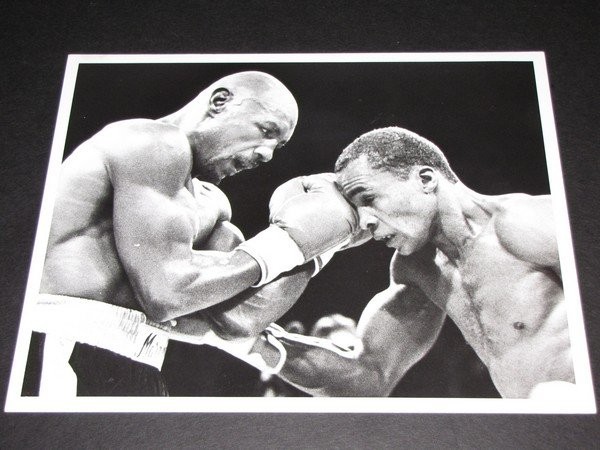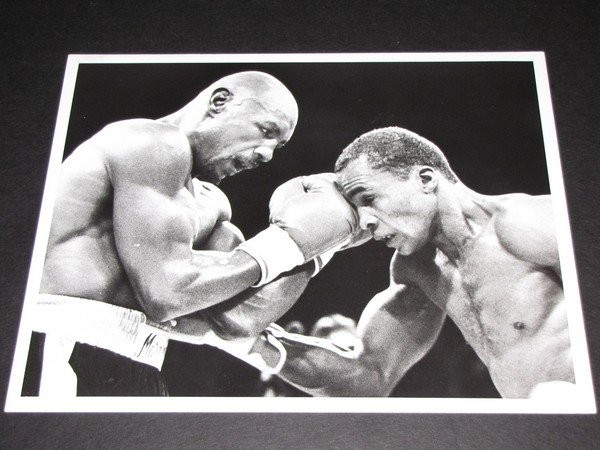 It's been said — and it applies to all sports, but especially boxing — that in order to be great, one has to face great competition.
During the 1980s, in what many consider boxing's "Golden Age," several epic battles were waged between Roberto Duran, Thomas Hearns, Marvin Hagler and Ray Leonard, which helped drive the sport's appeal after Muhammad Ali's retirement in 1981.
All four are enshrined in the International Boxing Hall of Fame, but Leonard and Hagler stood the tallest.
With each celebrating birthdays this month – Leonard turned 63 on Friday, May 17,   and Hagler turns 65 on Thursday, May 23 –  this seems like the perfect opportunity to reflect on their legendary careers.
Leonard, who would become a world champion in five weight classes, was a nonpareil ring craftsman who could box with absolute ease and also unload the heavy artillery.
Some said slick marketing after claiming the Gold Medal at the 1976 Montreal Olympics as a junior welterweight helped Leonard vault to fame. Sugar Ray had the look, personality and charm to attract a large fan base, but did he have what it takes to hold his own against the top welterweights?
The answer was yes, but it wasn't until Leonard stopped Wilfred Benitez in the 15th round for the World Boxing Council and lineal welterweight title in November 1979 at Caesars Palace, that he would be given his due.
Entering the fight, Benitez had a 38-0-1 record and was a two-division world champion.
In the opening frame, Leonard drilled Benitez with a left hook after tossing a jab and a right cross.
Two rounds later, Leonard knocked Benitez on his backside with a rattling jab. "I wasn't aware I was in a championship fight early because I hit him so easy," said Leonard, who was named Fighter of the Year by The Ring magazine in 1979 and 1981, but then he adjusted to my style. It was like looking in a mirror."
Leonard knocked Benitez down with a thunderous left in the 15th, but couldn't put him away until the referee called it off with six seconds left.
"No one, I mean no one, can make me miss punches like that," said Leonard of Benitez, who is also in the IBHOF.
In June 1980, Leonard, who went 36-3-1 with 25 knockouts, returned to the Canadian city where he first gained fame and faced the indestructible Duran, the former lightweight king, who came into the bout with a 71-1 record and was regarded as the best pound-for-pound boxer in the world.
The fight drew international attention and although Leonard lost, his showing removed any and all doubts about his greatness.
With 46,317 inside Olympic Stadium, Duran dictated the early pace by cutting off the ring and not allowing Leonard to extend his arms.
For four rounds, Duran didn't give Leonard enough room to move and unload any significant blows.
Leonard finally came alive in the fifth and unleashed numerous combinations. The remainder of the fight saw Leonard score, but it was Duran who looked stronger and sharper.
William Nack, writing in Sports Illustrated described it thusly: "It was, from almost the opening salvo, a fight that belonged to Duran. The Panamanian seized the evening and gave it what shape and momentum it had. He took control, attacking and driving Leonard against the ropes, bulling him back, hitting him with lefts and rights to the body as he maneuvered the champion against the ropes from corner to corner. Always moving forward, he mauled and wrestled Leonard, scoring inside with hooks and rights."
After 15 rounds, Duran won a very narrow but unanimous decision, handing Leonard his first setback after opening his pro career with 27 wins.
Angelo Dundee, Leonard's trainer, had advised him to stick and move against Duran who wanted to brawl. But Duran was able to get inside Leonard's head and Leonard, wanting to prove his toughness, did not follow Dundee's advice.
Leonard realized his error and vowed not to make the same mistake if he met Duran again. And they did meet again, five months later, before a national television audience with 25,038 looking on at the New Orleans Superdome.
This time Leonard would fight his fight and not Duran's. "The whole fight, I was moving, I was moving," he said, "and voom! I snapped his head back with a jab. Voom! I snapped it back again. He tried to get me against the ropes, I'd pivot, spin off and pow! Come under with a punch."
Late in a memorable seventh round, Leonard wound up his right hand as if to throw a bolo punch but instead tagged Duran's face with a sharp jab.
Leonard then taunted him, sticking out his chin and daring Duran to hit it. The taunting continued as Leonard moved around the ring.
It was clear Leonard was ahead on all three scorecards, but it was still close, and Duran, though not hurt, seemed to lack real punching power and probably felt humiliated.
Toward the end of the eighth round, Duran turned his back to Leonard and uttered the now famous line "no mas" (no more).
It was over with 16 seconds left as Leonard regained the WBC and lineal welterweight belts.
Duran said he quit because of stomach cramps after overeating following the weigh-in. To which Leonard replied, "I made him quit…to make Roberto Duran quit was better than knocking him out."
Leonard then agreed to meet Hearns in order to unify the welterweight title. They met on September 16, 1981, a sweltering night in Las Vegas, at an outdoor arena at Caesars Palace before 23,618. Hearns walked into the ring with a 32-0 mark and 30 knockouts, while Leonard had a 31-1 record with 22 knockouts.
In the early stages, Leonard stayed away and boxed while Hearns tried to find a hole in Leonard's defense.
After five rounds, Leonard was trailing on the cards and had a swelling under his left eye. In the sixth, Leonard found his range and landed a left hook to the face and he was again the aggressor in the seventh.
Hearns decided to box and piled up points while Leonard wanted to unload the heavy guns.
Hearns dominated rounds nine through 12. But just before round 13, Dundee said to Leonard, "you're blowing it, son! You're blowing it!"
For the 13th, Leonard, who now had a badly swollen left eye, caught Hearns with a stunning right and then landed a clean combination as Hearns was on wobbly legs.
Hearns went through the ropes, but it wasn't ruled a knockdown by referee Davey Pearl because it wasn't a punch that sent him there.
Late in the same round, Hearns was decked after Leonard connected with multiple blows.
In round 14, with Hearns leading on all three cards but clearly out of gas, Leonard seized control with a sizzling overhand right and a combination that saw Pearl call a stop to the action.
A third round TKO over Bruce Finch in February 1982 with the WBA, WBC, and lineal welterweight titles on the table, was followed by a scheduled fight with Roger Stafford.
While in training, Leonard had problems with his vision. He was diagnosed with a detached retina which was repaired in May of that year.
In November 1982, at a charity event in Maryland, Leonard announced he was retiring from boxing.
Twenty-seven months passed before Leonard returned to the ring in May 1984, when he faced Kevin Howard in a non-title match.
In the fourth round, Leonard was knocked down for the first time in his career. He went on to win, TKOing Howard in the ninth, but then shocked everyone at the post-fight press conference by announcing he was calling it a career once again.
Leonard sat ringside for the Hagler-John Mugabi fight in Las Vegas in March 1986 and was surprised to see Mugabi actually outbox Hagler for much of the contest before succumbing in the 11th round.
Leonard had seen enough and announced two months later he was coming back and that his next opponent would be none other than the great Hagler who would be making the 13th defense of his middleweight title.
The fight was set for April 6, 1987 at Caesars Palace. Hagler opened a 4-to-1 favorite.
Leonard won the first two rounds on all three judges' scorecards as Hagler, a natural left-hander, fought in an orthodox stance.
In the third round, Hagler switched to southpaw and fared much better, but Leonard remained in control with the help of superior hand and foot speed.
Leonard started to tire by the fifth as Hagler buckled his knees with an uppercut toward the close of the frame.
Hagler scored well in the sixth round, but Leonard also had effective moments.
Hagler did well in the seventh and eighth as he landed his jab while Leonard wasn't able to counter.
The ninth round was the most exciting with Hagler stunning Leonard with a left cross and had him pinned in the corner.
Leonard was able to escape and though each looked sharp, Hagler's punches were crisper and more resounding.
The 10th round wasn't as dramatic, but Hagler took that stanza, while Leonard boxed sharply in the 11th.
In the fight's final round, the 12th, Hagler landed a tremendous left hand that backed Leonard into the corner.
Leonard threw a flurry of punches and the round concluded with each fighter exchanging blows along the ropes.
The final CompuBox stats had Leonard landing 306 of 629 punches for 48.6 percent and Hagler connecting on 291 of 792 for 36.7 percent.
The fight was very close. Lou Filippo had it 115-113 for Hagler but was out-voted by Dave Moretti and Jose Guerra who had it for Leonard by scores of 115-113 and 118-110 respectively.
Hagler, who closed his career with a 62-3-2 mark and 52 knockouts, insisted he won the fight.
This was Hagler's final time inside the ring and he would eventually move to Italy.
Prior to his famous battle with Sugar Ray, Hagler scored two of the biggest wins of his career, scoring a unanimous decision over Roberto Duran in November 1983 and stopping Thomas Hearns in the third round in April 1985. Both bouts were at Caesars Palace.
Here is Pat Putnam's lead graph of the classic Hagler-Hearns fight as it appeared in Sports Illustrated: "There was a strong wind blowing through Las Vegas Monday night, but it could not sweep away the smell of raw violence as Marvelous Marvin Hagler and Thomas Hearns hammered at each other with a fury that spent itself only after Hearns had been saved by the protecting arms of referee Richard Steele. The fight in a ring set upon the tennis courts at Caesars Palace lasted only one second longer than eight minutes, but for those who saw it, the memory of its nonstop savagery will remain forever."
After upsetting Hagler, Leonard waited 19 months before getting back in the ring. In November 1988, he defeated WBC light heavyweight title-holder Donny Lalonde via a ninth round TKO. The WBC also sanctioned this fight for their inaugural super middleweight title.
Leonard then faced Hearns in a rematch in June 1989 at Caesars Palace and though it was ruled a draw, many at ringside thought that Hearns, who knocked Leonard down twice, deserved the decision.
Six months later, at the Mirage in Las Vegas, Leonard met Roberto Duran in a rubber match. Leonard prevailed over Duran by unanimous decision.
There would be two more fights for Leonard before he retired from boxing for good. In February 1991 at Madison Square Garden he lost a unanimous decision to Terry Norris in a clash for the WBC junior middleweight crown.
Another retirement followed, but his career wouldn't officially be over until March 1997 at Convention Hall in Atlantic City, New Jersey, when Leonard, now 40 years old, was stopped in the fifth round by Hector Camacho with a fringe middleweight title at stake.
These last two fights were aberrations compared to Leonard's glory days when he was the undisputed ruler of the welterweight division.
Few who watched Sugar Ray Leonard and Marvelous Marvin Hagler at their peaks will ever forget what they brought into the ring. No, they didn't do it alone, but it's unlikely anyone better than these two titans will appear any time soon.
Check out more boxing news on video at The Boxing Channel
To comment on this story in The Fight Forum CLICK HERE
Abel Sanchez Candidly Shares His Feelings About GGG and Andy Ruiz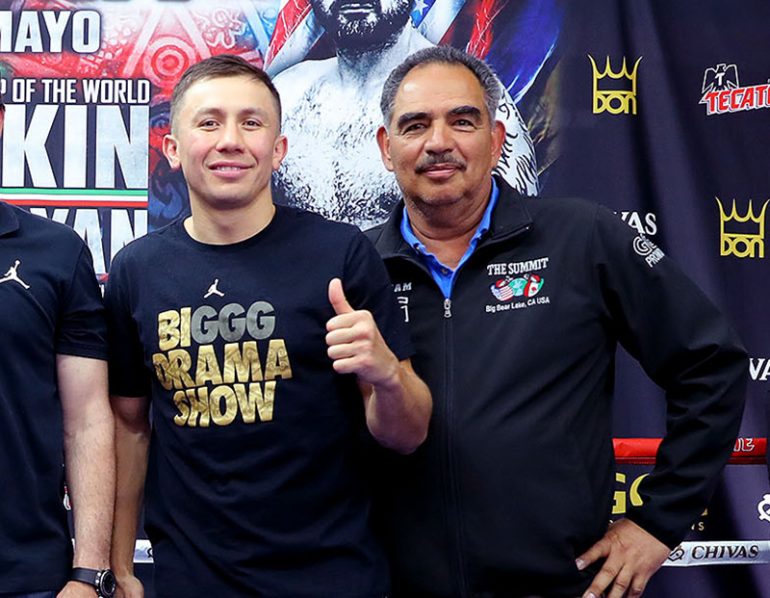 The noted trainer Abel Sanchez has taken his lumps lately, but he was as congenial as ever as he conversed with this reporter during a lull in the action on last Saturday's show at the MGM Grand Garden. Earlier in the evening, one of Sanchez's newest proteges, Guido Vianello, had advanced his record to 4-0 with a second round stoppage of sacrificial lamb Keenan Hickmon. A six-foot-six heavyweight from Italy, Vianello was "awarded a scholarship" to Sanchez's boxing academy by Bob Arum after signing with Arum's Top Rank organization in November of last year.
Our talk inevitably turned to his fractured relationship with Gennady Golovkin. When we visited "The Summit," the name of Sanchez's training facility in Big Bear, California, in March of 2016, the fighter from Kazakhstan and his Mexican-American coach appeared to have an unbreakable bond. When in training, GGG resided in the compound that Sanchez built as a combination dormitory and training facility, a 5,200 square foot complex with a gym in the lower level. Sanchez spoke highly of GGG back then, not just as a boxer but as a person. Despite his growing fame, said Sanchez, GGG was as unspoiled as the day they first met in March of 2010.
In his first fight under Sanchez's tutelage, Golovkin went to Panama City and won the WBA middleweight title with a 58-second blowout of Milton Nunez. He would go on to unify the title while tying Bernard Hopkins' record for successful middleweight title defenses (20).
In April, GGG severed the relationship. This came shortly after he signed a three-year, six-fight deal with DAZN worth a reported $100 million. He subsequently hooked up with Johnathon Banks, a protégé of Emanuel Steward. Banks was in GGG's corner not quite two weeks ago when GGG bombed out overmatched Steve Rolls.
The break-up was over money. When GGG signed his lucrative deal with DAZN, his German advisors decided that henceforth Sanchez would receive a flat rate instead of his customary percentage. "Take it or leave it," they told Abel. He left it.
"Money (often) corrupts character and values," said Sanchez, who was deeply wounded when GGG turned his back on him. And although we didn't delve into it, he likely had flashbacks to 1992 when the very same thing had happened to him with Terry Norris.
Terry Norris was Abel's first prominent fighter. He trained Terry and his older brother Orlin Norris, a budding word cruiserweight champion, for the late Joe Sayatovich at Sayatovich's training facility on a 30-acre ranch in the high desert community of Campo, California, five miles from the Mexican border. Sayatovich owned a construction company, as did Sanchez, a second generation California home builder.
In July of 1989, Terry Norris was bombed out in two rounds by Julian Jackson in Atlantic City in a bid for Jackson's WBA 154-pound title. But Sanchez orchestrated a rebound and Norris went on to carve out a Hall of Fame career, preceding Julian Jackson into the International Boxing Hall of Fame by 14 years.
Norris was a world champion, but yet one of the lesser known champions until winning a lopsided 12-round decision over Sugar Ray Leonard on Feb. 9, 1991, at Madison Square Garden, plunging Sugar Ray into a six-year retirement. That increased Norris's marketability enormously and spelled the beginning of the end of the Norris-Sanchez partnership. In November of the following year, Sanchez received a letter co-signed by Sayatovich and Norris (whose signature was apparently forged) telling him that he had been dismissed.
A story in the San Diego Union-Tribune quoted Sayatovich as saying that Abel had to go because he had become "too greedy," balking at taking a smaller percentage of Terry Norris's purses now that the fighter had punched his way into the upper echelon of wage earners. But the break-up did not disturb Sanchez's relationship with Orlin Norris, or with the father and official co-trainer of the Norris brothers, both of whom jumped to Abel's defense, saying he had remained loyal to Sayatovich and that Sayatovich ought to have reciprocated that loyalty.
There's an old saying in boxing that a trainer or manager should never become too emotionally attached to a fighter as that fighter will break his heart someday. Abel Sanchez knows the feeling.
Terry Norris, detached from Sanchez, lost his WBC diadem in his 11th title defense when he suffered a fourth round stoppage at the hands of Simon Brown in Puebla, Mexico. A win over Brown would have propelled Norris into a match with Pernell Whitaker, and had he succeeded in beating Whitaker, he would have been the runaway pick for the top spot on the pound-for-pound lists.
Abel Sanchez wasn't surprised that Norris was upended by Simon Brown, a huge underdog. "We watch him in the gym and he's gotten away from basic fundamentals," he told LA Times writer Tim Kawakami. "He's going out there winging and trying to bomb everyone out. And when you do that you're going to get it."
We mean no disrespect to Johnathan Banks, a fine trainer, but we can't help but wonder if Gennady Golovkin's career will take the same turn.
ANDY RUIZ
Abel Sanchez first met Andy Ruiz when Ruiz, an aspiring Olympian, was 17 years old. Ruiz's father brought Andy to Abel's gym. When they put the boy on the scale, he weighed 307 pounds. Ten years later, Sanchez would train Ruiz for Ruiz's match with Joseph Parker in Auckland, New Zealand. Several fights later, Ruiz bought out his contract with Top Rank, signed with Premier Boxing Champions, and acquired a new trainer, Manny Robles.
We wondered what went through Abel's mind as Andy Ruiz was chewing up Anthony Joshua and then rapturously celebrating with his cornermen in an unforgettable scene at Madison Square Garden. Did Abel think to himself, "well, darn, if I had played my cards right, that could have been me."
To the contrary, Sanchez thought it was wonderful. "It was good for boxing," he said, "I'm so happy for Andy and Manny."
Sanchez agreed with our assessment that the quick turnaround after his bout with six-foot-seven, 260-pound behemoth Alexander Dimitrenko was actually a blessing in disguise. "On paper," said Sanchez, "he had only five weeks to prepare but it was more like 14 weeks. Andy didn't have time to go out and party."
"Andy would not be denied," said Sanchez who hopes that Ruiz brings the same mindset to the rematch. "I hope that his victory over Joshua doesn't come to be seen as a fluke," he said, "because Andy can really fight." He doesn't pack the biggest punch, noted Sanchez, but he can stop an opponent in his tracks with four- and five-punch combinations, a rare attribute in a heavyweight.
As what to expect in the rematch, Sanchez said, "Andy Ruiz will have to be even better than the first time around."
Photo credit: Tom Hogan / Hogan photos / Golden Boy Promotions
Check out more boxing news on video at The Boxing Channel
The Gypsy King: Enjoy Him While You Can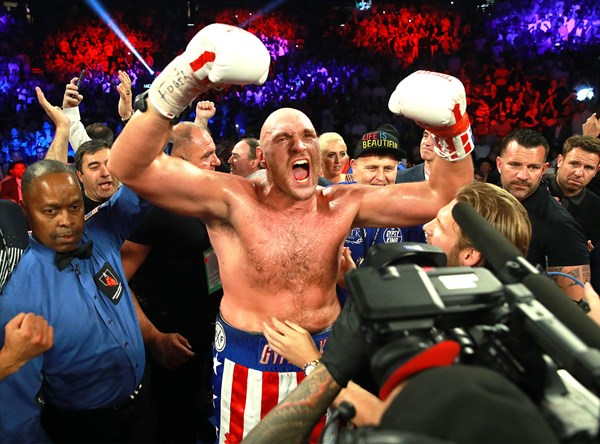 Tyson Fury —The Gypsy King– possesses a sharp Irish wit. True, he's putting everybody on half the time, but that's what blarney is all about. He's a born showman and is rarely at a loss for words or afraid to throw stuff out there. Heavyweight boxing hasn't had this type in a long time—maybe not since Ali.
Curiously, the forgoing was written before he went into the deep depths of hell brought about by depression and substance abuse. He was pretty much written off as a one-off phenom. In fact, things got so bad that David Haye once said, in response to Fury's homophobic tweets,: "It seems @Tyson_Fury needs to ease up on his 'Medication' or seek an Exorcist, or he'll get sectioned at this rate #StraightJacketRequired"
Fast Forward
But lo and behold, that was then and this is now and he has made one of the greatest comebacks in sports history (with a nod to George Foreman and Tiger Woods) showing a will and determination rarely seen anywhere. This should not be downplayed. When combined with his ability to get up from Deontay Wilder's best shot in the final round of their fight, that determination—that will, borders on the surreal.
And he is an entirely different person. This is not the same person who told reporters they can s**k his balls. No, this Fury donated his entire purse from the Wilder fight to several UK charities that specialize in providing housing for recovering addicts and alcoholics. Said Fury, "I did give away my last purse, but I don't do charity work for a pat on the back…I do it to help people, but I do not want praise for it, I don't want to be called a do-gooder."
This is not a Nikolai Valuev or a Primo Canera. The new Fury is fast, fights backwards, forwards, orthodox, southpaw, and has great upper body movement. He fights in a relaxed and fluid manner, but is a ruthless closer. This Fury enjoys what he does unlike fellow-Brit Anthony Joshua who seemed visibly uncomfortable in New York City recently. Heck, Fury is made for The Big Apple.
Anyone who is 6'9" and can switch stances and slip seven punches in a row much like Pernell Whitaker was able to do and then immediately come back with a deadly volley to initiate the beginning of a ruthless end (with Schwarz bloodied and under brutal attack, the bout was waved off), warrants the attention of every serious boxing fan.
After referee Kenny Bayless finished his count, Fury came across the ring after the poor German like something out of a horror movie as he closed the show. It bears a second and third look.
"I got a big man out of there by switching it up. He caught me with a couple but you can't go swimming and not get wet." said Fury (now 28-0-1). As an aside, the Gypsy King went to Schwarz's locker room to console him after the fight.
"He needed to make a statement tonight. When he walks to that ring, he becomes someone else. All that he has in the back of his head, is Deontay Wilder. He wants that revenge. He showed strength, power, determination and that killer instinct." — Tyson's father John Fury.
He made that statement.
The Future
Now attention turns to his next fight with Kubrat Pulev, his IBF mandatory, his most like likely opponent. (Of course, Pulev must refrain from kissing his female interviewers.) Such a matchup would be more competitive and even risky. As Caryn Tate of Boxing.com says, "The sooner Fury and the rest of the heavyweights at the top of the division fight each other, the better. The plethora of tune-ups in this sport have got to stop."
In a sport/business that overwhelms us with nonstop legal bickering and suspected/real use of PEDs, this affable and candid giant is a breath of badly needed fresh air.
"I was in the car on the way with my wife and I said 'I think we've made it Paris'. She said why and I said 'We're headlining in Vegas! This is it!'" — Tyson Fury
Later, he said, "I came here to have fun and enjoy myself. I don't take it too seriously. I thought I put on a good show and the fans got what they paid for."
Ted Sares is a member of Ring 8, a lifetime member of Ring 10, and a member of Ring 4 and its Boxing Hall of Fame. He also is an Auxiliary Member of the Boxing Writers Association of America (BWAA). He is an active power lifter and Strongman competitor in the Grand Master class.
Photo credit: Mikey Williams / Top Rank
Check out more boxing news on video at The Boxing Channel
To comment on this story in The Fight Forum CLICK HERE
Three Punch Combo: Looking Ahead to the 2020 IBHOF Class and More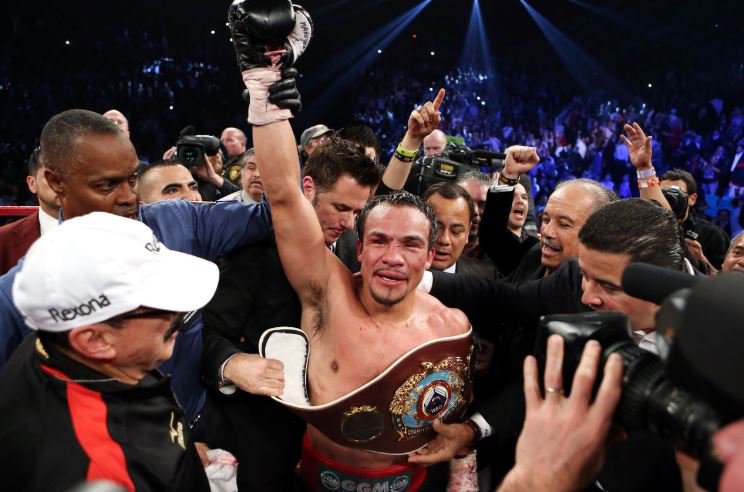 THREE PUNCH COMBO — Last weekend, the International Boxing Hall of Fame in Canastota, NY, held its annual induction ceremony. Julian Jackson, Donald Curry and James "Buddy" McGirt were enshrined in the modern category. With the 2019 induction weekend now complete, it is now time to look forward to the 2020 class in the modern category.
For those not familiar with the process, each year three boxers are elected in the modern category. No more and no less. The modern category is comprised of fighters who had their last bout no earlier than 1989 and have been retired from the sport for five years. So to be considered for the 2020 ballot, the boxer's last fight would need to be no later than 2014.
Last year's class was dominated by holdovers who weren't elected to the IBHOF the first time they were eligible and appeared on the ballot multiple times before finally getting inducted. We also saw something similar in 2016. But for the class of 2020, we have a strong list of first time eligible candidates and given the current voting criteria it is probable that the class of 2020 will be comprised of fighters from this list.
The five notable first time eligible candidates are Juan Manuel Marquez (56-7-1, 40 KO's), Sergio Martinez (51-3-2, 28 KO's), Carl Froch (33-2, 24 KO's), Jorge Arce (64-8-2, 49 KO's) and Marcos Maidana (35-5, 31 KO's).
Of the five, I think Arce and Maidana can safely be eliminated from serious consideration for the class of 2020. They don't have near the resumes of the other three.
Juan Manuel Marquez (pictured) would seem to be a lock. He is a former multi-division champion who fought in some of the most prominent fights of his era and holds wins against some of the best fighters of his generation. This includes wins over Hall of Famer Marco Antonio Barrera and future Hall of Famer Manny Pacquiao.
Sergio Martinez is also a lock. The Argentine may have been a late bloomer but he had a dominant four-year middleweight title reign after defeating Kelly Pavlik in 2010 for the title. During this reign he scored an emphatic second round knockout of Paul Williams which avenged a previous loss and won a decisive 12-round decision over Julio Cesar Chavez Jr.
I sense there will be some debate regarding Froch but I think he will get the nod his first time around. He is a former 168-pound champion and has an incredibly deep resume that includes wins against many of the best in the division of his era. Of his two losses, one was avenged to Mikkel Kessler and the other was to future first ballot Hall of Famer Andre Ward. The resume just speaks for itself and should be more than enough to earn Froch enshrinement on his first go-around.
Of the holdovers, the two most likely to push Froch for the third and final spot are Rafael Marquez (41-9, 37 KO's) and Vinny Paz (50-10, 30 KO's). Marquez garnered a lot of support in his first year of eligibility last year and a lot were surprised when he did not make the final cut. With his brother likely getting inducted this coming year, there could be a push to put the brothers in together. As for Paz, he also picked up some steam last year and seemed to sway more voters to his side.
The Case For Yaqui Lopez
Every year I like to touch upon some fighters who I feel have gone overlooked by IBHOF voters. In past years for example, I have made cases for both Kevin Kelley and Junior Jones. This year, I wanted to go back a little further to a different era and point out a fighter who I think deserves serious consideration in Yaqui Lopez (61-15, 39 KO's).
Lopez never won a world title and I am quickly reminded of that whenever I bring up his candidacy. He fought in an era that not only did not have an abundance of title belts but also featured some of the all-time greats of the light heavyweight division. Lopez lost two close decisions in world title bids to Hall of Famer Victor Galindez. Lopez also was competitive on two occasions in challenging Matthew Saad Muhammad for his light heavyweight title. Their second fight in 1980 was the Ring Magazine Fight of the Year. And Lopez also gave future Hall of Famer Michael Spinks a test before being stopped in the seventh round.
The losses were competitive to these all-time greats. In any other era Lopez would have been a world champion. But there are yet many good wins on his resume, most notably a sixth round stoppage of Mike Rossman in March of 1978. Six months later, Rossman would knock out the aforementioned Galindez to become the light heavyweight champion.
There is another side to the argument for Lopez. Some people hate when I mention this but entertainment matters when considering candidates qualifications. The floodgates were opened by voters in this regard with the elections of Arturo Gatti and Ray "Boom Boom" Mancini and there is no going back. Lopez was not only a very accomplished fighter but one of the most exciting fighters of his era, he was involved in many memorable wars. Add this fact to his resume and Lopez more than meets all the criteria to be inducted into the IBHOF.
Under The Radar Fight
 ShoBox returns on Friday from the WinnaVegas Casino & Resort in Sloan, Iowa with a tripleheader featuring six fighters with a combined record of 91-1. Though I am very interested in all the fights, I am especially interested in the main event, a 154-pound contest between fast rising prospect Sebastian Fundora (12-0, 8 KO's) and Hector Manuel Zepeda (17-0, 4 KO's).
Fundora stands 6'7" tall and is appropriately nicknamed "The Towering Inferno." For a man who stands that tall, he is incredibly athletic and fluid inside the ring. Working from a southpaw stance, Fundora likes to use his height to pepper his opponents from the outside with a sharp right jab. He will work very fluid, heavy handed combinations behind that jab and makes his opposition pay a heavy toll when they attempt to close the distance. And if opponents do manage to get inside, Fundora has shown himself to be a very accomplished fighter at close range.
Defensively, Fundora has some things to clean up. He tends to get involved in exchanges and when he does so will stand straight up with his chin exposed. He's been clipped clean on a few occasions and that will need to be corrected as he moves up in caliber of competition.
There is not a lot of video available on Zepeda but from what I have seen he is a technically astute fighter. He is a boxer puncher by trade who will use frequent lateral movement working behind the left jab from the orthodox stance. Zepeda likes to be first instead of looking for counters and from the fights I have seen has shown to be a volume puncher. As the record indicates, however, he is not a big puncher.
If Zepeda fights the way that I have seen on video, I think we are going to get a fast paced, good action fight. Fundora is clearly the "A" side here and is supposed to win. But make no mistake, Zepeda can fight and this is a step up in class for Fundora.
This is a classic ShoBox fight in which the "A" side could get pushed and I am very interested to see this one on Friday.
Check out more boxing news on video at The Boxing Channel
To comment on this story in The Fight Forum CLICK HERE