President Bob Duffy opened the meeting and Carmine led everyone in the National Anthem. We then had a 10 count in memory of Joe Frazier.
President Duffy thanked Lenny Mangiapane and Henry Hascup for going to the funeral of Joe Frazier yesterday.
President Duffy went over all the honorees for our Christmas Party at Russo's on the Bay, on Sunday, December 18th. They also talked on getting both Roy Jones Jr. and Bernard Hopkins, among others. He also went over the menu.
Louis Griffith talked on his father Emile, who is now in the Nassau Extended Care Facility. Hec is also arranging a Thanksgiving Party for Emile on Saturday, November 26th at 1:30 PM at the Care Facility, which is located at One Greenwich St., Hempstead, N.Y. 11550. Everyone is invited.
President Duffy thanked the people from last month that talked on Arturo Gatti for coming again. They also talked on an amateur boxing Show this week-end for the NYPD/NYFD.
President Duffy talked on the Metro State Tournament at the Plattduetsche Restaurant, Franklin Square, New York. President Duffy talked on a Golden Glove Show that will be sponsored by Ring 8 on January 26th on December 9th, also at the Plattduetsche, which will be for the Bill Gallo Scholarship.
Frank Pena talked on the Golden Glove Show at Glen Cove on March 1st, where they give out Scholarships and support the Wounded Warriors.
President Duffy talked about several of his fighters that are from outside the country and that they all need visas. Laura Leifreid talked about her law firm that Duffy has used for the last two years.
Arthur Rosenfield from the Our Long Island City, took films of last years Christmas Party and he will be selling the tapes at our Christmas Party in December and Ring 8 will get the proceeds. Glenn Laga talked on his organization.
Jose Gabriel Almeida talked on a children's book that former Heavyweight Champion of the World, John Ruiz and he wrote, called "Hook & Jab. They will be selling them at our Christmas Party and Ring 8 will get part of the proceeds.
Former NY Boxing Commissioner Randy Gordon thanked Tony Mazzarella and Bob Duffy for the support they gave him while he was the Commissioner. He also talked about Joe Frazier and how he would go out of his way for people. Randy has a radio show every Friday night and he said that he got three more guests by coming tonight, ring announcer David Diamante, trainer Tommy Gallagher and boxing historian Henry Hascup. He also stated that he gave licenses to Julie Lederman, Kathy Collins, Sparkle Lee and Melvina Lathan.
President Duffy introduced Commissioner Edwin Torres, whom talked on the 1st Ali/Frazier fight back in 1971.
President Duffy congratulated Vinnie Maddalone on his recent 1st round knockout over Mike Sheppard in Atlantic City.
Promoter Jim Foley introduced his new NBA Champion, Martin Wright.
Joe Dwyer talked on the NABF Convention that will run from December 11th to 17th, which is now open to everyone.
Patrick Hyland of Ireland was introduced by his promoter. Hyland is 24-0 as a pro and has two brothers that are also very successful.
Tony Mazzarella talked about the New York State Boxing Hall of Fame.
President Duffy introduced our guest speaker Harold Lederman.
Harold talked about how great it was to be here with so many others that have the love for boxing as he does. He told a story how he got started in boxing. His father loved the theater and boxing. He started going to shows at a very early age. He talked about the Long Beach Staduim and who fought there. He also talked about St. Nicks.
He told a story about Billy Bello, who was an up-coming star, and they wanted to move him up so they matched him against veteran Gaspar Ortega. The fight took place at Madison Square Garden on the night before Harold was to get married. He told his future wife that there isn't anything else to do, so why don't we go to the fight. Ortega won going away, and two weeks later they found Bello dead with needle marks in his arm. Several years later he was presented a picture of Ortega and Bello in that fight.
Harold started off as an amateur judge back in 1965 and made $5 a night. He advanced to a pro judge in 1967. His 1st big fight was the Ismael Laguna/Ken Buchanan fight at Madison Square Garden in 1971.
Harold talked about his daughter Julie and how he use to bring her to all the fights starting at the age of 3 or 4.
In 1986 Harold started with HBO. His 1st fight was the Trevor Berbick/Pinklon Thomas bout. Harold talked on some recent bouts that were on HBO.
He also talked about a show that was in Mexico and the temperature was 126 degrees. He stated that HBO has three different type shows: Boxing After Dark, HBO, and Pay for View, and now there coming out with another one that will be shown every month.
Harold talked on Vinnie Maddalone and how he was a real warrior and a pleasure to watch.
He also talked on the Ellis/Shavers fight and said that Shavers was the hardest puncher boxing ever had. He stated that Ellis was winning and almost had Shavers out in the first round when Shavers came up with one punch and Ellis was out. He also talked on the Cooney/Norton fight.
Questions: He judged over 100 World title fights. He also said that he was battling cancer but he has it under control.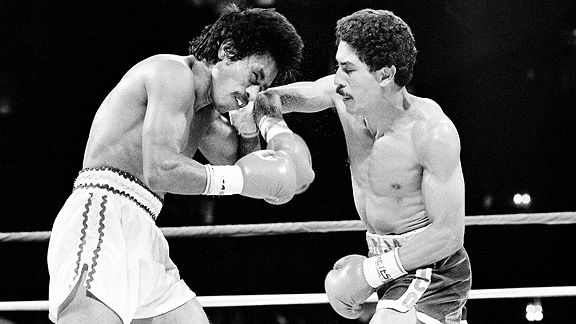 The best fight he ever saw was the fight between Gomez and Pinder, where Gomez won by a 14th round knockout.
His top 3 fighters of all-times: Robinson, Ali and Louis.
He talked on the Manny Pacquiao/Juan Manuel Marquez fight this past weekend, saying that Manny throws more punches and he had him winning 116-112.
He talked about the Tyrone Everett/Alfredo Escalera fight and said that was the worse decsion he ever saw. It was widely recognized as one of the most disgraceful decisions in the history of boxing. The Ring Magazine included the decision in a list of the top five worst robberies ever.
He also talked on the Ali/Norton III, in which he had Ali winning 8-7. He said the other two judges also had Ali winning as well.
He also talked on some trainers, such as Ray Arcel, Freddie Brown, Victor Valle, among others.