NEWS ON: Chisora-Johnson, Hitz Boxing, Glen Johnson, Vincent Miranda
TORONTO (February 11, 2014) – Reigning European heavyweight king Dereck Chisora knows that if he can reproduce the form and desire that he showed last year, he has a chance of closing out 2014 as the world heavyweight champion.
Now in the best shape of his career, the 30-year-old enigma from Finchley racked-up four successive stoppage wins in 2013, bagging European, plus WBA and WBO International titles en route. Already ranked highly by all four major sanctioning bodies, Chisora will be seeking to edge yet closer to the Holy Grail when he puts the latter two belts at risk against Atlanta's seasoned former WBC World title challenger Kevin 'Kingpin' Johnson at The Copper Box Arena in London this Saturday (February 15).
Canadian fans may watch all the action on Fight Network, starting at 4 p.m. ET (1 p.m. PT), while Americans can view on both cable and satellite pay-per-view for a suggested retail price of $24.95 via DIRECTV, iN Demand, DISH, Avail-TVN. Integrated Sports Media is distributing this major British boxing event in the United States on behalf of Fight Network. It may also be viewed in the United States on GFL.TV.
Victory will clear the first hurdles towards a mooted WBO final eliminator against former conqueror Tyson Fury in an outdoor blockbuster this summer. Whilst 'Del Boy' was smouldering in the final few days of camp, boxing writer Glynn Evans touched base with his articulate and obliging trainer Don Charles to reflect on Chisora's recent rich form and pontificate about his future.
Last time out against The Czech Republic's Ondrej Pala, 'Del Boy' finished impressively but it was far from a flawless performance. As against Edmund Gerber in the fight previous, Dereck's defence – usually a strength – was down and he was tagged more than once with right hands. As his coach, how did you assess his performance? "Pretty much as you've just painted it. That wasn't the Dereck Chisora that I'd grown accustomed to in our training camp.
The guy (Pala) was able to penetrate and Dereck was hit. It's not only about winning but also about performance level and how Dereck is developing and I wasn't particularly happy. I'm always Dereck's worst critic.Though Dereck won ugly, he's still the current European heavyweight champion and we've been rectifying the problems in the gym." This Saturday Chisora was originally scheduled to defend his European title against the Ukrainian Andrij Rudenko. Surely, the clash with 'Kingpin' is more meaningful and, therefore, easier to motivate Dereck for? "Absolutely.
Only the diehard boxing community were aware of Rudenko whereas Mr 'Kingpin' Johnson's name is far more widespread. This is certainly a more marketable, more sellable fight and, as you imply, Dereck will rise more for it. That said, without undermining Kevin, I personally believe that Rudenko would have brought the greater threat. He's not learned how to lose yet. Johnson's already been at the very top and challenged Vitali Klitschko for the world title whereas this would've been Rudenko's FA Cup Final." What is your assessment of Johnson as a fighter and what gives you confidence that Dereck can take care of him? "'Kingpin' has a typical US style. He'll have done an awful lot of sparring in the US gyms, will have encountered every style and will know all the tricks. He and Dereck have two common opponents in Tyson Fury and Vitali Klitschko.
Obviously I've seen those fights. "It'll be a very interesting match but we know what we have to do for Dereck to be successful. Dereck knows exactly how to deal with Johnson's style. The key will be to stop 'Kingpin' from slowing the fight down to his tempo. Dereck can't afford to sit back and wait. Having been to the summit already, I'm not sure that Johnson still has the belly for a long,hard, grueling fight. He might take a rain check when Dereck turns the heat up!" So what would constitute a good night's work for Dereck Chisora when Saturday's fight is done and dusted? How important is it to Dereck to become the first fighter to stop Johnson? How important is it for him to outshine co-headline act Tyson Fury? "A good night will be a win, no matter what shape or form that might come in. In football, sometimes you have to win 1-0 and bag the three points.
On Saturday evening a win, any win, is absolutely paramount. "I'll be hoping that Dereck can stay focused and switched on throughout and execute all that we've practiced in the gym. "Winning by stoppage or outshining Tyson is relevant to us. Fighters deal with opponents in different ways. Vitali Klitschko is a more dangerous opponent than David Haye yet Dereck lasted 12 very hard rounds with Klitschko. David stopped Dereck. Such comparisons mean little." The recent retirement of Dereck's ex conqueror Vitali Klitschko has opened up the world heavyweight scene. How do you see it unfolding and which match ups for Dereck would particularly excite you? "The Klitschkos have been in a league of their own for some time now so Vitali's retirement allows a lot more fighters to contend and I envisage the titles swapping hands more regularly over the next 24 months.
We certainly intend being in position to collect. "Of those at the forefront, I particularly like (Bermane) Stiverne. I also expect Fury and (Deontay) Wilder to contend but probably not (Kubrat) Pulev. He's strong but robotic and, at elite level, you have to have skills. World championship heavyweight boxing is not a strong man competition. "I particularly covet the Wilder fight for Dereck.
The contrast in their styles would make for an exciting fight for the fans but I'm very confident that Dereck could be the man to expose him. Deontay has the legs of a sparrow. I don't believe he can do anything once he's pressed backwards and Dereck would force him onto the back foot." Presently everything is being geared for a rematch between Tyson and Dereck at a soccer stadium this summer. Why did their first fight in July 2011 go so spectacularly wrong for Dereck? "Dereck was more than capable of defeating Tyson at that stage of their careers. However, there were a lot of personal factors why Dereck shouldn't even have been in a boxing gym at that stage of his life, let alone defending his British and Commonwealth titles against a prospect as talented as Tyson Fury. But we'll only reveal what those factors are after we've exacted our revenge because I hate making excuses.
Tyson landed in the best shape he could possibly be in and was the better man on the night. He deserves all credit for that. "Dereck should've pulled out, could've pulled out, but he showed himself a true champion and didn't resort to that option. He still lasted the full 12 rounds and has subsequently redeemed himself. Dereck is now in front of Tyson with every governing body." To what extent did the loss to Fury simmer with Dereck? How long did it take him to recover from it? How important is the need to exact revenge and re-establish himself as Britain's leading heavyweight? "Remember, that was Dereck's first professional loss so it hit him very hard. His unbeaten record, plus his British and Commonwealth titles, were surrendered in one night so of course it hurt badly. He was required to do a lot of soul searching and examine whether he still had the belly for boxing. But thankfully he has very good people around him; his mum, quality friends, myself and, in Frank Warren, a master class promoter.
All played their parts in analyzing where things went wrong, making the necessary changes, and rectifying the situation to aid Dereck's redemption." In what ways have both fighters subsequently developed? "Both have developed in all aspects; both are older, stronger physically and mentally, more mature, more experienced. We rate Tyson highly. He's a very good fighter but Dereck will be in a far, far better place mentally. The rematch will be very interesting.
Both will be very near the peak of their careers. "But Dereck will equalize in the summer and, following redemption, all will be revealed regarding the first fight. That should nicely set up a trilogy, a decider!" Fight Network presents Chisora v Johnson/Fury v Abell PPV Promo Fight Network presents Chisora v Johnson/Fury v Abell PPV Promo For additional information go online to www.fightnetwork.com or www.integratedsportsnet.com , or follow on Twitter @FightNet and @IntegratedPPV .
Monday, February 10, 2014 Bobby Hitz announced that following February 28th's "Fight Night at the Horseshoe," which will be featured on ESPN2's "Friday Night Fights," Hitz Boxing will return to Elk Grove Village on Friday March 7, for "Horseshoe Presents: Hitz Boxing's Fight Night at the Belvedere" and then return to Hammond for another "Fight Night at the Horseshoe" in mid April. On Friday, January 31, Hitz kicked off its 2014 campaign with an exciting fight card at a jam packed Belvedere Events & Banquets.
"We came out of the gates this year with guns a blazing. We are staging four fights in four months and we added two dynamic boxers to our already stacked stable," said Hitz. "Our growing fan base, organizational capacity, talented roster of fighters, partners and growing list of sponsors puts us in a position to have a great year." Last week Hitz announced the signing St. Louis light heavyweight Ryan "The Irish Outlaw" Coyne (21-2, 9 KOs) as well as hot super middleweight prospect Donovan "Don Da Bomb" George (24-4-1, 21 KOs) of Chicago. The George deal was secured in partnership with Round 3 Productions. The Horseshoe Casino, Mercedes of Naperville, BL Autogroup, Title Boxing, Miller Brewing and Power Hour Nutrition sponsored the January card. "Our sponsorship inventory provides current and potential partners with excellent value at a competitive price," said Hitz. "Additionally, our VIP hospitality packages, ringside seating and customized group packages are great for corporate outings." Hitz has partnered with Arthur Pelullo of Banner Promotions in bringing ESPN2' "Friday Night Fights" to the Horseshoe later this month, and with Round 3 Productions' Frank "Muggs" Mugnolo in the signing of George.
"Working with a longtime friend like Artie on the upcoming Horseshoe bout is awesome, he is old school like me and values relationships," said Hitz. "Hitz Boxing has dominated the Chicago boxing scene since 1991 and our new relationship with Round 3 opens up some interesting and exciting opportunities." Tickets for the February 28 "Fight Night at the Horseshoe" card and the March 7, "Horseshoe Presents: Hitz Boxing's Fight Night at the Belvedere" are available at hitzboxing.com. PROVIDENCE, R.I. (Feb. 11th, 2014) — The man who once put Roy Jones Jr. to sleep and earned a reputation as boxing's toughest "Road Warrior" will test his luck in another city far from his home in Jamaica. Glen Johnson, the former International Boxing Federation (IBF) and The Ring world light heavyweight champion, will headline Classic Entertainment & Sports' Feb. 21, 2014 card at Twin River Casino in Lincoln, R.I., when he faces veteran Jaime Velazquez of Pawtucket, R.I., in the 8-round main event of "Home Sweet Home." Velazquez (11-5-2, 6 KOs), 42, a former New England title contender in the mid- to late-1990s, will end a 15-year layoff in his long-awaited return to the ring Feb. 21st, and he'll do it against one of the most prolific light heavyweights of this generation. Johnson (53-18-2, 36 KOs), 45, has been actively fighting for the past 25 years, a late-bloomer who didn't turn pro until he was 20, but during that stretch he's fought 11 world-title bouts and enjoyed an impressive run as the IBF and The Ring title-holder, which included his shocking knockout win over Roy Jones Jr. in 2004.
Three months later, Johnson unified the light heavyweight title by beating Antonio Tarver and earned the Boxing Writer's Association of America's Fighter of the Year award. Tickets for "Home Sweet Home" are available for $40, $100 and $126 (VIP) and can be purchased online at www.cesboxing.com or www.twinriver.com or by phone at 401-724-2253/2254. Nicknamed "The Road Warrior" for frequently fighting — and winning — in his opponents' hometowns, Johnson's resume also includes a knockout win over the hard-hitting Yusaf Mack of Philadelphia and an inclusion in the Super Six World Boxing Classic in which he dropped to 168 pounds to replace an injured Mikkel Kessler and knocked out Allan Green before losing a close majority decision to World Boxing Council (WBC) champ Carl Froch in the semifinals.
Like the loss to Froch, many of Johnson's setbacks have either been too close to call or have fallen under a cloud of controversy, including a disputed draw against Clinton Woods for the then-vacant IBF title in 2003 in Woods' backyard in the United Kingdom, which Johnson avenged later that year by beating Woods unanimously for the belt. He faced Woods a third time in 2006 in the same country for the same belt and lost a close split decision in which one judge awarded the fight to Johnson by two points. Following the trilogy with Woods, Johnson went on to beat former world champion Montell Griffin by 11th-round knockout and faced off twice against WBC title-holder Chad Dawson, losing both fights by narrow unanimous decisions.
Johnson also challenged for the IBF title a third time against Tavoris Cloud and took a shot at the IBF super middleweight belt against Lucian Bute, going the distance against both fighters. Johnson pushed Cloud to the brink for 12 rounds and lost a unanimous decision despite landing more punches than Cloud, according to the CompuBox numbers. In addition to knocking out 36 of his 73 opponents, a staggering 49 percent knockout rate, Johnson has only been stopped once in 25 years, proving his chin is as solid as his fists. The lone stoppage occurred in 1997 in the first of his 11 world-title belts against then-IBF middleweight champ Bernard Hopkins, the ageless wonder who, at 49, now holds the same light heavyweight title Johnson defended twice during the peak of his dominance in 2004.
Born in Jamaica, Johnson moved to southern Florida at the age of 15. Velazquez is best known for a series of memorable bouts on the New England circuit in the '90s, including a thriller against former world-title challenger Scott Pemberton and a six-round battle against Richard Grant, who later went on to face former super middleweight world champ Jeff Lacy. Velazquez also went the distance with former IBF contender Gabriel Hernandez and fought two draws against Holyoke, Mass., cruiserweight Darren Whitley.
"Home Sweet Home" also features the homecoming of Providence native Toka Kahn (9-0, 6 KOs), a highly-decorated amateur and now undefeated super featherweight prospect fighting under the promotional guidance of Bob Arum's Top Rank Boxing. Kahn will fight in his hometown for the first time since 2012 in a six-round bout. "The Vermont Bully" Kevin Cobbs (7-1, 2 KOs), now fighting out of Fall River, Mass., will end his year-long layoff in a four-round light heavyweight bout while Pawtucket, R.I., middleweight Thomas Falowo (10-2, 7 KOs) will return for the first time since his loss to Chris Chatman in July of 2012 in a separate six-round bout. The undercard also features the return of undefeated Providence middleweight K.J. Harrison-Lombardi (4-0-1), who will star in a four-round bout, and the Twin River debut of Louisiana cruiserweight Alvin Varmall (1-0, 1 KO), also fighting in a separate four-round bout. All fights and fighters are subject to change.
WATCH RELATED VIDEOS ON BOXINGCHANNEL.TV
Albany, NY (February 11, 2014) – 28-year-old light heavyweight hopeful Vincent Miranda is tired of the hype surrounding "Irish" Sean Monaghan.
Monaghan, a massive draw in New York City, signed with Top Rank last summer and was subsequently featured on two major fight cards. The 32-year-old Long Beach resident holds the WBC Continental Americas championship and is rated by three of the major sanctioning organizations. At 20-0 with 13 wins by knockout, he's shown steady improvements but has elite matchmakers guiding him along the way.
Miranda on the other hand isn't afforded the same luxuries. Without the backing of a major promoter, the Albany, NY based Puerto Rican's taken fights wherever he can. Dubbed as "The People's Champ", Miranda's fought in Florida, Puerto Rico, the Dominican Republic and New York State. Since his lone setback, Miranda, 16-1 (9 KO's), won six consecutive bouts, five of which came by knockout. In his last two bouts, he impressively defeated longtime contenders David Telesco and Brian Barbosa. Unfortunately, the popular Puerto Rican's been inactive since outpointing Barbosa last April.
"It's been frustrating to say the least," stated Miranda. "I have a good fan base in the Albany area so it's not like I bring nothing to the table. For whatever reason, I'm still not landing the kind of fights I was hoping for at this point."
What bothers him even more are the opportunities other fighters who he believes are of lesser ability received while he's still looking for the next opportunity. Rather than just complain over his frustrations, Miranda has a better solution; fight those who he believes are taking the spotlight away from him.
"Sean Monaghan is the guy I want as much as anybody right now! I'll admit he's improved but he's still not that good. I've challenged him before and his team turned it down because they know the type of fighter I am and they don't want to get him knocked off before he gets to a title. This is the fight game not a track meet, so stop running from me. I have no problem facing you in Madison Square Garden or anywhere else Top Rank does shows."
Miranda also understands that challenging Monaghan doesn't guarantee him anything major financially.
"This isn't about the money this is for the opportunity. A lot of guys in boxing call out the Floyd Mayweather's and Manny Pacquiao's of the world just because they're looking to get paid. The difference is I really want to fight this guy and understand what this match is worth at this point. I' know what I can do in the ring and built up fighters like Monaghan are taking away opportunities from guys like me that don't need to be spoon-fed into the world rankings. If Sean and Team Monaghan are confident they can beat me, then send a contract and let's get it on!
Fans can interact with Vincent at facebook.com/vincent.miranda.94.
Three Punch Combo: What's in the Cards for Spence, Kell Brook, and Cotto?
 THREE PUNCH COMBO: Errol Spence Jr. scored an impressive knockout victory against Kell Brook on Saturday to take Brook's IBF welterweight title. Both fighters now face interesting possibilities as they move forward in their respective careers.
Spence, who entered the fight with a lot of questions, not only showcased his tremendous skills but proved he has a very good chin as well as the willingness to dig deep when needed. He is without a doubt a future superstar in this sport. With momentum strong right now, he would be wise to be as active as possible even if not landing one of the big names his next time out.
I sense that Spence's advisor, Al Haymon, will in fact get him back in the ring this summer. One name I would speculate as an opponent is Adrian Granados. Coming off a debatable loss to Adrien Broner, Granados has earned another shot at a top fighter. Granados is not a big puncher, but will put forth a good effort. The translation here is that he is someone that can be sold to the public as an opponent for Spence while bigger names are lined up, and also someone against whom Spence can in all likelihood look impressive once again.
After a summer tilt, I would expect to see Spence back in action towards the end of the year in a more substantial fight. Keith Thurman will still be on the mend at this point, recovering from elbow surgery, so that fight is out until next year. But Haymon has plenty of other welterweights and one that I suspect he steers toward Spence will be Lamont Peterson. Peterson is a name and has a belt. He also has a stated desire to want one of the big names next along with the payday that it would command. With Thurman out, this would seem the likely immediate path for Spence as such a fight would draw plenty of attention and be easy to sell.
As for Brook, he is going to need an extensive rest before restarting his career. He suffered a beating as well as an eye injury in September against Gennady Golovkin and then suffered another beating as well as injuring his other eye against Spence. After a rest, expect to see a tune- up bout followed by a massive fight in the UK against Amir Khan. The Khan fight has always been big and one of the reasons it has not been made is that it could frankly be made anytime with it still being a very significant event. Considering where both fighters are presently in their respective careers, the timing seems right for it to happen sooner rather than later. They both get a big payday and the winner gets well positioned for another big payday in what is a loaded territory at welterweight and junior middleweight.
Errol Spence Jr. and Kell Brook gave us a great fight on Saturday. While their career paths will head in different directions, expect to see both involved in big events once again down the road.
 Miguel Cotto's Future
 Miguel Cotto announced this week that he would be returning to the ring on August 26th to face Japanese brawler Yoshihiro Kamegai for the vacant WBO junior middleweight championship. Cotto, who split from his promoter Roc Nation last week, will work with Golden Boy Promotions for this fight which will be televised by HBO.
This is an interesting development in the career of Cotto. Reportedly HBO had not been interested in televising the proposed Kamegai fight unless it received assurances from Cotto that it would lead to a bigger fight to be televised by the network. Also, Golden Boy's involvement in the promotion signals that they could be involved in Cotto's future. Obviously, this would mean the opponent for a big fight for Cotto would come from under the Golden Boy banner.
The obvious choice for Cotto's big fight opponent is David Lemieux. Lemieux has been chasing a fight with Canelo Alvarez. However, with Alvarez deciding to go after Gennady Golovkin, Lemieux gets left on the outside looking in. In need of a big fight for Lemieux, Golden Boy saw an opportunity with Cotto having been previously negotiating the Kamegai fight with Roc Nation. A fight between Cotto and Lemieux makes sense for both as Cotto wants a name who isn't a slick boxer and Lemieux wants a big fight with the payday it commands as well as the opportunity to put a signature win on his resume to bolster his future ambitions.
But I also think Golden Boy has another potential plan for Cotto. Golden Boy's main cash cow, Canelo Alvarez, is in a high risk, high reward fight with Golovkin in September. There is no rematch clause if Alvarez wins and, of course, a win by Alvarez cements him as a mega star in the sport. He will be eyeing a return in May 2018 during Cinco de Mayo weekend. With momentum behind him, Alvarez would be wise to seek a name opponent to further boost the event. A rematch with Cotto would not only do huge business but keep the momentum going. For Cotto, it would be a chance to avenge the loss from 2015 to Alvarez and give him one massive payday as his career nears a conclusion.
Miguel Cotto is determined to close his career out with something big and it appears likely he will get his wish.
Kudos to Golden Boy
 When Golden Boy announced its new series on ESPN this winter, I was cautiously optimistic in the fights they would produce. I must say that the matchmaking thus far on this series has been superb and is getting even better with some recently announced cards. These are the types of televised shows the sport needs to generate some badly needed positive buzz.
On June 17th, Pablo Cesar Cano takes on Fidel Maldonado in a junior welterweight contest. This fight is not only very evenly matched but can't be anything except a slugfest given the styles of the two fighters. Cano is a high pressure fighter who is willing to exchange to get his own punches home. Maldonado has the ability to box, but often gets drawn willingly into wars. In 2015, he had a back and forth shootout with Amir Iman in a fight that got some talk in fight of the year chatter. As a matter of fact, round three was probably round of the year that year. Maldonado has a tendency to fire back when he gets hit and with Cano's style Maldonado is going to get hit a lot. This one is guaranteed action and a perfect fight for television.
About two weeks later, Golden Boy returns with another ESPN card featuring a high stakes junior featherweight contest between Randy Caballero and Oscar Negrete. Caballero is an undefeated former bantamweight belt holder and is a very skilled boxer puncher. Negrete, also undefeated, has shown much improvement inside the ring in his last few contests. The styles of these two should mix well to provide an entertaining fight. It is also evenly matched, and with so much at stake we should see the best of both men inside the ring.
One point I harp on a lot is the importance of good matchmaking, especially in televised fights. Golden Boy is doing an excellent job so far with their new ESPN series providing high quality, well-matched fights. The boxing public is taking notice and Golden Boy deserves much praise in delivering excellent events for the fans.
Check out more boxing news on video at The Boxing Channel.
George Foreman Youth Center in Houston Hosts Amateur Event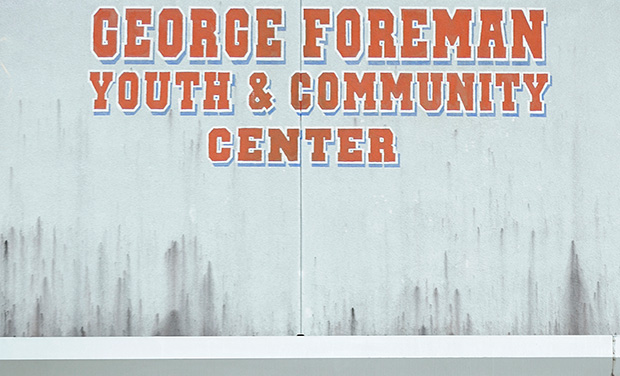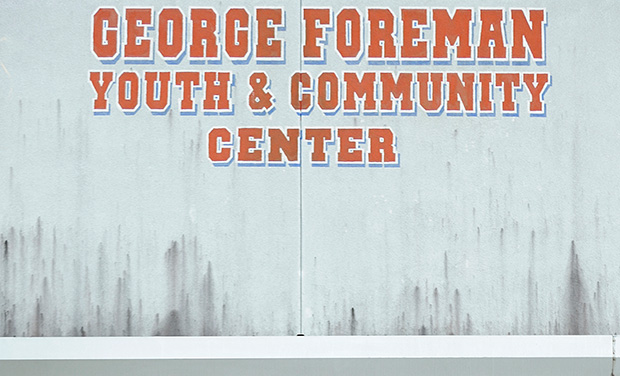 George Foreman Youth Center –  -Starting with the ring of the bell on October 22nd, local area boxers will be fighting for a spot to represent the Gulf Coast Region at the USA Boxing National Championships & in International Travel.
Weight categories will include: Pee Wee 8-9, Bantam 10-11, Intermediate 12-13, Juniors 14-15, Youth 15-16, & Elite 18-40 in both Open and Novice divisions. Winners will represent the Gulf area at the 2016 USA Boxing Elite, Youth and Junior National Championships to be held in Kansas City Missouri December 4-10, 2016. This tournament is a sanctioned event through USA Boxing the National Governing Body of Amateur Boxing and is a feeder to National and Olympic recognition.
The George Foreman Youth and Community Center was founded 32 years ago in 1984 by Olympic Gold Medalist and 2-time heavy weight champion George Foreman. The GFYCC is dedicated to providing a safe and secure location for youth to participate in sports and after school activities.
"This year for the first time in Houston boxing history, we are developing an elite international youth boxing team," said George Foreman, IV. "The team will be selected for the sole purpose of training and traveling to other countries to gain experience on an international platform and promote cultural diplomacy! Utilizing grant and donor funding this team will be representing the George Foreman Youth and Community Center and will be announced Saturday October 22, at the Gulf Region's Boxing Championship. The team will be reviewed by my father, 1968 Olympic Gold Medalist and 2-Time Heavyweight Champion, George Foreman Sr. The first international trip for this new Houston team is scheduled for Jan. 2017."
Doors open for the Gulf Gloves Championships on Saturday October 22nd at 11:00 am with announcements and the presentation of the colors by the United States Army Houston Recruiting Command Baytown Beaumont Company at 12:45 pm. The national anthem will be performed by the internationally acclaimed Houston Brass Quintet! Boxing will begin at 1:00 pm. Championship finals will begin at 1:00 pm on Sunday October 23rd.
Media open workouts for Houston amateur standout boxers will be held Wednesday October 19th at the George Foreman Youth and Community Center at 2202 Lone Oak Road Houston, Texas 77093 at 4:00 pm.
Confirmed attendees for interviews will be:
George Edward Foreman IV: Son of 2 Time Heavy Weight Champion, President of Foreman Public Relations
Marlen Esparza: 2012 Olympic Games Bronze Medalist, 2014 Amateur World Champion, 2006 & 2016 Amateur World Championships Bronze Medalist, Nine-Time USA Boxing National Champion.
Rocky Juarez: 2000 Olympic Games Silver Medalist, 1999 Amateur World Champion, WBC Silver Featherweight World Champion.
Raul Marquez: 1988 Amateur World Championships Bronze Medalist, 1992 Olympic Games Quarter-finalist, IBF Light Middleweight World Champion.
Frank Tate: 1984 Olympic Games Gold Medalist, IBF Middleweight World Champion, NABF Light Heavyweight Champion.
Juan "Baby Bull" Diaz: WBA Lightweight World Champion, WBO Lightweight World Champion, WBA Super-Lightweight World Champion, IBF Lightweight World Champion.
"Sweet" Reggie Johnson: WBA Middleweight World Champion, IBF Light Heavyweight World Champion.
In addition to many Houston area professional boxers and Gulf Boxing Association alumni. Event is sanctioned by USA Boxing – Gulf LBC: 16-25-14268
George Foreman Youth Center / Check out more boxing news and videos at The Boxing Channel.
Michelle Corrales-Lewis Named New CEO of NV Boxing Hall of Fame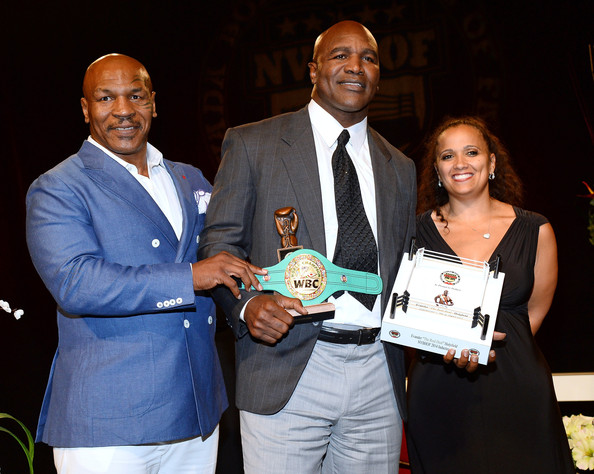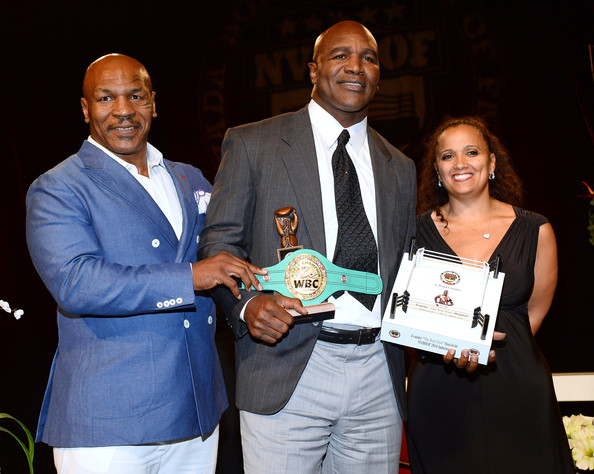 LAS VEGAS, NV (October 5, 2016) – The Nevada Boxing Hall of Fame (NVBHOF) a non-profit charitable organization which donates to boxing-related causes, is happy to announce Michelle Corrales-Lewis as its new CEO/President. Respected boxing announcer, Rich Marotta, who founded the NVBHOF in 2012, steps down after devoting years of his life to get the organization off the ground.
With a number of boxing greats already inducted, which include world champion fighters, judges, coaches and promoters, the NVBHOF has rapidly established itself as prestigious group not only here in Las Vegas, but around the world. The NVBHOF has multiple fundraising events throughout the year, helping local boxing organizations fulfill their goals to keep boxing alive within the community.
"I took this organization as far as I could and I'm very comfortable where it is at today," said Rich Marotta. "Michelle is on the scene in Las Vegas, has a myriad of contacts, both in business and with the boxing community, especially the fighters, and is more than ready to completely run the company. She is incredibly capable and has been an indefatigable agent for growth of the NVBHOF the past three years, taking on additional responsibilities each and every year. It brings me great pleasure to announce her as the new CEO of the Nevada Boxing Hall of Fame."
After serving as the NVBHOF Chief Operating Officer for many years, Michelle Corrales-Lewis, is thrilled at her new position within the organization.
"It's an honor to be chosen as the new CEO of the Nevada Boxing Hall of Fame," said Michelle Corrales-Lewis, widow of former multiple world champion and 2013 NVBHOF inductee, Diego Corrales. "Rich Marotta did a fantastic job building the organization from ground up. His immense work ethic is a great example of how I plan to continue the vision he set forth. My goal is to find a home for the Nevada Boxing Hall of Fame, one where fans from all around the world can visit on regular basis. The boxing community is filled with wonderful people that we will honor as inductees each year. I'm truly grateful for the wonderful opportunity that has been presented to me by my dear friend Rich Marotta."