NEWS ON: Cunningham-Mansour, Stevens, Guerrero, Caballero
Cunningham-Mansour Scouting Report:
Can experience defeat power?
Philadelphia, PA: Steve "USS" Cunningham (26-6-0, 12 KOs) has been boxing professionally for almost 14 years and has 32 professional fights under his belt, his opponent USBA Heavyweight Champion Amir "Hardcore" Mansour (20-0-0, 15 KOs) has much less professional experience but honed his boxing skills while serving time in a federal corrections facility and has "Hardcore" knockout power. When these two hometown warriors collide at the Liacouras Center in Philadelphia, PA on Friday, April 4 on NBCSN Fight Night the question on everyone's mind will be whether or not Cunningham's experience can overcome Mansour's power? The scouting report for this heavyweight match-up is below:
USS Cunningham
Photo Credits:
Rich Graessle/Main Events
Steve "USS" Cunningham
Category
Age : 37
Record : 26-6-0, 12 KOs
Strength : Cunningham is a crafty former world cruiserweight champion with more experience than his older opponent. He is taller with longer reach too.
Weakness : Steve is not known as a knock out puncher. He sometimes tires in final rounds of 12-round bouts.
Experience : Cunningham as the two-time cruiserweight world champion clearly has the edge here.
Power : Although Steve is not generally known for his power, at heavyweight, he knocked down Tyson Fury. He said, "People know me as a superb boxer. I can get gritty and grimy with him; if need to be I will."
Speed : Steve is the smaller fighter so with that speed comes. He is the better boxer and has faster hands.
Endurance : Cunningham has gone 12 rounds nine times in his career.
Accuracy : Steve is a boxer that will mix it up when he wants to. He does not waste many punches.
Defense : Steve is a boxer so he is more likely to slip more punches.
Chin : Cunningham was only stopped once in his career by Tyson Fury, who did it with an illegal punch.
Style : Steve is a boxer/puncher.
Crowd Support : 50/50 – Steve is a Philadelphia native fighting in front of his home crowd.
Amir "Hardcore" Mansour
Category
Age : 41
Record : 20-0-0, 15 KOs
Strength : Mansour is a big, big puncher. The southpaw outweighs Cunningham by approximately 25 pounds.
Weakness : Amir lacks experience in big fights. Also he tends to brawl. While he outweighs Cunningham, he is the shorter man of the two men at 6'1″
Experience : Mansour has scored most of his wins via early KO. He is taking a big step up with this bout against a former world champion – this will be the biggest fight of his career.
Power : The power edge goes to Mansour, who has a 75% (15 of 20) knockout-to-win ratio. Mansour said, "They don't call me Hardcore for nothing. April 4th I got to do what I got to do. This is my time to shine. I am prepared for war. We are going to get it on."
Speed : Mansour does not have much speed, but can double that jab and Steve may not see that left coming from the bigger southpaw.
Endurance : The edge here has to go to Cunningham because Mansour has only gone 12 rounds once in his career.
Accuracy : Mansour's accuracy is his one punch knockout power, if he connects, his opponent is going down.
Defense : Mansour's only defense is his power.
Chin : Mansour has never been down in his career so his chin is still in question.punch.
Style : Mansour is a southpaw/big puncher.
Crowd Support : 50/50 – Amir is Philadelphia trained and a Delaware native so Philadelphia is his adoptive home crowd. However, Brother Naazim Richardson, Cunningham's trainer said, "Fighting here in Philly is an advantage for Mansour. His supporters are based in Philly. He's got Philly history behind him."
The Match-Up
This is an interesting match-up because Cunningham is an experienced boxer and Mansour has less experience but he is a really big puncher.
About this match-up Cunningham said, "This time I am going to step it up a lot. I am supposed to be here. If I can stop him I will. Opposition brings out the best in me. With Quezada they said I broke his rib. It is a skill level thing. Mansour is hungry, driven, has got a good team and that will bring out the best in him. But this will be the best Steve Cunningham the world has ever seen." Mansour does not seem to be intimidated by Cunningham's experience. He said, "I know that I can make the adjustments that I need to make. There is a whole bag of tricks that I have up my sleeve."
Hardcore Mansour
Photo Credits: Mike Gladysz/Main Events
Hall of Fame matchmaker and Philadelphia boxing legend J Russell Peltz said, "It's the best all-Philly fight in years. Two careers are on the line in this one. The winner becomes a player in the heavyweight sweepstakes. Cunningham has to prove he's still viable as a heavyweight and Mansour must prove he can hang with the big boys."
Main Events' CEO Kathy Duva said, "This is a real 50-50 fight. Neither fighter has a clear advantage. I can't wait to find out who wins!"
Showtime is Rested and Ready to Take on Johnson
Stevens in the Ring Against Majewski
Photo Credits:
Rich Graessle/Main Events
Philadelphia, PA: Curtis "Showtime" Stevens took a relaxing vacation after his first round knockout of Patrick "The Machine" Majewski on January 24 at Resorts in Atlantic City, NJ and now he is faster, stronger, rested and ready to take on Tureano Johnson Friday, April 4 at the Liacouras Center in Philadelphia, PA. Stevens, who vowed to stay busy this year, spent two weeks in Mexico and Jamaica following his fight at Resorts. However, even while he was having fun in the sun, he stayed in constant contact with Main Events' Matchmaker Jolene Mizzone, "While I was away Jolene kept in contact with me. She asked me if I wanted to fight and I told her I was off for two years so now I want to get right back into it. I wasn't playing around."
Stevens Against Findley
Photo Credits: Rich Graessle/Main Events
Stevens, 29, just moved to a new place on the water in Queens and has been running stairs and on the beach as part of his new conditioning regime. He said, "I feel good. I have been training very hard. We wanted to make my legs stronger so I can get lower and weave his shots." However, Curtis does not think Tureano Johnson is going to be a problem for him. When asked about Johnson he said, "This guy likes to fight. He slaps a lot. He's got looping shots. But don't leave your seat when the TV lights come on because you might miss it. Don't blink. Have your popcorn and your soda ready beforehand because I am about to put on a spectacular showcase come April 4."
Showtime vs. Ayala
Photo Credits: Rich Graessle/Main Events
When asked about fighting in Philadelphia, the Brooklyn native said, "Philly is the boxing capital so I am really excited to be fighting there. They like to fight in Philly and I love that. I have a lot of fans in Philly. I grew up with Karl 'Dynamite' Dargan, we were in the amateurs together, so I know all of his family. A lot of my fans from New York and Brooklyn are going to come out there and make the drive to show their support but I have fans in Philly too."
This will be Showtime's fifth Fight Night appearance and he is undefeated on the program (first round KO of Patrick Majewski on Jan. 24, first round KO of Saul Roman on August 3, 2013, eighth round UD over Derrick Findley on April 20, 2013 and first round KO of Elvin Ayala on January 19, 2013). When asked about fighting on Fight Night, Stevens replied, "I love NBC Sports. I love NBC because the world gets to see me. I am grateful to them for giving me the opportunity to perform for the whole world. Me and Cunningham were on Fight Night together when he fought Tyson Fury and I beat Derrick Findley so I am glad we get to share the spotlight again on Fight Night April 4."
Curtis Knocks Out Roman
Photo Credits: Rich Graessle/Main Events
Main Events' CEO Kathy Duva said, "I love Curtis' attitude. There are few things better for a promoter than a fighter who will fight anyone, anywhere, anytime. Curtis has the heart of a champion, even if he doesn't have that belt just yet."
Jolene Mizzone, Main Events' matchmaker said, "Fighting an up-and-coming undefeated opponent is always dangerous for a fighter so Curtis needs to be on point in order for him to get closer to a world title fight."
About April 4th:
The event features a ten-round bout for the USBA Heavyweight Title between Steve "USS" Cunningham and USBA champion Amir "Hardcore" Mansour live on NBCSN Fight Night from the Liacouras Center in Philadelphia, PA. The Fight Night broadcast will begin at 10 pm ET/7 pm PT. The card is presented by Main Events and Peltz Boxing in association with BAM Boxing and Joe Hand Promotions. The undercard will include a ten round middleweight match-up between Curtis "Showtime" Stevens and Tureano Johnson. The remaining undercard fights will be announced shortly. Tickets are on sale now at www.comcastTix.com and the Liacouras Center Box Office.
GILROY, CALIFORNIA (March 31, 2014) – This Sunday April 6, 2014, Robert "The Ghost" Guerrero will host a fundraiser titled "Breath for Caley" and event to help raise money for Caley Camarillo a 12-year old girl who is suffering from a rare and terminal lung disease called cystic fibrosis (commonly referred to as CF).
The event will take place at the Morgan Hill Cellars, located at 1645 San Pedro Ave in Morgan Hill CA from 1:00 pm to 5:00 pm. Tickets priced $25 per person can be purchased here. There will be a Raffle, Silent Auction of Sports Memorabilia & More. Appetizers and Live Entertainment by Isaiah Picket to be expected.
Please help us help Caley and her family by donating whatever you can to help with everyday expenses and surmounting medical expenses. Hopefully we can raise enough to get her looked at by another team of Doctors. See more by clicking HERE.
For more information or tickets: Contact: Maria Cid 408.500.9426 or MsAlxis 408.508.4733
WATCH RELATED VIDEOS ON BOXINGCHANNEL.TV
KOBE, JAPAN (March 31, 2014) – Unbeaten as a professional and one of the most respected young fighters in boxing today, Coachella, California's Randy "El Matador" Caballero will get his chance to move one step closer to a world championship when he travels to Kobe, Japan to fight Kohei Oba at Sambo Hall in a 12-round locally televised IBF Bantamweight Title Elimination bout on Friday, April 4.
"This is the fight I've been waiting for, and after beating Oba, I'll get my title shot," said Caballero. "I'm not concerned about the travel time it took for me to get to Japan or any scoring issues; I'm trained to dominate, and I won't leave any doubts this Friday, April 4."
Just 23-years-old, Randy "El Matador" Caballero (20-0, 12 KOs) has the maturity of a seasoned veteran in the ring, and an impressive skill set, which is why its no surprise that he's one win away from a world title shot. A California fan favorite, the number four-ranked contender has added power to his game in recent months, winning his last four bouts by knockout. This Friday, April 4, he fights for the first time outside of the United States when he faces the veteran Oba.
Ranked fifth in the world by the IBF, Japanese bantamweight champion Kohei Oba (35-2-1, 14 KOs) wants to add more hardware to his trophy case, but he'll have to get past Caballero to do so. A professional since 2002, the 29-year-old has made a steady climb to the top, and with a 9-0 record in Japanese title fights, he has the skills and experience to take Caballero to places the American has never seen in the ring before.
Three Punch Combo: What's in the Cards for Spence, Kell Brook, and Cotto?
 THREE PUNCH COMBO: Errol Spence Jr. scored an impressive knockout victory against Kell Brook on Saturday to take Brook's IBF welterweight title. Both fighters now face interesting possibilities as they move forward in their respective careers.
Spence, who entered the fight with a lot of questions, not only showcased his tremendous skills but proved he has a very good chin as well as the willingness to dig deep when needed. He is without a doubt a future superstar in this sport. With momentum strong right now, he would be wise to be as active as possible even if not landing one of the big names his next time out.
I sense that Spence's advisor, Al Haymon, will in fact get him back in the ring this summer. One name I would speculate as an opponent is Adrian Granados. Coming off a debatable loss to Adrien Broner, Granados has earned another shot at a top fighter. Granados is not a big puncher, but will put forth a good effort. The translation here is that he is someone that can be sold to the public as an opponent for Spence while bigger names are lined up, and also someone against whom Spence can in all likelihood look impressive once again.
After a summer tilt, I would expect to see Spence back in action towards the end of the year in a more substantial fight. Keith Thurman will still be on the mend at this point, recovering from elbow surgery, so that fight is out until next year. But Haymon has plenty of other welterweights and one that I suspect he steers toward Spence will be Lamont Peterson. Peterson is a name and has a belt. He also has a stated desire to want one of the big names next along with the payday that it would command. With Thurman out, this would seem the likely immediate path for Spence as such a fight would draw plenty of attention and be easy to sell.
As for Brook, he is going to need an extensive rest before restarting his career. He suffered a beating as well as an eye injury in September against Gennady Golovkin and then suffered another beating as well as injuring his other eye against Spence. After a rest, expect to see a tune- up bout followed by a massive fight in the UK against Amir Khan. The Khan fight has always been big and one of the reasons it has not been made is that it could frankly be made anytime with it still being a very significant event. Considering where both fighters are presently in their respective careers, the timing seems right for it to happen sooner rather than later. They both get a big payday and the winner gets well positioned for another big payday in what is a loaded territory at welterweight and junior middleweight.
Errol Spence Jr. and Kell Brook gave us a great fight on Saturday. While their career paths will head in different directions, expect to see both involved in big events once again down the road.
 Miguel Cotto's Future
 Miguel Cotto announced this week that he would be returning to the ring on August 26th to face Japanese brawler Yoshihiro Kamegai for the vacant WBO junior middleweight championship. Cotto, who split from his promoter Roc Nation last week, will work with Golden Boy Promotions for this fight which will be televised by HBO.
This is an interesting development in the career of Cotto. Reportedly HBO had not been interested in televising the proposed Kamegai fight unless it received assurances from Cotto that it would lead to a bigger fight to be televised by the network. Also, Golden Boy's involvement in the promotion signals that they could be involved in Cotto's future. Obviously, this would mean the opponent for a big fight for Cotto would come from under the Golden Boy banner.
The obvious choice for Cotto's big fight opponent is David Lemieux. Lemieux has been chasing a fight with Canelo Alvarez. However, with Alvarez deciding to go after Gennady Golovkin, Lemieux gets left on the outside looking in. In need of a big fight for Lemieux, Golden Boy saw an opportunity with Cotto having been previously negotiating the Kamegai fight with Roc Nation. A fight between Cotto and Lemieux makes sense for both as Cotto wants a name who isn't a slick boxer and Lemieux wants a big fight with the payday it commands as well as the opportunity to put a signature win on his resume to bolster his future ambitions.
But I also think Golden Boy has another potential plan for Cotto. Golden Boy's main cash cow, Canelo Alvarez, is in a high risk, high reward fight with Golovkin in September. There is no rematch clause if Alvarez wins and, of course, a win by Alvarez cements him as a mega star in the sport. He will be eyeing a return in May 2018 during Cinco de Mayo weekend. With momentum behind him, Alvarez would be wise to seek a name opponent to further boost the event. A rematch with Cotto would not only do huge business but keep the momentum going. For Cotto, it would be a chance to avenge the loss from 2015 to Alvarez and give him one massive payday as his career nears a conclusion.
Miguel Cotto is determined to close his career out with something big and it appears likely he will get his wish.
Kudos to Golden Boy
 When Golden Boy announced its new series on ESPN this winter, I was cautiously optimistic in the fights they would produce. I must say that the matchmaking thus far on this series has been superb and is getting even better with some recently announced cards. These are the types of televised shows the sport needs to generate some badly needed positive buzz.
On June 17th, Pablo Cesar Cano takes on Fidel Maldonado in a junior welterweight contest. This fight is not only very evenly matched but can't be anything except a slugfest given the styles of the two fighters. Cano is a high pressure fighter who is willing to exchange to get his own punches home. Maldonado has the ability to box, but often gets drawn willingly into wars. In 2015, he had a back and forth shootout with Amir Iman in a fight that got some talk in fight of the year chatter. As a matter of fact, round three was probably round of the year that year. Maldonado has a tendency to fire back when he gets hit and with Cano's style Maldonado is going to get hit a lot. This one is guaranteed action and a perfect fight for television.
About two weeks later, Golden Boy returns with another ESPN card featuring a high stakes junior featherweight contest between Randy Caballero and Oscar Negrete. Caballero is an undefeated former bantamweight belt holder and is a very skilled boxer puncher. Negrete, also undefeated, has shown much improvement inside the ring in his last few contests. The styles of these two should mix well to provide an entertaining fight. It is also evenly matched, and with so much at stake we should see the best of both men inside the ring.
One point I harp on a lot is the importance of good matchmaking, especially in televised fights. Golden Boy is doing an excellent job so far with their new ESPN series providing high quality, well-matched fights. The boxing public is taking notice and Golden Boy deserves much praise in delivering excellent events for the fans.
Check out more boxing news on video at The Boxing Channel.
George Foreman Youth Center in Houston Hosts Amateur Event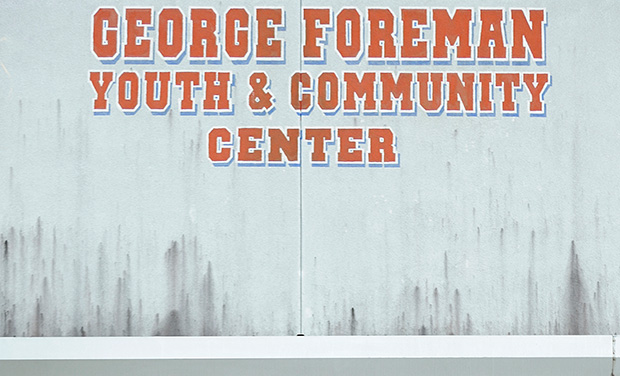 George Foreman Youth Center –  -Starting with the ring of the bell on October 22nd, local area boxers will be fighting for a spot to represent the Gulf Coast Region at the USA Boxing National Championships & in International Travel.
Weight categories will include: Pee Wee 8-9, Bantam 10-11, Intermediate 12-13, Juniors 14-15, Youth 15-16, & Elite 18-40 in both Open and Novice divisions. Winners will represent the Gulf area at the 2016 USA Boxing Elite, Youth and Junior National Championships to be held in Kansas City Missouri December 4-10, 2016. This tournament is a sanctioned event through USA Boxing the National Governing Body of Amateur Boxing and is a feeder to National and Olympic recognition.
The George Foreman Youth and Community Center was founded 32 years ago in 1984 by Olympic Gold Medalist and 2-time heavy weight champion George Foreman. The GFYCC is dedicated to providing a safe and secure location for youth to participate in sports and after school activities.
"This year for the first time in Houston boxing history, we are developing an elite international youth boxing team," said George Foreman, IV. "The team will be selected for the sole purpose of training and traveling to other countries to gain experience on an international platform and promote cultural diplomacy! Utilizing grant and donor funding this team will be representing the George Foreman Youth and Community Center and will be announced Saturday October 22, at the Gulf Region's Boxing Championship. The team will be reviewed by my father, 1968 Olympic Gold Medalist and 2-Time Heavyweight Champion, George Foreman Sr. The first international trip for this new Houston team is scheduled for Jan. 2017."
Doors open for the Gulf Gloves Championships on Saturday October 22nd at 11:00 am with announcements and the presentation of the colors by the United States Army Houston Recruiting Command Baytown Beaumont Company at 12:45 pm. The national anthem will be performed by the internationally acclaimed Houston Brass Quintet! Boxing will begin at 1:00 pm. Championship finals will begin at 1:00 pm on Sunday October 23rd.
Media open workouts for Houston amateur standout boxers will be held Wednesday October 19th at the George Foreman Youth and Community Center at 2202 Lone Oak Road Houston, Texas 77093 at 4:00 pm.
Confirmed attendees for interviews will be:
George Edward Foreman IV: Son of 2 Time Heavy Weight Champion, President of Foreman Public Relations
Marlen Esparza: 2012 Olympic Games Bronze Medalist, 2014 Amateur World Champion, 2006 & 2016 Amateur World Championships Bronze Medalist, Nine-Time USA Boxing National Champion.
Rocky Juarez: 2000 Olympic Games Silver Medalist, 1999 Amateur World Champion, WBC Silver Featherweight World Champion.
Raul Marquez: 1988 Amateur World Championships Bronze Medalist, 1992 Olympic Games Quarter-finalist, IBF Light Middleweight World Champion.
Frank Tate: 1984 Olympic Games Gold Medalist, IBF Middleweight World Champion, NABF Light Heavyweight Champion.
Juan "Baby Bull" Diaz: WBA Lightweight World Champion, WBO Lightweight World Champion, WBA Super-Lightweight World Champion, IBF Lightweight World Champion.
"Sweet" Reggie Johnson: WBA Middleweight World Champion, IBF Light Heavyweight World Champion.
In addition to many Houston area professional boxers and Gulf Boxing Association alumni. Event is sanctioned by USA Boxing – Gulf LBC: 16-25-14268
George Foreman Youth Center / Check out more boxing news and videos at The Boxing Channel.
Michelle Corrales-Lewis Named New CEO of NV Boxing Hall of Fame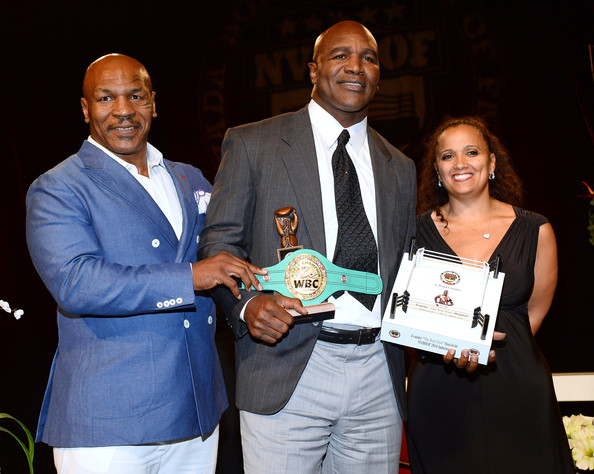 LAS VEGAS, NV (October 5, 2016) – The Nevada Boxing Hall of Fame (NVBHOF) a non-profit charitable organization which donates to boxing-related causes, is happy to announce Michelle Corrales-Lewis as its new CEO/President. Respected boxing announcer, Rich Marotta, who founded the NVBHOF in 2012, steps down after devoting years of his life to get the organization off the ground.
With a number of boxing greats already inducted, which include world champion fighters, judges, coaches and promoters, the NVBHOF has rapidly established itself as prestigious group not only here in Las Vegas, but around the world. The NVBHOF has multiple fundraising events throughout the year, helping local boxing organizations fulfill their goals to keep boxing alive within the community.
"I took this organization as far as I could and I'm very comfortable where it is at today," said Rich Marotta. "Michelle is on the scene in Las Vegas, has a myriad of contacts, both in business and with the boxing community, especially the fighters, and is more than ready to completely run the company. She is incredibly capable and has been an indefatigable agent for growth of the NVBHOF the past three years, taking on additional responsibilities each and every year. It brings me great pleasure to announce her as the new CEO of the Nevada Boxing Hall of Fame."
After serving as the NVBHOF Chief Operating Officer for many years, Michelle Corrales-Lewis, is thrilled at her new position within the organization.
"It's an honor to be chosen as the new CEO of the Nevada Boxing Hall of Fame," said Michelle Corrales-Lewis, widow of former multiple world champion and 2013 NVBHOF inductee, Diego Corrales. "Rich Marotta did a fantastic job building the organization from ground up. His immense work ethic is a great example of how I plan to continue the vision he set forth. My goal is to find a home for the Nevada Boxing Hall of Fame, one where fans from all around the world can visit on regular basis. The boxing community is filled with wonderful people that we will honor as inductees each year. I'm truly grateful for the wonderful opportunity that has been presented to me by my dear friend Rich Marotta."