Darleys Perez Talks Nov. 21 Rematch With Tony Crolla
ORANGE, Calif. (Nov. 12, 2015) – In what is perhaps the most intriguing rematch of the year, WBA Lightweight Champion Darleys Perez (32-1-1, 20 KOs) plans to win in convincing fashion against England's Anthony Crolla (29-4-3, 11 KOs) on Saturday, Nov. 21, at Manchester Arena in England.
The initial bout in July, which took place at the same venue where the rematch will be contested, ended in a controversial draw that featured point deductions against Colombia's Perez and puzzling scoring from one judge.
Perez, who was fighting in Crolla's hometown nonetheless, had one judge score the fight in his favor (114-113), while another had it for Crolla (116-111). The third judge had it even at 113-113.
Perez, however, was deducted one point on two separate occasions for low blows. If not for the deductions, Perez would have won by majority decision.
"The rematch will settle the score," said Perez, who is co-promoted through Thompson Boxing Promotions and Gary Shaw Productions. "I'm not going to leave any doubt in any judges' mind as to who the better boxer is."
Boxing fans can enjoy the explosive rematch on AWE available on AT&T U-Verse, CH. 147 and 1147 in HD, Verizon FiOS TV, CH. 169 and 669 in HD, and numerous regional cable providers across the nation. Please check www.awetv.com for start times.
Both boxers have overcome tremendous adversity to arrive at this stage in their careers. Perez avoided and escaped the ultra violent drug wars while growing up in Colombia. As for Crolla, late last year, he nearly lost his life after coming to the aid of his neighbor during a home invasion. Crolla managed to chase the burglars away, but not before the altercation left him with a fractured ankle and serious head injury.
"This is an incredible fight that matches two world class boxers against each other," said Ken Thompson, president of Thompson Boxing. "That Perez and Crolla have a controversial history only makes this fight even more exciting. We believe Perez will fight to his full potential and come away with an undisputed win and retain his world championship."
"It's clear to me that Darleys Perez is very focused for this fight," said Gary Shaw of Gary Shaw Productions. "He knows what's on the line and the many doors that will open up for him with a victory. I've had fighters come out victorious when they've traveled to other countries and fought for world titles. Perez already proved he can get a fair shake with a gritty performance. The judging nowadays is fairer then it's ever been. When Perez meets Crolla, only one man will come out victorious, and I believe it will be Perez."
DARLEYS PEREZ TRAINING CAMP NOTES
What are your thoughts on the first fight with Crolla?
"It was a tough fight. That night I didn't perform as well as I wanted to, but I was able to manage the situation. I retained my world title, despite the point deductions."
Do you plan to fight Crolla differently in the rematch?
"After fighting for twelve rounds I think we now know each other pretty well. It probably will be a totally different fight for both of us."
Talk about your preparation for this fight.
"Training camp has been great. This time we decided to stay in Barranquilla (Colombia) and I want to thank my team for supporting me in this decision. I got excellent sparring from boxers coming from Venezuela, and also from my teammates at the gym. I feel very strong mentally and physically."
How confident are you going back to the UK and winning in Crolla's hometown?
"I'm going to win. There's no doubt about that. There is no chance Crolla takes my belt. I'm 100 percent sure that with my skills and preparation I will still be the champion."
Is Kovalev Still What He Was, or is He No Longer Who He Used to Be?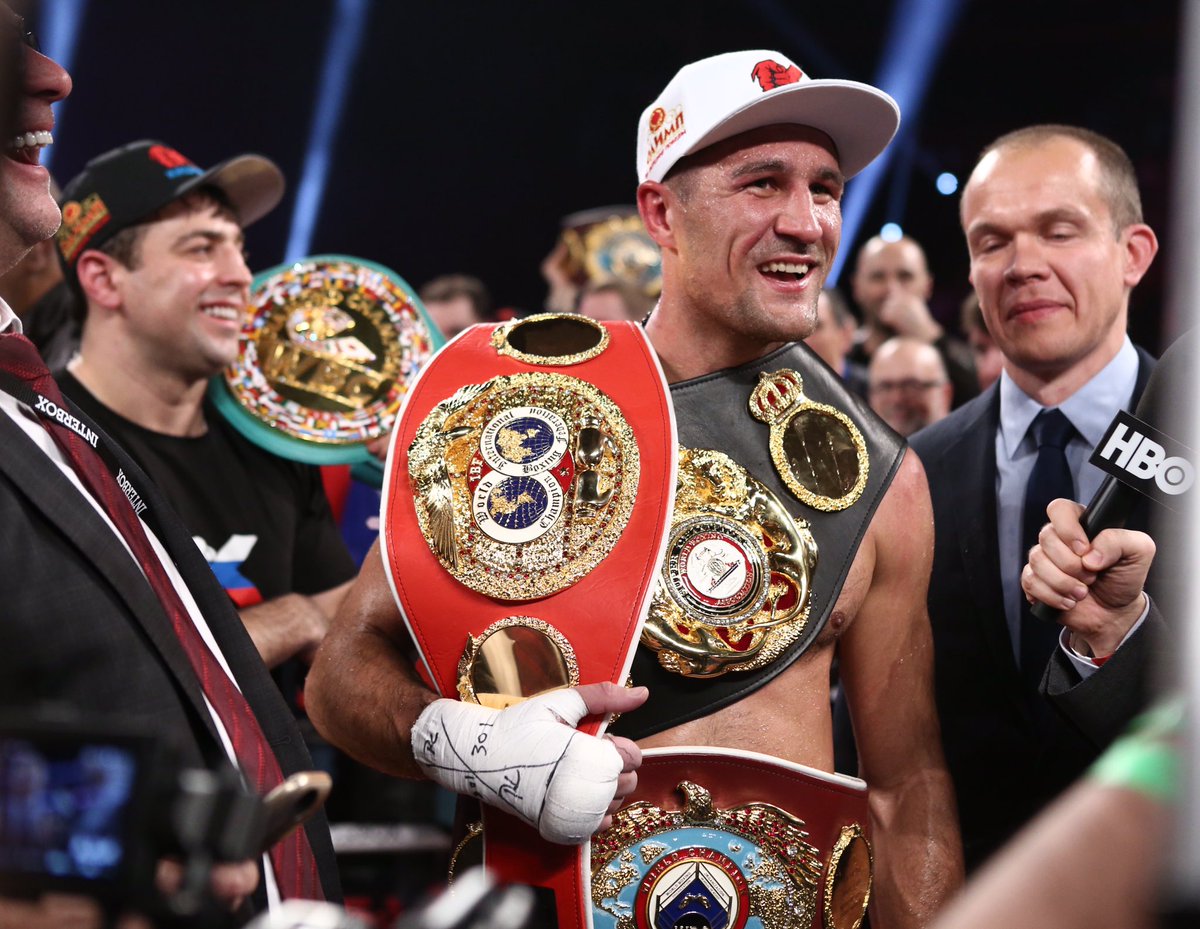 At some point in every highly successful boxer's professional life, there is a subtle, sometimes imperceptible change where he begins to stop being who he had been and transitions into a lesser version of himself. The change can be purely physical, the result of advancing age and the natural laws of diminishing returns, or it might owe more to the mental aspects of a harsh and demanding sport. A fighter whose laser-intense focus had helped push him to greatness can become too rich, too comfortable or too disinterested to re-ignite that inner furnace and maintain it at high flame.
Now 35, an age which boxing history suggests often marks the crossover from glorious prime to gradual or even rapid descent, WBO light heavyweight champion Sergey Kovalev (32-2-1, 28 KOs) could be fighting as much to defeat the theory that he has already, or soon will, begin that inevitable downhill slide as to defeat Colombian-born, Montreal-based challenger Eleider Alvarez (23-0, 11 KOs) when they square off in the HBO-televised main event Saturday night at the lavishly refurbished Hard Rock Hotel & Casino in Atlantic City. The Hard Rock recently underwent a $500 million makeover from its previous incarnation as the Trump Taj Mahal, and Kovalev-Alvarez – the principals' respective nicknames, "Krusher" and "Storm," sound like a showdown of Marvel Comics superheroes – marks the first major fight in the seashore resort town since, ironically, Kovalev scored a wide unanimous decision over nearly 50-year-old Bernard Hopkins on Nov. 8, 2014.
The co-featured bout also is for a 175-pound world championship strap, with Dmitry Bivol (13-0, 11 KOs) defending his WBA title against Isaac Chilemba (25-5-2, 10 KOs). Not that anything is certain, but there are signs that the winners could be paired in a bout that would unify two of the titles in a division currently splintered into four realms.
"I don't feel that I am old," Kovalev said when asked if fans can still expect to see the best of him not only in the here and now, but for the foreseeable future. "It's (35) just a number to me. I'll be fighting 'til I get all four titles. It's my goal and when I (achieve) this goal I am done."
Kathy Duva, Main Events' CEO, has other fighters in her promotional stable, but in recent years there has always been someone who qualified as the indisputable lead pony. Once that distinction was held by Poland's Tomasz Adamek until he entered his decline stage and gave way to Kovalev, the once-unheralded Russian who forced his way into widespread public consciousness with a series of devastating knockouts and a mean streak capable of impressing Vladimir Putin. When "Krusher" flattened opponents as if he were stomping on an empty beer can, his displays of raw power were almost always served up with a side order of mercilessness. He was the living, breathing embodiment of the movies' Ivan Drago, the remorseless Russian wrecking machine disdainful of the lethal damage he had just inflicted upon Apollo Creed.
But the first crack in the image of Kovalev the invincible came when he lost a close and disputed unanimous decision, along with his WBO, IBF and WBA titles, to Andre Ward on Nov. 19, 2016. Kovalev, who faded down the stretch, believed he had banked enough early rounds to get the victory, and his claims carried some credence as all three official scorecards had him down by razor-thin 114-113 margins. If two of the judges had awarded just one more round to Kovalev against Ward, who was widely considered to be among the top two or three best pound-for-pound fighters on the planet, he would have retained his trio of bejeweled belts on a split decision.
The hairline crack widened, however, in the rematch on June 17, 2017. Amid rumors – which proved to be correct – of tension between Kovalev and his trainer, John David Jackson, Kovalev fell victim to Ward's intense body attack and was stopped in eight rounds. Although he was effective in spots, ahead by one point on two judges' cards and down by three on the other at the time of the TKO, he loudly complained of low blows from Ward that went unpenalized by referee Tony Weeks. For Kovalev to issue excuses, even those that might have been somewhat justified, was akin to Attila the Hun objecting to unfair tactics by the Romans, whom he was unable to defeat in the Battle of the Catalaunian Plains in 451.
After the failed rematch with Ward, who subsequently retired, the bad blood between Kovalev and Jackson spilled out in a two-way verbal hemorrhage in which each party disparaged the other in a manner that was reminiscent of the vilest exchanges in Muhammad Ali's running feud with Joe Frazier.
"Sergey started making money, getting big-headed, and he didn't want to train hard anymore," Jackson said in September 2017. "Every camp was worse and worse. I was doing some body work on Sergey and I made him fold up. I'm 54 years old and he couldn't take it. I told Don (Turner) that if Ward can get inside and withstand his early shots, then Sergey is in trouble. And that is what happened.
"Sergey is blaming me for the loss, but let me tell you this: You can't blame me for your loss when you quit. He quit! This guy is a complete dick."
So, which Sergey Kovalev shows up against Alvarez? Will it be the assassin who scared the hell out of a pre-Ward succession of opponents before leaving them crumpled and quivering on the canvas? Or is it the one imagined by an embittered Jackson, a bully who turned out to have feet of clay when those feet were finally put to the fire? It's difficult to determine based on Kovalev's two fights with Jackson's replacement as his trainer, Uzbekistan's Abror Tursunpulatov, with whom Kovalev claims to have a better rapport since he also speaks Russian, making for fewer communications issues in training camp and in the corner on fight night.
Although Kovalev reportedly spent time in a Greek monastery following the rematch loss to Ward, the better to clear his head, his by-the-numbers stoppages of Igor Mikhalkin and Vyacheslav Shabranskyy were against rivals who were no match for even a discounted version of the old Krusher. Alvarez, a technically proficient if comparatively soft-punching opponent, had been the mandatory opponent to WBC champ Adonis Stevenson for over two years until he tired of playing the waiting game and accepted the opportunity for a title shot at Kovalev. Based on all available data, Alvarez figures to provide a sterner test than Mikhalkin or Shabranskyy did.
If Kovalev is to be believed, the path to his eventual retirement is still a long and winding road. Maybe what's next, should he get past Alvarez, is a two-belt battle with Bivol, who is with Groupe Yvon Michel and World Boxing. That certainly would be an intriguing matchup. Other targets in Kovalev's quest for full unification are IBF champion Artur Beterbiev (12-0, 12 KOs) and Stevenson (29-1-1, 24 KOs), a fight that not so very long ago was among the most anticipated in boxing but now seems a distant dream. Stevenson is 40, facing his own boundary whose crossing would signal the end of an era. Some fights sit on the back burner way too long, and if you don't think so consider the tepid, warmed-up serving up of Floyd Mayweather Jr. vs. Manny Pacquiao.
Check out more boxing news on video at The Boxing Channel
Popo vs. "La Hiena": Blast From the Past – Episode Two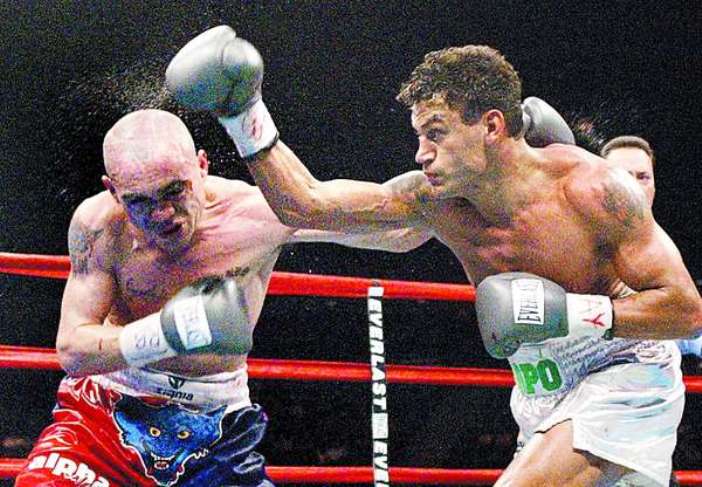 When WBA/WBO super featherweight champion Acelino "Popo" Freitas met Jorge Rodrigo "Il Hiena" Barrios in Miami on August 8, 2003, there was more on the line than just the titles. This was a roughhousing 39-1-1 Argentinian fighting an equally tough 33-0 Brazilian. The crowd was divided between Brazilian fans and those from Argentina. To them this was a Mega-Fight; this was BIG.
When Acelino Freitas turned professional in 1995, he streaked from the gate with 29 straight KOs, one of the longest knockout win streaks in boxing history. He was fan-friendly and idolized in Brazil. Barrios turned professional in 1996 and went 14-0 before a DQ loss after which he went 25-0-1 with 1 no decision.
The Fight
The wild swinging "Hyena" literally turned into one as he attacked from the beginning and did not let up until the last second of the eleventh round. Barrios wanted to turn the fight into a street fight and was reasonably successful with that strategy. It became a case of brawler vs. boxer/puncher and when the brawler caught the more athletic Popo—who could slip and duck skillfully—and decked him with a straight left in the eighth, the title suddenly was up for grabs.
The Brazilian fans urged their hero on but to no avail as Barrios rendered a pure beat down on Popo during virtually the entirety of the 11th round—one of the most exciting in boxing history. Freitas went down early from a straight right. He was hurt, and at this point it looked like it might be over. Barrios was like a madman pounding Popo with a variety of wild shots, but with exactly one half of one second to go before the bell ending the round, Freitas caught La Hiena with a monster right hand that caused the Hyena to do the South American version of the chicken dance before he went down with his face horribly bloodied. When he got up, he had no idea where he was but his corner worked furiously to get him ready for the final round. All he had to do was hang in there and the title would change hands on points.
The anonymous architect of "In Boxing We Trust," a web site that went dormant in 2010, wrote this description:
"Near the end of round 11, about a milli-second before the bell rang, Freitas landed a ROCK HARD right hand shot flush on Barrios' chin. Barrios stood dazed for a moment, frozen in time, and then down he went, WOW WOW WOW!!!! Barrios got up at the count of 4, he didn't know where he was as he looked around towards the crowd like a kid separated from his family at a theme park, but Barrios turned to the ref at the count of 8 and signaled that he was okay, SAVED BY THE BELL. It was panic time in the Barrios corner, as the blood continued to flow like lava, and he was bleeding from his ear (due to a ruptured ear drum). In the beginning of round 12, Freitas was able to score an early knockdown, and as Barrios stood up on wobbly legs and Freitas went straight at him and with a couple more shots, Barrios was clearly in bad shape and badly discombobulated and the fight was stopped. Freitas had won a TKO victory in round 12, amazing!!!!"
Later, Freitas tarnished his image with a "No Mas" against Diego Corrales, but he had gone down three times and knew there was no way out. He went on to claim the WBO world lightweight title with a split decision over Zahir Raheem, but that fight was a snoozefest and he lost the title in his first defense against Juan "Baby Bull" Diaz.
Freitas looked out of shape coming in to the Diaz fight and that proved to be the case as he was so gassed at the end of the eighth round that he quit on his stool. This was yet another shocker, but others (including Kostya Tszyu, Mike Tyson, Oscar De La Hoya and even Ali) had done so and the criticism this time seemed disproportionate.
Popo had grown old. It happens. Yet, against Barrios, he had proven without a doubt that he possessed the heart of a warrior.
The Brazilian boxing hero retired in 2007, but came back in 2012 and schooled and KOd the cocky Michael "The Brazilian Rocky" Oliveira. He won another fight in 2015 and though by now he was visibly paunchy, he still managed to go 10 rounds to beat Gabriel Martinez in 2017 with occasional flashes of his old explosive volleys. These later wins, though against lower level opposition, somewhat softened the memories of the Corrales and Diaz fights, both of which this writer attended at the Foxwoods Resort in Mashantucket, Connecticut. They would be his only defeats in 43 pro bouts.
Like Manny Pacquiao, Freitas had a difficult childhood but was determined to make a better life for himself and his family. And, like Manny, he did and he also pursued a career in politics. Whether he makes it into the Hall will depend on how much a 'No Mas' can count against one, but he warrants serious consideration when he becomes eligible.
As for the Hyena, on April 8, 2005, he won the WBO junior lightweight title with a fourth round stoppage of undefeated but overweight Mike Anchondo. In January 2010 he was involved in a hit and run accident in which a 20-year-old pregnant woman was killed. On April 4, 2012 Barrios was declared guilty of culpable homicide and sentenced to four years in prison. He served 27 months and never fought again, retiring with a record of 50-4-1.
Ted Sares is one of the oldest active full power lifters in the world. A member of Ring 10, and Ring 4's Boxing Hall of Fame, he was recently cited by Hannibal Boxing as one of three "Must-Read" boxing writers.
Check out more boxing news on video at The Boxing Channel
Three Punch Combo: Reviewing Top Rank's Deal with ESPN and More
Jeff Horn upset Manny Pacquiao to win the WBO welterweight belt in an event televised by ESPN. Though all the particulars of a formal arrangement between ESPN and Top Rank were not all officially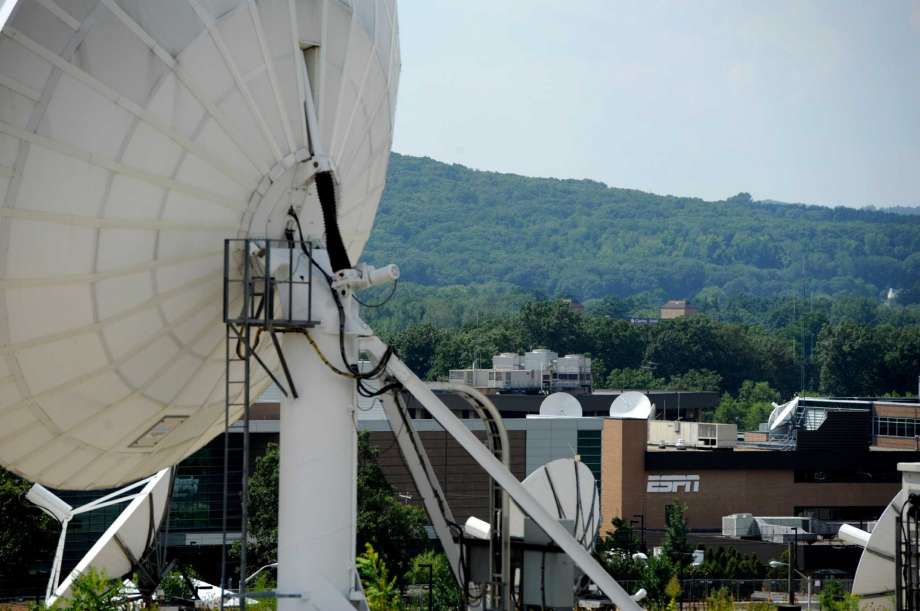 THREE PUNCH COMBO – On July 2, 2017, Jeff Horn upset Manny Pacquiao to win the WBO welterweight belt in an event televised by ESPN. Though all the particulars of a formal arrangement between ESPN and Top Rank were not all officially hammered out at that time, the fight between Horn and Pacquiao essentially represented the beginning of a landmark deal between Top Rank and the cable television giant. One year into the arrangement, here is a quick look at how it has worked out to date.
The deal has been a big positive for the sport as well as the fans. Fights that were previously relegated to pay-per-view or premium cable are now available on a network that reaches a much wider audience. This makes the sport more accessible to the casual sports fan and widens the potential fan base. For example, the fight between Pacquiao and Horn reached a much wider audience than it would have if it had gone the traditional pay-per-view route.
A big positive from the deal has been Top Rank's willingness to work with other promoters. Many fights have been made where the Top Rank fighter was put at high risk of losing to another's promoter's fighter. Also, Top Rank has shown a willingness to make common sense decisions for the good of the sport. An example was adjusting the start time of a fight put together with Golden Boy Promotions between Vasyl Lomachenko and Jorge Linares so as not to interfere with another card taking place on HBO later that evening.
Top Rank and ESPN have also expanded their coverage of the sport to the international level, giving fans more access to events that previously were not available in the United States. Fight cards from the United Kingdom, Mexico, Japan and Australia, not all of which were Top Rank promotions, have been shown either on ESPN+ or regular ESPN. In addition, Top Rank streams full undercards of their own fight cards on ESPN+ giving fans access to fights that otherwise they would not be able to view. More live boxing available to fans has been a major positive so far in this deal between Top Rank and ESPN.
In my opinion, Top Rank has hit a home run in Year One of its deal with ESPN. They have changed how business is done in the sport. In addition, they have vastly increased the coverage of live fights available to the US market. I am excited to see what the next 12 months holds in store.
Events Cancelled at the Last Moment
Last Saturday's scheduled ESPN main event between Jose Carlos Ramirez and Danny O'Connor was suddenly cancelled late in the afternoon on the day before the fight when O'Connor was hospitalized after suffering from dehydration. This is certainly not the first time that the main event of a significant card has fallen apart at the last moment. Here are three other examples of last-minute cancellations of significant fights in the last twenty years.
Evander Holyfield vs. Henry Akinwande
Evander Holyfield entered 1998 as a partially unified heavyweight champion holding the WBA and IBF portions of the crown. His WBA mandatory came first and its mandatory challenger was Henry Akinwande.
A year earlier, Akinwande was disqualified for excessive holding when he challenged Lennox Lewis for Lewis' WBC heavyweight title. It was an abysmal performance by Akinwande who was not known for having a crowd pleasing style. However, a win a few months later against Orlin Norris positioned him as the WBA's number one contender.
The fight between Holyfield and Akinwande was set for June 6th, 1998 at Madison Square Garden and would be televised on pay-per-view by Showtime. But the fight had little appeal and ticket sales were slow. On top of that, the card itself was in disarray as a few undercard bouts fell apart the week of the event due to a variety of factors.
The day before the fight, it was announced that medical results showed that Akinwande had tested positive for hepatitis B. The entire card was subsequently cancelled. Holyfield-Akinwande was never rescheduled.
Diego Corrales vs. Jose Luis Castillo III
We all remember the all-time classic between Diego Corrales and Jose Luis Castillo that was won by Corrales by 10th round TKO on May 7th, 2005. There was a rematch five months later that was won by Castillo by knockout in round four. It was another terrific fight but marred with controversy as Castillo missed weight by more than three pounds. So it was natural with the series tied 1-1 along with the controversy of the second fight for there to be a third encounter.
That fight was scheduled for June 3rd, 2006 at the Thomas & Mack Center in Las Vegas. But once again the day before the fight, Castillo missed weight by a wide margin. This time, Corrales elected not to go ahead with the fight citing concern for his health. By doing so, he also would not receive the $1.2 million purse he was set to earn.
There would never be a third encounter. Tragically, a year later Corrales passed away in a motorcycle accident.
Carl Frampton vs. Andres Gutierrez
Not all fights that are cancelled at the last second are due to failed medical tests or fighters missing weight. Last July, Carl Frampton was scheduled to have a homecoming fight in Belfast following his two fight series in the United States against Leo Santa Cruz. The opponent selected was Mexican veteran Andres Gutierrez.
There was some drama at the weigh-in as Frampton missed weight by one pound. However, that issue was quickly settled and the fight was scheduled to go forward as planned. But later in the day, Gutierrez would slip in the shower and suffer a concussion as well as facial lacerations that forced the sudden cancellation of the fight. As a matter of fact, the entire card was called off. Frampton would later have his homecoming in Belfast in November and defeat Horacio Garcia by unanimous decision.
Under the Radar
Saturday's Pacquiao-Matthysse undercard is absolutely stacked. There are some very high quality fighters and fights on the cards. Thankfully for those of us in the United States, ESPN+ will be broadcasting some of these fights. The one fight in particular I want to highlight is the contest between Jhack Tepora (21-0, 16 KO's) and Edivaldo Ortega (26-1-1, 12 KO's) for an interim featherweight belt.
Tepora and Ortega are both southpaws, but they are certainly not "cuties." They are both extremely aggressive southpaws who prefer a phone booth type of fight. This is going to be fan-friendly.
Tepora is very athletic and possesses above average hand speed. He also has very good power in both fists. Being a southpaw from the Philippines with good speed and power, he has naturally drawn comparisons to Manny Pacquiao.
Tepora is good but those comparisons are way too premature. His defense needs some serious work and it would be good for him to start by adding in a little head movement. But this does make him fun to watch as does his willingness to exchange with his opposition.
Ortega is not as athletic as Tepora nor does he possess Tepora's power. However, Ortega is a more well-rounded fighter. Though he is aggressive, it is not a reckless aggression. He holds his hands high, moves his head well and picks his spots effectively. Ortega is the busier of the two fighters and has relied on volume to win his previous fights. He must do so again to defeat Tepora.
I expect we see a solid professional fight with plenty of good exchanges. If Ortega can handle the power of Tepora early, this could turn into a real barnburner.
Check out more boxing news on video at The Boxing Channel