SPECIAL FOR TSS: The Crown Fits, by David Linden
" You start a fighter in kindergarten, and hope that one day, if they've got the ability, heart and desire, they'll graduate with a master's degree—a championship."
–Manager and trainer, Angelo Dundee
On an autumn evening more than 30 years ago, Sugar Ray Leonard won the World Boxing Council world welterweight championship by lifting the crown from defending champion Wilfred Benitez with a technical knockout at 2:54 of the fifteenth and final round before a capacity crowd of 4,589 and a national television audience at Caesars Palace Sports Pavilion in Las Vegas, Nevada.
With the champion trapped along the ropes after suffering his second knockdown of the fight, and Leonard on the attack with both fists, referee, Carlos Padilla Jr., called a halt to the hostilities with six seconds remaining in the bout to spare Benitez further punishment and awarded the undefeated challenger his 26th consecutive victory and 17th by knockout.
At the time of the stoppage, Leonard wheeled around, sprinted across the ring, and vaulted upon the second tier of ropes in a neutral corner—arms raised high above his head in victory. The elated new champion then jumped to the floor and sprang into the arms of his co-trainer and advisor, Janks Morton.
"And there is a new world welterweight champion!" long-time boxing commentator, the late Howard Cosell, declared with gusto to a television audience estimated at some 55 million viewers tuned into the fight live on the ABC television network.
"First of all, I made a million dollars (and) I was in a different tax bracket," said Leonard in recalling his triumphant leap onto the ropes.
"I mean, the fight was huge.  It was Las Vegas. It was at Caesars Palace—it was like, 'Wow!'
"I think I just out-hustled (Benitez), I out-fought him. My hand speed—I think I was a little faster than he was, but he was just so slick. It took every ounce of me to beat him. He had the experience, but I had the heart and determination, and I think that's why I prevailed."
For Leonard, the title-winning effort capped a busy 1979 in which the Palmer Park, Maryland welterweight fought and won nine times while registering eight knockouts in being honored as "Fighter of the Year" by The Ring magazine.
Change in plans:
Ironically, after punctuating an outstanding amateur career with a gold medal in the 139-pound light-welterweight division at the XXI Olympiad at Montreal, Canada, in 1976, the then-20-year-old future world champion never intended on a professional boxing career.  After winning the Olympic title, Leonard believed that a college degree from the University of Maryland was in his future until family health issues forced a change in plans.
"Being in the Olympics in '76 was truly an incredible accomplishment, and going for the gold medal was awesome, it was incredible," said Leonard. "To have made it that far and then be just one fight from bringing home a gold medal was just unbelievable."
After recording decisions over Ulf Carlson of Sweden, Valery Limasov of the Soviet Union, Clinton McKenzie of Great Britain, Ulrich Beyer of East Germany, and Kazimier Szczerba of Poland, Leonard was matched against the heavy-punching Andres Aldama of Cuba for the gold medal on July 31, 1976.
The American pounded out a unanimous 5-0 verdict to become an Olympic champion and closed out his amateur career with a record of 145-5.
"I was somewhat the underdog because Andres Aldama had just annihilated everybody," Leonard remembered. "He was so dominant. He wouldn't just knock guys out; he would knock guys senseless. He put guys on their back; he was such a powerful puncher—a tall, southpaw.
"Even one of my local papers at home in D.C. predicted that I would lose, that I had no chance of winning. But I beat the guy; I beat the guy with hand speed and with foot movement. It was a big win.
"My mom and dad were there, my family was there. My dad was sick at the time and to have him sitting ringside was just so inspirational."
With his father suffering from spinal meningitis and tuberculosis, the Olympic titlist felt obligated to put plans for higher education aside and explore the monetary potential of the professional ring.
"I had no intention of turning professional," Leonard explained. "I had received a scholarship to the University of Maryland, so I was going to college. The only reason I turned pro was because of my dad's illness. He went into a coma once we got home (from Canada). I just felt I was the only one in the family that could bring in some quick money to pay off the hospital bills and I did just that—that was my intention. So I turned pro, and made a couple dollars, paid off the bills, my dad regained his health, and I said, 'You know what? This is not a bad job,' and I continued."
Managed by Angelo Dundee, and trained by Dave Jacobs, Morton and Jose 'Pepe' Correa, the former Olympic gold medallist received a then-record $ 42,500 debut purse for his CBS-televised professional baptism on February 5, 1977 –a unanimous six-round decision against 8-11-2 Luis 'The Bull' Vega in Baltimore, Maryland.
During his first 33 months as a professional leading to the title bout with Benitez, Leonard fought on the major television networks of ABC, CBS and NBC as well as cable television's HBO to help the boxer record, according to one estimate, approximately three million dollars in professional ring earnings prior to challenging for the world title.
Different level:
When asked if there was a bout in which he realized that he could be champion, Leonard pointed to his second professional fight held in Baltimore on May 14, 1977—a unanimous six-round decision against the 10-1 Willie 'Fireball' Rodriguez.
"I think that one fight that really taught me that (professional boxing) is a whole different level than amateur boxing was my second professional fight. (Rodriguez) not only introduced me to the fact that if you get a tooth knocked out, you can get cosmetic surgery to have it fixed, he nearly knocked me out."
"It was an uppercut," Leonard said in recalling the punch that Rodriguez delivered to put him in serious trouble. "A big, vicious uppercut and I remember that like it was yesterday.
"He had the experience, but I had the hand speed, I had the determination and I think that was what pulled me through."
The bout with Rodriguez also showed Leonard that he would be better suited to the heavier 147-pound welterweight division rather than the lighter 140-pound junior welterweight classification.
"I think that fight also indicated that fighting at 140 was just a bit too much because I was getting bigger and trying to make 140 was senseless because it was taking away the fun of training and the joy and the pleasures of getting in shape because I was so concerned about making the 140 weight limit."
Championship dreams:
In the fall of 1979, Leonard, rated as the world's number-one welterweight contender by The Ring magazine, boasted a record of 25-0 with 16 knockouts, and was ready to challenge for the WBC world championship.
The 15-round Benitez-Leonard title bout marked the first time in boxing history that fighters outside of the heavyweight division would earn purses of seven figures.
Leonard's payday for challenging the 21-year-old, undefeated champion was a reported one million dollars.
For his first professional fight as a 15-year-old in 1973, WBC welterweight champion Wilfred Benitez received a purse of $50 dollars for his one-round knockout of Hiram Santiago in San Juan, Puerto Rico.
On March 6, 1976, Benitez became the youngest champion in professional boxing history when, as a 17 year-old teenager, he took a 25-0 record into the ring in San Juan and captured a 15-round split-decision and the World Boxing Association junior welterweight title from the highly respected, 30-year-old defending champion, Antonio 'Kid Pambele' Cervantes, a fighter who held a record of 73-9-3 and was making his 11th title defense.
After successfully defending the WBA 140-pound crown three times, Benitez moved up in weight and added a second world championship to his resume when he won the WBC welterweight championship from titlist, Carlos Palomino, on a 15-round split verdict in San Juan on January 14, 1979.
The Bronx, New York-born title-holder, sporting a record of 38-0-1 with 25 knockouts and fighting out of San Just, Puerto Rico, earned a reported $140,000 for his first successful defense of the WBC crown, a 15-round unanimous decision over Harold Weston on March 25, 1979, and would now receive $ 1.2 million in compensation for risking the title against the 23-year old Leonard.
"I'm not scared of nobody," the champ was quoted as saying before the bout by the Associated Press. "I'm the champion. That's why I fight the greatest. I beat Pambele and Palomino and when I beat Leonard I'll fight (former world lightweight king and welterweight contender) Roberto Duran," said Benitez who would be elected to the International Boxing Hall of Fame in 1996.
"Benitez was one of those rare fighters that's so gifted, it's sickening," Leonard said. "So elusive, great hand-eye coordination. He'd slip a punch just by a millimeter. A pretty solid puncher. Not really a knockout puncher, but he still could hurt you. Just a smart, technical fighter. Benitez had no weak points, he had no weak areas. As much as we watched tapes, there were no weak points. You had to catch him (and) you had to make that happen."
Preparation:
"I trained very, very hard for the fight," said Leonard who had never fought past ten rounds prior to the title match.
"When I trained, I (sparred) five-minute rounds sometimes with 30-seconds of rest. Going down the stretch, (of a fight) I had the ability to become rejuvenated. I had great recuperative powers, and I could bounce back—and going down the stretch, really engage in some (effective punching) combinations."
The challenger, a 3 ½ -1 betting favorite to take Benitez' crown, felt no need to increase his regular daily roadwork mileage for the demanding 15-round championship distance.
"I always felt, 'What's the difference between running ten miles or running five miles?' You won't go any more rounds than I. If I run five miles a day and you run 15 miles a day, does that mean you can go 20 rounds? No. It's just a way of training.
"I would run like I'm fighting. Every now and then I'd sprint, jog a little bit, slow down, run backwards, run sideways—and I got that from Muhammad Ali, he gave me that advice. 'Run like you fight'," said Leonard in crediting the former three-time world heavyweight champion.
Fight night:
For his second title defense, the 5'10" Benitez weighed in at 144 ½ pounds while the 5'10" challenger came in at an even 146.
After entering the 19'6" x 19'6" ring, both welterweights participated in psychological warfare as they engaged in a face-to-face stare-down prior to the opening bell.
"I think there was such a mental intensity in that fight when we stared each other down. I was pissed, (Benitez) had fun," said Leonard in recalling the moment. "I learned so much from that fight—that you've got to be calm. Always be calm. My first big championship fight, I'm almost gnawing through my mouthpiece, but (Benitez) was so 'Cool-hand-Luke' and that's what made him such a great fighter—his breathing patterns, his poise, his coolness."
The first big moment of the evening came late in the third round, when a left jab from the challenger deposited the champion on the seat of his trunks.
"It was more of a flash-flood knockdown," Leonard said. "He wasn't really hurt; I think I just caught him at the perfect time with the perfect punch. It wasn't a big punch per se, but it was a punch that just caught him right on the button and put him down."
In Round 6, an accidental collision of heads resulted in a welt on Leonard's forehead and left Benitez with a gash that oozed blood down the champion's forehead and face.
"It happened so quickly," Leonard said. "It startled me because when you collide with your head, that's pretty traumatizing. I was shaken up a little bit. Thank God I wasn't cut, but I looked at him and he had like a little gash in the middle of his forehead. He smiled it off."
Leonard praised the effectiveness of the champion's defensive skills.
"When I was fighting him, it was like a mirror. I've never missed that many punches. So that told me that he had that elusiveness. It's like a mirage—one time he's there, the next time he's not. So slick, so talented. It was just so difficult to land combinations with him. But the good thing about it, when I threw combinations, I may miss two, three punches, but the fourth punch would come in and catch him."
Round 11 saw a left hook, followed by a right hand that knocked Benitez' mouthpiece out as Leonard had the champion in trouble along the ropes.
"I think my hand speed and the number of punches we threw; I think I just wore him down. Because it's 15 rounds of just punches and punches. I tried left hook, uppercut, I tried everything in the book. Whatever landed, I tried."
With one round remaining, the challenger enjoyed a clear lead on all three official ringside scorecards. Judge Harry Gibbs scored the contest 136-134; judge Ray Solis saw the fight 137-133, and judge Art Lurie's card read 137-130, meaning that Benitez would have to knock Leonard out in order to retain the title.
"I was totally exhausted, just spent," Leonard remembered about heading into the final stanza. "Just so physically tired. I knew it was the last round and I was giving it all I had. (Benitez) was giving it all he had. I ended up catching him with some combinations and the referee jumped in."
With approximately 30 seconds left in the bout, both fighters exchanged uppercuts on the inside. Leonard missed with a chopping right but followed with a left hook that caught Benitez high on the head and dropped the champion to one knee.
With crimson leaking from his forehead, Benitez rose and walked to a neutral corner while taking an eight-count. When the fight resumed, the challenger pounced on his foe and forced Padilla to intervene.
"I stayed on top of him, in the corner," Leonard remembered. "And the referee was seeing that he wasn't really punching back, and jumped in."
In the aftermath of the stoppage, Benitez walked over to Leonard and embraced his conqueror in the crowded ring.
"(Leonard) won good," Benitez told the press following the fight. "I don't have any question. No excuse. This tremendous champion—he won the fight."
"I've always respected him, he always respected me. There was mutual respect," Leonard said. "He was a true, true champion."
Recovery:
"After the fight I got back to my room (at Caesars).  I was just so exhausted. It took that much out of me to beat Benitez. I went to my room and unfortunately they put me in a tub of hot water and I dehydrated and I had to be rushed to the hospital.
"You don't put a man who went 15 rounds in a tub of hot water. Your body is already overheated. So (if) you put yourself in hot water, you are going to start to draw out the little bit of fluids in your body."
The new champion received intravenous fluid treatment during his hospital stay.
"It was just to hydrate myself. I was there in the hospital for like an hour or two. No big deal."
With a portion of the purse from his first title fight, Leonard purchased some new transportation and had a gift for his parents.
"I think I bought a Mercedes, (and) I bought my mom and dad a new house too. That was my treat (to myself)."
Leonard, who finished his professional career with a mark of 36-3-1, would be elected to the International Boxing Hall of Fame in 1997, having won professional world championships in the welterweight, junior middleweight, middleweight, super-middleweight and light-heavyweight divisions.
When asked where his title-winning effort against Wilfred Benitez ranks among his boxing accomplishments, the champion said: "That's up there. That (victory) started me, with my confidence and with the experience I got from fighting Benitez, to capture many more titles. So that (bout) ranks very high up there."

Bibliography:
1.    Interview with Ray Leonard. December 2008.
2.    Goldstein, Alan 1981. A Fistful of Sugar: The Sugar Ray Leonard Story P. 119.
3.    David Condon, Chicago Tribune 2, December 1979. World Champ Sugar Ray Quiets Skeptics.
4.    Associated Press Report, Wisconsin State Journal, 30, November 1979. Champion Benitez Must Prove Ability In Bout With Sugar Ray.
5.    Ross Newhan, Los Angeles Times 1, December 1979. Another Sugar Ray Rules Welterweights.
6.    Michael Katz, New York Times 1, December 1979. Leonard Stops Benitez In 15 To Win Welterweight Title.
7.    Red Smith, New York Times 30, November 1979. Appeal of Sugar Ray Leonard The Greatest Thing Since Ali.
8.    Gary Deeb, Chicago Tribune 14, December 1979. Surprise KO: Boxing Still Attractive Prime-time Draw.
9.    The Ring magazine: June/December 1979/ March 1980.
10.    Video: Original telecast of the Wilfred Benitez-Ray Leonard WBC world welterweight championship title fight: Aired Friday, November 30th 1979 by the American Broadcasting Company.
11.    Roberts, B.James and Skutt, Alexander G. 2006 The Boxing Register: International Boxing Hall of Fame Record Book: 4th Edition PP. 295, 343-344.
12.    Website of the International Boxing Hall of Fame: IBHOF.com
13.    Website: Boxrec.com
14.    Website: Sports Reference.com: Olympic Sports.
Johnny Famechon was a Hero in Australia Where Willie Pep Had a Bad Night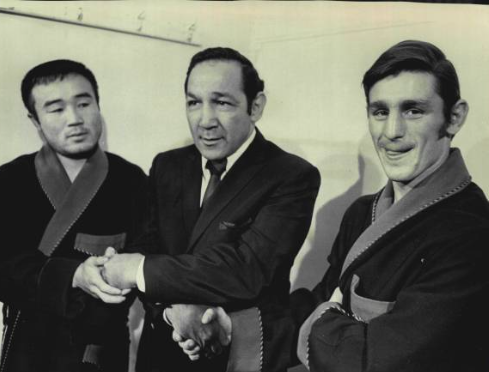 Willie Pep was good at boxing. He wasn't so good at math. Ah, but hold the phone; we are getting ahead of ourselves. This isn't a story about Willie Pep, but about former world featherweight champion Johnny Famechon who passed away last Thursday, Aug. 4, in Melbourne, Australia, at age 77.
Famechon was five years old when his parents left his birthplace in Paris and settled in Melbourne. He came to the fore in an era when boxing was still a mainstream sport and home-grown champions were national idols. The locals turned out in droves for the parade in Johnny's honor when he returned to Melbourne after taking the featherweight crown from the Cuban-born Spaniard Jose Legra in a big upset at London's Prince Albert Hall.
Famechon's first title defense came against Japan's Fighting Harada. They met in Sydney, Australia, on July 28, 1969.
At age 26, Harada was a battle-tested veteran. He previously held world titles at flyweight and bantamweight and would be remembered as the only man to defeat the great Brazilian boxer Eder Jofre, a feat he accomplished not once, but twice.
Only two boxers in history – Bob Fitzsimmons and Henry Armstrong – had won world titles in three of the eight classic weight divisions. Harada, who entered the International Boxing Hall of Fame in 1995, was bidding to become the third.
Team Harada insisted on a neutral referee. The British promoters chose Willie Pep. A legend in the sport, Pep had previously shared a ring with another Famechon, having out-pointed Johnny's uncle Ray Famechon in a featherweight title defense at Madison Square Garden in 1950.
Some thought that Pep would favor Fighting Harada. American referees put a higher premium on aggression than did their foreign counterparts and Harada was a little buzzsaw who rarely took a backward step. But others thought that Pep's selection favored Famechon, an elusive counterpuncher with whom the Connecticut "Will-'o-Wisp" could identify; their styles were similar.
Pep had been the third man in the ring for four previous title fights, three in Jamaica and one in Brazil. But this fight would be different. He would be the sole arbiter. If the fight went the full 15 rounds, Willie Pep would be the judge and jury.
During the bout, Famechon scored one knockdown, sending Harada to the canvas in round five, but Harada scored three, knocking Famechon down in rounds two, 11, and 14. The last of the three knockdowns was the harshest, but Famechon made it to the final bell.
The fight ended in a clinch. Immediately upon separating the fighters, Pep raised both of their hands, a signal that the fight was a draw.
Fighting Harada's handlers were outraged and demanded to see the scorecard. A policeman at ringside was empowered to give it a look-over (Australia had no boxing commission). What the policeman found was that there was indeed a discrepancy. However, it was the opposite of what Team Harada anticipated!
The fight was scored on the antiquated system whereby the winner of a round was awarded five points and the loser four points or less. In the case of an even round, both fighters got five points.
After 13 rounds, Fighting Harada had amassed 59 points on Pep's card. He won the 14th round, giving him an aggregate total of 64 points. But when Pep added up the numbers "59" and "5" in the column where he kept the aggregate total, he came up with "65."
Oops.
When Pep signaled that the fight was a draw, people stormed the ring from all sides. Newspaper reports said the belligerents were about evenly divided. Famechon, the Aussie, was the crowd favorite, but Fighting Harada was well-backed in the betting markets, a very big industry in Australia. Many were even angrier when Famechon was summoned back to the ring to have his hand raised.
The Famechon-Harada fight aired live on Japanese television. In Japan, there was a great outpouring of outrage. Pep had been instructed to score a round 5-4 if the round was narrow and 5-3 if there was a clear-cut winner. Despite the knockdowns, Pep scored every round 5-4 or 5-5. In the revised tally, he had Famechon winning 6-5-4 in rounds.
"Harada loses to referee" was the headline in Japan's leading sports daily. Willie Pep made no friends in Australia either. There were shouts of "Yankee go home" as he left the ring.
Famechon and Harada met again five months later in Tokyo. One would assume that Fighting Harada proved superior and got a fair shake, winning the third title denied him in Sydney. But don't assume.
Harada was well ahead after ten rounds but faded. On the deck in round 10, Famachon returned the favor three rounds later, knocking Harada down hard with a perfectly placed left hook. Harada was in dire straights when he came out for round 14 and Famechon put him away.
Harada never fought again and Famechon left the sport six months later after losing his crown to Vicente Saldivar. Johnny was only 25 years old, but had crammed 67 fights into a nine-year pro career and said enough is enough.
Famechon's post-boxing life took a tragic turn in 1991 when he was hit by a car while out jogging on a Sydney highway. He spent several weeks in a coma and several years in a wheelchair but eventually recovered most of his motor skills and regained his speech to the point where he could serve as a boxing color commentator on television. In 2018, a larger-than- life statue of Famechon was unveiled at a public park in the Melbourne suburb of Frankston where he was a longtime resident.
For the record, Johnny Famechon finished his career with a record of 56-5-6 with 20 KOs. We here at The Sweet Science send our condolences to his loved ones.
Arne K. Lang's latest book, titled "George Dixon, Terry McGovern and the Culture of Boxing in America, 1890-1910," will shortly roll off the press. The book, published by McFarland, can be pre-ordered directly from the publisher (https://mcfarlandbooks.com/product/clashof-the-little-giants) or via Amazon.
To comment on this story in the Fight Forum CLICK HERE
Fast Results from Fort Worth Where Vergil Ortiz Jr Won His 19th Straight by KO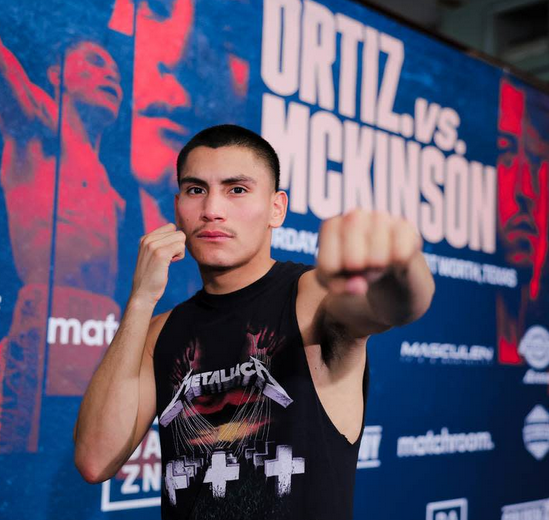 In a match pushed back from March 19, Vergil Ortiz Jr moved one step closer to a mega-fight with Terence "Bud" Crawford or Errol Spence Jr or Boots Ennis with a ninth-round stoppage of England's feather-fisted Michael McKinson. The end came 20 seconds into round nine when McKinson appeared to injure his knee as he fell to the canvas, an apparent residue of the body punch that put him on the deck late in the previous stanza. To that point, Ortiz had seemingly won every round.
It was the 19th win inside the distance in as many opportunities for Ortiz who resides in nearby Grand Prairie and was making his first start with new trainer Manny Robles. McKinson was undefeated heading in, but had scored only two knockouts while building his record to 22-0.
Ortiz, ranked #1 at welterweight by the WBA and the WBO, pulled out of the March 19 bout after being diagnosed with rhabdomyolysis, a muscle disorder associated with over-training.
Ortiz's promoter, Oscar De La Hoya, says that Ortiz will fight the winner of Errol Spence vs Terence Crawford next assuming that the fight gets made, and if doesn't get made, Ortiz's next fight will be with one or the other. The WBA, which stamped tonight's fight an eliminator, may push to have Ortiz fight their secondary title-holder, Eimantas Stanionis.
Co-Feature
Houston's Marlen Esparza (13-1, 1 KO) successfully defended her WBA/WBC world flyweight title with a unanimous decision over plucky 4'11 ½" Venezuelan southpaw Eva Guzman who had won 14 straight coming in, albeit against soft opposition. The judges had it 98-92 and 99-91 twice.
Guzman (19-2-1) was game, but just didn't have the physical tools to overcome Esparza whose lone defeat came at the hands of talented Seneisa Estrada.
Other Fights of Note
In a 10-round match contested at the catchweight of 150 pounds, Blair "The Flair" Cobbs rebounded from his first defeat with a career-best performance, a wide decision over former WBO 140-pound world titlist Maurice Hooker. It was the second straight loss for Hooker who returned to the ring after a 17-month hiatus and came out flat. Cobbs put him on the canvas in the opening frame with a combination and decked him twice more with straight lefts in round two.
Things got somewhat dicey for Cobbs in round five when he suffered a bad gash on his forehead from an accidental head butt, but Hooker, who had stablemate Bud Crawford in his corner, hesitated to let his hands go and couldn't reverse the tide. The judges had it 96-91 and 97-90 twice for the flamboyant Cobbs who improved to 16-1-1 (10). Hooker, a consensus 5/2 favorite, lost for the third time in his last five starts and slumped to 27-3-3.
In the opener to the main portion of the DAZN card, Uzbekistan's Bektimir Melikuziev (10-1, 8 KOs), a super middleweight growing into a light heavyweight, dominated and stopped overmatched Sladan Janjanin. Melikuziev put Janjanin down with a body punch in the opening minute of the fight and scored two more knockdowns before the bout was halted at the 2:18 mark of round three.
This was Melikuziev's third fight back after his shocking one-punch annihilation by Gabriel Rosado. Janjanin, a well-traveled Bosnian who fought three weeks ago in Massachusetts, declined to 32-12 and was stopped for the eighth time.
Also
Chicago welterweight Alex Martin (18-4, 6 KOs) overcame a first-round knockdown to win a unanimous decision over 38-year-old Philadelphia journeyman Henry Lundy. The judges had it an unexpectedly wide 98-91, 97-92, 97-92.
Martin was coming off a points loss to McKinson and this bout was his reward for taking that fight on short notice. Lundy (31-11-1) has lost five of his last seven.
Floyd "Austin Kid" Schofield, a lightweight who appears to have a big upside, advanced to 11-0 (9 KOs) at the expense of Mexican trial horse Rodrigo Guerrero whose corner wisely pulled him out after five one-sided rounds. It was the ninth straight loss for Guerrero (26-15).
To comment on this story in the Fight Forum CLICK HERE
Conlan Wins His Belfast Homecoming; Breezes Past Lackadaisical Marriaga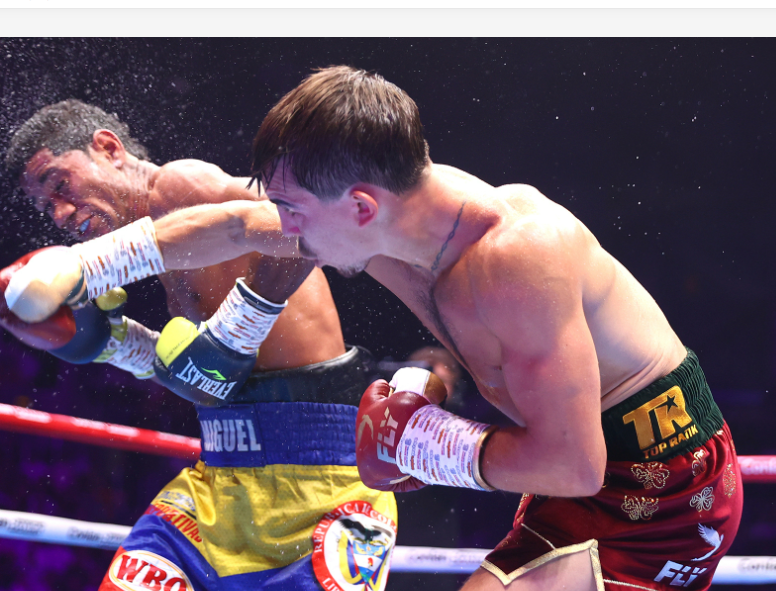 "The Return of the Mick" was the label attached to tonight's show at the SSE Arena in Belfast, Northern Ireland. The reference was to local fan favorite Michael "Mick" Conlan who returned to his hometown in hopes of jump-starting his career after suffering his first pro loss in a brutal encounter with Leigh Wood.
In that bout, a strong "Fight of the Year contender, Conlan was narrowly ahead on all three cards heading into the 12th and final round when the roof fell in. Wood, who was making the first defense of his WBA world featherweight title on his home turf in Nottingham, knocked the favored Conlan unconscious and clear out of the ring.
This was the sort of fight that can shorten a man's career. Hence the intrigue in Conlan's homecoming fight tonight against Miguel Marriaga. On paper, the Colombian, a three-time world title challenger, was a stern test considering the circumstances.
To the contrary, Marriaga had no fire in his belly until the final round when he hit Conlan with a shot that buckled his knees. But, by then Conlan was so far ahead without overly exerting himself that there was virtually no chance of another meltdown.
While Conlan won lopsidedly, the scores – 99-89 and 99-88 twice – were somewhat misleading. True, "Mick" had Marriaga on the deck in rounds 7, 8, and 9, but the punches that put him there did not look particularly hard.
Conlan, 30, improved to 17-1 (8). Marriaga, 35, declined to 30-6.
After the fight, Conlan expressed the hope that Leigh Wood would give him a rematch.
Other Bouts of Note
In an entertaining 10-round welterweight scrap that could have gone either way, Belfast's Tyrone McKenna (23-3-1, 6 KOs) rebounded from his defeat in Dubai to Regis Prograis (TKO by 6) with a hard-fought unanimous decision over 33-year-old Welshman Chris Jenkins (23-6-3). The judges favored the local fighter by scores of 97-94 and 96-95 twice.
Jenkins, a former British and Commonwealth title-holder, had the best of the early going, working the body effectively while frequently finding a home for his uppercut, but he could not sustain his advantage.
Thirty-four-year-old Belfast super middleweight Padraig McCrory who got a late start in boxing, scored the most important win of his career with a fifth-round stoppage of Marco Antonio Periban, a former world title challenger. McCrory had Periban on the deck three times – once in the second and twice in the fifth – before the bout was halted at the 2:14 mark of round five.
It was the fourth straight win inside the distance for McCrory who improved to 14-0 (8 KOs). Mexico's Periban, who returned to the sport in April after missing all of 2020 and 2021, fell to 26-6-1.
Highly-touted welterweight Paddy Donovan improved to 9-0 (6) with an 8-round unanimous decision over Yorkshireman Tom Hall (10-3). The referee scored every round for Donovan, an Irish Traveler trained by Tyson Fury's bosom buddy Andy Lee, the former world middleweight title-holder.
Photo credit: Mikey Williams / Top Rank via Getty Images
To comment on this story in the Fight Forum CLICK HERE