SPECIAL FOR TSS: The Crown Fits, by David Linden
" You start a fighter in kindergarten, and hope that one day, if they've got the ability, heart and desire, they'll graduate with a master's degree—a championship."
–Manager and trainer, Angelo Dundee
On an autumn evening more than 30 years ago, Sugar Ray Leonard won the World Boxing Council world welterweight championship by lifting the crown from defending champion Wilfred Benitez with a technical knockout at 2:54 of the fifteenth and final round before a capacity crowd of 4,589 and a national television audience at Caesars Palace Sports Pavilion in Las Vegas, Nevada.
With the champion trapped along the ropes after suffering his second knockdown of the fight, and Leonard on the attack with both fists, referee, Carlos Padilla Jr., called a halt to the hostilities with six seconds remaining in the bout to spare Benitez further punishment and awarded the undefeated challenger his 26th consecutive victory and 17th by knockout.
At the time of the stoppage, Leonard wheeled around, sprinted across the ring, and vaulted upon the second tier of ropes in a neutral corner—arms raised high above his head in victory. The elated new champion then jumped to the floor and sprang into the arms of his co-trainer and advisor, Janks Morton.
"And there is a new world welterweight champion!" long-time boxing commentator, the late Howard Cosell, declared with gusto to a television audience estimated at some 55 million viewers tuned into the fight live on the ABC television network.
"First of all, I made a million dollars (and) I was in a different tax bracket," said Leonard in recalling his triumphant leap onto the ropes.
"I mean, the fight was huge.  It was Las Vegas. It was at Caesars Palace—it was like, 'Wow!'
"I think I just out-hustled (Benitez), I out-fought him. My hand speed—I think I was a little faster than he was, but he was just so slick. It took every ounce of me to beat him. He had the experience, but I had the heart and determination, and I think that's why I prevailed."
For Leonard, the title-winning effort capped a busy 1979 in which the Palmer Park, Maryland welterweight fought and won nine times while registering eight knockouts in being honored as "Fighter of the Year" by The Ring magazine.
Change in plans:
Ironically, after punctuating an outstanding amateur career with a gold medal in the 139-pound light-welterweight division at the XXI Olympiad at Montreal, Canada, in 1976, the then-20-year-old future world champion never intended on a professional boxing career.  After winning the Olympic title, Leonard believed that a college degree from the University of Maryland was in his future until family health issues forced a change in plans.
"Being in the Olympics in '76 was truly an incredible accomplishment, and going for the gold medal was awesome, it was incredible," said Leonard. "To have made it that far and then be just one fight from bringing home a gold medal was just unbelievable."
After recording decisions over Ulf Carlson of Sweden, Valery Limasov of the Soviet Union, Clinton McKenzie of Great Britain, Ulrich Beyer of East Germany, and Kazimier Szczerba of Poland, Leonard was matched against the heavy-punching Andres Aldama of Cuba for the gold medal on July 31, 1976.
The American pounded out a unanimous 5-0 verdict to become an Olympic champion and closed out his amateur career with a record of 145-5.
"I was somewhat the underdog because Andres Aldama had just annihilated everybody," Leonard remembered. "He was so dominant. He wouldn't just knock guys out; he would knock guys senseless. He put guys on their back; he was such a powerful puncher—a tall, southpaw.
"Even one of my local papers at home in D.C. predicted that I would lose, that I had no chance of winning. But I beat the guy; I beat the guy with hand speed and with foot movement. It was a big win.
"My mom and dad were there, my family was there. My dad was sick at the time and to have him sitting ringside was just so inspirational."
With his father suffering from spinal meningitis and tuberculosis, the Olympic titlist felt obligated to put plans for higher education aside and explore the monetary potential of the professional ring.
"I had no intention of turning professional," Leonard explained. "I had received a scholarship to the University of Maryland, so I was going to college. The only reason I turned pro was because of my dad's illness. He went into a coma once we got home (from Canada). I just felt I was the only one in the family that could bring in some quick money to pay off the hospital bills and I did just that—that was my intention. So I turned pro, and made a couple dollars, paid off the bills, my dad regained his health, and I said, 'You know what? This is not a bad job,' and I continued."
Managed by Angelo Dundee, and trained by Dave Jacobs, Morton and Jose 'Pepe' Correa, the former Olympic gold medallist received a then-record $ 42,500 debut purse for his CBS-televised professional baptism on February 5, 1977 –a unanimous six-round decision against 8-11-2 Luis 'The Bull' Vega in Baltimore, Maryland.
During his first 33 months as a professional leading to the title bout with Benitez, Leonard fought on the major television networks of ABC, CBS and NBC as well as cable television's HBO to help the boxer record, according to one estimate, approximately three million dollars in professional ring earnings prior to challenging for the world title.
Different level:
When asked if there was a bout in which he realized that he could be champion, Leonard pointed to his second professional fight held in Baltimore on May 14, 1977—a unanimous six-round decision against the 10-1 Willie 'Fireball' Rodriguez.
"I think that one fight that really taught me that (professional boxing) is a whole different level than amateur boxing was my second professional fight. (Rodriguez) not only introduced me to the fact that if you get a tooth knocked out, you can get cosmetic surgery to have it fixed, he nearly knocked me out."
"It was an uppercut," Leonard said in recalling the punch that Rodriguez delivered to put him in serious trouble. "A big, vicious uppercut and I remember that like it was yesterday.
"He had the experience, but I had the hand speed, I had the determination and I think that was what pulled me through."
The bout with Rodriguez also showed Leonard that he would be better suited to the heavier 147-pound welterweight division rather than the lighter 140-pound junior welterweight classification.
"I think that fight also indicated that fighting at 140 was just a bit too much because I was getting bigger and trying to make 140 was senseless because it was taking away the fun of training and the joy and the pleasures of getting in shape because I was so concerned about making the 140 weight limit."
Championship dreams:
In the fall of 1979, Leonard, rated as the world's number-one welterweight contender by The Ring magazine, boasted a record of 25-0 with 16 knockouts, and was ready to challenge for the WBC world championship.
The 15-round Benitez-Leonard title bout marked the first time in boxing history that fighters outside of the heavyweight division would earn purses of seven figures.
Leonard's payday for challenging the 21-year-old, undefeated champion was a reported one million dollars.
For his first professional fight as a 15-year-old in 1973, WBC welterweight champion Wilfred Benitez received a purse of $50 dollars for his one-round knockout of Hiram Santiago in San Juan, Puerto Rico.
On March 6, 1976, Benitez became the youngest champion in professional boxing history when, as a 17 year-old teenager, he took a 25-0 record into the ring in San Juan and captured a 15-round split-decision and the World Boxing Association junior welterweight title from the highly respected, 30-year-old defending champion, Antonio 'Kid Pambele' Cervantes, a fighter who held a record of 73-9-3 and was making his 11th title defense.
After successfully defending the WBA 140-pound crown three times, Benitez moved up in weight and added a second world championship to his resume when he won the WBC welterweight championship from titlist, Carlos Palomino, on a 15-round split verdict in San Juan on January 14, 1979.
The Bronx, New York-born title-holder, sporting a record of 38-0-1 with 25 knockouts and fighting out of San Just, Puerto Rico, earned a reported $140,000 for his first successful defense of the WBC crown, a 15-round unanimous decision over Harold Weston on March 25, 1979, and would now receive $ 1.2 million in compensation for risking the title against the 23-year old Leonard.
"I'm not scared of nobody," the champ was quoted as saying before the bout by the Associated Press. "I'm the champion. That's why I fight the greatest. I beat Pambele and Palomino and when I beat Leonard I'll fight (former world lightweight king and welterweight contender) Roberto Duran," said Benitez who would be elected to the International Boxing Hall of Fame in 1996.
"Benitez was one of those rare fighters that's so gifted, it's sickening," Leonard said. "So elusive, great hand-eye coordination. He'd slip a punch just by a millimeter. A pretty solid puncher. Not really a knockout puncher, but he still could hurt you. Just a smart, technical fighter. Benitez had no weak points, he had no weak areas. As much as we watched tapes, there were no weak points. You had to catch him (and) you had to make that happen."
Preparation:
"I trained very, very hard for the fight," said Leonard who had never fought past ten rounds prior to the title match.
"When I trained, I (sparred) five-minute rounds sometimes with 30-seconds of rest. Going down the stretch, (of a fight) I had the ability to become rejuvenated. I had great recuperative powers, and I could bounce back—and going down the stretch, really engage in some (effective punching) combinations."
The challenger, a 3 ½ -1 betting favorite to take Benitez' crown, felt no need to increase his regular daily roadwork mileage for the demanding 15-round championship distance.
"I always felt, 'What's the difference between running ten miles or running five miles?' You won't go any more rounds than I. If I run five miles a day and you run 15 miles a day, does that mean you can go 20 rounds? No. It's just a way of training.
"I would run like I'm fighting. Every now and then I'd sprint, jog a little bit, slow down, run backwards, run sideways—and I got that from Muhammad Ali, he gave me that advice. 'Run like you fight'," said Leonard in crediting the former three-time world heavyweight champion.
Fight night:
For his second title defense, the 5'10" Benitez weighed in at 144 ½ pounds while the 5'10" challenger came in at an even 146.
After entering the 19'6" x 19'6" ring, both welterweights participated in psychological warfare as they engaged in a face-to-face stare-down prior to the opening bell.
"I think there was such a mental intensity in that fight when we stared each other down. I was pissed, (Benitez) had fun," said Leonard in recalling the moment. "I learned so much from that fight—that you've got to be calm. Always be calm. My first big championship fight, I'm almost gnawing through my mouthpiece, but (Benitez) was so 'Cool-hand-Luke' and that's what made him such a great fighter—his breathing patterns, his poise, his coolness."
The first big moment of the evening came late in the third round, when a left jab from the challenger deposited the champion on the seat of his trunks.
"It was more of a flash-flood knockdown," Leonard said. "He wasn't really hurt; I think I just caught him at the perfect time with the perfect punch. It wasn't a big punch per se, but it was a punch that just caught him right on the button and put him down."
In Round 6, an accidental collision of heads resulted in a welt on Leonard's forehead and left Benitez with a gash that oozed blood down the champion's forehead and face.
"It happened so quickly," Leonard said. "It startled me because when you collide with your head, that's pretty traumatizing. I was shaken up a little bit. Thank God I wasn't cut, but I looked at him and he had like a little gash in the middle of his forehead. He smiled it off."
Leonard praised the effectiveness of the champion's defensive skills.
"When I was fighting him, it was like a mirror. I've never missed that many punches. So that told me that he had that elusiveness. It's like a mirage—one time he's there, the next time he's not. So slick, so talented. It was just so difficult to land combinations with him. But the good thing about it, when I threw combinations, I may miss two, three punches, but the fourth punch would come in and catch him."
Round 11 saw a left hook, followed by a right hand that knocked Benitez' mouthpiece out as Leonard had the champion in trouble along the ropes.
"I think my hand speed and the number of punches we threw; I think I just wore him down. Because it's 15 rounds of just punches and punches. I tried left hook, uppercut, I tried everything in the book. Whatever landed, I tried."
With one round remaining, the challenger enjoyed a clear lead on all three official ringside scorecards. Judge Harry Gibbs scored the contest 136-134; judge Ray Solis saw the fight 137-133, and judge Art Lurie's card read 137-130, meaning that Benitez would have to knock Leonard out in order to retain the title.
"I was totally exhausted, just spent," Leonard remembered about heading into the final stanza. "Just so physically tired. I knew it was the last round and I was giving it all I had. (Benitez) was giving it all he had. I ended up catching him with some combinations and the referee jumped in."
With approximately 30 seconds left in the bout, both fighters exchanged uppercuts on the inside. Leonard missed with a chopping right but followed with a left hook that caught Benitez high on the head and dropped the champion to one knee.
With crimson leaking from his forehead, Benitez rose and walked to a neutral corner while taking an eight-count. When the fight resumed, the challenger pounced on his foe and forced Padilla to intervene.
"I stayed on top of him, in the corner," Leonard remembered. "And the referee was seeing that he wasn't really punching back, and jumped in."
In the aftermath of the stoppage, Benitez walked over to Leonard and embraced his conqueror in the crowded ring.
"(Leonard) won good," Benitez told the press following the fight. "I don't have any question. No excuse. This tremendous champion—he won the fight."
"I've always respected him, he always respected me. There was mutual respect," Leonard said. "He was a true, true champion."
Recovery:
"After the fight I got back to my room (at Caesars).  I was just so exhausted. It took that much out of me to beat Benitez. I went to my room and unfortunately they put me in a tub of hot water and I dehydrated and I had to be rushed to the hospital.
"You don't put a man who went 15 rounds in a tub of hot water. Your body is already overheated. So (if) you put yourself in hot water, you are going to start to draw out the little bit of fluids in your body."
The new champion received intravenous fluid treatment during his hospital stay.
"It was just to hydrate myself. I was there in the hospital for like an hour or two. No big deal."
With a portion of the purse from his first title fight, Leonard purchased some new transportation and had a gift for his parents.
"I think I bought a Mercedes, (and) I bought my mom and dad a new house too. That was my treat (to myself)."
Leonard, who finished his professional career with a mark of 36-3-1, would be elected to the International Boxing Hall of Fame in 1997, having won professional world championships in the welterweight, junior middleweight, middleweight, super-middleweight and light-heavyweight divisions.
When asked where his title-winning effort against Wilfred Benitez ranks among his boxing accomplishments, the champion said: "That's up there. That (victory) started me, with my confidence and with the experience I got from fighting Benitez, to capture many more titles. So that (bout) ranks very high up there."

Bibliography:
1.    Interview with Ray Leonard. December 2008.
2.    Goldstein, Alan 1981. A Fistful of Sugar: The Sugar Ray Leonard Story P. 119.
3.    David Condon, Chicago Tribune 2, December 1979. World Champ Sugar Ray Quiets Skeptics.
4.    Associated Press Report, Wisconsin State Journal, 30, November 1979. Champion Benitez Must Prove Ability In Bout With Sugar Ray.
5.    Ross Newhan, Los Angeles Times 1, December 1979. Another Sugar Ray Rules Welterweights.
6.    Michael Katz, New York Times 1, December 1979. Leonard Stops Benitez In 15 To Win Welterweight Title.
7.    Red Smith, New York Times 30, November 1979. Appeal of Sugar Ray Leonard The Greatest Thing Since Ali.
8.    Gary Deeb, Chicago Tribune 14, December 1979. Surprise KO: Boxing Still Attractive Prime-time Draw.
9.    The Ring magazine: June/December 1979/ March 1980.
10.    Video: Original telecast of the Wilfred Benitez-Ray Leonard WBC world welterweight championship title fight: Aired Friday, November 30th 1979 by the American Broadcasting Company.
11.    Roberts, B.James and Skutt, Alexander G. 2006 The Boxing Register: International Boxing Hall of Fame Record Book: 4th Edition PP. 295, 343-344.
12.    Website of the International Boxing Hall of Fame: IBHOF.com
13.    Website: Boxrec.com
14.    Website: Sports Reference.com: Olympic Sports.
It's Been a Topsy-Turvy Week for Claressa Shields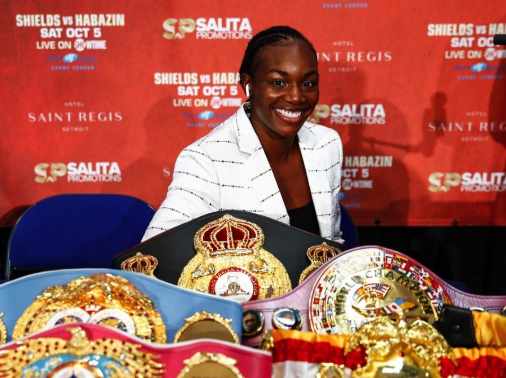 When signing an autograph for a fan, Claressa Shields appends her signature with the initials GWOAT (Greatest Woman of All Time). Last night (Wednesday, Oct. 16), she acquired another trophy for her mantle when she was named Sportswoman of the Year for Individual Sports by the Women's Sports Foundation at the organization's annual banquet at the Cipriani-Wall Street Restaurant in New York. The foundation was founded in 1974 by tennis legend Billie Jean King "to advance the lives of women and girls through sports and physical activity."
Shields, a two-time Olympic gold medalist, currently 9-0 as a pro, finished first in a field of 10 finalists. She previously won this award in 2016. Since the award was bifurcated with individual sports separated from team sports, only Shields and speed skater Bonnie Blair have won this award twice. Blair took down the honors in 1994 and 1995.
The news came one day after law enforcement authorities in Shields' hometown of Flint, Michigan, confirmed that Shields brother Artis Mack was in custody for the assault of James Ali Bashir (aka Bashir Ali).
Seven days ago, things were going swimmingly for Claressa Shields. At the press conference in Flint for her forthcoming bout with Croatia's Ivana Habazin, SHOWTIME executive Gordon Hall presented Shields with a $10,000 check for her charity which benefits underprivileged youth in the Flint area. Mark Taffet, Shields' manager, announced that 300 Flint-area youth representing such organizations as the Boys and Girls Club would be Claressa's guests at the fight. Dr. Karen Weaver, the mayor of Flint, thanked the fighter for "the love and support that she has shown for her hometown." (Earlier this year, Mayor Weaver, a clinical psychologist, declared April 27 to be Claressa Shields Day in Flint and presented the boxer with the symbolic key to the city.)
What a wonderful preamble to what was packaged as a landmark night in the city of Flint. Shields would be making her first appearance as a pro in the city where she was born and raised. The fight would air as the main event on SHOWTIME which had pumped up interest in the fight at no small expense by showcasing Shields in a three-part digital series called "The Rise." With a win over Habazin, who held the WBO 154-pound belt, Shields would become the fastest fighter in history – male or female – to win world titles in three weight divisions.
Then the stuff hit the fan.
At the weigh-in the day following the press conference, Ivana Habazin's trainer, the aforementioned James Ali Bashir, got into a tense verbal confrontation with Shields' sister during which he punctuated his back talk with incendiary words related to her mannish appearance. (Claressa's sister is a member of the LBGTQ community.)
Somewhat later but before the scales were readied, Bashir was punched in the back of the head. The punch landed with such force that Bashir, whose age is variously listed as 68 and 71, fell face first to the concrete floor where he lay unconscious, bleeding from the mouth. Habazin rushed to him sobbing and stayed with him as he was transported to the hospital.
Bashir underwent some sort of facial reconstructive surgery, was released from the hospital, and then had to return to the hospital when he was diagnosed with a brain bleed. He is out of the hospital now and believed to be back in his native New Jersey.
As we know, the Shields-Habazin fight was cancelled although the show went on as scheduled with the co-feature bumped up into the main event.
Shields was devastated. The show, which was intended to uplift her beleaguered community, had the opposite effect, heaping more sludge on a city with an image problem. "Claressa and her team are classless," Habazin wrote on her social media page. "We don't feel safe here (in Flint)."
In an interview shortly after the incident with a local TV station, Shields said that the assailant, to her knowledge, was not a member of her camp. That depends, one might say, on how one defines "camp."
The identity of the miscreant was first revealed by Ryan O'Hara, a young boxing writer from Arizona. In a story that appeared on Oct. 9, O'Hara, who did his homework, told his readers that Artis Mack, Claressa's 28-year-old brother, had been in and out of prison since 2009 and was on parole for assault and felony weapons violations.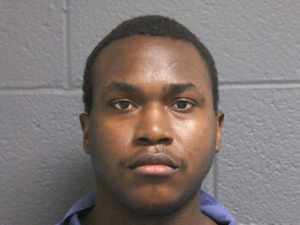 Claressa referenced her brother back in August when she said that one of the reasons she was happy about having her next fight in Flint was because it meant that Artis (pictured) would finally get to see her in the ring. As a parolee, he wasn't allowed to leave the state.
News about Artis Mack's arrest included the information that he was apprehended on the day of the weigh-in. As he ran from the building, he was followed by an off-duty officer who caught up with him in a nearby neighborhood and arrested him. Why the authorities waited 12 days to name the culprit remains a mystery.
The charge against Mack is "assault with intent to do great bodily harm less than murder." If found guilty, he faces up to 10 years in prison.
As for Claressa Shields, she purportedly lost a $350,000 payday when the fight was cancelled. Her newest award from the Women's Sports Foundation will presumably assuage a bit of the hurt.
Check out more boxing news on video at The Boxing Channel 
To comment on this story in The Fight Forum CLICK HERE
Avila Perspective, Chap 69: – Boxing Loses 3; Thompson Boxing and More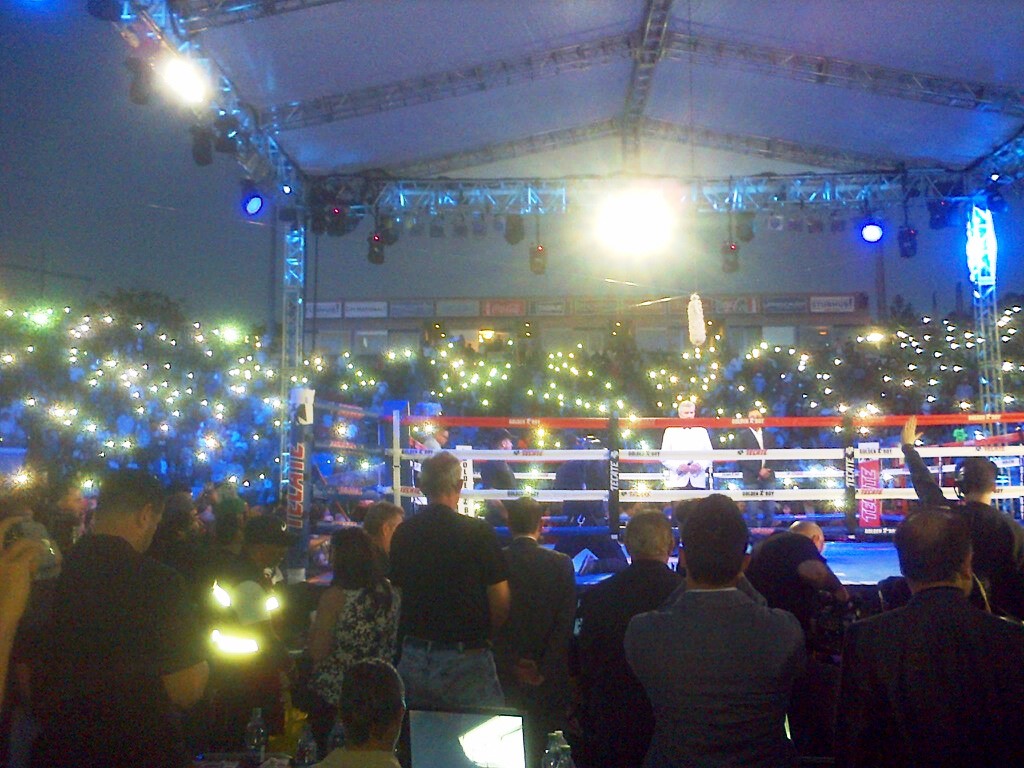 The month of October has not been kind to the boxing world. Three prizefighters including Patrick Day died from various reasons in the span of two weeks.
Day, 27, passed away four days after injuries sustained from a prize fight on Oct. 12, against Charles Conwell in Chicago. He was in a coma when he was ambulanced to a nearby hospital. The super welterweight fighter was born and raised in Freeport, New York.
Eloy Perez, 32, a former contender from Salinas, California, passed away on Oct. 11 from undisclosed reasons allegedly in Tijuana, Mexico. He was a super featherweight whose last battle was against Adrien Broner for the WBO world title back in 2012.
Javier "Pelos" Garcia, 30, a former BKB champion, expired on Oct. 1, at age 30 in Oxnard, California also from undisclosed reasons. The cousin of Robert and Mikey Garcia last fought in 2013 against DeMarcus Corley.
All three boxers fought in Southern California.
Last June, the super welterweight Day fought at Pechanga Resort and Casino where he battled against Carlos Adames in a fierce 10 round war and lost by decision. After the fight he could be seen taking photos with fans and other fighters at the casino in Temecula, California.
Perez lost only one fight and after that never fought again. As a youngster he was involved in football and was a quarterback despite his lack of height. Boxing became his next venture and he excelled. Some of his best wins were over Dominic Salcido and David Rodela.
Garcia fought in the BKB, an organization that lasted only a few years and whose fights were held in a pit in Las Vegas. He won the BKB welterweight championship with a fifth round knockout over Darnell Jiles at Mandalay Bay Resort and Casino in 2014.
It's been a very sad month for the boxing world.
Thompson Boxing
Trick or treat begins early for Thompson Boxing Promotions.
Instead of sugar-coated candy the hunt for the next world champion continues Friday, Oct. 18, with welterweight prospect Angel Ruiz (16-0, 12 KOs) meeting Puerto Rican southpaw Javier Flores (14-2, 12 KOs) at the Doubletree Hotel in Ontario. It will be streamed on Thompson Boxing's page on Facebook.com.
Tijuana's Ruiz was scheduled to meet Flores several months ago but a hand injury scrapped the meeting. Now the Mexican fighter has recovered and finally meets the Boricua in the boxing ring.
"Ruiz has had plenty of time to prepare for this fight," said Alex Camponovo the matchmaker for Thompson Boxing. "It should be an excellent fight."
Also on the card, Golden Garcia (11-0-1), comes by way of Canada and was recommended by Banner Promotions. The lightweight from Montreal will be making his first appearance on U.S. soil. He faces Tijuana's Hector Garcia, a scrappy fighter who took Devin Haney, Juan Carlos Burgos and Daniel Franco the distance when they met.
"We have a longstanding relationship with Banner and we're going to take a good look at him," said Camponovo of the Canadian lightweight.
Another prospect worth watching will be George Acosta (7-1) fighting Mexican veteran Roberto Almazan (9-12) in a lightweight clash set for six rounds. Acosta lost his last fight in a battle with another talented prospect Ruben Torres.
"He's a good fighter and when he lost to Ruben Torres both fighters were undefeated," said Camponovo. "It was a very close fight and could have gone either way. We like his talent."
Doors open at 6:30 and the fights begin at 8 p.m. For more information call (714) 935-0900.
Artis J. Mack brother of Claressa Shields Charged
A prosecutor has filed an assault charge against the brother of boxer Claressa Shields in connection with an attack on the trainer of Ivana Habazin before the weigh-in for their fight, according to a story by the Associated Press.
Genesee County prosecutor David Leyton issued a statement Wednesday saying 28-year-old Artis J. Mack of Flint has been charged with one count of assault with intent to do great bodily harm less than murder in the Oct. 4 attack on 68-year-old James Ali Bashir.
Bashir was hospitalized after getting punched, falling and striking his head on the floor before the weigh-in. The Oct. 5 fight was cancelled.
Fights to Watch
Fri. 7 p.m. ESPN – Oleksandr Gvozdyk (17-0) vs Artur Beterbiev (14-0)
Fri. 8 p.m. Facebook Watch – Angel Ruiz (16-0) vs Javier Flores (14-2, 12 KOs)
Fri. 11:30 p.m. Telemundo – Emanuel Colon (16-1-1) vs Richard Zamora (19-3)
Sat. 11 a.m. DAZN – Lewis Ritson (19-1) vs Robbie Davies Jr. (19-1)
Sat. 6 p.m. UFC Fight Pass – Cody Crowley (17-0) vs Mian Hussain (16-1)
Sat. 7 p.m. Facebook Watch – Oscar Duarte (17-1-1) vs Richard Solano (21-2-2)
Check out more boxing news on video at The Boxing Channel 
To comment on this story in The Fight Forum CLICK HERE
Beterbiev vs. Gvozdyk a Matchup of Shark vs. Piranha?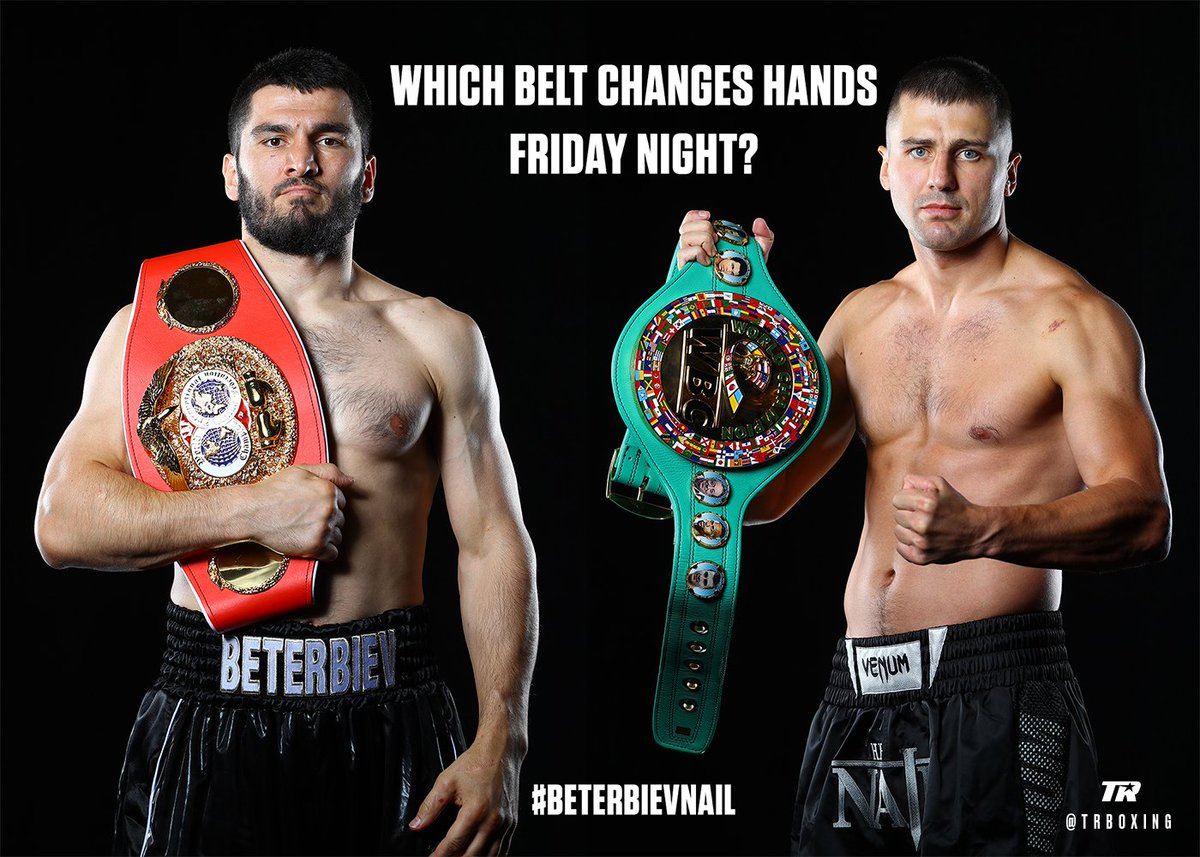 To hear trainer Teddy Atlas describe it, Friday night's light heavyweight unification matchup of IBF champion Artur Beterbiev (14-0, 14 KOs) and WBC titlist Oleksandr "The Nail" Gvozdyk (17-0, 14 KOs) is like a shark taking on a piranha, and Teddy's guy, Gvozdyk, is the piranha.
But boxing isn't always about the predator that has the biggest, sharpest teeth, or the hardest punch. Victory in the ring can be the result of various means, one being the way a large enough shark can swallow its prey almost whole.  Another is for the piranha to take a bite here and a bite there until the same objective is achieved.
Which approach is the more effective on fight night should be determined in what the oddsmakers have made a virtual 50/50 tossup. ESPN and ESPN Deportes will televise from the Liacouras Center on the Temple University campus in North Philadelphia.
Atlas and Beterbiev's trainer, Marc Ramsay, appear to be in agreement that Beterbiev, 34, a Russian based in Montreal for the last several years, has the kind of paralyzing power capable of taking out many opponents with a single shot. But the Big Bite strategy can be neutralized and overcome by patient nibblers who recognize that there are times when it's better to hang back and other times when it's preferable to dart in and quickly snack on whatever is being offered. Not so very long ago Gvozdyk, a bronze medalist for Ukraine at the 2012 London Olympics, was hesitant to exhibit the selective restraint as preached by Atlas. Now, as they approach their third bout together, Gvozdyk – hardly a pittypat puncher, if not quite on Beterbiev's level — has made himself over into the prototypical Atlas fighter. Ramsay, however, isn't convinced that any trainer, together with a fighter for less than a year, can orchestrate such a swift and comprehensive stylistic overhaul. What Ramsay does know is that his man is the real deal when it comes to bringing the pain.
"He's the best that I ever saw," Ramsay, who also has worked with former light heavyweight champions Jean Pascal and Eleider Alvarez, said when asked about Beterbiev's penchant for exclamation-point finishes. "And the thing is that it's not only one shot. It's all the shots. He can hurt you from distance or in close. He has that kind of explosiveness. But he has a lot more than power to offer."
Ramsay is less inclined to accept the notion that Gvozdyk, who is no newcomer to boxing at 32, can make anything more than cosmetic changes to an aggressive, come-forward style that has served him so well for so long. He said old, ingrained habits are not so easy to break.
"Real change – technical things, philosophical things – is a long process," Ramsay opined. "It's a lot of repetition in the gym. A lot of repetition."
Atlas is a highly accomplished trainer who has worked at various times with such outstanding fighters as a young Mike Tyson, Michael Moorer, Donny Lalonde, Alexander Povetkin and Timothy Bradley Jr., was inducted into the International Boxing Hall of Fame as a broadcaster last June. He is my-way-or-the-highway Type A personality who demands absolute adherence to his dictums from his fighters, which is one reason why he was hesitant to take on another after Bradley retired. Gvozdyk is his only fighter at this time, maybe the last he'll ever work with, and the relationship seems solid.
"We know the basics. Everybody knows the basics," Gvozdyk said of the way he looked at the way he prepared himself for bouts before he hooked up with Atlas. "But the small details … sometimes you think I'm too good, somebody can forgive me some mistakes. Teddy is always on top of it. He never lets you drift. He's kind of like a dictator. A smart dictator. That is what I need at this stage of my career. I feel like I'm special right now for Teddy. Teddy is not some average trainer. He's a legend."
Atlas' first fight as Gvozdyk's chief second was no shakedown cruise through smooth waters. When "The Nail" – his last name literally translates to that in Russian – challenged then-WBC titlist Adonis "Superman" Stevenson on Dec. 1, 2018, on Stevenson's home turf in Quebec City, he was facing another devastating puncher, maybe one with even more pop than Betierbiev, and a long-reigning champ who was making his 10th defense over  5½ years. But while Gvozdyk ended Stevenson's career with an 11th-round knockout, he did have a couple of shaky moments. The first came when he was hammered with a flush shot in the second round and another, one he didn't see, in the 10th. He might not be readying to face Beterbiev now if he had been caught with a follow-up shot while hurt, but he found a way to make it to the end of the round.
Asked if he "felt good" about Gvozdyk's chances against Beterbiev, given his previous brush with disaster with Stevenson, Atlas said there's always some anxiety when the guy in the other corner hits as hard as a mule kicks.
"It's never a good experience facing a puncher," Atlas noted. "It's a reminder that there's no room for mistakes. There has to be full concentration for 36 minutes. You have to fight one three-minute round at a time, not two minutes and 59 seconds, not when you're in there with a puncher that can change everything in a moment, as Stevenson almost did in the 10th round.
"But the reason why (Gvozdyk) is a champion is that he was able to survive that. When the moment came, he behaved like a champion. I've no doubt that whenever that moment comes Friday night, he'll do the same thing. It's never comfortable to be facing a puncher, but at least we know we've done it and we know what it takes to get by."
Atlas banned media members from attending any of Gvozdyk's private training sessions in Philadelphia, the better to ensure that whatever wrinkles he was adding to a fighter that still might be considered a work in progress were not made public before fight night. But Atlas did say that there are times when a clever piranha can indeed defeat a shark. Little bites add up, until the time is right to open those smaller jaws wide and gouge out a larger chunk.
"If there's moments to take bigger bites in this fight, we're going to take them, at whatever time that is," Atlas said. "If it's early, it's early. If it's late, it's late. There's going to be moments to take bigger bites with this guy. That doesn't mean getting sloppy or careless or greedy.
"Alex has great judgment and instincts. I know we can depend on that judgment and those instincts."
Go, Eagles! Uh, make that Rock …
Arch-rivalries are the lifeblood of any sport. How much less interesting would baseball be without Yankees-Red Sox, Cardinals-Cubs and Dodgers-Giants to stir fans' passions? The NBA was so much more compelling when the Lakers and Magic could go for it all, and frequently did, against the Celtics and Bird. Tennis used to be defined by Borg vs. Connors, Sampras vs. Agassi and, even now in their athletic dotage, Federer vs. Nadal.
In Philadelphia, the most despised opponent is always the Dallas Cowboys. The City of Brotherly Love is anything but when the Eagles and 'Boys hook up, as will be the case Sunday night when the Eagles and Cowboys, both 3-3 and tied for first place in the lackluster NFC East, square off in AT&T Stadium in Arlington, Texas. Each team's season might be disappointing to this point, but that hardly matters when emotions run high and civic pride is on the line. In Philly, at least, the quarterback duel of Carson Wentz vs. Dak Prescott will still be viewed as something akin to Frazier vs. Ali in helmets and shoulder pads. Eagles coach Doug Pederson fanned the standard flames higher and hotter by publicly predicting his team was "going to win that football game."
In addition to Eagles-Cowboys, there will be another Philly vs. Dallas matchup on ice, albeit at a somewhat less acrimonious level, Saturday night when the NHL's Flyers host the Dallas Stars at the Wells Fargo Center. Meanwhile, in a different part of town the same evening, Hard Hitting Promotions gets in on the act by staging a 10-bout card at The Met Philadelphia as part of what is being described by HHP head Manny Rivera as "Philly vs. Dallas Week."
The eight-round main event pairs North Philly heavyweight Darmani Rock (16-0, 11 KOs) against 41-year-old Maurenzo Smith (21-11-4, 14 KOs), who actually was born and raised in Houston but is said to now fight out of Dallas. The undercard is topped by the six-round light heavyweight matchup of Glassboro, N.J.'s (hey, it's reasonably close to Philly) Derrick Webster (28-2, 14 KOs) and Israel Duffus (19-6, 16 KOs), of Los Angeles by way of his native Panama. Duffus is a late fill-in for Francisco Castro (28-11, 23 KOs) of El Paso, Texas, which, like LA, is really nowhere near Dallas. five other Philadelphia fighters, or those in the general vicinity, are slated to appear, but none against opponents with even the thinnest ties to Dallas.
Word has it that Rock and maybe Webster will enter the ring garbed in some sort of midnight green, the better to stoke the Eagles-adoring crowd. Prudent matchmaking suggests that both local fighters (if you give Webster benefit of the doubt) will be victorious, although Rock's weight is frequently an area of concern. The 6-foot-5, 23-year-old prospect came in at a career-high 289 pounds for his most recent bout, a second-round knockout of Raymond Ochieng on June 14, 48 pounds more than he did for his sixth pro outing three years earlier. Rock will probably be looking to quickly put away Smith, who has been stopped seven times and, at 278 pounds for his most recent ring appearance, also packs the heft of an NFL defensive lineman.
For Philadelphia fight fans hankering for a much more consequential Philly vs. Dallas showdown, it will happen sometime in 2020 if (a)  IBF/WBC welterweight champion Errol Spence Jr. (26-1, 21 KOs), who lives in the Dallas suburb of DeSoto, Texas, fully recovers from injuries suffered in his recent auto accident and (b) he actually does take on two-division former titlist Danny Garcia (35-2, 21 KOs), of the Juniata Park section of Philly, as was announced after Spence's Sept. 28 split-decision unification victory over Shawn Porter.
Check out more boxing news on video at The Boxing Channel 
To comment on this story in The Fight Forum CLICK HERE