Bracero Dishes Out Vicious Kayo On "Broadway Boxing" Card…….WOODS RINGSIDE IN BROOKLYN
I noticed Mrs. Van Staden during the second round of her husband Danie's fight against Gabriel "Tito" Bracero, which took place Saturday night at the Aviator complex in Brooklyn.
She stood out because of her intensity, or more specifically, the fear, the worry that registered on her face. Her husband, who she later told me was a standout amateur in South Africa, where the couple met, was getting the worst of it at the hands of Bracero on a "Broadway Boxing" card promoted by Lou Dibella. Chantelle Van Staden's face told the tale of what was going on in the ring, as Bracero, who entered the ring with just two KOs in sixteen wins, against no losses, was landing clean shots on her guy.
A clash of heads opened up a vertical cut on Van in the first, but the bleeding was controlled in his corner. Bracero, though, was not to be managed; in round two, Van was in deep water, already, and he was sent to the mat from a right hand, after being buzzed by a left hook. A right cross in the second gave the 30-year-old Bracero, fighting out of Sunset Park , Brooklyn, another knockdown, and by now Chantelle looked alarmed. When Bracero landed a sure, clean, straight right which sent the 34-year-old Van to the floor out cold, Chantelle was panicked.
I reached out to her after we all breathed a sigh of relief, when Van got his senses back, and was able to sit up. Bracero (17-0 with 3 KOs) bathed in the afterglow of the win, which came at 1:08 of the third, as I gently interviewed Chantelle.
I had nudged the fella sitting next to me, USA Today/Boxing Scene's Mike Coppinger, and told him that if I had to bet, I'd say that this was Danie's last bout as a pro, if his missus had anything to say about it. So, I put the question to her: will you beg, plead and if necessary issue an ultimatum to your husband, to get him to hang up the gloves?
"No," she said, with no hesitation. "It's his right. I might not like it, but it's his love. I'm his love, too, but I've made that decision when I met him."
The pair met 13 years ago, and have been married for six years.
"It comes with the territory," she explained. It does, as this is the fifth time her husband has been stopped as a pro. His record drops to 8-7.
I gently probed further, asking Chantelle what she was thinking when she saw her guy go down in a heap. "I thought my heart was going to stop," she admitted.
This column goes out to the ladies, to the wives, to the moms, the daughters who bleed a little bit inside when their husband, son or father gets the worst of it in the ring.
SPEEDBAG Lou Dibella was kind enough to let me film a video homage to the Sweet Science's George Kimball, the liberal, literary lion of the fightwrite community, who died from cancer on July 6, six years after being given six months or so to live. I considered an act of defiance in honor of George, who was a staunch anti-war protestor during the Vietnam era, considered lighting up an unfiltered Lucky Strike, his go-to smoke. But I wussed out, and instead just articulated how much the fight game will miss his wordsmithery. Sorry George; I can only apologize and promise I will continue to afflict the comfortable, rip a deserved wretch a new one when deserved, in your vein, when warranted. You'll be able to see the homage, and Bracero's hellacious KO in the NY area on August 14.
The Official TSS Ruiz-Joshua II Prediction Page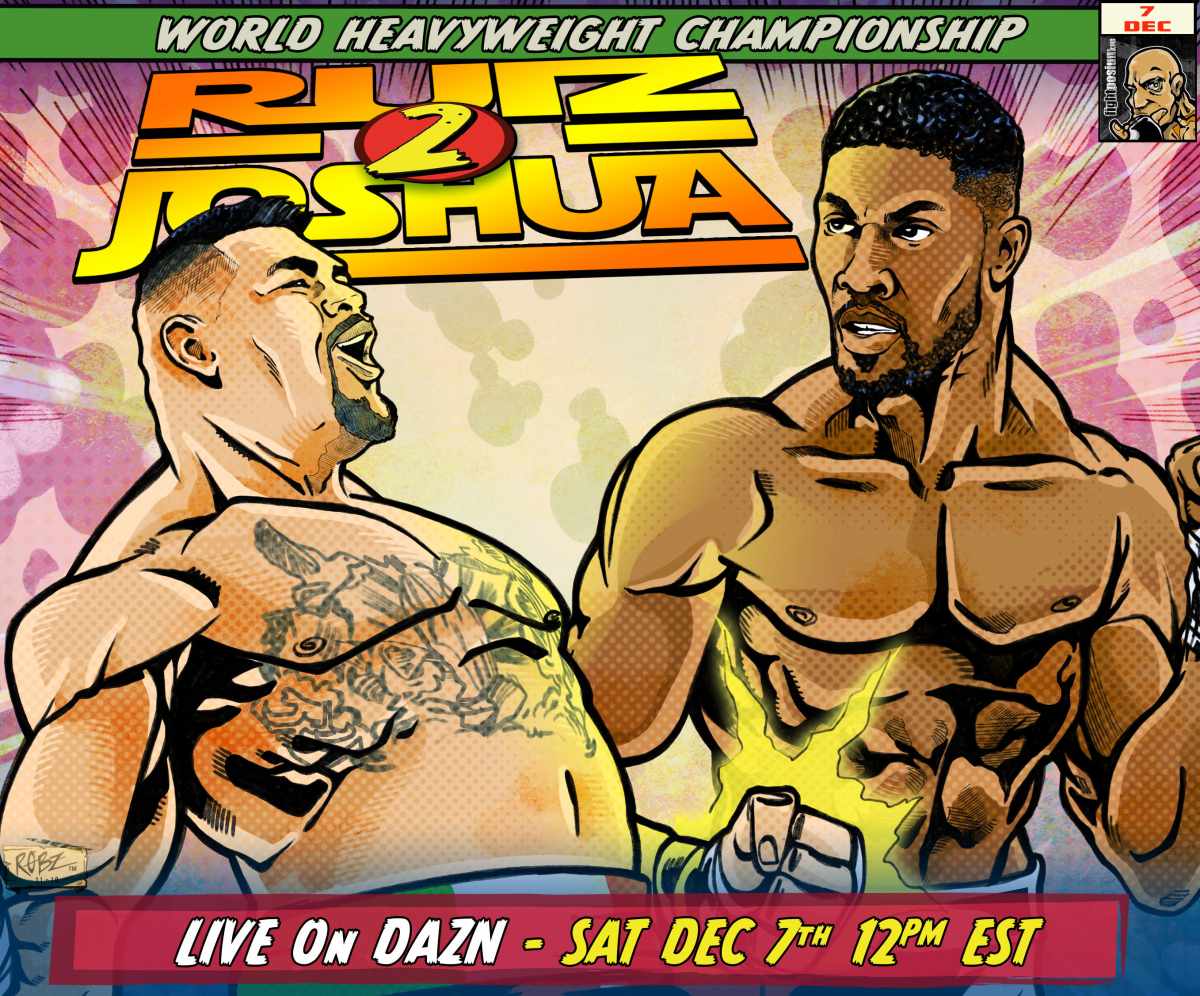 The Official TSS Ruiz-Joshua II Prediction Page
Whenever a big fight comes down the pike, we like to survey members of our editorial staff to get their opinions. However, not all big fights qualify – only those in which the odds suggest that the underdog has a reasonable chance of winning. After all, what's the point in running a survey if all the responses figure to be pretty much alike?
We did not perform this exercise for Joshua-Ruiz I because the odds were skewed too heavily in favor of Anthony Joshua. It was inevitable that Joshua would have his hand raised in triumph, or so it seemed to the vast majority of those who cover the sport.
You know the rest of the story.
STAFF PREDICTIONS
I see Joshua-Ruiz II resembling Kovalev-Alvarez. Joshua is going to fight a very technical fight behind the left jab and look to keep Ruiz at the end of that jab for much of the contest. And Ruiz will be loading up looking to land that fight altering punch like he did in the first fight. But this time, it won't come. Joshua puts on a boxing clinic and wins a wide twelve round unanimous decision. – MATT ANDRZEJEWSKI
I'm picking Andy Ruiz for the stoppage in the late rounds. If Anthony Joshua wins it will be by knockout early but I'm betting Ruiz can handle his power. After that its Ruiz going to the body and wearing down the bigger fighter. Ninth round stoppage win for Ruiz. – DAVID AVILA
There is a saying in boxing that some fighters "look like Tarzan, fight like Jane." It means pretty much the same thing as you can't judge a book by its cover. It's true, too. If beautiful, sculpted physiques are the determining factor of ring greatness, Mike "Hercules" Weaver — to be fair, a onetime alphabet champion for a hiccup or two — might have been the best heavyweight ever. Which brings us to Ruiz-Joshua II. If Andy Ruiz Jr. wolfs down all his Thanksgiving leftovers, he might show up looking even more like a Mexican Butterbean. Anthony Joshua looks like Tarzan, but in his first go at Ruiz he pretty much fought like Jane. I am sorely tempted to forget appearances and pick Ruiz, but I still have a nagging suspicion that the Joshua who got off the deck to beat Wladimir Klitschko is still present in that mass of muscles. I cast a reluctant vote for AJ, maybe on points. – BERNARD FERNANDEZ
New International Boxing Hall of Fame inductee THOMAS HAUSER agrees with his 2020 Canastota "stablemate" Fernandez. "Joshua by decision," he writes. "But like most people I have my doubts."
World Heavyweight King Andy Ruiz Jr. is reigning in Saudi Arabia? He must feel like Rocky Balboa getting ready for WW3 with the muscle-bound Ivan Drago on Christmas Day in Russia! Strange lands, strange laws, an imposing mountain to climb. After what I saw Ruiz do to Anthony Joshua in NYC on 6/1/19, I have to pick him to pick up where he left off. Fighting hard. Doing whatever it takes to win. Hurting AJ. Knocking him out in 11. – JEFFREY FREEMAN
The storyline of Anthony Joshua's signature triumph over Wladimir Klitschko was how well Joshua handled adversity. That made his showing against Andy Ruiz all the more head-scratching. Was he overconfident? After all, Ruiz had a short training camp, having been roped in off the street, in a sense, after Joshua's original opponent Big Baby Miller was ruled out. Perhaps Ruiz has the blueprint for beating Joshua; perhaps his style is just all wrong for Joshua — I'm really not sure — but my inclination is that the Brit will do a better job of exploiting his 8-inch reach advantage in the rematch. It wouldn't surprise me if this fight follows the same tack as Ruiz's fight with Joseph Parker, a distance fight with a lot of close rounds that ultimately went against the chubby Mexican-American. – ARNE LANG
What happened in the first fight? It's been almost half a year since Ruiz shockingly defeated Joshua in one of the biggest upsets in heavyweight history and I'm still not really sure. For the longest time, I believed it was simply a tactical error made by Joshua in round three that spelled his doom. Once he suffered that first knockdown, he never recovered. But as fight week looms, part of me wonders if Ruiz just has a style that Joshua doesn't know how to attack. Still, the greater part of me still thinks Joshua has what it takes to beat Ruiz. He'll fight the second bout much differently this time and plod his way to a 12-round decision. The cards will be wider than most would like, but Joshua wins in most people eyes via UD in a competitive fight that reveals Ruiz's limitations. – KELSEY McCARSON
When is a prediction not a prediction? When it defaults to some future event that subscribes the outcome. In this case it is the Ruiz-Joshua weigh in, generally speaking the final hiding place for cowards asked by their editors to turn in that prediction. But hear me out. Or rather hear out Iron Mike Tyson, here discussing Ruiz's perceived weight loss: "I just don't understand it.  But everybody has their own thing their vanity gets the best of them. "I'm a believer in 'if it's not broke don't fix it.' The only thing Ruiz has to do is do what he did last fight." Tyson is unequivocally correct. Ruiz trusted himself to punch with the puncher last time around and he had the chin and the handspeed to get it done. Worst case scenario sees him a faster fighter with a better chin in a shootout; but he's added a proviso here with his weight-loss. Ruiz's weight makes it difficult for Joshua to bully him with his prodigious strength and is a faculty of his punch resistance. It has also been an indelible part of his ring character during his decade in the ring. Stripped of a sizeable portion, Ruiz may enhance both his speed and his gas-tank, but these are aspects in which he already out-strips Joshua; the benefits, therefore, do not outstrip the detriment. That said there is likely a sweet spot around 245 where Ruiz reaps the benefits of size without the loss of familiarity nor bulk and at this poundage or above, I'll pick the Mexican to once again out-punch his svelter foe. Joshua, for his part, appears to have slimmed down too, perhaps looking to enhance his own speed and stamina. Both will be necessary if he is, as many British fight fans insist, intent on boxing and moving despite all evidence to the contrary of his being able to sustain this over a twelve-round fight. But watch those scales. I can't remember a time in heavyweight competition where they meant as much." – MATT McGRAIN
So preposterous was the outcome in the first fight that trying to come up with a prediction for the rematch seems like a comically futile endeavor. Here goes, anyway: If Ruiz is able to wade through another Joshua left hand-right uppercut, he may have his hands raised again. Ruiz is the better fighter, and Joshua, despite his overarching physical advantages, has no capable answer for the pudgy Mexican on the inside. If Joshua can stay disciplined for 12 rounds, working behind his jab, one could see him winning a snoozer of a decision; but one suspects his stamina will become an issue. Still, for all of the question marks surrounding Joshua's mental state, his chin, etc., his punching power is genuine, so it's entirely possible that he decks Ruiz inside five rounds. Of course, anything seems possible, even in the deserts of Saudi Arabia. Ruiz TKO8 – SEAN NAM
There are a lot of "ifs" in this one. The relatively small amount of weight that Ruiz lost (5-8 pounds) will make him lighter on his feet and even more dangerous, but he needs to couple that with a competitive fire and attitude. The purchase of a Rolls Royce and mansion is not a good sign. Meanwhile, Anthony Joshua is doing exercises that reportedly are elongating his musculature. If so, that's a smart move. Muscularity and attendant vascularity, with exceptions like Holyfield, are not necessarily compatible with flexibility. If AJ can come in loose (rather than overly tight like the last time) and without the element of surprise, I see him fighting tall (using a superior jab coupled with sharp crosses) and keeping Ruiz at bay while winning a decision or even perpetrating a mid-to-late round stoppage. Remember, we are talking about a guy who beat Wlad Klitschko, Dillian Whyte, Joseph Parker, Alexander Povetkin, and many other solid opponents. – TED SARES
Who wins? The "sportswashing" government of Saudi Arabia as DAZN trumps global morality with viewers like me. Willfully or not, we all bow at the altar of Plutus. Follow the money and that probably means that barring another delightful surprise, Matchroom meal ticket Joshua takes back the belts in a cautious display while Ruiz's payday keeps him from any loser status. – PHIL WOOLEVER
OBSERVATION: An interesting diversity of opinion. Reading through the lines, the most common thread was that this is a tricky fight to handicap and that no outcome would be all that surprising.
The graphic is by Colorado comic book cover artist ROB AYALA whose work is attracting a lot of buzz. Ayala's specialty is combat sports. Check out more of his work at his web site fight posium.
Check out more boxing news on video at The Boxing Channel 
To comment on this story in The Fight Forum CLICK HERE
Repping Texas- Vergil Ortiz Jr., Hector Tanajara and Joshua Franco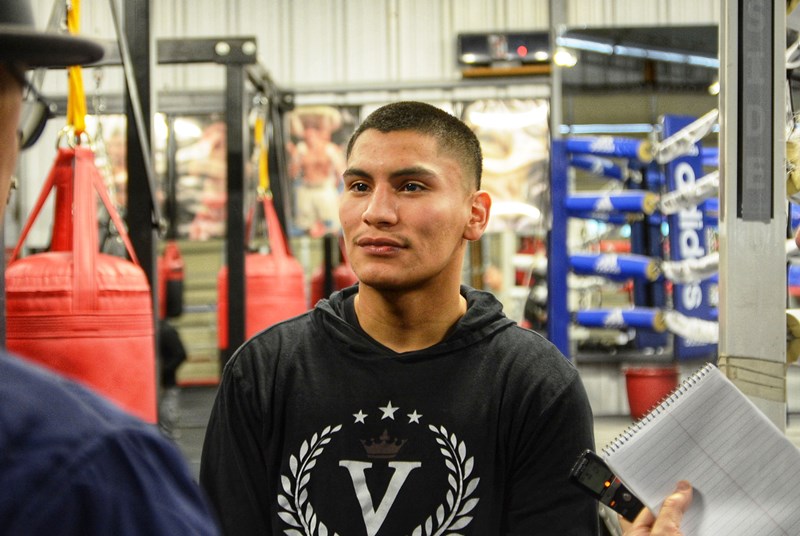 Those Texas boys are at it again.
Welterweight contender Vergil Ortiz Jr. led a media workout for his upcoming clash with Brad Solomon on Friday, Dec. 13, at Fantasy Springs Casino in Indio. He was joined by fellow Longhorns Joshua Franco and Hector Tanajara.
All three Texans live and train in the hills of Riverside, California. The San Antonio faction Franco and Tanajara are darn near being Californians after five years spent at the Robert Garcia Boxing Academy. Dallas native Ortiz Jr. only has two years in Riverside but a couple in Indio too.
Southern California works for them.
"I know all the places to go to now," said Tanajara at the RGBA gym in Riverside on Tuesday. "We have our favorite places to go for Mexican food."
Ortiz can't afford to talk about food; he has an important date coming soon and maintaining weight remains a priority. He's also banging on the doors of the upper tier in the welterweight rankings. It's just a matter of time.
The compound where the fighters live and train recently expanded and a virtual army of prizefighters are available to glove up at any time. Because of the pure numbers they seldom need to venture outside for sparring.
"Sometimes we get fighters from other places to come here," said Ortiz, 21. "But we don't go outside too many times."
Knockouts seem to happen whenever Ortiz touches his foes but it's not a goal. The slender power-punching welterweight prefers the mental warfare between prizefighters – deciphering an opponent's style appeals to him like a game of speed chess.
"You could say I like adapting and overcoming other fighter's styles," said Ortiz who has trained under Robert Garcia for nearly two years now. "I'm always looking for clues."
Vergil Ortiz Sr. the father, also lives in Riverside and both like to work on picking apart an opponent's technique and style. It keeps them up hours after they leave the boxing compound.
"Most people think he wants to blow them out but that's not the case," said Ortiz Sr. "He's a boxer first. He can box, it's just that he's knocked them out before he can show people what he can really do."
Ortiz Jr. (14-0, 14 KOs) will be facing the elusive style of Solomon (28-1, 9 KOs) at Fantasy Springs next week. The Golden Boy Promotions card will be shown by DAZN.
Solomon has not lost in three years and that was by split decision. The nearly six-foot welterweight fights out of Georgia and has beaten some talented contenders like Ray Robinson, Adrian Granados and Freddy Hernandez.
Fighting different boxing approaches like Solomon's appeals to Ortiz.
"I like figuring out how to beat different styles. It's fun," said Ortiz who has six first round knockouts and has never fought past the sixth round. "I've learned a lot about pacing and strategy since I've been here."
Ortiz can't wait to enter the bigger stage, but business first next week. The father Ortiz Sr. foresees his son in a mega fight especially in his adopted home Southern California.
"I'd love to see Vergil fight in Los Angeles where the big boxing fans are," said Ortiz Sr. "Los Angeles has the best boxing fans."
San Antonio
Joshua Franco and Hector Tanajara both return home on Jan. 11, when they are scheduled to fight on the undercard of the Jaime Munguia middleweight clash with Gary O'Sullivan at the Alamodome in San Antonio, Texas.
It's an exciting homecoming for the duo.
Tanajara has never fought professionally in his hometown. The closest he fought to San Antonio was two years ago when he fought in Grand Prairie, Texas, a town located about 300 miles away.
"It's giving me a lot of motivation to be fighting in San Antonio," said Tanajara, 22, whose last fight was a defense of the WBC U.S. lightweight title against Ezekiel Aviles that resulted in a win by unanimous decision. "I want to put on a good show."
The other San Antonio fighter, Josh Franco, has engaged in three of the toughest and most exciting battles of the year. All three wars saw the fighter known as "El Profesor" trade bombs with Colombia's Oscar Negrete. Franco won once and the other two ended in draws. Now it's time to decipher the rest of the fight world.
"We're going to have a lot of friends and family coming to the Alamodome," said Franco, 24, who has spent nearly five years in Southern California and now gets an opportunity to fight in front of the hometown crowd. "It's going to be good."
Neither Tanajara nor Franco has an opponent at this time, but both are scheduled to fight.
"We're comfortable here in Riverside, but I'm not nervous about fighting in San Antonio," said Franco. "It's going to be fun."
Those Texas boys are at it again.
Photos by Al Applerose
Check out more boxing news on video at The Boxing Channel 
To comment on this story in The Fight Forum CLICK HERE
New Orleans Native Bernard Fernandez Enters the Boxing Hall of Fame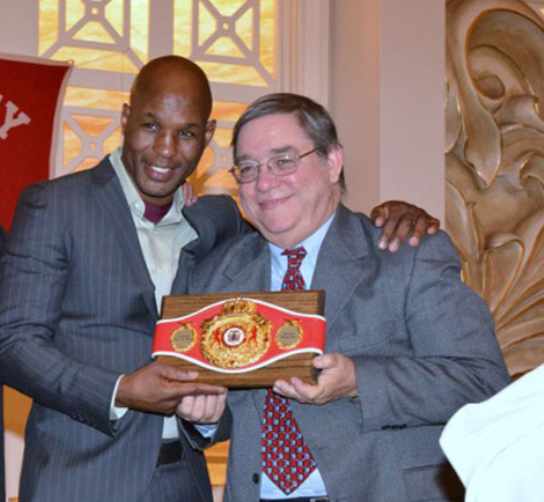 The Sweet Science is proud to announce that BERNARD FERNANDEZ, who for the last few years has written exclusively for this web site, and frequent TSS contributor THOMAS HAUSER have been named to the International Boxing Hall of Fame in the Observers category. The official announcement was made today (Dec. 4) by IBHOF Executive Director Ed Brophy.
Fernandez and Hauser are joined by nine other living inductees plus Frank Erne, active from 1892 to 1908, who joins the Hall in the Old-Timer category, and bare-knuckle battler Paddy Ryan, named in the Pioneer category.
Modern Era boxers Bernard Hopkins, Juan Manuel Marquez, and Shane Mosley are headed to Canastota, each having been named to the Hall in his first year of eligibility. Joining them are Pioneer women's boxer Barbara Buttrick and Modern Era women's boxers Christy Martin and Lucia Rijker. In the Non-Participant category, Lou DiBella, Kathy Duva, and the late Dan Goossen are the newest IBHOF inductees.
The newcomers will be formally enshrined on Sunday, June 14, the highlight of the four-day Hall of Fame Weekend festivities in Canastota, NY.
BERNARD FERNANDEZ
Bernard Fernandez was born in New Orleans in 1947 on a day when the city was being lashed by a powerful hurricane. Perhaps there's a metaphor there, but it eludes us as the Bernard Fernandez we know is a peaceable fellow.
Fernandez first got the idea of pursuing a career in sports journalism when he won a city-wide essay contest for eighth-grade students at Catholic schools. The top prize was one dollar.
At New Orleans De La Salle High School, he worked on the school newspaper and yearbook. In the summer between his junior and senior years of high school, he landed a job as a copy boy in the Times-Picayune Sports Department. It was, he says, the best summer job a high school kid could ever have.
It was there at the Times-Picayune, which had the widest circulation of the city's two daily papers, that he received his first byline while covering American Legion baseball games. After graduation, he studied journalism at LSU, the state's flagship university in Baton Rouge.
That Fernandez would gravitate toward the boxing beat was perhaps inevitable as his father, also named Bernard, had boxed as an amateur and had six pro fights in San Diego while serving in the Navy, going 4-1-1 under the name Jack Fernandez. An only child, Bernard was particularly close to his father who held the rank of captain when he retired from the New Orleans Police Department.
Fernandez met his future wife, Anne Marie d'Aquin, on a blind date when he was a senior at De La Salle and she a sophomore at a sister school. (De La Salle was an all-boys high school back then; it is now coed.)
The young lady must have made quite an impression. Some guys — lots of guys — can't remember the date of their wedding anniversary. Bernard remembers that and also the date when he first met Annie on that blind date: Feb. 12, 1965.
They were married in 1968. Bernard was then early into a six-year hitch with the United States Marine Corps Reserve, assigned to a helicopter unit at the Naval Station in Belle Chasse, Louisiana.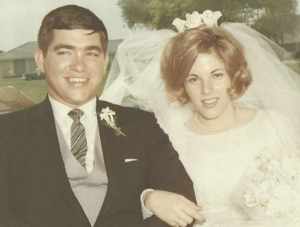 Bernard and Annie, a retired ICU nurse, have four children and six grandchildren. His sons, Randall and Kevin, reside in the greater New Orleans area. Randall is a longtime deputy with the Jefferson Parish Police Department; Kevin is a Crime Scene investigator with the Gretna Police Department. His daughters, Melanie and Amy, reside in the Philadelphia area. Melanie is a tax consultant for an international company; Amy an office manager for a dentist/oral surgeon.
Last year, on the occasion of his 50th wedding anniversary, Fernandez wrote his most poignant column, a paean to Annie, his soulmate all these many years. Seldom has a blind date between teenagers turned out so well.
At the age of 22, Fernandez got his first full-time newspaper job at the Courier in Houma, a community an hour's drive south of New Orleans. Quite unexpectedly, he was made the sports editor. The person that held that position quit right before he arrived.
He subsequently accepted positions at the Miami Herald, Jackson (MS) Daily News, Pittsburgh Post-Gazette, and the Philadelphia Daily News where he spent the last 28 years of his newspaper career. With the Jackson paper, he covered his first live boxing event, the rematch between Muhammad Ali and Leon Spinks at the Louisiana Superdome. This was a big, big event, a front-page news story in many papers, not merely the front page of the sports section. In time, he would cover literally dozens of big fights. He was in the small contingent of U.S. fight writers in Tokyo to see the fight between Mike Tyson and Buster Douglas and had a bird's-eye view of what was arguably the most famous upset in all of sports.
Philadelphia was a great fight town. When Fernandez arrived, the local gyms were bursting with world-class fighters. Moreover, nearby Atlantic City was in its heyday as a boxing Mecca. There were storylines galore for a boxing writer. And when things cooled down, he was assigned other beats. For a time, he covered the local NBA team, the 76ers, and Penn State football.
In 1998, Fernandez won the Nat Fleischer Award for excellence in boxing journalism. Four years later, he was named the President of the organization. He held that post from 2002 to 2005 and again in 2008 and 2009 after being wooed back for an encore.
Founded in 1926, the BWAA was originally called the Boxing Writers Association of Greater New York (there were a heck of a lot more boxing writers back in those days). During Bernard's tenures as President, the BWAA tripled its membership in part by drawing in writers from a wider geographic spectrum.
In 2012, at the annual BWAA banquet, and without his foreknowledge, the organization's annual writing awards were named the "Bernies" in his honor. Three years later, he received the Barney Nagler Award for Long and Meritorious Service to Boxing. Today's news coming out of Canastota is the capstone of a distinguished career ignited by the gift of a dollar from the Catholic Archdiocese of New Orleans.
It's altogether fitting that Bernard Fernandez would be accorded this honor in Canastota, the little town in upstate New York whose name has become synonymous with the history of boxing. Bernard's father's favorite fighter was Carmen Basilio, the former welterweight and middleweight champion who had an incredible run beginning in 1955 when he appeared in The Ring magazine's Fight of the Year in five straight years. Bernard Fernandez Sr, who died at age 75 in 1994, passed on his admiration for Basilio to his son.
There might not be an International Boxing Hall of Fame and, if there were, it certainly wouldn't be located here, if not for Carmen Basilio. The IBHOF is a monument to Basilio, the son of an onion farmer who was born and bred right here in Canastota.
Bernard Fernandez has been to Canastota many times, he's even been a presenter, but 2020 will be different and he will likely be overcome with emotion as he remembers those days long ago when he and his dad bonded as they sat watching Carmen Basilio on their little black-and-white TV.
And how appropriate that Fernandez is entering the Hall in the same year as Bernard Hopkins. No boxing writer has covered Hopkins' career as meticulously as Fernandez. He was ringside for the bookends: Hopkins' pro debut in Atlantic City on Oct. 11, 1988, and his farewell fight in Los Angeles thirty years later. And over the years they became good friends, as friendly as a sportswriter can be with an athlete without compromising his objectivity.
Back in 2006, Robert Mladinich wrote a wonderful profile of Bernard Fernandez. That piece concluded with a quote. "I might have five, six, seven years left as a writer," he said. "In this business, one day you have a byline, the next day you don't. Newspaper journalists are like sand castles because they are very impermanent."
Well, he was certainly right about the last part. And that observation smacks of a hint of foreboding because in 2006 it wasn't yet obvious just how deep the digital revolution would scar the traditional print media, an upheaval that would pitch thousands of journalists and other kinds of newspaper workers out of work.
But that bit about having only five, six, or seven years left as a writer, well that completely missed the mark. Bernard Fernandez is still going strong and those of us that enjoy reading well-crafted stories about boxing are the beneficiaries.
Congrats, Bernie.
Editor's Note: A profile of Thomas Hauser will be forthcoming
Check out more boxing news on video at The Boxing Channel 
To comment on this story in The Fight Forum CLICK HERE