PREDICTION PAGE: Who Do Ya Like, Mares or Agbeko?
JOSEPH AGBEKO & ABNER MARES
MEDIA WORKOUT QUOTES
Also Undercard Fighters Eric Molina, Eric Morel & Angelo Santana,
Wednesday, Aug. 10, The Joint at Hard Rock Hotel & Casino in Las Vegas
Telecast This Saturday, Aug. 13, Live on SHOWTIME® at 10 p.m. ET/PT;
Non-Televised Undercard Fights Start at 2:15 p.m. PT
LAS VEGAS (Aug. 10, 2011) – In an eagerly awaited matchup this Saturday, Aug. 13, Joseph King Kong Agbeko will defend his International Boxing Federation (IBF) bantamweight title against unbeaten World Boxing Council (WBC) Silver Bantamweight Champion Abner Mares in The Bantamweight Tournament Final: Winner Takes All live on SHOWTIME (10 p.m. ET/PT, delayed on the West Coast).
The 12-round bout between between the New York-based Agbeko (28-2, 22 KOs) of Accra, Ghana and the unbeaten Mares (21-0-1, 13 KOs) of Hawaiian Gardens, Calif., by way of Guadalajara, Jalisco, Mexico, will take place at The Joint at Hard Rock Hotel & Casino in Las Vegas, Nev.
Tickets, priced at $200, $100, $75, $50 and $25, along with a limited number of VIP suite seats priced at $150, are available at the Hard Rock Hotel Box Office, all Ticketmaster locations, online at www.Ticketmaster.com or by phone (800) 745-3000.
Doors open Saturday at 2 p.m. The first non-televised undercard fight begins at 2:15.
Agbeko, who will be making his fourth consecutive appearance on SHOWTIME, and Mares, who'll be making his third in a row on the network, were scheduled to meet last April 23, but the fight was postponed when Agbeko was injured moments after his arrival at Los Angeles International Airport for fight week. Doctors diagnosed the champion with sudden onset sciatica, a back injury.
The boxers, along with three fighters on the undercard – Eric Molina, former World Champion Eric Morel and Angelo Santana — participated in a media workout today at the Hard Rock. On Saturday, Molina (17-1, 13 KOs) and Warren Browning (14-1-1, 9 KOs) collide in a 12-rounder for the vacant WBC United States heavyweight title, Morel (44-2, 22 KOs) meets Daniel Quevedo in a 10-round bantamweight bout and Santana (10-0) takes on Ronald Hurley in a nine-round super lightweight scrap.
The fight card is promoted by Don King Productions and Golden Boy Promotions and is sponsored by Corona. For more information, visit www.donking.com or www.goldenboypromotions.com, become a fan on Facebook at www.facebook.com/GoldenBoyBoxing or follow the event on twitter at www.twitter.com/GoldenBoyBoxing or www.twitter.com/abnermares00.
For information on SHOWTIME Sports Programming, including exclusive behind-the-scenes video and photo galleries, complete telecast information and more, please go the new SHOWTIME Sports website at http://sports.sho.com/.
What the fighters had to say Wednesday:
JOSEPH KING KONG AGBEKO
"I feel good, actually, great and I'm very happy to be back and fighting. I was never afraid that I would not fight again. I was surprised a thing like this could happen to me, but I knew in my heart that my career was not going to end this way. I mostly felt very bad that our first fight could not come off as scheduled.
"I have trained for nine weeks and my camp was excellent. At no point did I feel weak and now it is all behind my and I am focusing on Mares.
"There is no way I am going to lose this fight. I don't watch a lot of tape on my future opponents and I have only seen a few rounds of Mares' fight against Yhonny Perez, but I know he is a very good, fast, aggressive fighter with a big future in this sport.
"I have prepared for everything he brings. He may be the one running in this fight.
"I have dedicated this fight to my youngest child, Keira, who turns five six days after the fight. My motivation comes from both my kids.
"I am the only champion in boxing now from Ghana and I plan to continue to carry the torch from Azumah Nelson. Whether you are watching in the arena or on SHOWTIME, it is going to be a great, great fight on Saturday. The winner deserves to be recognized as the No. 1 bantamweight in the world.''
ABNER MARES
"Naturally, it was difficult for me when our fight was cancelled, but eventually I got over it. I took a few weeks off and then was back in the gym. My camp was different this time around. We changed it up, first when I was in Mexico and then when I was in Santa Fe Springs (Calif.), just so I wouldn't get stale.
"Actually, this camp went by fast and now my training's done. I'm in great shape and very excited about fighting on Saturday. I'm totally focused and ready to explode.
"I look at this as my hardest fight, but winning the IBF belt and the SHOWTIME tourney on one night is something that can really set my career in motion. There are lots of opportunities for the winner after Saturday.
"I definitely believe the winner of this tournament should be called the top bantamweight in the world. To be the best, you have to fight the best and that's what we have done. Other guys were invited to participate, but declined. That's their business, but I'm sure I'll be fighting one of them at some point.
"A chance to become the first homegrown Golden Boy world champion is very exciting to me. I definitely would like to be the first, but I don't feel any nervous pressure.
"I'm really grateful for everyone involved in making this fight happen and for this tournament. Everyone knows that boxing's little guys make the best fights. Fans are in for a real treat on Saturday.''
ANGELO SANTANA
"This is my first fight since December and my first at 140 pounds. I am very excited to be getting back in the ring again. It doesn't matter against whom. I'm also excited about fighting in Las Vegas again.
"It took me 12 times before I made it to the United States from Cuba, but I knew I was never going to give up on that dream no matter the consequences. I've been here about four years.
"My goal Saturday is to win and then fight as often as I can. If I have to continue to fight at 140 to stay busy, I will. Whenever I get the call, you can bet I'll be ready."
ERIC MOREL??"I'm calling out all the big names at 118 pounds. They all know what time it is. My goal is win another world title, which would make me a three-time champion.
"I feel if I continue to win, my chance will come, but I understand that it's not just winning that matters, but how you win, and I hope to be impressive Saturday night.
"I've trained very hard and there is no way I am taking an opponent lightly. There is too much at stake. Of course, I would love to fight the winner of Agbeko-Mares.''
ERIC MOLINA
"I want to become the first Mexican-American heavyweight champion. I lost my pro debut but have won 17 in a row since.
"I think my trainer, Al Bonanni, would like me to show a little more killer instinct. Being a college graduate he thinks I'm too nice a guy in the ring.
"I've been training really hard and I'm really looking forward to a good performance.''
Boxing Odds and Ends: Commonwealth Games Champ Delicious Orie and More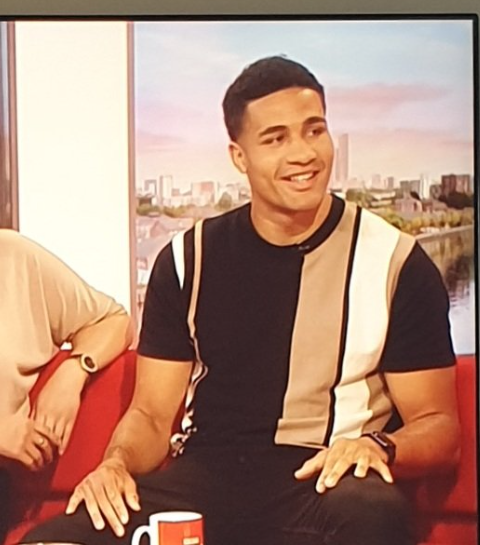 Boxing Odds and Ends: Commonwealth Games Champ Delicious Orie and More
The Commonwealth Games wrapped up this past Monday, Aug. 8, in Birmingham, England. The boxing competition drew 231 entrants (172 male) from 55 member-states. There were 10 weight classes for men and six for the ladies.
This was the twenty-second edition of the Commonwealth Games, a quadrennial event. Many of the competitors will turn up again in Paris in 2024 for the Olympic Summer Games. Over the years, many athletes have used the Commonwealth Games as a steppingstone to Olympic glory.
The boxer that attracted the most ink in this year's competition was Delicious Orie, the gold medal winner in the super heavyweight class. Writers noticed a lot of parallels between the six-foot-six Orie and the six-foot-six Anthony Joshua, both of whom came to the sport relatively late and have a Nigerian branch in their family tree.
Orie was born in Moscow, the son of a Nigerian father and a Russian mother. At the age of seven, he moved with his parents to England, settling first in London and eventually Wolverhampton, a suburb of Birmingham. As for the derivation of his bizarre first name, it's something of a mystery. His parents have "normal" names: Justin and Natalie.
Unlike many boxers, Orie says that he never got into a street fight as a kid. To the contrary, he says he was something of a teachers' pet. He holds a degree from Birmingham's Aston University where he majored in economics and graduated with honors in 2020.
In the gold medal match, Orie, 25, lost the opening frame to his Indian opponent but stormed back to win a unanimous decision. He is pointing toward the 2024 Olympics and says he has no interest in turning pro before that event. He has several more hurdles to pass before earning a ticket to Paris.
Northern Ireland, which has won more medals in boxing than in any other sport, sent a 12-man squad to Birmingham, the second-largest contingent, surpassed only by England (14). Five members of the NI team (3 men; 2 women) won gold medals including 29-year-old featherweight Michaela Walsh and her younger brother Aidan Walsh, a 25-year-old light middleweight. Michaela and Aidan were Olympians last year, the first brother-sister combo in Olympic boxing history, but failed to medal.
The third time was the charm for Michaela, a silver medalist at the 2014 and 2018 Commonwealth Games.
The finals in the middleweight division pit Scotland's Ken Hickey against Australia's Callum Peters. In a good action fight, the gold medal went to the Scotsman who prevailed on a split decision.
The Australian press denounced the decision as a robbery. We likely haven't seen the last of Callum Peters. At age 19, the hard-luck Aussie was one of the youngest boxers in the tournament
—
Hall of Fame referee Steve Smoger turns 71 tomorrow (Monday, Aug. 15). According to a missive from the desk of the International Boxing Research Organization, Smoger is currently bedridden with pneumonia, a residue of Covid, which he contracted in April.
A former New Jersey municipal court judge, Smoger has refereed more than a thousand boxing matches in a career spanning five decades. Named to the International Boxing Hall of Fame in 2015, he has purportedly refereed more boxing matches in more jurisdictions around the globe than any referee in the history of the sport.
For anyone wishing to send Smoger a birthday greeting or a Get Well card, his address is:
Steve Smoger
8 Cambridge Ave.
Ventnor, NJ 08406
To comment on this story in the Fight Forum CLICK HERE
Teofimo Lopez Wins By KO in Las Vegas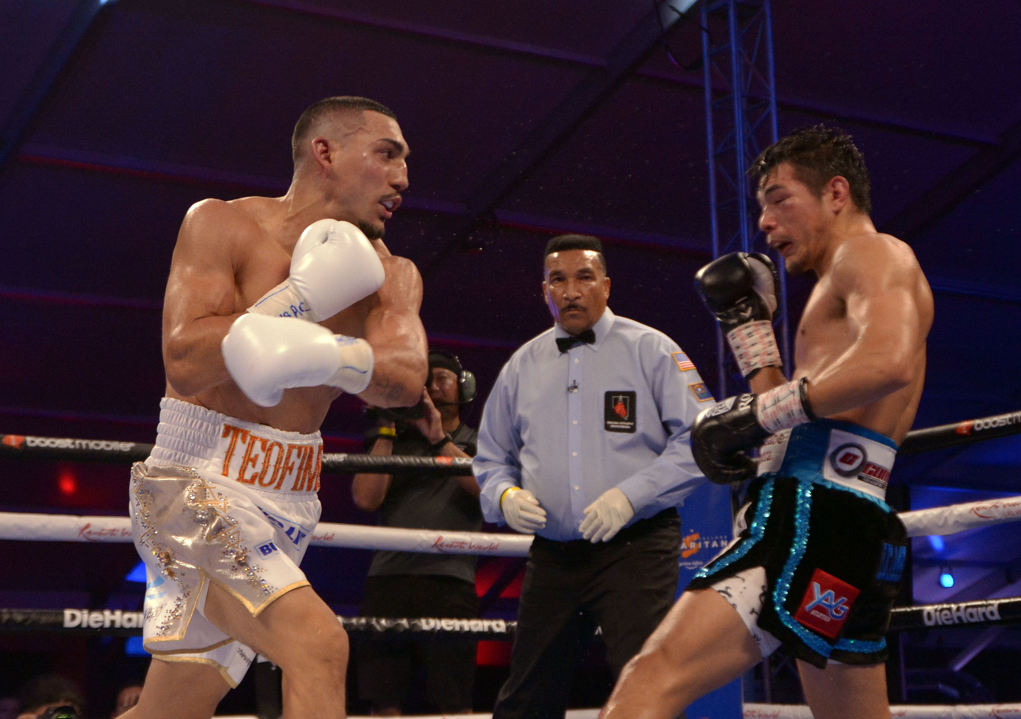 LAS VEGAS-Now a full-fledged super lightweight, the flashy Teofimo Lopez gave the rest of the weight division a warning shot on what to expect as he defeated Mexico's Pedro Campa by knockout before a raucous crowd on Saturday night.
It was lightning in a bottle.
Brooklyn's Lopez (17-1, 13 KOs) showed in front of his promoter and other promoters like Oscar De La Hoya sitting in front, that he's ready to challenge any and all super lightweights with an impressive victory over Mexico's Campa (34-2-1, 23 KOs) at the Resorts World Las Vegas.
Though notably shorter and seemingly smaller in size, Lopez looked confident as usual in his first fight back since losing his lightweight world titles to George Kambosos last November. He proved it was an aberration with a dominant blend of his athleticism and skill.
Most of the boxing world expected Lopez to be the quicker-handed and more accurate puncher, but fighting at a heavier weight division, especially against a strong fighter like Campa, was a true test.
Immediately Lopez showed his sneaky combinations tinted with almost invisible uppercut finishes, that continually snapped Campa's head back. But the Mexican quickly showed that those power shots could not faze him.
Around the third round Campa began to find the rhythm of Lopez and his range; soon he surprisingly began landing combinations. Though few were flush, they caught Lopez's attention and he retaliated with his own sneaky shots that always found the mark.
Accuracy was on display and Lopez had the patent.
Whenever it looked like Campa was about to corner the former lightweight champion, Lopez would use his agility to maneuver around the attack and unload lightning combinations that connected flush.
For a while it seemed Lopez could not crack the chin of Campa who is known as "Roca" because of his sturdy chin.
After seven rounds of chipping away at Campa with sizzling combinations, Lopez found an opening for a short right and left counter and down went the Mexican fighter. Campa beat the count and tried to move away from more danger but Lopez zeroed in like a panther stalking its prey. As he cornered Campa he unloaded 10 unanswered blows that forced referee Tony Weeks to stop the barrage at 2:14 of the seventh-round, a technical knockout victory for Lopez.
The former lightweight champion now has the NABF and WBO regional super lightweight titles and wants more.
"This is the takeover, takeover," said Lopez. "Like I said, we've been at 135 for nine years and it was killing my body."
The Brooklyn fighter said he expects to return to the prize ring at Madison Square Garden. Among those he has targeted are Josh Taylor and Golden Boy's Ryan Garcia whose promoter De La Hoya watched Lopez win.
"We want Josh Taylor, we want all the belts," said Lopez adding that Ryan Garcia would be equally desirable.
As far Lopez's first foray as a super lightweight, he was able to knock out a fighter that failed to last the distance on only one other occasion.
"That guy was a tough guy," said Teofimo Lopez's father Teofimo Lopez Sr.
Zayas
Puerto Rican bomber Xander Zayas (14-0, 10 KOs) erupted quickly flooring Mexico's Elias Espadas (22-5, 15 KOs) in the first round with a left hook during an exchange of blows. But the Mexican got up and the blows continued.
Elias had never been knocked out before in any of his prior 27 bouts, and he wasn't going quietly in this fight either. The Yucatan fighter never looked to survive and kept looking for the knockout too. He just never could hurt Zayas.
For three rounds both the Puerto Rican and Mexican exchanged hellacious blows with Zayas always connecting with the bigger blows. Elias never stopped trying and never tried to run away. He maintained a do-or-die attitude and wasn't about to exchange.
Zayas fired numerous blows to the body and below the belt and was warned three times for drifting far south of the beltline. Referee Russell Mora could have deducted a point, especially because there were at least five blows that landed very low.
"I promise it wasn't intentional. I wasn't planning to land it low," said Zayas about the low blows.
After the final warning the fight resumed. After the fourth round ended the ringside physician examined Espadas who was allowed to continue.
Within seconds of the fifth round the taller Puerto Rican and stubborn Mexican exchanged blows immediately. Espadas landed a left hook and Zayas countered with a looping right that sent the Mexican across the ring and down. The referee stopped the fight at 23 seconds of the round.
"I felt amazing. I'm glad to be back," said Zayas. "I felt I could have landed more behind my defense. We just have to get better and better."
That's bad news for the rest of the super welterweight division.
Other Bouts
Las Vegas fighter Andres Cortes (18-0, 10 KOs) faced Mexican dream buster Abraham Montoya (20-4-1, 14 KOs) and survived eight rugged and face busting rounds in their super featherweight clash. No round was easy as Montoya forced Cortes to dig deep and into his bag of resources and endurance.
Cortes was caught in the corner by Montoya in the sixth round with a sweeping left hook and avoided hitting the floor because of the ropes. The referee could have called it a knockdown but allowed the action to continue. Cortes fought his way out of danger.
Though Cortes won the majority of rounds with right cross pot shots, spins and pot shots from left hooks, he never could fully distance himself from the Mexican ruffian. After eight rounds the judges scored it 79-73 for Cortes.
Middleweight prospect Troy Isley (7-0, 4 KOs) defeated defensively-inclined Victor Toney (6-2-1,5 KOs) by unanimous decision after six rounds. The low action fight saw Isley press and press and Toney diffuse each attack with slippery moves and jab counters. Isley tried to ignite action with some roughhousing but even that proved futile against the non-aggressive Toney. One judge saw it 60-54 and two others 59-55 all for Isley.
Olympic silver medalist Duke Ragan (7-0) had trouble with Puerto Rico's D'Angelo Fuentes (7-1, 4 KOs) in a six round featherweight clash. But despite a slow start and getting tagged with some big rights, Ragan was able to survive and rally down the stretch and win by decision 58-56 on all three cards.
Puerto Rico's Omar Rosario (8-0, 2 KOs) out-battled Southern California's Esteban Munoz (6-2, 4 KOs) after six rounds in a super lightweight bout. Each fighter had moments in the fight with Rosario most effective with the jab and Munoz with a right to the body. Neither fighter attempted many combinations. All three judges scored it 58-56 for Rosario.
Charlie Sheehy (4-0, 3 KOs) was too skilled for Mexican tough guy Juan Castaneda (2-1-2,) in a four round lightweight fight. Castaneda couldn't throw a straight punch but his chin took everything Sheehy could throw. After four rounds Sheehy won 40-36 across the board.
Photo credit: Al Applerose
To comment on this story in the Fight Forum CLICK HERE
Tru Nevins Has Found a Second Home at Her DLX Boxing Gym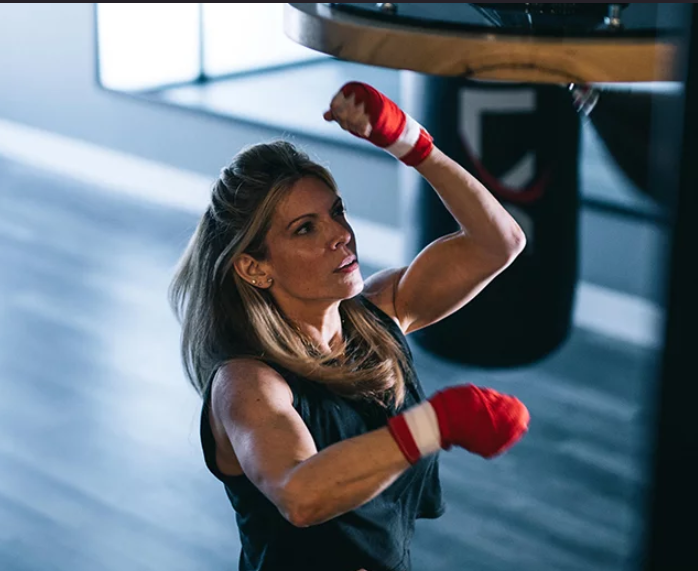 Tru Nevins planned to spend most of last week in New York City. She was all packed and chomping at the bit when Jake Paul pulled the rug out from under her. She feels fortunate that the airline gave her a full refund.
Nevins has family in New York, but the impetus for her planned trip was to support a member of her boxing family, namely Hasim Rahman Jr., Jake Paul's scheduled opponent in the aborted promotion. Rahman trains at Tru's gym alongside his brother Sharif with their father, Hasim Sr, the former world heavyweight champion, normally keeping a close watch.
Trudi Nevins – everyone calls her Tru – hardly fits the mold of a boxing gym operator, but she is the sole owner and hands-on manager of the DLX boxing gym in Las Vegas. The gym sits in a strip mall on the far west side of town, almost a straight line from the center of the Strip, in a unit, formerly a dry cleaners, that sat vacant for 14 years until Nevins moved in two summers ago and out-fitted it with a regulation-sized ring, punching bags and other equipment. DLX stands for "deluxe."
Nevins grew up in the New York City borough of Queens where as a young girl she was literally a kid in a candy store. Her parents, who left their native Ukraine as children during the Holocaust, had what east coast kids called a candy store, a store that sold candy, magazines, and tobacco products. She went on to earn an MA in social work at Fordham University and worked at a trauma center in the Bronx that was part of Jacoby Medical Center where she met her future husband, a board certified orthopedic surgeon.
Nevins started working out at a boxing gym as a way of keeping fit. She's a great advertisement for boxing gyms as alternatives to generic fitness studios. This 50-year-old mother of two looks two decades younger and we're not patronizing her when we say this.
In hindsight, Tru picked a bad time to open a boxing gym. Less than four months after she opened DLX, she had to shut things down for three weeks because of the pandemic. Both she and her husband caught Covid.
Across the globe, many boxers caught the virus. Hasim Rahman Jr was among them.
Covid, notes Tru Nevins, knocked Hasim off the undercard of the exhibition between Mike Tyson and Roy Jones Jr, the biggest pay-per-view boxing event of 2020. When he lost the Jake Paul fight, that was a double whammy for the relatively obscure boxer who trained faithfully for the bout and isn't getting any younger. "The one thing you can't get back is time," says Tru.
Of all the long-gone boxing gyms, none is more fabled than Stillman's Gym which was situated up a flight of stairs in mid-Manhattan near the old Madison Square Garden. It was a place straight out of Guys and Dolls.
A boxing gym tends to take on the personality of its proprietor. Stillman's was the domain of dyspeptic Lou Inger. One didn't mess with the cigar-chomping Inger who carried a gun in his shoulder holster and looked upon every stranger who came up the stairs as someone who came there to steal from him.
Tru Nevins is the anti-Lou Inger. She's the boss, make no mistake, but one thing that one quickly notices when visiting her gym is that no one approaches her in a servile fashion. The regulars treat her as one of the guys. They josh and jest with her.
Tru's fondest memory of her parents' candy store is of the back room, a place where friends and family sat around kibbitzing. The DLX is something of an extension of that haven.
Among the regulars are two old salts, Kenny Adams and Jesse Reid, who have made DLX their headquarters. To list all the prominent boxers that Adams and Reid have coached would take up an entire page. As the assistant coach of the 1984 U.S. Olympic team and the head coach of the 1988 team, Adams mentored such future stars as Evander Holyfield, Pernell Whitaker and Roy Jones Jr. At the professional level he handled Edwin Valero and Diego Corrales among many others. Jesse Reid trained Roger Mayweather, Orlando Canizales, Johnny Tapia, and Paul Spadafora to name just a few.
Adams and Reid, both now in their eighties, now find themselves mostly coaching other coaches. Some of those other coaches work with boys and girls as young as nine. The kids train alongside established pros, save on those occasions when the handlers of a boxer high-up in the food chain reserve the gym for a private session.
Former IBF lightweight champion Paul Spadafora, the erstwhile "Pittsburgh Kid," and his 17-year-old son Geno were working out there the other day when this reporter dropped by. At age 46, the elder Spadafora, whose legal troubles overshadowed his ring achievements – he left the sport with a 49-1-1 record — looked to be in tip-top shape. As for young Geno, an aspiring pro, when he laced on his gloves, he was following a family tradition. Paul's father Silvio Spadafora was a Pennsylvania Golden Gloves champion.
As for who's at fault for the late cancellation of the Showtime pay-per-view match between Jake Paul and Hasim Rahman Jr, there's a difference of opinion, but in hindsight Paul – who was both the promoter and the main attraction — was guilty of poor judgment for demanding pernicious weight and rehydration clauses that proved unreasonable.
What does Tru Nevins think of Jake Paul? "He's good at marketing himself and making a lot of money, but I don't consider him a real boxer," she says. "People say he's good for women's boxing, but if women's boxing hadn't been getting any attention, I'm sure he would have gone in a different direction. I think it was a calculated business move."
And so, Tru Nevins' New York homecoming, an excursion arranged for the primary purpose of rooting on a member of her Las Vegas boxing family, fell by the wayside. But at least she had her gym to fall back on. "I love it here," she says, "it's not work for me."
Arne K. Lang's latest book, titled "George Dixon, Terry McGovern and the Culture of Boxing in America, 1890-1910," will shortly roll off the press. The book, published by McFarland, can be pre-ordered directly from the publisher (https://mcfarlandbooks.com/product/clashof-the-little-giants) or via Amazon.
To comment on this story in the Fight Forum CLICK HERE