RASKIN'S RANTS: Oscar Deals With Reality, Floyd Deals With "Reality"
Did everyone catch HBO's Bob Papa not even attempting to pronounce "Hlatshwayo" during the lead-up to the Andre Berto-Jan Zaveck fight on Saturday night? Papa quickly said something to the effect of "Hasho," mumbling his way through the second syllable like he was Chevy Chase doing a comedy bit, and moved on.
But I'm not going to criticize Papa for mailing one in. If anything, I envy him for being so blasé. One of these days, I'm going to send Editor Mike a completely half-assed column that took 45 minutes to write, and I'm not going to lose sleep over it.
But that day is not today. I put actual effort into answering a reader email and compiling the weekly Rants. I even used Google a couple of times to make sure my information was correct. So enjoy it while you can, because a man can only care about the quality of his work for so long before he takes the "Hasho" route:
Hi Eric,
I know the fight between the Mayweather father and son on 24/7 looked real, but I'm not buying it. It seems I'm in the great minority on that. But did you notice how often both guys turned toward the camera when they were hurling their insults? And more to the point, why should we believe anything Floyd Jr. does or says? This is a guy who acts like a d-head to every opponent in the build-up to the fight, then suddenly is Mr. Magnanimous after the fight ends. He even claimed his partying lifestyle is purely for image enhancement, to sell fights. If you're going to make that kind of a claim, everything you do has to be questioned. So I'm questioning this spat with his dad. It looked like scripted "reality" TV to me, like The Hills or Laguna Beach.
One more thing about Mayweather: I can't believe how little flak he's taken for using the word "f-ggot." Any guesses as to why he's getting a free pass on that one?
By the way, great call on Helenius looking like Karl Hungus from The Big Lebowski. I'd been trying to place that Scandinavian-meathead look he has, and you nailed it.
Great stuff, keep on rantin',
J-Dog
J-Dog,
I hope someone else came up with the nickname "J-Dog" for you, because there are few things in this world lamer than calling yourself "Dog."
For the reasons you give, I can't 100 percent rule out the possibility that the Mayweathers were acting. But I'm at about 99.8 percent. Yes, they were turning their bodies toward the cameras at the outset of the argument, but as it went on, they seemed to stop being conscious of the camera crew. It's hard to explain exactly why I don't think the verbal war between Big Floyd and Little Floyd was staged, but I'll invoke Supreme Court Justice Potter Stewart's famous line about pornography and say, "I know it when I see it." It just FELT real to me.
As for "Money" slipping in that sexual-orientation slur, you're right that it's barely been mentioned in the press, especially compared to the way Kobe Bryant became the lead topic on PTI for a week when he did the same thing. I have two theories as to why Mayweather isn't taking extreme heat: (1) A lot of people didn't hear it. I know I missed it the first time and only caught it on my second viewing. You didn't SEE him say the word—you only heard him from off-camera, and barely. (2) Mayweather has lowered the bar for the level of class people expect from him to the point that something like this gets shrugged off. If Manny Pacquiao had said that word, there would be a firestorm. Same with Derek Jeter or Tom Brady or Kevin Durant or anyone else who is perceived as a nice guy. But Mayweather has a history of behavior like this (if not a history of using that particular word), and to a certain extent, people tend to tune it out.
Thankfully, nobody tunes out the Rants, so let's get to 'em:
• Well, Episode Two of 24/7 Mayweather-Ortiz wasn't as memorable as the first, but there were two moments worth commenting on. First, in the long and storied history of people misusing the word "literally," Ortiz butchered it perhaps more spectacularly than anyone ever has when he explained, "If you're talking to me, you're literally talking to a tree, bro." And second, how eye-opening was it to learn that Mayweather bets on preseason NFL football? That, my friends, is what you call a gambling problem.
• On another Mayweather-Ortiz note, I'm curious to see, come fight night, who'll enter the ring first/last and be introduced first/last. Mayweather is the superstar, but Ortiz has the alphabet belt. If I had to guess, I'd say it's in the contract that Mayweather at least gets to enter the ring second.
• If I ever become a referee, it will be my goal to get work in Mississippi. I'm a big fan of their business-casual dress code.
• Apparently Andre Berto took to heart all that talk about him having no beard. I like the Bill Russell look on him. He's no better of a fighter than he was before, but at least he looks more bad-ass now.
• I guess there's no Slovenian version of the F-bomb, hence Jan Zaveck's use of the English version. What a bummer; I really want to learn at least one Slovenian curse word to have in my back pocket. I guess I'll have to look up "asinine" in a Slovenian-English dictionary.
• I have about eight or nine toes on the Gary Russell bandwagon now, and I must admit, I'm even entertained watching him duck punches. I normally don't pay too much attention to the CompuBox numbers, but landing 60 percent of your powerpunches is ridiculous, and holding your opponent to 16 percent landed on powerpunches is equally absurd. Could Russell be that next American-born superstar that so many skeptics believe doesn't exist? Possibly, although featherweight tends to lurk a little below the mainstream radar. One thing Russell needs if he's going to make it big is a real nickname. "Mr. Gary Russell Jr." ain't cutting it. Whoever came up with that creative brainstorm was definitely having a "Hasho" moment.
• As you've probably heard, HBO has ordered a pilot episode of Da Brick, a drama series loosely based on Mike Tyson's youth. Co-producer Doug Ellin described the series as "Entourage meets The Wire." So that either means I'll watch every episode and regret it, or want to watch every episode and never find time for it.
• How many people who don't follow boxing would have picked Marco Antonio Rubio to win his fight this past weekend after seeing this picture? http://fightnews.com/Boxing/rubio1.jpg
• Oscar De La Hoya was in the news just a little bit last week, wasn't he? A few thoughts on some of the things he said, did, and is rumored to have done: First, I really hate the phrasing of his claim, "I don't have the courage to take my own life." I get what he was trying to express, but "courage" was the wrong word. Second, I found his admission that the lingerie pictures were legit to be curiously timed. Doesn't he understand that juicy revelations are supposed to be saved for future autobiographies so you can at least profit off of them? And third, the New York Post reported that De La Hoya paid the woman who took those photos $20-million to keep quiet. What a shame. For that kind of money, he could have hired a real editorial staff for The Ring's website. (Zing!)
• As the world's leading critic of Omar Narvaez's protective matchmaking (I harp on it every year in my "State Of The Game" section in The Ring mag), I'm intrigued to see him stepping all the way up to face Nonito Donaire in October. This is the bantamweight equivalent of Sven Ottke coming to America to fight Roy Jones in 2002. It will not end well for Narvaez, but that's okay. Better to take a shot and fail than to be Sven Ottke.
• Look for a new episode of Ring Theory (http://ringtheory.podbean.com) this week, with previews and analysis of Vitali Klitschko-Tomasz Adamek, Yuriorkis Gamboa-Daniel Ponce De Leon, and of course, the whole Mayweather-Ortiz pay-per-view card. And Bill Dettloff and I both promise to keep the homophobic slurs to a minimum.
Eric Raskin can be contacted at RaskinBoxing@yahoo.com. You can follow him on Twitter @EricRaskin and listen to new episodes of his podcast, Ring Theory, at http://ringtheory.podbean.com.
Comment on this article
Gerald Sinclair Watches Over the Mayweather Boxing Club, a Las Vegas Landmark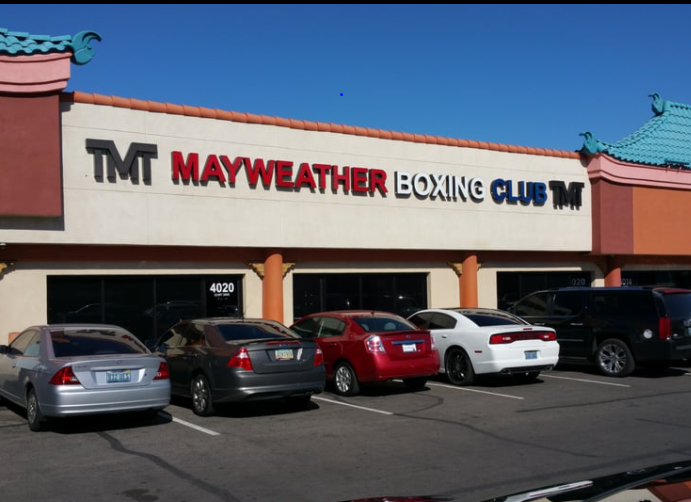 It isn't a stretch to say that the Mayweather Boxing Club is a Las Vegas landmark. Regardless of one's feelings toward Floyd — and he certainly has his detractors – the man transcended his sport like no other boxer of recent vintage. According to Forbes, which publishes an annual list of the world's highest-paid athletes, Floyd Mayweather Jr is one of only three athletes to surpass one billion dollars in career earnings, putting him on the same lofty pedestal as Michael Jordan and Tiger Woods – this despite the fact that Floyd competed in what has been characterized as a dying sport while attracting comparatively little money in commercial endorsements.
The word landmark conveys the thought of an edifice that is architecturally impressive. The Mayweather Boxing Club certainly isn't that. It sits in a one-story complex of small businesses that take up a full block in an older section of Chinatown which in Las Vegas isn't a residential neighborhood but an ever-sprawling stretch of Spring Mountain Road that runs west of the Strip for roughly a mile, a string of Asian-owned businesses, predominantly restaurants and massage parlors. The Mayweather gym sits in the back of the complex facing away from the street.
It's easy to miss it if one is heading there for the first time (it's helpful to have a car equipped with a GPS locator) but yet tourists often find their way there and that is another defining feature of a landmark.
When entering the gym, it's likely the first person that one will see is Gerald Sinclair. He co-manages the gym along with his brother John and Cornelius Boza-Edwards, the former world super featherweight champion who engaged in some of the most exciting fights of the 1980s.
The Mayweather Boxing Club opened in 2007. Sinclair, 56, was there from the beginning when the facility was roughly half its current size. He grew up in Hudson, New York, a city named for the river that borders the town on the east. Before moving to Las Vegas, he worked as a fork lift driver in a warehouse.
Sinclair was induced to come to Las Vegas by his sister. She is Floyd Mayweather's mother. Floyd is Gerald's nephew. It's all about family at the Mayweather Gym. Floyd's father of the same name and his uncle Jeff are fixtures there, as was their brother, the late Roger Mayweather, the best of the three fighting Mayweather brothers.
This reporter has never been in a boxing gym that didn't have colorful posters of old fights tacked to the wall. The Mayweather gym is no exception but all of the oversized posters, all 15 of them, are of Mayweather's fights. (Needless to say, he won them all.) His face appears on other insignia, including a large banner above a row of folding chairs. There are two regulation-size boxing rings, 11 punching bags of various descriptions clustered in a nook and some of the standard exercise equipment, all indicative of the fact that this is a place to work up a sweat, but the Mayweather Boxing Club is also a little museum of sorts, a paean to the splurgy proprietor who once sported the nickname "Pretty Boy."
Some boxing gyms – Abel Sanchez's compound in Big Bear comes quickly to mind – are off-limits to outsiders. The Mayweather Boxing Club is welcoming (which isn't to say that a busload of fans would be welcome; it wouldn't).
"When we opened the place," says Gerald Sinclair, "Floyd came to us and said if fans want to come in and look around, go ahead and let them."
While we were there the other day, an older man with a Spanish accent appeared in the doorway and sheepishly inquired if he and the people in his party could come inside and give it a quick look-see. "Be my guest," said Sinclair, whereupon the visitor left and returned with his wife and another couple that he had left waiting in the car.
Sinclair says if the man hadn't happened to mention that there were other people in his party, that he would have likely brought it up. "We have had guys who came by and left their wife and kids outside in the car and I told them to please invite them in. I know this place is a slice of history. We don't exclude anyone."
A tourist giving the gym a gander invariably takes a few selfies and then comes the million-dollar question: "Is he here?" A selfie with Floyd would be a prized souvenir.
No, he's never there, or almost never there. On the rare occasions when he does pop in during normal business hours, he arrives unannounced, usually with a bodyguard. Floyd Mayweather Jr, who is known to hop in one of his private jets and fly halfway around the world on a whim, lives in a different universe than the denizens of the gym that bears his family name.
Although also rare, a visitor has a better shot of bumping into a celebrity. Eddie Murphy, Christine Aguilera, Maria Carey and P Daddy have walked in the door, as have many prominent athletes including Mike Tyson.
When Tyson appears, it's old home week for Gerald Sinclair and his brother. During his amateur days and in his early days as a pro, Iron Mike resided in Catskill, living with his trainer Cus D'Amato in the large Victorian home that D'Amato shared with the sister of a sister-in-law. Catskill and Hudson are separated by only 12 miles. Sinclair remembers young Tyson turning up at some of his softball games. Mike made a big hit with the folks running the snack bar, covering the tab of kids hovering around him at the refreshment stand.
A number of boxers from overseas have worked out at the gym while visiting Las Vegas. For some novice boxers, a trip to the Mayweather Boxing Club is a rite of passage. (A stranger in town for a convention or trade show can also use the facility if it isn't too crowded. There is a day rate for these situations, and the visitor must sign a waiver absolving the club of any liability should he get hurt.)
The Mayweather Boxing Club is now back at full steam after being closed to the general public for several months because of Covid-19. For a time, it was effectively the private gym of Gervonta "Tank" Davis and his team. Everyone who was there while Tank was preparing for his Oct. 31, 2020 date with Leo Santa Cruz, was required to get tested twice a week. There were no hiccups.
"As a boss, Floyd has been very generous to me," says Sinclair. Thanks to Floyd, he got to see a part of the world that he never would have gotten to see. Floyd invited him along when he flew to Tokyo for his exhibition with Tenshin Nasukawa. Prior to this, Sinclair's lone trip outside the United States was a trip to Tijuana.
Sinclair has picked up a new skill since leaving New York. He's frequently the go-to guy when a boxer at the gym needs his hands wrapped. It's not as simple as it looks, there's an art to it, and Gerald learned at the feet of the master, Rafael Garcia Sr, who encouraged his interest. Garcia passed away in November of 2017 at age 88, leaving a hole in the hearts of the extended Mayweather family that burned wider when his fellow traveler Roger Mayweather joined him in the afterlife.
The United States has housed several iconic boxing gyms over the years. A short list would include Stillman's Gym in mid-Manhattan, the Main Street Gym in downtown Los Angeles, the 5th Street Gym in Miami Beach, and the Kronk Gym in Detroit. The Mayweather Boxing Club is destined to eventually join that hallowed roster.
Check out more boxing news on video at the Boxing Channel
To comment on this story in the Fight Forum CLICK HERE
Avila Perspective, Chap.131: 'Boo Boo' Andrade, Carlos Gongora and More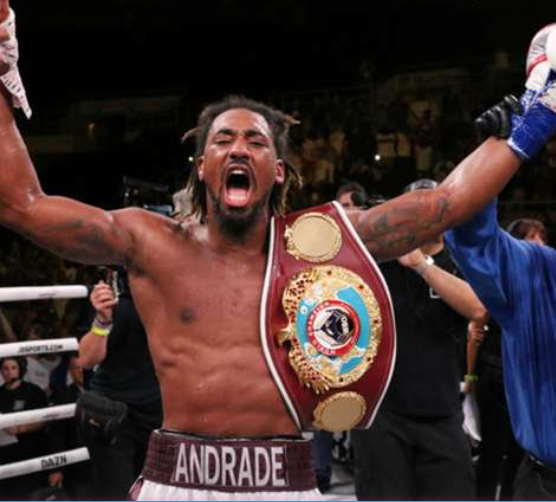 Avila Perspective, Chap.131: 'Boo Boo' Andrade, Carlos Gongora and More
Do not confuse skill with athleticism.
Fans and many journalists often erroneously label a fighter with lightning speed, power, and a good jab as a skilled fighter when they are really, simply physically gifted athletes.
A truly skilled fighter can fight nose to nose with another and you can't touch him, but he can clobber you. That is skill. They don't need to run around the boxing ring at full flight mode. They can fight you straight-up.
One fighter Demetrius Andrade seems to finally be proving his skill-level after years of relying on mere athletic prowess.
Andrade (29-0, 18 KOs) defends the WBO middleweight title against Great Britain's Liam Williams (23-2-1, 18 KOs) on Saturday April 17, at the Seminole Hard Rock Hotel and Casino in Hollywood, Florida. DAZN will stream the Matchroom Boxing card.
The undefeated southpaw from Providence, Rhode Island makes his fourth defense of the title he won in 2018. He formerly held the WBO super welterweight title too.
"You're going to see the same you always see from me – a solid game plan, dominance, landing big shots, an all-around great performance and giving people what they have been missing, the sweet science," said Andrade whose nickname is "Boo Boo."
Because of his past reliance on athleticism, many possible foes simply avoided confrontations with Andrade in the prize ring. Who wants to step into a boxing ring and watch another fighter touch you with a jab and zip around the boxing ring? Fans don't want to see it either. They want to see a fight, not a dance.
In his last defense Andrade was seen exhibiting inside fighting skills when he dispatched Luke Keeler by technical knockout in the ninth round in Miami. It was a display of straight-up fighting not often seen when the Rhode Island boxer performs.
Is this the new Andrade at age 33?
Williams, who hails from Wales, is nicknamed "the Machine" but lost twice to Liam Smith in two very close bouts. Those are his only defeats.
"I'm super confident and I don't think there's any way that he beats me. I think I can knock him out," said Williams.
Andrade laughs at Williams' comments.
"They call him 'The Machine', but when I am done with him, he'll be 'The Rust Bucket," claims Andrade.
Williams feels its time to expose Andrade.
"I don't think he has the same intensity as me,' said Williams. "I wear my heart on my sleeve. I can punch harder than him. I have a better engine than him. I'm going to bring it all on the night and I don't think he has the answers."
Andrade expects the same results.
"Liam is not going to stop my train," said Andrade. "I expect him to bring the fight because this is his opportunity, but at the end of the day he'll be able to say, 'I lost to Demetrius Andrade'."
Gongora
IBO super middleweight titlist Carlos Gongora (19-0, 14 KOs) makes his first defense of his fringe world title against American Christopher Pearson (17-2, 12 KOs) in a battle between southpaws in the semi-main event at Seminole Hard Rock.
Ecuador's Gongora was a last-minute replacement and upset Kazakhstan's heavily favored Ali Akhmedov by knockout in the last round of their title fight last December. He also became his country's first world title-holder.
Pearson enters the boxing ring after a similar feat. He was a late replacement when he met the favored Yamaguchi Falcao two years ago at the Hard Rock Hotel in Las Vegas. He out-fought the Brazilian with a gutsy performance that convinced Golden Boy Promotions to sign him.
Gongora and Pearson both have much to prove.
Sunday
Thompson Boxing Promotions returns with one of its star prospects Ruben Torres (14-0, 10 KOs) who faces Diego Contreras (11-3, 5 KOs) in a super lightweight main event at Omega Products International in Corona, California. The fight card will be streamed on www.ThompsonBoxing.com and on its Facebook and YouTube.com pages.
Fights to Watch
Fri. 6 p.m. ESPN+ Miguel Vazquez (42-10) vs Isai Hernandez (10-1-1).
Sat. 11 a.m. ESPN+ Danny Dignum (13-0) vs Andrey Sirotkin (19-1).
Sat. 12 p.m. DAZN Demetrius Andrade (29-0) vs Liam Williams (23-2-1).
Sat. 5 p.m. FOX Tony Harrison (28-3) vs Bryant Perrella (17-3).
Sat. 6 p.m. TrillerFightClub.com (ppv) Regis Prograis (25-1) vs Ivan Redkach (23-5-1).
Sun. 2 p.m. ThompsonBoxing.com (free) Ruben Torres (14-0) vs Diego Contreras (11-3).
Check out more boxing news on video at the Boxing Channel
To comment on this story in the Fight Forum CLICK HERE
Tank Davis and the Charlo Twins Featured on the Loaded Showtime/PBC Schedule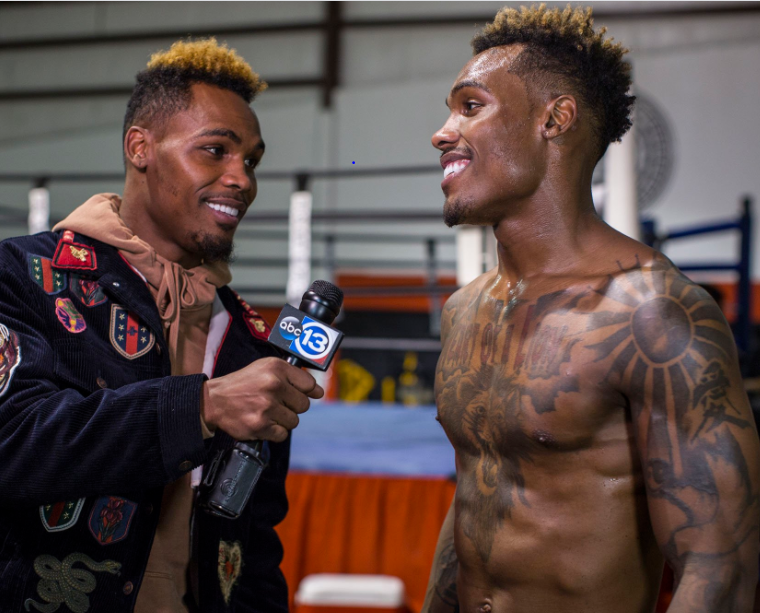 Tank Davis and the Charlo Twins Featured on the Loaded Showtime/PBC Schedule
PRESS RELEASE — SHOWTIME Sports and Premier Boxing Champions today unveiled a loaded five-month boxing schedule of nine high-stakes world championship events beginning Saturday, May 15, live on SHOWTIME. The schedule delivers two events per month through August. Thirteen matchups have been announced thus far with no less than seven world title fights, and 12 fighters defending undefeated records. The lineup features many of boxing's best young fighters taking on career-defining challenges in their primes. All fights on the schedule will take place before a live audience, keeping with applicable local COVID-19 safety protocols.
The sizzling summer run features the dynamic Charlo twins as undefeated electrifying champion Jermall Charlo defends his WBC middleweight world title against Juan Macias Montiel in a special Juneteenth homecoming in Houston on Saturday, June 19, live on SHOWTIME.
The following Saturday, June 26, unbeaten Mayweather Promotions star Gervonta "Tank" Davis moves up two weight classes for a chance to become a three-division world champion when he takes on fellow undefeated champion Mario Barrios for his super lightweight world title in what will be Davis' second pay-per-view showdown.
The next month, WBC, WBA and IBF 154-pound charismatic world champion Jermell Charlo looks to make boxing history when he takes on WBO junior middleweight world champion Brian Castaño in a mega-fight to crown the first four-belt 154-pound world champion.
The SHOWTIME boxing schedule features eight editions of SHOWTIME CHAMPIONSHIP BOXING and one premier SHOWTIME PPV event, all presented by Premier Boxing Champions:
MAY 15 – SHOWTIME CHAMPIONSHIP BOXING

Luis Nery vs. Brandon Figueroa, WBC Super Bantamweight World Title Fight
Danny Roman vs. Ricardo Espinoza Franco, Super Bantamweight Fight
Xavier Martinez vs. Abraham Montoya, WBA Super Featherweight Fight
MAY 29 – SHOWTIME CHAMPIONSHIP BOXING

Nordine Oubaali vs. Nonito Donaire, WBC Bantamweight World Title Fight
Subriel Matias vs. Batyrzhan Jukembayev, IBF Super Lightweight Title Eliminator

JUNE 19 – SHOWTIME CHAMPIONSHIP BOXING 

Jermall Charlo vs. Juan Macias Montiel, WBC Middleweight World Title Fight

JUNE 26 – SHOWTIME PPV

Gervonta Davis vs. Mario Barrios, WBA Super Lightweight World Title Fight
Erickson Lubin vs. Jeison Rosario, WBC Junior Middleweight Title Eliminator
JULY 3 – SHOWTIME CHAMPIONSHIP BOXING
Chris Colbert vs. Yuriorkis Gamboa, WBA Super Featherweight Interim Title Fight

JULY 17 – SHOWTIME CHAMPIONSHIP BOXING 

Jermell Charlo vs. Brian Castaño, Undisputed IBF, WBA, WBC & WBO Junior Middleweight World Title Unification Fight

AUGUST 14 – SHOWTIME CHAMPIONSHIP BOXING
                  Guillermo Rigondeaux vs. John Riel Casimero, WBO Bantamweight World Title Fight
         AUGUST 28 – SHOWTIME CHAMPIONSHIP BOXING
David Benavidez vs. Jose Uzcategui, WBC Super Middleweight Title Eliminator

SEPTEMBER 11 – SHOWTIME CHAMPIONSHIP BOXING
Stephen Fulton, Jr. vs. winner of Nery-Figueroa, Super Bantamweight World Title Unification Fight
"High-impact, meaningful fights amongst many of the biggest names and brightest stars in combat sports. That is what SHOWTIME promises and that is what we are delivering," said Stephen Espinoza, President, SHOWTIME Sports. "With an opportunity to crown an undisputed world champion at 154 pounds, a highly anticipated super bantamweight title unification, a stacked pay-per-view showdown and more than a dozen fights between 118-168 pounds, SHOWTIME is presenting boxing's best young fighters, all daring to be great by putting their world titles and undefeated records on the line.
Editor's Note: This press release has been edited for brevity.
Check out more boxing news on video at the Boxing Channel
To comment on this story in the Fight Forum CLICK HERE