RASKIN'S RANTS: Oscar Deals With Reality, Floyd Deals With "Reality"
Did everyone catch HBO's Bob Papa not even attempting to pronounce "Hlatshwayo" during the lead-up to the Andre Berto-Jan Zaveck fight on Saturday night? Papa quickly said something to the effect of "Hasho," mumbling his way through the second syllable like he was Chevy Chase doing a comedy bit, and moved on.
But I'm not going to criticize Papa for mailing one in. If anything, I envy him for being so blasé. One of these days, I'm going to send Editor Mike a completely half-assed column that took 45 minutes to write, and I'm not going to lose sleep over it.
But that day is not today. I put actual effort into answering a reader email and compiling the weekly Rants. I even used Google a couple of times to make sure my information was correct. So enjoy it while you can, because a man can only care about the quality of his work for so long before he takes the "Hasho" route:
Hi Eric,
I know the fight between the Mayweather father and son on 24/7 looked real, but I'm not buying it. It seems I'm in the great minority on that. But did you notice how often both guys turned toward the camera when they were hurling their insults? And more to the point, why should we believe anything Floyd Jr. does or says? This is a guy who acts like a d-head to every opponent in the build-up to the fight, then suddenly is Mr. Magnanimous after the fight ends. He even claimed his partying lifestyle is purely for image enhancement, to sell fights. If you're going to make that kind of a claim, everything you do has to be questioned. So I'm questioning this spat with his dad. It looked like scripted "reality" TV to me, like The Hills or Laguna Beach.
One more thing about Mayweather: I can't believe how little flak he's taken for using the word "f-ggot." Any guesses as to why he's getting a free pass on that one?
By the way, great call on Helenius looking like Karl Hungus from The Big Lebowski. I'd been trying to place that Scandinavian-meathead look he has, and you nailed it.
Great stuff, keep on rantin',
J-Dog
J-Dog,
I hope someone else came up with the nickname "J-Dog" for you, because there are few things in this world lamer than calling yourself "Dog."
For the reasons you give, I can't 100 percent rule out the possibility that the Mayweathers were acting. But I'm at about 99.8 percent. Yes, they were turning their bodies toward the cameras at the outset of the argument, but as it went on, they seemed to stop being conscious of the camera crew. It's hard to explain exactly why I don't think the verbal war between Big Floyd and Little Floyd was staged, but I'll invoke Supreme Court Justice Potter Stewart's famous line about pornography and say, "I know it when I see it." It just FELT real to me.
As for "Money" slipping in that sexual-orientation slur, you're right that it's barely been mentioned in the press, especially compared to the way Kobe Bryant became the lead topic on PTI for a week when he did the same thing. I have two theories as to why Mayweather isn't taking extreme heat: (1) A lot of people didn't hear it. I know I missed it the first time and only caught it on my second viewing. You didn't SEE him say the word—you only heard him from off-camera, and barely. (2) Mayweather has lowered the bar for the level of class people expect from him to the point that something like this gets shrugged off. If Manny Pacquiao had said that word, there would be a firestorm. Same with Derek Jeter or Tom Brady or Kevin Durant or anyone else who is perceived as a nice guy. But Mayweather has a history of behavior like this (if not a history of using that particular word), and to a certain extent, people tend to tune it out.
Thankfully, nobody tunes out the Rants, so let's get to 'em:
• Well, Episode Two of 24/7 Mayweather-Ortiz wasn't as memorable as the first, but there were two moments worth commenting on. First, in the long and storied history of people misusing the word "literally," Ortiz butchered it perhaps more spectacularly than anyone ever has when he explained, "If you're talking to me, you're literally talking to a tree, bro." And second, how eye-opening was it to learn that Mayweather bets on preseason NFL football? That, my friends, is what you call a gambling problem.
• On another Mayweather-Ortiz note, I'm curious to see, come fight night, who'll enter the ring first/last and be introduced first/last. Mayweather is the superstar, but Ortiz has the alphabet belt. If I had to guess, I'd say it's in the contract that Mayweather at least gets to enter the ring second.
• If I ever become a referee, it will be my goal to get work in Mississippi. I'm a big fan of their business-casual dress code.
• Apparently Andre Berto took to heart all that talk about him having no beard. I like the Bill Russell look on him. He's no better of a fighter than he was before, but at least he looks more bad-ass now.
• I guess there's no Slovenian version of the F-bomb, hence Jan Zaveck's use of the English version. What a bummer; I really want to learn at least one Slovenian curse word to have in my back pocket. I guess I'll have to look up "asinine" in a Slovenian-English dictionary.
• I have about eight or nine toes on the Gary Russell bandwagon now, and I must admit, I'm even entertained watching him duck punches. I normally don't pay too much attention to the CompuBox numbers, but landing 60 percent of your powerpunches is ridiculous, and holding your opponent to 16 percent landed on powerpunches is equally absurd. Could Russell be that next American-born superstar that so many skeptics believe doesn't exist? Possibly, although featherweight tends to lurk a little below the mainstream radar. One thing Russell needs if he's going to make it big is a real nickname. "Mr. Gary Russell Jr." ain't cutting it. Whoever came up with that creative brainstorm was definitely having a "Hasho" moment.
• As you've probably heard, HBO has ordered a pilot episode of Da Brick, a drama series loosely based on Mike Tyson's youth. Co-producer Doug Ellin described the series as "Entourage meets The Wire." So that either means I'll watch every episode and regret it, or want to watch every episode and never find time for it.
• How many people who don't follow boxing would have picked Marco Antonio Rubio to win his fight this past weekend after seeing this picture? http://fightnews.com/Boxing/rubio1.jpg
• Oscar De La Hoya was in the news just a little bit last week, wasn't he? A few thoughts on some of the things he said, did, and is rumored to have done: First, I really hate the phrasing of his claim, "I don't have the courage to take my own life." I get what he was trying to express, but "courage" was the wrong word. Second, I found his admission that the lingerie pictures were legit to be curiously timed. Doesn't he understand that juicy revelations are supposed to be saved for future autobiographies so you can at least profit off of them? And third, the New York Post reported that De La Hoya paid the woman who took those photos $20-million to keep quiet. What a shame. For that kind of money, he could have hired a real editorial staff for The Ring's website. (Zing!)
• As the world's leading critic of Omar Narvaez's protective matchmaking (I harp on it every year in my "State Of The Game" section in The Ring mag), I'm intrigued to see him stepping all the way up to face Nonito Donaire in October. This is the bantamweight equivalent of Sven Ottke coming to America to fight Roy Jones in 2002. It will not end well for Narvaez, but that's okay. Better to take a shot and fail than to be Sven Ottke.
• Look for a new episode of Ring Theory (http://ringtheory.podbean.com) this week, with previews and analysis of Vitali Klitschko-Tomasz Adamek, Yuriorkis Gamboa-Daniel Ponce De Leon, and of course, the whole Mayweather-Ortiz pay-per-view card. And Bill Dettloff and I both promise to keep the homophobic slurs to a minimum.
Eric Raskin can be contacted at RaskinBoxing@yahoo.com. You can follow him on Twitter @EricRaskin and listen to new episodes of his podcast, Ring Theory, at http://ringtheory.podbean.com.
Comment on this article
Skavynskyi and Bustillos Win on a MarvNation Card in Long Beach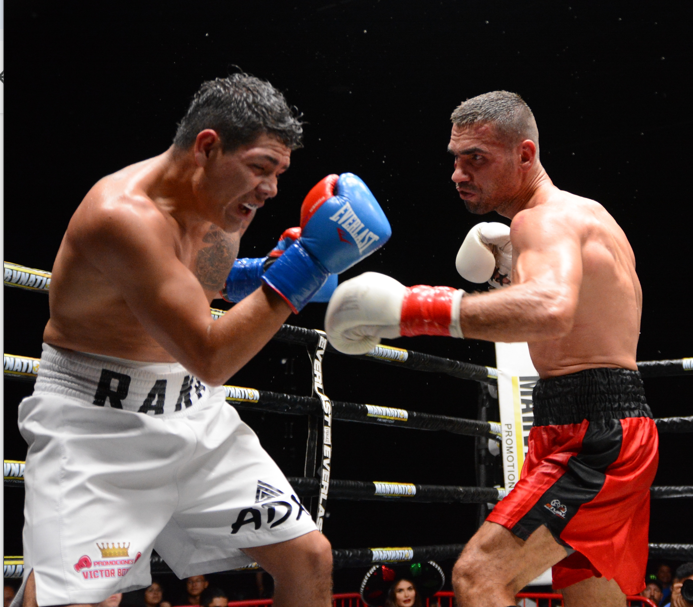 Skavynskyi and Bustillos Win on a MarvNation Card in Long Beach
LONG BEACH, Ca.-A cool autumn night saw welterweights and minimumweights share main events for a MarvNation fight card on Saturday.
Ukraine's Eduard Skavynskyi (15-0, 7 KOs) experienced a tangled mess against the awkward Alejandro Frias (14-10-2) but won by decision after eight rounds in a welterweight contest at the indoor furnace called the Thunder Studios.
It was hot in there for the more than 600 people inside.
Skavynskyi probably never fought someone like Mexico's Frias whose style was the opposite of the Ukrainian's fundamentally sound one-two style. But round after round the rough edges became more familiar.
Neither fighter was ever damaged but all three judges saw Skavynskyi the winner by unanimous decision 79-73 on all three cards. The Ukrainian fighter trains in Ventura.
Bustillo Wins Rematch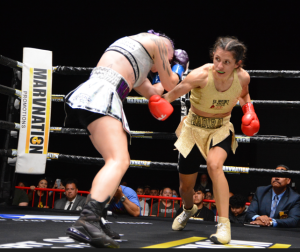 In the female main event Las Vegas' Yadira Bustillos (8-1) stepped into a rematch with Karen Lindenmuth (5-2) and immediately proved the lessons learned from their first encounter.
Bustillos connected solidly with an overhand right and staggered Lindenmuth but never came close to putting the pressure fighter down. Still, Bustillos kept turning the hard rushing Lindenmuth and snapping her head with overhand rights and check left hooks.
Lindenmuth usually overwhelms most opponents with a smothering attack that causes panic. But not against Bustillos who seemed quite comfortable all eight rounds in slipping blows and countering back.
After eight rounds all three judges scored the contest for Bustillos 78-74 and 80-72 twice. Body shots were especially effective for the Las Vegas fighter in the fifth round. Bustillos competes in the same division as IBF/WBO title-holder Yokasta Valle.
Other Bouts
In a middleweight clash, undefeated Victorville's Andrew Buchanan (3-0-1) used effective combination punching to defeat Mexico's Fredy Vargas (2-1-1) after six rounds. Two judges scored it 59-55 and a third 60-54 for Buchanan. No knockdowns were scored.
A super lightweight match saw Sergio Aldana win his pro debut by decision after four rounds versus Gerardo Fuentes (2-9-1).
Photos credit: Al Applerose
To comment on this story in the Fight Forum CLICK HERE
Tedious Fights and a Controversial Draw Smudge the Matchroom Boxing Card in Orlando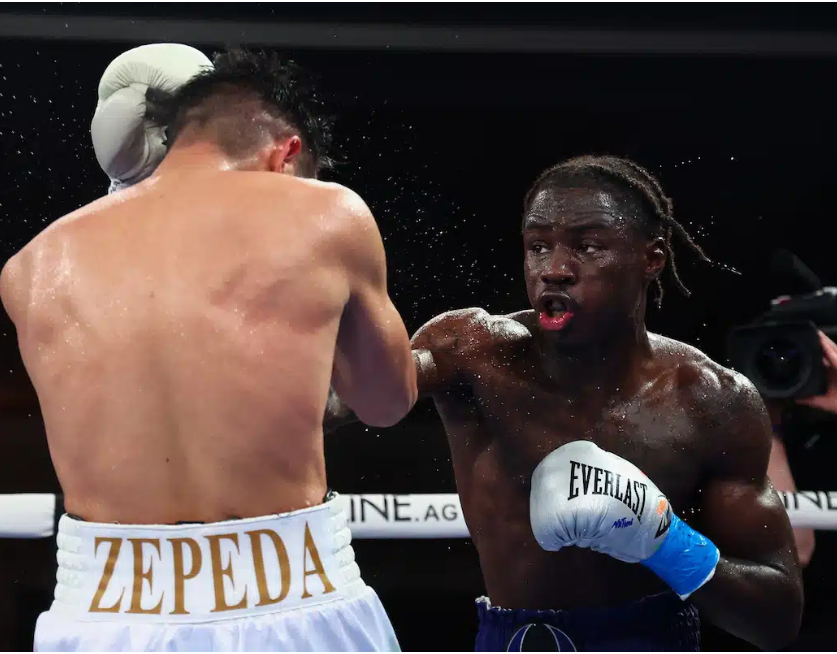 Matchroom Boxing was at the sprawling Royale Caribe Resort Hotel in Orlando, Florida tonight with a card that aired on DAZN. The main event was a ho-hum affair between super lightweights Richardson Hitchins and Jose Zepeda.
SoCal's Zepeda has been in some wars in the past, notably his savage tussle with Ivan Baranchyk, but tonight he brought little to the table and was outclassed by the lanky Hitchins who won all 12 rounds on two of the cards and 11 rounds on the other.  There were no knockdowns, but Zepeda suffered a cut on his forehead in round seven that was deemed to be the product of an accidental head butt and another clash in round ten forced a respite in the action although Hitchins suffered no apparent damage.
It was the sort of fight where each round was pretty much a carbon of the round preceding it. Brooklyn's Hitchins, who improved to 17-0 (7), was content to pepper Zepeda with his jab, and the 34-year-old SoCal southpaw, who brought a 37-3 record, was never able to penetrate his defense and land anything meaningful.
Hitchins signed with Floyd Mayweather Jr's promotional outfit coming out of the amateur ranks and his style is reminiscent in ways of his former mentor. Like Mayweather, he loses very few rounds. In his precious engagement, he pitched a shutout over previously undefeated John Bauza.
Co-Feature
In the co-feature, Conor Benn returned to the ring after an absence of 17 months and won a unanimous decision over Mexico's Rodolfo Orozco. It wasn't a bad showing by Benn who showed decent boxing skills, but more was expected of him after his name had been bandied about so often in the media. Two of the judges had it 99-91 and the other 96-94.
Benn (22-0, 14 KOs) was a late addition to the card although one suspects that promoter Eddie Hearn purposely kept him under wraps until the week of the fight so as not to deflect the spotlight from the other matches on his show. Benn lost a lucrative date with Chris Eubank Jr when he was suspended by the BBBofC when evidence of a banned substance was found in his system and it's understood that Hearn has designs on re-igniting the match-up with an eye on a date in December. For tonight's fight, Benn carried a career-high 153 ½ pounds. Mexico's Orozco, who was making his first appearance in a U.S. ring, declined to 32-4-3.
Other Bouts of Note
The welterweight title fight between WBA/WBC title-holder Jessica McCaskill (15-3-1) and WBO title-holder Sandy Ryan (6-1-1) ended in a draw and the ladies' retain their respective titles. Ryan worked the body effectively and the general feeling was that she got a raw deal, a sentiment shared by the crowd which booed the decision. There was a switch of favorites in the betting with the late money seemingly all on the Englishwoman who at age 30 was the younger boxer by nine years.
The judges had it 96-94 Ryan, 96-95, and a vilified 97-93 for Chicago's McCaskill.
In the opener of the main DAZN stream, Houston middleweight Austin "Ammo" Williams, 27, improved to 15-0 (10) with a 10-round unanimous decision over 39-year-old Toronto veteran Steve Rolls (22-3). All three judges had it 97-93. Rolls has been stopped only once, that by Gennady Golovkin.
Photo credit: Ed Mulholland / Matchroom Boxing
To comment on this story in the Fight Forum CLICK HERE
Zhilei Zhang KOs Joe Joyce; Calls Out Tyson Fury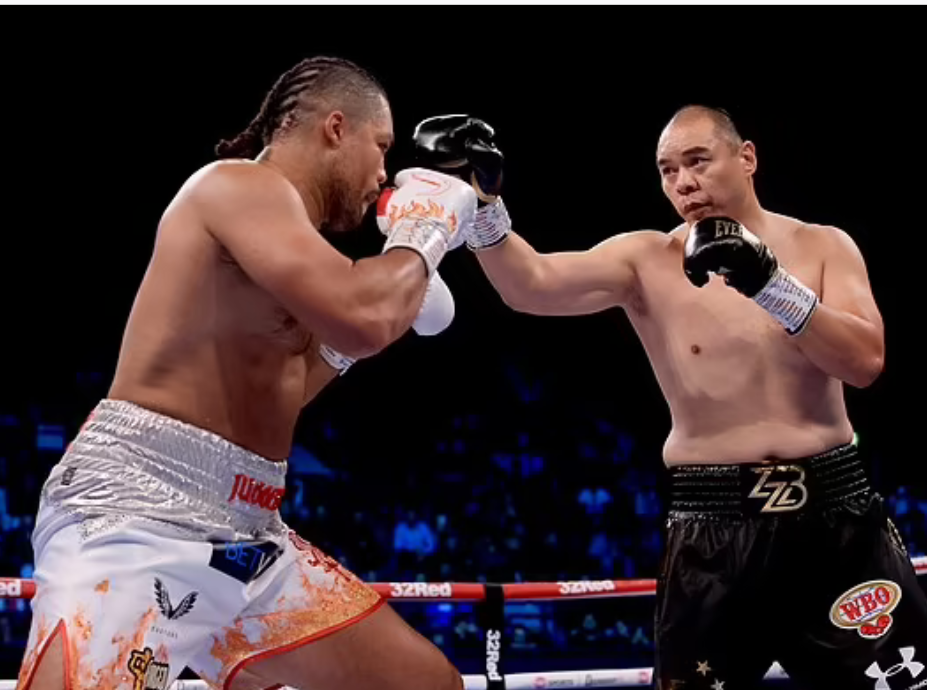 Joe Joyce activated his rematch clause after being stopped in the sixth frame by Zhilei Zhang in their first meeting. In hindsight, he may wish that he hadn't. Tonight at London's Wembley Stadium, Zhang stopped him again and far more conclusively than in their first encounter.
In the first meeting, Zhang, a southpaw, found a steady home for his stiff left jab. Targeting Joyce's right eye, he eventually damaged the optic to where the ring doctor wouldn't let Joyce continue. At the end, the fight was close on the cards and Joyce was confident that he would have pulled away if not for the issue with his eye.
In the rematch tonight, Zhang (26-1-1, 21 KOs) closed the curtain with his right hand. A thunderous right hook on the heels of a straight left pitched Joyce to the canvas where he landed face first. He appeared to beat the count by a whisker, but was seriously dazed and referee Steve Gray properly waived it off. The official time was 3:07 of round three.
Zhang, who lived up to his nickname, "Big Bang," was credited with landing 29 power punches compared with only six for Joyce (15-2) who came in 25 pounds heavier than in their first meeting while still looking properly conditioned. One would be inclined to say that age finally caught with the "Juggernaut" who turned 38 since their last encounter, but Zhang, 40, is actually the older man. In his post-fight interview in the ring, the New Jersey resident, a two-time Olympian for China, when asked who he wanted to fight next, turned to the audience and said, "Do you want to see me shut Tyson Fury up?"
He meant it as a rhetorical question.
Semi-Windup
Light heavyweight Anthony Yarde was matched soft against late sub Jorge Silva, a 40-year-old Portuguese journeyman, and barely broke a sweat while scoring a second-round stoppage. Yarde backed Silva against a corner post and put him on the deck with a short right hand. Silva's body language indicated that he had no interest in continuing and the referee accommodated him. The official time was 2:07 of round two.
A 30-year-old Londoner, Yarde (24-3, 23 KOs) was making his first start since being stopped in eight rounds by Artur Beterbiev in a bout that Yarde was winning on two of the scorecards. Silva, a late replacement for 19-3-1 Ricky Summers, falls to 22-9.
Also
Former leading super middleweight contender Zach Parker (23-1, 17 KOs) returned to the ring in a "shake-off-the-rust" fight against 40-year-old Frenchman Khalid Graidia and performed as expected. Graidia's corner pulled him out after seven one-sided rounds.
In his previous fight, Parker was matched against John Ryder who he was favored to beat. The carrot for the winner was a lucrative date with Canelo Alvarez. Unfortunately for Parker, he suffered a broken hand and was unable to continue after four frames. Tonight, he carried 174 pounds, a hint that he plans to compete as a light heavyweight going forward. Indeed, he has expressed an interest in fighting Anthony Yarde. Graidia declined to 10-13-4.
The Zhang-Joyce and Yarde-Silva fights were live-streamed in the U.S. on ESPN+.
To comment on this story in the Fight Forum CLICK HERE