Steward Out As Cotto's Trainer…WOODS
Manny Steward is out, and a man unknown to most boxing fans is in as Miguel Cotto's trainer.
Cotto released a letter alerting all to the switch, from Steward, who worked with him in his win against Yuri Foreman last summer and Ricardo Mayorga in March, to Pedro Luis Diaz Benitez, a Cuban teacher. Steward replaced ex nutritionist Joe Santiago, who worked with Cotto in the June 2009 Joshua Clottey fight, and the November 2009 Manny Pacquiao fight, after the Puerto Rican boxer had a nasty fallout with his uncle/trainer Evangelista Cotto before the Clottey clash.
Here is Cotto's statement:

Today I am very happy to announce that my trainer for my December 3rd fight [against Antonio Margarito] in New York will be legendary Cuban boxing trainer and expert Pedro Luis Díaz Benítez.  Pedro Luis is a Doctor in Pedagogical Sciences.  He holds a Master's degree in sports training and a Major in Physical Culture and Sports.  He is also specialized in boxing training's planning and control. He was a professor and investigator for the University of Sports in Cuba.  He has also worked with and trained several Olympic Gold Medalists and professional world champions.
I met Pedro Luis as an amateur several years ago and had the opportunity to share time with him in several international competitions.  I was instantly amazed as to the vast boxing's technique and conditioning knowledge that he transmitted to his fighters.  I feel that together with Phil, Pedro Luis is a perfect fit to bring my best potential for my next fight in December and lead me to victory!
I want to take this opportunity to express my wholehearted gratitude to Emanuel Steward, who I consider a friend and mentor.  Because of calendar conflicts and other matters, we were unable to work together for this next fight.  He is one of the best trainers I have ever met in boxing, and I will be forever appreciative for the two fights we worked together.  We have both kept the doors open to maybe join forces in the future if the circumstances and timing are adequate.
Now I will focus on my training camp!  I feel happy and thrilled as ever to commenced preparing for December.  I will be ready and will win the fight for all of you.
Cotto had said he was fine with Steward attending to Andy Lee, who fought Brian Vera on Saturday, but then changed his mind, and sought someone who would be available immediately.
Reviews of Two Atypical Boxing Books: A 'Thumbs Up' and a 'Thumbs Down'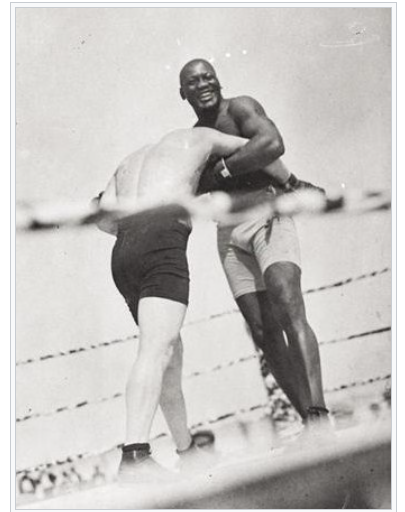 Reviews of Two Atypical Boxing Books: A 'Thumbs Up' and a 'Thumbs Down'
Jack Johnson sheared the world heavyweight title from Tommy Burns in 1908 and lost it to Jess Willard in 1915. Between these two poles he had nine ring engagements, none of which commanded much attention with one glaring exception. His 1910 fight in Reno with former title-holder James J. Jeffries stands as arguably the most sociologically significant sporting event in U.S. history.
Toby Smith, who wrote extensively about Johnny Tapia while working as a sports reporter for the Albuquerque Journal, exhumes one of these forgotten fights in his meticulously researched 2020 book "Crazy Fourth" (University of New Mexico Press), sub-titled "How Jack Johnson Kept His Heavyweight Title and Put Las Vegas, New Mexico on the Map." With 30 chapters spread across 172 pages of text and 10 pages of illustrations, it's an enjoyable read.
The July 4, 1912 fight wherein Jack Johnson defended his heavyweight title against Fireman Jim Flynn, was dreadful. For the nine rounds that it lasted, writes Smith, Johnson and Flynn resembled prize buffoons rather than prizefighters.
Johnson, who out-weighed Flynn by 20 pounds, toyed with the Fireman whenever the two weren't locked in a clinch. The foul-filled fight ended when a police captain decided that he had seen enough and bounded into the ring followed by a phalanx of his lieutenants. "Las Vegas 'Battle' Worst in History of American Ring" read the headline in the next day's Chicago Inter Ocean, an important newspaper.
The fight itself is of less interest to author Smith than the context. How odd that a world heavyweight title fight would be anchored in Las Vegas, New Mexico (roughly 700 miles from the other Las Vegas), a railroad town that in 1912 was home to about nine thousand people. The titles of two of the chapters, "Birth of a Debacle" (chapter 1) and "A Misbegotten Mess" (chapter 27) capture the gist.
Designed to boost the economy and give the city lasting prestige, the promotion was a colossal dud. Fewer than four thousand people attended the fight in an 18,000-seat makeshift wooden arena erected in the north end of town. The would-be grand spectacle was doomed when the Governor sought to have the fight banned by the legislature, giving the impression the fight would never come off, and it didn't help that Johnson and Flynn had fought once before, clashing five years earlier in San Francisco. Johnson dominated that encounter before knocking Flynn out in the eleventh round.
"Crazy Fourth" reminded this reporter of two other books.
"White Hopes and Other Tigers," by the great John Lardner, originally published by Lippincott in 1950, includes Lardner's wonderfully droll New Yorker essay on the 1923 fight between Jack Dempsey and Tommy Gibbons in Shelby, Montana, an ill-conceived promotion that virtually bankrupted the entire community. In the same vein, although more straightforward, is Bruce J. Evensen's "When Dempsey Fought Tunney: Hokum, Heroes, and Storytelling in the Jazz Age."
Johnson-Flynn II was suffused with hokum. Energetic press agent H.W. Lanigan cranked out dozens of puff pieces under multiple bylines for out-of-town papers in a futile attempt to build the event into a must-see attraction. His chief assistant Tommy Cannon, the ring announcer, had an interesting, if dubious, distinction. Cannon claimed to have copyrighted the term "squared circle."
I found one little error in the book. The Ed Smith that refereed the Johnson-Flynn rematch and the Ed Smith that refereed the famously brutal 1910 fight between Battling Nelson and Ad Wolgast, were two different guys.  (It pains me to note this, as I know another author who made the same mistake and I see him every morning when I look in the bathroom mirror.) But this is nitpicking. One doesn't have to be a serious student of boxing history to enjoy "Crazy Fourth."
Knock Out! The True Story of Emile Griffith by Reinhard Kleist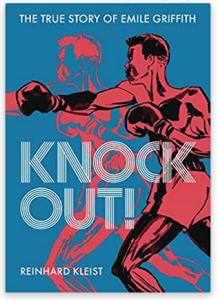 Let me digress before I even get started. Whenever I am in a library in the city where I reside, I wander over to the "GV" aisle and take a gander at the boxing offerings. If, perchance, there is a book there that I haven't yet read, I reflexively snatch it up and take it home.
When I got home and riffed through the pages of this particular book, I was surprised to find that it was a comic book of sorts, one that I would classify as a graphic non-fiction novel.
Emile Griffith, as is now common knowledge, was gay, or at least bisexual. Reinhard Kleist, a longtime resident of Berlin, Germany, was drawn to him because of this facet of his being. Kleist makes this plain in the introduction: "Despite [Berlin] being one of the most tolerant cities in the world, I have suffered homophobic insults and threats while walking hand in hand down the street with my boyfriend."
Born in the Virgin Islands, Emile Griffith came to New York City at age 17 and found work in the garment district as a shipping clerk for a company that manufactured women's hats. The factory's owner, Howard Albert, a former amateur boxer, saw something in Griffith that suggested to him that he had the makings of a top-notch boxer and he became his co-manager along with trainer Gil Glancy. Kleist informs us that in addition to being "one of the greatest boxers ever seen in the ring," Griffith was an incredible hat-designer.
Griffith, who died at age 75 in 2013, is best remembered for his rubber match with Benny Paret, a fight at Madison Square Garden that was nationally televised on ABC. Paret left the ring in a coma and died 10 days later without regaining consciousness. At the weigh-in, Paret, a Cuban, had insulted Griffith with the Spanish slur comparable to "faggot."
The fight – including its prelude and aftermath (Griffith suffered nightmares about it for the rest of his life) – is the focal point of several previous works about Emile Griffith; biographies, a prize-winning documentary, and even an opera that was recently performed at The Met, the crème de la crème of America's grand opera houses. The fatal fight factors large here too.
During a 17-year career that began in 1958, Emile Griffith went to post 112 times, answering the bell for 1122 rounds, and won titles in three weight classes: 147, 154, and 160. At one point, he had a 17-2 record in world title fights (at a time when there were only two relevant sanctioning bodies) before losing his last five to finish 17-7. No boxer in history boxed more rounds in true title fights.
Griffith, who finished his career with a record of 85-24-2 with 23 KOs and 1 no-contest, entered the International Boxing Hall of Fame with the inaugural class of 1990. There is absolutely no question that he belongs there, but to rank him among the greatest of all time is perhaps a bit of a stretch. Regardless, I take umbrage with the sub-title. The "true story" of Emile Griffith cannot be capsulated in a book with such a narrow scope. Moreover, it is misclassified; it ought not have been shelved with other boxing books but in some other section of the library as this is less a story about a prizefighter than about a man who is forced to wear a mask, so to speak, as he navigates his way through a thorny, heteronormative society.
Graphic novels are a growing segment of the publishing industry. The genre is not my cup of tea, but to each his own.
To comment on this story in the Fight Forum CLICK HERE
Bazinyan Overcomes Adversity; Skirts by Macias in Montreal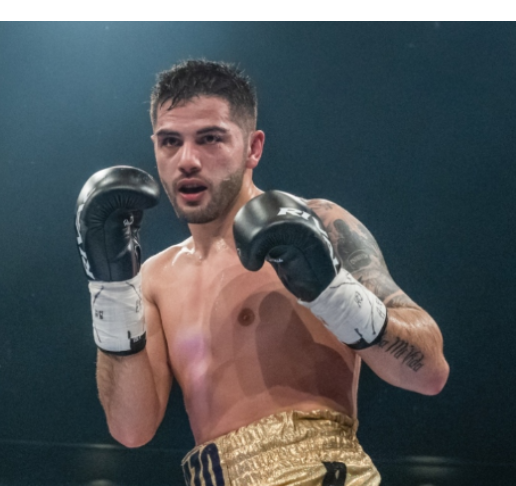 Camille Estephan, one of two prominent boxing promoters operating in Quebec, was back at his customary playpen tonight, The Montreal Casino, with an 8-bout card that aired in the U.S. on ESPN+. The featured bout pit Erik Bazinyan against Mexican globetrotter Jose de Jesus Macias in a super middleweight bout with two regional titles at stake. Bazinyan entered the contest undefeated (29-0, 21 KOs) and ranked #2 at 168 by the WBC, WBA, and WBO.
A member of the National Team of Armenia before moving with his parents to Quebec at age 16, Bazinyan figured to be too physical for Matias. He had launched his career as a light heavyweight whereas Matias had fought extensively as a welterweight. However, the battle-tested Macias (28-12-4) was no pushover. Indeed, he had the best round of the fight. It came in Round 7 when he hurt Bazinyan with a barrage of punches that left the Armenian on shaky legs. But Bazinyan weathered the storm and fought the spunky Macias on better-than-even terms in the homestretch to win a unanimous decision.
The judges were predisposed toward the "A side" and submitted cards of 98-92, 97-93, 97-93.
In his previous bout, Bazinyan was hard-pressed to turn away Alantez Fox. Tonight's performance confirmed the suspicion that he isn't as good as his record or his rating. He would be the underdog if matched against stablemate Christian Mbilli.
Co-Feature
In what stands as arguably the finest performance in his 14-year pro career, Calgary junior welterweight Steve Claggett dismantled Puerto Rico's Alberto Machado, a former world title-holder at 130 pounds. Claggett had Machado on the canvas twice before the referee waived the fight off at the 2:29 mark of round three, the stoppage coming moments after the white towel of surrender was tossed from Machado' corner. It was the sixth straight win inside the distance for the resurgent Claggett (35-7-2, 25 KOs) who was favored in the 3/1 range.
Claggett scored his first knockdown late in round two with a chopping left hook. The second knockdown came from a two-punch combo — a short right uppercut to the jaw that followed a hard left hook to the body. Machado, whose promoter of record is Miguel Cotto, falls to 23-4.
Claggett, who won an NABF belt, would welcome a fight with Rolly Romero. A more likely scenario finds him locking horns with undefeated Arnold Barboza, a Top Rank fighter.
Also…
Quebec southpaw Thomas Chabot remained undefeated with a harder-than expected and somewhat controversial 8-round split decision over 20-year-old Mexico City import Luis Bolanos. At the conclusion, Chabot, who improved to 9-0 (7), was more marked-up than his scrappy opponent who declined to 4-3-1. This was an entertaining fight between two high-volume punchers.
In a middleweight affair slated for six, Alexandre Gaumont improved to 8-0 (6 KOs) with a second round TKO over hapless Piotr Bis. The official time was 3:00.
A 37-year-old Pole making his North American debut, Bis (6-3-1) was on the canvas six times in all during the six minutes of action. There were two genuine knockdowns, the result of short uppercuts, two dubious knockdowns, a slip, and a push.
As an amateur, Gaumont reportedly knocked out half of his 24 opponents. This sloppy fight with Bis wasn't of the sort from which Gaumont can gain anything useful, but he is a bright prospect who bears watching.
To comment on this story in the Fight Forum CLICK HERE
Avila Perspective, Chap. 239: Fernando Vargas Jr. at the Pechanga Casino and More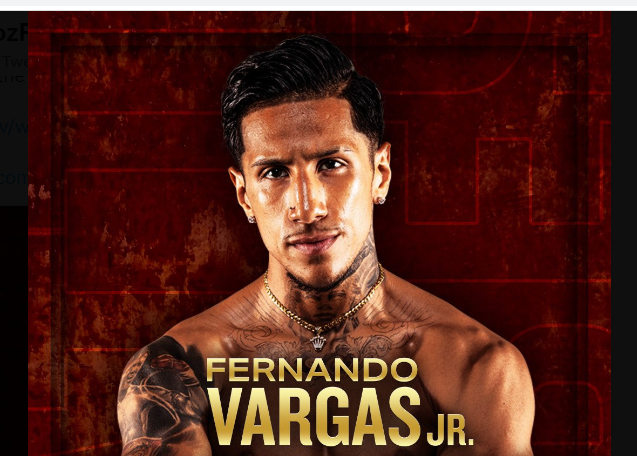 Once upon a time the name Ferocious Fernando Vargas stirred up the blood of many a Southern California boxing fan and others.
Based in Oxnard, California, the Ferocious One dared to be great and was fearless in charging forward like an Aztec warrior against all odds and opposition. Those who followed him expected it and though he only had 31 professional fights, each battle was dripping with drama.
Remember his battles with Ike Quartey, Winky Wright or Sugar Shane Mosley?
Even his losses were blazing unforgettable wars with Felix Trinidad, Oscar De La Hoya and Ricardo Mayorga.
Vargas no longer fights but he has three sons and they do the fighting for the Las Vegas-based family. It's Fernando Vargas 2.0.
The oldest son Fernando Vargas Jr. (8-0, 8 KOs) competes in a six-round super welterweight contest against Venezuela's Heber Rondon (20-4, 13 KOs) on Friday June 2, at Pechanga Resort and Casino in Temecula, Calif. The Marvnation Promotions card will also be shown on its YouTube.com site.
In the co-main event number one super flyweight contender Adelaida Ruiz fights Mexico's Maria Cecilia Roman in a 10-round affair. Ruiz is considered by many to be a guaranteed world champion by this year. Don't miss her.
A special presentation includes the appearance of two boxing greats Sugar Ray Leonard and Tommy "Hit Man" Hearns. During the 70s and 80s they both made history with incredible performances that made them both boxing immortals.
If you ever saw them during the 80s they were two of the primary fighters who raised the level of the sport with their willingness to fight each other. Leonard and Hearns fought each other twice. Leonard beat Roberto Duran two of three times. Marvin Hagler beat Hearns in what many consider one of the greatest three rounds of all time. Ironically, it was the first title fight I ever wrote about.
Doors open at 6 p.m. for tickets go to  www.pechenga.com or www.marvnation.com
Boxing Saturday in Detroit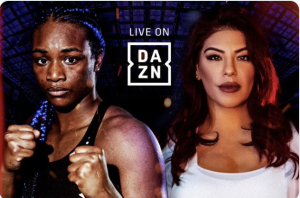 Female boxing's top pound-for-pound queen Claressa Shields (13-0, 2 KOs) faces Maricela Cornejo (16-5, 6 KOs) in defense of the middleweight world championship on Saturday, June 3, at Little Caesars Arena in Detroit, Michigan. DAZN will stream the Salita Promotions fight card beginning at 6 p.m. PST.
Until last week, Costa Rica's Hanna Gabriels was the scheduled foe, but VADA testing revealed illegal substances in her blood stream and she was forced out. After two days Cornejo was mutually agreed by both parties to be the replacement.
"I was getting ready for another fight on June 6. This wasn't a last-minute fight. I eat, drink, and love boxing. It's not a part-time job," said Cornejo about eagerly accepting the fight as a replacement for Gabriels.
The last time we saw Shields in the prize ring she was firing on all gears as she unleashed blazing-fast combinations on England's Savannah Marshall. Many had predicted Shields would be vanquished.
Many were wrong.
The two-time Olympic gold medalist and champion of three weight divisions has shown that size, power and will are not enough to dethrone her. Only a few made Shields blink and that came early on.
During the press conference, Mark Taffet, co-manager of Shields, hinted that she may be pursuing undisputed status in the super middleweight divisions and above. But first, her defense against Cornejo who did not hesitate in consenting to the challenge.
Only in the past four years has female boxing become a lucrative pro sport. Before fighters like Shields, Katie Taylor, and others, women were seldom paid more than $3,000 dollars for a world championship fight.
Shields helped spark the change and Cornejo will now finally meet her in the prize ring.
"Claressa has done so much for the sport of boxing. We're trying to do our part. She can't do it alone. We're all trying to make a difference," said Cornejo about accepting the fight on short notice. "She needs a dance partner and I'm ready to dance June 3."
Shields smiled, content that Cornejo helped salvage the fight card in Detroit, Michigan near her hometown of Flint. Shields personally bought 1,000 tickets for youngsters to attend the fight card on Saturday. Now it will be a true contender facing her.
"I want to say thank you for fighting me," said Shields to Cornejo. "I know you want to dance, but I came to fight."
To comment on this story in the Fight Forum CLICK HERE