Paris ringside at Pacquiao-Mosley. We're hopeful that she, like "A Woman Who Loves Boxing," knows that "one punch can end a fight and also the life of either young man in front of her."

By and large, there are two kinds of women at ringside. Those who are true fans of the ring, living and dying with each blow. And those who are true fans of the bling, eyes darting about, admiring the movie stars, professional athletes, high-stakes hustlers, and high-price escorts who generally populate ringside.
The universe has chosen to endow me with frequent ringside seats at world championship boxing matches. It's an unusual gift for a middle-aged, middle class, single working mom, who until recently only had a passive interest in the sport and no knowledge of its intricacies. I did not seek this, nor did I desire it. But I have tried to make the most of the experience.
I've asked knowledgeable people a lot of questions, read articles about boxing, studied fights on video-tape, and learned the life stories of fighters. I've tried to understand what actually goes on in the ring. I now know the difference between a boxer and a brawler, a contender and an opponent, a defender and an attacking fighter, and the all-encompassing importance of speed. I know how matches are scored and how, sometimes, the scoring does not accurately reflect what happened in the ring.  I can tell the difference between a good referee and a bad one, a fair judge and a poor one, and a trainer who is there for his boxer or there for himself. I am not now, nor will I ever be, an expert. But as long as I have the honor of sitting at ringside, I owe the gathering of this knowledge to myself and to boxing.
Many women who have the same opportunity to sit at ringside that I have are not versed in the intricacies of boxing. They are, however, engaged and emotionally present. It isn't the fight they've come for, but the fighter. I sometimes ask them what made them a boxing fan.  Their answers vary. They're dating, or once dated, a fighter. They work out in a boxing gym. They were raised by a boxing-fan father.  Some have just fallen into it, like me.
But "blingside women" have no real interest in the sport.  They come to please their boyfriend, their date for the evening, or their husband. They come to have an exciting Las Vegas casino experience.  They come as an excuse to buy a new dress.  There is nothing wrong with this as long as one is respectful to the young men in the ring who are providing the experience. Respect means more than shouting "HIT 'EM" over and over again.
Believe me, I know; it's a lot of the fun to people-watch. Between fights, I'm texting my girlfriends that I'm sitting behind Jay-Z and Beyonce, and that Jack Nicholson is one section over. I'm observing that a certain very-aged sports team owner just walked by with a girl drenched in fake diamonds who is too young to be his granddaughter. The furs and jewelry and designer cocktail dresses are an eye-catching adjunct to the gritty brutality inside the ring.
But once the bell rings, my eyes are fixed.  At ringside, if you're paying attention, you hear each blow.  A leather glove smacking into human flesh makes a distinctive sound unlike any other I have ever heard.  Some fighters moan with punches suffered; others are silent. Sweat and blood fly, sometimes snot.  It's a spectacle that I'll never get used to. But I've come to admire the years of deprivation, training, and hard work that go into every punch.  I also understand that, despite all the years of hard work, one punch can end a fight and also the life of either young man in front of me. For this reason if none other, they deserve my full attention.
I've learned to appreciate that boxers are, for the most part, unselfish people. They chose boxing as a way to survive in gang-infested neighborhoods, a way out of poverty, and to follow a great cultural tradition.  Those who are good enough and lucky enough to escape from their disadvantages through boxing can earn a good living and bask in the glow of admiration from their family and friends, their neighborhood, and sometimes their entire country.
In the best of all worlds, a woman who comes for Blingside leaves the arena as a boxing fan. But it saddens me to see the woman seated next to me, whether her diamonds are real or fake, talking on her cell phone or reading a book or looking into her cocktail during a fight.  I want to tell her, "You don't have to understand it or even admire it. But you are here and these young men are risking their lives. So cheer for them. In your female voice, he will hear his mother or his wife or his girlfriend, and it will give him the power to take or throw one more punch!" I would never say this, of course.  I just think it. And later, I might wonder if I thought it out loud.
For everyone lucky enough or rich enough or famous enough to have a seat at ringside, there are millions of people who would give just about anything to be there just once. I told myself in the beginning that I would enjoy the experience of being there for all the people around the world who would like to be but aren't.
What I did not know is that I would learn to love this brutal sport. I'm not ashamed to say that I too enjoy the bling. But once the bell rings, it's all about the ring . . . and not a diamond one.
Diego Magdaleno is Locked and Loaded for Saturday's Fray in San Antonio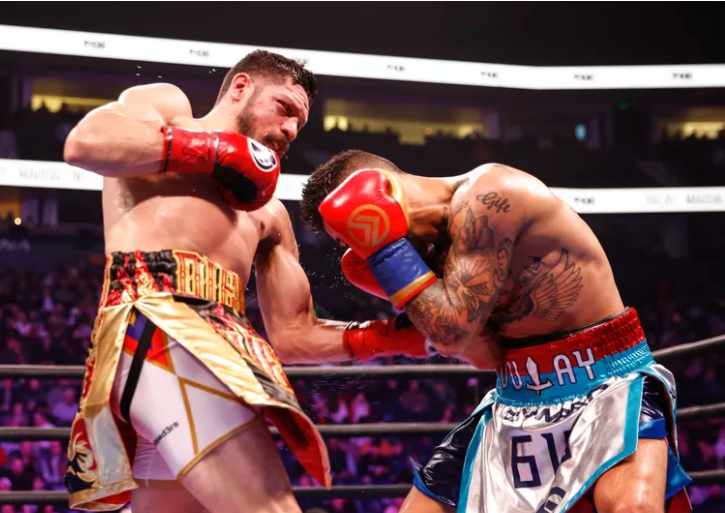 Diego Armando Magdaleno, the son of a former semi-pro soccer player, was named for Argentine soccer star Diego Armando Maradona. But Diego's father Jesus is hardly disappointed that his son devoted his energies to a different sport than soccer as Diego, the oldest of Jesus's three boys, has carved out a nice career as a boxer. On Saturday, he faces Isaac Cruz at the San Antonio Alamodome and a win could thrust him into a third crack at a world lightweight title. Magdaleno vs. Cruz will be televised as part of a SHOWTIME PPV event anchored by a battle between title-holders Gervonta "Tank" Davis and Leo Santa Cruz.
The bookies don't know what to do with the Magdaleno-Cruz matchup. One can find odds on fights of lesser importance, but with the fight only four days away the pricemakers were in quandary. Team Magdaleno, however, is approaching the fight as if they are the "B" side. Mexico City's Isaac Cruz, who boasts a 19-1-1 record and is undefeated in his last 15 starts, has a fan-friendly style and is only 22 years old. In theory, he has more value to the promoter going forward than Magdaleno (32-3, 13 KOs) who turns 34 this week.
Magdaleno relishes the underdog role. He was the "B" side in his most recent fight when he opposed Austin Dulay in Dulay's hometown of Nashville, Tennessee, and he carved out a clear-cut 10-round decision. Dulay, the younger man by nine years and less experienced at the pro level, was in over his head. Their fight was nationally televised on FOX.
Diego Magdaleno was born in Beverly Hills, California, but unlike many folks born there wasn't born with a silver spoon in his mouth. "We were more like the Beverly Hillbillies," says Diego, a reference to the popular sitcom that ran on CBS from 1962 to 1971.
For many years, Diego's father, an immigrant from Sahuayo in the Mexican state of Michoacan, worked at the flagship West LA branch of an iconic Greater Los Angeles hamburger chain. Diego's parents now manage a 7-11 in Las Vegas.
When Magdaleno first laced on the gloves it was at the Brooklyn Avenue boxing gym in the gritty Boyle Heights section of Los Angeles, the same gym where Oscar De La Hoya trained for the Olympic Trials. He continued with the sport after his family – he has three older sisters – moved to Las Vegas.
Diego influenced both of his younger brothers to become boxers. Jessie Magdaleno surpassed him in name recognition when he upset Nonito Nonaire in November of 2016, earning him the WBO world super bantamweight title. Jessie lost the belt in his second defense, succumbing to Isaac Dogboe, but has won three straight since that mishap, advancing his record to 28-1. The youngest Magdaleno brother, Marco, was 4-0 as a pro when he abandoned the sport, having secured a job with good pay and benefits in the construction field.
Diego has applied some of his ring earnings toward a real estate investment in Scipio, Utah, where he owns a parcel of land adjacent to a pioneer home. Scipio is a four-hour drive from Las Vegas and figuratively a million miles away. What does one do for fun in Scipio, pop. 288? The first thing that popped up in our internet search was to go grab a sandwich at the Burger Barn.
There's a back story there. The pioneer home, built in 1886, was recently purchased by Diego's fiancée Shannon Torres, a descendent of one of Scipio's founding families. She and Diego are restoring it. Diego professes to be amazed at the craftsmanship. "When we pulled up the carpets," he said, "the original hardwood floors were still in great condition."
Shannon Torres has a boxing background, having fought as an amateur and having sparred with the likes of Mia St. John. She is also a nutritionist. Diego confesses to having a sweet tooth, being fond of cheesecake and anything with peanut butter. "She knows how to make those things for me so they are not as unhealthy," he says.
Magdaleno's first loss came in April of 2013 when he lost a split decision to Ramon Martinez in Macao. Diego thought he won the fight, but only one of the judges concurred. At stake was Martinez's WBO 130-pound world title. His second world title opportunity came against WBO lightweight champ Terry Flanagan on Flanagan's turf in Manchester, England. That didn't go well.
"When I got in the ring, it felt like there was sand under my shoes," said Diego. "My right foot was sliding underneath me. I overcompensated and that caused me trouble." Magdaleno loaded up on his punches, a fatal mistake, and was knocked out in the second round.
Top Rank dropped Magdaleno after that fight but would eventually bring him back to fight their rising star Teofimo Lopez. His fight with Austin Dulay was his first fight back after his loss to Lopez (TKO by 7) and his first with new trainer Bones Adams (pictured on the left) in his corner.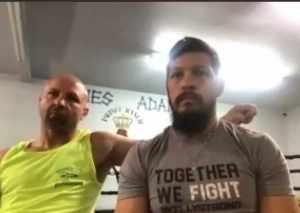 Isaac Cruz poses a different threat than Dulay partly because Cruz, who stands only 5'4 ½", is a lot shorter. But Magdaleno is confident the result will be the same.
"His style is attack, attack, attack; it's one-dimensional," says Diego. "I have been in there and done things that this kid has never seen. I am a big step up for him."
Unlike many prizefighters, Diego Magdaleno knows where he is heading after his career is finished; he is already a licensed real estate salesman with one listing to his credit. He's bi-lingual despite having spent only three months living in Mexico, that as a first-grader, and his linguistic versatility will come in handy in his second career. "I know just enough Spanish to get by," he says, but having heard him speak in his parents' native tongue we can attest that he's being much too modest.
For the time being, however, Diego isn't looking past Saturday night. Magdaleno vs. Cruz is expected to go first on the four-fight PPV portion of the card which kicks off at 9:00 p.m. ET/6:00 p.m. PT.
Magdaleno/Dulay photo credit: Stephanie Trapp
Check out more boxing news on video at the Boxing Channel 
To comment on this story in the Fight Forum CLICK HERE
Will Leo Santa Cruz's High Volume Punching Stymie Big Hitter 'Tank' Davis?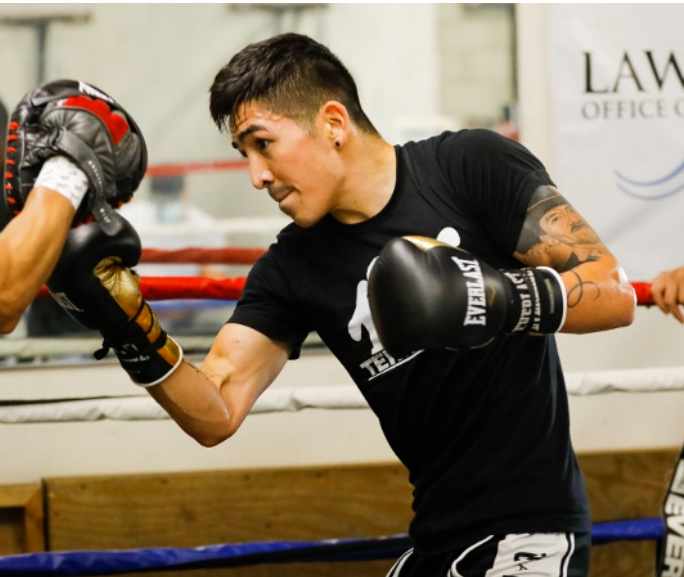 WBA "super" 130-pound champion Gervonta "Tank" Davis, short (5'5½"), short-armed (a 67½-inch reach) and powerful, has been described by some as a miniature Mike Tyson, which seems reasonable for an undefeated fighter who has won all but one of his 23 professional bouts inside the distance, more than a few of those knockouts of the spectacular variety. And if Davis' comparisons to "Iron Mike" weren't enough to stamp him as an emerging superstar, there is also the fact that he is a protégé of Floyd Mayweather Jr., the vainglorious owner of a 50-0 record and distinction as the richest prizefighter ever to lace up a pair of padded gloves. "Money" bills himself as TBE, "The Best Ever," and he goes so far as to suggest that the big-hitting southpaw from Baltimore for whom he has such high hopes might someday approach his status as a cash-cow and true icon of the ring.
"The ultimate goal is to get him to surpass me," the 43-year-old and ostensibly retired Mayweather said of the financial and fistic potential of Davis, who turns 26 on Nov. 7 and arguably is in the early stages of his prime. "I've been his age. Where he's trying to go to, and what he's trying to accomplish, I've already accomplished."
Although Davis has appeared on the undercard of two Pay-Per-View shows headlined by his famous and fabulously wealthy mentor, both he and Mayweather consider his watershed Halloween night confrontation with WBA "super" featherweight titlist Leo Santa Cruz (37-1-1, 19 KOs), in San Antonio's Alamodome, as Tank's real coming-out party. It is, after all, Davis' first time atop his own Showtime PPV event, perhaps the first of several such marquee appearances if the level of public interest in him continues to spike. Ascending to PPV status is a rite of passage both men consider to be a significant key to all the boxing kingdom has to offer, an exclusive club to which many aspire but only a chosen few are allowed to join. The tariff to boxing fans is a $74.95 subscription fee.
"I said, `Tank, you under Mayweather Promotions. So, it's May-Per-View," Mayweather told the kid who would be he during the first episode of Showtime's "All-Access," the infomercial whose purpose is to help convince pandemic-strapped fight fans to open their wallets.
"I'm grateful for what Floyd did for me, as far as opening doors," said Davis, who signed with Mayweather Promotions in 2015. "If it wasn't for Floyd, I wouldn't have been a champion at 22. He gave me a chance to fight on his Pay-Per-View card. Now I'm here, on my own Pay-Per-View."
To hear Mayweather and Davis tell it, it is Tank's singular, reputation-boosting turn in the spotlight, with Santa Cruz more or less along for the ride. The Vegas sports books seemingly are complicit in that perception, with Tank anywhere from a -$350 to a whopping -$710 favorite, odds which could fluctuate throughout the rest of the week as more and larger wagers are placed. Despite his being a four-division world champion, Santa Cruz, the 32-year-old, Mexican-born resident of Rosemead, Calif., whose current title is that of WBA "super" super feather ruler, also considers this particular bout to be historic as it is also his first PPV appearance. And, no, he isn't bothered by the long odds against him (which range from +260 to +475) or Davis' reputation as a compact instrument of pugilistic destruction.
"Nobody believes in me," he said, almost reveling in his rare role as an underdog. "They think I'm this other guy. But I asked for this fight for a reason 'cause I want to prove myself. I'm going to compete and give my all. I'm not scared.
"Gervonta Davis is a great fighter with great skills, great power. I think he's the most dangerous fighter in the division. Why not go after him? To prove to the people that I'm not scared of nobody."
Santa Cruz might not pack as much power as Davis, but his forte is high-volume punching. When he defeated Vusi Malinga via 12-round unanimous decision for the vacant IBF bantamweight strap on June 2, 2012, in Carson, Calif., CompuBox statistics revealed he had unfurled a remarkable 1,350 punches, an average of just under 113 per round. Nor were those numbers an aberration for the human perpetual motion machine; in his two confrontations with Abner Mares, both of which were won on points by Santa Cruz, the read-out showed Leo connecting on a combined 730 of 2,115. Many opponents scarcely have time to think, much less react, when Santa Cruz is firing shots with machine-gun rapidity. No wonder he dares to believe Davis will be similarly flustered.
"I think so," Santa Cruz said when asked if the quantity of his fusillade will more than offset Davis' superior quality in terms of power. "When you have a fighter on top of you, throwing punches, he's not letting you think; he's frustrating you. He's not letting you do nothing.
"If I do that, it could be dangerous 'cause he'll be waiting to counterpunch me, to land those big shots, the uppercuts and hooks. So, I got to do a very smart fight, a perfect fight, to beat him."
For TV purposes, the storyline outside the ropes sometimes is nearly as important in selling the product as what takes place inside them. In that regard Davis and Santa Cruz, so seemingly different in some regards, are strikingly similar in that they were children of poverty, hardly unusual for a sport where years of deprivation can stoke a burning desire to succeed. Santa Cruz's motivation might even be hiked a bit higher because of the ongoing medical circumstances of his trainer-father, Jose Santa Cruz Sr.
Jose Sr. could be the star of his own medical reality series, the most recent episode being his near-death brush with COVID-19. But the patriarch of a boxing family (brothers Jose Jr., Antonio and Roberto are also involved in Leo's career) had previously survived a bout with sepsis, a potentially life-threatening infection, and, in 2016, the diagnosis of Stage 3 myeloma, a blood cancer, that invaded his bones. The father had to undergo weeks of radiation and chemotherapy, and although he pulled through Leo cited concerns for his dad's health as a contributing factor in his sole pro defeat, in which he relinquished his WBA super featherweight title, by 12-round majority decision, to England's Carl Frampton on July 30, 2016. Santa Cruz avenged that setback, also by majority decision, six months later.
Jose Sr. continues to serve as Leo's trainer, but so many medical crises have been met and overcome by the father that the son has learned, as best he can, to cope.
And the COVID-19 which again could have brought Jose Sr. the eternal 10-count?
"When he went (into the hospital), they gave us little hope," Leo said of his dad's most recent downward plunge on an emotional roller-coaster on which the entire family has been obliged to have seats. "They said he was going to pass away, that he wasn't going to last the night. We were all depressed and crying. His lungs were failing, his heart was failing. He coded two times; he died and they brought him back to life.
"I had memories of when he used to go on the bus with me, pushing me in the gym, telling me what to do. All those memories were playing in my mind. I really didn't think he was going to make it. I thought they were going to call us and say, `Hey, your dad passed away.' But we prayed, we had hope. Thank God, the next day we were told our dad was still in critical condition, but he was doing a little bit better. Day by day he improved. God listened. He made a miracle. My dad survived. Even the doctors were saying that they didn't know how that happened."
As was the case with Santa Cruz, who recalls the occasions when the family's electricity was shut off because of unpaid bills, Davis' childhood also was hardly a real-life version of Leave It To Beaver. In 1999, while his father was in prison and his mom was battling drug addition, he was placed into child protective services at the age of five. For the next several years he shuttled between foster homes and shelters. But then, at seven, he found his way into the boxing gym run by Calvin Grove, who knew the pitfalls of life on the streets (he had served 10 years behind bars on drug offenses) as well as the need throw-away children such as Gervonta Davis had to finding someone and something to believe in. Ford, now 56, is so much more than Tank's trainer now; he also is his father-figure and inspiration not to become another faceless, nameless crime statistic.
"Boxing, I would say, saved my life," Davis said. "All the guys I came up with that were older than me, they got killed. If you got one foot in the street and one foot in the gym, it's not going to work. You got to be all the way committed with something.
"When I came to the gym, I felt the love that I needed as a child. Calvin basically raised me. What I been through and what I seen coming up, I knew I don't want to go backwards in life. I know what that brings."
In addition to Davis-Santa Cruz, the PPV portion of the undercard features the return, after a layoff of 13 months, of former WBA and WBC Diamond super lightweight champion Regis "Rougaroo" Prograis (24-1, 20 KOs), in a 10-rounder against Juan Heraldez (16-0-1, 10 KOs); the WBA junior welterweight title matchup of San Antonio's Mario Barrios (25-0, 16 KOs) vs. Ryan Karl (18-2, 12 KOs), and a lightweight scrap pitting Diego Magdaleno (32-3, 13 KOs) against Isaac Cruz Gonzalez (19-1-1, 14 KOs).
Photo credit: Esther Lin / Mayweather Promotions
Check out more boxing news on video at the Boxing Channel 
To comment on this story in the Fight Forum CLICK HERE
HITS and MISSES from Another Weekend on the Boxing Beat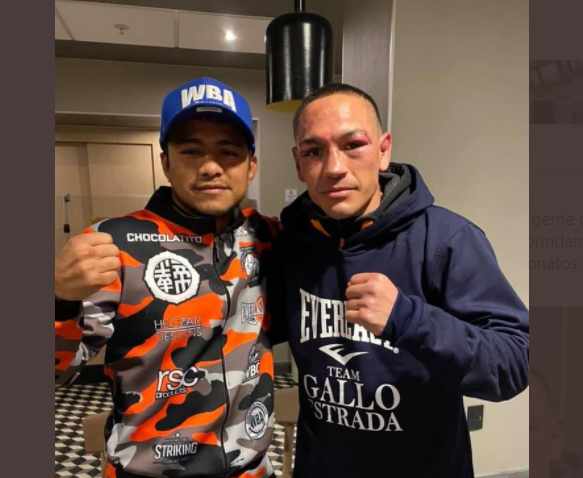 Unlike last weekend, there wasn't just one big fight card for everyone to watch. Instead, the boxing audience in the United States primarily had two separate fight cards to enjoy, one on Friday night from Mexico City featuring stalwart super flyweights, and another one on Saturday night from Mohegan Sun Casino in Connecticut featuring an important welterweight matchup between hopeful contenders.
Here are boxing's latest HITS and MISSES from this weekend.
HIT: The Super Super Flyweights
Two of boxing's best were on display when Juan Francisco Estrada stopped Carlos Cuadras in the 11th round of the main event in Mexico and Roman Gonzalez won a unanimous decision over Israel Gonzalez in the co-feature.
Both Estrada and Gonzalez are exceptional talents who have accomplished more during their impressive careers than most fighters could dream. The two rivals were thought to be on the way to an important rematch against each other a few years ago when Wisaksil Wangek, who fights under the name Srisaket Sor Rungvisai, burst onto the scene in 2017 to shockingly hand Gonzalez the first two losses of his Hall of Fame career as well as Estrada his first loss since Gonzalez defeated him by decision six years prior.
But Estrada has won five straight now, including his rematch against Sor Rungvisai last year, to set up one of the most scintillating fights in the super flyweight division in ages. Gonzalez is already considered by most to be an all-time great, and Estrada isn't far behind him. After both won their latest fights, it looks like a rematch between the two is finally going to happen.
MISS: Long Delays for Viewers Between Bouts
It boggles my mind how none of the various television networks and streaming platforms in the sport have figured out anything to do worthwhile when fights end sooner than their scheduled number of rounds. It happens so often in the sport that it would seem reasonable to suggest somebody would have come along by now with some kind of plan. Just a few years ago, it seemed swing bouts were still on the table. What happened to those?
On Friday night, if one tuned in to watch the main card tripleheader on DAZN, one was presented with over 45 minutes of waiting around for the next fight to happen after WBC flyweight champ Julio Cesar Martinez needed just two rounds to stop Moises Calleros.
The single most frustrating part of the equation, which has probably been mentioned in this column before, is that Dana White and the UFC pulls it off every single fight card. So, the template already exists, but boxing television partners, even on ESPN where both the UFC and Top Rank coexist, refuse to use it.
HIT: DAZN's Todd Grisham and Sergio Mora Impromptu Roadshow
Regardless, while I don't believe it's reasonable to hope for the beautiful accident that was Friday night on DAZN for every card, I could hardly be mad when DAZN's dead air was filled with the antics of Todd Grisham and Sergio Mora, who were calling the action on the night. Both are probably underrated at what they do.
Their sometimes jovial, sometimes hostile banter is fun. No, people don't tune in to hear these guys go back and forth with each other, but it was at least entertaining to hear their near-comedic and entirely impromptu routine, especially because it also surrounded the surreal experience of watching WBC president Mauricio Sulaiman make his in-ring television interview debut with boxing titleholders Mikey Garcia and Emanuel Navarrete.
Boxing is a strange culture. Sometimes even the bad parts of the sport can be good.
MISS: Lip Service from Everyone About Boxing's Biggest Issue
One of the biggest boxing stories of the weekend was when retired boxing champ Floyd Mayweather ranted against title belts. Indeed, one of the most difficult things to explain to any outsider about the sport is how boxing's complicated and somewhat absurd championship system works.
Of course, Mayweather is right about there being too many world champions in boxing. But the problem is that people who might actually be able to make those kinds of changes in the sport say things like that without actually doing anything about it. Heck, even WBO president Paco Valcarcel publicly stated that he agreed with Mayweather, even though that sanctioning organization now offers something called a WBO "Global" belt.
Mayweather, Valcarcel and others can't simply point their fingers about the issue in hopes of getting it fixed. Instead, both men (and others) who wield actual money, power and influence in the sport, would be better served by actually taking measures to change things.
Mayweather, as a promoter, could keep his fighters from the alphabet gang altogether. And Valcarcel? The shortest and easiest path for him to help, short of shutting the WBO down right now, is to stop offering so many titles.
HIT: Matchmaking for Showtime's Tripleheader
The matchmaker listed at BoxRec for Showtime's tripleheader was Tom Brown, and it really should be pointed out what a terrific job he did in putting last Saturday's card together. Of the three fights we saw on our televisions on Saturday night, all six fighters competing had a legitimate chance to win.
There were no gimmes on this card, and that's rarely the case.
In fact, all the so-called A-sides had rough nights. Undefeated junior lightweight prospect Malik Hawkins suffered the first loss of his career via stoppage to Puerto Rico's Subriel Matias. Rising 130-pounder Xavier Martinez almost did the same when he was knocked down twice in one round by Claudio Marrero before digging down deep to earn the decision. And the main event? Sergey Lipinets vs. Custio Clayton was such a hotly contested fight that it was scored a split-draw. So, Showtime's latest card was a breath of fresh air in a sport sometimes too obsessed with promoting future fights over present matters.
Check out more boxing news on video at the Boxing Channel 
To comment on this story in the Fight Forum CLICK HERE