Nonito Donaire Hits a Speed Bump…HAUSER
Drivers see them all the time. They're bumps in a roadway (typically painted yellow, three-to-four inches high, six-inches-or-so deep) designed to reduce the speed at which cars are driven. Think of Nonito Donaire as a finely-tuned Porsche with Bob Arum revving up the engine for a test drive toward super-stardom.
Donaire is charismatic in and out of the ring. The WBC-WBO 118-pound champion is on virtually every pound-for-pound list. His record is 27-and-1 with 18 knockouts (the loss came ten years ago in his second pro fight). In the age of Manny Pacquiao, it doesn't hurt that Nonito's nickname is The Filipino Flash.
On October 22nd against Omar Narvaez at Madison Square Garden, Donaire hit a speed bump. He didn't careen off the road, but it slowed him down a bit.
Donaire was born in the Philippines on November 16, 1982; the third of four children. "We were poor," he says. "We weren't starving, but lots of times we were hungry. If there was a chicken to split up, it was an occasion."
Nonito's parents emigrated to the United States when he was eight years old, bringing his younger brother with them. Nonito and two older siblings stayed behind with their grandparents.
"My grandfather called me 'midget' because I was tiny," Donaire remembers. "As a kid, you take that very seriously. I thought I was nothing. I was an extra mouth to feed; that's all. I grew up in the streets and got picked on a lot because I was so small. I'd fade away into corners and try not to be noticed. I tried to befriend everyone so I wouldn't have to fight. No one saw the fighter in me, including me."
When Nonito was ten, his parents brought him to America.
"I remember very vividly looking out the window of the plane right before it landed in San Francisco," he recalls. "It was night. I saw all the city lights and wondered, 'What is that?  Fireflies?"
The transition to life in America was hard. Nonito spoke Visayan; not a word of English. When he was eleven, his father put him in an after-school boxing program to keep him off the streets.
"I worked hard at it because I wanted my father to be proud of me," Nonito says. "I remember walking to the ring for my first fight. I was so scared, I pissed in my pants. I literally pissed in my pants. But the moment I got hit, I wasn't afraid anymore. That's what courage is; facing your fears and giving your all, no matter what. When I got hit, it was like another person took over my body. I had to defend myself and the courage came out. I scored three eight-counts and won the decision. After I won, my father smiled and gave me a hug. That was the first time in my life that I felt special."
Donaire has an exuberant personality and an enthusiasm for life. He loves to talk. His mind darts back and forth. He's easy to like.
He's also a gifted impersonator with innumerable accents and dozens of characters in his repertoire: Robert DeNiro in Taxi Driver ("You talkin' to me?") . . . Mel Gibson in Braveheart ("They may take our lives, but they'll never take our freedom!") . . . Bruce Lee in Enter the Dragon ("Boards don't hit back!") . . . He could do stand-up comedy and be a success.
But Donaire's most obvious gifts are as a fighter. He's blessed with great athleticism and explosive punching power. Make a single mistake against him, and your night can be over. He also has a good boxing mind that is currently being honed by trainer Robert Garcia.
"I pay attention to detail in everything I do," Nonito says. "A friend of mine drinks beer and always moves his glass in a circle. I've noticed that. When we sit down together, I know what he'll do. If I know what my opponent's habits are, everything in the ring becomes like a slow motion chess match to me."
Donaire has two signature victories to his credit. The first was a one-punch knockout over then-undefeated Vic Darchinyan in 2007.
"Against Darchinyan, I fought with anger because I felt that he had disrespected me," Nonito says. "When I knocked him down, I was hoping he'd get up so I could hit him again. After the fight, he said it was a lucky punch that knocked him out; but I don't believe in lucky punches. When I get hit, it's because my opponent did something right and I made a mistake. When I hit my opponent, it's because I did something right and he made a mistake."
Donaire's other signature win came against Fernando Montiel in February of this year. Again, one punch made the outcome a foregone conclusion. Montiel rose from a brutal knockdown but was unable to continue.
"The punch I knocked Montiel down with was the best punch I've ever thrown," Nonito says. "The respect I have for him, that he got up and wanted to keep fighting; it's hard to express the respect I felt."
Donaire is good, and the consensus is that he'll get better. "I'm always learning," he says. "And a lot of what I learned came from studying Bruce Lee. Watching him taught me that, every day, I can become better and go beyond what I already am; that there's always another lesson to learn; that I have to be dedicated and do things right to succeed in life."
"I love boxing," Nonito continues. "I love the beauty of boxing, the purity of boxing. I give my whole being to the sport. Being a great fighter isn't about belts. To me, greatness is the smile you leave on people's faces and in their hearts, the way you inspire them. I want to win belts; I want to make a lot of money. But I hope that, a long time from now, people smile when they think about me as a fighter and that I inspire them to want to be the best at whatever they choose to do in their life."
After Donaire knocked out Montiel, he was on the verge of stardom. Then Golden Boy tried to lure him away from Top Rank. Nonito was told by third parties with their own interests in mind that Top Rank (which had been building his career and still had him under contract) was keeping him under wraps to advance its own economic agenda with Manny Pacquiao. At one point, Donaire signed a contract with Golden Boy. That led to legal action and an ugly war of words.
"Facts are facts," Top Rank CEO Bob Arum declared. "He's not a pay per view fighter. Filipinos don't support him. When we put him on pay-per-view, we did no buys. When he fought Montiel, it was all Mexicans. He has not connected with the Filipinos. I don't think the Filipino people like him and that is largely because of his wife [who reportedly was advocating for Golden Boy]. She criticizes the way Jinkee [Pacquiao] dresses and she's all tarted up. Jinkee dresses like a lady."
That led to a self-righteous rebuttal from Golden Boy CEO Richard Schaefer, who raged, "Nonito Donaire and Rachel Donaire are first-class people. They really don't deserve this sort of vicious and uncalled for attacks from Bob Arum. Bob Arum may be angry that they left him, but such is life. There is no reason for these idiotic comments. Bob Arum's true colors came out, and they always will. That's just the kind of person that he is. If Bob Arum thought that he still had [a binding contract] with Nonito and he was making these comments, then wouldn't that make him an even bigger idiot? You just don't say these kinds of negative things. That's just a low-life who does that; and that's what Bob Arum really is."
A contract extension heals all wounds. The war was resolved when Donaire signed a contract that binds him to Top Rank for a minimum of four more years. Top Rank can further extend the contract if certain contingencies occur.
"It went out of control," Arum said after peace with the Donaire camp had been restored. "I should know with all my experience that it's self-defeating to carry on battles like this through the media. I apologized to Rachel, which is more than most politicians do when they say something wrong. I apologized sincerely and she accepted my apology. We're all on the same page now."
With the hostilities at an end, Arum began planning for the future. "You can't be a superstar if you have only a regional following," he noted. "You can have a regional base or an ethnic base. But to be a real superstar, which means that you generate a large number of pay-per-view buys whenever you fight, you have to have a much broader following."
Toward that end, Top Rank brought Donaire to New York for the east-coast media exposure that would accompany his fighting in The Big Apple.
"Our goal is to make him a superstar," Arum said during a pre-fight conference call. "We think that Nonito is such a great exciting fighter and such a pleasing personality that, as he rises in weight, he will become a major superstar in the sport."
"Donaire is telling us that he wants to go up in weight and fight the toughest guys out there," Top Rank director of public relations Lee Samuels added. "He wants to fight Mikey Garcia. He wants to fight Juanma and Yuriorkis Gamboa. I said to him, 'These guys are good and they fight back.' Nonito told me, 'No problem.'"
But first there was the matter of Donaire defending his belts against Omar Narvaez in The Theater at Madison Square Garden. The good news for boxing fans was that Narvaez was undefeated (35-0-2) and a "champion." The bad news was that the Argentinean was 36 years old, lacked power (19 knockouts in 37 fights), was moving up in weight, and had won his WBO 114-pound bauble in one of those contests for a vacant title.
Donaire said all the right things in the days leading up to the fight. "Narvaez is a tremendous fighter. He has a great heart. He knows how to win."
At the final pre-fight press conference, people were throwing around the names of Argentinean fighters like Carlos Monzon and Sergio Martinez. Perhaps the most relevant name from a promotional point of view was that of Carlos Baldomir, who came into Madison Square Garden as a prohibitive underdog against Zab Judah in 2006 and emerged with the WBC welterweight crown.
But the truth of the matter was that Donaire-Narvaez had been put together as a showcase for Nonito with Narvaez as a sacrificial lamb.
The Theater was close to sold out with 4,425 fans in attendance. The fight began with Narvaez fighting cautiously and Donaire biding his time, waiting for his opponent to make a mistake. The fight continued with Narvaez fighting cautiously and Donaire biding his time, waiting for his opponent to make a mistake. And the fight ended with Narvaez fighting cautiously and Donaire biding his time, waiting for his opponent to make a mistake.
In sum, it was like a twelve-round sparring session with few solid punches landed. Narvaez, a clever boxer, was there to survive and spent the entire night in a defensive shell. Each of the judges scored the bout 120-108 in Donaire's favor. This observer's scorecard read 118-110.
The encounter didn't do much to advance Nonito's ring career, but it didn't damage it much either. He was in the ring with a fighter who knew how to protect himself. And Donaire already has good highlight-reel footage from his earlier knockouts of Darchinyan and Montiel.
As for the future; Arum proclaims, "We fully intend to make Nonito a pay-per-view attraction. It's silly to guess how long that will take. It will come when it comes. And it's silly to compare Nonito with Manny Pacquiao. They're both Filipino, but Nonito has lived in the United States since he was ten years old. Every fighter is different. Top Rank will promote Nonito as his own person in his own way."
In other words; the issue isn't whether Donaire will be "the next Manny Pacquiao." Pacquiao (like Muhammad Ali, Sugar Ray Leonard, George Foreman, Mike Tyson, and Oscar De La Hoya) is a one-of-a-kind phenomenon. The issue is, "How big can Nonito become in his own right?"
We still don't know how fast and how far the car can go.
Thomas Hauser can be reached by email at thauser@rcn.com. His most recent book (Winks and Daggers: An Inside Look at Another Year in Boxing) was just published by the University of Arkansas Press.
He Said, He Said: Who is at Fault for the Collapse of the Fury-Usyk Fight?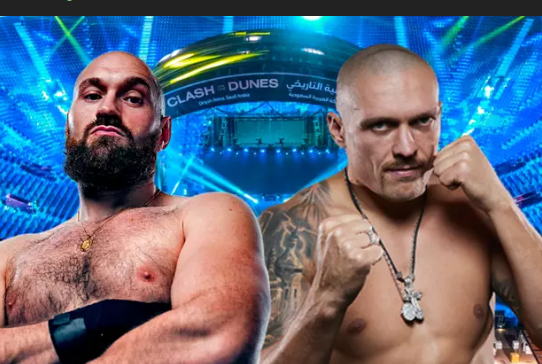 The last undisputed heavyweight champion was Lennox Lewis who held the WBA, WBC, and IBF belts after outpointing Evander Holyfield in their rematch at Las Vegas in November of 1999. (The WBO was around in those days, but didn't have their finger in the pot. The upstart organization, whose first "world heavyweight champion" was Francesco Damiani, had zero credibility among serious fight fans, many of whom still balked at ingesting the IBF.)
Lewis's reign as the undisputed champion lasted only five months. He was stripped of his WBA diadem after bypassing John Ruiz in favor of Michael Grant for his next fight. Ergo, twenty-three years have elapsed since boxing had an undisputed heavyweight champion and a Fury-Usyk fight would have produced the first fully unified heavyweight title-holder in the four-belt era.
There was talk that Tyson Fury and Oleksandr Usyk would meet on Dec. 17 of last year in Saudi Arabia on the day preceding the final game of the World Cup in neighboring Qatar. More recently, there was talk that they would meet at Wembley Stadium in London on April 29.
A week ago, representatives of Tyson Fury and Oleksandr Usyk appeared close to finalizing a deal, but negotiations hit a snag and, for the moment, the fight is dead.
Yesterday (March 27), Yahoo combat sports columnist Kevin Iole posted a story that was harshly critical of the Gypsy King. "The blame for this goes squarely on the broad shoulders of Fury," he wrote.
Iole noted that Team Usyk acquiesced to Fury's demand for 70 percent of the purse, notwithstanding the fact that the Ukrainian held three-fourths of the meaningful belts. Referencing Ali-Frazier I, the "Fight of the Century," Iole noted that this iconic event would have never happened if the larger-than-life Muhammad Ali had attempted to leverage his popularity with "grotesque financial demands." (The purse split was reportedly 50/50.)
Gareth Davies, the most well-known boxing scribe in the UK and something of a celebrity himself, had a somewhat different take. In a widely-circulated television interview, Davies noted that it was actually Team Usyk that pulled the plug. The sticking point, by all accounts, was the percentage splits to be built into a rematch clause.
Davies did not reproach Usyk for walking away from the negotiation table. His remarks were seemingly meant to shelter Fury, his British countryman, from the scathing rhetoric directed at him.
Assuming that the window for rekindling negotiations is shut tight, Oleksandr Usyk is expected to fight England's Daniel Dubois next. Dubois is first in line among Usyk's mandatory opponents. It has also been reported that deep-pocketed investors in the Middle East are interested in pitting Usyk against Deontay Wilder; a most delicious match-up indeed.
Former U.S. college cheerleader Joe Joyce is expected to be Tyson Fury's next opponent assuming that he gets by Zhilei Zhang on April 15. Joyce is a heavy favorite in the match at London's Copper Box arena. However, Matchroom promoter Eddie Hearn still holds out hope of luring Fury into a match with Anthony Joshua. By Hearn's reckoning, this is the biggest fight out there for the Gypsy King; bigger even than Fury-Usyk.
Anthony Joshua returns to the ring this Saturday at the O2 in London with U.S. import Jermaine Franklin in the opposite corner. It will be Joshua's first fight under the tutelage of new head trainer Derrick James.
In the meantime, boxing continues to shoot itself in the foot by failing to produce the fights that fans are most desirous of seeing.
To comment on this story in the Fight Forum CLICK HERE
Weekend Boxing Recap: Okolie in Manchester, Ramirez in Fresno and More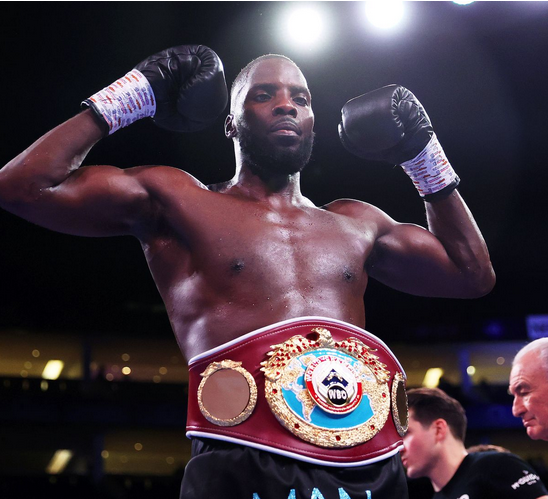 The media room at the MGM Grand in Las Vegas was as underpopulated as North Dakota this weekend. Only a handful of America's A-list boxing writers attended the Benavidez-Plant card. Prominent wordsmiths like Kevin Iole, Mike Coppinger, and Dan Rafael were nowhere to be found.
Inside the boxing arena, however, the joint was full. One guesses that the Grand Garden was configured to hold 13,865 as that was the announced attendance and there didn't appear to be an empty seat in the house. And the attendees arrived earlier than was the norm for a major Las Vegas fight card. The high rollers that arrive fashionably late (if there were any) were vastly out-numbered by true boxing fans, primarily Mexican-American on this particular occasion, who left the show in good spirits after Arizona-born David Benavidez, the self-styled Mexican Monster, manhandled brave but out-gunned Caleb Plant.
There were notable fights elsewhere on Saturday. Across the pond in Manchester, England, Lawrence Okolie, widely regarded as the sport's best cruiserweight, won a lopsided decision over Australia's David Light, advancing his record to 19-0 while successfully defending his WBO world title belt.
Okolie (pictured) was making his first start in 13 months. In the interim, he ditched his promoter Eddie Hearn in favor of Ben Shalom and ditched his trainer Shane McGuigan in favor of SugarHill Steward.
He and McGuigan appeared to be a great fit. With McGuigan in his corner, he was 7-0 with six wins inside the distance. His initial foray under Steward was a dull fight reminiscent of some of Okolie's early efforts. He had a point deducted for excessive clinching but it was a moot point as Okolie breezed, winning by scores of 119-108, 117-110, and 116-112. Light was 20-0 heading in, but was sorely outclassed.
By all accounts, the Okolie-McGuigan divorce was an amicable split. Okolie trained for this bout in Miami and McGuigan had too much on his plate to accompany Okolie to the Sunshine State.
Okolie appears headed toward a domestic showdown with fellow Londoner Richard Riakporhe who is also unbeaten (16-0, 12 KOs). Physically, these two late-bloomers, both of whom stand six-foot-five, are virtual clones. A bigger fight for him would be a match with IBF belt-holder Jai Opetaia, the lineal cruiserweight champion, who is still recovering from the two broken jaws he suffered while de-throning long-reigning 200-pound champion Maris Briedis in a fight that will live long in Australian boxing lore.
The Okolie-Light undercard was cheesy including a BBBofC super featherweight title fight between Michael Gomez Jr and Levi Giles, two fighters who built their records on the backs of professional losers. Gomez won a split decision. Also, 31-year-old heavyweight Frazer Clarke, a bronze medalist in the Tokyo Olympics, improved to 6-0 (5) at the expense of Romania's Bogdan Dinu, a late sub who performed about as expected, retiring on his stool after two rounds.
Fresno
The Benavidez-Plant card went head-to-head with a Top Rank show in Fresno featuring local fan favorite Jose Carlos Ramirez. It was the second fight back for Ramirez after losing a close decision to Josh Taylor with all four 140-pound belts on the line and his first fight in 13 months. In the opposite corner was former world lightweight titlist Richard Commey, a 36-year-old Ghanaian.
Ramirez came out like gangbusters and hurt Commey in the opening minute. But Commey survived the onslaught and came back to win some of the middle rounds. In round 11, Ramirez closed the show. After decking Commey with a right hand that didn't appear to be particularly hurtful, he delivered a vicious left hook to the liver and Commey was counted out while taking a knee.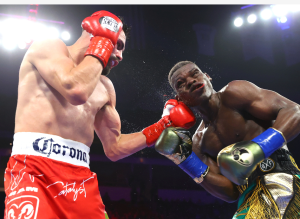 Ramirez improved to 28-1 with his 18th knockout. His promoter Bob Arum is expected to rekindle negotiations with Regis Prograis who won the vacant WBC 140-pound diadem in November with an 11th round stoppage of Jose Zepeda. Commey (30-5-1) has lost three of his last five.
In the co-feature, East LA's Seniesa Estrada picked up a second world title belt at 105 pounds with a lopsided decision over Germany's previously undefeated Tina Rupprecht.  Estrada (24-0, 9 KOs) won all 10 rounds on all three cards which was misleading as many of the rounds were close.
(The victory opens the door to a true unification fight with Costa Rica's Yokasta Valle who has won 15 straight since losing a decision to Rupprecht in Munich in 2018. Valle was also in action on Saturday night. At a beach resort hotel in Guanacaste, Valle successfully defended her titles with a wide decision over Mexican invader Jessica Basulto.)
In another bout of note on the Fresno card, SoCal lightweight Raymond Muratalla (17-0, 14 KOs) overcame adversity to score a ninth-round stoppage over Tijuana's Humberto Galindo (14-3-1).
Galindo caught Muratalla against the ropes in the opening round and put him down with a left-right combination. Muratalla returned the favor three rounds later and ended the contest in round nine with a series of punches which deposited Galindo on the deck where he stayed for the 10-count.
According to Jake Donovan, Top Rank plans to pit Muratalla against Namibia's Jeremiah Nakathila on the Lomachenko-Haney card tentatively scheduled for May 20 in Las Vegas. Nakathila upset Miguel Berchelt in his last outing, dominating the former super featherweight title-holder en route to a sixth-round stoppage.
Also
Two 10-round preliminaries preceded Saturday's SHOWTIME pay-per-view at the MGM Grand. Both contests played out in a similar fashion.
In a super bantamweight contest, Culiacan, Mexico's Kevin Gonzalez stayed unbeaten with a clear-cut unanimous decision over Colombia's Jose Sanmartin. The judges had it 99-91, 98-92, and 97-93.
Gonzalez, who advanced to 26-0-1, fought mostly in flurries but worked the body well and landed the cleaner punches. It was the U.S. debut for Sanmartin (34-7-1) who had been in with the likes of Emanuel Navarrete and Mauricio Lara.
In the lid-lifter, Orestes Valasquez, a 29-year-old Cuban defector who has been training in Las Vegas under Ismael Salas, stepped up in class and won a 10-round unanimous decision over Argentina's Marcelino Lopez. The judges had it 97-93 and 99-91 twice.
A 16-year pro, Lopez brought a 37-2-1 record. His signature win was a second-round blowout of former world title-holder Pablo Cesar Cano. Valasquez was extended the distance for the first time after opening his pro career with six wins by stoppage.
Ramirez-Commey photo credit: Mikey Williams / Top Rank via Getty Images
To comment on this story in the Fight Forum CLICK HERE
David Benavidez Starts Slow but Finishes Strong, Overcomes Caleb Plant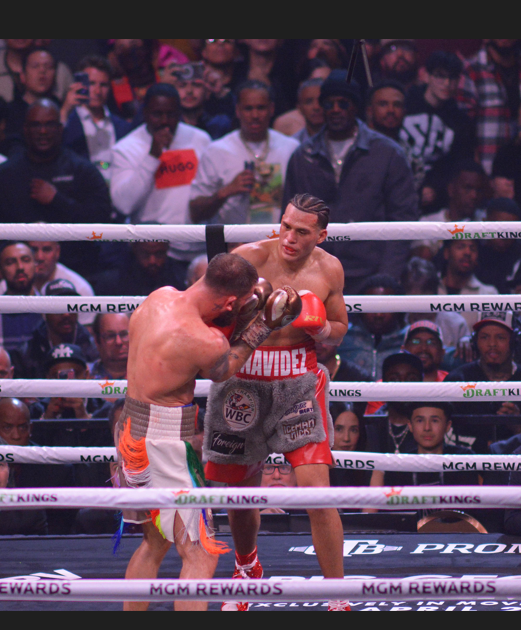 LAS VEGAS-David "The Mexican Monster" Benavidez proved too strong and simply overpowered Caleb Plant after a tight early half of the fight to win going away by unanimous decision in the super middleweight elimination fight on Saturday.
Plant would not quit.
"Caleb Plant is a tough fighter. He gave me everything in the first few rounds," said Benavidez who had predicted he would not go the distance.
Arizona's feared Benavidez (27-0, 23 KOs) was unable to stop Plant (22-2, 13 KOs) but battered his way to victory before a sold-out crowd at the MGM Garden Arena. Despite no knockdowns it was clear who was stronger.
Plant used his speed and footwork to maneuver in and out of danger in the match and gained control for the first four rounds. His hand speed and ability to clinch in tight quarters with the aid of referee Kenny Bayless gave the Las Vegas-based fighter an early advantage.
Things turned around when Plant clinched then smacked Benavidez who thought it would be a clean break. That seemed to spark Benavidez into berserker mode.
From the seventh round on Benavidez punched through clinches and would not allow Plant to take advantage. In the eighth round Benavidez powered through and Plant seemed staggered and hurt by the Arizona fighter's power. But he kept upright.
Benavidez took advantage of Plant's inability to maneuver as he did before and hammered the former champion who lost to Canelo Alvarez with triple left hooks and overhand rights. Plant would not go down and held on and absorbed the punishment.
The 10th round saw Benavidez dominate every second of the round. Plant tried fighting back but his punches lacked any power and Benavidez battered him from post to post, It was a round that could have been stopped or scored 10-8.
"I think I was catching him with a lot of power shots and that's why I'm called the Mexican Monster because I keep coming like a monster," said Benavidez.
Plant proved unwilling to quit despite cuts on his face and withstanding some hellish blows. The slender super middleweight refused to go down and somehow withstood the punishment.
It was remarkable bravery on his part.
When the final bell rang Plant tried valiantly to fight it out with Benavidez but just did not have the power to hurt the most feared man in the super middleweight division. Despite all the heated words during the promotion of the fight, the two warriors hugged and shook hands warmly. The animosity was gone.
"I know there was a lot said between us but in the end we settled this like men. He's a helluva fighter. I'm happy we gave the fans the best rivalry of the year or the last five years. I'm just very happy," said Benavidez.
Plant was equally benevolent.
"David's a hell of a fighter. We settled it like men in the ring," said Plant. "You roll the dice someone is going to get their hand raised. No excuse, David was the better man, he is a hell of a fighter."
Benavidez now is the number one ranked WBC super middleweight and a mandatory for Saul "Canelo" Alvarez who is undisputed world champion.
Other Bouts
Arizona's Jesus Ramos (20-0, 16 KOs) proved too strong for Michigan's strongman Joey Spencer (16-1, 10 KOs) and ended the fight by stoppage at the end of the seventh round in the super welterweight contest.
Ramos scored early with a left-hand knockdown in the first round and powered his way past Spencer in almost every round. Spencer was valiant throughout the match but just couldn't match Ramos speed or strength. Most of the fight took place in close.
"After the first round knockdown I kinda knew my power was too much," said Ramos.
Despite an early first round knockdown Chris Colbert (17-1, 6 KOs) won by unanimous decision in a lightweight fight over the more aggressive and busier Jose Valenzuela (12-2, 8 KOs) in a decision that left the fans very displeased.
"He lost for a reason," said Colbert as fans booed lustily.
A counter left cross floored Colbert in the first round and Valenzuela took control early with more punching to the body and head as Colbert covered up. It was a tactic he used often and was rewarded by the judges.
Valenzuela was not pleased at all.'
"I dominated," said Valenzuela.
All three judges scored it 95-94 for Colbert.
Welterweights
Canada's Cody Crowley (22-0, 9 KOs) imposed his will early against Arizona's Abel Ramos (27-6-2, 21 KOs) and held on for the victory by majority decision down the stretch in a brutal war for the right to fight for the WBC welterweight title.
A knockdown scored in the 11th round by Ramos by a counter right cross was reversed by the Nevada Commission after a replay of the blow revealed his glove did not touch the ground. That proved beneficial to Crowley in the scoring.
Crowley pressured Ramos throughout the first eight rounds then the fight changed and was fought at a distance as Ramos used pot shots to score heavily from that moment on.
Ramos rallied by staying in the middle of the ring and using the space to crack the always pressuring Crowley with long range shots. From the ninth round on the scoring got tighter with Crowley scoring rapid combinations and Ramos scoring with heavy shots.
After 12 rounds one judge saw it even 114-114, two others saw Crowley the winner 115-113, 116-112. Crowley now gets the shot at the WBC title held by Errol Spence Jr.
"This fight was something else," said a tearful Crowley whose father recently died. "If not for my dad I wouldn't be here today."
Photo credit: Al Applerose
To comment on this story in the Fight Forum CLICK HERE