Pacquiao and Marquez Bonded By Rivalry, PED Accusations
On the subject of performance enhancing drugs at least, Manny Pacquiao doesn't believe what goes around should come around.
Pacquiao is on the opposite side of the steroids debate this week but has found it no more comfortable to see his Saturday night opponent, Juan Manuel Marquez, being questioned about his possible use of PEDs than it was to be the subject of such accusations from Floyd Mayweather, Jr., the rapper 50 Cent and other members of Mayweather's entourage over the past two years.
There is no more evidence that Marquez has used PEDs to prepare for the final fight of their trilogy at the MGM Grand Garden Arena than there was that Pacquiao used artificial means to successfully jump from 106 pounds to his present 147 while retaining both his power and his speed but the issue was raised after it recently came to light that Marquez hired a strength and conditioning coach, Angel Hernandez, with a checkered past.
Hernandez was once known as Angel Heredia but apparently was never an angel with either sobriquet. A physical trainer by trade, Hernandez while still Heredia admitted to delivering illegal steroids to disgraced track coach Trevor Graham and to an involvement with BALCO, the now defunct supplements company run by Victor Conte that was in the middle of the steroid scandal that exposed baseball's decade-long home run explosion of the late 1990s as having been artificially fueled.
Marquez has packed on added and obvious muscle in order to compete with Pacquiao at 144 pounds because even at 38 years old his normal fighting weight remains what it has been for years, which is to say between 130 and 135 pounds. The added muscle, coupled with Hernandez's sudden appearance for the first time in the Marquez camp, naturally resulted in speculation that the two were chemically bonded.
When Pacquiao's trainer Freddie Roach was apprised of those charges this week after they were first leveled by, of all people, Conte, even though they were not directed at his fighter his normally affable demeanor quickly darkened. Certainly PEDs have begun to appear in boxing, as they have in all sports, and in fact several fighters based at Roach's gym in Hollywood have tested positive for them in recent years.
Yet Roach strenuously maintained this week both that muscle is overrated in boxing and that raising questions about fighters like Marquez and Pacquiao are unfounded and unfair.
"I'm so tired of that b——t,'' Roach said of the suggestion Marquez is a tainted warrior. "You work hard with a fighter. You make him get in shape and he's got to be doing something funny. I'm tired of it.
"We've had it done to us. I've certainly had it done to my gym (the Wild Card). I don't want to do it to them.''
Neither does bombastic promoter Bob Arum, who has vehemently defended Pacquiao's reluctance to agree to random blood testing right up to the fight to secure a match with Mayweather, pointing out that Pacquiao has never tested positive for anything in his 17-year boxing career and that a powerful fighter with vast box office appeal like Mayweather should not be determining what fighters are and are not tested for.
Oddly, this week he has found himself defending Pacquiao's opponent rather than Pacquiao himself of similar guilt by innuendo and association, a process that began after Conte first spied Hernandez in Marquez's camp during one episode of HBO's 24/7 pre-fight reality mini-series and went public with the suggestion the man who once fed steroids to disgraced Olympians Marion Jones and Tim Montgomery was now in the lightweight champion's corner as he prepared to fight a bigger man for the welterweight title.
"I think it would behoove all of the press to stop dealing in generalities,'' Arum said. "First of all, the way I run an operation, the fighter can hire anyone he wants as a trainer and a conditioner. For a period of time, people like Victor Conte and this guy Hernandez dealt in steroids with major athletes but that's old news in this sense: most of the intelligent people can see that when (Conte) was handling (Nonito) Donaire and this guy who is now with Márquez know that you can achieve all of the benefits that you used to achieve with steroids with natural supplements without any risk of illegality or without any dangers that steroids caused, like steroid rage and other long-term problems.
"If Conte and this guy (Hernandez) were dealing with steroids with anybody, to me, it makes no sense because they have been through the legal system in the U.S. – Conte was in jail and this guy apparently testified and got a suspended sentence and the last thing they would do is deal in illegal substances (again).
"You don't have to do that anymore. Wake up and see what these conditioners are saying. They are using natural and totally legal supplements and using state of the art conditioning methods not because of anything other than the fact there have been advancements in the legal methods (to prepare for optimum performance by an athlete). The steroid problem is fading into the past.''
Bob Arum will be 80 years old next month and is probably not the most knowledgeable spokesman for the passage of PEDs into the sporting past but the larger point is unless and until boxing adopts more stringent testing these kind of charges will continue to be made when a fighter moves up significantly in weight without an apparent loss of speed or power.
For the moment, at least, Roach continues to argue that whatever muscle Juan Manuel Marquez has added – regardless of who it got there – will be of no significant assistance Saturday night except, perhaps, to absorb more punishment.
"Muscle doesn't help you counterpunch (which has long been Marquez's forte) or help your speed,'' Roach insisted. "If he feels stronger and feels he wants to exchange with Manny that's good for us. I would have worked the other way.
"I know Marquez can hurt Manny. He's done it several times (in their first two fights). I like Marquez better as a counter puncher. That's a science of its own. I don't see muscle helping a counter puncher.''
If it does on Saturday night however you can bet someone will be suggesting it did.
Avila Perspective, Chap. 153: The Alvarez-Plant Rumpus, Adelaida and More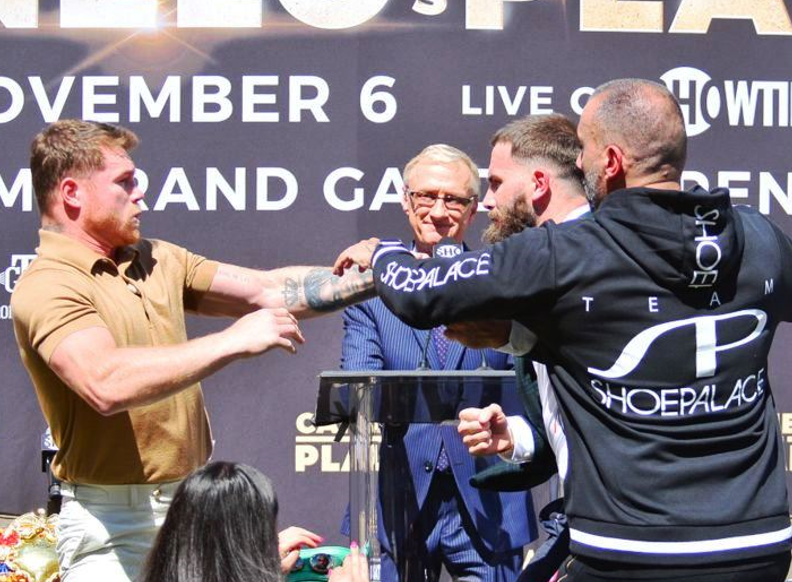 As rare as boxing press conferences occur at the Beverly Hilton Hotel, another odd chapter was added as Saul "Canelo" Alvarez and Caleb Plant traded blows on stage during introductions.
Must be some sort of negative electrical charges emanating on the plush hotel grounds.
It was at the same Beverly Hilton 20 years ago that Mike Tyson went ballistic during a press conference for Andrew Golota in 2000. It was also the place where Roy Jones Jr. kept the media waiting for more than three hours before appearing. Expect the unexpected at the corner of Wilshire and Santa Monica.
When it was announced that Canelo and Plant were kicking off their upcoming fight at the Beverly Hilton, I thought to myself: what kind of shenanigans could possibly happen?
Nah. It's just a weird vibe. But something did.
Alvarez usually refrains from any pseudo masquerades of bravado and machismo. He saves that for the actual fight when he destructs his foes blow by blow.
Plant, on the other hand, has a habit of trading the usual urban insults with whoever he's signed to face in the prize ring. This is his cup of tea. He did the same with Jose Uzcategui, Mike Lee and Caleb Truax.
Since the age of 14, Canelo has amassed 59 pro bouts. I'm sure he's heard all of the jive and taunts anyone could ever think of saying. Yet, somehow, whatever Plant said triggered a shove from Alvarez and the two exploded with a flurry of punches or blows before each camp's supporters jumped in between them to stop the two world champions.
Even Ryan Garcia and his brother Sean Garcia bolted toward the stage to assist their mentor Alvarez.
When asked why he shoved Plant, the Mexican redhead calmly replied that the tall super middleweight from Nashville, Tenn. mentioned his mother.
Then, "I do what I do," said Alvarez.
Plant was somewhat surprised by the Alvarez reaction and able to talk to the media despite suffering a small cut over his eye caused by a blow that ripped his sunglasses off his face. It also took some skin off of the face and drew blood. But he was calm.
"I didn't know what was going to happen," said Plant sitting with a small cadre of reporters. "I'm not more motivated than I already was."
Alvarez said this fight has added a personal dimension to it. That's never happened before said the four-division world champion.
"He can say whatever he wants to me. But he said m-f-r and he crossed the line," said Alvarez.
Alvarez and Plant meet on Nov. 6 at the MGM Grand for the undisputed super middleweight world championship. They are both going to do what they do.
MarvNation at So Cal
Women shall lead them to the front.
Two of the top women fighters in the Los Angeles area will be leading a boxing card on Saturday Sept. 25, at the Pico Rivera Sports Arena in Pico Rivera, Calif. It will be shown live on the MarvNation site on Youtube.com and also on Supreme Boxing's YouTube.com site. Doors open at 5p.m.
Adelaida "La Cobra" Ruiz (9-0-1) and her swinging style will be facing Mexico's Nancy Franco for the WBC Silver super flyweight title in the main event set for 10 rounds.
Also, Maricela "La Diva" Cornejo (13-5) faces Miranda Barber (2-2) in a six-round middleweight fight.
Both Cornejo and Ruiz are top contenders in their respective weight classes and are both in competitive fights when they enter the ring on Saturday.
The boxing lineup also features many young prospects from Brooklyn to Mexico ready to test their skills.
Big Man vs Little Man
Multi-belt heavyweight champion Anthony Joshua (24-1, 22 KOs) defends against former undisputed cruiserweight world champion Oleksandr Usyk (18-0, 13 KOs) on Saturday, Sept. 25. It will be streamed live by DAZN.
Usually when a cruiserweight ventures to the division of the big men it doesn't turn out very well. But Usyk has a little more to offer than a big punch. Aside from being a southpaw, the Ukrainian has the ability to adapt and create while on the move.
Joshua can also create. He was forced to change when Andy Ruiz took away the title via knockout two years ago and avenged the defeat by going on his toes. Will he again be forced to adapt despite a three-inch height advantage?
Fights to Watch
Thurs. FITE.TV 7 p.m. Donte Stubbs (6-2) vs Kevin Ottey (6-2-1); Lorraine Villalobos (4-3) vs Alexis Martinez (0-2).
Fri. Showtime 7 p.m. Jarico O'Quinn (14-0-1) vs Saul Sanchez (16-1).
Sat. DAZN 11 a.m. Anthony Joshua (24-1) vs Oleksandr Usyk (18-0); Lawrence Okolie (16-0) vs Dilan Prasovic (15-0); Callum Smith 27-1) vs Lenin Castillo (21-3-1).
Sat. MarvNation/YouTube.com 5 p.m. Adelaida Ruiz (9-0-1) vs Nancy Franco (19-14-2); Maricela Cornejo (13-5) vs Miranda Barber (2-2), Tenochtitlan Nava (8-2) vs Ivan Varela (5-3).
Photo credit: Al Applerose
Check out more boxing news on video at the Boxing Channel
To comment on this story in the Fight Forum CLICK HERE
A Cornucopia of Heavyweights: Joshua-Usyk in the Vanguard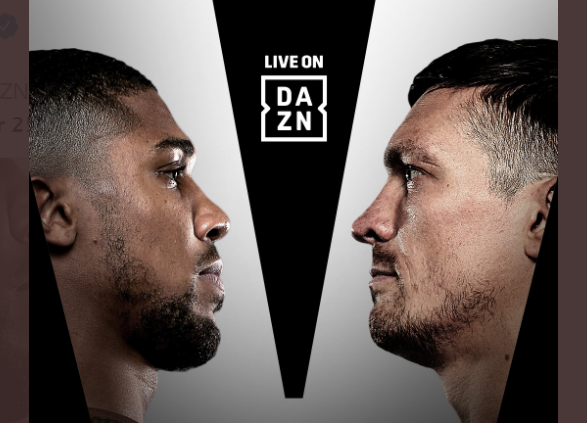 The eyes of the boxing world will be focused on North London this Saturday where WBA/IBF/WBO heavyweight champion Anthony "AJ" Joshua risks his belts against Oleksandr Usyk. The venue is new Tottenham Hotspur Stadium which seats 62,303 and there won't be an empty seat in the joint.
Both were gold medalists at the 2012 Olympic Games in London by virtue of out-pointing Italian veterans in their final match. Joshua (24-1, 22 KOs as a pro) won a razor-thin decision over Roberto Cammarelle. Usyk (18-0, 13 KOs) won a narrow decision over Clemente Russo, avenging a loss to Russo in the 2008 Games in Beijing.
AJ last fought on Dec. 12 of last year. He knocked out Kubrat Pulev in the ninth round before a pandemic-restricted crowd of 1,000 at Wembley Arena. Prior to that, he avenged his lone defeat with a wide 12-round decision over poorly-conditioned Andy Ruiz in Diriyah, Saudi Arabia.
Usyk's last fight was also a closed-door affair at Wembley. In October of last year, he out-pointed Dereck Chisora. It was Usyk's second fight as a heavyweight. Chisora out-weighed him by 38 pounds.
Usyk won a clear unanimous decision, but never seriously hurt his bigger opponent. "Physically he's not that strong," said Chisora after the fight. "I ate one of his best shots and it didn't bother me…He's a good mover, that's it."
All things being equal, goes an old saying, bigger beats smaller. AJ has slimmed down since his last outing but will still enjoy a substantial weight advantage. Moreover, although Usyk is a southpaw, it's worth noting that Joshua's most spectacular showing came against a lefty, namely Charles Martin who he whacked out in the second round.
At last glance, Anthony Joshua was a consensus minus-270 favorite. We have no interest in laying it.
Oleksandr Usyk is more than a good mover. In the footwork department, he's a bigger version of stablemate Vasiliy Lomachenko. His signature win was a near-shutout over Russian knockout-artist Murat Gassiev at Moscow in a match that on paper was a 50-50 proposition. Usyk's showing against the previously undefeated Gassiev was "a performance of jaw dropping brilliance" in the words of Matt McGrain.
Anthony Joshua, three years younger at age 31, will have the home-field advantage. But for whatever it's worth, the Ukrainian is undefeated on British soil: 8-0 as an amateur, 2-0 as a pro, and 1-0 in the semi-pro World Series of Boxing. Way back in 2013, Usyk flummoxed Joe Joyce in a 5-round contest at London's venerable York Hall.
Joshua vs. Usyk will air on Sky Sports PPV in the UK and will be live-streamed on DAZN to more than 170 countries around the world. First bell figures to go about 2:15 pm for viewers in the Pacific Time Zone
—
A strong undercard will augment the trilogy fight between Tyson Fury and Deontay Wilder at the T-Mobile Arena in Las Vegas on Oct. 9. Two heavyweight fights are especially intriguing.
Adam Kownacki (20-1, 15 KOs) meets Robert Helenius (30-3, 19 KOs) in a rematch. Neither has had an intervening fight since they locked horns at Barclays Center in Brooklyn in March of last year.
Kownacki, born in Poland but a resident of Brooklyn since the age of seven, was the house fighter at Barclays. This was his tenth appearance there and he had developed a strong local following.
After three rounds, Kownacki was well-positioned to keep his undefeated record intact. He was ahead on the scorecards and there was the presumption that Helenius, who was getting long in the tooth, would run out of gas as had happened in his previous fight in the U.S. when he was stopped in the eighth round by former Kownacki victim Gerald Washington. But in Round 4, Helenius, a Finn, lived up to his nickname "Nordic Nightmare."
A right-left combination put Kownacki on the canvas. The referee incorrectly ruled it a slip although he was clearly buzzed. When he got to his feet, Helenius dropped him again. Kownacki was up in a jiff but looked as if it would take only a stiff wind to knock him off his pins once again. The referee wisely waived it off.
Kownacki, who makes up for his doughboy-like physique and defensive limitations with a high workrate, has been training in Florida and expects to come in significantly lighter than he did for Helenius where he tipped the scales at 265 pounds. The six-foot-seven Helenius, now 37 years old, has been impersonating Tyson Fury at Deontay Wilder's camp in Alabama and figures to be in good shape.
The pricemakers think Adam Kownacki will avenge his lone defeat. At last look, he was a 14/5 favorite.
—
The 10-round "special attraction between Frank Sanchez and Efe Ajagba is that all-too-rare crossroads fight matching undefeated boxers at the same stage of their development. Sanchez, the 29-year-old Miami-based Cuban defector, is 18-0 with 13 KOs; Ajagba, the 27-year-old Houston-based Nigerian is 15-0 (12). And physically, they are about the same. At six-foot-six, Ajagba is two inches taller and will likely carry a few more pounds.
Ajagba entered the pro ranks with considerably more fanfare. His first pro trainer, Ronnie Shields, a man not given to hyperbole, compared him to the young George Foreman and proclaimed him a surefire world champion. (Ajagba is now with Kay Koroma who also trains hot heavyweight prospect Jared Anderson.)
Frank Sanchez was the more polished product coming out of the amateur ranks; he's considered a better boxer than Ajagba and is also capable of taking a man out with one punch. However, when this reporter saw the odds (the Cuban is currently favored by odds as high as 9/4), he did a double-take. Is this the right favorite? Or was the pricemaker swayed by the report that Sanchez was 214-6 as an amateur (BoxRec shows 43-12)?
Here's the caveat: I have seen and read a lot more about Ajagba than about Frank Sanchez. It would be arrogant of me to think that I know more than the fellow that formulated the opening odds.
What's tempting is to put a flyer on both underdogs, separate bets on Helenius and Ajagba. A split seems reasonable and that would translate into a small profit.
—
The latest heavyweight match to be announced pairs Otto Wallin against Dillian Whyte at the O2 Arena in London on Oct. 30. This too is a very intriguing fight.
A 30-year-old Swede who trains in New York under Joey Gamache, Otto Wallin is best known for giving Tyson Fury a tough tussle when they met two years ago at the T-Mobile Arena in Las Vegas. Wallin lost a unanimous decision but certainly had his moments and left the Gypsy King with quite a souvenir: a cut over his right eye that required 47 stitches. Wallin has fought twice since that event, stopping Travis Kauffman in the fifth frame and winning a unanimous decision over Dominic Breazeale, advancing his record to 22-1 (14).
Dillian Whyte (28-2, 19 KOs) needs no introduction. The Londoner by way of Jamaica has been a perennial top contender who presumably has pocketed a lot of dough these last few years in "step-aside" money.
Whyte opened a 5/2 favorite. We will have more to say about this fight as it draws closer to post time.
Check out more boxing news on video at the Boxing Channel
To comment on this story in the Fight Forum CLICK HERE
Tal Singh Aspires to Become the First Sikh to Win a World Boxing Title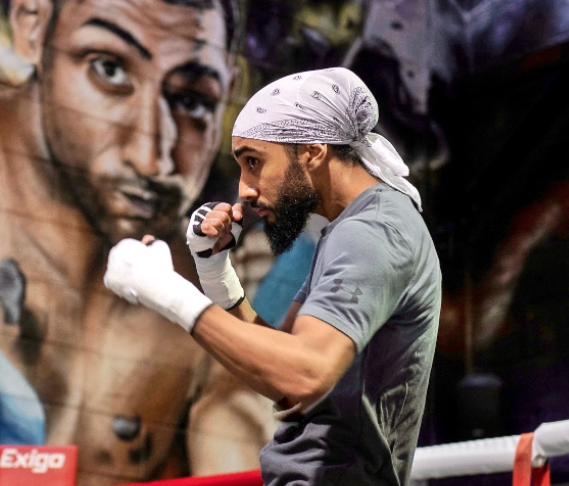 As boxing is a global sport, it should come as no surprise that if a man were to wander into a Las Vegas boxing gym he might find an Englishman there working up a sweat. But on a recent visit to Bones Adams gym, this reporter encountered an unusual specimen of English manhood. Tal Singh is a Sikh which makes him a one-of-a-kind in the British colony of professional boxers.
Singh had only 14 amateur fights, but in 2018, competing at 105 pounds, he became the first member of the Sikh community to win a British national amateur title. Now he aspires to be the first Sikh to win a professional title.
Singh was born and raised in Liverpool. His father is from the Punjab region of India. His mother is English by birth, but her ancestry is also Punjabi.
His dad had a succession of blue-collar jobs as Tal was growing up in the British port city. His mother was a schoolteacher and was his teacher in primary school. That undoubtedly helped him fit in with his classmates. According to a recent census, only 0.1 percent of the population of Liverpool is Sikh. Singh remembers that as a young boy, some thought that he was a girl because of his long hair which a Sikh tucks in a bun and folds under his turban.
Tal Singh was dispatched to Bones Adams' gym by his manager, Amir Khan. Bones and Amir Khan are well-acquainted. Khan put the finishing touches on his May 2016 bout with Canelo Alvarez here and Bones spent five weeks with Khan in England and Saudi Arabia leading into Khan's most recent fight against Billy Dib in Jeddah.
When the pandemic hit, notes Singh, 26, all the public gyms were closed. Singh reached out to Amir Khan about training in Khan's gym in Bolton, a former mill town in Greater Manchester. Khan is a devout Muslim but his ancestral roots are in that portion of Pakistan heavily populated by Sikhs and he is conversant in the Punjabi language.
Khan was amenable to letting Singh use his gym and was so impressed with his potential that he volunteered to manage him. "When that happened, I was over the moon," says Tal.
Amir Khan entered the pro ranks with great fanfare after winning a silver medal at age 17 in the 2004 Athens Olympics and went on to win two pieces of the 140-pound world title.  At age 34, his best days are behind him, but he remains a big star in Great Britain. Appearances on multiple reality shows have kept him in the public eye. His supposedly tempestuous relationship with his attractive Brooklyn-born wife Faryal Makhdoom was great fodder for the gossip columnists.
Khan has a full-time publicist and the well-spoken Singh, who appeared on the first season of Khan's newest reality show, "Meet the Khans," has been caught up in some of the hoopla. Several days after his arrival in Las Vegas, a Sky Sports camera crew turned up at Bones Adams gym.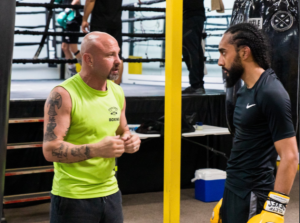 Tal Singh would have attracted news coverage without the Amir Khan connection; sports journalists are drawn to athletes with unusual backgrounds. But it's unlikely that he would have become a newsmaker in advance of his first professional fight.
He gets no favors by virtue of being the protégé of a famous sports personality. In Las Vegas, he leads a spartan life. He lives alone and has no car. He usually arrives at the gym before the official opening hour. It's a lonely existence leavened by the fact that he's met new friends. Super middleweight Shane Mosley Jr and Sean Brewer, a bantamweight from Austin, Texas, are other early birds at the gym, a place where there's camaraderie not unlike one would find in a military unit. Soon he will get to catch up with Malik Scott, one of his best buddies. Singh bonded with Scott during their days at David Haye's gym in London when Scott was brought in to serve as Haye's sparring partner for Haye's rematch with Tony Bellew. Scott now trains Deontay Wilder.
When Singh arrived in Las Vegas in late August, he got a rude welcome from the weatherman. "When I stepped outside the airport," he says, "it was like walking into a furnace. I literally had to go back inside and re-group."
It is cooler now in Las Vegas, and will be cooler still in Colorado Springs where Singh is headed next week for a visit with his manager Amir Khan who just recently turned up there to commence training for a match with countryman Kell Brook. The date and venue are up in the air (likely sometime around Dec. 1).
Khan vs. Brook is something of a poor man's Mayweather-Pacquiao, which is to say that it has marinated too long. But both, and especially Khan, have a high profile in the U.K. and the long-talked-about match is expected to be a British blockbuster. Tal Singh will make his pro debut on the undercard.
After a short stay in Colorado Springs, it's back to Las Vegas for Singh. For how long? "This will be my home base until I fulfill my dream of winning a world title," he says.
There's a saying on Tal's twitter platform that serves as his mantra: "If you want to look good in front of thousands, you have to out work thousands in front of nobody." No one knows how far Tal Singh will go in his adopted sport, but if sacrifice and discipline count for anything, then it wouldn't be smart to bet against him.
Check out more boxing news on video at the Boxing Channel
To comment on this story in the Fight Forum CLICK HERE