PREDICTION PAGE: Amir Khan-Lamont Peterson…NGUYEN
Amir Khan-Lamont Peterson – Khan weighed 139 pounds, while Peterson was 140 on Friday. Could the seasoned but heretofore unspectacular Peterson pull a massive upset in DC? Weigh in, in our Forum.
This Saturday night, Amir Khan will attempt to further cement his dominance at 140 pounds by taking on Lamont Peterson.  The matchup will be the first major bout in years for fight-starved Washington D.C. boxing fans.  With talented D.C. native Peterson trying to pull what would probably be the upset of the year against Khan, this has the makings for a potentially spirited affair.
Questions surround the fight.  Will Khan, who has unsuccessfully tried to woo other top 140-pounders like Timothy Bradley, try to make a statement against Peterson?  Will Peterson finally be able to live up to the now-diminished hype that once surrounded him as a future champion?  Answers should reveal themselves Saturday night, but a closer look at both fighters will paint a revealing picture of what's likely to go down.
Scouting Report for Lamont Peterson:
Lamont Peterson has been known by boxing insiders for the better part of a decade.  Peterson, along with his brother Anthony, survived a harrowing childhood which saw them homeless and alone in Washington D.C.  Trainer and father-figure Barry Hunter mentored both boys through boxing, saving them from being casualties of the harsh streets of D.C.  Both young men showed promise in their amateur careers that created the buzz that they could possibly be future champions in the sport.
Unfortunately for Lamont Peterson, the step from world-class fighter to world champion has proven troublesome.  Since being heralded as a future world champion as early as 2006, Peterson has plateaued in his progress as a fighter.  When he has stepped up his competition level, he has proven disappointing, dropping a lopsided decision to Timothy Bradley in 2009 and fighting to an uninspired draw with Victor Ortiz in 2010.
From a technical standpoint, Peterson's lack of progress has stemmed from an inability or, perhaps more accurately, unwillingness to fight outside of his comfort zone.  The ideal blueprint for Lamont Peterson is to fight at his own pace, boxing from range at a relaxed pace or choosing his spots infighting.  Fundamentally, Peterson has the skills to do both quite competently, provided he can decide things on his own terms.  His ideal opponent is one who will cooperate with this tempo of fight.
Against Bradley, and for extended portions of his fight with Ortiz, Peterson did not have a cooperative opponent in front of him.  Bradley's awkward and unpredictable attack short-circuited Peterson's rhythm.  While Peterson was able to fight back to good effect, the outcome was a wide-margin defeat, and the primary reason was that Bradley didn't allow Peterson to dictate the pace of the action.  In the Ortiz fight, Peterson experienced the same difficulties when Ortiz was willing to mount an offensive.  Only during the stretches when Ortiz was inactive was Peterson able establish his gameplan and set up his offense.
Peterson's career-best win was in his last fight against Victor Cayo.  For much of the fight, Peterson was able to run the table and decide the terms of combat, which allowed him to stop Cayo late in an impressive outing for Peterson.  The knockout of Cayo set up this title opportunity against Khan, but it didn't reveal a whole lot about Peterson.  It simply showed, once again, that if he can control the tempo, Peterson is a very good fighter.  Still, the mark of a championship-caliber fighter is to adapt to opponents and adjust when needed.  This has been a marked weakness thus far in Peterson's career.
Another one of Peterson's liabilities is his habit of going almost completely defensive in the face of an opponent's assault.  For a classic boxer, Peterson does not effectively utilize head movement to avoid punches.  His favorite method is to hold his hands high and wait out the attack, similar to Winky Wright, but less effective.  While Wright's high guard was as secure as Fort Knox, Peterson's cover-up defense can be penetrated with looping shots around his guard and split between with uppercuts that he has difficulty seeing.  Also, unlike Wright, Peterson rarely punches out of this stance, waiting instead for his opponent to back up and allow him to reset his offense.
Peterson's other habit is to use a Mayweather-esque shoulder roll to evade punches, twisting and turning his torso, rolling away from punches, and sometimes leaning to his right and firing a right hand of his own.  The problem, once again, is that Peterson does not utilize this technique as well as the man who perfected it.  While Mayweather can twist and turn to avoid shots, he can also simultaneously use his legs to get himself out of precarious positions when needed.  Peterson, though, keeps his feet fairly stationary.  If his opponent doesn't fall for Peterson's flashy smoke and mirrors, he can continue to press Peterson by stepping around and continuing to throw punches.  This puts Peterson off balance and allows his opponent to land effectively.  Both Timothy Bradley and Victor Ortiz used this to their advantage against Peterson.  The bottom line is that Peterson is not particularly hard to find, despite his reputation as a sound boxer.
In many ways, Lamont Peterson is like a classical pianist.  With his sheet music in front of him and all of the variables under his control, he can put on quite a performance.  However, if you take the same pianist and have him sit in with a jazz combo, the results are quite different.  Having to play off his bandmates, having to improvise, and having to adjust to unpredictable circumstances requires a different skill set than what a classical pianist possesses.
In order to defeat Amir Khan, Peterson will need to draw from a different skill set than what he's demonstrated against top-flight opponents so far in his career.  Whether he is capable of this is the question.
Scouting Report for Amir Khan:
Like Manny Pacquiao, Amir Khan's career will almost certainly be viewed in two parts:  the pre-Roach era and the post-Roach era.  The synergy that has resulted from Khan's pairing with the great Freddy Roach has been among the most dynamic in the sport.  Since enlisting the help of Roach following his devastating knockout loss to Breidis Prescott, Khan has elevated his game to new heights and is now leading the charge of boxing's next generation.
The still-improving Khan has absorbed knowledge like a sponge under the tutelage of Roach.  He now utilizes his imposing physical assets to their maximum while minimizing his deficiencies.  Khan is growing increasingly proficient at maintaining proper distance with a long, snappy jab and a searing straight right.  To his rangy size, Khan has added the assertiveness of greater physical strength, allowing him to push off his opponents to create distance or tie them up authoritatively when circumstances necessitate.  All this allows Khan to get his potent offense rolling while avoiding contact with his notoriously malleable chin.
Khan has also become a master of feinting, which causes his opponents to react and stunts their offensive efforts.  This was especially apparent in his last fight with Zab Judah, who was reacting to almost all of Khan's feints.
The way opponents now respond to Khan is not unlike the way opponents respond to Floyd Mayweather.  Both fighters use speed, accuracy, and cleverness to make their opponents extremely reluctant to open up their attack.  While Mayweather uses hair-trigger counterpunching, Khan uses his jab and deftly-timed feints to make his foes second-guess themselves.
Khan's defensive tactics may not be anything spectacular, but they are undoubtedly successful.  He's not Pernell Whitaker, but the truth is that he doesn't need to be.  By fighting tall, with hands held high, and at a proper distance, Khan avoids most of his opponent's punches with ease.  He is also keenly aware that he is not an infighter, so wrapping up his opponents in close also minimizes damage.  Khan is nothing if not honestly self-aware, so he knows how to stay away from his areas of liability.
This isn't to say that the Khan-Roach union has been completely smooth sailing.  Khan's 2010 war with Marcos Maidana almost derailed the entire express train.  After dropping Maidana in round one and dominating the early action, Khan was gradually worn down by Maidana's maniacal, relentless attack and found himself on the verge of being stopped late in the fight.  It's a credit to Khan's fortitude and conditioning that he didn't cave in down the stretch, but the Maidana fight showed that Khan is still beatable given the right style matchup.  Some view the close call with Maidana as Khan's crucible, a trial by fire that should erase doubts about his toughness or desire to be a fighter.  Others, though, still doubt whether Khan's dented jaw will ultimately disqualify him from true greatness.
Khan's performances since the Maidana fight have been supremely dominant if not electrifying.  In April, Khan dominated unheralded and outclassed propect Paul McCloskey.  In July, he pounded the faded Zab Judah.  Against Lamont Peterson, Khan faces the most formidable foe since Maidana, but also faces a stylistic matchup that appears favorable to the pride of Bolton, England.
The biggest intangible that plays in Khan's favor is his desire to be great.  His willingness to globe-trot with Freddy Roach, moving stateside from England, traveling to the Philippines to train with Manny Pacquiao, and having a humble, teachable attitude has been Khan's greatest asset.  He is willing to pay the price to make a run at greatness, which, among young fighters, is a trait that is slowing going the way of the dodo bird.  Some fighters dream of a big payday; some dream of being a world champion.  Amir Khan has his sights set on far bigger things.  Khan really believes that he is destined to become a legend.  When a fighter sets his sights that high, is willing to pay his dues, and has the physical gifts to do it, it's a tough combination to beat.
The Bottom Line:
It is hard to see Peterson summoning what it takes against Khan.  Peterson needs time to think and process to fight effectively, but he will have as much as his mind can handle dealing with what Khan will be throwing at him.  Expect to see a lot of jabbing and feinting from Khan, and a lot of watching and waiting from Peterson, who will wait patiently for openings to land, only to find himself reticent to commit to a significant  attack.  Peterson hasn't shown a knack for being able to force the type of physically draining war that Maidana used to great effect against Khan.  Also, Peterson's tendency to cuff and slap with his punches will make it difficult to put serious hurt on Khan.  Without a healthy fear of Peterson's power, Khan will use his jab and right hand to pile up points while staying out of harm's way, just to be safe.
Stylistically, this doesn't have the look of a barn burner.  It will be a matchup of two skilled boxers trying to outwit one another, but ultimately one boxer will prove far more skilled than the other.
The Result:
Amir Khan UD 12 Lamont Peterson, possibly by shutout.
Check out more boxing news on video at The Boxing Channel.
International Brotherhood of Prizefighters Rankings: Week of September 24, 2023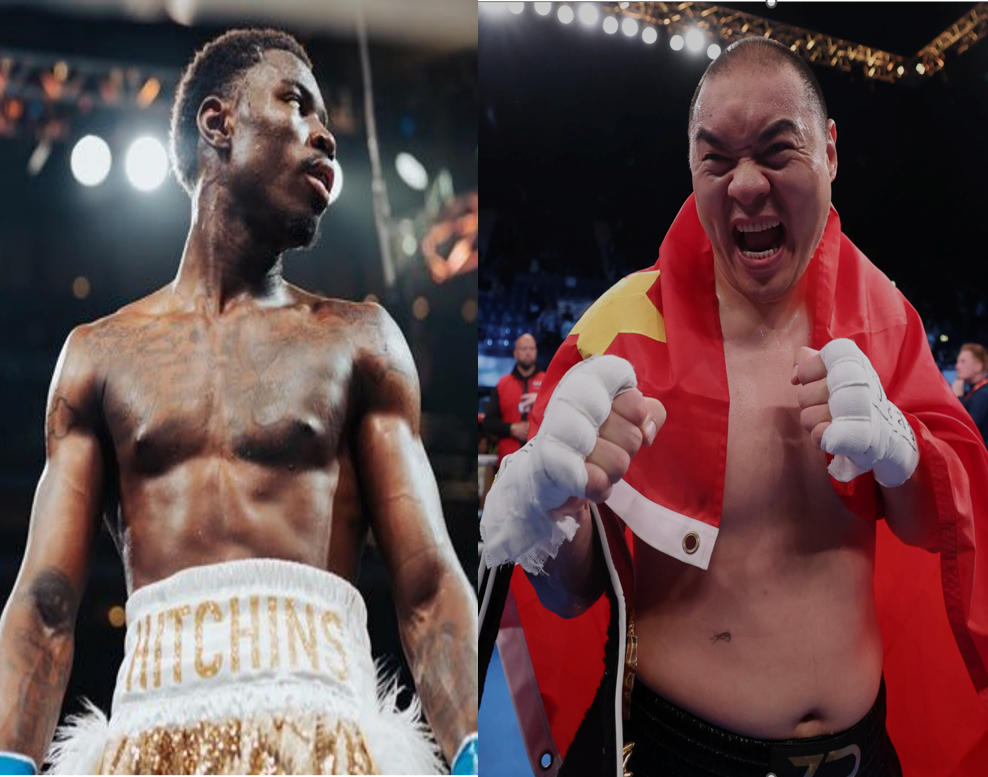 International Brotherhood of Prizefighters Rankings: Week of September 24, 2023

What's in a nickname, you ask?  Zhilei "Big Bang" Zhang exhibited shades of the legendary Brown Bomber, Joe Louis; the exception being he conducts business from the port side.  Zhang's 3rd round stoppage of Joe Joyce sees Joyce exiting the top 10 in the heavyweight division.  Also exiting due to inactivity is Andy Ruiz and Luis Ortiz, who last fought each other on September 4, 2022.  Gaining entries are Daniel Dubois, Dillian White and Derek Chisora, at 8, 9 and 10 respectively.
At 140, Richardson Hitchins earned his asterisk with a one sided decision over Jose Zepeda.  Hitchins enters the top 10 in the 7th slot, while Zepeda falls to 8th.  Zhankosh Turarov drops to 9th in the world and immediately underneath him, rounding out the top 10, is Elvis Rodriguez. Scotland's Josh Taylor gets bumped from the 10th slot.
At 108, World Champion Kenshiro Teraji defended his title with a stoppage of 4th ranked Hekkie Budler in round 9 of a scheduled 12.  Budler drops to 7th, see list for reshuffle.
*Please note that when the fighter's name appears with an asterisk it represents a movement in ranking from the previous week.
105lbs
♛ Vacant
1            Thammanoon Niyomtrong (Knockout CP Freshmart) (Thailand)
2            Panya Pradabsri (Petchmanee CP Freshmart) (Thailand)
3            Oscar Collazo (USA)
4            Ginjiro Shigeoka (Japan)
5            Daniel Valladares (Mexico)
6            Yudai Shigeoka (Japan)
7            Melvin Jerusalem (Philippines)
8            Masataka Taniguchi (Japan)
9            Rene Mark Cuarto (Philippines)
10          Yudai Shigeoka (Philippines)
108lbs
♛ Kenshiro Teraji (Japan)
1            Jonathan Gonzalez (Puerto Rico)
2            Masamichi Yabuki (Japan)
3            Sivenathi Nontshinga (South Africa)
4            Elwin Soto (Mexico)*
5            Regie Suganob (Philippines)*
6            Shokichi Iwata (Japan)*
7            Hekkie Budler (South Africa)*
8            Carlos Canizales (Venezuela)
9            Daniel Matellon (Panama)
10          Miel Fajardo (Philippines)
112lbs
♛ Vacant
1            Sunny Edwards (England)
2            Artem Dalakian (Ukraine)
3            Julio Cesar Martinez (Mexico)
4            Angel Ayala Lardizabal (Mexico)
5            David Jimenez (Costa Rica)
6            Jesse Rodriguez (USA)
7            Ricardo Sandoval (USA)
8            Felix Alvarado (Nicaragua)
9            Seigo Yuri Akui (Japan)
10          Taku Kuwahara (Japan)
115lbs
♛ Juan Francisco Estrada (Mexico)
1            Roman Gonzalez (Nicaragua)
2            Kazuto Ioka (Japan)
3            Fernando Martinez (Argentina)
4            Junto Nakatani (Japan)
5            Srisaket Sor Rungvisai (Thailand)
6            Kosei Tanaka (Japan)
7            Andrew Moloney (Australia)
8            Francisco Rodriguez Jr. (Mexico)
9            Pedro Guevara (Mexico)
10         Donnie Nietes (Philippines)
118lbs
♛ Vacant
1            Emmanuel Rodriguez (Puerto Rico)
2            Alexandro Santiago (Mexico)
3            Jason Moloney (Australia)
4            Vincent Astrolabio (Philippines)
5            Gary Antonio Russell (USA)
6            Takuma Inoue (Japan)
7            Nonito Donaire (Philippines)
8            Ryosuke Nishida (Japan)
9            Keita Kurihara (Japan)
10          Paul Butler (England)
122lbs
♛ Vacant
1            Naoya Inoue (Japan)
2            Marlon Tapales (Philippines)
3            Stephen Fulton (USA)
4            Luis Nery (Mexico)
5            Murodjon Akhmadaliev (Uzbekistan)
6            Sam Goodman (Australia)
7            Azat Hovhannisyan (Armenia)
8            Kevin Gonzalez (Mexico)
9            Ra'eese Aleem (USA)
10          Liam Davies (England)
126lbs
♛ Vacant
1            Luis Alberto Lopez (Mexico)
2            Leigh Wood (England)
3            Brandon Figueroa (USA)
4            Rey Vargas (Mexico)
5            Mauricio Lara (Mexico)
6            Robeisy Ramirez (Cuba)
7            Mark Magsayo (Philippines)
8            Josh Warrington (England)
9            Reiya Abe (Japan)
10          Otabek Kholmatov (Uzbekistan)
130lbs
♛ Vacant
1            Emanuel Navarrete (Mexico)
2            Joe Cordina (Wales)
3            Hector Garcia (Dominican Republic)
4            O'Shaquie Foster (USA)
5            Oscar Valdez (Mexico)
6            Shavkatdzhon Rakhimov (Tajikistan)
7            Otar Eranosyan (Georgia)
8            Lamont Roach (USA)
9            Eduardo Ramirez (Mexico)
10          Kenichi Ogawa (Japan)
135lbs
♛ Devin Haney (USA)
1            Gervonta Davis (USA)
2            Vasily Lomachenko (Ukraine)
3            Isaac Cruz (Mexico)
4            William Zepeda Segura (Mexico)
5            Frank Martin (USA)
6            Shakur Stevenson (USA)
7            Maxi Hughes (England)
8            George Kambosos Jr (Australia)
9            Keyshawn Davis (USA)
10          Raymond Muratalla (USA)
140lbs
♛ Teofimo Lopez (USA)
1            Regis Prograis (USA)
2            Jose Ramirez (USA)
3            Jack Catterall (England)*
4            Subriel Matias (Puerto Rico)*
5            Arnold Barboza Jr. (USA)*
6            Gary Antuanne Russell (USA)*
7            Richardson Hitchins (USA)*
8            Jose Zepeda (USA)*
9            Zhankosh Turarov (Kazakhstan*)
10          Elvis Rodriguez (Dominican Republic)*
147lbs
♛ Terence Crawford (USA)
1            Errol Spence (USA)
2            Jaron Ennis (USA)
3            David Avanesyan (Russia)
4            Cody Crowley (Canada)
5            Alexis Rocha (USA)
6            Rashidi Ellis (USA)
7            Souleymane Cissokho (Senegal)
8            Roiman Villa (Venezuela)
9            Egidijus Kavaliauskas (Lithuania)
10          Shakhram Giyasov (Uzbekistan)
154lbs
♛ Jermell Charlo (USA)
1            Tim Tszyu (Australia)
2            Brian Mendoza (USA)
3            Jesus Alejandro Ramos (USA)
4            Sebastian Fundora (USA)
5            Erickson Lubin (USA)
6            Michel Soro (Ivory Coast)
7            Magomed Kurbanov (Russia)
8            Tony Harrison (USA)
9            Israil Madrimov (Uzbekistan)
10          Bakhram Murtazaliev (Russia)
160lbs
♛ Vacant
1            Gennady Golovkin (Kazakhstan)
2            Carlos Adames (Dominican Republic)
3            Zhanibek Alimkhanuly (Kazakhstan)
4            Chris Eubank Jr. (England)
5            Liam Smith (England)
6            Sergiy Derevyanchenko (Ukraine)*
7            Vincenzo Gualtieri (Germany)
8            Felix Cash (England)
9            Michael Zerafa (Australia)
10          Esquiva Falcao (Brazil)
168lbs
♛ Canelo Alvarez (Mexico)
1            David Benavidez (USA)
2            Caleb Plant (USA)
3            Christian Mbilli (France)
4            David Morrell (Cuba)
5            John Ryder (England)
6            Pavel Silyagin (Russia)
7            Vladimir Shishkin (Russia)
8            Carlos Gongora (Ecuador)
9            Jaime Munguia (Mexico)
10          Demetrius Andrade (USA)
175lbs
♛ Artur Beterbiev (Canada)
1          Dmitry Bivol (Russia)
2          Joshua Buatsi (England)
3          Callum Smith (England)
4          Joe Smith Jr. (USA)
5          Gilberto Ramirez (Mexico)
6          Anthony Yarde (England)
7          Dan Azeez (England)
8          Ali Izmailov (Russia)
9          Michael Eifert (Germany)
10        Igor Mikhalkin (Germany)
200lbs
♛ Jai Opetaia (Australia)
1            Mairis Breidis (Latvia)
2            Chris Billam-Smith (England)
3            Richard Riakporhe (England)
4            Aleksei Papin (Russia)
5            Badou Jack (Sweden)
6            Arsen Goulamirian (France)
7            Lawrence Okolie (England)
8            Yuniel Dorticos (Cuba)
9            Mateusz Masternak (Poland)
10          Ilunga Makabu (So. Africa)
Unlimited
♛ Oleksandr Usyk (Ukraine)
1            Tyson Fury (England)
2            Zhilei Zhang (China)
3            Deontay Wilder (USA)
4            Anthony Joshua (England)
5            Filip Hrgovic (Croatia)
6            Arslanbek Makhmudov (Russia)*
7            Frank Sanchez (Cuba)*
8            Daniel Dubois (England)*
9            Dillian White (England)*
10          Derek Chisora (Zimbabwe)*
To comment on this story in the Fight Forum, CLICK HERE.
Canelo-Charlo Gets All the Ink, but Don't Overlook the Compelling Match-up of Gassiev-Wallin in Turkey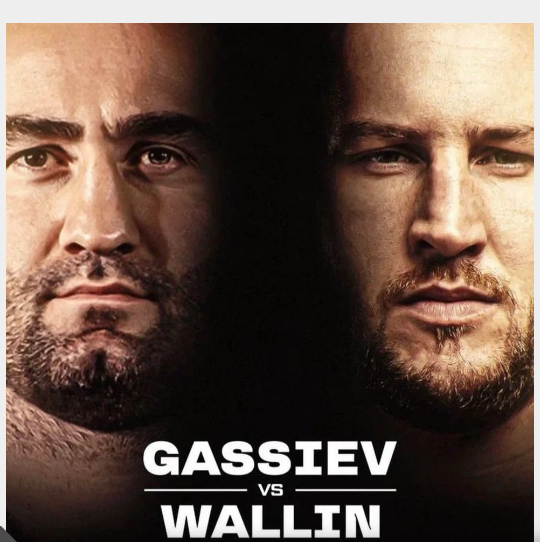 Canelo-Charlo Gets All the Ink, but Don't Overlook the Compelling Match-up of Gassiev-Wallin in Turkey
The eyes of the boxing world will be on Las Vegas this Saturday where Mexican superstar Saul "Canelo" Alvarez risks his four super middleweight title belts against unified 154-pound champion Jermell Charlo. Earlier that day at a luxury resort hotel in the city of Antalya on the Mediterranean coast of Turkey, there's a heavyweight match sitting under the radar that may prove to be the better fight. It's an intriguing match-up between former world cruiserweight title-holder Murat Gassiev and Swedish southpaw Otto Wallin, a bout with significant ramifications for boxing's glamour division.
Gassiev (30-1, 23 KOs) and Wallin (25-1, 14 KOs) have only one loss, but those setbacks came against the top dogs in the division. Gassiev was out-boxed by Oleksandr Usyk back in the days when both were cruiserweights. Wallin gave Tyson Fury a world of trouble before losing a unanimous decision.
Since those fights, both have been treading water.
Gassiev
Gassiev was inactive for 27 months after his match with Usyk while dealing with legal issues and an injury to his left shoulder. He is 4-0 (4 KOs) since returning to the ring while answering the bell for only eight rounds. The only recognizable name among those four victims is German gatekeeper Michael Wallisch. After stopping Wallisch, Gassiev was out of action for another 13 months while reportedly dealing with an arm injury.
A first-round knockout of Carlouse Welch, an obscure 40-something boxer from the U.S. state of Georgia on Aug. 26, 2022, in Belgrade, Serbia, was promoted as a title fight. The sanctioning body was the Eurasian Boxing Parliament (insert your own punchline here). Gassiev followed that up with a second-round knockout of former NFL linebacker Mike Balogun who came in undefeated and was seemingly a legitimate threat to him.
Although he has yet to fight a ranked opponent since leaving the cruiserweight division, Gassiev — a former stablemate of Gennady Golovkin who has been living in Big Bear, California, training under Abel Sanchez – is one of the most respected fighters in the division because he has one-punch knockout power as Balogun and others can well attest. The rub against the Russian-Armenian bruiser is that he is somewhat robotic.
Wallin
Otto Wallin, a 32-year-old southpaw from Sweden who trains in New York under former world lightweight champion Joey Gamache, fought Tyson Fury on Sept. 14, 2019 at the MGM Grand in Las Vegas. There was a general feeling that the Swede would be a stroll in the park for Fury, but to the contrary, he gave the Gypsy King a hard tussle while losing a unanimous decision.
Wallin is 5-0 since that night beginning with victories over Travis Kauffman (KO 5) and Dominic Breazeale (UD 12), but his last three opponents were softer than soft and all three lasted the distance. In order, Wallin won an 8-round decision over Kamil Sokolowski, who was 11-24-2 heading in, won a 10-round decision over ancient Rydell Booker, and won an 8-round decision over Helaman Olguin. His bout with Utah trial horse Olguin was at a banquet hall in Windham, New Hampshire.
It isn't that Wallin has been avoiding the top names in the division; it's the other way around. His promoter Dmitriy Salita reportedly came close to getting Wallin a match with Anthony Joshua whose team had second thoughts about sending Joshua in against another southpaw after back-to-back setbacks to Oleksandr Usyk.
Gassiev vs Wallin is a true crossroads fight. Both are in dire need of a win over a credible opponent. At last look, Gassiev, who figures to have the crowd in his corner, was a 3/1 favorite.
To comment on this story in the Fight Forum CLICK HERE
Skavynskyi and Bustillos Win on a MarvNation Card in Long Beach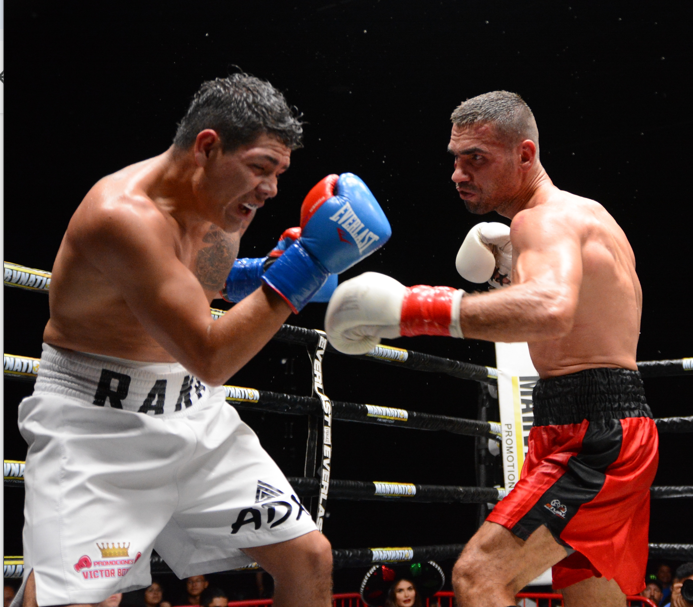 Skavynskyi and Bustillos Win on a MarvNation Card in Long Beach
LONG BEACH, Ca.-A cool autumn night saw welterweights and minimumweights share main events for a MarvNation fight card on Saturday.
Ukraine's Eduard Skavynskyi (15-0, 7 KOs) experienced a tangled mess against the awkward Alejandro Frias (14-10-2) but won by decision after eight rounds in a welterweight contest at the indoor furnace called the Thunder Studios.
It was hot in there for the more than 600 people inside.
Skavynskyi probably never fought someone like Mexico's Frias whose style was the opposite of the Ukrainian's fundamentally sound one-two style. But round after round the rough edges became more familiar.
Neither fighter was ever damaged but all three judges saw Skavynskyi the winner by unanimous decision 79-73 on all three cards. The Ukrainian fighter trains in Ventura.
Bustillo Wins Rematch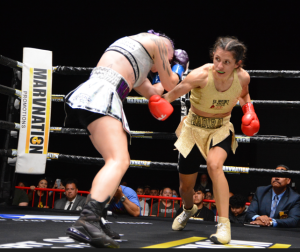 In the female main event Las Vegas' Yadira Bustillos (8-1) stepped into a rematch with Karen Lindenmuth (5-2) and immediately proved the lessons learned from their first encounter.
Bustillos connected solidly with an overhand right and staggered Lindenmuth but never came close to putting the pressure fighter down. Still, Bustillos kept turning the hard rushing Lindenmuth and snapping her head with overhand rights and check left hooks.
Lindenmuth usually overwhelms most opponents with a smothering attack that causes panic. But not against Bustillos who seemed quite comfortable all eight rounds in slipping blows and countering back.
After eight rounds all three judges scored the contest for Bustillos 78-74 and 80-72 twice. Body shots were especially effective for the Las Vegas fighter in the fifth round. Bustillos competes in the same division as IBF/WBO title-holder Yokasta Valle.
Other Bouts
In a middleweight clash, undefeated Victorville's Andrew Buchanan (3-0-1) used effective combination punching to defeat Mexico's Fredy Vargas (2-1-1) after six rounds. Two judges scored it 59-55 and a third 60-54 for Buchanan. No knockdowns were scored.
A super lightweight match saw Sergio Aldana win his pro debut by decision after four rounds versus Gerardo Fuentes (2-9-1).
Photos credit: Al Applerose
To comment on this story in the Fight Forum CLICK HERE