Part 2, Ward Interview: Ward Models Self on Floyd, Talks About "Lack" of Power
Part 2, Ward Interview: Ward Models Self on Floyd, Talks About "Lack" of Power – When meeting the five other original participants of the Super Six Tournament for the first time during a press conference in Germany, Andre Ward glanced at the opposition and liked his chances. At that point he knew he'd win. Now, two years later, Ward sits on top of the 168 pound division and near the top of many boxing pound for pound lists. Ward says getting to this point didn't happen by accident and without anxiety. There was plenty of pressure and he hears the doubters, yet stays focused.
In part two of our interview with Andre Ward, the champ reveals how he can improve, when he expects to get back in the ring, and chats about his mental make-up before a fight.
RM: Before a fight with Kessler, Bute, or any other top fighter, would you want to take a tune up at either 168 or 175?
AW: I think in the next few weeks we will have a better idea or direction of where we are trying to go. Basically all I know is that I want to come back in April or May. I don't know where even. I don't know if it's going to be in Oakland or in Vegas. That is a tentative date that we've talked about. I do have to get my hand checked out. It isn't broken but there is a lot of swelling. Other than that, I plan on coming back in April or May. (Note: Ward said Thursday that x-rays showed multiple fractures, which existed coming in to the fight, but were made worse on fightnight, in round six. He will be in a cast for two weeks.)
RM: OK. I liked the way you handled the Froch victory. It was business as usual, as if you expected to win.  Did you expect to be in this place at this point in your career, 27 years-old, undefeated super middleweight champion, and probably fighter of the year?
AW: Yes and no. I say yes because once we got in the tournament I honestly felt like we won it. I know it was a long shot on paper and I understood a lot of people didn't expect me to win. Even though I respected those opinions, I let them fuel me, not to prove them wrong but to keep grinding and put in the work to be in this position. When I came to a Germany for the first press conference because I missed the one in New York I looked at every fighter there, I sized them up you know. I knew their background. I knew their history. I felt like we could win it, Ray. But you only know so much. Being recognized as the fighter of the year at this age is something I didn't imagine. When I got the word that Sports Illustrated voted me Fighter of the Year it was unbelievable. That is just hard to comprehend. It really is. There are a lot of fighters in the world, a lot of good fighters. And to be considered the best fighter for a whole year is saying a great deal. I am just thankful.
RM: I hear you.
AW: I am just thankful, man. I really am. And that is how I felt Saturday night. By no means did I want to rub it in Froch's face. I wanted to remain classy and give him credit where it's due and just relish this moment for a while. Then get ready to get back on the horse because we still have a lot of road up ahead.
RM: So what's next?
AW: I am looking forward to what's next. But we are going to celebrate and enjoy this awesome victory. This is not just for me. This is for my team. And I did not want to disappoint anybody. A lot of people who sat at the press conference were emotionally invested into this tournament and also this fight. The way Froch talked, sometimes he disrespected me personally. My family members, my wife, my church, my pastor, they were fired up about this moment. A lot of people were invested in this emotionally. My manager, you know just everybody. People that helped me get ready. I just wanted everybody to leave happy. I wanted everybody to be pleased. To see everybody smiling and happy after we got our hand raised was all I needed to see. I was happier for them than I was for myself.
RM: So how do you handle the outside pressure beforehand? I noticed you get a little edgy before fights naturally because you are getting mentally and physically ready. But how do you handle the extra stress from these people who not only want you to win but expect you to win?
AW: I try to do the best that I can. I try to put it in, Ray, like nobody else, whether it's dieting, running, conditioning, or training. And my faith is tremendous. When I read my Bible and get close to God with all of the chaos going on around me, it helps me understand that certain things are out of my hands. I did all that I was supposed to do. Now the fight is in God's hands. My mindset is like this. Win or lose, I just want to glorify you. And of course I want to win. That is what I am there for. But I just want to glorify God the right way. When you have that mindset, even though there is a lot of pressure you realize that it is out of your hands. I look back and draw strength from the fact that I am here for a reason. Why? Well, I didn't get this far for no reason. Look at the victories that I've had. All of the victories I had before prepared me for Saturday night. You don't prepare for a fight like this past Saturday night in eight weeks or ten weeks. It takes years of preparation. It takes over a decade of honing your skills. So I look back and draw strength from the fact that I've put in all the work. I have done all I am supposed to do. Come fight night it is just time to perform. I have done it over 100 times as an amateur and 25 times as a pro. You get to a point where the tension and pressure is out there. But one or two weeks before the fight you just get in the zone.
RM: What kind of zone?
AW: There are so many people around you. There are people talking about the fight around that have their opinions and try to help as much as possible. But I am in a whole other zone because I know that I am the one that is getting in there and I know what I have to do. It is hard to explain. But the best way I could explain it is just being in the zone. And you get to that place by being in camp for eight weeks and years of preparation behind it. Eating certain foods, being away from your family, going to bed at the same time every night, all that stuff combined over an eight week period will have you in the right mindset before a fight.
RM: You said you haven't hit your prime yet. How can you improve?
AW: I think there is another level of relaxation in the ring that I could go to. I like to use Floyd as an example. We have a lot of similarities. If you look at the Floyd at 130, 135 pounds versus the Floyd now at 147. Floyd moved a lot early on in his career, used a lot more energy. You know, he still won and looked good but still had a lot of youthfulness in him. Now you see this seasoned older fighter who does just enough. He moves just enough and does just what he has to do. He is in another realm right now simply because of the age and experience. I think that I am getting to that point now. In my earlier fights you might have seen more movement and energy. Slowly but surely I am starting to settle down more. You know, I relax in the ring. But there is a different level of relaxation at 28, 29, 30, or 31 years-old. You get to a certain realm where it gets easy. I feel like I am approaching that realm right now. I don't feel like I am there yet. But I feel like I am approaching it. I am more efficient. That comes with experience in big fights against good fighters and overcoming things. We were able to overcome something that we never had to overcome before, a hurt hand in a fight against a tough fighter. Everything was on the line. So it is hard to say when I will hit my prime but I want to continue to fight good fighters and learn on the job. After this fight I will be better. It is going to make me a better fighter. And I am looking forward to getting in the ring regardless of who it is against because I know there will be improvements.
RM: So what do you say to people that doubt your knockout power?
AW: Well, if you look back at this tournament, there has only been one knockout. The Jermain Taylor-Arthur Abraham fight. It is not easy to knock out 'A' level competition. But if the guys I am fighting thought I couldn't punch they would have walked right through me. I know for a fact that Froch felt my punches. I could see it in his eyes when he got hit. Froch made plenty of comments about my punching power before the fight but he didn't say anything about it during the press conference afterwards. He said I couldn't punch before we got in there. But he didn't say anything about that after we got out of the ring. It's a different story. So I don't really buy into it, Ray. I know what I got in there. There is always going to be someone to pick you apart. Oh, you move too much. Oh, you did this or did that. There is always going to be something. To be honest with you I really don't pay much attention to it anymore. I mean, we must be doing something right.
RM: Good point. Ok, Andre, thank you for your time as always. Are you taking to any vacations during the holidays?
AW: Yeah, we are going to get out of here. We have some media stuff coming up. At some point we have to fly down to Mexico City and get the WBC belt.
RM: Oh really? You have to go there to get it?
AW: Yeah, we have to go to Mexico City. I don't like to go on vacation without the hardware. I like taking the hardware with me. It's a great feeling especially when you just win.
Follow Ray on Twitter @RayMarkarian
Part 2, Ward Interview: Ward Models Self on Floyd, Talks About "Lack" of Power / Check out more boxing news on video at The Boxing Channel.
Artur Beterbiev: "I'd prefer to fight Bivol because he has the one thing I need"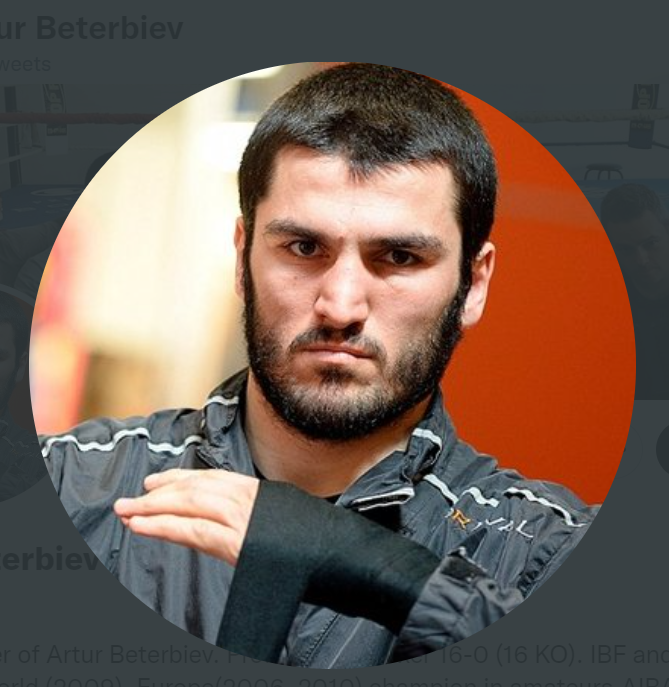 Russian Artur Beterbiev, triple champion of the 175-pound division, is the only current world champion who, thanks to the enormous power he wields in his fists, has won all his fights inside the distance.
Beterbiev has 18 victories by way of chloroform since he debuted as a professional fighter in June 2013 when he anesthetized retired American, Christian Cruz, in the tenth round at the Bell Center in Montreal where Beterbiev currently resides.
Beterbiev, who turned thirty-eight last Saturday, will defend his WBC, IBF, and WBO titles against Brit Anthony "The Beast from the East" Yarde (23-2, 22 KOs) on Saturday, January 28th at the OVO Arena in London.
Beterbiev obtained the WBO belt on June 18th this past year when he defeated American Joe Smith (28-4, 22 KOs) in the second round at Madison Square Garden. This was Smith's second defense of the belt.
Earlier, in November 2017, Beterbiev won the vacant IBF belt after defeating German Enrico Koelling (28-5, 9 KOs) by knockout in the twelfth round in Fresno, California.
Two years later, Beterbiev seized the WBC belt from Ukrainian Oleksandr Gvozdyk (17-1, 14 KOs) in Philadelphia. Three knockdowns in the tenth round forced referee Gary Rosato to stop the lopsided bout with 11 seconds remaining in the round.  Beterbiev maintains that although his intention is to win each fight, in no way does he want to harm his rival and that his greatest wish is for both of them to leave the ring healthy.
Referring to his upcoming matchup, Beterbiev told BoxingScene that "after the fight, I just hope he (Yarde) is okay."
He acknowledged that he does not know much about the British boxer, although he has watched several of his fights: "He's a good fighter, has good experience as a professional and he's a boxer. He's dangerous so I have to prepare for this fight like I always do."
Beterbiev said that his main motivation is to successfully defend the three belts he owns and that is why he will try to be one hundred percent ready and then it will be evident who is the better fighter.
Regarding his knockout streak, Beterbiev emphatically denied that he enjoys knocking out his opponents: "No. There's no pleasure in it. I just hope everything is OK with them. I just want to do good boxing, not hit people."
Beterbiev smiles enigmatically and stares at the horizon when they ask him to what he attributes the strength of his fists to. "I know for sure, 1000 percent, that the secret to my power is somewhere in my boxing gym but I don't know exactly where," he adds. "I don't know which exercise or bag gave me this secret. I don't know where it comes from. I wasn't always like this either, it has come from working every day. But really my dream is to be a good boxer one day."
Aside from the upcoming fight with Yarde, Beterbiev acknowledges in each interview that his goal is to be the undisputed champion of the division, which means facing (and defeating) the undefeated Russian Dmitry Bivol (21-0, 11 KOs), who holds the WBA light heavyweight super championship belt.
"I need Bivol," Beterbiev admits. "I'd prefer to fight Bivol because he has the one thing I need. I hope I fight him in 2023 but the hold-up is not from my side, it's from their side. In the last three years he always says he will fight me next but in this time we've done unification fights against Oleksandr Gvozdyk and Joe Smith. We've done that whereas he has just been talking about it.
Beterbiev recalled that he was with Bivol on the Russian national team where they were amateurs. "I knew him then, but he is younger than me. We haven't talked for 10 years now. He was 75kg back then, too small for me. We were never friends."
Article submitted by Jorge Juan Alvarez in Spanish.
 Please note any adjustments made were for clarification purposes and any errors in translation were unintentional.
To comment on this story in the Fight Forum CLICK HERE
Boxing Odds and Ends: A New Foe for Broner and an Intriguing Heavyweight Match-up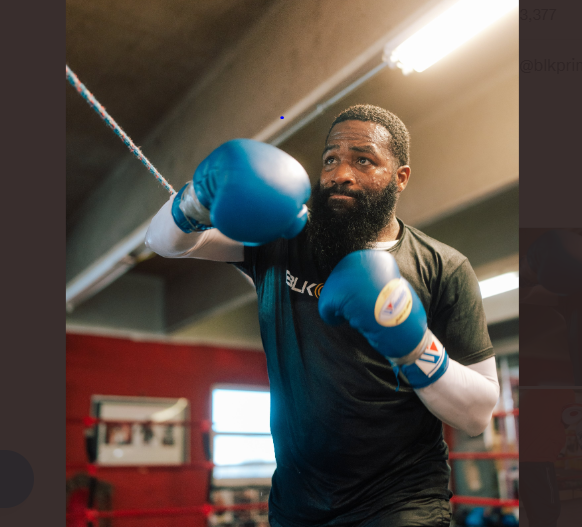 Boxing Odds and Ends: A New Foe for Broner and an Intriguing Heavyweight Match-up
BLK Prime's inaugural venture went off without a hitch. An announced crowd of 14,630 turned out in Omaha to watch native son Terence Crawford dismantle David Avanesyan. BLK Prime's second promotion, slated for Feb. 25 at a 5,000-seat venue in Atlanta, has been messy from the get-go. The executives at the fledgling company, based in Hayward, California, are learning to their dismay that the sport of professional boxing is governed by Murphy's Law: whatever can go wrong, will go wrong.
Adrien Broner's nickname is "The Problem" (how perfect!) but the problem isn't him but finding a suitable opponent for the former four-division title holder who purportedly signed a three-fight deal with BLK Prime that will pay him an absurd $10 million. As reported in a story that ran on these pages last week, Broner's original opponent Ivan Redkach pulled out and was replaced by Hank Lundy. Today (Tuesday, Jan. 24) it was revealed that Lundy was also off the card and would be replaced by Michael Williams Jr.
Prior to being lopped off the card, it was reported that Hank Lundy had been suspended by the California Athletic Commission for failing to honor his contract to fight up-and-comer Ernesto Mercado (8-0, 8 KOs) on Feb. 4. The match was to be an 8-rounder in Ontario, California. According to prominent boxing writer Jake Donovan, Lundy provided paperwork to the California commission showing that he was unable to keep his commitment because of a cut he suffered in sparring.
Some state athletic commissions automatically honor a suspension handed down in another jurisdiction. Other commissions evaluate each situation on a case-by-case basis. It's a fair guess that had Lundy kept quiet about the (alleged) injury, the Georgia commission would have allowed the Broner-Lundy match to go forward. Regardless, he's out and, barring more upheaval, Broner (pictured) will be touching gloves with Michael Williams Jr.
The son of an Army veteran who serves as his chief trainer, Williams Jr, 23, was born in Fort Riley, Kansas, and grew up in Fayetteville, North Carolina, home to Fort Bragg. As a pro, he's 20-1 with 13 KOs but those 20 wins came against a motley bunch of opponents and he failed miserably on the one occasion that he stepped up in class. On Dec. 11, 2021, he was stopped in four rounds by fellow unbeaten John Bauza on a Top Rank card at Madison Square Garden. Williams suffered five knockdowns before the match was halted. "He's got a lot to work on. There are some glaring issues here," said ringside TV commentator Andre Ward.
Although the Fayetteville area has long had a reputation as pugilistic feed lot (a place where boxers go to fatten up their records), the feeling is that Williams may have been awed by his surroundings that night in the Big Apple, hence his poor showing. During the early portion of his career, he was co-trained by Roy Jones Jr who reportedly hooked up with the young junior welterweight after witnessing him bully a bunch of ex-cons while sparring at a gym in New Orleans.
Does he have the tools to make things interesting against Adrien Broner? Likely not, but Broner tends to fight down to his level of competition, so it wouldn't surprise us if Williams wins a few rounds.
Heavyweights at the Crossroads
SHOWTIME drops anchor in San Antonio on Feb. 11 with a card headlined by a match between Rey Vargas and O'Shaquie Foster. They will compete for the WBC 130-pound world title vacated by Shakur Stevenson.
Truth be told, this isn't a contest that gets our juices flowing. The undefeated Vargas, who has won world titles at 122 and 127, is a solid technician but doesn't fight with pizzazz. He hasn't won a fight inside the distance since 2016. Foster is on a nice roll – he's won nine straight, advancing his record to 19-2 — but likewise lacks charisma.
The pay-per-view opener, however, seized our interest. It's that very rare contest between two rising heavyweights at the same juncture of their respective careers. On paper there's little to choose between Viktor Faust (11-0, 7 KOs) and Lenier Pero (8-0, 5 KOs). Both are the same age (30), are roughly the same size (in the six-foot-five and 240-pound range) and were outstanding amateurs.
Faust
Viktor Faust, aka Viktor Vykhryst, is from the Ukraine. In 2017, he won the European amateur title, defeating future Olympian Frazer Clarke in the finals. He turned pro in 2020, spurning an opportunity to represent Ukraine in the Tokyo Olympics.
Faust, says prospect watcher Matt Andrzejewski, is extremely fluid for his size and his hand speed is well above average. He also has one-punch knockout power as he demonstrated in his third pro fight when he starched the Spaniard, Gabriel Enguema. However, his most recent fight on U.S. soil, a match in Hollywood, Florida, against Iago kiladze, left many questions unanswered.
This was a wild and wooly affair that ended in the second minute of the second round. Kiladze was down three times and Faust twice during the tumult. Because Kiladze was on the small size for a heavyweight, one was left wondering whether Faust could have weathered the storm if he were matched against a bigger man.
Since that scuffle, Faust has added two more wins to his ledger, comfortable 8-round decisions over 40-something gatekeepers Kevin Johnson and Franklin Lawrence.
Pero
Lenier Pero, a Cuban defector, was never an Olympian, but had a more extensive amateur career. He was 9-3 in the semi-pro World Series of Boxing but what really stands out is that he was 5-1 against countryman Frank Sanchez who has made great headway as a pro since leaving Cuba in 2017 and is currently ranked #3 by the WBC and #2 by the WBO.
Although the amateur careers of Faust and Pero overlapped, their paths never crossed. However, Faust did fight Lenier's younger brother Dainier Pero who is currently 2-0 as a pro and may actually be a better prospect than his sibling. Faust and Dainier Pero met in 2018 at a tournament in the Ukraine and the Cuban won a close decision.
Perhaps that's an omen. Regardless, Lenier Pero looks like the right side in what has the earmarks of an entertaining shootout.
To comment on this story in the Fight Forum CLICK HERE
David Benavidez and Caleb Plant Both Want 'Canelo' Álvarez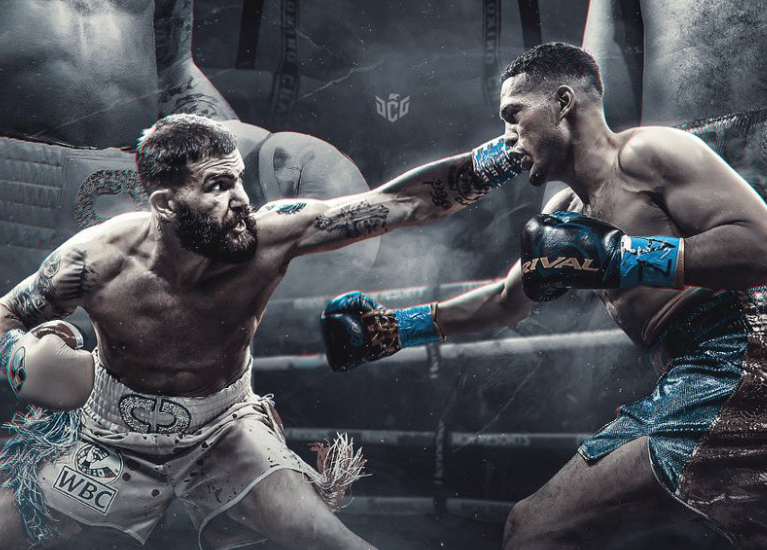 American Fighter David Benavidez has been in constant pursuit of an opportunity to face Canelo Álvarez and, until now, it has been an unrealizable dream. For his compatriot Caleb Plant, his match up with Canelo in 2021 resulted in a resounding loss.
For several years, Benavidez has been trying to cross gloves with Mexican star Saúl "Canelo" Álvarez (58-2-2, 39 KOs), who has avoided facing him despite receiving countless criticisms from boxing fans.
Undefeated in the ranks, everything indicates that today Benavidez (26-0, 23 KOs) is closer than ever to finally matching up against Canelo, the current holder of the four most prestigious super middleweight titles in boxing: WBA, WBC, IBF, and WBO.
Previously, by order of the WBC, Benavidez faced Canadian David Lemieux (43-5, 36 KOs), to whom he applied chloroform in the third round in Glendale, Arizona, where the winner conquered the Interim title of that sanctioning body.
After the victory, the WBC declared that Benavidez had the obligation to collide with Caleb Plant (22-1, 13 KOs), who was ranked the number one contender by both the WBA and the WBO and third by the IBF.
According to Mauricio Sulaimán, president of the WBC, the winner between Benavidez and Plant becomes the mandatory challenger for Canelo in a battle for that organization's belt.
However, the future seems quite complicated for the winner between Benavidez and Plant, since Canelo is currently in negotiations with British southpaw John Ryder (32-5, 18 KOs) to fight in May and, subsequently, in September, to carry out the rematch against Russian Dmitry Bivol (20-0, 11 KOs), who defeated him unanimously on May 7 of last year at the T-Mobile Arena where the European retained the WBA light heavyweight belt.
Benavidez has been outspoken about Canelo's refusal to face him: "He (Canelo) knows I'm the biggest threat at 168." Benavidez stressed the fact that Canelo avoids him because he knows that if he accepts the fight, the same thing will happen to him as against Dmitry Bivol, an adversary who is also larger and equally as strong as the Mexican redhead.
Despite the efforts and multiple statements by Benavidez (also by José Benavidez Sr, his father and trainer), Canelo has always chosen other adversaries with the excuse that Benavidez has not fought any elite rivals that would make him worthy of the opportunity.
CALEB PLANT WANTS REVENGE AGAINST CANELO
"That wasn't my best camp going into that fight," said Plant about last year's battle with Canelo, "but, regardless, that's not the reason I lost. I lost because I got caught with a great shot and I got stopped." Plant was clear about wanting to meet Canelo in the ring again. "I want a rematch with Canelo. If I have to pick up every last top super middleweight in the division to get to that, that's what I'm going to do."
Canelo's victory against Plant at the T-Mobile Arena in November 2021 made him the first boxer from Latin America with the four most important titles, in any weight category. But six months later, in May of last year, Álvarez suffered the second setback of his career, losing unanimously to Bivol who retained his WBA "super" title belt at 175 pounds.
Four years ago, on January 13, 2019, Plant won the IBF belt, unanimously defeating Venezuelan José Uzcátegui (32-5, 27 KOs) at the Microsoft Theater in Los Angeles. Uzcátegui went to the canvas in both the second and fourth rounds. Plant lost the IBF title in the unification match against Canelo, a title that Plant had defended three times prior.
Mauricio Sulaimán confirmed to several media outlets that the winner of the upcoming battle between Benavidez and Plant will be the mandatory challenger for Canelo's WBC super-middleweight title. Per ESPN's Mike Coppinger, Benavidez vs Plant will take place on March 25th at the MGM Grand in Las Vegas.
Article submitted by Jorge Juan Alvarez in Spanish.
 Please note any adjustments made were for clarification purposes and any errors in translation were unintentional.
To comment on this story in the fight Forum CLICK HERE