THE WOODSIES: The Year in Boxing 2011
There was no lockdown choice for Fighter of the Year. But Andre Ward deserves more credit than he gets, so we're happy that a solid role model and superior pugilist is getting the acclaim he has earned. (Hogan)
It wasn't the best of years for boxing, it wasn't the worst of years for the sport.
Try as I might to look on the bright side, which is the best way to look, because you can get caught up looking at the copious darkness which abounds in the sport and world at large, I find myself coming to the conclusion that the year in pugilism 2011 will quite likely be remembered as another year that the most logical, the most yearned-for, the most no-brainer of all no-brainer fights didn't get made. 2011 was another year in which boxing fans didn't get what they most wanted: a Floyd Mayweather-Manny Pacquiao clash.
Now, some good stuff happened, don't get me wrong. Please don't tell Andre Ward, my choice for Fighter of the Year, that this year was all about what didn't happen. The 27 year-old Oakland resident got Ws over Arthur Abraham and Carl Froch while snagging top honors in the Super Six tournament, and elevated himself to a place where he can lay legitimate claim that he could well be No. 2 on the pound for pound list, behind Floyd Mayweather.
Manny Pacquiao, Sergio Martinez, Nonito Donaire and Juan Manuel Marquez would likely not agree to place SOG at No. 2, but Ward's stellar pugilistic arsenal is world-class stuff. And it would be in any era; he is a thinking-man's hitter, someone who can neutralize the best and brightest in the game, make them look ordinary as anything, and while a lack of power and lack of edge and darkside will perhaps keep him from becoming a PPV driver, Ward deserves plaudits galore for being an ace at his craft.
But back to what didn't happen. I try mightily to keep focus as much as possible on what makes the game great. I firmly believe that the sport gives young men who would otherwise be headed to jail or an early demise a reason to exist. Boxing is a net positive to the world, overall, because countless men who might otherwise leave a wake of carnage and sadness in the outside world instead become people who inspire hope and pride in themselves, their family, their community, their nation. But the sport does so much to muddy that message.
It is unfathomable why the fight that cries out to be made, which would be the sport's Super Bowl, which would gross each boxer something in the neighborhood of $50 million or so, and draw 3 million pay-per-view buys, and get the sport more mainstream ink than any bout since lord knows when, doesn't get made. I won't re-litigate the matter extensively, because we've all wasted too many inches and too much breath on this non-happening. We've speculated as to who deserves the most blame, Mayweather for allegedly ducking the fight, or Pacquiao for allegedly being afraid of stringent blood-testing, or Arum for allegedly being afraid to injure his cash cow. I say they all share culpability, and if 2012 passes and we again don't get this match made, then I say we Occupy all of 'em. In any other sport, sanity would prevail, differences would be ironed out, and the public would get what they want, and by the way, would pay a pretty penny for the privilege. Floyd, Manny, Bob, Al, HBO, please..book a suite at Camp David, and refuse to leave until you guys get 'er done, until Mayweather-Pacquiao is made, because if much more time passes, the public might just lose their interest.
Now, let's take a look back at what else transpired in the year, shall we?
JANUARY
We started off the year with a tabloid-y story. Kelly Pavlik was due to leave rehab for a booze problem. He came home, and we heard that he wanted to be mindful of his decisions and inclinations. We crossed our fingers he'd stay on course. Sadly, the year ended on a less hopeful note for the Youngstowner, as he was picked up for DUI on an ATV two weeks ago. We all hope he gets a handle on himself and even if he never fights again, finds a measure of peace and the strength of will to keep the cork in the bottle.
Mid month, we all soaked in the vibes of harmony, as we saw the two promoters of the era, Don King and Bob Arum, work together seamlessly to set the Miguel Cotto-Ricardo Mayorga bout (March 12). These two battled each other like Hagler-Hearns back in the day so it was something to see, the two old warhorses grooving together in NYC.
http://tss.ib.tv/news/articles/12126-now-best-buds-king-and-arum-it-wasnt-always-so
The fans were let down by the battle of junior welterweight young guns, as the Devon Alexander-Tim Bradley bout never really achieved liftoff. They tangled in Michigan on Jan. 29 and the ending was a particular downer, as Alexander indicated he was too pained to continue in the tenth, giving Bradley a TD10 victory. We all hoped that this wouldn't be a harbinger for the year.
http://tss.ib.tv/news/articles/11952-bradley-wins-technical-decision-from-alexander-super-fight-was-so-so
FEBRUARY
Nonito Donaire moved himself into another echelon with his head-denting KO of Fernando Montiel on Feb. 19. The TKO2 win for the bantamweight-super bantam ace opened tons of eyes, as fight fans realized this is a bomber with a compelling personality who could well help carry the sport in the coming years.
You all heard that the rumor is Floyd Mayweather bet a cool million on the Pats to beat the Broncos two weeks ago? I guess "Money" didn't heed my Feb. 25 call for him to ditch the gambling, that easy method of excitation of his pleasure centers, and concentrate on his ring work. http://tss.ib.tv/news/articles/12091-dear-floyd-ditch-the-gambling-nightlife-and-do-what-you-say-you-do-the-bestbox
Another young 'un, Brandon Rios, showed himself to be a future star when he stopped Miguel Acosta in the tenth round on Feb. 26. This feat was made that much more impressive when we learned that he broke his right hand in round eight. Yes, it was nice as it always is to marvel at the toughness shown by the athletes we so admire in the sport which often tortures us with the ancillary idiocy offered up by the promoters and sanctioning bodies and such…
MARCH
Fight fans had high hopes when in early March we learned that another flirtation reached fruition, when Wladimir Klitschko and David Haye signed on to fight. They jawed like champs, but when it came time to brawl, both underperformed. The bright side? We didn't have to pony up PPV dollars on July 2 to see it.
Zab Judah reinvigorated his career with a TKO7 win over Kaizer Mbuza on March 5. His crippling counter had everyone thinking he would finally put it all together. He had found God, and the serenity that would make him a total package in the ring, many thought. Later in the year, expectations were reset once again, as he reverted to form against Amir Khan.
The top dogs didn't want to test themselves against Sergio Martinez in 2011, so the Argentine had to make do with second tier opposition. Sergei Dzinziruk gave a solid account of himself on March 12 against "Maravilla," scoring a TKO8. We all hoped that Sergio, who became the most ducked man in the game in 2011, would score a megafight later in the year. Alas, he's still waiting…
Miguel Cotto stayed relevant, with a TKO12 win on March 12 over Ricardo Mayorga, whose fake Twitter account gave us some most-hearty belly laughs of the year. We repeat our call for Mayorga to hire his impersonator to Tweet for him legit…
http://tss.ib.tv/news/articles/12185-cotto-gets-stoppage-in-round-12
We all got a reminder how much the heavyweight division stinks, when slovenly Odlanier Solis crumpled to the canvas in the first round of his fight with Vitali Klitschko on March 19. His knee gave out, a condition probably not helped by the fact that he carries an excess of fifty pounds or so on his frame when not fighting. Semi understandable for a keyboard tapper, not so much for a "world class" athlete…
The promoters gave us a week of mid-month entertainment, when Golden Boy stole Nonito Donaire from Top Rank. An arbitrator ruled that Donaire was still under contract to Arum at the end of the month, so Oscar De La Hoya looked for other ways to damage rival Arum. They sniped at each other in print, with Oscar taking to Twitter to zing the Bobfather.
The fight game lost several notables this year. Gil Clancy died on March 31, and we all lamented the exit of the Hall of Fame trainer and analyst. http://www.tss.ib.tv/news/articles/12311-qit-was-always-great-with-gil-q-homage-to-clancyborges
APRIL
We keyboard tappers like to do the tsk-tsk thing, and opine that the old warhorses should fade away, exit the game when we deem it appropriate. Much of the time, it can be argued we are right. But 34 year-old Erik Morales, seven years past his prime,  proved to the tsk-tskers he had something left when he gave Marcos Maidana all he could handle on April 9. The Mexi-legend lost (MD10) but won another pile of respect for his toughness. We tappers like to be wrong, sometimes.
Some of us wondered if maybe we'd overrated Amir Khan. The Brit  looked only OK against Paul McCloskey in England on April 16. He revived against Zab Judah in July, and then closed out the year with a decision loss to Lamont Peterson. Most expected Khan to elevate in 2011 to the tippy top, but it turns out the year ends with him being in a crossroads place. Is he a future star, has he plateaued? We shall see…
The Andre Berto-Victor Ortiz fight on April 16 in Connecticut made everyone's top 5 fights of the year list. Both men tasted the canvas, and thrilled the crowd with their exchanges and stubbornness. Ortiz got the decision and ample satisfaction, as he made clear later in the year when he lashed out at the press for questioning his heart. No one questioned it on this night…Though questions did arise if Ortiz was all natch on fight night, after Berto Tweeted insinuations that Victor was on something stronger than vitamins in training. He quickly backed off the unfounded accusation.
http://tss.ib.tv/news/articles/12419-ortiz-beats-berto-in-fight-of-the-year-back-and-forth-barnburner
Dan Rafael had Floyd Mayweather at No. 3, pound for pound, at the end of April, behind Manny Pacquiao and Sergio Martinez.
By the end of the year, Floyd would own the top slot and debate occurred on who should be next on the totem pole.
MAY
Shane Mosley tarnished his legacy with a cash-grab type performance against Manny Pacquiao on May 7 in Vegas. Fans at the MGM Grand booed multiple times during the bout, which saw Mosley seek to survive, not thrive, for most of the 12 rounds. Some wondered if Pacquiao had lost something, as he wasn't able to cut off the ring as many thought he should have been able to against the aged underdog.
http://tss.ib.tv/news/articles/12536-pacquiao-not-in-vintage-form-get-ud-over-defensive-mosley
http://tss.ib.tv/news/articles/12547-shame-shane-mosleys-legacy-is-stained-by-his-poor-effort-against-pacquiaowoods
Andre Ward scored a UD12 over Arthur Abraham on May 14 in Cali. The Nuetralizer made Abraham look ordinary, though it must be said that Abraham's best days had passed.
46 never looked so sharp as on the night of May 21 in Quebec, when Bernard Hopkins showed off his vast storehouse of fistic knowledge. He schooled Jean Pascal and won the light heavyweight title via UD12, becoming the oldest man to win a crown.  Here is how I sized the match up before it went down: http://theboxingchannel.com/thesweetsciencecom-editor-michael-woods-breaks-down-the-bernard-hopkins-jean-pascal-rematch
We also learned that the Golden Boy had some of the same problems as the rest of us, if we didn't already know that, when it was announced that Oscar De La Hoya had entered rehab to battle substance abuse. TMZ was all over the story, and they clung close to Oscar, who has had to fend off women of dubious morality looking for payoffs.
Hope sprang alive when on May 31 we learned that Manny Pacquiao was to receive an apology from Oscar De La Hoya and Richard Schaefer for defaming him, and would thus drop his suit against the Golden duo. Alas, it didn't mean the impasse would be bridged, and Mayweather-Pacquiao would get made.
JUNE
Tears were shed when ex super feather champ Genaro Hernandez died on June 7. He'd fought cancer as hard as he fought ring foes but didn't get the W in this scrap.
The man didn't think he'd live long enough to enjoy the honor, but Mike Tyson, sober, vegan, humbled, entered the International Boxing Hall of Fame on June 12.  The former enfant terrible made a sweet speech which showed how far he'd come from being an ear chomping, woman-violating brute.
The esteemed Nick Charles, of CNN and then Showtime, died on June 25. Cancer took him, but not the memories of his graceful presence in our lives.
The Floyd Mayweather-Victor Ortiz hype wagon pulled into NYC on June 28, and us suckers got our hopes up again as Floyd said he'd like to fight Manny Pacquiao next. The hype job made many think that Ortiz had a slim chance, maybe, but we all know how that turned out…
JULY
It was the Most Fraudulent Performance of the Year. On July 2, David Haye fought with the passion and courage of a butterfly, and dropped a UD to Wladimir Klitschko in Hamburg. Haye lobbied for the bout for a couple years, indicated that he'd go guns a blazing at Klitschko, and then did just the opposite. Most of us hoped that this was the last we saw of the Brit, and hoped that big brother Vitali wouldn't reward him with another gig.
http://tss.ib.tv/news/articles/12881-klitschko-wins-ud-ultra-cautious-haye-haye-talked-big-but-barely-threw
So soon after Charles' death, the fightgame lost another esteemed media figure. TSS's own George Kimball, the literary lion of the keyboard tapper set, died on July 6. He was taken more than five years after being diagnosed with esophageal cancer, and given only six or so months to live. Kimball churned out book after book in his late stages, showing all of us the right way to deal with the KO artist cancer. They simply do not make 'em like George anymore, and they will not ever again.
http://deadspin.com/george-kimball/
Paul Williams may well have jumped the shark on July 9, when Erislandy Lara got the better of LTP in AC. But the judges didn't think so; they gave Williams the decision in what most thought was one of the very worst decisions of the year. Hard to say it was the worst, as judges did as they do every year—they butchered about one big fight a month. The AC commish did the right thing by busting the judges responsible, and demanding they do remedial training.
http://tss.ib.tv/news/articles/12921-paul-williams-gets-decision-over-erislandy-lara-in-ac
They earned every darned dime of their purses, did Delvin Rodriguez and Pawel Wolak on Friday Night Fights. I had Delvin ahead in the NYC clash, but many though Pawel won in a bigtime Fight of the Year candidate, and the judges called it a draw. Here was another example that the best tussles usually don't feature the mega names, and often feature guys with losses on their ledger.
Mid month, we learned that Ross the Boss wouldn't be much longer. Ross Greenburg was encouraged to exit at HBO, and Showtime head Ken Hershman was named his successor. Most applauded the move, with the thinking being that Ross had gotten stale, and the fight fare offered by the cabler had fallen dramatically in recent years. Too many walkover matches, too many SMH purses given to puzzling persons. Fight fans hoped a new era would bring pick 'em fights galore.
http://sports.yahoo.com/box/news?slug=ki-ross_greenburg_resignation_hbo_071711
AUGUST
Kelly Pavlik's tumultuous year got that much whackier, when the fighter  pulled out of his scheduled fight with Darryl Cunningham on Aug. 2,  four days before they were set to tussle on a Showtime date. Pavlik said he was irked that he wasn't get paid enough, and jealous that Mikkel Kessler was allegedly offered a boatload to meet Lucian Bute. This  wasn't bottom for the Ohioan, sadly enough…
Ref Russell Mora turned in the Most Inept Performance of the Year by an official, quite an honor considering how many crap performances are turned in every year. He missed about a hundred low blows thrown by Abner Mares at Joseph Agbeko's groin on Aug. 13. Mora had his face right near Agbeko's groin when Mares smashed it with a left hook in round 11, but he inexplicably called the blow a fair launch and called for a knockdown. People screamed fix, and called for Mora's head. He later apologized, admitting he had an off night. That is an understatement. He should work nothing but four rounder's for all of 2012, at the leats, before he's considered for a larger gig.
http://tss.ib.tv/news/articles/13107-russell-mora-beats-joseph-agbekostay-tuned-for-avila-from-ringside
SEPTEMBER
Was it a cheap shot? Is all fair in love and war and boxing? Floyd Mayweather cracked Victor Ortiz off a break, dropping and stopping the Californian, and introduced the "two piece with a biscuit" into the lexicon, on Sept. 17. Ortiz stirred things up with a blatant headbutt attempt on Floyd, and then when order was restored, took his eyes off the eager-for-revenge Mayweather. He paid for it with scrambled marbles.  Perhaps the most lasting memory of the evening came post-fight, when Mayweather took offense at Larry Merchant's questioning, told him he was a hack, and heard Merchant say, "I wish I was fifty years younger, and I'd kick your ass." T-shirts were printed up in the next half hour and Larry's wife wore one. Some thought Merchant was unprofessional, I personally loved the pugnacious display. If only so many of the pugilists displayed Merchant-type fire during their bouts…
http://tss.ib.tv/news/articles/13280-floyd-drops-and-stops-ortiz-in-fourthwas-it-a-cheap-shot-woods
Class ended for "The Professor," George Benton, an ace fighter and trainer who taught tricks of the trade to much of the Main Events stable. He was 78, and a master craftsman who left us with the adage, "Win this fight. Look good in the next one."
OCTOBER
Boxing saw it's second bizarre finish to a big fight in a month when Chad Dawson dumped Bernard Hopkins on his back after Hopkins grabbed him in the second round of their Oct. 15 match in California. Ref Pat Russell—it was a year of controversy for Cali refs named "Russell"—called Dawson the winner via TKO, declaring that Hopkins quit. Hopkins did tell Russell that he had just one good limb, saying his left shoulder was hurt, and then cried foul when the match was halted and Dawson's hand was raised. The powers that be then declared the event a No Contest, which most of us thought was the right call on fight night. Many pundits and fans gave Hopkins a thumbs down for his part in the affair and to this day, Dawson's trainer John Scully publicly calls Hopkins a faker, saying he thinks his shoulder wasn't all that injured.
http://tss.ib.tv/news/articles-frontpage/13435-hopkins-shoulder-hurt-after-dawson-throws-him-down-fight-ends-in-2nd
http://tss.ib.tv/news/articles/13448-dawson-trainer-scully-on-hopkins-qa-real-gangster-wouldve-gotten-upq
It was one and done for Dewey Bozella, a man who didn't let his wrongful conviction for murder eat him alive. Instead, he fought for his freedom, and to celebrate his release, he secured a fight on the Hopkins-Dawson undercard. On Oct. 15, the 52 year-old Bozella beat Larry Hopkins (UD4), age 31, and gained some serious consideration to gain Fighter of the Year honors. I would not have a problem bestowing Dewey that designation, not at all.
Akira Yaegashi of Japan and Thailan's Pornsawan Porpramook did not stop throwing on Oct. 24, as they battled for Porn's WBA minimum-weight title and for that they must win my vote for Fight of the Year. Eric Raskin was first to this bandwagon, to my knowledge, and Dan Rafael also tipped his cap to these guys, so I'm happy to shine some more light on the 105 pounders as well. Side-note: you have to love YouTube, for without this service, two minimum-weight boxers would never be contenders for the BWAA versionof FOY.
NOVEMBER
The steroids issue popped up in the fight game, when we learned at the beginning of the month that Juan Manuel Marquez' strength and conditioning coach Angel Heredia used to be a PED dealer and ratted out athletes who used. Whatever Heredia did with JMM, it worked, as Marquez gave Manny Pacquiao all that he could handle and then some on Nov.  12, in their third tangle; but Marquez didn't get love from the judges, as the Vegas arbiters scored for Manny, 115-113, 116-112, and one had it even, 114-114.
http://tss.ib.tv/news/articles-frontpage/13612-pacquiao-wins-majority-decision-in-ultra-tight-scrapwoods
A true Fight of the Year contender unfolded on Nov. 5, when James Kirkland bounced back from a quickie knockdown in the first, dropped Alfredo Angulo in the same frame, and finished him in the sixth. He fought like a man possessed, or perhaps a man no longer possessed, by the man. Kirkland did time on a weapons charge, scrubbed off some rust, and goes in to 2012 as one to watch.
Fight fans shed another tear, when they learned that Smokin' Joe Frazier was gone. The ex heavyweight champion perished from liver cancer, at age 67, on Nov. 7. One presumes he will be in the mind of Muhammad Ali when The Greatest celebrates his 70th birthday on Jan. 17th.
Stephen Espinoza was named new head of boxing at Showtime on Nov. 17. The lawyer comes over from Golden Boy, so all eyes will be on him to see if his old bosses get preferential treatment. His first act was to open up the purse strings to snag Berto-Ortiz II. So far, so good…(Yes, Ortiz is a Golden Boy fighter, but as long as Espinoza buys pick 'em fights of great quality, he will be fine.)
NY fight fans rejoiced when they learned that the Miguel Cotto-Antonio Margarito rematch would take place at Madison Square Garden on Dec. 3. They held their breath as mega-drama played out in the second half of the month, because the New York State Athletic Commission acted in a quite deliberate manner while processing Margarito's application to receive a license to box. The Mexican had three surgeries, for a fractured orbital bone, a detached retina and then a cataract, in a span of six months, but with 12 days till fightnight, the NYSAC licensed the hitter.
DECEMBER
Yep, he cheated. The verdict came in, in the minds of many fight fans, when they saw Miguel Cotto have his way with Antonio Margarito on Dec. 3 at MSG. A packed house saw the Puerto Rican box and move like an ace, and force the doctor to pull the plug on Margarito after nine rounds were completed. His damaged right eye was closed, and his reputation was in complete tatters, as most all assumed that the first time they tangled, in 2008, "Margacheato" was using loaded hand wraps. Cotto goes into 2012 as a viable foe, again, for Manny Pacquiao if the ball is again dropped, and Pacquiao-Mayweather doesn't get made.
It was one of the top handful of upsets of the year, just maybe not in the eyes of the winner, Lamont Peterson. The DC-based boxer was neck and neck with Amir Khan, and had his hand raised at the end of their Dec. 10 junior welter title scrap. Point deductions from Khan for pushing were the difference, as the judges saw it 113-112, 113-112, 110-115 for Peterson, whose stock rises immensely, as he rose to the occasion in a big way. Khan's stock drops, and we are all left wondering if we over-estimated his worth. As an aside, Peterson is another one of those kids who could easily have tumbled down a crack if boxing hadn't given him a platform to shine.
Ward made Carl Froch look like a solid journeyman, nothing more, on Dec. 17, and hoisted the Super Six tourney trophy at the end of the night in AC. In a perfect world, a just world, this God-fearing upstanding citizen would enjoy the same buzz as Floyd Mayweather. This world is what it is, far from perfect, so Ward will for now have to be somewhat content with being most appreciated by purists.
Dec. 21 brought the word that Floyd would be doing some jail time, no more than 90 days, for his Sept. 10 altercation with the mother of his kids, and to us, hope that this "clarity" in his legal matters would pave the way to make Manny-Mayweather. But if Floyd goes behind bars Jan. 6, and gets out in March or April, he wouldn't likely be in line to meet Manny until September. Which means we have another nine or so months to bloviate on the Matchup That Might Never Be…And Floyd would be 35 ½ and Pacman almost 34….Sigh. I'm trying to finish up this piece leaning in a positive direction, and this line of thinking is making it hard.
On Dec. 30, Jermain Taylor came back to the ring after two plus years away, and got the W over journeyman Jessie Nicklow. He said he was fired up, had the motivation, and wanted to reclaim a title. He said all the things you expect the comebacking fighter to say. It's fair to say we all breathed a sigh of relief that he left the ring A-OK after his TKO8 win, which is saying something, since he suffered bleeding on the brain following his KO12 loss to Arthur Abraham. Docs said he's good to go, and we pray they are correct as he moves toward bigger fights against harder-punching opponents.
With no bouts scheduled for Dec. 31, unless Mayweather lights a stack of thousand dollar bills on fire in a club, or Pavlik or someone else acts up, that's a wrap on the year in boxing, 2011.
Thanks to all who gave their all in the ring for our entertainment, and to all you faithful readers of TSS. Happy New Year!
Tony Yoka Makes Quick Work of Duhaupas; Yoka's Wife Wins Too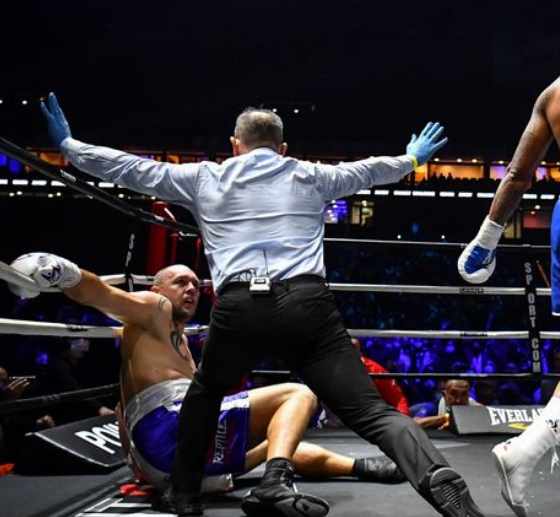 An indoor rugby stadium in Nanterre, a township in an inner suburb of Paris, was the site today of a five-fight boxing show featuring Tony Yoka and his wife Estelle Mossely in separate bouts (when they fight each other, they do it in the privacy of their home). Attendance was limited to 5,000 with social distancing protocols in place.
Yoka and Mossely, the parents of two young children, the youngest a boy born in May, were each gold medal winners in boxing at the 2016 Rio games. The six-foot-seven Yoka defeated Filip Hrgovic in the semis and Joe Joyce in the gold medal round.
Today Yoka, in his first scheduled 12-rounder, was matched against 39-year-old French warhorse Johan Duhaupas who was 38-5 (25) heading in. Duhaupas went 12 rounds with Jarrell Miller, extended Deontay Wilder into the 11th frame, and knocked out Robert Helenius, the conqueror of Adam Kownacki. Despite his advanced age, he represented a step up in class for Yoka, 28, whose pro career was disrupted by a one-year suspension from the French Boxing Federation for being a no-show at three PED tests. At the very least, Duhaupas was expected to give Yoka some rounds.
But Yoka had other ideas. He needed only 121 seconds to dismantle his countryman and show that he belongs in the conversation with Daniel Dubois, Jared Anderson, the aforementioned Hrgovic and others when talking about the next generation of heavyweight stars.
Yoka (8-0, 7 KOs) dropped Duhaupas midway through the opening round with an overhand right. Duhaupas didn't appear to be badly hurt, but he had no antidote for the barrage that followed. The coup-de-gras was a big right uppercut that sent him flying backward against the ropes. The referee stepped in immediately.
Yoka's U.S. promoter is Top Rank which is seeminly out to corner the market on bright young heavyweight prospects. When Yoka turned pro it was under the tutelage of Virgil Hunter, the trainer of Andre Ward. Yoka has spent considerable time in Las Vegas while serving as the chief sparring partner for Joseph Parker.
—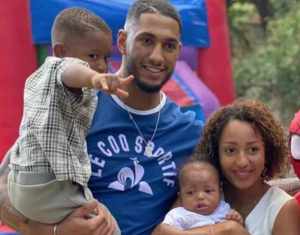 Estelle Mossely kept pace with her hubby. Mossely, 28, advanced her record to 7-0 (1) with an 8-round unanimous decision over countrywoman Aurelie Froment. The scores were 80-72 across the board.
This was an assignment designed to shed the rust. Froment, 33, entered the fight with a 3-0-1 record, but hadn't previously met an opponent with a winning record. In fact, none of Froment's previous opponents had ever won a fight. In the aggregate, the foursome was 0-32-5 at the time that she fought them. Even the world sanctioning bodies steered clear of this affair, refusing to cloak the fight in some sort of title.
That observation aside, it was a nice win for Mossely coming so soon after giving birth. Born in France of Congolese and Ukrainian descent, she is rated the world's best active female lightweight by BoxRec.
Hot prospect Souleymane Cissikho was originally scheduled to be on the card, but pulled out for an undisclosed reason. An Olympic teammate of Tony Yoka, Cissikho is a  special talent.
Check out more boxing news on video at the Boxing Channel 
To comment on this story in the Fight Forum CLICK HERE
Season 2 of the World Boxing Super Series Concludes on Saturday in Munich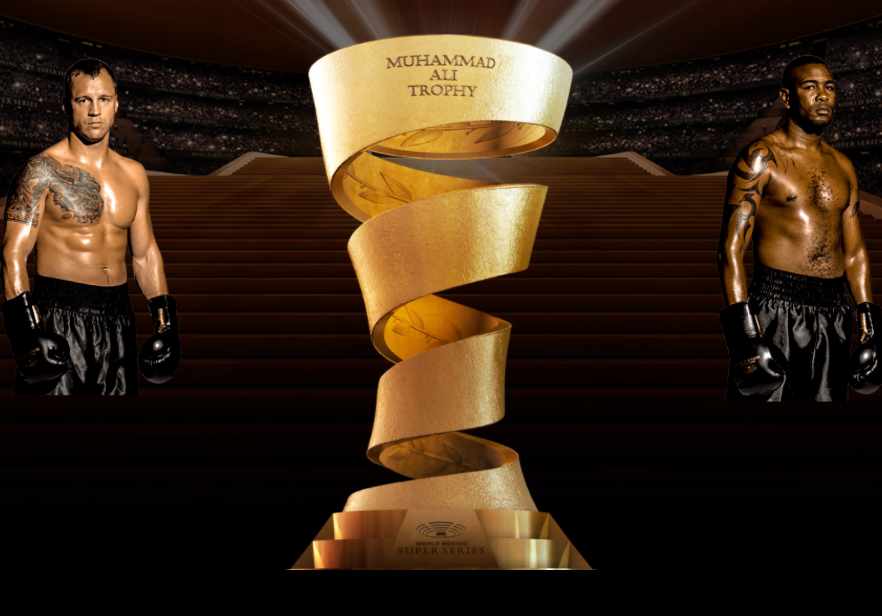 PRESS RELEASE: The hotly-anticipated World Boxing Super Series Season II Cruiserweight Final between Mairis Briedis and Yuniel Dorticos takes place behind-closed-doors in a film studio at Plazamedia Broadcasting Center in Munich, Germany on Saturday, 26 September. On the line: The Muhammad Ali Trophy, IBF World Title, and vacant Ring Magazine 200 lbs belt.
The final will be shown live on DAZN in the US and Sky Sports in the UK.
"A final for the Muhammad Ali Trophy has proved to be something extraordinary. We have seen that it brings out the best in boxers which reflects the DNA of our tournament as to deliver and continue to deliver boxing at its very best to fans of the sport," said Andreas Benz, CEO of Comosa, the event organizer.
"Plazamedia is a phenomenal solution, the studios are providing a controlled environment which is of huge benefit to us and the production team to keep everyone safe while also putting on a great show.
"At the same time, we have done everything to secure fair conditions for both teams, and to ensure they remain healthy and isolated until the action starts."
Mairis Briedis, tournament No. 1 seed, qualified for the final through wins over Noel Mikaelian (UD) and Krzysztof Glowacki (TKO3), while Dorticos, No. 2 seed conquered Mateusz Masternak (UD) and Andrew Tabiti (KO10) to enter the 200 lbs decider.
"We are very happy about the announcement of the final," said Latvia's Mairis Briedis. "I love the fact that it will be in Munich as it reminds me of every time I went to train with the Klitschko brothers in Germany and the flights were always via Munich. Those are some great memories of the time spent with them there."
Said Miami-based Cuban, Yuniel 'The KO Doctor' Dorticos, IBF World Cruiserweight Champion: "To all my fans worldwide, In Europe and especially in Munich, Germany: I am super happy the World Boxing Super Series final will take place in Munich, Germany, and I will see you all on Saturday, September 26th. The KO Doctor is back and ready to prescribe another dose of pain and take the Muhammad Ali Trophy back to Miami."
Kalle Sauerland, Chief Boxing Officer of the WBSS, said: "On 26 September we will not only crown the best cruiserweight on the planet but also send a sign to the world that boxing is back with the first major transatlantic championship bout between the undisputed number one and two in their division.
The final is not only about honour and glory, but cementing a legacy. The winner will become a member of an exclusive 'Ali Trophy Winner Club' that includes Oleksandr Usyk, Callum Smith, Naoya Inoue and Josh Taylor. It doesn't get much bigger in boxing, and we expect Briedis and Dorticos to have an absolute barnstormer!"
The Muhammad Ali Trophy was created by the late world-renowned artist Silvio Gazzaniga who also designed the iconic FIFA World Cup Trophy.
Check out more boxing news on video at the Boxing Channel 
To comment on this story in the Fight Forum CLICK HERE
Avila Perspective, Chap. 106: Return of LA Boxing, Josh Taylor, Charlos and More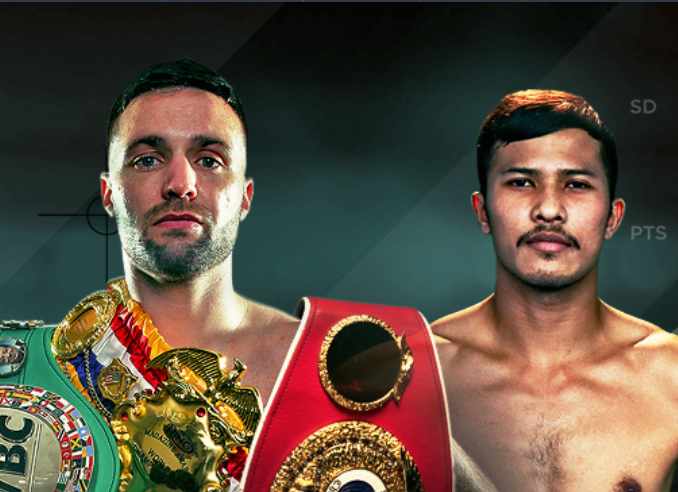 Avila Perspective, Chap. 106: Return of LA Boxing, Josh Taylor, Charlos and More
Let's call this week the Big Build Up.
Back in the 1920s to the 1950s the City of Angels was known as the place where Humphrey Bogart lived and played characters out of Raymond Chandler's novels. Books like the "Big Sleep" and "Lady in a Lake" were made into movies based in Los Angeles.
Well, here we are back where boxing thrives, people or not.
Los Angeles kicks off the big boxing week starting with a televised fight card that features home grown featherweight Vic Pasillas at the Microsoft Theater in the downtown area. Fox Sports 1 will televise the Premier Boxing Championship card on Wednesday, Sept. 23.
Pasillas (15-0,8 KOs) faces Dominican fighter Ranfis Encarnacion (17-0, 13 KOs) in the co-main event at a fan-less event that begins a crowded week of boxing as we near the end of 2020.
"Coming out on top against Encarnación is going to catapult me into some big fights at featherweight. The division is wide open and I know with hard work I can take it over," said Pasillas who is originally from Los Angeles. "This is by far the most important fight of my career. I'm coming with everything I got, because I know this is the turning point that will lead to bigger and better fights. I am ready to bring an exciting fight to the fans and get my hand raised in victory."
Both Pasillas and Encarnacion are undefeated and unknown to most of the boxing world. A win changes everything especially when it's difficult to even stage a boxing card.
Promoters are anxious to get their fighters in the ring by any means necessary.
On Thursday in Biloxi, Mississippi, super lightweight Michael Williams Jr. meets Thomas Miller in the headline attraction of a boxing card that will be streamed by UFC Fight Pass.
On Friday in southern Mexico, Serhii Bohachuk (17-0, 17 KOs) meets Alejandro Davila (21-1-2, 8 KOs) in Merida, Yucatan. No word if it will be streamed. The super welterweight from Ukraine has a 17-fight knockout streak and has become a main attraction in Hollywood, California for 360 Promotions.
"Serhii has become one of the most talked about rising stars in boxing," said Tom Loeffler, promoter of 360 Promotions. "Boxing fans are excited to see if he can continue his knockout streak against Alejandro Davila, the toughest opponent he's faced. He's been training very hard with Manny Robles for this fight and if victorious, we're certain there will be bigger opportunities for him in the near future."
These are all tasty appetizers for the big buffet coming on Saturday.
Breakfast, Lunch and Dinner
Saturday morning, especially if you live in the California area, ESPN+ will showcase the IBF, WBA super lightweight world title fight between champion Josh Taylor (16-0, 12 KOs) and Apinun Khongsong (16-0, 13 KOs) in London. It will be streamed live on Sept. 26, Saturday morning, starting at 11 a.m PST.
This is an important match for Taylor (pictured on the left) who needs a win to nail down a unification clash with Jose Carlos Ramirez the WBC and WBO titlist. If Scotland's Taylor emerges victorious the super lightweight clash will be one of the top fights of the year.
And if that fight happens to take place, then that winner more than likely meets WBO welterweight champion Terence Crawford.
But first things first. Taylor needs to defeat Thailand's Khongsong on Saturday.
"I didn't want a warm-up fight, so getting straight back in there against my mandatory challenger is great, as it's kept me fully focused. I want big fights in my career, so this is an important fight with my belts on the line," said Taylor.
Charlos Pay-per-view
The Charlos brothers asked for it and they got it.
Long have the brothers from Houston, Texas asked for a pay-per-view fight card and it never seemed possible until now. The Charlos will headline a pay-per-view double-header on Saturday via Showtime.
Beginning at 4 p.m PT/ 7 p.m. ET the Showtime pay-per-view card begins with three top notch bouts:
WBO bantamweight titlist John Riel Casimero (29-4) vs Ghana's Duke Micah (24-0, 19 KOs).
WBA super bantamweight titlist Brandon Figueroa (20-0-1, 15 KOs) vs Damien Vazquez (15-1-1, 8 KOs).
WBC middleweight titlist Jermall Charlo (30-0, 22 KOs) v Sergiy Derevyanchenko (13-2, 10 KOs).
Charlo was not impressed with Derevyanchenko's performances against Daniel Jacobs and Gennady Golovkin because both were losses. He expects to dominate.
Derevyanchenko says he's ready for Charlo.
"Golovkin is a very different fighter than Charlo, but Jacobs is similar stylistically, so that's something I'll be used to," said Derevyanchenko. "This training camp has been very similar to camps for my previous fights though. We just brought in different sparring partners for this one. We're using fighters who can show us what Charlo will bring to the ring."
After a 30-minute intermission the second half of the boxing card begins.
Former bantamweight world champion Luis Nery (30-0, 24 KOs) moves up in weight to face Aaron Alameda (25-0, 13 KOs) for the vacant WBC super bantamweight world title. Both fighters are from Mexico.
Former super bantamweight titlists Danny Roman (27-3-1) and Juan Carlos Payano (21-3) meet in a 12-round bout.
In the grand finale WBC super welterweight titlist Jermell Charlo (33-1, 17 KOs) challenges IBF and WBA super welterweight titlist Jeison Rosario (20-1-1, 14 KOs) in a fight for all three belts.
"We lions," said Charlo.
It's a very big week for boxing that begins on Wednesday and ends Saturday.
Check out more boxing news on video at the Boxing Channel 
To comment on this story in the Fight Forum CLICK HERE