Euro Bureau Best of Last Year
Euro Bureau Best of Last Year
BLASTS PAST – GrandpaGloves '11hobbles into the graveyard of calendars while Boxing Baby 2012 begins the crawl. New Year's blessings to all.
We must bury Boxing2011 with few wreaths of greatness, but we can also praisemany honorable and entertaining duke-outsduring that past twelve months. The game itself deserves "Fighter of the Year"consideration for once again making naysayers look like trolls, slithering around beneath the ringside seats.
Even a bad year in boxing is as goodas a normal year in most sports.
Still, with persistent negative images,perceived miscues or improprieties and, perhaps most damaging; stars' questionable efforts in "championship" events, this certainlywasn't amongst the best seasons ever.It really wasn't a bad year overall for the brand worldwide though, whileregrettable that two of the very biggest, potentially classicfights in the global spotlight, Pacquiao -Mosley and Klitschko – Haye, were complete duds.
As always, there were thousands more good scores or calls than bad, but last year it seemed there were far moreunsatisfactory callsin fights of the very highest profile, like Floyd Mayweather Jr – Victor Ortizstateside or Yoan Pablo Hernandez – USS Cunningham in Germany. Around here, the weirdest sour ending was whenVitali Klitschko stopped Odlanier Solis on a one punchleg injury.Uncommon and uncanny.
In European territory, there was sustained interest in local titles and local prospects, with limited coverage of theUS scene. In Germany, and probablyBritain, Mayweather got muchmore ink and screen time than Manny Pacquiao. Then again, in 2011 Floyd had many of what you could call more "newsworthy" days than other fighters.
Around this continent and the UK there was plenty of good action at the ground level. Boxing remains a bigger consumersport here than in the States. Pay per view is limited or non-existent in most regions. That means almost every big fight is on free TV. Makes a difference. In Germany the amount of viewers is usually quitesubstantial, a trend probablycommonin nearby domains. The businessmodel, kind of like '50s USA, is apparently good for the sport.
The K2 promotional express rolled on, setting the standard for class, like a precision luxury coup gliding down the autobahn at warp speed. Newer muggs like Alexander Povetkin, Robert Helenius, Tyson Fury, Hernandez, and Amir Kahn became more regular in the sports pages.In Germany, "Smokin'" Joe's passing was widely noted with respect of an appropriate magnitude.
There seems to be enough punch for profit going around Germany to makeeveryone happy. At least three major broadcasting companies (possible affiliations unknown) transmit fights relatively often, and stronglysupport them through a related media umbrella which includes high-def live streams.
Klitschko stadium galas, while not as red-hot or expensivea ticketas a couple years back, fill tens of thousands of seatsthree orfour times a yearwith no visible decline in the demand for premium VIP packages (maybe it should be VEP: very expensive person). Sauerland Event, the area's most active premium promotional outfit, regularlyputs onexcellent major title cards that average aroundfour to six thousand customers. The club fight typescene looks very popularat many local gyms, which sponsor bouts for a couple hundred people.
Here, boxing is mainstream enough that advertising campaigns present boxing based images as a desirable, marketable attribute. Fitness, fashion and general goods get the gloved-uptreatment.Michael Buffer has been prominently featured for many months in promos for one of the biggest retail companies in Germany.
There is probably more general boxing coverage in the UK than other parts of Europe I've seen, with regular profiles outside usual immediate or upcoming fight time frames. German media provides good coverage of many fights immediately preceding specific events. In Germany there are many celebrity-based photos of boxersamong daily paper tabloids. Unlike UK Page 3 types, Deutschland'stopless frauleins adornpage one ofsome city newspapers.
European boxing'scurrent stateof the artexists incomplete self sufficiency, stablity and withan ongoing,replenished talent pool. Top amateur prospects may be less protected than many of the future USstars I saw. Overall, through size alonethe talent pool around Germany is farmore shallow thana place likeLA or Vegas in terms of global impact. Between strong national programs at both amateur and pro levels there is a considerable migration of former Soviet Union state area prospects who head west for more optimal training conditions.
Professionally, at the novice to mid-prelim range things look muchthe same as in the US. Maybe its something in the water, wine or workoutsthat later separatesanemergence of trueworld class performers. In 2011, the ambassadors from these Europeanpartsdidn't fare so well in global arenas.German star Arthur Abraham got spanked in the Super Sixwhile respected Sebastian Zbik and Serhiy Dzinzirukalso met defeat onUS shores. Abraham gets back on lighter horse in around a week. Dzinziruk, who got stopped by worthy champion Sergio Martinez and Zbik, narrowly outpointed by improving JC Chavez Jr wentback to the drawing board with new opportunities. Sebastian Sylvester, who lost his IBF middleweight belt to Daniel Geale then got stopped by Grzegorz Proska, may digress to a spoiler role.
Perhaps the most shocking differencein theGerman scene is that here, the cruiserweight division is very strong and entertaining. No, I did not stay too long in Amsterdamfor NewYears' (just long enough, actually).
There are many solid cruisers who will never earn a title but are no easy notch, a bit like fringe heavyweightcontenders of the 70-80s.Guys who probably hit the ring fight nightwell over 200 poundslike Ola Alofabi orDenis Lebedov arethe fringes of the 2010s.Guys like Hernandezand Cunninghammight have won bouts against previous heavies like James Tillis,Joe Mesior Tyrell Biggs.
Differences in nationalapplication and results cause no major deficiencies in anyone's product.It's still two women ortwomen, generally braver andin better shape than the average citizen, getting into a ring and throwing hands.
Consistent levels of Vegas main events and featured undercard bouts apparently still dwarfthe euroscene atop the fistic food chain, but the overall spectacleis much the same. Some Klitschko VIP parties rival glitter gulch presentations. For the record, as a fight destination nothing matches Vegas in the 80s-90s,probably the modern era'sheight of boxingglamour. So far.
Thatsummit may remain unmatched, but there are many fine fights and fighters to observe in these parts nowadays. Here's the best of what I saw firsthandlast year.
Fighter(s)of the Year : The Kbros split this one by way ofboth dominant and dubious distinction. From one perspective, nobody really came close to matching the level of exemplaryprofessionalism Wlad and Vit have maintained forrelative eons now, in everything from proper preparation to charitablesidelines. On the other side of the coin,during 2011 there were few major Euros who hadvery good years. Lebedev pounding Roy Jones or James Toney in Moscowain't exactly a Renaissance.
Fight of the Year – I'm goingwith Marco Huck's (pictured) frenzied10th round KOversusHugo Garayin Munich's Olympic Ice Stadium last July. It was not the most finesse based exercise ever conducted between the strands, but it was one heck of a two-way brawlthat made the 4,404 or so fans in attendance loco. Both men were stunned multiple times during huge exchanges. Garay was a perfect foil, and made an upset look entirely possible more than a couple times. Icing on the conking cake was Huck's way over the top entrance featuring a live performance by pop-rocker Sera Lee, complete with unisex dancing boxersusing flaming gloves. A live cartoon.
There was less of the essential mauling mayhem, but in terms of top level technique the runner-up nod goes to the controversialFelix Sturm-Matthew Macklin endurance contest. Sturm's subsequent draw againstMartin Murray looked nearly as good on TV, andHernandez-Cunningham shaped up as a thriller before an accidental cut.
Round of the Year: Sturm- Macklin round 12.A great promotion with a full house of 19,000 inCologne. Excellent battle, arguablyup for grabs down the stretch. I gave the round to Sturm by a punch,but the fight to Macklin by a point. Runner up: Povetkin-Chagaev round 6. Yes it wasa bit ofa big boy slog, but well-fought overallbehind plenty of heavy thuds.Maybe it takes a strong bruiser like Chagaev to bring out the best in Povetkin.Reminiscent of '80selimination waltzes featuring guys like Dokes,Weaver or Cobb.
Event of the Year : Vitali K – Adamek in Wroclaw, Poland, where the locals showed why their economy is growing. Students of boxing loremay recall the Dempsy-Gibbons fiasco in Shelby, Montana. This was the other side of the payoffcoin, in a still under construction stadium area to be used again for the 2012 European football/soccer tournament. It looked like almost everyone in town came for the spectacle.As a heavyweight fight, it was merely an impressive performance by the much larger, more experienced Kbro, who did what he was supposed to do against a brave but overmatched foe. Nothing extraordinary. As a cultural gathering, it was a rare scene of mass humanity with boxing at the center. The last time I observedanything like it was Lewis-Tyson in Memphis.It was later sad to hear that Adamekwas parting ways with Main Events, whose quiet efficiency contributed to both an amazing event and Adamek's overall status in the ranks. Nothing in these parts came close as a runner up.
Debacle of the Year :Goes hands and happy pants downto the Klitschko-Haye fight. As a fight scene, Hamburg was the opposite of Wroclaw.Imagine. A chancefor redemption of the marketability mothballed heavyweight division ona single July evening in Hamburg. Evena near constant, chillingdownpour couldn't drown the highly-anticipated showdown. Six or seven thousand visiting Brit fans completely outcheered the rest in a soaked crowd that looked around 38,000 deep. Despite the drenching, when the last prefight fireworks went off, there was real, electrified anticipation in the air. That lasted around four more minutes, to a point in round two when most of the stadium started figuring out they were not in for a classic. The soggy Britvocalists put more heart into their effortthan Haye did into his,and sang formore frames than he fought.
Prospective International Star : There are currently a pair of potential primo punchers on the rise : '04 Olympic silver medalistandWBA"something or other"middleweighttitlist Gennady Golovkin and '08 heavyweight gold medalist Rakhim "The Machine" Chakhkiev, a southpaw cruiserweight.Hernandez could also be considered, but almost all his potential competition is based in Germany and the usual suspects are pretty muchunknowns. Right now Chakhkiev looks like a future heavyweight force, maybe a Denis Boytsov typewithout the hand issues.
KO :Afolabi'shugeblastout ofTerry Dunstanon the Klitschko-Haye undercardwas the most obvious calluntil December, when Glovovkincreamed the reportedly never dropped Lajuan Simon, who'd looked solid against Abraham and Sylvester. Whatever your preference, bothshort hooks produced splattering, crowd joltingfirst round stoppages.
Progress: Fury and Helenius moved themselves to the front of the Klitschko sweepstakes pack by staying busy. Though defeated, Zbik and Dzinziruk went from being unknowns in America to being unknowns in America who are now only another decent effort away from being well -knownenough for agood payday.
Comeback: Haye. Completely unearned, but somehow he rosefrom July mockery tocomfirmed year-end mention as most likely contender for an early summer stadium fight against Kbro Vitali.
Class Act:The Klitschko brothers again. Whenthe main knock, year after year,istheir complete lack of competition, they're doing something a lot better than everybody else.
Country to country, the Americas still seemsuperior in the manly art.All said, if everythinglooked equal on paper, I'd pick Latin American or USbased fighters over their European counterparts at least seven times out of ten.
It's a good sign that the new year starts witha return of the sport to a foundational network. NBC's Chambers-Liakhovich free cable broadcast could well be the event of next year, one way or another.
Thepositive perspective, as usual, is that there were lots of good fights all over the lumping landscape by honorable, well prepared performers who maintained boxing's best traditions and highest standards.
The fight gameremained a vibrant piece of the social equation last year,andthe planet continued to spin as old calendars and old champions were replaced.
There is a lot of middle ground between thriving and starving.
Boxing's bellymay be lean, but it isn't under-nourished.
Euro Bureau Best of Last Year / Check out more boxing news on video at The Boxing Channel.
The Hauser Report: Jim Lampley and Bob Sheridan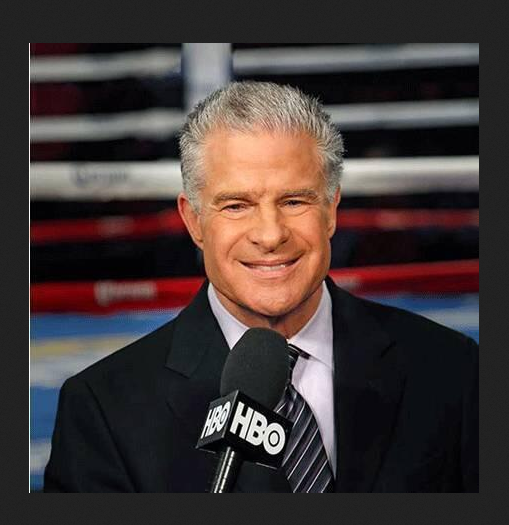 Two of boxing's greatest blow-by-blow commentators were in the news last week. On Saturday night, Jim Lampley returned to the sweet science but in a role that was different from the one he'd enjoyed for decades at HBO. Sadly, three days earlier, Bob Sheridan died.
Let's start with Lampley.
With all due respect to Sheridan (we'll talk about his remarkable body of work later), Lampley is widely regarded as the greatest blow-by-blow commentator in boxing history. He was separated from the boxing scene when HBO stopped televising fights five years ago and resurfaced in a new role with PPV.com at Canelo Alvarez vs. Jermell Charlo.
PPV.com is a division of InDemand and streams various entertainment events. As part of its business, it streamed Canelo-Charlo in English and Spanish in the United States and Canada as a source of ancillary pay-per-view income for the promotion.
On August 22, PPV.com announced that Lampley and Lance Pugmire would co-host a live viewer chat during Canelo-Charlo. In keeping with his duties, Jim was in Las Vegas during fight week to generate interest in the fight and PPV.com.
Lampley arrived in Las Vegas on Tuesday night. He was a constant presence at media events, conducting interviews and being interviewed about the fight. His presence benefited the promotion by enlarging the pool of potential buyers who became aware of Canelo-Charlo. And the attention that Jim received was a boon for PPV.com, which became a talked-about alternative platform for buying the fight.
Lampley introduced himself to his PPV.com audience on fight night at 5:04 PM west coast time with a post that read, "After almost 5 years away from live boxing, the entire last 4 days in Las Vegas and the MGM Grand Hotel, the noise, the lights, the people, it's been a hallucinogenic experience."
When the judges awarded Erickson Lubin a stunningly bad decision over Jesus Ramos, Jim declared, "So I spent four years plus away from boxing, and I guess the judging didn't get fixed."
Lampley is a superb ambassador for boxing. His involvement with Canelo-Charlo was good for the entire promotion, not just PPV.com. But fight-night chats aren't the best medium for Jim's talent. And PPV.com shouldn't be his end destination.
Part of the Jim Lampley experience for fans has always been the electric quality of his voice, a voice that generated excitement. By definition, that voice is missing in a written chat. Also, Lampley had an unmatched ability to view ring action and synthesize it into concise, perfectly-worded sound bites as it was unfolding, not several seconds afterward. In a written chat, that quality is lost in transition.
Jim Lampley belongs at ringside behind a microphone, not a keyboard.
Bob Sheridan plied his trade for decades. He had a distinctive announcing style and larger-than-life personality coupled with a love for boxing and the people he met in it.
 Sixteen years ago, I profiled "The Colonel" (as Sheridan was known). Bob's resume grew even more impressive after that, capped by his 2016 induction into the International Boxing Hall of Fame. My original article about Bob is republished below as a tribute to a man whose enthusiasm for the sweet science was contagious.
Bob Sheridan was first behind the microphone for a fight in 1966. Since then, he has called more than 800 championship bouts and become an integral part of boxing's historical soundtrack. From radio to broadcast television to closed-circuit to pay-per-view; been there, done that.
Sheridan is the international voice of boxing. He's the commentator for the foreign-rights feed on most major bouts held in the United States and also for many fights overseas that are transmitted by satellite to the US. He was at ringside when Muhammad Ali battled George Foreman in Zaire and Joe Frazier in Manila. He has called the fights of legends like Sugar Ray Leonard, Marvin Hagler, and Roberto Duran. He was behind the microphone when Mike Tyson bit off part of Evander Holyfield's ear. In large swaths of the world, his voice is synonymous with the sweet science.
Sheridan's parents were born in 1905; his mother in County Mayo and his father in County Longford. Both of them came to the United States as toddlers.
Bob was born in Boston in 1944. "None of my grandparents were educated people," he says. "But they were very family-oriented and wise. My father's father, James Sheridan, was a sheet-metal worker in Boston, who died before I could know him. He passed the trade on to my father, who later became a building contractor. My maternal grandfather, Andrew Dougherty, was a farmer in New Hampshire. He knew a lot about Irish history and politics and talked endlessly to me about them."
Sheridan went to college on a baseball scholarship at the University of Miami. "Baseball was my first love," he says. He graduated in 1966 and, that summer, played a few games at third base for the Miami Marlins, who were a Class-A farm team for the Baltimore Orioles. "There was never any chance I'd stay with the club," he acknowledges. "I'd been brought in to fill a spot until some kid they'd signed out of high school joined the team."
His first year out of college, Sheridan also taught physical education in the Dade County school system and hosted his own radio talk show on WDER-FM, a small station in Miami. "I bought my own airtime," he remembers. "It cost ten dollars for a two-hour slot between 6:00 AM and 8:00 AM every Sunday morning. If I sold more than ten dollars in ads, I made a profit."
But WDER-FM led to bigger things. The general manager for the Florida Marlins was Bill Durney, who co-hosted a radio show on WGBS (a major Florida station) with Red Barber. Barber was semi-retired and living in the Sunshine State. In earlier years, he'd been a radio and television baseball play-by-play announcer of legendary proportions. Durney introduced Sheridan to Barber.
"When I was young," Sheridan says, picking up the story, "I wanted to be Babe Ruth. I had a pretty wild lifestyle, and I used to tell people that I was Babe Ruth reincarnated, except I'd been born four years before Babe died and I couldn't play ball like him. However, I did have a tremendous ability to talk, and Red hired me. At first, I lined up interviews for him and read the sports news on his show. Then my role expanded. Red taught me a lot about the business. I learned from him that it doesn't all come from the top of your head. There's research and preparation. I prepare for every fight today like it was my first. I prepare for each undercard fight the same way I prepare for the main event. I learned that from Red Barber."
Working with Barber gave Sheridan exposure throughout Florida. Then boxing entered his life.
The first fight that Sheridan had seen in person was Cassius Clay's conquest of Sonny Liston in Miami Beach on February 25, 1964.
"Chris Dundee, the on-site promoter, called our baseball coach at Miami and asked if he could send some kids over to the arena to sell Coke at the fight," Bob remembers. "Half a dozen of us went. I think a Coke sold for a quarter back then. We each made about four dollars, but I wasn't there for the money. I was there for the fight. Clay wasn't the most popular guy in the world, but I liked him. When the main event started, I stopped selling Coke, sat down in an aisle about twelve feet from the ring, and watched the fight. Of course, none of us had any idea of the magnitude of the history that was being made."
In late-1966, Sheridan began calling Chris Dundee's fights in Miami on WGBS radio. Boxing was a popular sport back then. There were fights in town every week, and Sheridan's work became increasingly popular. "The more you do, the better you get," he says. "And as I improved, more things fell into place."
Dundee started taking Sheridan to fights out of town. He was hired to do radio color commentary for University of Miami football games. The first championship fight he called was Jerry Quarry against Jimmy Ellis for the WBA heavyweight title in 1968. Television work followed.
By the mid-1970s, Sheridan had gained a considerable following. Then his life took an unusual detour. He moved to Ireland and began raising cattle on a small farm in County Clare. "It's hard to relate to city people the pleasures of working on a farm," he says. "But remember; my grandfather was a farmer, and I loved horses and cattle."
Sheridan owned ten acres in County Clare, leased a hundred more and, at one point, had two hundred head of cattle." Then the detour got stranger.
"I figured I was breeding cattle and raising them, so why not ride them," he remembers. "I tell people, I was always a bullshitter so bull-riding was the next logical step. Anyway, I took up rodeo bull-riding. In retrospect, it was crazy. This was before flak jackets. There were a lot of bruises and I broke my back one time at a rodeo in Arkansas. I'd fly from Shannon to the United States, do a rodeo, and fly back home again. For a while, I was Aer Lingus's number-one non-commercial account. The last time I got on a bull was in 1981 at Madison Square Garden. I got bucked off in two seconds. The chute wasn't even shut before I was off. After that, I stopped. But it was a very enjoyable period in my life. Rodeo cowboys are great athletes and fun guys to be around. The characters in rodeo are like the characters in boxing."
In late-1981, Sheridan left the cattle business and moved back to Boston. "I loved every minute of it," he says. "But land became too expensive to lease." He now lives in Las Vegas with his wife of ten years, the former Annie Kelly, who was born in County Tipperary.
"I was a hard-drinking womanizing single guy for a long time," Sheridan acknowledges. "I was married once before to another Irish girl, and it was a horrible marriage because I wasn't mature enough to handle it. Whatever went wrong in that one, I'll take responsibility for it. I'm a much better husband now."
In addition to being a better husband, Sheridan is also now a fixture on the international boxing scene. He's behind the microphone for forty fight cards annually, but that doesn't begin to tell the story of his travels. In one seven-week stretch last year, he was ringside for fights in Memphis, the Philippines, St. Louis, Las Vegas, Boise, and South Africa. In 2005, he visited Australia eleven times.
Here, it should be noted that Sheridan has had four heart attacks and twelve angio-plasties. "I have heart attacks like other people have the flu," he jokes. But in the next sentences, he adds," Any health problems I've had are the result of genetics and eating and drinking too much. Don't blame boxing; the traveling isn't a problem. I get a bit tired sometimes, but there's always an adrenaline rush when the fights begin."
"I love boxing," Sheraton says as his thoughts return to the sweet science. "It's the purest sport in the world; it's the greatest sport in the world. And my enthusiasm for it is one of my strengths as an announcer. I'm not a journalist. I don't focus on the negative when I'm commentating. Sure, boxing has problems, but other sports have problems too. My job as a boxing commentator is to give people the facts and entertain the public. I never forget the brutality of boxing and how dangerous it is. I was tough enough to get on the back of a bull again and again. I'm not tough enough to be a fighter. But boxing takes poor kids without hope like Muhammad Ali and Mike Tyson and elevates them to a place where they're among the most famous people on the planet. And each fight is an event. Nothing excites me more than two great fighters getting in the ring for a championship fight."
"There's an old saying," Sheridan observes in closing. "If you find a job you love, you never have to do a day's work in your life. When I'm behind the microphone, I'm happy."
Thomas Hauser's email address is thomashauserwriter@gmail.com. His most recent book – The Universal Sport: Two Years Inside Boxing – was published by the University of Arkansas Press. In 2004, the Boxing Writers Association of America honored Hauser with the Nat Fleischer Award for career excellence in boxing journalism. In 2019, Hauser was selected for boxing's highest honor – induction into the International Boxing Hall of Fame.
To comment on this story in the Fight Forum CLICK HERE
Canelo Alvarez Returns to Form; Proves Too Strong for Jermell Charlo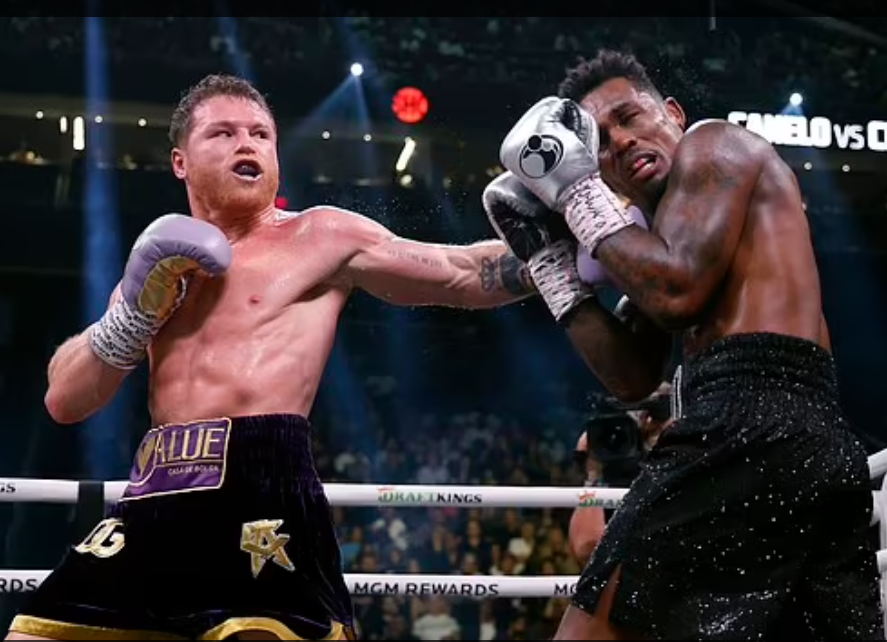 Canelo Alvarez Returns to Form; Proves Too Strong for Jermell Charlo
Daring to be great does not guarantee success.
Mexico's Saul "Canelo" Alvarez powered his way past fellow undisputed but lighter world champion Jermell Charlo for a unanimous decision in front of a pro-Mexican crowd who cheered every attack by their champion on Saturday.
The difference in weight proved daunting.
A seemingly refreshed Alvarez (60-2-2, 39 KOs) returned to form in soundly defeating Houston's Charlo (35-2-1, 19 KOs) who fired back like the champion he is at the T-Mobile Arena. More than 60 percent of the crowd seemed overwhelmingly pro-Canelo.
It was Canelo's night and he was not going to disappoint.
Though his recent performances had been subpar, the real Canelo showed up looking sharp from the opening bell. He was not underestimating Charlo, a fellow pound-for-pound fighter according to many boxing publications.
After a tenuous opening round the fight slipped into its real rhythm in the second round as the taller and more slippery moving fighter decided to engage. While inside the range of fire, Charlo opened up with jabs and a crisp left hook. Canelo stalked the taller fighter and connected twice with combinations to the head and body. Neither fighter was hurt. Charlo showcased a fast triple jab. But when he tried to clinch, he was tossed away like a dangling tree branch by the stronger Alvarez.
It was a telling moment.
"I'm a strong fighter all the time. Nobody can beat Canelo," said Alvarez.
In the third round Alvarez fired three rapid jabs and a right to the body that left the crowd in a collective exasperation. A right uppercut by Charlo connected and he was met by Canelo attacking the body viciously. Charlo held on twice.
It became apparent that Charlo could not handle Alvarez's power and strength inside the pocket. And whenever he clinched he was met by powerful left hook shots to the body and a right to the head.
Charlo showed a very good chin and resilience despite getting pounded occasionally by the Mexican redhead's body attack. It's why he was undisputed super welterweight champion.
The fighter from Houston was gambling that he could match wits against boxing's biggest draw. He was gambling that Alvarez's recent performances were proof that he was ready to be toppled. And Charlo was not going to shy away from the fire.
The lanky Texas fighter showed brilliant speed and solid defense to go along with his championship heart. In the seventh round. Canelo pressured Charlo against the ropes with three jabs and a quick right to the forehead, followed by a right uppercut to Charlo's chin. After a few seconds Charlo dropped to a knee for the count. He survived.
"We worked on that. He's a great fighter and knows how to work in the ring," said Alvarez.
For the remainder of the match, Alvarez remained in stalking mode and Charlo looking to counter with left hooks and an occasional right uppercut. Nothing seemed to work for Charlo who was hoping the rise from 154-pounds to 168-pounds would not prove a problem. It was.
After 12 rounds all three judges scored in favor of Alvarez 119-108, 118-109 twice. He retains the undisputed super middleweight world championship. Charlo will go back down to super welterweight where he reigned supreme.
"I wasn't me tonight. This is boxing. Sometimes you win, sometimes you lose," said Charlo who was knocked down for only the second time in his career. "Truthfully, you can tell the difference in the weight."
Alvarez hugged Charlo after the fight and told him he respected the gamble Charlo accepted in moving up.
"I love boxing so f——g much. Boxing is my life," said Alvarez.
Other Bouts
In a battle between reluctant contenders, Erickson Lubin captured the win by unanimous decision over Arizona's Jesus Ramos to maintain his place in line for a world title match.
"I stuck to the game plan. We came back with the victory tonight," said Lubin.
"I was in control of the fight. I'm one of the top dogs in the division."
Both super welterweights seemed hesitant to open up with any semblance of combinations. Lubin countered while Ramos worked the body with jabs. After 12 low-key rounds Lubin was declared the winner by scores of 115-113, 116-112, 117-111.
Ramos was surprised but never really formed an all-out attack.
"I was trying to show different dimensions to my game," Ramos said. "Maybe a little bit more pressure."
Mario Barrios (28-2, 18 Ks) put it all together and defeated Yordenis Ugas (27-6, 12 KOs) in a battle between ex-world champions. That left jab and left hook did all the work in picking apart Cuba's excellent fighter Ugas.
"I just concentrated on my jab," Barrios said.
Knockdowns by Barrios in the second and twelfth round proved emphatically the difference between the two former champions.
"All the work I put in paid off. Early on he hurt me with a right liver shot," said Barrios who trained in Las Vegas with Bob Santos. "I knew he was coming with it. I was prepared."
A counter left hook dropped Ugas twice.
Arizona's Elijah Garcia (16-0, 13 KOs) out-slugged Mexico's Armando Resendiz (14-2, 10 KOs) in a spirited middleweight battle and stopped the fighter in the eighth round. The 20-year-old southpaw from Phoenix connected with a powerful right hook that Resendiz did not see and that ended the regional title fight at 1:23 of the eighth round.
"He was 100 percent my toughest opponent," said Garcia.
To comment on this story in the Fight Forum CLICK HERE
Undercard Results from the Canelo-Charlo Card in Las Vegas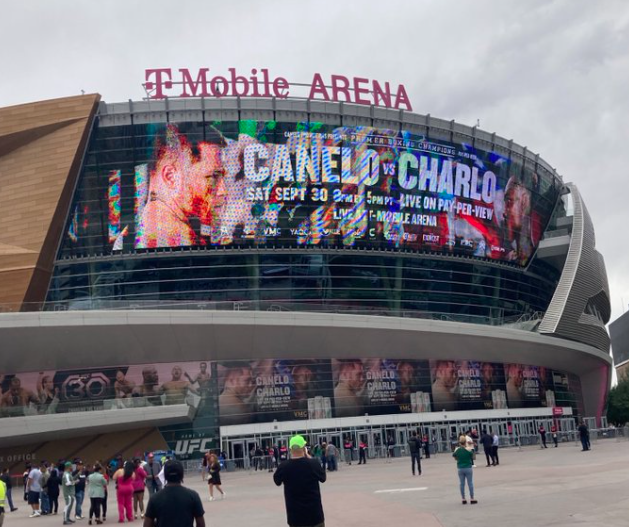 Undercard Results from the Canelo-Charlo Card in Las Vegas
In a heavyweight battle slated for 10, Frank Sanchez (23-0, 16 KOs) stopped LA trial horse Scott Alexander (17-6-2) after four frames. Alexander's corner attempted to stop it in the waning seconds of the fourth, but the referee did not see it and the bell rang before the fight was waived off.
Alexander had one big moment. In the opening round, he rocked Sanchez with a short right hand. But from there, it was all Sanchez in a rather messy fight.
A Miami-based Cuban defector, Frank Sanchez came in ranked #3 by the WBO, #4 by the WBC, and #5 by the IBF. His best win came in this building, a comfortable decision over Efe Ajagba in October of 2021. Alexander also fought here. In his previous visit to the T-Mobile, he was knocked out in the opening round by Zhilei Zhang.
Former WBO light heavyweight champion Oleksandr Gvozdyk, in his third fight back since ending his retirement, improved to 20-0 (16) with a second-round stoppage of 38-year-old Brazilian Isaac Rodrigues (28-5). Gvozdyk, 36, left the sport after getting beat up by Artur Beterbiev, but got the itch and is pursuing a fight with Dmitry Bivol.
In an 8-round middleweight fight, 2012 U.S. Olympian Terrell Gausha (24-3-1) won a majority decision over Keandre Leatherwood (23-9-1). The judges had it 76-76 and 78-74 twice. Once a highly regarded prospect, Gausha is spinning his wheels. Leatherwood, from Tuscaloosa, Alabama, had been stopped four times.
Guadalajara super lightweight Gabriel Gollaz Valenzuela advanced to 28-3-1 (17 KOs) with a sixth-round stoppage of overmatched Colombia import Yves Gabriel Solano (15-3).  This was redemption of sorts for Valenzuela who lost an unpopular 12-round decision to Montana Love in his last outing inside these walls.
Kazakh super middleweight Bek Nuramaganbat (11-0) continued his fast ascent of the 168-pound ladder with a third-round stoppage of Bola Osundairo. A 30-year-old Chicago-based Nigerian, Osundairo was a 2021 USA National Champion at 178 pounds.
A four-round middleweight contest between Abilikhan Amankul (4-0-1, 4 KOs) and Joeshon James (7-0-2, 4 KOs) ended in a draw. Although he didn't win, Sacramento's James continued to exceed expectations. In previous contests he KOed previously undefeated Richard Brewart and fought to a draw with Top Rank signee Javier Martinez. Amankul, a 26-year-old Kazakh, lost a split decision to eventual gold medal winner Hebert Conceicao in the Tokyo Olympics.
To comment on this story in the Fight Forum CLICK HERE
—
David Avila is ringside. Check back later for his report of the Canelo-Charlo fight and the main supporting bouts.