Will Pacquiao Be Eating HUGE Slice of Blame Pie?..BORGES
Arum has been getting heat for doing what businessmen do, maximizing profits. But Borges says the onus of culpability is on Pacquiao, who should remember that Arum works for Pacquiao, not the other way around. (Hogan)
The long running soap opera "The Unmaking of Floyd Mayweather, Jr. vs. Manny Pacquiao'' continued this week after Mayweather called out Pacquiao and Pacquiao's promoter responded by saying his fighter needed longer to recover from a cut eye than most people do from triple bypass surgery.
Once Mayweather had his already scheduled 87-day sojourn at the county jail in Las Vegas delayed for a reason that would work only in Vegas, he immediately launched a Twitter assault on Pacquiao, challenging him to a May 5 showdown at the MGM Grand Garden Arena, winner take half.
Arum's response was to say the 29-stitch cut Pacquiao sustained on Nov. 12 in his questionable majority decision victory over Juan Manuel Marquez would take six months to heal, meaning he couldn't begin sparring until April 1 and that would be a disadvantage he could not in good conscience (good what?) allow his fighter to suffer.
The fact that you could recover from a gunshot wound in less than six months and fight again didn't seem to enter Arum's timetable. When he told the Los Angeles Times that June 9 would be "perfect'' for such a match he revealed his true agenda – which is avoiding Mayweather at all cost because of the cost…to him.
How do we know this? Because Justice of the Peace Saragosa had changed Mayweather's Jan. 6 surrender date to June 1 and the likelihood that either fighter would agree to hold the match in the local clink was nil…unless the county put up a sizeable site fee, of course.
So where once it was Mayweather's fault for insisting on Olympic style blood testing (which seems reasonable to me, by the way) and then it was Pacquiao's for refusing to do so because Nevada regulations don't require it (and thus he wouldn't be dictated to by Mayweather) and then Arum and Golden Boy Promotions' tandem of Oscar De La Hoya and Richard Schaefer for doing more to stir up problems than solve them in the 2 ½ years or so that have dragged on since the fight was first proposed, now the blame belongs to Pacquiao alone.
It is true that Justice of the Peace Melissa Saragosa agreeing to delay his serving a sentence on misdemeanor domestic assault charges until after he fulfilled his previously signed contract to fight anyone he feels like on Cinco de Mayo weekend was a decision not based on any known legal argument. It was based on the argument that works best in Vegas and boxing – M-O-N-E-Y – but so what?
The legal conversation on the subject went something like this:
Mayweather's attorney: "Hey, Judge, the dude has a multi-million dollar contract to fight at the MGM May 5 that could bring $100 million into town.''
Justice Saragosa: "Yo, really? What was I THIIIIIINKING! Casino business is casino business. Even somebody who went to law school knows that.''
Mayweather's attorney: "So?''
Justice Saragosa: "So who said Jan. 6? How silly? I meant June 6…if that's convenient for Mr. Mayweather and any casino in town. If not, you just let us know when he's got some free time and we'll squeeze it in between fights, trips to the sports book and appearances on HBO's 24/7.''
Mayweather's attorney: "Right on, Dawg. I mean, your Honor.''
Almost immediately thereafter, Mayweather Tweeted out the following challenge to Pacquiao: "Manny Pacquiao I'm calling you out let's fight May 5th and give the world what they want to see."
Barely a minute later, he added: "My Jail Sentence was pushed back because the date was locked in. Step up Punk."
As negotiating strategy goes "Punk'' was probably not the best way to convince Pacquiao to fight him but what would you expect from Mayweather? A reasonable discourse?
It would have been far better had Mayweather privately reached Pacquiao and said, "Let's skip all this promotional b.s. and you and I make the deal. What do we need these guys to do beyond hang up a banner and count the money?''
The fact is, they could put up a sign on the outskirts of Vegas saying "Mayweather-Pacquiao Fight tonight'' and the town would be packed, both HBO and SHOWTIME would be falling over themselves to get a pay-per-view deal with them and sponsors would be banging on their Twitter accounts trying to throw money at them.
That's not to say Arum and Golden Boy don't have roles in this. It's just to point out that the fight will be made ANY TIME THE TWO FIGHTERS ORDER THEM TO MAKE IT.
That being the case – which it is now, was always and will be forever more – it is up to Pacquiao to simply say that to Arum. Reportedly he told a Filipino journalist this week he doesn't want to be blamed for the fight not happening and will tell his promoter to forget that list of four other opponents and hammer out a deal with Mayweather.
If true, that should end the issue because while Arum may try to bend Pacquiao's mind into a pretzel to get him to face Miguel Cotto, Timothy Bradley or Juan Manuel Marquez (forget Lamont Peterson) because, as Mayweather's friend and advisor Leonard Ellerbe correctly but unwisely pointed out, "Arum has both sides in those fights."
That was often one of the criticisms Arum and many in boxing used to level quite rightly at Don King, even though the promoter hasn't been born who doesn't try to control both sides of any big fight they're involved in. If Arum can convince Pacquiao to accept one of those fighters, all of whom are under contract to Arum, he indeed makes money on both sides and, more importantly, doesn't have Mayweather's bean counters peering over his shoulder counting every penny and insisting that large parts of the ancillary revenue go into his pocket and not Arum's or Pacquiao's. You really think Pac-Man is splitting foreign TV rights, sponsorships or popcorn sales with Tim Bradley?
So if the fight doesn't happen May 5 who's to blame? On some level everyone still would apply but if you were slicing up the blame pie this time the largest slice would have to go to Manny Pacquiao.
Bob Arum works for him, not the other way around. All Pacquiao has to do is what Evander Holyfield did when he agreed to take $4 million less than his representatives kept saying he deserved to fight Mike Tyson the first time, then flew to Toronto without them and made the deal. He then knocked Tyson out and made $25 million in the rematch.
That's called betting on yourself. It's also called being your own man. If Manny Pacquiao really wants this fight, that's all he has to be.
If he says yes and Mayweather comes up with some other excuse then the world will know why it never happened. Conversely, if Pacquiao says he can't make it because he's got a June date with Marquez or Bradley or he needs six months to heal from a cut, the world will know it wasn't Mayweather this time.
A Paean to the Great Sportswriter Jimmy Cannon Who Passed Away 50 Years Ago This Week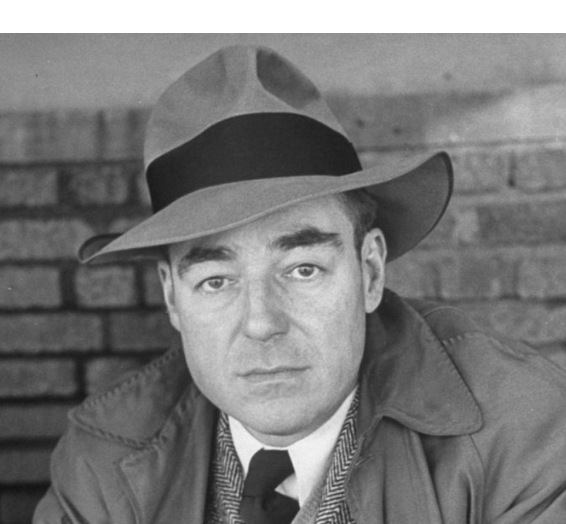 "Of all his assignments," said the renowned sportswriter Dave Anderson, "[Jimmy] Cannon appeared to enjoy boxing the most."
Cannon would have sheepishly concurred. He dated his infatuation with boxing to 1919 when he stood outside a saloon listening to a man with a megaphone relay bulletins from the Dempsey-Willard fight in faraway Toledo. His father followed boxing as did all the Irishmen in his neighborhood. For him, an interest in the sport of boxing, he once wrote, was like a family heirloom. But it became a love-hate relationship. It was Jimmy Cannon, after all, who coined the phrase "boxing is the red light district of sports."
This week marks the 50th anniversary of Jimmy Cannon's death. He passed away at age 63 on Dec. 5, 1973, in his room at the residential hotel in mid-Manhattan where he made his home. In the realm of American sportswriters, there has never been a voice quite like him. He was "the hardest-boiled of the hard-drinking, hard-boiled school of sports writing," wrote Darrell Simmons of the Atlanta Journal. One finds a glint of this in his summary of Sonny Liston's first-round demolition of Albert Westphal in 1961: "Sonny Liston hit Albert Westphal like he was a cop."
In his best columns, Jimmy Cannon was less a sportswriter than an urban poet. Here's what he wrote about Archie Moore in 1955 after Moore trounced Bobo Olson to set up a match with Rocky Marciano: "Someone should write a song about Archie Moore who in the Polo Grounds knocked out Bobo Olson in three rounds…It should be a song that comes out of the backrooms of sloughed saloons on night-drowned streets in morning-worried parts of bad towns. The guy who writes this one must be a piano player who can be dignified when he picks a quarter out of the marsh of a sawdust floor."
Prior to fighting in Madison Square Garden the previous year – his first appearance in that iconic boxing arena – Moore had roamed the globe in search of fights in a career that began in the Great Depression. Cannon was partial to boxers like Archie Moore, great ring artisans who toiled in obscurity, fighting for small purses –"moving-around money" in Cannon's words —  until the establishment could no longer ignore them.
Jimmy Cannon was born in Lower Manhattan. He left high school after one year to become a copy boy for the New York Daily News. In 1936, at age 26, the News sent him to cover the biggest news story of the day, the Lindbergh Baby kidnapping trial. While there he met Damon Runyon who would become a lifelong friend. At Runyon's suggestion, he applied for a job as a sportswriter at the New York American, a Hearst paper, and was hired.
During World War II, he was a war correspondent in Europe embedded in Gen. George S. Patton's Third Army. When he returned from the war, he joined the New York Post and then, in 1959, the Journal-American which made him America's highest-paid sportswriter at a purported salary of $1000 a week. His articles were syndicated and appeared in dozens of papers.
Cannon was very close to Joe Louis. He was the only reporter that Louis allowed in his hotel room on the morning of the Brown Bomber's rematch with Max Schmeling. Louis, he wrote, "was a credit to his race, the human race." It was his most-frequently-quoted line.
In an early story, Cannon named Sam Langford the best pound-for-pound fighter of all time. Later he joined with his colleagues on Press Row in naming Sugar Ray Robinson the greatest of the greats. As for the fellow who anointed himself "The Greatest," Muhammad Ali, Cannon profoundly disliked him. He persisted in calling him Cassius Clay long after Ali had adopted his Muslim name.
It troubled Cannon that Ali was afforded an opportunity to fight for the title after only 19 pro fights. Ali's poetry, he thought, was infantile. He abhorred Ali's political views. And, truth be told, he didn't like Ali because certain segments of society adored him. Cannon didn't like non-conformists – hippies and anti-war protesters and such. When queried about his boyhood in Greenwich Village, he was quick to note that he lived there "when it was a decent neighborhood, before it became freaky."
Cannon's animus toward Ali spilled over into his opinion of Ali's foil, the bombastic sportscaster Howard Cosell. "If Howard Cosell were a sport," he wrote," it would be roller derby."
Cannon frequently filled his column with a series of one-liners published under the heading "Nobody Asked Me, But…" His wonderfully acerbic put-down of Cosell appeared in one of these columns. But one can't read these columns today without cringing at some of his ruminations. He once wrote, "Any man is in trouble if he falls in love with a woman he can't knock down with one punch." If a newspaperman wrote those words today, he would be out of a job so fast it would make his head spin.
Similarly, his famous line about Joe Louis being a credit to the human race no longer resonates in the way that it once did. There is in its benevolence an air of racial prejudice.
Jimmy Cannon was a lifelong bachelor but in his younger days before he quit drinking cold turkey in 1948, he was quite the ladies man, often seen promenading showgirls around town. Like his pal Damon Runyon, he was a night owl. As the years passed, however, he became somewhat reclusive. The world passed him by when rock n' roll came in, pushing aside the Tin Pan Alley crooners and torch singers that had kept him company at his favorite late-night haunts.
Cannon's end days were tough. He suffered a stroke in 1971 as he was packing to go to the Kentucky Derby and spent most of his waking hours in his last two-plus years in a wheelchair. Fortunately, he could afford to hire a full-time attendant. In 2002, he was posthumously elected to the International Boxing Hall of Fame in the Observer category.
Jimmy Cannon once said that he resented it when someone told him that his stuff was too good to be in a newspaper. It was demeaning to newspapers and he never wanted to be anything but a newspaperman. He didn't always bring his "A" game and some of his stuff wouldn't hold up well, but the man could write like blazes and the sportswriting profession lost a giant when he drew his last breath.
To comment on this story in the Fight Forum CLICK HERE
—
Arne K. Lang is a recognized authority on the history of prizefighting and the history of American sports gambling. His latest book, titled Clash of the Little Giants: George Dixon, Terry McGovern, and the Culture of Boxing in America, 1890-1910, was released by McFarland in September, 2022.
Ryan "KingRy" Garcia Returns With a Bang; KOs Oscar Duarte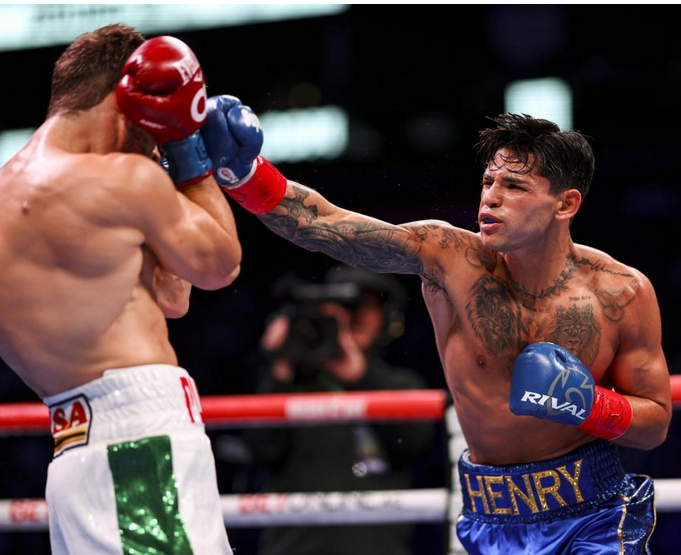 It was a different Ryan "KingRy" Garcia the world saw in defeating Mexico's rugged Oscar Duarte, but it was that same deadly left hook counter that got the job done by knockout on Saturday.
Only the quick survive.
Garcia (24-1, 20 KOs) used a variety of stances before luring knockout artist Duarte (26-1-1, 21 KOs) into his favorite punch before a sold-out crowd at Toyota Arena in Houston, Texas. That punch should be patented in gold.
It was somewhat advertised as knockout artist versus matinee idol, but those who know the sport knew that Garcia was a real puncher. But could he rebound from his loss earlier this year?
The answer was yes.
Garcia used a variety of styles beginning with a jab at a prescribed distance via his new trainer Derrick James. It allowed both Garcia and Duarte to gain footing and knock the cobwebs out of their reflexes. Garcia's jab scored most of the early points during the first three rounds. He also snapped off some left hooks and rights.
"He was a strong fighter, took a strong punch," said Garcia. "I hit him with some hard punches and he kept coming."
Duarte, an ultra-pale Mexican from Durango, was cautious, knowing full well how many Garcia foes had underestimated the power behind his blows.
Slowly the muscular Mexican fighter began closing in with body shots and soon both fighters were locked in an inside battle. Garcia used a tucked-in shoulder style while Duarte pounded the body, back of the head and in the back causing the referee to warn for the illegal punches twice.
Still, Duarte had finally managed to punch Garcia with multiple shots for several rounds.
Around the sixth round Garcia was advised by his new trainer to begin jabbing and moving. It forced Duarte out of his rhythm as he was unable to punch without planting his feet. Suddenly, the momentum had reversed again and Duarte looked less dangerous.
"I had to slow his momentum down. That softened him up," said Garcia about using that change in style to change Duarte's pressure attack. "Shout out to Derrick James."
Boos began cascading from the crowd but Garcia was on a roll and had definitely regained the advantage. A quick five-punch combination rocked Duarte though not all landed. The danger made the Mexican pause.
In the eighth round Duarte knew he had to take back the momentum and charged even harder. In one lickety-split second a near invisible counter left hook connected on Duarte's temple and he stumbled like a drunken soldier on liberty in Honolulu. Garcia quickly followed up with rights and uppercuts as Duarte had a look of terror as his legs failed to maintain stability. Down he went for the count.
Duarte was counted out by referee James Green at 2:51 of the eighth round as Garcia watched from the other side of the ring.
"I started opening up my legs a little bit to open up the shot," explained Garcia. "When I hurt somebody that hard, I just keep cracking them. I hurt him with a counter left hook."
The weapon of champions.
Garcia's victory returns him back to the forefront as one of boxing's biggest gate attractions. A list of potential foes is his to dissect and choose.
"I'm just ready to continue to my ascent to be a champion at 140," Garcia said.
It was a tranquil end after such a tumultuous last three days.
Other Bouts
Floyd Schofield (16-0, 12 KOs) blitzed Mexico's Ricardo "Not Finito" Lopez (17-8-3) with a four knockdown blowout that left fans mesmerized and pleased with the fighter from Austin, Texas.
Schofield immediately shot out quick jabs and then a lightning four-punch combination that delivered Lopez to the canvas wondering what had happened. He got up. Then Scholfield moved in with a jab and crisp left hook and down went Lopez like a dunked basketball bouncing.
At this point it seemed the fight might stop. But it proceeded and Schofield unleashed another quick combo that sent Lopez down though he did try to punch back. It was getting monotonous. Lopez got up and then was met with another rapid fire five- or six-punch combination. Lopez was down for the fourth time and the referee stopped the devastation.
"I appreciate him risking his life," said Schofield of his victim.
In a middleweight clash Shane Mosley Jr. (21-4, 12 KOs) out-worked Joshua Conley (17-6-1, 11 KOs) for five rounds before stopping the San Bernardino fighter at 1:51 of the sixth round. It was Mosley's second consecutive knockout and fourth straight win.
Mosley continues to improve in every fight and again moves up the middleweight rankings.
Super middleweight prospect Darius Fulghum (9-0, 9 KOs) of Houston remained undefeated and kept his knockout string intact with a second round pounding and stoppage over Pachino Hill (8-5-1) in 56 seconds of that round.
Photo credit: Golden Boy Promotions
To comment on this story in the Fight Forum CLICK HERE
Jordan Gill TKOs Michael Conlan Who May Have Reached the End of the Road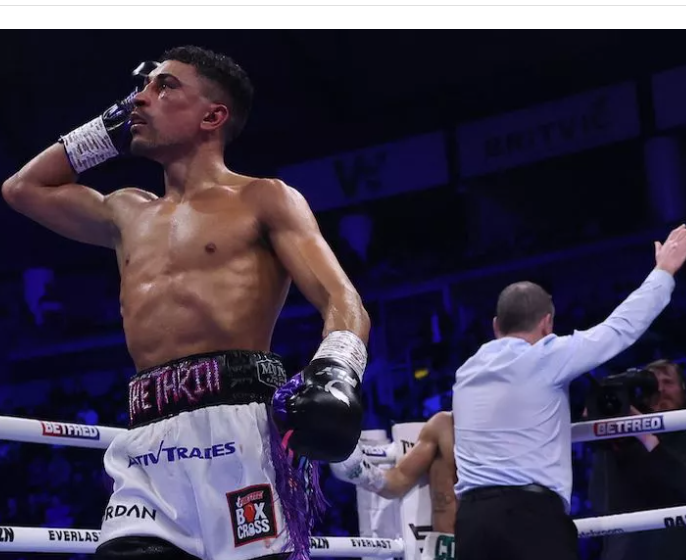 Fighting on his home turf, two-time Olympian Michael Conlan was an 8/1 favorite over Jordan Gill tonight in Belfast, Northern Ireland. Had he won, Matchroom promoter Eddie Hearn was eyeing a rematch for Conlan with Leigh Wood. Their March 2022 rumble in Nottingham was a popular pick for the Fight of the Year. But the 29-year-old Gill, a Cambridgeshire man, rendered that discussion moot with a seventh-round stoppage. It was Conlan's third loss inside the distance in the last 18 months and he would be wise to call it a day. His punch resistance is plainly not what it once was.
It was with considerable fanfare that Conlan cast his lot with Top Rank coming out of the amateur ranks. Tonight was his first assignment for Matchroom and his first fight at 130 pounds after coming up short in two world featherweight title fights. And he almost didn't make it past the second round. Gill had him on the canvas in the opening minute of round two compliments of a left hook and stunned him late in the round with a right hand that left him on unsteady legs.
He survived the round and for a fleeting moment in the sixth frame it appeared that he had reversed Gill's momentum. But Gill took charge again in the next stanza, trapping Conlan in the corner and unloading a fusillade of punches that forced referee Howard Foster to waive it off, much to the great dismay of the crowd. The official time was 1:09 of round seven.
Released by Top Rank, Conlan trained for this fight in Miami, Florida, under Pedro Diaz, best known for rejuvenating the career of Miguel Cotto. But the switch in trainer and in promoter made no difference as Conlan, who won his first amateur title at age 11, was damaged goods before he entered the ring. It was a career-defining victory for Jordan Gill (28-2-1, 9 KOs) who was not known as a big puncher and was returning to the ring after being stopped by Kiko Martinez 13 months ago in his previous start.
Semi-wind-up
In the "Battle of Belfast," undefeated welterweight Lewis Crocker seized control in the opening round and went on to win a lopsided decision over intra-city rival Tyrone McKenna (23-4-1). Two of the judges gave Crocker every round and the other had it 98-92, but yet this was entertaining fight in spurts. McKenna had more fans in the building, but Crocker, seven years younger at age 26, went to post a 7/2 favorite and youth was served.
Other Bouts of Note
Belfast super welterweight Caoimhin Agyarko, who overcame a near-fatal mugging at age 20, advanced to 14-0 (7) with a 10-round split decision over Troy Williamson (20-2-1). The judges had it 98-92 and 97-93 for Agyarko with a dissenter submitting a curious 96-94 score for the 31-year-old Williamson who wasn't able to exploit his advantages in height and reach.
Sean McComb, a 31-year-old Belfast southpaw, scored what was arguably the best win of his career with a 10-round beat-down of longtime sparring partner Sam Maxwell. Two of the judges gave McComb every round and the other had it 99-88. McComb, who has an interesting nickname, "The Public Nuisance, successfully defended his WBO European super welterweight strap while elevating his record to 18-1 (6). The fading, 35-year-old Maxwell, a former BBBofC British title-holder, lost for third time in his last four starts after winning his first 16 pro fights.
Photo credit: Mark Robinson / Matchroom
To comment on this story in the Fight Forum CLICK HERE