The Beast of Stillman's Gym, Part 1
The Beast of Stillman's Gym
PART 1: CROSSROADS
In the years after World War I, a ghostly lodge of southern terrorists reemerged as a movement with real clout. By 1924 it was at the peak of its power and Texas was the most infested state in America with 170,000 Ku Klux Klansmen armed and organized, every one of them a member of the Democratic Party. Republicans, the Grand Old Party of Lincoln (and then-President Calvin Coolidge) often failed to even muster a candidate for state and local elections.
Like a cactus before the setting sun, fascism cast its lengthening shadow. Dissent wasn't stifled so much as stomped to protect the interests, real and imagined, of white Protestant Texans. Those guilty of morals violations were taken from their homes and flogged, beaten, shot, or left blind-folded with placards leaning against their broken forms. "Undesirables" were ordered out of town. At Sour Lake, a justice of the peace was tarred and feathered as was a U.S. Marshal in Brenham who later resigned. The governor spoke out publically against the Klan on Independence Day in 1921 and the Klan responded with warnings posted right there on the grounds of the State Capitol.
To black Texans scattered throughout the arid landscape in the early 1920s, it was a reign of terror. Lynch Law was ever-present and selectively applied: Between 1900 and 1924 nine whites were lynched compared with 171 African Americans, and the latter were almost invariably mutilated before and after death by mobs. Simply being friendly toward white women could mean permanent disfigurement if your skin was dark. Neither respectability nor age made any difference. A dentist was mutilated for "associating" with white women. Two bellboys were snatched within two weeks in the same city, beaten, and held down while the letters "KKK" were burned into their foreheads with acid.
These atrocities were committed with impunity because the machinery of government –-the legislature, city halls, the courts, law enforcement–- was infested. When a thousand members marched in full regalia through Dallas carrying torches and waving banners like a conquering army, city authorities added to the spectacle by extinguishing the lights. In 1923, the KKK even managed to deliver one of their own into the United States Senate.
President Coolidge was no friend of the Klan. In 1924 alone he granted Native Americans full citizenship, gave a speech at the Catholic Holy Name Society in Washington, and stood, however stiffly, at a podium in Howard University where he declared the "progress of the colored people on this continent" as one of the "marvels of modern history." He unsuccessfully urged a Democrat-dominated Congress to pass anti-lynching laws and appointed black men to federal positions. Emmett J. Scott, Secretary-Treasurer at Howard University thanked him for the "great encouragement" he was bringing to the twelve million African Americans who suffered "persecution by a hooded order which seeks to exclude them from the privileges of American citizenship." "They know Calvin Coolidge," Scott wrote. "They know his traditional friendship and they know of his distinguished services in behalf of their race."
In Victoria, Texas on January 24th 1924, a black auto mechanic welcomed his second son into the world. The infant was given the name Calvin Coolidge Lytle.
The city of Victoria is thirty miles north of the Gulf of Mexico at the intersection of three highways. That fact and its equidistant location from four major cities earned it a nickname: "The Crossroads of South Texas." For George W. Lytle and his wife Virginia, it was good place to raise a family.
Calvin's playpen was his father's auto shop. He was tinkering early and probably scolded regularly for coming into the house with greasy hands. After school and on Sundays, he was a barefoot newsy hawking the Victoria Advocate. He didn't have to worry about his turf because his big brother, whose name was Loyal, held rivals in check. There was one fight Calvin had when he was eleven: "The kid was a lefty. I was a righty. He gave me such a licking I decided if I ever got into another fight I'd fight like him. So I turned around. I bat left-handed. In football I pass with my left-hand. I'm left-handed all the way now."
South Texas was far from idyllic for African Americans, but the diminished influence of the KKK, which can be traced to the year of Calvin's birth, cut the tension in half. Not unlike any other American family, the Lytles huddled up as the Great Depression fell on the country and business slowed to a crawl at the shop. The family of four went on relief and soon became a family of three. On October 22nd 1936, Virginia Lytle died after a common accident became something worse. Calvin was all of twelve years old.
Records show that Loyal Lytle enlisted in the U.S. Army in June 1941. When Calvin turned 17 in January, he became eligible to join the Civilian Conservation Corps. The CCC, one of the most popular of President Franklin D. Roosevelt's New Deal programs, operated between 1933 and 1942 and was intended for unmarried, unemployed young men from families on relief. Between April and September, Calvin was a member of Co. 2873(C) with the "C" standing for "colored." He lived in a segregated barracks at Ascarate County Park in El Paso and worked 40 hours a week doing heavy, unskilled and semiskilled labor outdoors for $30 a month, with $25 of that being sent home. After September, he returned home to live with his father.
On December 1st 1941, his father died.
Calvin turns up in San Antonio as the ward of a county judge named C.W. Anderson (whose name is now attached to a loop on the San Antonio freeway). He got a job, or Anderson pulled strings and got him a job as a soda jerker. It was a plum of a position, particularly for a black teenager in Texas. Those weeks or months that Calvin wore that black bow tie must have been a high point, flipping scoops of ice cream into malts for tips, and girls.
On March 8th 1942, he found himself standing in a Navy recruiting station in Houston. Pearl Harbor had been attacked and American men hoisted up the flag, beat their plowshares into swords, and went to war. Calvin didn't have much of a choice. His enlistment papers reveal that Judge Anderson signed him up to become a messman in the naval reserves. They reveal more than that. Calvin wrote "serve my country" as his reason for enlisting. It's a boiler plate answer that required no thought and that was probably transcribed. He scrawled the names of four men as character references, all of them black and from Victoria, two of them mechanics like his father, and none of them known by him for more than a year. There was no one else he could find in his life.
Reading his application for enlistment seventy years after he completed it is enough to make one feel oddly anxious for him. Confused, alone, and about to be sent headlong into something he was completely unprepared for, he was anxious for himself. His handwriting tells it all. The careful script, clumsy with mistakes that he took pains to correct, reveals a nervous hand. It looks like the work of an undereducated man writing his will.
Calvin was shipped off to the messman training center in Norfolk, Virginia. Eight weeks of boot camp included immunizations, gas mask instruction, swimming lessons, and training to properly polish shoes and silverware and set white officers' tables. Calvin wore a bow-tie again, though it was a step down from the soda fountain. In the United States Navy, African Americans could expect to be nothing but mess attendants and mess attendants were nothing but servants on the lowest rung of the ship's pecking order.
He was stationed at the U.S. Naval Air Station in the Panama Canal Zone from the end of May until the beginning of August 1942. He'd get a lousy two day pass, and would do what many sailors did –-swagger into a kit kat club and stagger out with rum on his breath and a good time girl on his arm. Calvin's sexual experiences may or may not have earned him accolades from other messmen; they definitely earned him the "burn." Contracting venereal diseases was common enough to become proverbial. Enlisting in the Navy, the saying went, was "to be sent out a sacrifice and come home a burnt offering."
When he wasn't on what might loosely be called active duty, he played baseball. One rainy day, he found his way into a boxing gym. A 6-foot white man was waiting around for a sparring partner when a coach spotted Calvin and invited him over to see if the gloves fit. They fit just fine. "I just tore into the guy. He was in no condition. I could see that," he recalled in an interview a few years later at Stillman's Gym. "I knocked him down with a left to the solar plexus and a right to the jaw." The white man got up and proceeded to give Calvin, who had never boxed before, his first lesson in leather-pushing. "He started to get me," he would later admit, "and hurt me a little."
As he climbed out of the ring, the surprised coach walked up to him.
"You know who you were in with?" he said, "That was Billy Soose!"
Billy Soose was the former middleweight champion of the world. Calvin was signed up for the Navy boxing team on the spot. He remembered that it was a Thursday; on Sunday he had his first three-round, two-minute bout and scored a knockout.
Boxing was the only credit on his ledger. His tour of duty was fixing to be about as pleasant as the clap. While researching his book The Messman Chronicles: African Americans in the U.S. Navy 1932-1943, Richard E. Miller was warned that many veterans would deny that they served as "lowly messboys." Deprived of the chance to prove themselves in battle, the vast majority of black sailors had to contend with daily humiliations instead. American prejudice could be rabid in the forties, but in the confined society of a ship it was magnified, particularly when southern officers and soldiers were involved. Messmen generally coped by keeping a low profile and preserving their dignity as best they could, though a few played the role of the smiling 'Sambo' servant in hopes of having an easier time.
Calvin rebelled.
Nine days after being transported for duty to the naval air station in British Guiana in September 1942, he was in the brig. He spent five days in solitary confinement for disorderly conduct. In December he was "absent from duty" for six days and ended up back in the brig. In March he stole a Navy truck. The commanding officer took away his liberty for two months as well as $32 of the $42 he earned during that time. In April he earned five more days solitary confinement on nothing except bread and water for "Neglect of duty"; in May he earned another month's restriction for "Falsehood."
In June he was transferred. During his new assignment on board the U.S.S. Surprise, he was disciplined for shirking watch duty, profane language, insubordination, leaving ship without proper authority, theft, and possession of another man's liberty card and "a lewd picture." All told, he was at captain's mast for disciplinary issues no less than eight times. By November 1943 he was locked up at a U.S. Naval receiving station in New York and awaiting a summary court martial. The problems didn't end. Calvin was in a U.S. Naval Hospital for twenty days for a medical issue that was "the result of his own misconduct."
When his enlistment expired in March 1944 no one complained; least of all him. The court martial's sentence stipulated that he be given a "bad conduct discharge" and further stipulated that he "IS NOT recommended for reenlistment. IS NOT recommended for Good Conduct Medal. IS NOT entitled to mustering out allowance." Understandably, Calvin didn't want to go back to Texas and face Judge Anderson. There was nothing left for him there, nothing and no one, and so he formally requested permission to disembark in New York. Permission was granted. With his head in a sling, Calvin was furnished with civilian clothes, handed his discharge certificate, and sent on his way.
"The navy mess attendant," said one veteran, "had to be a fighter. He had to fight the Germans and the Japanese at sea, red necks in every port, and ignorant Negroes who wanted to insult him for being what he was when he got home." Calvin managed to make a bad thing worse. After two years in the service, he managed to forfeit almost all of the privileges granted a navy man. He would receive no pension to help him along while he lived and no cemetery plot to help him along when he died.
He drifted over to Brooklyn and got a job at a garage near King's Highway. As the son of a mechanic, he would have been comfortable in greasy coveralls with a rag sticking out of the pocket. Boraxo soap and gasoline fumes would have reminded him of home, of those all-too-brief better days when the Lytles were together, when he wasn't alone. He hadn't been working there long when the familiar bell announcing the arrival of a patron became a fortuitous one. During the conversation that followed, Calvin mentioned that he boxed a little and wanted to get back into it. The patron told him that he had a friend who managed fighters and took down his name. Calvin must have been pleasantly surprised when he received a phone call and then a visit from Bernie Bernstein, who operated out of Sammy Aaronson's office over on Broadway.
Bernstein took Calvin over to the fabled Stillman's Gym and threw him in the ring with a professional middleweight –-"just to see if he could really fight."
____________________________
The most remarkable breed of boxers is called "natural fighters." One of them will surface at the center of the boxing universe in PART 2 OF "THE BEAST OF STILLMAN'S GYM."
­­­­­­­­­­­­­­­
Graphic: Messmen serve a meal to junior officers on board a cruiser during World War II. Official U.S. Navy Photograph, U.S. National Archives.
Henry Peck Fry's The Modern Ku Klux Klan pp. 185-189. "Lynching in Texas," by David L. Chapman, thesis, 1973. Emmet Scott's letter quoted in an essay by Alvin S. Felzenberg entitled "Calvin Coolidge and Race: His Record in Dealing with the Racial Tensions of the 1920s" (1988). U.S. Census report, 1920, 1930; Telephone interview with Ellen Choyce, October 2011; Texas Death Index, 1936,1941; James Wright Heeley's Parks for Texas: Enduring Landscapes of the New Deal offers details about where CCC Co. 2873 was assigned before WW II. "Needed Some Exercise –Mauls Ex-Champ" and "Bert Lytell, The Black Streak of Lightning in Gloves" from The Ring, circa 1940s, courtesy of Douglas Cavanaugh. An invaluable resource for this essay was "The Negro in the Navy: First Draft Narrative" prepared by the Historical Section of Naval Personnel, and Black Submariners in the United States Navy, 1940-1975 by Glenn A. Knoblock. Michael E. Ruane's interview of Lanier W. Phillips in the Washington Post, 9/20/10 accurately depicts the Navy's treatment of African American messmen during World War II; statements regarding the navy mess attendant as a "fighter" quoted in Richard E. Miller's The Messman Chronicles: African Americans in the U.S. Navy 1932-1943 pp. 280-281. The military service record of Calvin Coolidge Lytle was obtained from the National Personnel Records Center, Military Personnel Records, in St. Louis, MO through the Freedom of Information Act. The Ring spotlighted Bert Lytell in the December 1944 issue and this was kindly provided by Alister Ottesen for use as a resource.
Springs Toledo can be contacted at scalinatella@hotmail.com">scalinatella@hotmail.com.
Check out more boxing news on video at The Boxing Channel.
Skavynskyi and Bustillos Win on a MarvNation Card in Long Beach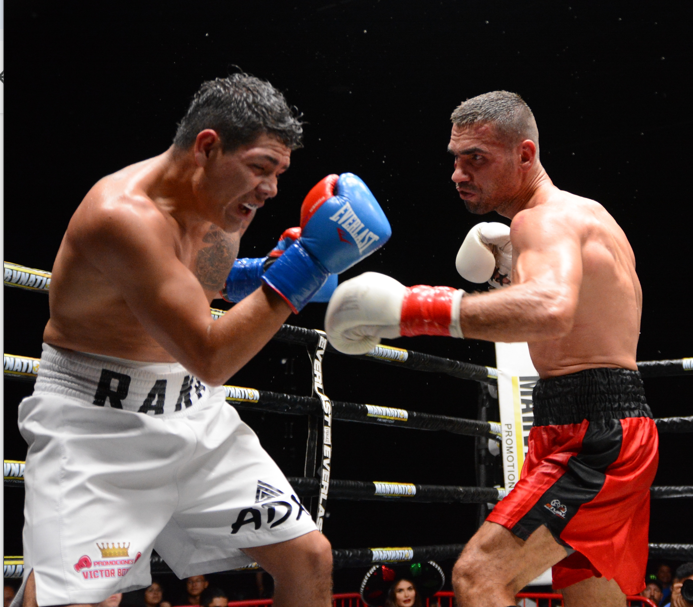 Skavynskyi and Bustillos Win on a MarvNation Card in Long Beach
LONG BEACH, Ca.-A cool autumn night saw welterweights and minimumweights share main events for a MarvNation fight card on Saturday.
Ukraine's Eduard Skavynskyi (15-0, 7 KOs) experienced a tangled mess against the awkward Alejandro Frias (14-10-2) but won by decision after eight rounds in a welterweight contest at the indoor furnace called the Thunder Studios.
It was hot in there for the more than 600 people inside.
Skavynskyi probably never fought someone like Mexico's Frias whose style was the opposite of the Ukrainian's fundamentally sound one-two style. But round after round the rough edges became more familiar.
Neither fighter was ever damaged but all three judges saw Skavynskyi the winner by unanimous decision 79-73 on all three cards. The Ukrainian fighter trains in Ventura.
Bustillo Wins Rematch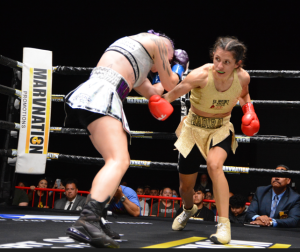 In the female main event Las Vegas' Yadira Bustillos (8-1) stepped into a rematch with Karen Lindenmuth (5-2) and immediately proved the lessons learned from their first encounter.
Bustillos connected solidly with an overhand right and staggered Lindenmuth but never came close to putting the pressure fighter down. Still, Bustillos kept turning the hard rushing Lindenmuth and snapping her head with overhand rights and check left hooks.
Lindenmuth usually overwhelms most opponents with a smothering attack that causes panic. But not against Bustillos who seemed quite comfortable all eight rounds in slipping blows and countering back.
After eight rounds all three judges scored the contest for Bustillos 78-74 and 80-72 twice. Body shots were especially effective for the Las Vegas fighter in the fifth round. Bustillos competes in the same division as IBF/WBO title-holder Yokasta Valle.
Other Bouts
In a middleweight clash, undefeated Victorville's Andrew Buchanan (3-0-1) used effective combination punching to defeat Mexico's Fredy Vargas (2-1-1) after six rounds. Two judges scored it 59-55 and a third 60-54 for Buchanan. No knockdowns were scored.
A super lightweight match saw Sergio Aldana win his pro debut by decision after four rounds versus Gerardo Fuentes (2-9-1).
Photos credit: Al Applerose
To comment on this story in the Fight Forum CLICK HERE
Tedious Fights and a Controversial Draw Smudge the Matchroom Boxing Card in Orlando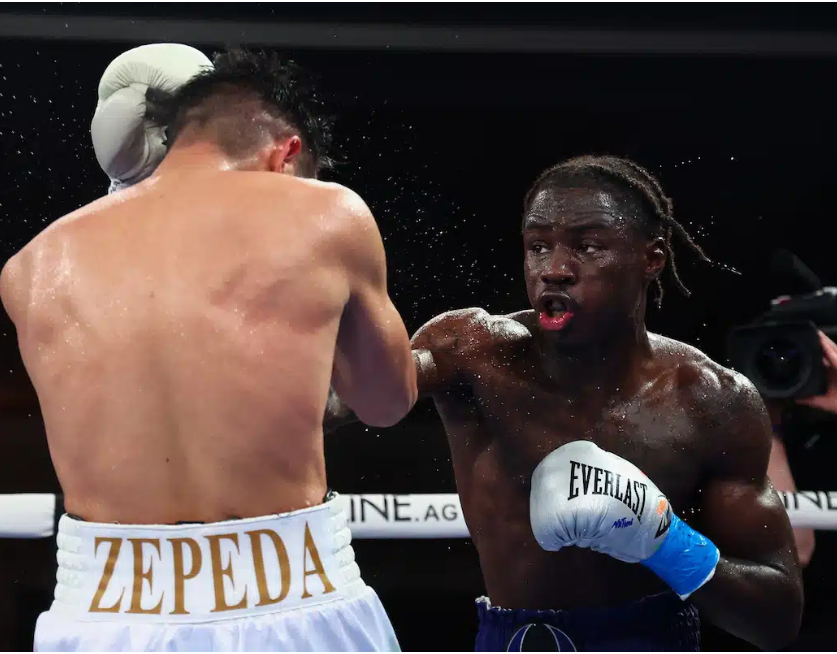 Matchroom Boxing was at the sprawling Royale Caribe Resort Hotel in Orlando, Florida tonight with a card that aired on DAZN. The main event was a ho-hum affair between super lightweights Richardson Hitchins and Jose Zepeda.
SoCal's Zepeda has been in some wars in the past, notably his savage tussle with Ivan Baranchyk, but tonight he brought little to the table and was outclassed by the lanky Hitchins who won all 12 rounds on two of the cards and 11 rounds on the other.  There were no knockdowns, but Zepeda suffered a cut on his forehead in round seven that was deemed to be the product of an accidental head butt and another clash in round ten forced a respite in the action although Hitchins suffered no apparent damage.
It was the sort of fight where each round was pretty much a carbon of the round preceding it. Brooklyn's Hitchins, who improved to 17-0 (7), was content to pepper Zepeda with his jab, and the 34-year-old SoCal southpaw, who brought a 37-3 record, was never able to penetrate his defense and land anything meaningful.
Hitchins signed with Floyd Mayweather Jr's promotional outfit coming out of the amateur ranks and his style is reminiscent in ways of his former mentor. Like Mayweather, he loses very few rounds. In his precious engagement, he pitched a shutout over previously undefeated John Bauza.
Co-Feature
In the co-feature, Conor Benn returned to the ring after an absence of 17 months and won a unanimous decision over Mexico's Rodolfo Orozco. It wasn't a bad showing by Benn who showed decent boxing skills, but more was expected of him after his name had been bandied about so often in the media. Two of the judges had it 99-91 and the other 96-94.
Benn (22-0, 14 KOs) was a late addition to the card although one suspects that promoter Eddie Hearn purposely kept him under wraps until the week of the fight so as not to deflect the spotlight from the other matches on his show. Benn lost a lucrative date with Chris Eubank Jr when he was suspended by the BBBofC when evidence of a banned substance was found in his system and it's understood that Hearn has designs on re-igniting the match-up with an eye on a date in December. For tonight's fight, Benn carried a career-high 153 ½ pounds. Mexico's Orozco, who was making his first appearance in a U.S. ring, declined to 32-4-3.
Other Bouts of Note
The welterweight title fight between WBA/WBC title-holder Jessica McCaskill (15-3-1) and WBO title-holder Sandy Ryan (6-1-1) ended in a draw and the ladies' retain their respective titles. Ryan worked the body effectively and the general feeling was that she got a raw deal, a sentiment shared by the crowd which booed the decision. There was a switch of favorites in the betting with the late money seemingly all on the Englishwoman who at age 30 was the younger boxer by nine years.
The judges had it 96-94 Ryan, 96-95, and a vilified 97-93 for Chicago's McCaskill.
In the opener of the main DAZN stream, Houston middleweight Austin "Ammo" Williams, 27, improved to 15-0 (10) with a 10-round unanimous decision over 39-year-old Toronto veteran Steve Rolls (22-3). All three judges had it 97-93. Rolls has been stopped only once, that by Gennady Golovkin.
Photo credit: Ed Mulholland / Matchroom Boxing
To comment on this story in the Fight Forum CLICK HERE
Zhilei Zhang KOs Joe Joyce; Calls Out Tyson Fury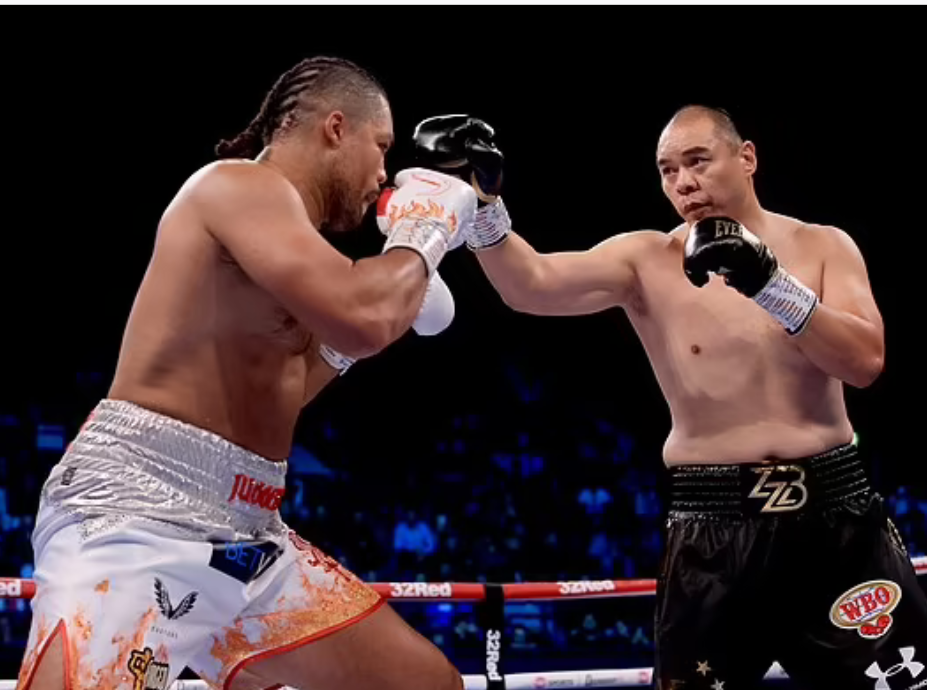 Joe Joyce activated his rematch clause after being stopped in the sixth frame by Zhilei Zhang in their first meeting. In hindsight, he may wish that he hadn't. Tonight at London's Wembley Stadium, Zhang stopped him again and far more conclusively than in their first encounter.
In the first meeting, Zhang, a southpaw, found a steady home for his stiff left jab. Targeting Joyce's right eye, he eventually damaged the optic to where the ring doctor wouldn't let Joyce continue. At the end, the fight was close on the cards and Joyce was confident that he would have pulled away if not for the issue with his eye.
In the rematch tonight, Zhang (26-1-1, 21 KOs) closed the curtain with his right hand. A thunderous right hook on the heels of a straight left pitched Joyce to the canvas where he landed face first. He appeared to beat the count by a whisker, but was seriously dazed and referee Steve Gray properly waived it off. The official time was 3:07 of round three.
Zhang, who lived up to his nickname, "Big Bang," was credited with landing 29 power punches compared with only six for Joyce (15-2) who came in 25 pounds heavier than in their first meeting while still looking properly conditioned. One would be inclined to say that age finally caught with the "Juggernaut" who turned 38 since their last encounter, but Zhang, 40, is actually the older man. In his post-fight interview in the ring, the New Jersey resident, a two-time Olympian for China, when asked who he wanted to fight next, turned to the audience and said, "Do you want to see me shut Tyson Fury up?"
He meant it as a rhetorical question.
Semi-Windup
Light heavyweight Anthony Yarde was matched soft against late sub Jorge Silva, a 40-year-old Portuguese journeyman, and barely broke a sweat while scoring a second-round stoppage. Yarde backed Silva against a corner post and put him on the deck with a short right hand. Silva's body language indicated that he had no interest in continuing and the referee accommodated him. The official time was 2:07 of round two.
A 30-year-old Londoner, Yarde (24-3, 23 KOs) was making his first start since being stopped in eight rounds by Artur Beterbiev in a bout that Yarde was winning on two of the scorecards. Silva, a late replacement for 19-3-1 Ricky Summers, falls to 22-9.
Also
Former leading super middleweight contender Zach Parker (23-1, 17 KOs) returned to the ring in a "shake-off-the-rust" fight against 40-year-old Frenchman Khalid Graidia and performed as expected. Graidia's corner pulled him out after seven one-sided rounds.
In his previous fight, Parker was matched against John Ryder who he was favored to beat. The carrot for the winner was a lucrative date with Canelo Alvarez. Unfortunately for Parker, he suffered a broken hand and was unable to continue after four frames. Tonight, he carried 174 pounds, a hint that he plans to compete as a light heavyweight going forward. Indeed, he has expressed an interest in fighting Anthony Yarde. Graidia declined to 10-13-4.
The Zhang-Joyce and Yarde-Silva fights were live-streamed in the U.S. on ESPN+.
To comment on this story in the Fight Forum CLICK HERE