Hopkins Silences Critics And Agrees To Rematch With Dawson…LOTIERZO
Doesn't look much like Dawson was buyin' what Hopkins was sellin' in this weigh-in pic. Note Dawson's bemused expression…Can Hopkins get into Chad's head, or is there no vacancy? (Hogan)
Now that WBC light heavyweight champ Bernard Hopkins 52-1-2 (32) has agreed to meet former title holder Chad Dawson 30-1 (17) in a rematch this coming April 28th in Atlantic City, I suppose those who were quick to jump on Hopkins saying he was looking for a way out of their last fight have to walk that sentiment back. Because there are other fights out there for Hopkins to take with a lower degree of difficulty attached to them. Yet he's going to clash with Dawson again despite not being paid a king's ransom. If Dawson was on his way to breaking Hopkins' will and heart when they last fought, he'll have to start over on April 28th.
What's been lost since the first fight is that when Dawson slammed Hopkins to the canvas injuring his shoulder, his intent wasn't to injure Hopkins, certainly not to the point that he couldn't continue. It was a message to Hopkins letting him know that he wasn't the least bit intimidated by him and if Bernard thought he was going to incorporate his own brand of MMA into the bout, he was going to get it back in spades. This is a mindset that Hopkins probably didn't think Dawson possessed prior to the fight.
On the other hand, Hopkins, who turned 47 on January 15, wasn't about to continue after he was hurt, thus letting Dawson fight him while he was incapacitated and not at 100%. No one knows for sure to what degree Hopkins was injured, but there can be no doubt that he couldn't continue and be as effective as he would need to be in order to hold off the 29 year-old Dawson.
Now Hopkins has been cleared to fight and the questions that weren't answered when they last fought–the fight was ruled a No Contest–can be. However, there is one caveat this time. And that is the intimidation factor along with Bernard's ability to unnerve Dawson and get inside of his mind if he ever did, is gone. If those questions lingered for some before the last meeting, we now know Chad harbors no self doubt or trepidation about facing Hopkins. If Dawson did nothing else during their last fight, he let Hopkins know that you can't beat me by inducing me to fight as the prey to your assumed role as the predator. No way, no how. Add to that Dawson really believes he made Hopkins look for a way out the last time so he'll be that much more confident and purposeful when they next get in the ring.
For the last seven years, going back to the his first fight against Jermaine Taylor, Hopkins has managed to always take away something that his opponent does really well or wanted to do against him. And this is an advantage he usually holds over his opponents that won't apply to Chad Dawson this time out. If Bernard thinks Dawson was ready for everything before they last met, he'll have to totally reinvent himself to throw Chad off this time. In this upcoming fight Hopkins is going to have to show Dawson with his actions and fists why he can't win instead of conning him into thinking maybe it's not worth the trouble.
If there's been one negative regarding Dawson the fighter, it's his tendency to drift and lose focus almost to the point that he looks disinterested in the outcome during the fight. This is a fault that might be corrected just because Hopkins will be across from him. That, along with the tutelage of trainer John Scully, may have cured Chad's ring complacency.
Sure, the last bout only lasted a little over five minutes, but if nothing else was gleaned from their time in the ring, it's the fact that Dawson looked like a live wire and touched Hopkins back immediately after Hopkins touched him. Another thing that looked as if it was going to unfold is Dawson understood that to beat Hopkins he needed to set a fast pace and high work-rate, two things Hopkins doesn't fancy and hasn't been forced to address much since his 40th birthday.
Another thing that has to be taken into account for the rematch is the fact there's no love lost between Bernard and Chad. And in a strange twist it seems that it's Dawson who has the more disjointed attitude towards Hopkins than the other way around. Dawson's attitude and demeanor indicate that he sees himself as having something to prove and if he can conclusively beat Hopkins and drive him into retirement, his career will be on the upswing in a big way.
With the fight having been just announced, it seems that Dawson is getting Hopkins at just the right time. Although, that's been said before and Hopkins managed to defy the odds and extended his career. But this time Hopkins is coming off an injury and has in a subtle way indicated that despite holding off "mother nature" it seems as though "father time" is catching him. In other words, it may be a little easier for Dawson to convince Hopkins that he can't win this time than for any other opponent Hopkins has ever fought.
Win or lose, Hopkins wins because he's fighting with house money. If he loses a decision to Dawson, something that's very likely, his legacy or reputation as an all-time great won't be damaged at all. In fact, his legacy won't be tarnished even if Dawson blows through him and knocks him out early. How could it – Hopkins is 47 years old? Most men his age can't touch their toes or do 25 pushups. Yet he's the defending light heavyweight champ heading into this fight and defending the title against the most-skilled and athletic fighter in the division, who's 18 years his junior.
On the other hand, if Hopkins handles Dawson, his legacy will escalate among the pantheon of boxing history's greatest fighters. Add to that Dawson holds every physical advantage one fighter could hold over another into the equation, that would make a clean victory by Hopkins even that much more monumental and career defining.
Picking against Hopkins has always been a risky proposition. And that's part of what makes his rematch with Dawson even more intriguing. It'll be an experience watching Hopkins over the next couple months try to find a way to gain an edge before the fight. From here it looks as if all avenues to short circuit Dawson are closed. Chad appears to be immune to Hopkins subterfuge.
The Murder of Samuel Teah Calls to Mind Other Boxers Who Were Homicide Victims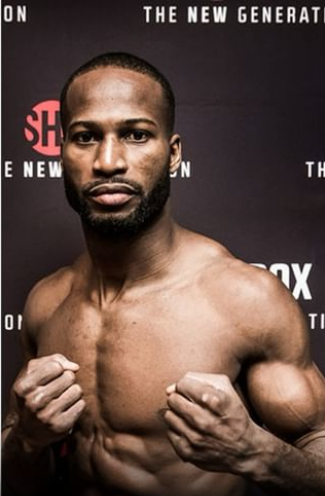 There will be a boxing show this Friday at Philadelphia's 2300 Arena, a low-budget card featuring the return of former IBF 130-pound world title-holder Tevin Farmer. During the event, there will assuredly be a somber moment when those in attendance stand and silently pay homage to Samuel Teah as the timekeeper tolls the traditional 10-bell farewell. Teah passed away last week on Black Friday, Nov. 24, another victim of America's epidemic of gun violence. He was 36 years old.
Teah was shot in the mid-afternoon during an altercation that spilled onto the sidewalk of a street in Wilmington, Delaware, and died at a Wilmington hospital. As of this writing, there's been no arrest, but the shooting was apparently not random. A bus driver for the Southeastern Pennsylvania Transit Authority, Teah was purportedly in Wilmington (roughly 35 miles from his home in Philadelphia) to visit the mother of his child.
Samuel Teah fought as recently as this past May when he suffered a shocking defeat at the hands of journeyman Andrew Rodgers at a show in Pennsylvania's Newton Township, reducing his record to 19-5-1. Two months earlier he had spoiled the undefeated record of Enriko Gogokhia, an Egis Klimas fighter (think Oleksandr Usyk and Vasily Lomachenko) on a card in Ontario, California. This embellished his reputation as a spoiler. Earlier in his career, he had spoiled the undefeated record of O'Shaquie Foster, winning an 8-round unanimous decision over the man that currently reigns as the WBC world super featherweight champion.
What made Teah's death more tragic, if that were possible, were all the tragedies that he had overcome. He was born in Liberia when that country was embroiled in a civil war. The family escaped to a refugee camp in Ghana and eventually reached the United States, settling first in New York and then Philadelphia. On the day after Christmas in 2008, when Teah was 21 and working at a Home Depot, he lost six members of his family in a fire that swept his mother's West Philadelphia duplex after a kerosene heater exploded.
For some, Teah's violent death may call to mind the murder of another Philadelphia boxer, Tyrone Everett.
That's an awkward comparison.
Tyrone Everett was a world-class fighter. Six months before he was shot dead by his girlfriend in May of 1977, Everett, then 34-0, lost a 15-round split decision to Puerto Rico's Alfredo Escalera in a failed bid to win Escalera's WBC junior lightweight title, a decision so rancid that it stands among the worst decisions of all time. Moreover, the circumstances of Everett's murder were sordid. His girlfriend, no stranger to the police, fatally shot him after finding him with a transvestite and there was heroin in the apartment they shared. (Editor's note: For more on this incident, check out the new book by TSS contributor Sean Nam: "Murder on Federal Street: Tyrone Everett, the Black Mafia, Fixed Fights, and the Last Golden Age of Philadelphia Boxing" available on Amazon).
Samuel Teah was no Tyrone Everett. A man of deep faith, Sam's positive attitude, despite all his tribulations, was infectious. "Everyone liked Teah," said prominent Philadelphia sports journalist Joe Santoliquito who, upon hearing of Teah's death, tweeted, "he will always have a special place in my heart."
While the circumstances are different in every case, Teah joins a long list of boxers who met a violent death. If we limit the list to fighters who were still active at the time of their passing, here are four that jump immediately to mind.
Stanley Ketchel
The fabled Michigan Assassin, Ketchel met his maker on Oct. 15, 1910, at a ranch in Conway, Missouri. In the immortal words of John Lardner, "Stanley Ketchel was twenty-four years old when he was fatally shot in the back by the common-law husband of the lady who was cooking his breakfast."
Battling Siki
Famed for knocking out Georges Carpentier when the "Orchid Man" held the world light heavyweight title, Siki was only 28 years old when he was gunned down in the Hell's Kitchen neighborhood of Manhattan on Dec. 15, 1925, but by then the Senegal-born Frenchman had already degenerated into a trial horse. Siki's body was found in the middle of the street with two bullets in his back fired at close range by an assailant, never identified, who was thought to be avenging a beating he suffered at one of the speakeasies that Siki was known to frequent.
Oscar Bonavena
At age 33, Oscar Bonavena was still an active boxer when he was gunned down on May 22, 1976, on the outskirts of Reno, Nevada, at the front gate of the infamous Mustang Ranch, a legal brothel. Bonavena had come up short in his biggest fights, losing a 15-round decision to Joe Frazier and losing by TKO in the 15th round to Muhammad Ali, but the rugged Argentine was still a major player in the heavyweight division.
The shooter was a bodyguard for the brothel's owner Joe Conforte, and rumor has that Conforte was the de facto triggerman, having Bonavena assassinated because the boxer was having an affair with Conforte's 59-year-old wife Sally who was also Bonavena's manager of record at this point in the boxer's career. The story about it spawned "Love Shack," a 2010 movie that despite a seemingly can't-miss storyline and a formidable cast (Joe Pesci played Joe and Helen Mirren played Sally) proved to be a box-office dud.
Vernon Forrest
While all homicides are tragic, some are more distressing than others and the death of Vernon Forrest on July 25, 2009, was particularly gut-wrenching. Forrest was shot twice in the back by would-be robbers with whom he exchanged gunfire on July 25, 2009 at a gas station in Atlanta.
Forget the fact that Forrest was a two-division title-holder who had regained the WBC world super welterweight title in his most recent fight with a lopsided decision over Sergio Mora. Few in the sport were as widely admired. His philanthropic work included establishing group homes in Atlanta for the mentally disabled. His death came just two weeks after the death of Arturo Gatti who left the sport following a loss by TKO to Alfonso Gomez in July of 2007 and died under suspicious circumstances at age 37 at a hotel in Brazil.
We here at The Sweet Science send our condolences to Samuel Teah's family and loved ones. May he rest in peace.
Benavidez Dismantles Andrade: Will Canelo Be Next?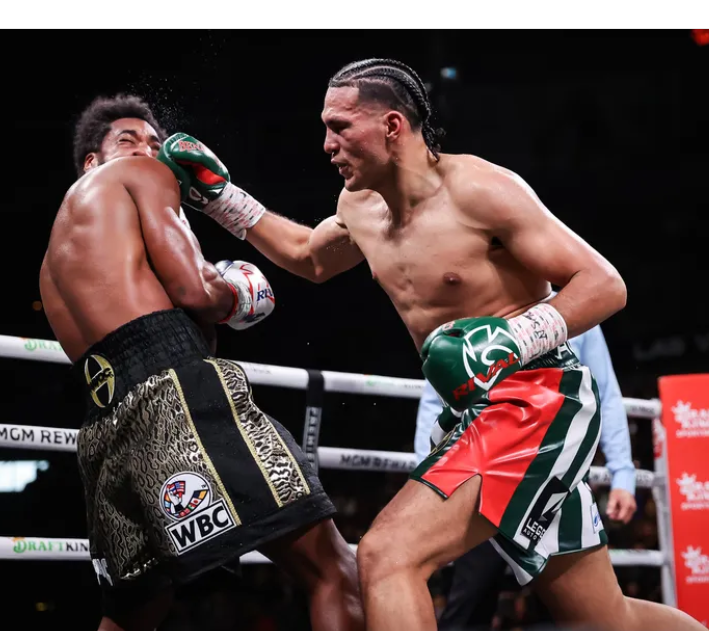 SHOWTIME aired its final pay-per-view event tonight with a show that aired from Mandalay Bay in Las Vegas. The four-fight PPV card included world title fights in the 140 and 130-pound divisions, plus an interim title fight at 168 and the return of former two-division title-holder Jarmall Charlo. The interim title fight was a battle of unbeatens between David Benavidez and Demetrius "Boo Boo" Andrade and that was the featured attraction.
Benavidez, 26, is big for the weight class and lived up to his new nickname, "El Monstro." He had too much firepower for the 35-year-old Andrade, a 2008 Beijing Olympian who began his pro career at 154 and had won world titles in two lower weight classes. His big moment came in the waning seconds of round four when he knocked Andrade to his knees with a sweeping right hand. The fight turned brutally one-sided at that point although one of the judges had Benavidez ahead by only one point when the sixth round ended. But there would be no seventh round. Andrade's corner wisely stopped the fight.
A consensus 7/2 favorite in man-to-man betting, Benavidez (28-0, 24 KOs) began his pro career in Mexico at age 16. In his post-fight interview, he called out Canelo Alvarez while brashly predicting that he would be a legend before he left the sport (and you'll get no argument from this corner). It was the first pro loss for Andrade (32-1).
Co-Feature
Jermall Charlo returned to the ring after a 29-month absence and scored a lopsided 10-round decision over Jose Benavidez Jr. The judges had it 100-90, 99-91, and 98-92.
This bout was slated for the catch-weight of 163 pounds. Charlo came in overweight (166.4) but the match went ahead. Benavides Jr, a world title challenger during his days as a welterweight, had his moments, but was outclassed by Charlo who advanced his record to 33-0 (22). Benavidez falls to 28-3-1.
Matias-Ergashev
In what shaped up as the most action-packed fight of the night, 31-year-old Puerto Rican Subriel Matias retained his IBF 140-pound title, battering Shohjahon Ergashev into submission in a match that was halted by Ergashev's corner two seconds into the sixth round. The heavy-handed Ergashev, who was undefeated heading in, dominated the first round-and-a-half, but Matias (20-1, 20 KOs) gradually wore him down.
Matias, who avenged his lone defeat to Petros Ananyan with a dominant showing in the rematch, had become something of a forgotten man in the talent-rich 140-pound weight class, but tonight he showed that he belongs among the elite in the division. It was the first pro loss for Egrashev (23-1, 20 KOs), a southpaw from Uzbekistan who fights out of Detroit and had SugarHill Steward (formally Javan "Sugar" Hill) in his corner.
Garcia-Roach
In the pay-per-view opener, Lamont Roach (24-1-1, 9 KOs) wrested the WBA 130-pound title from Hector Garcia (16-2) with a well-earned split decision. The judges had it 116-111 and 144-113 for Roach with the dissenter favoring Garcia 114-113.
A 32-year-old Dominican southpaw, Garcia was making the first defense of the title he won from Roger Gutierrez, a belt he was allowed to keep after moving up to lightweight to challenge Gervonta Davis, a bout he lost on a ninth-round stoppage. Roach, an underdog in the betting making his first start in 16 months, had come up short in a previous world title fight, losing a decision to Jamel Herring in 2019.
Roach was trailing on two of the scorecards through 10 rounds in what had been a ho-hum fight. But he cranked up the juice in the homestretch, rocking Garcia in the 11th and flooring him with a right hook in the final stanza. Take away that knockdown (an illegal punch as it landed behind Roach's head), and Garcia would have retained his belt with a draw.
Non-PPV
In his first start at 140 pounds, Puerto Rico's Michel Rivera rebounded from his first pro loss (a wide decision at the hands of Frank Martin) with a unanimous 10-round decision over Sergey Lipinets. The judges had it 96-94 and 97-93 twice. Rivera, who improved to 25-1 (14) patterns his style and his persona after Muhammad Ali with whom he bears a strong facial resemblance.
It was the first fight in 16 months for the 34-year-old Lipinets (17-3-1), from SoCal via Kazakhstan. He rarely took a backward step but it wasn't effective aggression.
In the opener on Showtime's YouTube channel. 21-year-old super welterweight Vito Mielnicki Jr, now trained by Ronnie Shields, scored the best win of his career, advancing to 16-1 (11 KOs). The pride of Vineland, NJ, Mielnicki had Alexis Salazar on the canvas three times before the match was halted at the 2:27 mark of the opening stanza. Guadalajara's Salazar (25-6) had been stopped only once previously.
Photo credit: Amanda Westcott / SHOWTIME
To comment on this story in the Fight Forum CLICK HERE
Katie Taylor Turns the Tables on Chantelle Cameron in a Dublin Blockbuster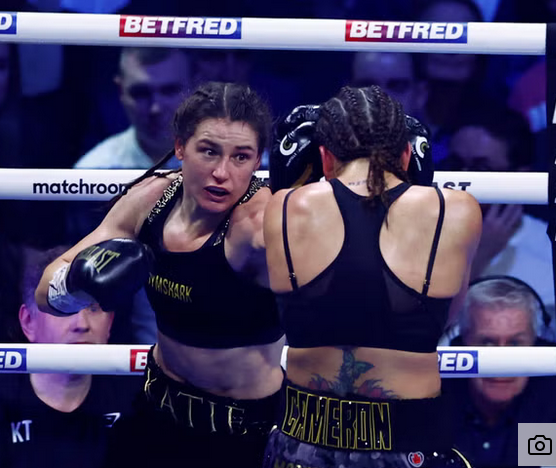 Katie Taylor Turns the Tables on Chantelle Cameron in a Dublin Blockbuster
Underdogs win too.
Katie Taylor changed tactics and changed the outcome to defeat her conqueror Chantelle Cameron by majority decision and become undisputed super lightweight champion on Saturday.
"Two weight undisputed champion, that sounds great," said Taylor.
It took six months but the sold-out crowd in Dublin, Ireland saw Taylor (23-1) avenge a loss to Cameron (18-1) and re-assume her position as one of the leaders of the female fight world.
It was a different Taylor who returned to Ireland and this time she brought changes against the younger, stronger Cameron that proved effective.
At first it looked grim for Taylor who resumed her style of speed combinations and was met with jolting left jabs from Cameron. One jab actually delivered Taylor to the canvas but a slip of the foot was caught by the referee.
In the second round Taylor showed her cards.
Using her speed and agility, Taylor used her own jabs and movement to score and then would suddenly clinch both arms. And in between clinches, quick uppercuts and rights scored.
It was the recipe used by the Irish fighter for the remainder of the fight.
The change in tactics by Taylor took away Cameron's most effective weapon, her strong left jab. Unable to use that weapon, she dove in looking to use her strength and was butted by Taylor in the third round. A deep bloody gash on the forehead of Cameron formed quickly.
Cameron never quit attacking and finally found success in the fourth and fifth rounds with pounding body shots. It seemed to slow her opponent down, who had been busier until the body attack slowed her volume.
Both tried their best to control the rounds. Taylor used her hit-and-clinch recipe while Cameron pounded the body and used her strength inside. The best round erupted in the seventh as both unleashed wicked combinations and uppercuts.
The crowd roared its approval.
All that furious action seemed to drain Taylor and allowed Cameron to overpower her with body shots in the eighth. It also forced Taylor to grab Cameron every time she got close. It became so obvious that the referee warned Taylor to stop holding.
A tired Taylor seemed ready to be taken over, but somehow she mustered enough energy to sling quick combos and clinch. Cameron tried avoiding the clinches but was not able to find a solution.
Taylor closed out the fight with speed combinations as Cameron looked to end the fight with one big blow that never arrived. A spent Taylor looked relieved at the final bell as Cameron could not land the big one.
After 10 rounds one judge scored it 95-95 while two others saw it 98-92 and 96-94 for Taylor who becomes undisputed super lightweight champion.
"Whoever wrote me off you don't know me very well," said Taylor. "Tonight, you saw the real me. When I'm boxing no one can beat me."
The win by Taylor sets up a trilogy with Cameron.
"I don't think there has ever been a trilogy in women's boxing. This would be the first," said Taylor.
2024 look out.
Nicolson Wins
Australia's Skye Nicolson (9-0) controlled every round over Sweden's Lucy Wildheart (10-3) by hitting and moving against the slow-moving fighter and eventually won by stoppage in the ninth round to retain an interim featherweight title.
Nicolson proved too fast and agile for Wildheart who seemed a second slower and was punished by counter shots. Eventually a bloody nose forced Wildheart's corner to stop the fight at 1:11 of the ninth round.
The speedy featherweight Nicolson is the number one contender for undisputed champion Amanda Serrano.
Other Bouts
Ireland's Gary Cully (17-1, 10 KOs) won by split decision over Reece Mould (18-2, 6 KOs) to return to the victory column after suffering a knockout loss six months ago in the same arena.
Cully, a tall lightweight, started slowly but soon found his rhythm and used uppercuts and movement to offset the hard-charging Mould. There were no knockdowns in the back-and-forth battle with two judges favoring Cully 97-93, 96-93 and one for Mould 97-93.
"I'm back baby and it feels good," said Cully who was stopped by Mexico's Jose Felix six months ago.
Speed southpaw Paddy Donovan (12-0, 9 KOs) knocked out Danny Ball (13-2-1) in their welterweight clash with a left to the body in the fourth round. He first dropped Ball with an overhand left during an exchange.
To comment on this story in the Fight Forum CLICK HERE