LAST CALL To Enter TSS January 2012 Contest!
I have been remiss. Readers, I have dropped the ball. Won't be the last time, of course, but this oversight is a whopper. Somehow, it fell between the cracks, into the sofa cushion crack of life.
I didn't figure out who was TSS Reader of the Year was for 2011.
Which faithful and insightful reader-commenter stood out in the boxing year 2011? Who followed in the Bigfoot-sized footsteps of 2007 winner Radam, 2009 winner Fe'Roz, and 2010 winner Brown Sugar?
Not sure I will ever be able to scrub this stain from my resume. But I will try…By this Tuesday, I will pick, with my executive committee, the reader of the year for 2011. If anyone wants to lobby for themselves, they can do so in the Forum. or, if they're bashful about self promotion, they can enlist a surrogate to bolster their claim. Yeah, we know we're already well into 2012, but remember how you used to get Ring magazine, and the cover would say it was the June issue, but the rankings were from January, and the cover story was about an upcoming fight, which in fact already occurred?
Also, with the intent to lessen the sting of the egregious flub to our readers who deserve better I am announcing a contest, "The TSS January 2012 Contest," with an accompanying cash prize. It will be the first in a series of such contests this calendar year…Contest entrants please post an essay in the Forum. The subject is: "Why We Accept Our Boxing Broken."
So, I'm a day late, but I won't be a dollar short. Winner, chosen by an executive panel, will receive $500.
So, get to the Forum, and get cracking, crew.
—Editor Mike
Boxing Odds and Ends: Weekend Betting Preview and Obits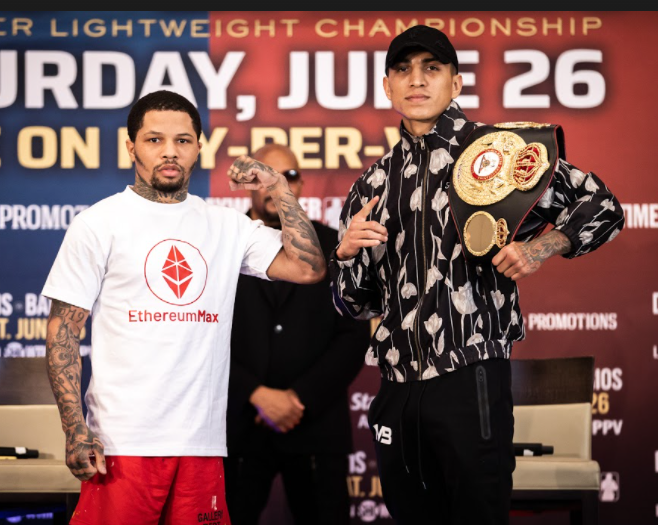 Several of my acquaintances have a bank of TVs in a room of their home. They are sports bettors and this allows them to keep tabs on several games simultaneously without getting off the couch. With boxing enjoying a post-pandemic boom, having multiple TVs at one's disposal would be very useful, obviating the need to choose between two or more compelling shows.
Akin to last week, this coming Saturday there are two overlapping attractions. The Top Rank show in Las Vegas has a big advantage over the Showtime show in Atlanta as the former is on ESPN and the latter is pay-per-view (suggested list price $74.95). But one suspects that the Showtime show will produce more fireworks.
The last time we saw Gervonta "Tank" Davis in action, he scored a spectacular one-punch knockout over Leo Santa Cruz. It was Davis's twenty-third knockout in 24 starts and left no doubt that he belongs on everyone's list of the top pound-for-pound fighters. On Saturday he jumps up two weight classes to take on fellow unbeaten Mario Barrios (26-0, 17 KOs). It's a tall order for Tank, no pun intended although Barrios, from San Antonio, is bigger and taller (by about five inches) and has longer arms.
Gervonta Davis is the best fighter to bubble out of Baltimore since the magnificent Joe Gans who reached his peak circa 1905. But Davis recently purchased a home in Atlanta and will have something of a home court advantage. But if the geographical factor factored into the odds, it likely contributed only a smidgeon. Tank is a consensus 9/2 favorite in man-to-man betting primarily because he packs a harder punch and is a southpaw.
The co-feature is a 12-round super welterweight contest between Erickson Lubin (23-1, 16 KOs) and former IBF/WBA title-holder Jeison Rosario. At last glance, Lubin was a consensus 13/5 favorite.
—
As promoter Bob Arum noted at Thursday's press conference, a big-name fighter coming off a loss normally chooses a soft opponent for his first fight back. Vasyl Lomachenko is a huge favorite over Masayoshi Nakatani, in the 15/1 range, but Nakatani is no pushover and can make things warm for the 33-year-old Ukrainian southpaw whose setback to Teofimo Lopez may have been a sign that all those amateur fights have finally caught up with him.
Nakatani (19-1, 13 KOs) extended Teofimo the full 12 rounds in 2019 and then after missing almost 17 months because of Covid-related travel restrictions, came back and upset Felix Verdejo, overcoming a big deficit to stop the Puerto Rican in the ninth round.
The co-feature is an interesting 10-round middleweight clash between Rob Brant (26-2, 18 KOs) and Zhanibek Alimkhanuly (9-0, 5 KOs).
Brant, originally from St. Paul, Minnesota, briefly held the WBA middleweight title, giving it back to the man that he won it from, Ryota Murata. Prior to that crushing defeat in Tokyo, Brant's lone setback had come in Germany at the hands of tricky German southpaw Juergen Braehmer (currently 52-3). He has been training in Omaha under Brian McIntyre, the head trainer of Terence Crawford.
Alimkhanuly, a stablemate of Lomachenko, had a decorated amateur career while representing his native Kazakhstan. He is taking a step up in class against Brant, but the oddsmakers yet installed him the favorite and he currently sits in the 16/5 range. The fact that the Kazakh is a southpaw weighed heavily in establishing the price.
Obits
Bernardo Mercado
Bernardo Mercado, who was once rated #1 at heavyweight by the WBC, passed away on June 11 at age 69 in Cartagena in his native Columbia. Although Mercado was one of the biggest punchers of his era, his death from an apparent heart attack fell under the radar in the English-speaking world.
Mercado, who was active from 1975 to 1989, customarily carried about 218 pounds on his six-foot-four frame. One of his biggest wins came against Trevor Berbick on Berbick's turf in Halifax, Nova Scotia. Mercado stopped him in the opening round. Berbick was 12-0 heading in and wouldn't lose again until he was out-pointed by Larry Holmes in a 15-round title fight in Las Vegas.
Mercado moved into the #1 slot after TKOing Earnie Shavers at the Great Gorge Playboy Club in New Jersey. This was a doozy of a fight in which Mercado got off the deck to stop Shavers in the seventh round.
There was an unscheduled intermission after the third round when a rip was discovered on Shavers' right glove and a new glove had to be found. Shavers was a murderous puncher and it would be written that the glove exploded from the force of a punch that landed on Mercado's face, but one suspects that the real culprit was a manufacturer's defect.
The upset of Shavers put Mercado in line for a title fight with Holmes but the opportunity evaporated when he was out-pointed by Leon Spinks in his next fight.
Mercado made his pro debut at the Olympic Auditorium in Las Vegas. Coming up the ladder, he was a busy bee. He fought at the Silver Slipper in Las Vegas in September of 1976 and six days later appeared on the undercard of the third Ali-Norton fight at Yankee Stadium. He finished his career with a record of 33-5. He scored 28 knockouts and was stopped four times.
Brian London
Brian London, a two-time world heavyweight title challenger, was an anomaly. He took a took a lot of punishment during his boxing career – a reporter wrote that his face looked like it had been visited by a jackhammer – but London, who passed away on Wednesday, June 23, lived to be 87 and was purportedly seen out jogging (okay, a brisk walk) just a few weeks ago.
The temptation is to say that London, whose birth name was Brian Sydney Harper, was blessed with good genes, but his father passed away at the age of 50.
London the elder, Jack London, fought the likes of Tommy Loughran, Larry Gains, Freddie Mills, Buddy Baer and Bruce Woodcock, and was Britain's first post-War Commonwealth heavyweight champion.
Brian London emulated his old man, winning the same title when he stopped Welshman Joe Erskine in the eighth round in 1958 at an iconic greyhound stadium in London. But he didn't keep the belt very long. Henry Cooper, his nemesis, wrested it from him seven months later, winning a 15-round decision.
London was coming off that defeat when he challenged Floyd Patterson for the world heavyweight title in Indianapolis. Patterson stopped him in the 11th round, after which London remarked that Patterson was the fastest man on two feet.
Seven years later, he fought Muhammad Ali inside a half-full Earls Court. Ali was faster.
London failed to land a meaningful punch on Ali who stopped him in the third round. London arrived at this fight in a limousine, compliments of promoter Jack Solomons, and reportedly took the subway home as Solomons, who lost money on the fight, shooed the limousine driver away as London was collecting his belongings in the dressing room.
Brian London had two nicknames: the Blackpool Rock and the British Bulldog. Active from 1955 to 1970, he finished 37-20-1. He scored 26 knockouts and was stopped 11 times. No fool with his money, London acquired several successful nightclubs in Blackpool and lived comfortably in retirement.
Photo credit: Amanda Westcott / SHOWTIME
Check out more boxing news on video at the Boxing Channel
Dan Parker Bashed the Bad Guys in Boxing and Earned a Ticket to the Hall of Fame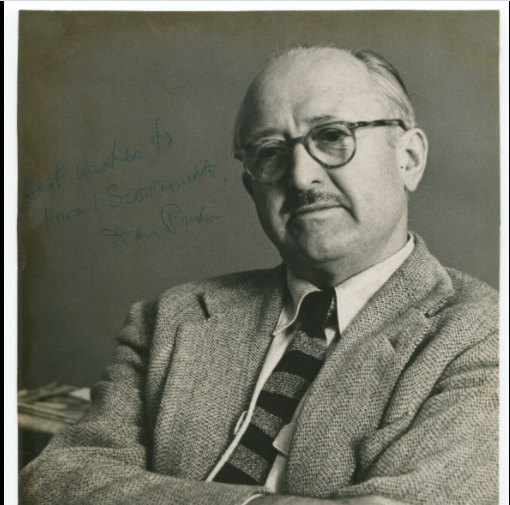 Twenty-five years ago this month, sportswriter Dan Parker was formally ushered into the International Boxing Hall of Fame in the non-participant category. Parker wasn't there to enjoy the moment. He had been dead going on 30 years.
Dan Parker, who began his career in journalism as a court reporter in his native Waterbury, Connecticut, hired on with the New York Daily Mirror in 1924, was named sports editor two years later, and remained with the paper until it folded during a prolonged newspaper strike in 1963, a total of 39 years.
Parker has been underappreciated by historians of the sports page because he worked for a paper that didn't make the cut when advances in microphotography allowed copies of old newspapers to be stored on microfilm. During this reporter's days as a college student — and here I date myself – the only out-of-town papers archived in the school library were the New York Times, Los Angeles Times, and the Washington Post, and to cull something out of them for a term paper one had to commit to spending long hours manually scrolling through reels of microfilm on a clunky machine. The tabloids – and the Daily Mirror was a tabloid – were considered too lowbrow for serious research, and even today in the digital age, stuff by Dan Parker is hard to find if one doesn't have the luxury of hunkering down for an extended stay in the periodicals section of the Library of Congress. His online omnibus consists entirely of scattered stories that were picked up by other newspapers and a few magazine pieces.
But among boxing writers, Dan Parker was a giant. He did more than anyone to cleanse the sport of the hoodlum element. The IBHOF electorate has come up with some curious choices in the non-participant category over the years, but in the case of Dan Parker they certainly got it right.
Parker was a big man, carrying about 240 pounds on his six-foot-four frame, but a man's size is irrelevant when staring into the barrel of a gun and Parker was fearless when facing off with the goons that infested the fight racket. His best year, one might say, was 1955 when a story he authored for Bluebook magazine flowered into an award-winning, six-part series in the Mirror titled "They're Murdering Boxing." The series spawned an investigation that ultimately resulted in the imprisonment of Frankie Carbo, boxing's so-called underworld czar, a man with a long rap sheet, and several of Carbo's collaborators, most notably Philadelphia numbers baron Frank "Blinky" Palermo.
Parker's friends urged him to lay off the hoodlums before something bad happened to him, but he ignored their counsel. "Everybody in boxing lived in fear of this enforcer (Frankie Carbo) but not Dan Parker. Nobody ever put enough heat on Parker to slow down his typewriter," reminisced Hartford Courant sports editor Bill Lee.
Parker's reputation as a reformer was well-established before he zeroed in on the machinations of Carbo and others of his ilk. In 1944, when a vacancy came up on the New York State Athletic Commission, Governor Thomas Dewey, who had made his reputation as a racket-busting District Attorney, offered the post to Parker.
It was easy money, but he declined. "What would I use for a punching bag if I were on the boxing commission myself?," he said.
During a portion of Parker's tenure with the paper, there were eight other New York dailies competing for readers. The Mirror was the paper of choice for well-informed boxing fans thanks in large part to Murray Lewin who came to be recognized as the city's best fight prognosticator within the ranks of the newspaper writers. Lewin, the boxing beat writer, did the grunt work, attending all the little shows and writing up the summaries. Parker, as he freely admitted, was more interested in writing about sporting characters than about the games they played. And like his good buddy Damon Runyon, who wrote for the New York American (later the Journal-American), Parker was inevitably drawn to boxing and horseracing because that was where the most colorful characters were found.
Parker found time to write one book, a primer for novice horseplayers published in 1947 when horseracing was on the cusp of the boom that would lead it to becoming America's top spectator sport (a distinction, needless to say, that wouldn't last).
The book had a chapter on touts, one of Parker's favorite subjects for his newspaper column. They were all charlatans, he wrote, an opinion that did not endear him to the bean-counters as they were forever cluttering up his sports section with ads from racetrack tipsters. Parker wasn't afraid to make enemies on his own paper.
Believe it or not, but there were still folks back then who believed that professional wrestling was on the up-and-up. Parker educated them when he wrote a column that gave out all the winners on a show that hadn't yet started.
The programs for the wrestling shows, which included the bout sheet, were published well in advance and then hidden away until they were needed. Parker procured a copy and from it was able to glean which wrestlers had won their preceding match.
"Dan was a shy, gentle, and kindly man with a quick sense of humor," wrote New York Times sports editor Arthur Daley. But within his profession, he wasn't everyone's cup of tea. The legendary Herald Tribune sports editor Stanley Woodward once likened him to Fearless Fosdick, a character in the L'il Abner comic strip who was a parody of Dick Tracy. Parker had a long-running feud with New York Daily News sportswriter Jimmy Powers which may have had something to do with Powers becoming a well-known radio commentator. In the eyes of the old guard, a true journalist didn't do "electronic media."
When Damon Runyon died from cancer of the larynx in 1946, several of his close friends, notably Parker and the famous gossip columnist Walter Winchell, a Daily Mirror colleague, got together and resolved to create a charity in Runyon's memory. What resulted was a foundation that has raised millions for cancer research. Parker worked tirelessly on its behalf.
Daniel Francis "Dan" Parker died on May 20, 1967, at age 73. He was quite a guy.
Check out more boxing news on video at the Boxing Channel
To comment on this story in the Fight Forum CLICK HERE
What Next for Gabriel Rosado?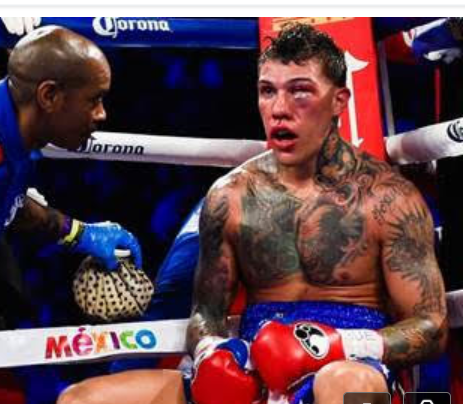 What Next for Gabriel Rosado?
Bektemir Melikuziev, Freddie Roach, Edgar Berlanga, and Jaime Munguia are names that, one way or another, figured into Gabe Rosado's stunning KO last Saturday night in El Paso. It overshadowed the impressive showing by Noaya "Monster" Inoue later that night in Las Vegas.
Rosado (26-13-1) is a well-documented bleeder and just might start spurting during the walk-in, but he is never, ever in a dull fight. The tougher-than-tough Philadelphian won Top Gore honors for his blood and guts TKO loss to Canadian middleweight star David Lemieux in 2014. The year before, he bled aplenty in his game but losing effort against Gennady Golovkin.
This time against Melikuziev, the unbeaten Uzbek, the fight ended in round three when the 35-year-old underdog beat the Eastern Euro fighter to the punch during an exchange of rights with Gabe's landing first and sending the former amateur star into dreamland. The force of the blow was amplified by the younger and faster man coming forward with caution to the wind. And this time, there was no bloodletting.
The knockout should be a contender for KO of the Year. In fact, it was reminiscent of Juan Manuel Marquez's explosive knockout of Manny Pacquiao in their final match.
Once again, Rosado (who is now trained by Freddie Roach) has revived his career and can count on at least one last decent payday. While many think Jaime Munguia would be a solid next fight, the thinking here is that Rosado could get carved up by the undefeated Tijuana veteran who has won 30 of his 37 fights by KO. Munguia is just too good.
The Catch 22
Rosado is an all-action fighter but scar tissue and his propensity to bleed is his worst enemy. It has cost him in the past. For such an offensive-minded fighter as Gabe, he is trapped in a terrible catch-22. If he can get the lead early and the bleeding is stemmed within reasonable limits, he can be a force, but not against the likes of Munguia.
If not Munguia, then who?  Here is one suggestion: How about "The Chosen One," Edgar Berlanga (17-0) whose first round KO streak recently came to an end. Brooklyn vs. Philadelphia would be a nice added touch –not to mention the Puerto Rican factor. Could Rosado expose Berlanga as someone without enough experience, aka rounds? Would Gabe show that Berlanga is more Tyson Brunson that Edwin Valero?
Let's make it happen!
Ted Sares enjoys researching and writing about boxing. He also competes as a powerlifter in the Master-class. He can be reached at  tedsares@roadrunner.com
Check out more boxing news on video at the Boxing Channel
To comment on this story in the Fight Forum CLICK HERE