Wladimir Says He Won't Look Past Mormeck, Wants US Fight Next
Wladimir Says He Won't Look Past Mormeck, Wants US Fight Next – Wladimir Klitschko and Emanuel Steward chatted with fightwriters on Wednesday afternoon about Wlad's Saturday title defense against Jean-Mormeck, which will run on EPIX. I've yet to meet or hear from the person who thinks Mormeck, an undersized, over-aged cruiserweight, has an ounce of a chance. But one does never know; this sport is the theater of the unexpected, and a Hell Mary bomb out of nowhere could in theory separate Wlad from his senses and his belt in Dusseldorf.
The fight broadcast kicks off Saturday at 4:30 PM ET. You can also watch on the JumboTron in Times Square.
Steward said that Mormeck has a style unlike anyone Wlad has seen. His bob and weave style will be hard for a tall fighter, Manny said. "You don't have much of a target," he said, and breaking his hands is a risk. He said training camp has been hard, because he thinks Mormeck won't be easy to solve. This will not be a quickie KO outing, and Wlad will need to be patient, as Lennox Lewis was with Mike Tyson. "We can't underestimate this guy..One punch can turn everything around," he said. Steward cited the Hasim Rahman one-punch KO of Lennox Lewis in South Africa in 2002.
"Wladimir has trained as hard or harder than in any fight." he said.
Steward said the fact that Mormeck will have it harder because he hasn't fought since December 2010 (SD12 win over Timor Ibragimov). He said the first couple rounds could be tough.
Steward was asked if Wlad might be overtrained, because of the postponement. (The bout was set for December, but was postponed, because Wlad had a kidney stone.) No, he said, they have their system down. He could fight another four or five years, the trainer stated. The trainer said he and Wlad are like "hitmen" who study foes, and determine how to take them down. "I'm always excited about a heavyweight championship fight," he said, and reiterated that he is wary of an upset.
ESPN's Dan Rafael asked Steward what he saw in Mormeck that concerns him. The concern, he said, comes from the 56-3 Wlad maybe underestimating Mormeck. No, skillswise, Mormeck isn't stellar, Steward said. Steward said he knows Wlad is a technical guy, not a bomber, not someone who looks to close the show. He recognizes and accepts that. "It's going to be frustrating for maybe a couple rounds," he said, but then he expects Wlad to pull away.
Wlad (age 35) too expects a great challenge from Mormeck (36-4 with 22 KOs; ex cruiser champ; beat an older Virgil Hill twice, lost to Haye), who turns 40 in June, early on. He said he looked slow and "looked poor" at a press workout but expects him to look better on Saturday. He noted that ex Mike Tyson trainer Kevin Rooney will work Mormeck's corner.
Wlad said that in Europe, heavyweight boxing is alive and well, and the arena will be jammed Saturday. Those fans won't be put off that Mormeck is only 5-11 1/2 to Wlad's 6-6. He said the underdog has everything to win and nothing to lose on Saturday, so he must respect that. JMM will be in shape and will be aggressive and shoot from different angles, Wlad said.
The fighter said of the Povetkin-Huck scrap that he missed the bout. "What I heard was not really kind of exciting in the way of knockouts and knockdowns," he said.
Wlad said soon younguns like Seth Mitchell, and Cris Arreola will be ready for challenges with the Klitschkos. He said he is looking forward to fighting in the US this year and that he has been missing that buzz which comes from fighting in America. He last gloved up in the US in 2008, against Sultan Ibragimov at Madison Square Garden.
Steward said he'd like to see Wlad meet Arreola, who would bring him out of his comfort zone. And then maybe Seth Mitchell. HBO, Showtime or EPIX can step up to make it happen. Wlad said New York is his favorite city in the US, and even if the foe isn't stellar, interest would be high. The fight does need to make economic sense, so I took that to mean he won't take a heavy discount from the money he can gross in Germany.
Wlad and Povetkin in the US could sell out and get solid buzz, according to Steward. Yes, fighting in front of 50,000 is fun, and it makes mad money…but the buzz you get in the US is still special.
Wlad brought up Rahman's shocker win over Lewis. "The worst thing I could do is lose my focus," he said. He said he hasn't forgotten his difficult 2003-2004, when he lost twice, to Corrie Sanders and then Lamon Brewster. He said he didn't want to promise a KO, because he did so against Haye, but said he would look for a stoppage.
He said he still loves what he does, and that he isn't frustrated that marquee foes haven't emerged. Steward said it does frustrate him. He said he likes Mitchell, who could be a good challenge. "It might be the worst heavyweight time in history," Steward said of the era the Ks fight in. Larry Holmes went through much of the same, and so did Lewis, he pointed out. All the Klitschkos can do, he said, is beat who they have put in front of him. The Haye challenge did create some excitement. He said sooner or later, if he keeps ahold of the title, a challenge will come from some nook or cranny.
COO Travis Pomposello, calling from Germany, said he was happy to complete the mini-series of heavyweight bouts, which jumped from Vitali-Chisora, to Povetkin-Huck, and now Wladimir-Mormeck, on consecutive Saturdays. "It's been great for EPIX and fight fans in the US to have the Klitschkos defend their titles," he said, and who knows, maybe it'll happen next in the US.
The remaining 5,000 seats left sold over the last two weeks, and Team Klitschko's Tom Loeffler said it will be a sellout, with 50,000 people in Esprit Stadium.
Loeffler said there's no way Wlad would come to the US and fight in the Barclays Center, in Brooklyn, because Golden Boy has exclusive rights to that venue. That venue, he said, wanted Wlad to fight there, but he said he wouldn't co-promote with GB. Wlad said he'd like to fight again in Madison Square Garden. "New York, the East Coast is the logical step to fight in," he said. Loeffler said Barclays approached them, but that MSG would be a fine venue. Wlad sold out MSG for Ibragimov, he said, so if they get a good deal from a US broadcaster, they will do it.
The Ola Afolabi-Valery Brudov cruiserweight scrap, for an interim title, will also be shown.
If I'm Mormeck, I employ the Corrie Sanders style against Wlad. Go at him guns blazing, get in his face, rush him, right away. Yank him out of his comfort zone. Throw everything you have at him for as long as you got it. If you flame out, and he's still standing, then take your lumps, eat a few bombs, and then call it a night. You'll have done your best, and given fans three or six minutes of rock 'em, sock 'em stuff, rather than 12 rounds of pulling-wings-off-a-fly thrills. My two cents…
Wladimir Says He Won't Look Past Mormeck, Wants US Fight Next / Check out more boxing news on video at The Boxing Channel.
Conor Benn, a Lightning Rod for Controversy, Returns to the Ring on Saturday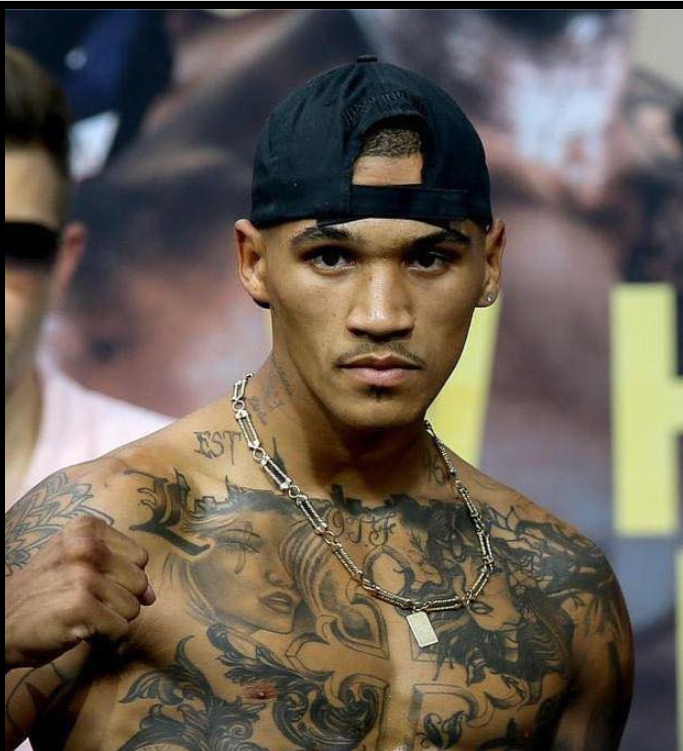 In a surprise announcement, Matchroom honcho Eddie Hearn has announced that Conor Benn will return to the ring this Saturday on the undercard of his promotion at the Caribe Royal in Orlando, Florida. Benn (21-0, 14 KOs) is matched against Mexico's Rodolfo Orozco who is 32-3-3 (24) and has never been stopped. The match is slated for 10 rounds at 154 pounds and will mark the first test for both fighters outside their native countries.
The main event on the Matchroom card is a 12-round contest in the super lightweight division between Richardson Hitchins (16-0, 7 KOs) and Jose Zepeda (37-3, 28 KOs). Hitchins, born in Brooklyn, represented his parents' homeland of Haiti in the 2016 Rio Olympics where he lost his opening round match to amateur nemesis Gary Antuanne Russell. Zepeda, a 34-year-old Mexican-American southpaw, is best remembered for his 2020 rumble with Ivan Baranchyk, the runaway pick for the Fight of the Year. The chief supporting bout pits England's Sandy Ryan against Chicago's Jessica McCaskill with the WBA, WBC, and IBF female welterweight belts on the line. The show will be live-streamed on DAZN.
Conor Benn last fought in April of last year when he TKOed South African veteran Chris Van Heerden in the second round. He was slated to return to the ring on Oct. 8, 2022 against Chris Eubank Jr, but — as is common knowledge – that bout fell to pieces when it came out that Benn had tested positive for a banned substance identified as Clomifene, a fertility drug in women that boosts testosterone in men. Making things worse for Benn, it came out that he had tested positive on VADA-administered tests on two separate occasions spaced several weeks apart. Try as they may, promoter Eddie Hearn and his partner Kelle Sauerland were unable to sway the British Boxing Board of Control into backing off on their edict that prevented the fight from going forward; the authorities wouldn't budge.

As noted in a story that ran on this website, the Benn-Eubank Jr implosion was a particularly infernal shipwreck. The plug wasn't pulled until two days before the fight, by which time all 20,000 seats at London's O2 Arena had reportedly been sold.
Conor Benn predictably insisted that he was innocent, calling it a witch-hunt. The World Boxing Council subsequently lifted its suspension of Benn, citing a report in a medical journal that showed that Clomifene could appear in one's system via an excessive consumption of eggs. With his father Nigel, a former two-division world champion at his side, Conor argued his case on a popular British TV talk show and persuaded many to see him as a sympathetic figure, the victim of a flawed testing process.
Interest in a Benn-Eubank Jr fight dissipated when Eubank was knocked out by Liam Smith, but was then rekindled when Eubank won the rematch in a dominant fashion. Various news reports say that Hearn has begun preliminary negotiations to resurrect the fight with his eye on a date in December.
As noted by several prominent fight writers, notably Dan Rafael, Conor Benn hasn't yet been cleared to resume his career in the UK. An independent National Anti-Doping Panel gave him the green light, but the BBBofC is appealing that decision. Promoter Frank Warren, Eddie Hearn's chief rival, has ventured the opinion that Team Benn is disrespecting the sport by returning to the ring before the process has run its course. In rebuttal, Eddie Hearn says the Benn-Orozco fight has the blessing of the (USA) Association of Boxing Commissioners which made this determination after consulting with the BBBofC.

To comment on this story in the Fight Forum CLICK HERE
International Brotherhood of Prizefighters Rankings: Week of September 17, 2023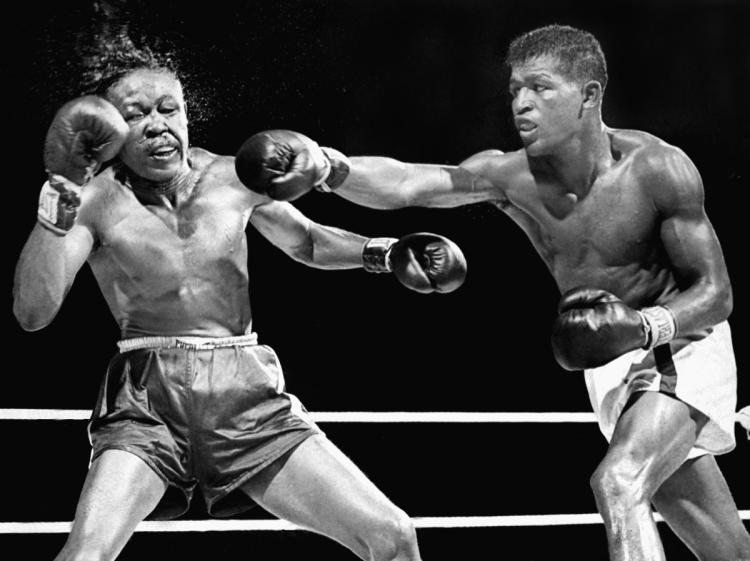 International Brotherhood of Prizefighters Rankings: Week of September 17, 2023

Here's to guessing that the days of the best willing to fight the best on a regular basis is now forever but a distant memory.
105lbs
♛ Vacant
1            Thammanoon Niyomtrong (Knockout CP Freshmart) (Thailand)
2            Panya Pradabsri (Petchmanee CP Freshmart) (Thailand)
3            Oscar Collazo (USA)
4            Ginjiro Shigeoka (Japan)
5            Daniel Valladares (Mexico)
6            Yudai Shigeoka (Japan)
7            Melvin Jerusalem (Philippines)
8            Masataka Taniguchi (Japan)
9            Rene Mark Cuarto (Philippines)
10          Yudai Shigeoka (Philippines)
108lbs
♛ Kenshiro Teraji (Japan)
1            Jonathan Gonzalez (Puerto Rico)
2            Masamichi Yabuki (Japan)
3            Sivenathi Nontshinga (South Africa)
4            Hekkie Budler (South Africa)
5            Elwin Soto (Mexico)
6            Regie Suganob (Philippines)
7            Shokichi Iwata (Japan)
8            Carlos Canizales (Venezuela)
9            Daniel Matellon (Panama)
10          Miel Fajardo (Philippines)
112lbs
♛ Vacant
1            Sunny Edwards (England)
2            Artem Dalakian (Ukraine)
3            Julio Cesar Martinez (Mexico)
4            Angel Ayala Lardizabal (Mexico)
5            David Jimenez (Costa Rica)
6            Jesse Rodriguez (USA)
7            Ricardo Sandoval (USA)
8            Felix Alvarado (Nicaragua)
9            Seigo Yuri Akui (Japan)
10          Taku Kuwahara (Japan)
115lbs
♛ Juan Francisco Estrada (Mexico)
1            Roman Gonzalez (Nicaragua)
2            Kazuto Ioka (Japan)
3            Fernando Martinez (Argentina)
4            Junto Nakatani (Japan)
5            Srisaket Sor Rungvisai (Thailand)
6            Kosei Tanaka (Japan)
7            Andrew Moloney (Australia)
8            Francisco Rodriguez Jr. (Mexico)
9            Pedro Guevara (Mexico)
10         Donnie Nietes (Philippines)
118lbs
♛ Vacant
1            Emmanuel Rodriguez (Puerto Rico)
2            Alexandro Santiago (Mexico)
3            Jason Moloney (Australia)
4            Vincent Astrolabio (Philippines)
5            Gary Antonio Russell (USA)
6            Takuma Inoue (Japan)
7            Nonito Donaire (Philippines)
8            Ryosuke Nishida (Japan)
9            Keita Kurihara (Japan)
10          Paul Butler (England)
122lbs
♛ Vacant
1            Naoya Inoue (Japan)
2            Marlon Tapales (Philippines)
3            Stephen Fulton (USA)
4            Luis Nery (Mexico)
5            Murodjon Akhmadaliev (Uzbekistan)
6            Sam Goodman (Australia)
7            Azat Hovhannisyan (Armenia)
8            Kevin Gonzalez (Mexico)
9            Ra'eese Aleem (USA)
10          Liam Davies (England)
126lbs
♛ Vacant
1            Luis Alberto Lopez (Mexico)
2           Leigh Wood (England)
3            Brandon Figueroa (USA)
4            Rey Vargas (Mexico)
5            Mauricio Lara (Mexico)
6            Robeisy Ramirez (Cuba)
7            Mark Magsayo (Philippines)
8            Josh Warrington (England)
9            Reiya Abe (Japan)
10          Otabek Kholmatov (Uzbekistan)
130lbs
♛ Vacant
1            Emanuel Navarrete (Mexico)
2            Joe Cordina (Wales)
3            Hector Garcia (Dominican Republic)
4            O'Shaquie Foster (USA)
5            Oscar Valdez (Mexico)
6            Shavkatdzhon Rakhimov (Tajikistan)
7            Otar Eranosyan (Georgia)
8            Lamont Roach (USA)
9            Eduardo Ramirez (Mexico)
10          Kenichi Ogawa (Japan)
135lbs
♛ Devin Haney (USA)
1            Gervonta Davis (USA)
2            Vasily Lomachenko (Ukraine)
3            Isaac Cruz (Mexico)
4            William Zepeda Segura (Mexico)
5            Frank Martin (USA)
6            Shakur Stevenson (USA)
7            Maxi Hughes (England)
8            George Kambosos Jr (Australia)
9            Keyshawn Davis (USA)
10          Raymond Muratalla (USA)
140lbs
♛ Teofimo Lopez (USA)
1            Regis Prograis (USA)
2            Jose Ramirez (USA)
3            Jose Zepeda (USA)
4            Jack Catterall (England)
5            Subriel Matias (Puerto Rico)
6            Arnold Barboza Jr. (USA)
7            Gary Antuanne Russell (USA)
8            Zhankosh Turarov (Kazakhstan)
9            Elvis Rodriguez (Dominican Republic)
10          Josh Taylor (Scotland)
147lbs
♛ Terence Crawford (USA)
1            Errol Spence (USA)
2            Jaron Ennis (USA)
3            David Avanesyan (Russia)
4            Cody Crowley (Canada)
5            Alexis Rocha (USA)
6            Rashidi Ellis (USA)
7            Souleymane Cissokho (Senegal)
8            Roiman Villa (Venezuela)
9            Egidijus Kavaliauskas (Lithuania)
10          Shakhram Giyasov (Uzbekistan)
154lbs
♛ Jermell Charlo (USA)
1            Tim Tszyu (Australia)
2            Brian Mendoza (USA)
3            Jesus Alejandro Ramos (USA)
4            Sebastian Fundora (USA)
5            Erickson Lubin (USA)
6            Michel Soro (Ivory Coast)
7            Magomed Kurbanov (Russia)
8            Tony Harrison (USA)
9            Israil Madrimov (Uzbekistan)
10          Bakhram Murtazaliev (Russia)
160lbs
♛ Vacant
1            Gennady Golovkin (Kazakhstan)
2            Carlos Adames (Dominican Republic)
3            Zhanibek Alimkhanuly (Kazakhstan)
4            Chris Eubank Jr. (England)
5            Liam Smith (England)
6            Sergiy Derevyanchenko (Ukraine)*
7            Vincenzo Gualtieri (Germany)
8            Felix Cash (England)
9            Michael Zerafa (Australia)
10          Esquiva Falcao (Brazil)
168lbs
♛ Canelo Alvarez (Mexico)
1            David Benavidez (USA)
2            Caleb Plant (USA)
3            Christian Mbilli (France)
4            David Morrell (Cuba)
5            John Ryder (England)
6            Pavel Silyagin (Russia)
7            Vladimir Shishkin (Russia)
8            Carlos Gongora (Ecuador)
9            Jaime Munguia (Mexico)
10          Demetrius Andrade (USA)
175lbs
♛ Artur Beterbiev (Canada)
1          Dmitry Bivol (Russia)
2          Joshua Buatsi (England)
3          Callum Smith (England)
4          Joe Smith Jr. (USA)
5          Gilberto Ramirez (Mexico)
6          Anthony Yarde (England)
7          Dan Azeez (England)
8          Ali Izmailov (Russia)
9          Michael Eifert (Germany)
10        Igor Mikhalkin (Germany)
200lbs
♛ Jai Opetaia (Australia)
1            Mairis Breidis (Latvia)
2            Chris Billam-Smith (England)
3            Richard Riakporhe (England)
4            Aleksei Papin (Russia)
5            Badou Jack (Sweden)
6            Arsen Goulamirian (France)
7            Lawrence Okolie (England)
8            Yuniel Dorticos (Cuba)
9            Mateusz Masternak (Poland)
10          Ilunga Makabu (So. Africa)
Unlimited
♛ Oleksandr Usyk (Ukraine)
1            Tyson Fury (England)
2            Zhilei Zhang (China)
3            Deontay Wilder (USA)
4            Anthony Joshua (England)
5            Filip Hrgovic (Croatia)
6            Andy Ruiz (USA)
7            Joe Joyce (England)
8            Arslanbek Makhmudov (Russia)
9            Frank Sanchez (Cuba)
10          Luis Ortiz (USA)
Pound-for-Pound
01 – Terence Crawford
02 – Naoya Inoue
03 – Oleksandr Usyk
04 – Juan Francisco Estrada
05 – Dmitry Bivol
06 – Tyson Fury
07 – Canelo Alvarez
08 – Artur Beterbiev
09 – Teofimo Lopez
10 – Shakur Stevenson
To comment on this story in the Fight Forum CLICK HERE
Kenshiro Teraji TKOs Hekkie Budler on a Monday Night in Tokyo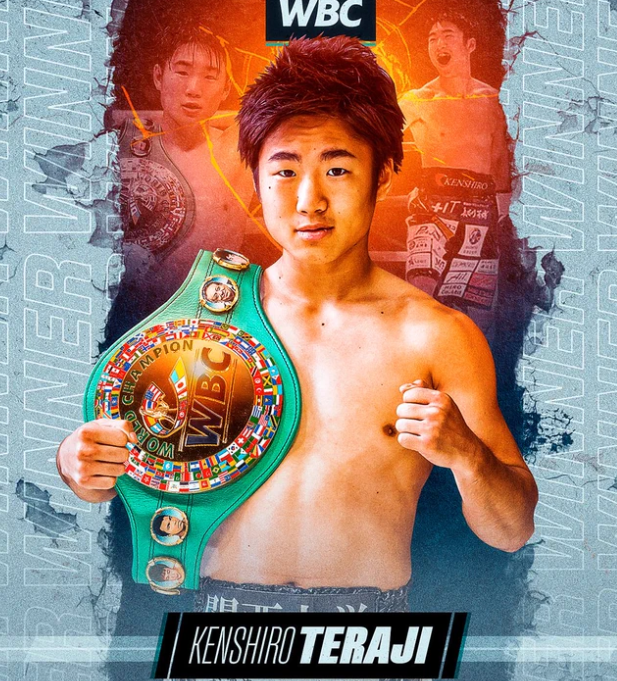 Kenshiro Teraji, the best Japanese boxer not named Naoya Inoue, successfully defended his WBC and WBA 108-pound titles in the Koto City ward of  Tokyo tonight (before dawn in parts of the U.S.) with a ninth-round stoppage of South African veteran Hekkie Budler. Although Budler had his moments, Teraji (22-1, 14 KOs) was comfortably ahead on the cards when referee Jose Guadalupe Garcia pulled the plug at the 2:19 mark of round nine with Budler backed against the ropes and Teraji connecting with a barrage of unanswered punches.
Teraji, a second-generation prizefighter in his second reign as a 108-pound champion, is now 13-1 in world title fights. He avenged his lone defeat and did it in grand style with a third round KO of countryman Masamichi Yabuki. The 35-year-old Budler, a former two-division title-holder who has answered the bell for 341 rounds, declined to 35-5.
Nakatani-Cortes
Junto Nakatani, a two-division title-holder making the first defense of his WBO world super flyweight title, won a lopsided 12-round decision over Mexico City's Argi Cortes. Nakatani, tall for the weight class, scored three knockdowns with body punches, two coming in round five, en route to winning by scores of 118-107 and 119-106 twice.
A massive favorite in the 18/1 range, Nakatani (26-0, 19 KOs) was coming off a dominant showing against Andrew Moloney in Las Vegas, a bout that ended with Nakatani scoring a brutal, one-punch knockout. Cortes (25-4-2) had lost only one of his previous 25 fights, that a narrow but unanimous decision rendered against him by pound-for-pound-list occupant Juan Francisco Estrada. This was his first appearance outside Mexico.
Nakatani appears to be on a collision course with 30-2-1 countryman Kazuto Ioka who holds the WBA version of this title.
Also
In a super flyweight contest slated for eight rounds, Anthony Olascuaga (6-1, 4 KOs) scored a seventh-round stoppage of Giemel Magrano who was on his feet and likely ahead on the cards when the referee halted the contest with three seconds remaining in round seven.
Olascuaga, LA-born and raised, had suffered his lone defeat in this very ring in April, succumbing in nine rounds to Kenshiro Teraji. In that contest, Olascuaga acquitted himself well in defeat considering his inexperience and the fact that he took the bout on 10 days' notice. Magrano, a 28-year-old Filipino, declines to 28-4.
Nasukara
In a bout that directly preceded the main event, Tenshin Nasukawa pitched a shutout over Mexican import Luis Guzman, winning 80-70 on all three cards after scoring a knockdown in the opening round.
Outside Japan, Nasukawa, now 2-0 as a professional boxer, is best known for his quasi-exhibition with Floyd Mayweather in December of 2019, a match in which he suffered the indignity of being stopped in the opening round. Inside Japan, he is recognized as one of the greatest kickboxers of all time. Guzman, recognized as the bantamweight champion of Mexico, lost for the third time in 13 pro bouts.
To comment on this story in the Fight Forum CLICK HERE