We Wonder..Did Povetkin Learn A Lesson?
Alexander Povetkin and the people who are trying to insulate him from the harsh realities of boxing were both given a dangerous lesson in the sport's difficulties Saturday night in Germany. Whether they learned anything or not only Povetkin can decide.
The 32-year-old former Olympic gold medalist was long an underachieving heavyweight pretender until he joined forces with trainer Teddy Atlas two years ago. Atlas transformed his once soft body into a boxer's and a once weak mind into a more strong willed one, although one that remained less than fully developed when the two came to a parting of the way a few months back over Povetkins' refusal to train in the United States, as per his contractual obligation, during the months when Atlas was working as an analyst for ESPN's Friday Night Fights.
Both refused to budge, Atlas unable to because it would have threatened his family's livelihood and the WBA champion unwilling to because he doesn't like spending protracted periods in the United States. Considering that he speaks little English and would be far from his home in Russia that's understandable but discomfort is the fighter's lot, especially for the ones who most want to win.
It is a sport that demands much from all its practitioners and more from those who want to be world champion. In Povetkins' case, one of those discomforts was training from time to time in the United States. Frankly, on the discomfort meter that ranks somewhere between a bad pillow and cold soup.
Somewhere in the midst of being pummeled and nearly knocked out in the seventh round Saturday night by former cruiserweight champion Marco Huck, six weeks in New Jersey probably didn't look like such a bad alternative. If Povetkin is wise he will remember that.
Povetkin was saved by the bell and an alarmingly helpful referee named Luis Pabon and went on to be given (emphasis on the word "given'') a majority decision on a night when the three men broadcasting the fight back in the U.S. all had the ex-cruiserweight champion in front and the crowd booed its disapproval when the decision went against the popular Huck (34-2, 25 KO).
"A lot of people who saw this fight see me as the winner," the 27-year-old Huck said and that included most everybody in the arena but those named Povetkin.
What was obvious as the fight wore on and Povetkin (24-0, 16 KO) wore out was that he still needs Atlas because if Atlas had been at his training camp the previous eight weeks he would not have entered the ring at the Porsche Arena looking like a little doughboy.
When the Huck fight was suggested only minutes after Povetkin's first successful title defense Atlas responded by saying they could do it that night if Huck would like. It was the kind of flippant remark he's known for but not one he would have made had he not felt his fighter was in a different class than Huck's.
But after one training camp under the guidance of Alexander Zimin, it was Povetkin who seemed out of his class. Physically he was dragging from the fight's midpoint, conditioning having always been a problem for him except for his few fights with Atlas.
Worse, he repeatedly was rocked by Huck, whose boxing style could only be described as crude. Had Pabon not repeatedly and incorrectly interceded when Huck was scoring on the inside, breaking up the fighters even as Huck was landing scoring blows, Povetkin might today be an ex-champion.
What happened to him Saturday night was a cautionary warning to him, to his manager and to his promoters, Wilfried and Kallie Sauerland, of what is to come if they persist in warring with the one trainer who seems to have gotten the best out of Povetkin.
Atlas and the Sauerlands have been at odds ever since he blocked a title fight with Wladimir Klitschko that he rightly felt Povetkin was not yet ready for. Judging by the way he looked against Huck, the wisdom of that decision should be obvious.
Now the question is how wise is Povetkin and the people around him? If the fighter is smart or his handlers are truly looking out for his best interest they will do what they can to mend fences with Atlas and get Povetkin to the United States to train for his next fight, a defense against well-shot Hasim Rahman.
The problem with Rahman is that while he was never what some hoped he'd be after he upset Lennox Lewis and is no longer what he used to be, he still can knock you cold with the right hand, especially if he's facing a champion out of shape physically and weakened mentally.
Povetkin, not surprisingly, said after the fight he'd taken Huck lightly. Maybe he had. Certainly his decision not to come to the U.S. to continue his graduate school work with Atlas in the fine art of fisticuffs was a sign he either didn't realize how important it was to have a top trainer in his corner or forgot he hadn't done this all on his own.
No fighter does, just as no trainer can make a champion out of nothing. But what top trainers do is get the absolute most out of their fighter's abilities. Atlas had begun to do that. Zimin clearly did not.
So the question the WBA champion faces is simple: did he learn from this ill-advised mistake of returning to his old ways or is he intent on dooming himself to repeat their consequences?
That is up to him.
Check out more boxing news on video at The Boxing Channel.
Avila Perspective, Chap. 253: Oscar De La Hoya Reloading in LA and More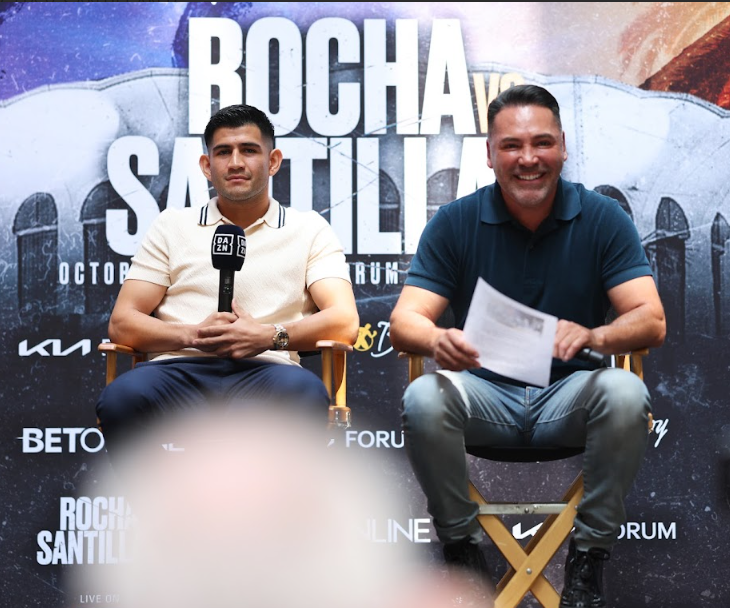 Oscar De La Hoya sat with a satisfied look inside his glittering building on Wilshire Boulevard, unveiling plans to stage a welterweight showdown between southpaw contenders next month.
Lately, the six-division world champion turned promoter from nearby East Los Angeles has attended every boxing show produced by his company Golden Boy Promotions. Big or small, the former fighter who acquired millions as a prizefighter has put full attention on expanding his boxing empire.
Golden Boy Promotions has reloaded.
On Tuesday, De La Hoya discussed plans to match Alexis Rocha with Top Rank's Giovanni Santillan on Saturday, October 21, at the Kia Forum in Inglewood, Calif. DAZN will stream the show.
Rocha (23-1, 15 KOs) seems to have gained his man strength. Five out of seven of his past foes have not heard the final bell. The Orange County fighter's seek and destroy style has made him a crowd favorite throughout Southern California.
Santillan (31-0, 16 KOs) is a different kind of cat. The San Diego-based welterweight was groomed by Thompson Boxing Promotions and then aided by Top Rank. With the loss of promoter Ken Thompson who passed away earlier this year, Top Rank has taken over the reins of the crafty fighter.
Both Rocha (pictured with Oscar) and Santillan are familiar with each other through sparring.
"I feel that I've grown so much over time and now's my moment, and I want to keep just banging on the door for a world title. I know that Giovani is going to be a good opponent," said Rocha who is based in Santa Ana.
San Diego's Santillan expressed excitement about fighting in Los Angeles.
"This isn't the first time that I go into enemy territory," Santillan said. "I think that I will gain the LA fan base after this fight."
It's the kind of fight that would have sold out the Olympic Auditorium down the street. Battles between fighters from rival towns in Southern California resulted in fights like Bobby Chacon versus Danny "Lil Red" Lopez, or East L.A.'s Ruben Navarro versus South L.A.'s Raul Rojas.
Crosstown rivalries made the Olympic Auditorium a legendary venue for decades. And the Los Angeles area has always been a hotbed for boxing talent. Always.
De La Hoya knows that and has lived it.
"As Golden Boy, we know our position, we know exactly what we have to do in order to position that fighter to get them to that world title. Alexis Rocha is knocking on the door. Giovani has an amazing opportunity. So, this is what boxing is all about," said De La Hoya.
MarvNation
Welterweights Eduard Skavynskyi (14-0) of Ukraine and Mexico's Alejandro Frias (14-9-2) headline the main event at Thunder Studios in Long Beach, California on Saturday Sept. 23.
This is Skavynskyi's first time fighting in the U.S. All his previous fights were in Russia and Ukraine.
Also, co-headlining are female minimumweights Yadira Bustillos (7-1) and Katherine Lindenmuth (5-1) in a rematch set for eight rounds.
Bustillos fights out of Las Vegas and Lindenmuth is based in New Mexico and looking to avenge her loss a year ago.
For tickets and information go to: https://www.tix.com/ticket-sales/marvnation/6815/event/1344994?fbclid=paaabuvxlnjny1dafchk0wwkftjganfmww6bayhkj7autu-mhjyz8ll__ycga
Heavyweight Rematch in England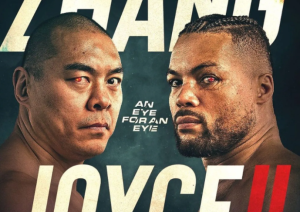 Once again, the United Kingdom presents a heavyweight show and this time a rematch between China's Zhilei Zhang (25-1-1, 20 KOs) and England's Joe Joyce (15-1, 14 KOs) on Saturday, Sept 23. ESPN will stream the Frank Warren boxing card from London.
Zhang stopped Joyce in the sixth round this past April. Can he do it again?
Welterweight showdown in Florida
Jessica McCaskill (12-3) and Sandy Ryan (6-1) meet for several welterweight world titles on Saturday, Sept. 23, in Orlando, Florida. DAZN will stream the Matchroom Boxing card.
Super lightweight Richardson Hitchins (16-0, 7 KOs) test top contender Jose "Chon" Zepeda (37-3, 28 KOs) in the co-main event. Conor Benn is also on the card.
Fights to Watch
Sat. ESPN+ 2 p.m. Zhilei Zhang (25-1-1) vs Joe Joyce (15-1).
Sat. DAZN 5 p.m. Jessica McCaskill (12-3) vs Sandy Ryan (6-1); Richardson Hitchins (16-0) vs Jose Zepeda (37-3).
Alexis Rocha photo credit: Golden Boy / Cris Esqueda
To comment on this story in the Fight Forum CLICK HERE
Conor Benn, a Lightning Rod for Controversy, Returns to the Ring on Saturday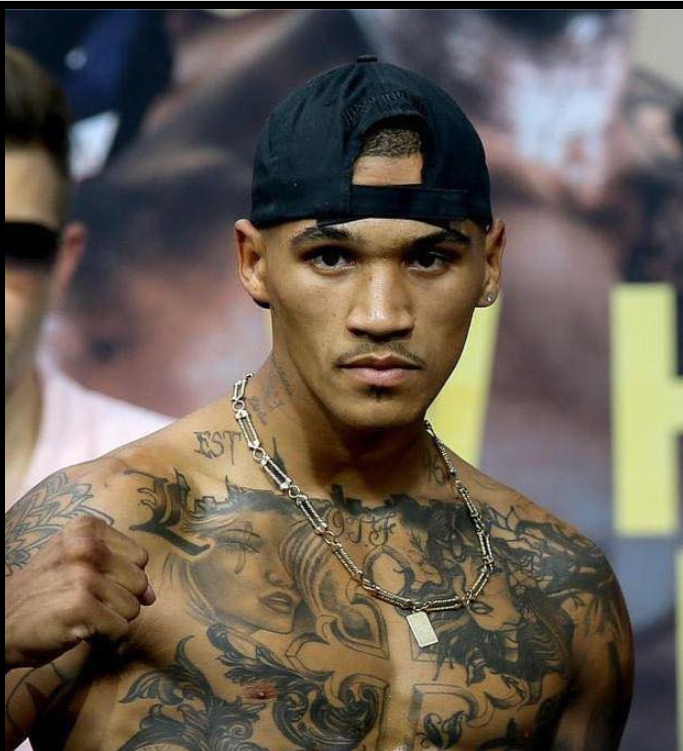 In a surprise announcement, Matchroom honcho Eddie Hearn has announced that Conor Benn will return to the ring this Saturday on the undercard of his promotion at the Caribe Royal in Orlando, Florida. Benn (21-0, 14 KOs) is matched against Mexico's Rodolfo Orozco who is 32-3-3 (24) and has never been stopped. The match is slated for 10 rounds at 154 pounds and will mark the first test for both fighters outside their native countries.
The main event on the Matchroom card is a 12-round contest in the super lightweight division between Richardson Hitchins (16-0, 7 KOs) and Jose Zepeda (37-3, 28 KOs). Hitchins, born in Brooklyn, represented his parents' homeland of Haiti in the 2016 Rio Olympics where he lost his opening round match to amateur nemesis Gary Antuanne Russell. Zepeda, a 34-year-old Mexican-American southpaw, is best remembered for his 2020 rumble with Ivan Baranchyk, the runaway pick for the Fight of the Year. The chief supporting bout pits England's Sandy Ryan against Chicago's Jessica McCaskill with the WBA, WBC, and IBF female welterweight belts on the line. The show will be live-streamed on DAZN.
Conor Benn last fought in April of last year when he TKOed South African veteran Chris Van Heerden in the second round. He was slated to return to the ring on Oct. 8, 2022 against Chris Eubank Jr, but — as is common knowledge – that bout fell to pieces when it came out that Benn had tested positive for a banned substance identified as Clomifene, a fertility drug in women that boosts testosterone in men. Making things worse for Benn, it came out that he had tested positive on VADA-administered tests on two separate occasions spaced several weeks apart. Try as they may, promoter Eddie Hearn and his partner Kelle Sauerland were unable to sway the British Boxing Board of Control into backing off on their edict that prevented the fight from going forward; the authorities wouldn't budge.

As noted in a story that ran on this website, the Benn-Eubank Jr implosion was a particularly infernal shipwreck. The plug wasn't pulled until two days before the fight, by which time all 20,000 seats at London's O2 Arena had reportedly been sold.
Conor Benn predictably insisted that he was innocent, calling it a witch-hunt. The World Boxing Council subsequently lifted its suspension of Benn, citing a report in a medical journal that showed that Clomifene could appear in one's system via an excessive consumption of eggs. With his father Nigel, a former two-division world champion at his side, Conor argued his case on a popular British TV talk show and persuaded many to see him as a sympathetic figure, the victim of a flawed testing process.
Interest in a Benn-Eubank Jr fight dissipated when Eubank was knocked out by Liam Smith, but was then rekindled when Eubank won the rematch in a dominant fashion. Various news reports say that Hearn has begun preliminary negotiations to resurrect the fight with his eye on a date in December.
As noted by several prominent fight writers, notably Dan Rafael, Conor Benn hasn't yet been cleared to resume his career in the UK. An independent National Anti-Doping Panel gave him the green light, but the BBBofC is appealing that decision. Promoter Frank Warren, Eddie Hearn's chief rival, has ventured the opinion that Team Benn is disrespecting the sport by returning to the ring before the process has run its course. In rebuttal, Eddie Hearn says the Benn-Orozco fight has the blessing of the (USA) Association of Boxing Commissioners which made this determination after consulting with the BBBofC.

To comment on this story in the Fight Forum CLICK HERE
International Brotherhood of Prizefighters Rankings: Week of September 17, 2023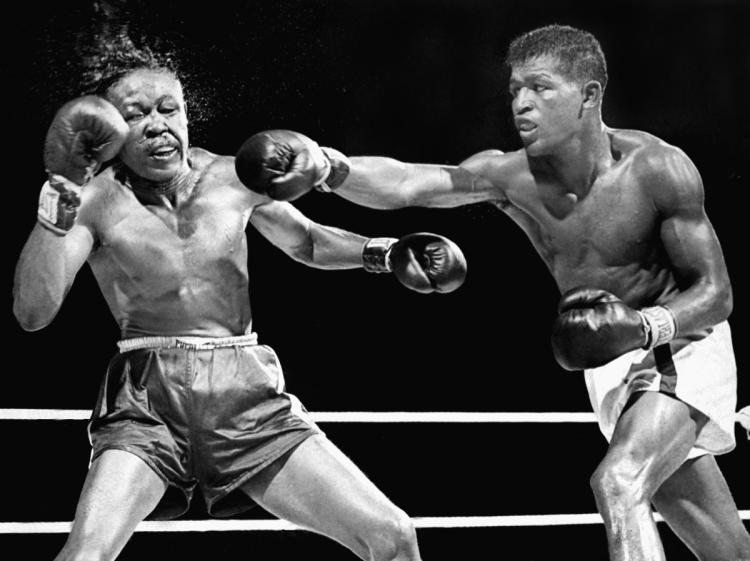 International Brotherhood of Prizefighters Rankings: Week of September 17, 2023

Here's to guessing that the days of the best willing to fight the best on a regular basis is now forever but a distant memory.
105lbs
♛ Vacant
1            Thammanoon Niyomtrong (Knockout CP Freshmart) (Thailand)
2            Panya Pradabsri (Petchmanee CP Freshmart) (Thailand)
3            Oscar Collazo (USA)
4            Ginjiro Shigeoka (Japan)
5            Daniel Valladares (Mexico)
6            Yudai Shigeoka (Japan)
7            Melvin Jerusalem (Philippines)
8            Masataka Taniguchi (Japan)
9            Rene Mark Cuarto (Philippines)
10          Yudai Shigeoka (Philippines)
108lbs
♛ Kenshiro Teraji (Japan)
1            Jonathan Gonzalez (Puerto Rico)
2            Masamichi Yabuki (Japan)
3            Sivenathi Nontshinga (South Africa)
4            Hekkie Budler (South Africa)
5            Elwin Soto (Mexico)
6            Regie Suganob (Philippines)
7            Shokichi Iwata (Japan)
8            Carlos Canizales (Venezuela)
9            Daniel Matellon (Panama)
10          Miel Fajardo (Philippines)
112lbs
♛ Vacant
1            Sunny Edwards (England)
2            Artem Dalakian (Ukraine)
3            Julio Cesar Martinez (Mexico)
4            Angel Ayala Lardizabal (Mexico)
5            David Jimenez (Costa Rica)
6            Jesse Rodriguez (USA)
7            Ricardo Sandoval (USA)
8            Felix Alvarado (Nicaragua)
9            Seigo Yuri Akui (Japan)
10          Taku Kuwahara (Japan)
115lbs
♛ Juan Francisco Estrada (Mexico)
1            Roman Gonzalez (Nicaragua)
2            Kazuto Ioka (Japan)
3            Fernando Martinez (Argentina)
4            Junto Nakatani (Japan)
5            Srisaket Sor Rungvisai (Thailand)
6            Kosei Tanaka (Japan)
7            Andrew Moloney (Australia)
8            Francisco Rodriguez Jr. (Mexico)
9            Pedro Guevara (Mexico)
10         Donnie Nietes (Philippines)
118lbs
♛ Vacant
1            Emmanuel Rodriguez (Puerto Rico)
2            Alexandro Santiago (Mexico)
3            Jason Moloney (Australia)
4            Vincent Astrolabio (Philippines)
5            Gary Antonio Russell (USA)
6            Takuma Inoue (Japan)
7            Nonito Donaire (Philippines)
8            Ryosuke Nishida (Japan)
9            Keita Kurihara (Japan)
10          Paul Butler (England)
122lbs
♛ Vacant
1            Naoya Inoue (Japan)
2            Marlon Tapales (Philippines)
3            Stephen Fulton (USA)
4            Luis Nery (Mexico)
5            Murodjon Akhmadaliev (Uzbekistan)
6            Sam Goodman (Australia)
7            Azat Hovhannisyan (Armenia)
8            Kevin Gonzalez (Mexico)
9            Ra'eese Aleem (USA)
10          Liam Davies (England)
126lbs
♛ Vacant
1            Luis Alberto Lopez (Mexico)
2           Leigh Wood (England)
3            Brandon Figueroa (USA)
4            Rey Vargas (Mexico)
5            Mauricio Lara (Mexico)
6            Robeisy Ramirez (Cuba)
7            Mark Magsayo (Philippines)
8            Josh Warrington (England)
9            Reiya Abe (Japan)
10          Otabek Kholmatov (Uzbekistan)
130lbs
♛ Vacant
1            Emanuel Navarrete (Mexico)
2            Joe Cordina (Wales)
3            Hector Garcia (Dominican Republic)
4            O'Shaquie Foster (USA)
5            Oscar Valdez (Mexico)
6            Shavkatdzhon Rakhimov (Tajikistan)
7            Otar Eranosyan (Georgia)
8            Lamont Roach (USA)
9            Eduardo Ramirez (Mexico)
10          Kenichi Ogawa (Japan)
135lbs
♛ Devin Haney (USA)
1            Gervonta Davis (USA)
2            Vasily Lomachenko (Ukraine)
3            Isaac Cruz (Mexico)
4            William Zepeda Segura (Mexico)
5            Frank Martin (USA)
6            Shakur Stevenson (USA)
7            Maxi Hughes (England)
8            George Kambosos Jr (Australia)
9            Keyshawn Davis (USA)
10          Raymond Muratalla (USA)
140lbs
♛ Teofimo Lopez (USA)
1            Regis Prograis (USA)
2            Jose Ramirez (USA)
3            Jose Zepeda (USA)
4            Jack Catterall (England)
5            Subriel Matias (Puerto Rico)
6            Arnold Barboza Jr. (USA)
7            Gary Antuanne Russell (USA)
8            Zhankosh Turarov (Kazakhstan)
9            Elvis Rodriguez (Dominican Republic)
10          Josh Taylor (Scotland)
147lbs
♛ Terence Crawford (USA)
1            Errol Spence (USA)
2            Jaron Ennis (USA)
3            David Avanesyan (Russia)
4            Cody Crowley (Canada)
5            Alexis Rocha (USA)
6            Rashidi Ellis (USA)
7            Souleymane Cissokho (Senegal)
8            Roiman Villa (Venezuela)
9            Egidijus Kavaliauskas (Lithuania)
10          Shakhram Giyasov (Uzbekistan)
154lbs
♛ Jermell Charlo (USA)
1            Tim Tszyu (Australia)
2            Brian Mendoza (USA)
3            Jesus Alejandro Ramos (USA)
4            Sebastian Fundora (USA)
5            Erickson Lubin (USA)
6            Michel Soro (Ivory Coast)
7            Magomed Kurbanov (Russia)
8            Tony Harrison (USA)
9            Israil Madrimov (Uzbekistan)
10          Bakhram Murtazaliev (Russia)
160lbs
♛ Vacant
1            Gennady Golovkin (Kazakhstan)
2            Carlos Adames (Dominican Republic)
3            Zhanibek Alimkhanuly (Kazakhstan)
4            Chris Eubank Jr. (England)
5            Liam Smith (England)
6            Sergiy Derevyanchenko (Ukraine)*
7            Vincenzo Gualtieri (Germany)
8            Felix Cash (England)
9            Michael Zerafa (Australia)
10          Esquiva Falcao (Brazil)
168lbs
♛ Canelo Alvarez (Mexico)
1            David Benavidez (USA)
2            Caleb Plant (USA)
3            Christian Mbilli (France)
4            David Morrell (Cuba)
5            John Ryder (England)
6            Pavel Silyagin (Russia)
7            Vladimir Shishkin (Russia)
8            Carlos Gongora (Ecuador)
9            Jaime Munguia (Mexico)
10          Demetrius Andrade (USA)
175lbs
♛ Artur Beterbiev (Canada)
1          Dmitry Bivol (Russia)
2          Joshua Buatsi (England)
3          Callum Smith (England)
4          Joe Smith Jr. (USA)
5          Gilberto Ramirez (Mexico)
6          Anthony Yarde (England)
7          Dan Azeez (England)
8          Ali Izmailov (Russia)
9          Michael Eifert (Germany)
10        Igor Mikhalkin (Germany)
200lbs
♛ Jai Opetaia (Australia)
1            Mairis Breidis (Latvia)
2            Chris Billam-Smith (England)
3            Richard Riakporhe (England)
4            Aleksei Papin (Russia)
5            Badou Jack (Sweden)
6            Arsen Goulamirian (France)
7            Lawrence Okolie (England)
8            Yuniel Dorticos (Cuba)
9            Mateusz Masternak (Poland)
10          Ilunga Makabu (So. Africa)
Unlimited
♛ Oleksandr Usyk (Ukraine)
1            Tyson Fury (England)
2            Zhilei Zhang (China)
3            Deontay Wilder (USA)
4            Anthony Joshua (England)
5            Filip Hrgovic (Croatia)
6            Andy Ruiz (USA)
7            Joe Joyce (England)
8            Arslanbek Makhmudov (Russia)
9            Frank Sanchez (Cuba)
10          Luis Ortiz (USA)
Pound-for-Pound
01 – Terence Crawford
02 – Naoya Inoue
03 – Oleksandr Usyk
04 – Juan Francisco Estrada
05 – Dmitry Bivol
06 – Tyson Fury
07 – Canelo Alvarez
08 – Artur Beterbiev
09 – Teofimo Lopez
10 – Shakur Stevenson
To comment on this story in the Fight Forum CLICK HERE