The Measure of a Man: Floyd's Great, Pacquiao Is Greater
Last Saturday, as I watched Floyd Mayweather dig down deeper than I'd ever seen before to outlast the hard-charging and brave Miguel Cotto, I could not help but come away impressed. Going into the championship rounds with a bloody nose and, most assuredly, in a close contest, Mayweather was as advertised—money. He blanked Cotto over the final three rounds on my scorecard and even had the proud champion holding on for dear life in the twelfth.It was truly a virtuoso performance from a brilliant fighter I have long admired as the best in the sport.
But then it hit me. Floyd Mayweather is an all-time great, but Manny Pacquiao is an all-time greater.
It's been an interesting debate for fight fans through the years, and it's one I've long sided on with those in Mayweather's corner. And with so much time between boxing's big events, what else is there to do really?Think about it: NFL fans get games every week. MLB fans get entire series of games all week long. The NBA plays what seems like every other day. Then, at the end of their seasons they get a championship game—a coup de grace.
Meanwhile, boxing fans wait around all year long just for big enough fights to get excited about, and even longer for Super Bowl-type events that never seem to materialize. I'm looking at you, Pacquiao vs. Mayweather.
But fret not, friends, because as boxing fans we are used to it. We accept our boxing broken, as one of our reader contest winners recently put it, and so the debate rages on even though the fight may never actually materialize.
But that's okay. Heck, how many boxing message boards would be shut down if there were a moratorium on things like whether Joe Louis was greater than Muhammad Ali, or whether Ray Leonard could defeat Ray Robinson?
Have no fear: Mayweather versus Pacquiao will live on forever even if the fight never actually happens.
Boxing isn't statistics-run-amok the way other sports, particularly baseball, can be. Sure, our historians can research data with the best of them, but nothing tells the story of a fighter's greatness quite like the combined measure our heads and hearts give us.
And mine's telling me Manny Pacquiao should go down in history ranked ahead of Floyd Mayweather.
A good place to start this type of examination is by looking at how the fighters fared against common opponents. Our own Lee Wylie did some comparative analysis of this information just this week.
Suddenly, it's Manny Pacquiao who now appears to be in the driving seat. A quick glance at their respective results against common opponents suggests this;
Pacquiao TKO 8 De La Hoya Mayweather SD De La Hoya
Pacquiao TKO 2 Hatton Mayweather TKO 10 Hatton
Pacquiao TKO 12 Cotto Mayweather UD Cotto
Pacquiao UD Mosley Mayweather UD Mosley *
Pacquiao UD/SD/D Marquez Mayweather UD Marquez
* Pacquiao was more dominant over Mosley than Mayweather was. Unlike Mayweather, Pacquiao scored a knockdown and was never hurt himself.
Really, the only thing Mayweather has done better than Pacquiao against common opponents has been his 2009 decision win over Marquez. While Pacquiao's battles with Marquez have all been fiercely contested, Mayweather pitched a virtual shut-out in his lone encounter with the great champion.Still, even his shining moment over what Pacquiao did was marred by his refusal to make the contracted catch-weight of 144 pounds. Readers will recall that Marquez had never before fought above 135 pounds and had fought at 130 pounds as recently as the previous year. Meanwhile, Mayweather had campaigned at 140 pounds or higher since 2004, so his coming into the fight at 146 pounds (four pounds over the limit) can't be easily dismissed.
Of course, boxing analysis isn't as easy as common opponents. Just because fighter A beats fighter B and fighter B beats fighter C, well it pretty much never means that fighter A will certainly beat fighter C. Boxing doesn't like math.
There's more to it than that. As my colleague Bart Barry noted recently from ringside in San Antonio, when was the last time Mayweather came into a fight the underdog and was able to come out the winner? Has Mayweather ever been the underdog? Has he ever tested himself beyond his comfort zone?
Manny Pacquiao sure has. Heck, the first time anyone but the hardest of the hardcore boxing fan saw the guy fight was when he obliterated Marco Antonio Barrera in 2003. His wars with Barrera, Erik Morales and Juan Manuel Marquez alone give him wins over more fierce competitors than anyone Mayweather has every fought, and raise your hand if you thought Oscar De La Hoya and Ricky Hatton were just too big for the Filipino fighter who had started his career at a mere 106 pounds. Am I the only one?
Still, none of that data makes the case entirely. After all, our heads can only do so much for us. We're boxing fans. So while all that remains to be fact, and even though Mayweather may be a prohibitive favorite over Pacquiao should they ever meet, none of it really gives the answer. Our hearts will tell the tale instead.
Manny Pacquiao's ferocity inside the ring is magnified by his love for the sport. He seems to revel in fighting. He loves it. He even appears to enjoy getting hit. When the bell rings, Manny Pacquiao is a warrior. Outside the ring, his boyish charm and world class charisma have attracted fans to the sport that otherwise might not be here. His lasting impact on the sport is sure to go down among the elite. He'll be mentioned in the same breath as other fighters that transcended the sport—Tyson, Ali, Leonard—guys your friends that aren't boxing fans knew of then and still know now.
In the end, though, all of this is over-complicating something atrociously as easy as this: if both of them were to end their careers today, Manny Pacquiao's legacy would be secure without ever fighting again. Like it or not, Manny has done more than just about any other fighter ever. He's won titles in seven different weight classes, he came out the victor in one of boxing's greatest four man round robins ever, and with his aggressive style and rapid fire approach he's given fight fans the kinds of thrills and spills that won't been soon forgotten. Meanwhile, Mayweather, for all his technical brilliance and otherworldly ability, would leave many of us, even some of his biggest fans, bewildered by what might have been had he taken on more challenges and gone after bigger fights.
Mayweather told the media after his brilliant win over Cotto that he was 80/20 on retiring this year. If that's the case and fight fans never get the fight they've longed for, then the odds that boxing historians look more favorably on Pacquiao than Mayweather are even higher, and the odds that this boxing historian does so is about 99/1.
Follow TSS on Twitter here. Follow McCarson on Twitter here.
The Hauser Report: Ruiz-Joshua 2 from Afar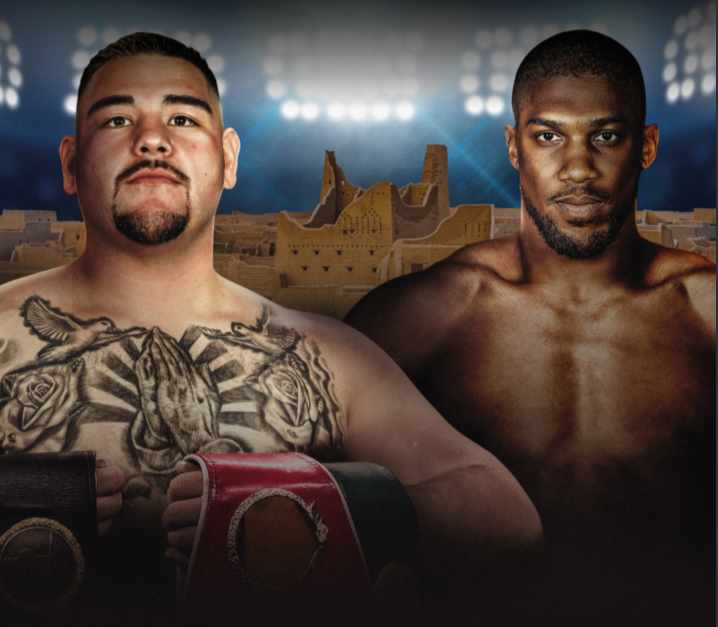 The Hauser Report: Ruiz-Joshua 2 from Afar
Humpty Dumpty is an English nursery rhyme, the origins of which are shrouded in the mist of history. It has been said at various times to have been written as an allegory for people and events as diverse as King Richard III (whose army was defeated in the last major battle of The War of the Roses in 1485) to the fall from grace of Cardinal Thomas Wolsey in 1529. In 1797, an English composer named Samuel Arnold published a work called Juvenile Amusements that included the following:
Humpty Dumpty sat on a wall,
Humpty Dumpty had a great fall.
Four-score Men and Four-score more,
Could not make Humpty Dumpty where he was before.
Since then, Humpty has appeared in creative works as diverse as Through The Looking Glass by Lewis Carroll and Finnegan's Wake by James Joyce. In its popularly-accepted current form, the rhyme reads:
Humpty Dumpty sat on a wall,
Humpty Dumpty had a great fall.
All the king's horses and all the king's men
Couldn't put Humpty together again.
That brings us to Anthony Joshua.
At the start of 2019, Joshua was King of the World. After winning a gold medal in the super-heavyweight division at the 2012 Olympics, he'd moved to the professional ranks and compiled a 22-0 (21 KOs) record en route to annexing the WBA, IBF, and WBO crowns. His most impressive performance during that time was an April 29, 2017, knockout of Wladimir Klitschko that saw "AJ" climb off the canvas in front of 90,000 screaming hometown fans at Wembley Stadium in London to stop Klitschko in the eleventh round.
"There has always been something regal about Joshua," Jimmy Tobin wrote. "A purple streak that went beyond his herculean dimensions, beyond the polish, beyond the grooming that long ago began preparing him to be not just a professional boxer but the heavyweight champion of the world."
Then came the fall.
On June 1, 2019, Joshua entered the ring at Madison Square Garden in what was billed as his "invasion of America." The opponent was Andy Ruiz, a substitute for Jarrell Miller who had been pulled from the fight after testing positive for banned performance enhancing drugs.
Ruiz had a good amateur pedigree. But he'd fought his first pro fight in 2009 at 297 pounds and evinced an aversion to serious conditioning throughout his ring career.
There's a reason why very few fat people succeed in boxing. And it has nothing to do with body-shaming. Boxing requires that a fighter turn his body into a finely-tuned instrument of destruction. Indeed, Top Rank (which promoted Ruiz for much of his ring career) grew so discouraged by Andy's eating habits and other lifestyle issues coupled with his financial demands that it let him buy his way out of his contract at the start of this year.
Joshua was a 20-to-1 betting favorite when the two men met in the ring on June 1. It was expected that Ruiz would be relegated to a place in boxing history alongside "Two-Ton" Tony Galento who was knocked out in the fourth round by Joe Louis eighty years ago. But once the bell rang, AJ's " invasion of America" evoked memories of England's performance against the colonies in the Revolutionary War.
After dropping Ruiz with a hellacious right-uppercut-left-hook combination in round three, Joshua was staggered by a counter left hook to the temple and pummeled around the ring. Four knockdowns later, Andy Ruiz was the WBA-IBF-WBO heavyweight champion of the world.
Within the hour, Deontay Wilder (Joshua's WBC rival) tweeted, "He [Joshua] wasn't a true champion. His whole career has consisted of lies, contradictions and gifts. Facts and now we know who was running from who!!!"
That earned a rejoinder at the post-fight press conference from Joshua's promoter, Eddie Hearn, who declared, "Deontay Wilder has zero class for kicking Joshua while he's down."
Tyson Fury, who styles himself as the "lineal" heavyweight king, was kinder on fight night, tweeting, "We have our back and forths but @anthonyfjoshua changed his stars through life. Heavyweight boxing, these things happen, rest up, recover, regroup and come again."
Then, two days later, Fury abandoned his gracious position and told ESPN Radio, "It was a little fat fella from California who chinned him. He'll never live it down. Can you imagine? You're built like an Adonis, you're six-foot-six, you're ripped, carved in stone. And a little fat guy who has eaten every Snickers and Mars bar in the whole of California comes in there and bladders you all over? What a disgrace. If that was me, I'd never show my face in public again."
Meanwhile; in a video released on his YouTube channel several days after the defeat, Joshua declared, "I took my first loss. How to explain that feeling? It hasn't really changed me, my work ethic, my mindset, what I stand for, the people I'm still loyal to. I'm a soldier and I have to take my ups and my downs. On Saturday, I took a loss and I have to take it like a man. I'm the one who went in there to perform, and my performance didn't go to plan. I'm the one who has to adjust, analyze, and do my best to correct it and get the job done in the rematch. Congratulations to Andy Ruiz. He has six months or so to be champion because the belts go in the air and he has to defend them against myself."
But it's never that simple. Recalling his own loss of the heavyweight title to Muhammad Ali in Zaire, George Foreman told boxing scribe Gareth Davies, "There is a process of grieving after a loss like this. When you are the heavyweight champion of the world, it's not like you have lost a fight. You have lost a part of yourself. You have got to find it again."
As for what might come next, Bob Arum weighed in on the subject just prior to the June 15 bout between Tyson Fury and Tom Schwartz. After saying that Fury (who he co-promotes) reminded him of Ali and Foreman, Arum declared that Team Joshua opting for an immediate rematch against Ruiz would be "the stupidest thing they can do." In response, it was noted that letting Ruiz buy his way out of his Top Rank promotional contract turned out to be not so smart either.
Meanwhile, Ruiz was spending money like it would lose its value by the end of the year. A mansion, a $450,000 Rolls Royce, lots of bling. In August, he hosted an elaborate thirtieth birthday party for himself that was notable for a bevy of buxom lingerie-clad waitresses, a naked sushi girl, a large ice sculpture with the initials "AR" carved into the ice, free-flowing champagne, a live performance by rapper Scotty Music, and more.
Soon after, trainer Manny Robles acknowledged that Ruiz had been slow to get back to the gym.
"We're working on getting back together this week," Robles told SB Nation on August 20. "I was hoping it would be yesterday but it wasn't, so we're definitely working on that right now. We're scheduled to start training this week. He's not in great shape. Let's hope we can get him back in the gym real soon and get him going again."
It soon became clear that a Joshua-Ruiz rematch would be the next fight for each man. The open issues were when and where. Ruiz wanted the fight in the United States. But Joshua wanted it in Cardiff and, by contract, his side of the promotion was entitled to the choice of venue. Ultimately, Hearn chose December 7 in Saudi Arabia because of lucrative financial incentives extended by the Saudi Kingdom.
A purse sweetener quickly overcame Ruiz's safety and humanitarian concerns, and the fight was on.
The morality of Ruiz-Joshua 2 being contested in Saudi Arabia has been discussed at length by this writer in a previous article. Suffice it to say here that boxing is not known for high moral standards, a point that was emphasized at the final pre-fight press conference in Diriyah on December 4 when Hearn introduced Prince Khalid bin Salman who spoke from the dais. Prince Khalid has been named in reliable intelligence reports as having been complicit in the murder of Washington Post journalist Jamal Khashoggi in the Saudi Arabian consulate in Istanbul on October 2, 2018.
Glossing over that history, Hearn advised the assembled media, "I can't tell you how glad and honored we are to be here in the Kingdom of Saudi Arabia to stage this event. There was a little bit of criticism. [But] I can tell you that, sitting here today, it was a wonderful, wonderful decision that we are so happy with. This is a new dawn for the sport of boxing. And we cannot thank the Kingdom of Saudi Arabia, Skill Challenge Entertainment [the Saudi Kingdom's official event partner], and the GSA [the Saudi Arabian General Sports Authority] enough for everything they have done."
Joshua had arrived in Saudi Arabia two weeks before the December 7 bout, Ruiz several days later. For the most part, the pre-fight exchanges between the boxers were pleasant.
"I respect him," Joshua said of Ruiz. "He came into the ring [in our first fight] and did what he had to do."
Ruiz responded in kind saying, "I have a lot of respect for Anthony. Outside the ring, he's a very good man."
There were the usual expressions of confidence.
"When I came to boxing," Joshua declared, "I didn't come to take part. I came to take over. I'm not here to put on a show. I'm here to win."
"I know he's gonna try to box me around," Ruiz countered. "But it's my job to prevent that. I'm ready to rock and roll."
Ruiz also shared the thought, "I'm still the same Andy Ruiz. I'm still the same chubby little fat kid with the big dream. But inside the ring, I'm the champion of the world. This journey now is what I've been dreaming about all my life. I don't want to give it away. I want a legacy, not just fifteen minutes of fame."
There had been other huge upsets in heavyweight championship history before Ruiz toppled Joshua. James Braddock decisioned Max Baer. Buster Douglas knocked out Mike Tyson. Hasim Rahman beat Lennox Lewis. In each of these instances, the upset winner lost in his first title defense. By contrast, Cassius Clay "shook up the world" when he dethroned Sonny Liston and had a long glorious reign as Muhammad Ali.
Within that framework, Ruiz-Joshua 2 was seen primarily as a referendum on Joshua.
"Now we find out who he is," Jimmy Tobin wrote. "Is he a better version of his countryman Frank Bruno? A physical specimen good enough to pick up some hardware but too psychologically fragile to persist at the top? Or is he closer to Lennox Lewis, an Olympic gold medalist who could be chinned but who never abandoned his malice despite the risk it introduced, whose multiple title reigns were a testament to his talent but also his ability to rebuild?"
The consensus was that Joshua should take a page from Wladimir Klitschko's playbook, use his advantage in height and reach over Ruiz, and fight a cautious fight. Klitschko was mocked after he lost by knockout to Ross Puritty, Corrie Sanders, and Lamon Brewster. But things turned out well for Wladimir once he retooled his defense and embarked on a 22-fight winning streak. Lennox Lewis met with similar success after knockout defeats at the hands of Oliver McCall and Hasim Rahman. When Lewis and Rahman readied for their rematch, most onlookers who had picked Lewis to win big the first time were on the fence. They questioned whether Lennox could take Rahman's punch any better in Las Vegas than he did in South Africa. He could and he did.
Joshua was a 2-to-1 betting favorite over Ruiz in the rematch. The odds reflected his superior physical assets and the belief that he would come into their second encounter in far better physical condition than Ruiz. But there was more to it than that.
"It's not just about coming in strong and fit," Joshua said at a September 5 press conference in New York. "This training camp will be based on being quicker. I've spent the last three months sharpening the tools in my box that I didn't use before."
Joshua's jab was widely viewed the key to his winning the rematch. He had to work it effectively as both an offensive and defensive weapon.
"If he knows how to use that lead hand to stop Ruiz from coming in," Virgil Hunter (who trained Andre Ward) said, "he can control that whole situation and use his follow-up punches at the right time. And he has to set a footwork pace on Ruiz. [In the first fight] he let Ruiz take the steps that he was comfortable with. He needs to set up a footwork pace to make Ruiz step quicker, move quicker, work harder to get in range, and test his conditioning."
Joshua weighed in at 237-1/2 pounds for Ruiz-Joshua 2, ten pounds lighter than for their first encounter. That bespoke of a decision on his part to trade muscle mass for speed and quickness
By contrast, Ruiz weighed in at 283-1/2, the most he'd weighed for a fight since his second pro outing more than ten years ago. Granted, Andy was wearing undershorts, a shirt, and sombrero when he stepped on the scale. But many observers thought that the 15-1/2 pounds he'd added since June bespoke of a lack of conditioning and commitment.
That said; when talk turned to Joshua winning the rematch with his jab, Ruiz's proponents noted that Andy had backed AJ up with his own jab in rounds one and two of their first encounter and was elusive when Joshua tried to find him with jabs of his own.
Asked what he thought would be the key to the rematch, Ruiz answered, "Me staying small. I don't think he likes fighting against that style. I don't think he's ever fought a short guy that pressures and is pretty slick. I felt like I was boxing him around even though I was the shorter guy."
"He'll try to box me and use his jab," Ruiz continued. "But how long can he keep me away from hunting him down? That's what we've been working on most of all heading into the fight. The main thing is pressure, throw combinations and use my speed. I can't let him grow balls in there. I want to impose myself in this fight."
Having grown tired of hearing that a "lucky punch" in round three led to Joshua's downfall, Ruiz cited his own trip to the canvas in round three and told Sky Sports, "That was a lucky shot for him, too."
When Joshua looked back on the defeat and said, "The first time I had him down, I could have been smarter. I got trigger happy and he landed," Ruiz countered by noting that he'd also made a stupid mistake and got whacked just as hard as Joshua. But he had gotten back up ready to fight and survived.
And there were the intangibles.
Joshua's victory over Wladimir Klitschko had been his greatest ring triumph. But in some ways, he seemed to be a lesser fighter after beating Wladimir. Rather than emerge from the Klitschko fight with increased self-belief and the idea that he could fight through all kinds of adversity to win, Joshua had seemed more tentative and vulnerable in fights since then, as though the Klitschko experience had scared and scarred him.
Confidence is a fragile thing for a fighter.
"Joshua says all the right things," Bart Barry wrote. "Back to basics, trust his intuition, go with what got him there, a brand new fitness regimen. None of these things fixes the technical flaws Ruiz brought to light, much less the mental weakness Ruiz amplified. Andy Ruiz knows exactly what he is when he looks in the mirror. Anthony Joshua does not any longer, if he ever did. He knows his career's greatest advocates either overestimated him or lied about it."
Frank Lotierzo concurred, writing, "The thing that will make Ruiz so tough to beat is this. He's coming to fight and is confident Joshua is coming to survive and box. Ruiz is certain he has the style to beat Joshua and shake off anything he might try to do. That's a great mindset to have going into a big fight: the total belief that the opponent fears you; that he doesn't want to trade; that he can't box as well; that he isn't as fast, tough, or confident. If Joshua can overcome that, he's a remarkable fighter. Ruiz is going to ask Joshua the same questions he had no answer for the last time."
And Deontay Wilder played on that theme, opining, "Joshua always had a weak mindset – always. And you can't train for a mindset. Either you've got it or you don't. Either you believe in yourself or you don't. Either you know you've got the goods or you don't. It ain't no guessing. It ain't asking no questions. No, f*** that! You got it or you don't. And if you don't have it, you don't belong in this sport. Who knows? Maybe he's got it together. Maybe he's gonna go in there and knock Ruiz out. There's a lot of maybes. I'm just going off of what I've seen in the first fight. And just a few months is not gonna correct what happened to him that night."
Joshua's mental state was the key imponderable. And no one would be able to measure that until the fight began. If the time came to walk through fire, would AJ be able the rekindle the toughness he showed when he climbed off the canvas to knock out Wladimir Klitschko? Or would he crumble?
With that in mind, AJ's supporters were discomforted by a statement that he made as the rematch neared: "Even though I lost, it was only in my quiet times, like going to bed or something like that, that I really thought about it. In a weird way, it was kind of like a relief."
Losing was a relief? Was the pressure that came with being King of the World that crushing? Which great heavyweight champion ever thought that losing was "kind of like a relief?"
It's hard to think of a fighter who was considered "elite" who fell as far and as fast as Joshua did after losing to Ruiz. Virtually no one had picked Ruiz to win the first fight. Now most boxing people were saying that it was hard to pick a winner. And most insiders who were picking were picking Ruiz.
"You roll the dice," commentator Paulie Malignaggi said of Joshua opting for an immediate rematch. "This is what boxing is, right?"
A stadium seating 15,000 fans had been built for the fight in Diriyah on the outskirts of Riyadh. The televised undercard was forgettable. Then came Ruiz-Joshua 2, the most anticipated fight of the year.
DAZN had told viewers that the fighter ring walks would begin at 3:45 PM eastern time and that round one would start at 4:00 PM. But a swing bout pushed the start of the walks past 4:00 PM and that was followed by three national anthems.
It was not an entertaining fight. Someday, if someone prepares a list of boxing oxymorons, "Ruiz-Joshua 2 highlights" will be on the list.
Ruiz looked like the last-place finisher in a wet T-shirt contest. He lumbered forward for most of the fight while Joshua circled away and jabbed. Before fighting Joshua earlier this year, Ruiz wasn't known as a puncher. Six of his previous ten fights had gone the distance. But Joshua kept his distance this time as though Andy was Mike Tyson in his prime.
Ruiz was cut above the left eye by a sharp right hand late in round one, but the cut wasn't a factor in the fight. And he landed a few solid blows, mostly in rounds eight and nine. But that was all. He evinced no understanding of how to cut off the ring to get to Joshua. When he did get inside, either AJ tied him up or referee Luis Pabon prematurely broke the fighters. On the few occasions when Andy managed to land solidly, Joshua immediately got back on his bike. By the late rounds, Ruiz had the look of a frustrated fighter who was just going through the motions.
The lack of action was reflected in the fact that, according to CompuBox, Ruiz landed only sixty punches over the course of twelve rounds while Joshua landed 107. The judges' scorecards correctly read 119-109, 118-110, 118-110 in AJ's favor.
"He won," Ruiz acknowledged afterward. "He boxed me around. I don't think I prepared as good as I should have. I gained too much weight. It kind of affected me a lot. I thought I would come in stronger and better. But you know what; next time I'm going to prepare better."
"Look, this is about boxing," Joshua said in a post-fight interview when asked about the tactical nature of the proceedings.
Or as Rocky Marciano, one of boxing's great warriors, once noted, "You're not in the ring to demonstrate your courage. You're in there to win the fight."
Give Joshua kudos for always carrying himself like a champion outside the ring.
And add on credit for his winning the rematch. A second loss to Ruiz would have been a devastating blow to his career. But despite what was said throughout the promotion, Ruiz-Joshua 2 was for some belts, not THE heavyweight championship of the world. The #1 heavyweight in the world right now is Deontay Wilder with Tyson Fury in second place.
After Lennox Lewis lost to Hasim Rahman, he came into their rematch determined to seek out and brutally destroy his conqueror. And he did. Joshua, on the other hand, looked almost fragile on Saturday night. He'd be an underdog against Wilder or Fury. And it's not a stretch to say that contenders like Jarrell Miller and Luis Ortiz could give him trouble.
As for Ruiz; the good paychecks should last for a while now. He'll always be a bit of a name, the guy who beat Anthony Joshua.
Thomas Hauser's email address is thomashauserwriter@gmail.com. His most recent book – A Dangerous Journey: Another Year Inside Boxing – was published by the University of Arkansas Press. In 2004, the Boxing Writers Association of America honored Hauser with the Nat Fleischer Award for career excellence in boxing journalism. In June 2020, he will be inducted into the International Boxing Hall of Fame.
Check out more boxing news on video at The Boxing Channel 
To comment on this story in The Fight Forum CLICK HERE
News Flash: Joshua Flummoxes Ruiz in a Monotonous Fight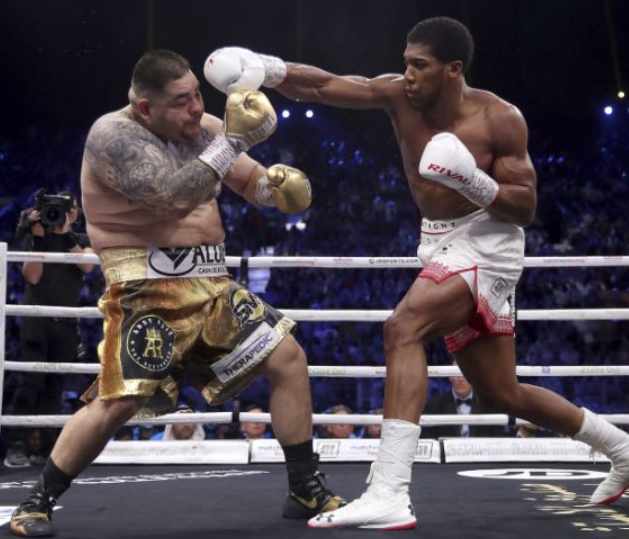 The first match between Anthony Joshua and Andy Ruiz Jr , staged this past June at Madison Square Garden, produced one of the biggest upsets ever in heavyweight boxing history. Did Ruiz, with his dough boy physique, have the blueprint to further erode AJ's legacy?
That question was answered today in Diriyah, Saudi Arabia, and the answer was "no." While AJ didn't emboss his legacy with a scintillating performance, Andy Ruiz, who had no "Plan B," did nothing to erode it.
Holding tight to his game plan, Joshua controlled the range, keeping Ruiz on the outside where his offense was blunted. Joshua was content to jab his way to victory. Re-acquiring his world title belts took priority over giving the fans a fan-friendly fight.
Ruiz looked a bit heavier than in their first meeting, consistent with the pre-fight weigh-in where the scale measured 283 pounds. He was cut over his left eye in the opening round and Joshua suffered a small cut over the same eye in the next frame, but the cuts did not factor into the storyline.
The scores were 119-109 and 118-110 twice. "It was his night. I didn't prepare how I should have," Ruiz told Sky Sports after the fight.
Other Heavyweight Bouts
Michael Hunter (18-1-1) and Alexander Povetkin (35-2-1) fought to a draw in a good action fight highlighted by an entertaining seventh round in which both combatants were staggered. The scores were 115-113, 113-115, 114-114.
Hunter started fast, but Povetkin quickly narrowed the gap and had somewhat the best of it in the final round. The 40-year-old Russian still has a lot of smoke in his chimney.
In a ho-hum fight, perennial WBC #1 heavyweight contender Dillian Whyte (27-1, 18 KOs) won a unanimous decision over Poland's 39-year-old Mariusz Wach (35-6). The scores were 98-93 and 97-93 twice.
Whyte, who was cleared by a British anti-doping agency on the eve of he fight, came in at 271 pounds, about 20 pounds above his best weight.
Filip Hrgovic, the fast-rising six-foot-six Croatian, dominated 37-year-old Tex-Mex Eric Molina (27-6) en route a third-round stoppage. Hrgovic, who improved to 10-0 (8) had Molina on the deck three. On his final trip, Molina was counted out.
Check back later for Thomas Hauser's post-fight story.
To comment on this story in The Fight Forum CLICK HERE
Today's Deep Boxing Menu Kicks Off with a Heavyweight Super-Fight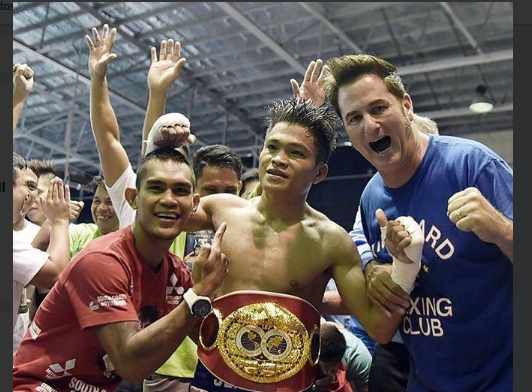 Three world champions are in action today and also a former world champion and we're not even talking about Saudi Arabia. Welcome to the new world order of boxing where two or more significant shows overlap seemingly every weekend and a man needs more than two eyes to keep track of all of them in real time.
December is historically a slow month for boxing but history doesn't stand still. The big heavyweight shebang in Diriyah will cast a long shadow, burying the opposition in a tsunami of words, but that is of no consequence to some boxing promoters who are contractually obligated to their live-streaming partners to provide a steady stream of fresh content no matter the competition.
Two of the title-holders – WBO super bantamweight champion Emanuel Navarrete and IBF super flyweight champion Jerwin Ancajas (pictured) – are in action on the same card in Puebla, Mexico. Their bouts will air on ESPN+.
Navarette (29-1, 25 KOs) has won 24 straight and is defending his title for the fourth time in the last seven months. He is the ironman of active title holders and on the short list of fighters in the running for Fighter of the Year. His opponent, fellow Mexican Francisco Horta, is unbeaten in his last 13 starts, elevating his record to 20-3-1 (10), but he's fought only one fight scheduled for more than eight rounds and that was back in May of 2015.
On paper this is a shameless mismatch.
Anjacas (31-1-2, 21 KOs) will be making the eighth defense of the title he won from McJoe Arroyo. The talented Filipino opposes Miguel Gonzalez (31-2, 8 KOs), a mystery fighter who, except for one fight, has fought exclusively in his native Chile.
Brooklyn
In the main go of the SHOWTIME card at Barclays Center, Jermall Charlo (29-0, 21 KOs) risks his undefeated record and his WBC world middleweight title against Dennis Hogan (28-2-1, 7 KOs). It's the third defense for Charlo who previously held a world title at 154 pounds and has fought three of his last four fights in this building.
Jarmall Charlo, like his twin brother Jermell, packs a big punch but in his last two fights he was extended the distance by Matt Korobov and Brandon Adams and consequently his aura lost some of its sheen.
The opposite applies to Hogan. An Australian by way of Kilcullen, Ireland, Hogan saw his stock shoot up a hundredfold while losing to 12-round majority decision to Mexico's undefeated knockout artist Jaime Munguia this past May in Monterrey, Mexico. The crowd booed the decision and several pundits called for an investigation of female judge Woleska Roldan who awarded Munguia eight rounds and had previously come under fire for scoring the Horn-Pacquiao fight 117-111 for Horn.
Topping the undercard is a 12-round middleweight match between Chris Eubank Jr and the aforementioned Korobov with the winner becoming the mandatory challenger for the Charlo-Hogan winner.
Montreal
David Lemieux (40-4, 34 KOs) returns to the ring after a 15-month absence to fight Max Bursak (35-5-2,16 KOs). It's Lemieux's maiden voyage as a super middleweight.
Lemieux's co-promoter Camille Estephan says this fight is a litmus test for the former IBF middleweight champion to see if he can carry his power to the next level. Bursak, a 35-year-old Ukrainian, has never been stopped.
Lemieux's hiatus was elongated by a hand-injury so it won't be surprising if this fight goes the full 10. Bursak previously challenged WBO 168-pound title-holder Gilberto Ramirez and lost every round.
The chief undercard fight has even less intrigue. It pits the giant Russian heavyweight Arslanbek Makhmudov (6'5 ½", 261 pounds) against former WBC heavyweight title holder Samuel Peter.
There was a time when Peter, the erstwhile Nigerian Nightmare, was considered the hardest punching heavyweight since a prime Mike Tyson, but that was long ago. He's now 39 years old and playing out the string. The guess is that he hangs on for a few rounds before bowing out with an alleged injury, whereupon Makhmudov will improve his pro ledger to 10-0 (10 KOs).
—–
Here at The Sweet Science, our first priority will be to keep you informed of the goings-on in Saudi Arabia. We'll get the result up fast and then, somewhat later in the day, publish a more in-depth story about the event by Hall of Fame boxing writer Thomas Hauser.
Stay in touch.
Check out more boxing news on video at The Boxing Channel 
To comment on this story in The Fight Forum CLICK HERE