The Measure of a Man: Floyd's Great, Pacquiao Is Greater
Last Saturday, as I watched Floyd Mayweather dig down deeper than I'd ever seen before to outlast the hard-charging and brave Miguel Cotto, I could not help but come away impressed. Going into the championship rounds with a bloody nose and, most assuredly, in a close contest, Mayweather was as advertised—money. He blanked Cotto over the final three rounds on my scorecard and even had the proud champion holding on for dear life in the twelfth.It was truly a virtuoso performance from a brilliant fighter I have long admired as the best in the sport.
But then it hit me. Floyd Mayweather is an all-time great, but Manny Pacquiao is an all-time greater.
It's been an interesting debate for fight fans through the years, and it's one I've long sided on with those in Mayweather's corner. And with so much time between boxing's big events, what else is there to do really?Think about it: NFL fans get games every week. MLB fans get entire series of games all week long. The NBA plays what seems like every other day. Then, at the end of their seasons they get a championship game—a coup de grace.
Meanwhile, boxing fans wait around all year long just for big enough fights to get excited about, and even longer for Super Bowl-type events that never seem to materialize. I'm looking at you, Pacquiao vs. Mayweather.
But fret not, friends, because as boxing fans we are used to it. We accept our boxing broken, as one of our reader contest winners recently put it, and so the debate rages on even though the fight may never actually materialize.
But that's okay. Heck, how many boxing message boards would be shut down if there were a moratorium on things like whether Joe Louis was greater than Muhammad Ali, or whether Ray Leonard could defeat Ray Robinson?
Have no fear: Mayweather versus Pacquiao will live on forever even if the fight never actually happens.
Boxing isn't statistics-run-amok the way other sports, particularly baseball, can be. Sure, our historians can research data with the best of them, but nothing tells the story of a fighter's greatness quite like the combined measure our heads and hearts give us.
And mine's telling me Manny Pacquiao should go down in history ranked ahead of Floyd Mayweather.
A good place to start this type of examination is by looking at how the fighters fared against common opponents. Our own Lee Wylie did some comparative analysis of this information just this week.
Suddenly, it's Manny Pacquiao who now appears to be in the driving seat. A quick glance at their respective results against common opponents suggests this;
Pacquiao TKO 8 De La Hoya Mayweather SD De La Hoya
Pacquiao TKO 2 Hatton Mayweather TKO 10 Hatton
Pacquiao TKO 12 Cotto Mayweather UD Cotto
Pacquiao UD Mosley Mayweather UD Mosley *
Pacquiao UD/SD/D Marquez Mayweather UD Marquez
* Pacquiao was more dominant over Mosley than Mayweather was. Unlike Mayweather, Pacquiao scored a knockdown and was never hurt himself.
Really, the only thing Mayweather has done better than Pacquiao against common opponents has been his 2009 decision win over Marquez. While Pacquiao's battles with Marquez have all been fiercely contested, Mayweather pitched a virtual shut-out in his lone encounter with the great champion.Still, even his shining moment over what Pacquiao did was marred by his refusal to make the contracted catch-weight of 144 pounds. Readers will recall that Marquez had never before fought above 135 pounds and had fought at 130 pounds as recently as the previous year. Meanwhile, Mayweather had campaigned at 140 pounds or higher since 2004, so his coming into the fight at 146 pounds (four pounds over the limit) can't be easily dismissed.
Of course, boxing analysis isn't as easy as common opponents. Just because fighter A beats fighter B and fighter B beats fighter C, well it pretty much never means that fighter A will certainly beat fighter C. Boxing doesn't like math.
There's more to it than that. As my colleague Bart Barry noted recently from ringside in San Antonio, when was the last time Mayweather came into a fight the underdog and was able to come out the winner? Has Mayweather ever been the underdog? Has he ever tested himself beyond his comfort zone?
Manny Pacquiao sure has. Heck, the first time anyone but the hardest of the hardcore boxing fan saw the guy fight was when he obliterated Marco Antonio Barrera in 2003. His wars with Barrera, Erik Morales and Juan Manuel Marquez alone give him wins over more fierce competitors than anyone Mayweather has every fought, and raise your hand if you thought Oscar De La Hoya and Ricky Hatton were just too big for the Filipino fighter who had started his career at a mere 106 pounds. Am I the only one?
Still, none of that data makes the case entirely. After all, our heads can only do so much for us. We're boxing fans. So while all that remains to be fact, and even though Mayweather may be a prohibitive favorite over Pacquiao should they ever meet, none of it really gives the answer. Our hearts will tell the tale instead.
Manny Pacquiao's ferocity inside the ring is magnified by his love for the sport. He seems to revel in fighting. He loves it. He even appears to enjoy getting hit. When the bell rings, Manny Pacquiao is a warrior. Outside the ring, his boyish charm and world class charisma have attracted fans to the sport that otherwise might not be here. His lasting impact on the sport is sure to go down among the elite. He'll be mentioned in the same breath as other fighters that transcended the sport—Tyson, Ali, Leonard—guys your friends that aren't boxing fans knew of then and still know now.
In the end, though, all of this is over-complicating something atrociously as easy as this: if both of them were to end their careers today, Manny Pacquiao's legacy would be secure without ever fighting again. Like it or not, Manny has done more than just about any other fighter ever. He's won titles in seven different weight classes, he came out the victor in one of boxing's greatest four man round robins ever, and with his aggressive style and rapid fire approach he's given fight fans the kinds of thrills and spills that won't been soon forgotten. Meanwhile, Mayweather, for all his technical brilliance and otherworldly ability, would leave many of us, even some of his biggest fans, bewildered by what might have been had he taken on more challenges and gone after bigger fights.
Mayweather told the media after his brilliant win over Cotto that he was 80/20 on retiring this year. If that's the case and fight fans never get the fight they've longed for, then the odds that boxing historians look more favorably on Pacquiao than Mayweather are even higher, and the odds that this boxing historian does so is about 99/1.
Follow TSS on Twitter here. Follow McCarson on Twitter here.
Pico Rivera Summer Fights See Cruz, Vega and Flores Win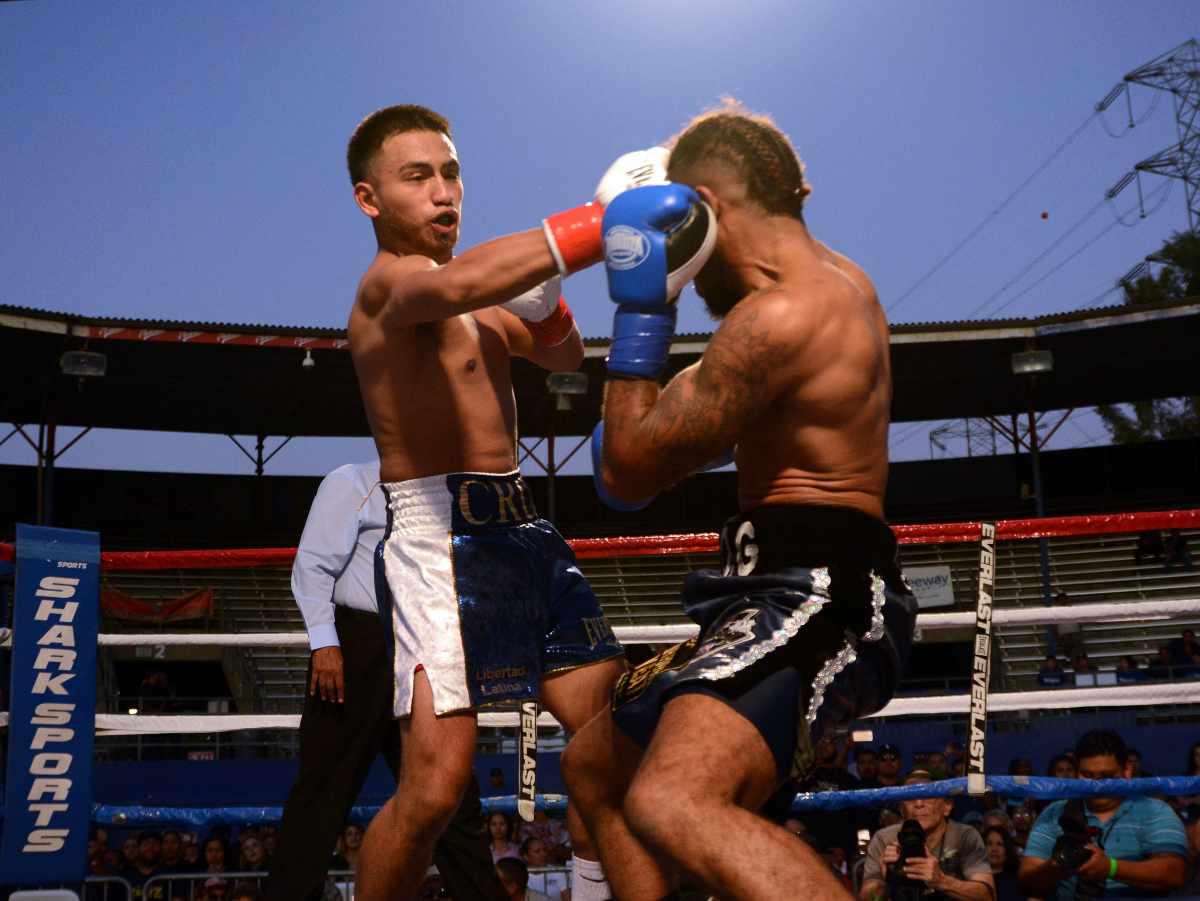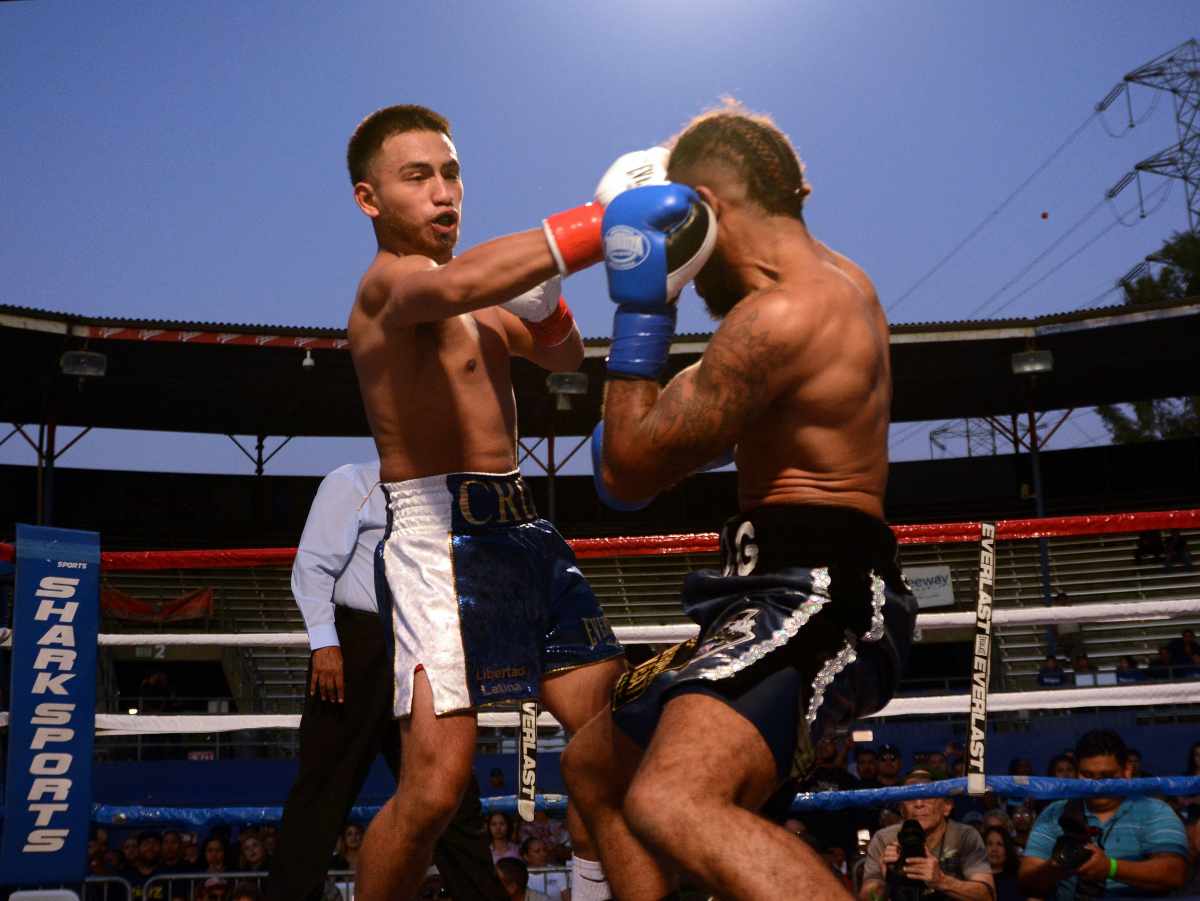 PICO RIVERA, Ca.-Along the San Gabriel River on a soft summer evening, Red Boxing Promotions brought another slew of hot local prospects to the forefront on Saturday.
Chino's Daniel "Cuetito" Cruz (3-0) burst into the fight like an energy bomb and simply overwhelmed southpaw Phillip Bounds (0-4) with lightning combinations to win by unanimous decision. More than 700 fans saw the Red Boxing fight card.
Though it was only his third pro fight, the high intensity prizefighter Cruz (pictured on the left) exhibited a level of confidence that allowed him to attack with impunity for the first two rounds.
Cruz switched to southpaw and had even more success against the lefty Bounds. The speed of Cruz proved too much to overcome for Bounds who tried different approaches but couldn't find an antidote for Cruz who won by unanimous decision 40-36 on all three cards in the super lightweight match.
"I'm excited, I wanted to put on a good show," said Cruz, 20. "I'm coming for all of the big names. Cuetito is here."
Andre Marquez (2-1) overwhelmed the much taller Alvin Brown (0-8) from Louisiana with a whirlwind style that ended in a knockout in the fourth and final round of their super featherweight match. A left hook caught Brown flush and Marquez followed up with four more blows, forcing Brown to take a knee at 1:41 of the fourth round. Marquez was ruled the winner by knockout by referee Sharon Sands.
"My plan was to work his body," said Marquez. "It worked out perfectly."
Welterweights Bradley Pena (0-0-1) and Ed Nunez (0-0-1) blasted each other for four rounds, with Pena starting fast and Nunez ending strong. No knockdowns were scored in the fight that started the night and ended in a draw.
Main Bouts
A light flyweight clash saw Axel Vega (13-2-1, 8 KOs) of Ensenada, Mexico knock out Tijuana's Giovanni Noriega (2-5-2) with a triple left hook in the second round. Vega, 19, trained out of Compton for this fight.
Welterweight prospect Steven Rodriguez (8-0) suffered a cut on his forehead due to a clash of heads but still managed to out-perform Las Vegas fighter Ryan Picou (3-12-1) after four rounds. All three judges scored the fight 40-36 in favor of Rodriguez. But Picou gave a stubborn defense against the constant rushes of Rodriguez and was able to score on occasion.
Santa Barbara's Angel Flores (6-0, 4 KOs) defeated Mexico's Roberto Almazan (9-12) by unanimous decision after six rounds in a super lightweight contest. Flores knocked down Almazan twice in the last round to clinch the win and get the victory by a landslide.
In the audience was former world champion Arturo Frias of East Los Angeles who won the WBA world lightweight title in 1982 and fought numerous times at LA's  fabled Olympic Auditorium. Also in attendance was current super flyweight contender Adelaida "La Cobra" Ruiz of Los Angeles who is scheduled to fight on October 12 at the same Pico Rivera Sports Arena. Red Boxing Promotions will be staging the event.
Photo credit: Al Applerose
Check out more boxing news on video at The Boxing Channel  
To comment on this story in The Fight Forum CLICK HERE
Fast Results from Russia: Kovalev KOs Yarde in the 11th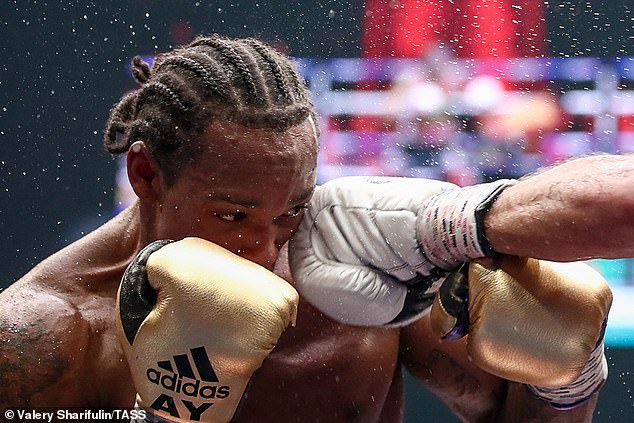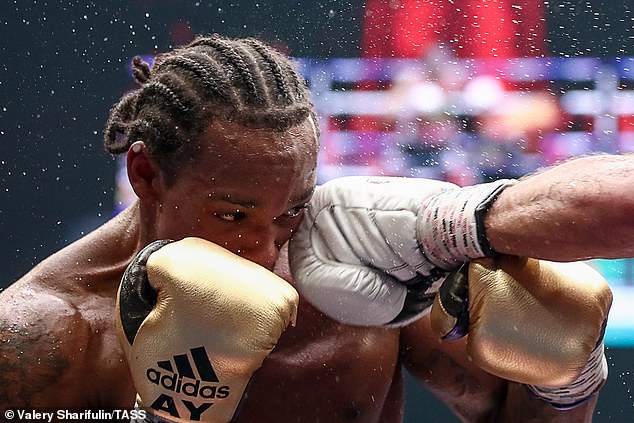 The consensus of opinion regarding tonight's fight at Chelyabinsk between Sergey Kovalev and Anthony Yarde was that….well, there was no consensus, save that it would not bode well for Yarde if both fighters were still standing at the final bell. Fighting in his hometown, and with a monster payday reportedly looming against Canelo Alvarez should he win, "Krusher" was unlikely to get the worst of it if the fight went to the scorecards. But there would be no controversial decision. In a fight that started slowly and then shifted Yarde's way, Kovalev stemmed the momentum, took charge in the 10th, and then closed the show in the next round with a scorching left hand that left Yarde flat on his back, gasping for air.
In handicapping the fight, Kovalev certainly had more check marks in the plus column. A former three belt champion and the reigning WBO 175-pound title-holder, Kovalev would be appearing in his 16th world title fight, his second with Hall of Fame trainer Buddy McGirt, with whom he had great rapport. By contrast, Yarde, although undefeated (18-0), had answered the bell for only 51 rounds and had defeated only nine fighters with winning records. Moreover, the Englishman had fought only 12 amateur fights before turning pro.
However, at age 36, Kovalev was getting long in the tooth and in some of his more recent fights he had stamina issues. Moreover, there was a school of thought that Yarde was a beast. In his 30 fights, amateur and pro, he had scored 28 knockouts.
Yarde's first good round was the seventh and he followed that up with a very strong eighth in which he hurt Kovalev and had the Krusher looking tired. But the assumption that he had paced himself brilliantly proved to be a mirage. As the bout moved into the home stretch, it was the younger man that was more fatigued.
Kovalev backed Yarde against the ropes and hurt him in the 10th. The Russian repeatedly had success with his hard left jab (shades of Larry Holmes) and it was a jab that ended it. Yarde was too exhausted to make it to his feet and was counted out.
Kovalev reportedly has already agreed to meet Canelo in November or December. Tonight he may have added an extra zero to his purse.
Kovalev vs. Canelo, likely at the T-Mobile Arena in Las Vegas, will be a blockbuster. Let the hype begin.
Co-Feature
The co-feature between knockout artists Aleksei Papin and Ilunga Makabu wasn't expected to last the distance, but it went the full 12 and was a highly entertaining affair climaxed by a great 12th round. When the smoke cleared, Ilunga, who went to post a slight favorite, improved to 26-2 (24) by dint of winning a majority decision. It was the second straight win on Russian soil for the Congolese southpaw who fights out of Johannesburg. In his previous go, he stopped Dmitry Kudryashov in the fifth round at Ekaterinburg.
Papin was 11-0 going in with 10 knockouts but the 31-year-old Russian, a former kickboxing champion, was moving up in class against Makabu, a former world title challenger. In the 12th, Makabu scored a knockdown with a straight left after buzzing Papin with a left-right combination, but Papin wasn't badly hurt and came back to rock him in the final seconds. The knockdown seemingly spelled the difference as two judges had it 115-113 with the third scoring it even (113-113).
Check out more boxing news on video at The Boxing Channel  
To comment on this story in The Fight Forum CLICK HERE
Tanaka and Hatanaka Stay Undefeated in Nagoya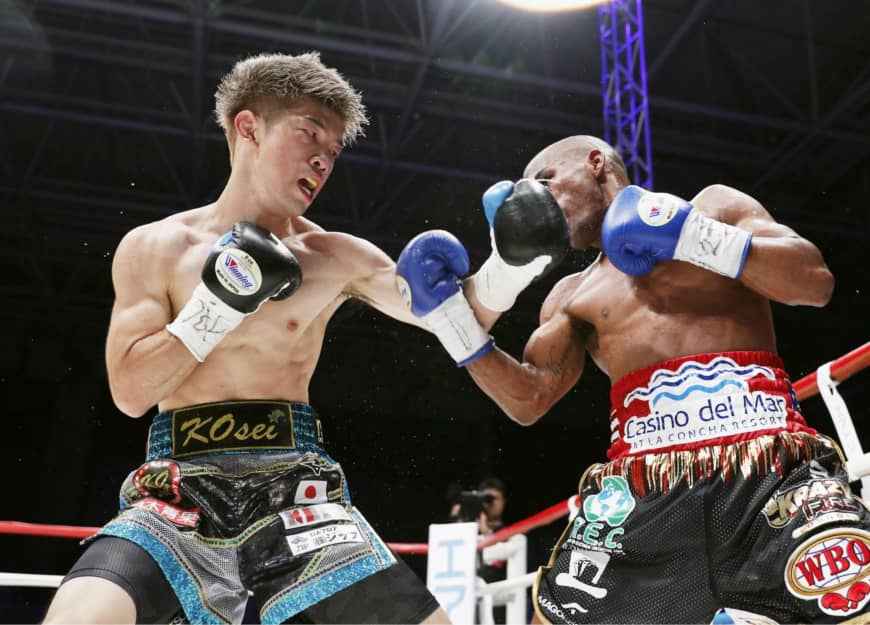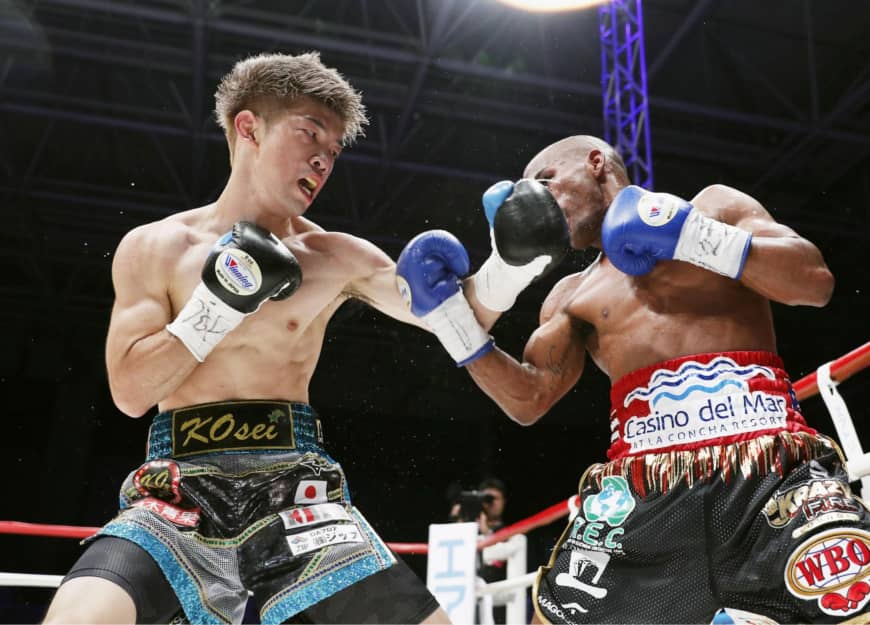 Kiyoshi Hatanaka, the former world super bantamweight champion, now runs a boxing gym and promotes fights in his hometown of Nagoya. The top fighters in his gym are 24-year-old Kosei Tanaka, who has already won world titles in three weight classes, and Kento Hatanaka, Kyoshi's 21-year-old son. Both were in action today and both were victorious, but not without anxious moments.
Tanaka, the reigning WBO 112-pound champion, improved to 14-0 (8 KOs) with a seventh-round TKO of Jonathan Gonzalez (22-3-1) in an action-packed bout. There were five knockdowns in all, four by Tanaka, before the referee waved it off with merely a second remaining in the seventh stanza.
Gonzalez took a knee after being hurt by a body punch in round three. But he returned the favor, knocking Tanaka down with a counterpunch in the next stanza, and seemingly had the fight in hand when he dominated the fifth. But Tanaka regained the momentum and scored three knockdowns in Round 7 to close the show.
Kosei Tanaka is overshadowed as a sports personality by countryman Naoya "Monster" Inoue, but is carving out quite a legacy. At age 19, in only his fifth pro fight, he defeated WBO minimumweight (105 pound) champion Julian Yadras of Mexico. He then gathered in titles at 108 and 112, accomplishing the hat trick in only his 12th pro fight, tying Vasiliy Lomachenko's record.
With only a few pounds separating each of the lowest weight classes, Tanaka likely isn't done jumping up in weight. There's already talk of a showdown with 115-pound title-holder Kazuto Ioka. But Tanaka has indicated that he wants to expand his opportunities overseas, following the example of Inoue. There are still holes in his defense, but that makes for exciting fights and a match between him and someone like "Chocolatito" Gonzalez would be worth the price of admission.
Jonathan Gonzalez, a southpaw with a good amateur pedigree, had fought his previous three fights in Kissimmee, Florida. When in his native Puerto Rico, he trains in the same gym as former super bantamweight and featherweight champion Juan Manuel Lopez. We certainly haven't seen the last of him.
The 10-round co-feature between super flyweights Kento Hatanaka and Jaysever Abcede was also a crowd pleaser that saw both combatants score knockdowns. Hatanaka improved to 10-0 but was extended the distance for the first time in his pro career. Abcede, a noted spoiler from the Philippines, saw his winning streak end at four and fell to 19-9. The scores were 95-93, 96-93, and 96-92.
Check out more boxing news on video at The Boxing Channel  
To comment on this story in The Fight Forum CLICK HERE