Who Is Vitali Foe Manuel Charr? TSS Tells You
CHARRBROILED IN COLOGNE : We all know about the snowball's chance.
Manuel Charr figures to be in for that type of pounding, proverbial inferno come September 8, when he faces Vitali Klitschko for a WBC belt that is far second to the established reputation Klitschko, the accessory's present holder, enjoys.
No big deal for Charr, who pursued the opportunity and jumped when it was presented. For the challenger, a current Koln transplant from Lebanon, the situation is far more danke than Dante.
"I am happy and grateful about getting this chance," says Charr, 21-0 (11). "Some people do not think I am ready, but we will all see."
Sometimes you have to go for it, ready or not. From what we've seen of Charr, he's definitely the type to go for it, even if he goes down in flames.
Klitschko is the mountain. Charr gets to play Sisyphus, with Klitschko's mitts playing the boulders. This is a fight with an over/under around two rounds. But there is also a very attractive up side in Charr's duking dilemma. If Charr manages a good showing, win or lose, he solidifies himself as a foundational attraction for his fledgling promotional endeavors.
Whether or not Charr is capable of such a showing remains a challenging question mark for the sloppy but sturdy slugger.
Skeptics assume Charr got the shot through a lack of perceived danger from K2 Promotions rather than mauling merit, a perfect, strong looking foil for what could be Klitschko's final fight. The real cause probably has to do with divisional attrition.
Charr's greatest asset seems to be self-confidence, the type esteem forged by honest hours in the gym. He has evolved from being a big plodder to a big attraction, with careful calculation in his strides.
So far in his career, the 27 year old Charr has done just about everything right in terms of advancing as a heavyweight since his 2005 debut. Only trouble is, when the call from K2 came, Charr was just arriving at the next step up stage of his career, the stage of facing experienced, "A" level fighters that would prepare him for a Klitschko fight.
The first time this observer saw Charr fight was on a June '09 Universum card in a city called Oberhausen. Charr scored a TKO 3 against overmatched Ramon Hayes, who came into the fight with a record of 15-27-1. I remember wondering just how many huge, ex-pat Eastern Euro heavyweight hopefuls there were in Germany, and if any of them were any good.
Charr was 11-0 at the time, unimpressive with victories coming over literal debutants like Nandor Kovacs or Radovan Kuca. Another heavyweight on the card, Denis Boytsov, blasted out very durable Taras Bydenko in six sessions. Boytsov looked like the heavyweight to watch in the future, but Charr has overtaken him as a potential contender.
The next time I saw Charr live was a couple summers later in June '11, when he scored a decent looking TKO 7 over worn but willing Danny Williams, who may not have much left in the tank, but remains a tough out. Charr had definitely improved, while other, more hyped heavyweights like Boytsov or Alexander Ustinov had stalled through injury, inactivity or both.
Probably the most noticeable improvement in Charr was his demeanor. He still has a long way to go with technique, but his confident mental state looks to be peaking. Following the very solid example of Felix Sturm, whose undercards Charr appeared on, Charr became the figurehead of his own "Diamond Boy" promotional company.
Charr's most recent fight, against Bydenko, was March 30th in Koln. Charr's first class promotion went down much smoother than his bruising, twelve round waltz with Bydenko. Charr's team put on a primo affair, in a luxury hotel ballroom with all tickets for a gourmet dinner show at around a three hundred dollar exchange rate. The main course was better than the main event, but Charr apparently injured his hand in the early going.
"I apologize that I could not give you a better show and a knockout," a humbly engaging Charr said to the post fight crowd of around 440, many of whom seemed to be friends and family. "I can only promise to keep working hard and to earn a title fight for you."
Koln has a sizeable and wealthy Mediterranean demographic so it seemed likely Charr would continue to build his promotional group with lucrative local shows while improving his skill set. Instead, he is making the big jump already.
Odds are heavily against the 6' 3 1/2 challenger, who is probably at least a 7 to 1 underdog, perhaps even 10 to 1 or more.
While its hard to imagine Charr toppling a K2 pillar, it isn't hard to believe he'll show up ready to give his all in the effort. Charr hasn't yet shown enough raw power to be given a "puncher's" chance, but he has demonstrated enough determination to have what we'll call a "chipper's" chance.
In other words, Charr will chip away at Klitschko little by little. Charr will keep coming at Klitschko, slowly, surely. The attack will not be furious or heavy handed. What it will be is steady, and how successful Charr's pressure will be should be clear quite quickly. If Charr is immediately forced to back up, the most likely probability, the bout won't go five frames.
But if Charr chugs through the initial danger zone and manages to land a solid combination in the early going, we could have a real fight.
Klitschko will be Klitschko, towering over Charr from a height around 6'7 to Charr's listed 6'3 1/2. Klitschko will fire straight-armed shots from underneath, long range uppercuts that have proved very effective as both a primary weapon and a positioning set up for Klitschko's booming right hands.
Charr has not really shown anything that defines championship potential except that he can push similar sized boxers around with his strength, and that he is durable.
Charr's square chin has never really been tested. It will be in Moscow.
"I know Vitali is a real champion and I have great respect for him. But I am going to make my fans proud and anyone who thinks I will give up easily will be very surprised. I know people think I do not have a chance, but what matters is what I believe."
Charr seems more relaxed now that he's secured the Klitschko fight than he did before it was announced. Maybe the end of the rumbling rainbow is in sight.
Based on recent form, Klitschko looks like a lock for a quick KO, as the Kbros appear to be reaching extraordinary career zeniths around the same time.
Did Charr take the fight too early? Probably.
Does he have anything going for himself beside the often crucial intangibles of desire and belief? Probably not.
I don't like his chances, but I like him for that.
Star Power: Ryan Garcia and Oscar De La Hoya at West L.A. Gym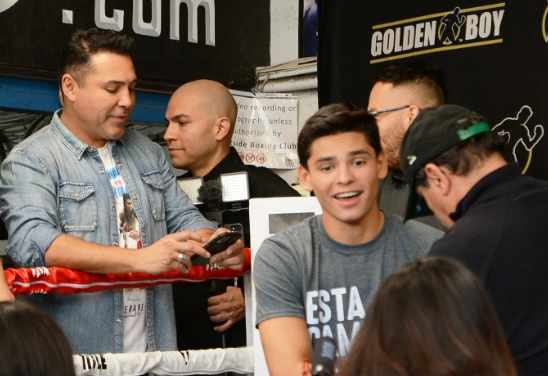 Under gray skies and very cool temperatures Ryan Garcia arrived with his father and a couple of others at the Westside Boxing Gym on Monday.
Waiting anxiously were about 100 people comprised of mostly videographers and photographers who had already surrounded Oscar De La Hoya who arrived earlier.
Golden Boy greets the Flash.
Garcia (19-0, 16 KOs) has a fight coming soon against Nicaragua's Francisco Fonseca (25-2-2, 19 KOs) on Friday Feb. 14, at the Honda Center in Anaheim, Calif. The Golden Boy Promotions show will be streamed by DAZN.
"I'm ready for this fight," Garcia said quickly.
Some say it has been a rather quick road for the fighter from Victorville known as the Flash. But if you ask Garcia, it has been too slow.
"I think he (Garcia) will be world champion this year," said De La Hoya, CEO of Golden Boy Promotions.
Years ago, De La Hoya arrived with the same hoopla but his travel to the top seemed even faster. By his fifth pro fight he was matched with Jeff Mayweather. Yes, those Mayweathers. At the time Mayweather had fought 27 professional fights and had only two losses. De La Hoya stopped him in four.
In his eighth pro fight De La Hoya met Troy Dorsey, a tough Texan who had formerly held the IBF featherweight world title and who would later win a super featherweight world title. De La Hoya stopped him in one round.
Two years after winning the Olympic gold medal in Barcelona, the Golden Boy met WBO world titlist Jimmi Bredahl at the Olympic Auditorium and after dropping him several times finally stopped him in the 10th round. It was De La Hoya's first world title and he was 21 years old.
Garcia is now 21 and ready to test the loaded lightweight division waters. For a while he was fighting at super featherweight, a division loaded with talent. But lightweights are the Maginot Line when it comes to boxing's big hitters. Everybody can punch in the 135-pound limit lightweight division.
When Garcia met Romero Duno last November in Las Vegas many expected the speedy Victorville fighter to get his come-uppance. Instead the lanky slugger lit up the strong Filipino fighter and dropped him into the ether world.
It was mesmerizing stuff.
Now he's back with a load of credibility after shutting down detractors with his devastating knockout win over Duno. It wasn't supposed to be that easy. Just like it wasn't supposed to be that easy when De La Hoya raced by world champions like Secretariat did in the Kentucky Derby decades ago. It's not supposed to be that easy, but for some it truly is.
Garcia seems to be headed for a journey so remarkable that he has other world champions like WBC titlist Devin Haney eyeing him for their next challenges. It barely results in a yawn for the fighter who will be facing a very credible foe in Fonseca next month.
"I'm not even the champion and he's calling me out," said Garcia with a whatever kind of look.
Other fighters and promoters can see what Garcia represents and want to get a slice of it too. Its intangible yet most of the boxing world can sense something is coming and Garcia might be part of it.
That's called star power and it's difficult to explain. Some have it, many want it and others have no chance of ever attaining it.
Time will tell how far Garcia's star power will venture.
One man lived that life and, in a sense, still lives that life and that is De La Hoya. Even he senses a déjà vu moment with Garcia.
"It's why we made him one of the richest young prospects in boxing today," De La Hoya said.
Expect several thousand ardent fans of Garcia to fill the seats on Valentine's Day. How else can you explain it but, star power.
Photo credit: Al Applerose
Check out more boxing news on video at The Boxing Channel 
To comment on this story in The Fight Forum CLICK HERE
The Much Maligned Boxing Judge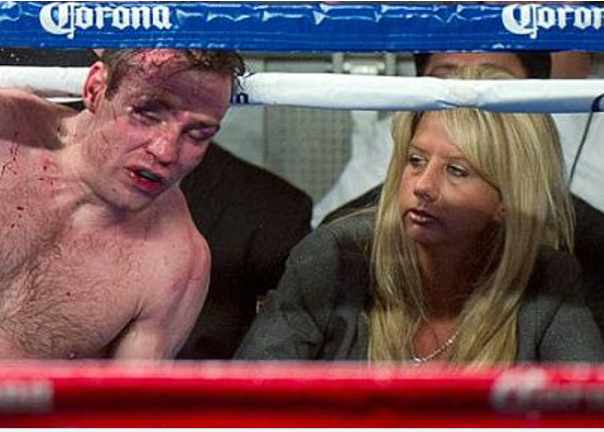 Identifying bad judges is pretty easy, but that's not the purpose of this essay. To the contrary, the emphasis here is on fine judges and the many ways they can be unjustly labeled.
Now to name a few of today's best boxing judges is to risk excluding others and that's admittedly unfair but space is limited. Quickly coming to mind, however, are these judges, all currently active: Julie Lederman (pictured), Steve Weisfeld, Glen Feldman, Dave Moretti, Glenn Trowbridge, Joe Pasquale, Max DeLuca, Hubert Earle, Benoit Roussel, Burt Clements, Tom Shreck, Don Trella, Gary Ritter, Patricia Morse Jarman, Pat Russell, Pinit Prayadsab, Raúl Caiz, Jr., and, of course, the South African legend Stanley Christodoulou.
Boxing judges, unlike referees, are far easier to criticize because the average fan can score a fight using whatever criteria he or she selects and the view from a TV is pretty good. This contributes to the relatively high number of maligned boxing judges.
Being a boxing judge is a thankless endeavor where attention is received only when something controversial and/or negative occurs. And once a judgment is made about a bad job, that judgment influences future perceptions. This is known as "confirmation bias." Thus, when a boxing commentator like the outspoken Teddy Atlas launches into a tirade over the judging in a particular fight, he may be engaging in confirmation bias—a kind of "See, I told you so." Those who might criticize based on one poor performance may feel their suspicion of botched judging confirmed. Thus, the tagged judges' reputation may be unfairly tarnished in the future.
Out-of-town fighters going to Texas to fight are aware of the risks based on the post-fight rants of Paulie Malignaggi, Atlas and many others. If so, the solution is to use out-of-state judges or avoid Texas altogether.
However, even if the elite judges make one "questionable" call in the eyes of fans and certain boxing commentators (or have an off day) they can be labeled as "bad" judges while simultaneously serving as a dart board for Bob Arum's selective and quite nasty criticism.
No judge is perfect. They deal in a subjective world. Even the legendary IBHOF member Harold Lederman was harshly criticized for his scoring in the Maurice Harris vs. Larry Holmes fight in 1997. And even his daughter Julie has served as a target for some of Arum's especially vicious criticism.
"She is the best judge in our household"—Harold Lederman
"You have people who are concentrating for three minutes, looking at nothing but the gloves, nothing but the punches. These other people are judging from TV, they're judging from twenty rows back and they don't see the effect of the punches all the time."—Dave Moretti
"It's easy to criticize boxing judges. But it's not that easy to have a sound basis for the criticism. One needs to see the fight the judge saw to be in the position to rightly criticize. Critics should temper criticisms in light of the situations boxing judges are in when judging fights. And judges should likewise understand criticisms from the boxing public, however baseless these may seem.  — Epifanio M. Almeda (PhilBoxing.com)
All it Takes Is One Bad Apple
In the recent Jesse Hart vs. Joe Smith Jr. fight in Atlantic City, a somewhat under-the-radar judge got it terribly wrong. Two judges had it for Smith, 98-91 and 97-92, but the judge in question shockingly had it 95-94 for Hart. He was scorned, tagged, labeled and God knows what. The criticism took on the form of a tsunami.
Bob Arum had this to say: "That judge should be banned from scoring a fight — and I promote Hart. How can you ever score that fight for Jesse Hart? It was a terrific fight, good for boxing, good action fight, and then you have a damn judge who screws it up."
Al Bernstein added, "…He should never be allowed to judge again…."
A look at his past record as a judge since 2015 doesn't reveal anything untoward. But he has now been tagged—perhaps justifiably so– and if he somehow gets through this and slips up again, there will be one very loud "we told you so." It's the nature of the beast; It is what it is.
The Pod Index
Matt Podgorski (a former boxing official) came up with a method to evaluate the performance of judges worldwide by determining the percentage of instances his or her scores are consistent with the other two judges working the same fights. He calls it the Pod Index. "Boxing and MMA judges are often evaluated based on whether or not they have had a controversial decision. This is a poor way to assign and regard professional judges," said Podgorski in an interview with former RingTV editor Michael Rosenthal.
Matt's Disclaimer: "We are not claiming that judges with low Pod Index scores are bad judges. The Pod Index is simply a measurement of round by round variation compared to other judges."
Steve Farhood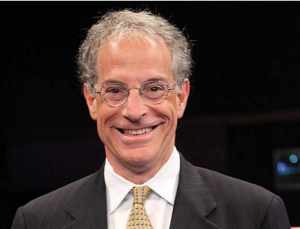 2017 International Boxing Hall of Fame inductee Steve Farhood is a lot of things: analyst, writer, historian, commentator, and an unofficial judge for Showtime fights. If he were an official judge, his Pod Index score would undoubtedly be at or near the top. Steve seldom gets it wrong. He may be the best "judge" in boxing.
Ted Sares can be reached at tedsares@roadrunner.com
Check out more boxing news on video at The Boxing Channel 
To comment on this story in The Fight Forum CLICK HERE
Jeison Rosario's Upset Crowns This Week's Edition of HITS and MISSES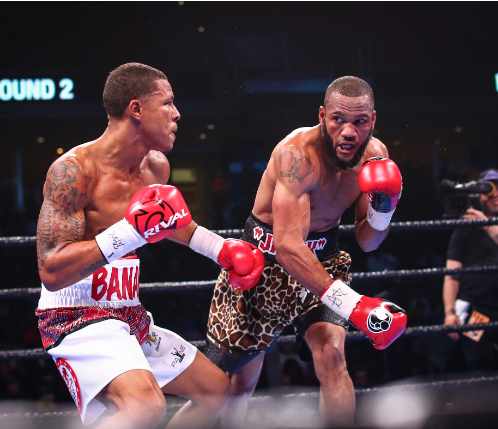 Jeison Rosario's Upset Crowns This Week's Edition of HITS and MISSES
There's was plenty of quality boxing action available for consumption this weekend in the U.S., particularly on Saturday evening because of the competing cards put forth by the PBC on FOX and Top Rank on ESPN crews that have become chief rivals over the last year.
But what were the biggest HITS and MISSES seen during all the action? That's what you're here to find out.
HIT – Jeison Rosario's Stunning Upset for two 154-pound Titles
Nobody expected Rosario to dethrone unified junior middleweight champion Julian Williams on Saturday night at the Liacouras Center in Philadelphia, but the massive underdog overcame the situation anyway to vault himself to the top of the junior middleweight division. The thing that saved Rosario was his stunning power. He appeared to be out-boxed by Williams early in the fight, but that changed just as soon as it became apparent Williams was slinging only his fists while Rosario was working with sledgehammers. Now the division has become more crowded than ever at the top with all roads amazingly leading to Rosario, the little known 24-year-old from the Dominican Republic who now owns the WBA and IBF titles.
MISS – Chris Colbert's Fail to Impress
Junior lightweight prospect Chris Colbert was given a great chance by the PBC to impress fight fans on national television on the undercard of Williams-Rosario, but the talented 23-year-old didn't make the most of the opportunity. Sure, Colbert was taking a step up in competition by taking on former world titleholder Jezreel Corrales for a vacant interim belt, but Colbert mostly came across as a talented fighter who just doesn't seem quite capable of putting it all together yet. Colbert won the fight, but it wasn't interesting or noteworthy in any way. Judging by how the PBC has worked in the past, he'll get plenty more chances to shine, but I'm not sure anyone but the people who stand to gain monetarily from the fighter's success will be looking forward to it.
HIT –  Eleider Alvarez's Epic KO of Michael Seals
Former light heavyweight titleholder Alvarez scored the early leader for knockout of the year against Seals in the main event at Turning Stone Resort Casino in Verona, New York. The fight was fairly lackluster until the explosive ending in the seventh round. It was an important victory for Alvarez, who was coming off losing his title to Sergey Kovalev via decision last February. Alvarez is 35, so it was imperative for him to get back to action and remind people he's still a viable contender in the 175-pound ranks. And there's no better way to do that in boxing than by thunderous knockout.
MISS – Felix Verdejo's Fresh Start Starts Stale
Verdejo is still only 26 years old, but after defeating Manuel Rojas in a lightweight bout at Turning Stone, the once highly regarded prospect doesn't appear to be any closer today than he was yesterday to living up to the tremendous promise he once possessed. To be completely fair to Verdejo, it was only his first fight under new trainer Ismael Salas and the fighter still has time on his side. Still, there appears to be plenty of work to do if Verdejo is ever to become a world champion. In fact, he didn't look all that materially different from the fighter who was knocked out in 2018.
HIT – Floyd Mayweather Wins Prestigious BWAA Award 
I honestly had some concern that Mayweather wouldn't win the BWAA's Fighter of the Decade award before it was announced on Friday via press release. After all, Mayweather lost the previous decade's top honor to Manny Pacquiao in 2010, and Sports Illustrated had just named Andre Ward its Fighter of the Decade winner the week prior. It's only one person's opinion, of course, but I think there would have been something wrong with Mayweather not picking up the honor at least once in the last two decades. After all, he's quite easily the generation's best overall fighter and he's transcended the sport to mainstream celebrity status, too. Congrats to Mayweather for winning the well-deserved honor.
Photo credit: Stephanie Trapp / TGB Promotions
Check out more boxing news on video at The Boxing Channel 
To comment on this story in The Fight Forum CLICK HERE