A Birthday for Sonny Liston
Helen Liston and Sonny, 1964.
"When I discover who I am, then I'll be free."
—Ralph Ellison
In the summer of 1962, Charles "Sonny" Liston and his wife Geraldine were living in the rectory of St. Ignatius Loyola in Denver, Colorado. Father Edward P. Murphy, the Jesuit who took them in, oversaw what the press was calling Sonny's "rehabilitation." The priest preferred "reorientation"—a change of direction. The heavyweight division's number-one contender had been suspended indefinitely in forty-seven states after yet another run-in with the law. He had good reason to change. He would rise at dawn to do roadwork at the City Park golf course and trained at a nearby Air Force base. Weekends were spent at a Catholic retreat house in Fraser. Geraldine, who first met Sonny at a prison dance, said novenas for him at the church.
Father Murphy took it upon himself to teach his functionally-illiterate guest how to read, to heal some of the wounds on his personality. The wounds were old.
"We grew up like heathens," Sonny said. "When I was a kid I had nothing but a lot of brothers and sisters, a helpless mother, and a father who didn't care about a single one of us." His mother's name was Helen, called "Big Hela" by kinfolk. She married his father despite an age difference of about thirty years.
Tobe was his name, Tobin Liston. He was the son of a slave who lived in Choctaw County, Mississippi and who can be found in the 1860 U.S. Census listed among the property of one Martin Liston. Liston's estate, including his slaves, was valued at $6,825, which placed him far below the planter class. He was just a small farmer who feared Abraham Lincoln and tended his cotton fields alongside four bent black people he wrongfully claimed as his own. Five years later, "the freedom war" ended and the 13th Amendment grew from Lincoln's grave like a blood-spattered rose. By 1870, Alexander Liston was renting a plot of land not far from his former master's estate, now worth a paltry thousand dollars and owned by his widow.
Mississippi was not among the states that ratified the amendment that freed him. Resentment hovered in the thick, bleating air. Slavery was soon revived —slapdash like some dead thing that should've stayed dead— and black Americans were cast back into servitude as sharecroppers and tenant farmers, into a system designed to keep them in poverty. "The bossman got three-fourths of what you raised," Helen said. "We had to raise what we ate and then buy shoes and clothes."
There is no record of Alexander's feelings about this or anything else, but we know that his son was angry; the son of his son angrier still.
Tobin moved his family and elderly father northward to Johnson Township in St. Francis County, Arkansas. He was, by all reports, a man whose hostility could not be contained in the meager five-foot-five frame God had given him. It spilled out in torrents of abuse and the oversized boy who didn't pick cotton fast enough and whose silence was mistook for a simple mind, bore the brunt of it. Sonny wasn't sentimental about his childhood: "The only thing I ever got from my old man was a beating," he said.
Sonny, Father Murphy whispered, was "kicked around since he was born." Precisely how long that was has been a long-standing mystery because no one could rightly say when he was born. The date of his birth was never recorded. They rarely were in rural areas during the Depression, especially when it came to poor black folk—unless they did it themselves.
There was a tree on the farm in Arkansas where father and son toiled under a sun oblivious to change. The birth dates of a new Liston generation were carved on that tree as if they had a right to hope. It was chopped down.
In 1950, Sonny was booked for robbery and told police he was born in 1928 or thereabouts. In 1953, he told Golden Gloves officials he was born in 1932 or thereabouts. During the Kefauver hearings in 1960, his massive shoulders strained his suit coat as he leaned into a microphone and said "I was born in 1933." As champion, he chose May 8th 1932 as his default DOB to fend off the swarming press. They scoffed. His publicity man snapped, "He's over 21." In the mid-sixties, when he was banned from fighting just about anywhere except Nevada and Sweden, Dan Daniel of The Ring said "he doubtless is more than 45 years of age." Before long the Swedish press joined the chorus ("You're 42 aren't you?"). Sonny got fed up. Anyone, he started threatening, who doubted he was the age he claimed was calling his momma a liar. But momma only added to the confusion: "I think it was January 18th in 1932. I know he was born in January, in 1932. It was cold in January."
He eventually went and got himself a birth certificate, telling the clerk, the press, and his momma that he was born on May 8th 1932. He thought it would settle the matter. It didn't. A reporter who had befriended him named Jack McKinney revealed the sad truth. Sonny, he said "was so sensitive on the issue of his age because he did not really know how old he was. When guys would write that he was 32 going on 50, it had more of an impact on him that anybody realized. Sonny didn't know who he was."
He never would. What began with the crash of a felled tree in Arkansas ended on a night unknown, when a bench in his bedroom crashed under two-hundred twenty pounds of dead weight. No one heard the tree fall. No one heard the bench crash. Both ends of his life, as loose and odd as expected, are all tied up in a big black bow.
Why then does his story seem unfinished?
Somewhere in the back of beyond, an enormous fist is still shaking, not with rage but with regret—the regret of not knowing.
…..
The 1940 U.S. Census reports have been released. Tobin Liston and his family come into view on a rented farm in backwater Smith Township on April 23rd of that year. They moved there from backwater Johnson Township sometime between 1930 and 1934. Tobin was sixty-seven and working on the farm sixty hours a week despite his advanced age. Helen was minding the chores in and around the rented shack and it's easy to conjure up a picture of her wiping her hands on an apron as she greets the census taker. It would have been her who gave the names and ages of the children: Leo ("17"), Annie ("15") and Alcora ("13," called "Cabbie"), and there, between eleven-year-old Curtis and two-year-old Wesley, "Charles L" appears on record for the first time.
His age is given as "10" which means that 1930 is the likeliest year of his birth. However, Helen seemed prone to count the years from birth inclusively. A pointer is found in the 1930 census. On April 28th 1930, Curtis was listed at "6/12" months old (which strongly suggests that he was born in October 1929) and no child named Charles was listed in the Liston household. Ten years later, Curtis was indeed in his eleventh year as his mother claimed, though actually ten years old. Charles was probably in his tenth year, though nine years old.
If Curtis was born in October 1929, then Sonny's default birthday of May 8th can be put to the wind, barring the unlikely event that he survived a premature delivery in a shotgun shack in a backward county with no doctor in sight. It is almost certain that he was born no earlier than July 1930.
As time stretched away from that census taker's visit to the farm, Helen began to lose track. She was in her sixties when she said he was born in January (either the "18th"or the "8th"). Nick Tosches found that another sibling's birth was registered as January 8th and supposed that she mixed them up. Late in life, Helen rummaged through her memory again and claimed he was born in 1927. She seems to have confused the year of Sonny's birth with Alcora's, which was 1927. But there's another scrap of information, easily overlooked, that may end the mystery. Helen said that Sonny was born on July 22nd. Looking past her confusion about the year, we come face-to-face with a summer day that isn't easily explained away and that happens to fall within the allowable time frame for a viable pregnancy.
—It fits. Perhaps a mother's memory can be counted on after all.
A birth date emerges out of the thick, bleating air of the Mississippi Delta. Its jagged script, barely legible anymore, is carved on a resurrected tree: 7-22-1930, Charles L.
__________________
Photograph by John Vachon from Look Magazine, 2/25/1964.
"Should Patterson Give Title Shot to Liston: Sonny's 'Rebirth' to Help," Larry Still (Jet, 8/10/61); Jack McKinney's "He's Mad and Getting Madder" (Sports Illustrated, 9/24/62), Jack Olsen's "What's Become of the Big Bear?" (SI, 5/13/68) and William Nack's "O Unlucky Man" (SI, 2/4/91), Evans Kirkby's article in the Milwaukee Journal (5/24/1965), A.S. Young's Sonny Liston: The Champ Nobody Wanted, (1963), The Ring, September 1967, Nick Tosches' The Devil and Sonny Liston (2000), UPI-AP "Sought Floyd Rematch" 1/6/71, Rob Sneed's Sonny Liston: His Life, Strife, and the Phantom Punch (2008) and U.S. Census reports (1860, 1870, 1930, 1940) were resources for this essay.
Springs Toledo can be contacted at scalinatella@hotmail.com.
Sacramento Honors Diego 'Chico' Corrales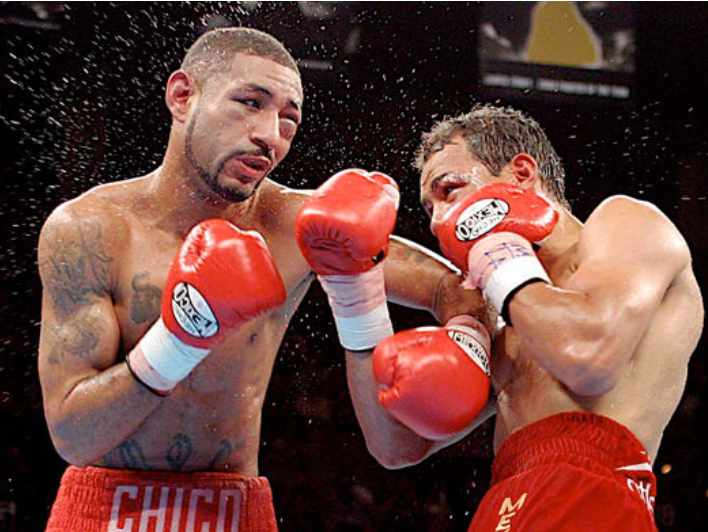 Tonight (Saturday, Jan. 25) former two-division world boxing champion Diego "Chico" Corrales will be posthumously inducted into the Sacramento Sports Hall of Fame at the organization's eighth annual induction ceremony at the Thunder Valley Casino Resort.
Corrales, who grew up in Sacramento, the son of a Columbian father and a Mexican mother, turned pro at age 18 and went on to compile a record of 40-5 (33 KOs). He won his first title in 1999 with a seventh-round stoppage of previously undefeated Robert Garcia. Now recognized as one of boxing's top trainers, Garcia was making the fourth defense of his IBF 130-pound title.
Five years later, Corrales won the WBO world lightweight title with a 10th-round stoppage of Brazil's previously undefeated Acelino Freitas. That set up a unification fight with the WBC belt-holder Jose Luis Castillo.
Corrales and Castillo met on May 7, 2005, at Mandalay Bay in Las Vegas. To say they put on a great fight would be an understatement. The boxing writers in attendance will tell you that this was the greatest fight of all time. It was named Fight of the Decade by The Ring magazine.
The final round, the 10th, was unbelievable. Heading into the round, Corrales was ahead on two of the three scorecards, but his left eye was swollen nearly shut and during the round he was knocked down twice. No one would have faulted referee Tony Weeks for stopping the fight after the second knockdown. But, somehow, Corrales was able to rally, pulling the fight out of the fire with a barrage of punches that had Castillo out on his feet when Weeks waived it off.
Two years to the very day of this iconic fight, Diego "Chico" Corrales died in a motorcycle accident in his adopted hometown of Las Vegas when he rear-ended a car while traveling at a high rate of speed. He was 29 years old.
Corrales was a thrill-seeker. In a 2006 profile, Las Vegas Review-Journal boxing writer Kevin Iole enumerated these among Castillo's hobbies: jumping out of planes from 14,000 feet, bungee jumping from 400 feet, snowboarding in treacherous terrain and scuba diving amid a school of sharks. "He lived his life the same way he fought," said his promoter Gary Shaw, "with reckless abandon."
It might seem odd that it took so long for Corrales to be recognized by the Sacramento Sports Hall of Fame, but there was a period when Corrales's name was mud in his hometown and perhaps the organization's founder, Las Vegas sports radio personality T.C. Martin, a Sacramento native, thought it appropriate to let old wounds heal.
In 2001, shortly after suffering his first pro loss at the hands of Floyd Mayweather, Corrales pled guilty to felony domestic violence in the beating of his first wife and would serve 14 months in prison. "The whole family has worn a black eye for it," Diego's brother Esteban Corrales told Sacramento Bee reporter Marcos Bretan.
For all his recklessness, the incident didn't jibe with his persona. In the company of Las Vegas sportswriters, the soft-spoken and well-spoken Corrales came across as polite and humble.
Corrales, one of five inductees in the 2020 class, joins three other boxers already installed in the Sacramento Hall: Pete Ranzany, Loreto Garza, and Tony "Tiger" Lopez.
Ranzany, a welterweight, fought four former or future world champions and was a fixture in Sacramento rings in the late 1970's. Garza wrested the WBA super lightweight title from Argentina's Juan Martin Coggi in France and successfully defended the belt here in Sacramento with a one-sided conquest of Vinny Pazienza. Lopez, Sacramento's most popular fighter ever, made the turnstiles hum at the city's largest arena where he fought eight of his 14 world title fights beginning with his 1988 humdinger with defending IBF 130-pound champion Rocky Lockridge.
Among the speakers at tonight's confab will be Kenny Adams. Perhaps best known as the head trainer for the 1988 U.S. Olympic team that won eight medals in Seoul, Adams currently trains Nonito Donaire. He was with Diego Corrales for 24 fights, during which Corrales was 23-1, avenging the lone defeat by Joel Casamayor. Festivities start at 7 pm.
Check out more boxing news on video at The Boxing Channel 
To comment on this story in The Fight Forum CLICK HERE
Boxing Odds and Ends: Ramirez-Postol, Taylor-Serrano and More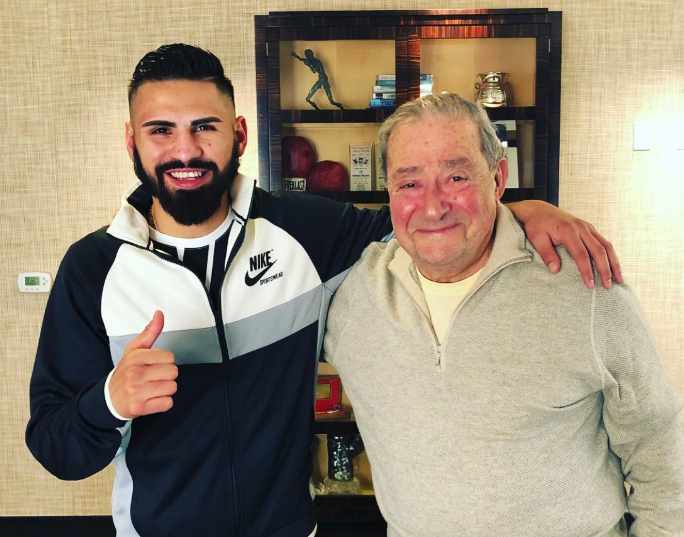 It takes a strong constitution to be a boxing promoter because things always go wrong. The only law that governs boxing is Murphy's Law.
Carl Frampton's first fight under the Top Rank banner was slated for Aug. 10 of last year in Philadelphia. With the fight five days away, Frampton suffered a freak injury while sitting in a hotel lobby. A boy playing behind a curtain knocked over a seven-foot pillar which fell on Frampton's left hand, fracturing it.
This was the second time that a Frampton fight was knocked out by a freak injury. Two years earlier, a homecoming fight in Belfast had to be scrapped when Frampton's opponent, Andres Gutierrez, slipped in the shower in his hotel on the eve of the battle and suffered severe facial injuries.
The latest bout to fall out because of an odd development is Jose Ramirez's Feb. 2 WBC/WBO lightweight title defense against Viktor Postol at a Chinese golf resort south of Hong Kong. The event fell victim to the coronavirus, more exactly the fear it has instilled.
The virus, which produces flu-like symptoms that are resistant to conventional antibiotics, apparently originated at an outdoor food market in the city of Wuhan where live animals are sold. The numbers vary with each new story, but according to one account there have been 444 confirmed cases in Hubei province, of which Wuhan is the capital city, and 653 cases worldwide including two in the United States, a man in his 30's living near Seattle and a Chicago woman in her 60's.
The fear of a pandemic (an epidemic becomes a pandemic when it spreads across multiple geographic regions of the world) has led to some drastic measures. The Chinese government has reportedly put 12 cities on lockdown, blocking traffic in and out. At many airports, visitors arriving from China are being screened. There are now thermal cameras than can record a person's body temperature remotely.
Jose Ramirez (pictured with his promoter Bob Arum) was scheduled to leave for China yesterday (Jan. 23) but was intercepted. Viktor Postol is already there and apparently stranded until an outgoing flight can be arranged.
The Ramirez-Postol fight was to air on ESPN. No make-up date has been set.
– – –
British promoter Eddie Hearn says he's close to finalizing a fight between Katie Taylor and Amanda Serrano. Hearn says the fight will take place in the U.S. in April. It figures that Madison Square Garden is the frontrunner.
If the fight comes off on schedule, this will be the biggest women's fight in history!
That's because the odds attached to the fight figure to be in the "pick-'em" range and that guarantees that boxing writers and others in the boxing community will be surveyed to get their picks – about which there figures to be considerable disagreement – and that will greatly enhance the pre-fight buzz.
Taylor, 33, last fought in November in Manchester, England, advancing her record to 15-0 (6 KOs) with a unanimous decision over Christina Linardatou, a fighter from Greece via the Dominican Republic. It was Taylor's first fight at 140 after previously unifying the lightweight title with a hard-fought decision over Belgium's Delfine Persoon.
Amanda Serrano, a 31-year-old southpaw, born in Puerto Rico and raised in Brooklyn, has won titles in five weight divisions. She last fought as a featherweight, turning away gritty Heather Hardy, but has competed as high as 140. Boasting a 37-1-1 record, she's won 23 straight, 18 by stoppage, 10 in the opening round
What sets women boxers apart from their male counterparts is that the women have a significantly lower knockout ratio. Amanda Serrano is the glaring exception.
Despite a less eye-catching record, Taylor has arguably fought the stiffer competition considering her extensive amateur background. As a pro, her victims include Cindy Serrano, Amanda's older sister by six years. Taylor whitewashed her in a match at Boston Garden, prompting the elder Serrano sister to call it a career.
– – –
The most bizarre (non)story to appear in a boxing web site this week involved former unified heavyweight champion Riddick Bowe. A man representing Bowe, identified as Eli Karabell, was frustrated because Eddie Hearn wasn't returning his calls. Karabell had offered Hearn the right of first refusal on Bowe's next fight.
Bowe, now 51 years old, last fought in a boxing ring in 2008 when he returned to the sport after a three-and-half year absence for an 8-round bout in Germany. In 2013, he appeared in a kickboxing fight in Thailand where he was stopped in the second round after being knocked down five times by leg kicks.
"Will there be another chapter to write for Bowe?" concluded the author of this piece.
Egads, let's hope not.
Check out more boxing news on video at The Boxing Channel 
To comment on this story in The Fight Forum CLICK HERE
Boxing Odds and Ends: Crawford, Canelo, Caleb Plant and More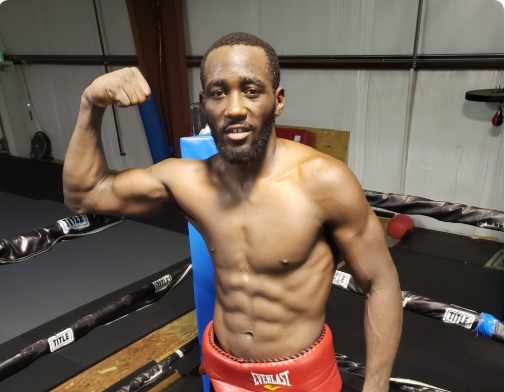 Boxing Odds and Ends: Crawford, Canelo, Caleb Plant and More
Although a lot of disinformation comes out of the mouths of boxing promoters, Bob Arum was apparently serious when he broached the idea of a two-fight series between Terence Crawford and Conor McGregor, the first fight to be conducted under MMA rules and the second under boxing rules.
Crawford is amenable. "I just have to have the proper time to prepare myself," he told ESPN's Dan Rafael. "…I haven't been in that (wrestling) environment in a long time, but most definitely I feel I can compete with anyone given the proper time to train on the MMA side, being that I have a wrestling background."
Crawford, 32, last wrestled in middle school so he would certainly need a refresher course. However, he would have a better chance of defeating Conor McGregor in an MMA match than McGregor would have of defeating him in a boxing match. So, if Arum's proposed two-fight series ever comes off, the tailpiece may be unnecessary.
– – –
As first reported by ESPN's Steve Kim, Andy Ruiz Jr. has dumped trainer Manny Robles. According to Kim's report, Ruiz's father informed Robles of the decision and said it was Al Haymon's idea.
Andy Ruiz appears to be one of those people that can gain weight just looking at food. He weighed 297 ½ pounds for his pro debut at age 19, carried 268 pounds for his first meeting with Anthony Joshua, and ballooned up to 283 ½ for the rematch after leading reporters to believe that he had actually slimmed down for the sequel.
Ruiz, noted Kim, went from a feel-good story to a cautionary tale in just six months.
– – –
Who ya' gonna believe?
A certain disreputable web site, bragging that it had an exclusive, told its readers that Canelo Alvarez had settled on Billy Joe Saunders as his next opponent and that they would meet on Cinco de Mayo in Las Vegas. The next day, Sports Illustrated's Chris Mannix, a far more trustworthy source, reported that Ryota Murata had emerged as the frontrunner and that negotiations were underway to stage the fight in Japan.
Perhaps it makes sense for Canelo to promote his brand in a new market. However, if he fights Murata, who holds a WBA belt, he would reportedly be dropping back to 160 and at age 29 he appears to have outgrown the weight class.
Stay tuned.
– – –
If Caleb Plant were an NBA player, his name would be Kevin Love. Plant, who recently married FOX/PBC reporter Jordan Hardy, is the only U.S.-born, non-Hispanic white person among the various champions in the 17 weight divisions.
Plant, who hails from tiny Ashland City, Tenn. (23 miles from Nashville) defends his IBF super middleweight title on Feb. 15 at Nashville's 20,000-seat Bridgestone Arena. In the opposite corner will be Germany's Vincent Feigenbutz who will be making his U.S. debut.
The 24-year-old Feigenbutz, who turned pro at age 16, has won 10 straight and 30 of his last 31. He represents a big step up in class from Plant's last opponent, Mike Lee, who was in way over his head.
– – –
A sad note from South Africa: Five days after the death of trailblazer Peter Mathebula, his widow, Emma Gabaitsiwe Mathebula, died suddenly of an apparent heart attack. Peter Mathebula's funeral, originally set for Saturday, has been pushed back until Tuesday and will now be a joint funeral.
Mathebula, who won the WBA world flyweight title in 1980, basically died a pauper, having sold all of  his boxing memorabilia to keep his head above water. His heirs had reached out to the government for assistance in defraying the costs of his burial.
Check out more boxing news on video at The Boxing Channel 
To comment on this story in The Fight Forum CLICK HERE