A Birthday for Sonny Liston
Helen Liston and Sonny, 1964.
"When I discover who I am, then I'll be free."
—Ralph Ellison
In the summer of 1962, Charles "Sonny" Liston and his wife Geraldine were living in the rectory of St. Ignatius Loyola in Denver, Colorado. Father Edward P. Murphy, the Jesuit who took them in, oversaw what the press was calling Sonny's "rehabilitation." The priest preferred "reorientation"—a change of direction. The heavyweight division's number-one contender had been suspended indefinitely in forty-seven states after yet another run-in with the law. He had good reason to change. He would rise at dawn to do roadwork at the City Park golf course and trained at a nearby Air Force base. Weekends were spent at a Catholic retreat house in Fraser. Geraldine, who first met Sonny at a prison dance, said novenas for him at the church.
Father Murphy took it upon himself to teach his functionally-illiterate guest how to read, to heal some of the wounds on his personality. The wounds were old.
"We grew up like heathens," Sonny said. "When I was a kid I had nothing but a lot of brothers and sisters, a helpless mother, and a father who didn't care about a single one of us." His mother's name was Helen, called "Big Hela" by kinfolk. She married his father despite an age difference of about thirty years.
Tobe was his name, Tobin Liston. He was the son of a slave who lived in Choctaw County, Mississippi and who can be found in the 1860 U.S. Census listed among the property of one Martin Liston. Liston's estate, including his slaves, was valued at $6,825, which placed him far below the planter class. He was just a small farmer who feared Abraham Lincoln and tended his cotton fields alongside four bent black people he wrongfully claimed as his own. Five years later, "the freedom war" ended and the 13th Amendment grew from Lincoln's grave like a blood-spattered rose. By 1870, Alexander Liston was renting a plot of land not far from his former master's estate, now worth a paltry thousand dollars and owned by his widow.
Mississippi was not among the states that ratified the amendment that freed him. Resentment hovered in the thick, bleating air. Slavery was soon revived —slapdash like some dead thing that should've stayed dead— and black Americans were cast back into servitude as sharecroppers and tenant farmers, into a system designed to keep them in poverty. "The bossman got three-fourths of what you raised," Helen said. "We had to raise what we ate and then buy shoes and clothes."
There is no record of Alexander's feelings about this or anything else, but we know that his son was angry; the son of his son angrier still.
Tobin moved his family and elderly father northward to Johnson Township in St. Francis County, Arkansas. He was, by all reports, a man whose hostility could not be contained in the meager five-foot-five frame God had given him. It spilled out in torrents of abuse and the oversized boy who didn't pick cotton fast enough and whose silence was mistook for a simple mind, bore the brunt of it. Sonny wasn't sentimental about his childhood: "The only thing I ever got from my old man was a beating," he said.
Sonny, Father Murphy whispered, was "kicked around since he was born." Precisely how long that was has been a long-standing mystery because no one could rightly say when he was born. The date of his birth was never recorded. They rarely were in rural areas during the Depression, especially when it came to poor black folk—unless they did it themselves.
There was a tree on the farm in Arkansas where father and son toiled under a sun oblivious to change. The birth dates of a new Liston generation were carved on that tree as if they had a right to hope. It was chopped down.
In 1950, Sonny was booked for robbery and told police he was born in 1928 or thereabouts. In 1953, he told Golden Gloves officials he was born in 1932 or thereabouts. During the Kefauver hearings in 1960, his massive shoulders strained his suit coat as he leaned into a microphone and said "I was born in 1933." As champion, he chose May 8th 1932 as his default DOB to fend off the swarming press. They scoffed. His publicity man snapped, "He's over 21." In the mid-sixties, when he was banned from fighting just about anywhere except Nevada and Sweden, Dan Daniel of The Ring said "he doubtless is more than 45 years of age." Before long the Swedish press joined the chorus ("You're 42 aren't you?"). Sonny got fed up. Anyone, he started threatening, who doubted he was the age he claimed was calling his momma a liar. But momma only added to the confusion: "I think it was January 18th in 1932. I know he was born in January, in 1932. It was cold in January."
He eventually went and got himself a birth certificate, telling the clerk, the press, and his momma that he was born on May 8th 1932. He thought it would settle the matter. It didn't. A reporter who had befriended him named Jack McKinney revealed the sad truth. Sonny, he said "was so sensitive on the issue of his age because he did not really know how old he was. When guys would write that he was 32 going on 50, it had more of an impact on him that anybody realized. Sonny didn't know who he was."
He never would. What began with the crash of a felled tree in Arkansas ended on a night unknown, when a bench in his bedroom crashed under two-hundred twenty pounds of dead weight. No one heard the tree fall. No one heard the bench crash. Both ends of his life, as loose and odd as expected, are all tied up in a big black bow.
Why then does his story seem unfinished?
Somewhere in the back of beyond, an enormous fist is still shaking, not with rage but with regret—the regret of not knowing.
…..
The 1940 U.S. Census reports have been released. Tobin Liston and his family come into view on a rented farm in backwater Smith Township on April 23rd of that year. They moved there from backwater Johnson Township sometime between 1930 and 1934. Tobin was sixty-seven and working on the farm sixty hours a week despite his advanced age. Helen was minding the chores in and around the rented shack and it's easy to conjure up a picture of her wiping her hands on an apron as she greets the census taker. It would have been her who gave the names and ages of the children: Leo ("17"), Annie ("15") and Alcora ("13," called "Cabbie"), and there, between eleven-year-old Curtis and two-year-old Wesley, "Charles L" appears on record for the first time.
His age is given as "10" which means that 1930 is the likeliest year of his birth. However, Helen seemed prone to count the years from birth inclusively. A pointer is found in the 1930 census. On April 28th 1930, Curtis was listed at "6/12" months old (which strongly suggests that he was born in October 1929) and no child named Charles was listed in the Liston household. Ten years later, Curtis was indeed in his eleventh year as his mother claimed, though actually ten years old. Charles was probably in his tenth year, though nine years old.
If Curtis was born in October 1929, then Sonny's default birthday of May 8th can be put to the wind, barring the unlikely event that he survived a premature delivery in a shotgun shack in a backward county with no doctor in sight. It is almost certain that he was born no earlier than July 1930.
As time stretched away from that census taker's visit to the farm, Helen began to lose track. She was in her sixties when she said he was born in January (either the "18th"or the "8th"). Nick Tosches found that another sibling's birth was registered as January 8th and supposed that she mixed them up. Late in life, Helen rummaged through her memory again and claimed he was born in 1927. She seems to have confused the year of Sonny's birth with Alcora's, which was 1927. But there's another scrap of information, easily overlooked, that may end the mystery. Helen said that Sonny was born on July 22nd. Looking past her confusion about the year, we come face-to-face with a summer day that isn't easily explained away and that happens to fall within the allowable time frame for a viable pregnancy.
—It fits. Perhaps a mother's memory can be counted on after all.
A birth date emerges out of the thick, bleating air of the Mississippi Delta. Its jagged script, barely legible anymore, is carved on a resurrected tree: 7-22-1930, Charles L.
__________________
Photograph by John Vachon from Look Magazine, 2/25/1964.
"Should Patterson Give Title Shot to Liston: Sonny's 'Rebirth' to Help," Larry Still (Jet, 8/10/61); Jack McKinney's "He's Mad and Getting Madder" (Sports Illustrated, 9/24/62), Jack Olsen's "What's Become of the Big Bear?" (SI, 5/13/68) and William Nack's "O Unlucky Man" (SI, 2/4/91), Evans Kirkby's article in the Milwaukee Journal (5/24/1965), A.S. Young's Sonny Liston: The Champ Nobody Wanted, (1963), The Ring, September 1967, Nick Tosches' The Devil and Sonny Liston (2000), UPI-AP "Sought Floyd Rematch" 1/6/71, Rob Sneed's Sonny Liston: His Life, Strife, and the Phantom Punch (2008) and U.S. Census reports (1860, 1870, 1930, 1940) were resources for this essay.
Springs Toledo can be contacted at scalinatella@hotmail.com.
Lipinets and Clayton Battle to a Draw at the Mohegan Sun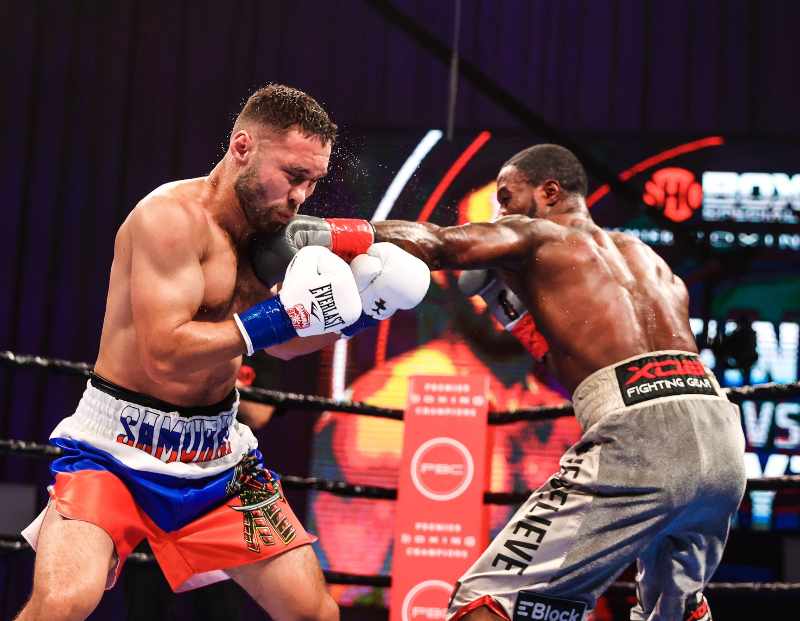 Tonight's PBC show at Connecticut's Mohegan Sun Casino, billed as a "Showtime Special Edition," was to feature Sergey Lipinets against Kudratillo Abdukakhorov in the main event. That match-up would have pit fighters born in neighboring countries in Central Asia, the first major fight of its kind on American soil, but Uzbekistan's Abdukakhorov had visa problems and a Canadian filled the breach.
Custio Clayton, whose 18-0 record was suspect because he had done all his fighting in Eastern Canada, proved to be more than just a worthy opponent. The 33-year-old ex-Olympian from Dartmouth, Nova Scotia held Lipinets (now 16-1-1) to a draw and the general feeling was that he had done just enough to edge it out. Don Trella scored the 12-round welterweight bout for him (115-113), but Trella's counterparts Glen Feldman and Tom Schreck both had it even at 114 apiece.
Conspicuously bigger than Lipinets – to the eyes if not on the scale – Clayton did his best work in the late rounds. Lipinets, briefly the IBF world 140-pound title-holder (he lost the belt to Mikey Garcia; no shame there) is something of a one-dimensional fighter and as the rounds wore on he connected with fewer punches on the more multi-dimensional Canadian.
In theory, the winner would have been in line for a match with Errol Spence.
Martinez-Marrero
Prior to tonight, Sacramento junior lightweight Xavier Martinez had never fought beyond the eighth round and tonight it appeared that he wouldn't see the ninth. He was on the deck twice in round eight and nearly didn't make it to the bell. But he lasted the full 12 to win a well-earned unanimous decision over Claudio Marrero
Marrero, a 31-year-old southpaw from Santo Domingo, DR, was well behind on the scorecards when he caught Martinez with a big right hook shortly after the start of the eighth round. He pressed his advantage and knocked him down again with a flurry of punches. But Martinez recuperated and prevailed on scores of 115-111, 114-112, and 114-112 to keep his undefeated record intact, advancing to 16-0.
This was quite a departure from Martinez's previous bout when he knocked out his opponent in 21 seconds. Marrero (24-5) lost for the fourth time in his last five outings. The match was billed as a WBA 130-pound title eliminator.
Matias-Hawkins
The TV opener was a 10-round junior lightweight contest between Malik Hawkins and Subriel Matias. Hawkins, a former National Golden Gloves champion from the same Baltimore gym that produced Gervonta Davis, came in undefeated (18-0). Puerto Rico's Matias, who opened his career with 15 straight knockouts, was looking to rebound from his first defeat, having lost a 10-round decision to Petros Ananyan on the Wilder-Fury II undercard.
Matias's bout with Ananyan was his first start since his match will ill-fated Maxim Dadashev. The Dadashev tragedy may have preyed on his mind, but according to his promoter Juan Orengo, he was lax in his training for Ananyan. Whatever the case, Matias rebounded from that defeat tonight, saddling Hawkins with his first pro loss.
Matias forged ahead in the sixth, knocking Hawkins to his knees and then pursuing him around the ring to apply the finisher. Hawkins survived the onslaught but had no argument when he was pulled out by the ring physician before the next frame.
Photo credit: Amanda Westcott / SHOWTIME
Check out more boxing news on video at the Boxing Channel 
To comment on this story in the Fight Forum CLICK HERE
Juan Francisco Estrada KOs Carlos Cuadras; Chocolatito Wins Too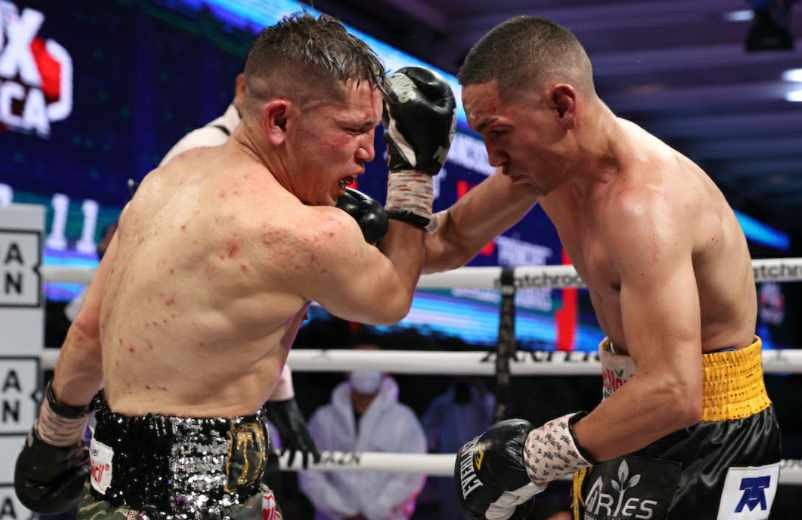 WBC super flyweight world titlist Juan Francisco Estrada led a triumvirate of world title fights with a sizzling knockout victory over Mexican rival Carlos Cuadras to retain the world title and set up a future clash with former foe Roman "Chocolatito" Gonzalez who won his bout in the co-feature.
In front of a small Mexico City crowd Estrada (41-3, 28 KOs) proved he could defeat Cuadras (39-4-1, 27 KOs) again and did it emphatically to retain his title by knockout. There was no squabbling about scorecards in this clash like their first encounter in 2017 that ended with Estrada by decision.
It did not begin well for Estrada who endured Cuadras imposing his strength and speed behind a very strong left jab in the first three rounds. And then a sneaky right uppercut followed by a left hook sent Estrada down for the count in the third round.
But that only proved to be a spark for the fighter known as "El Gallo."
Estrada realized he was falling behind, especially after the knockdown. Instead of counter-punching, the boxer from Sonora, Mexico began moving forward and became an aggressor. The dynamics of the fight changed suddenly.
Cuadras was hurt by a body shot in the sixth round and spent most of his time looking to avoid more contact. Estrada was in full control.
Despite the change in momentum no round was easy for either Mexican pugilist. Both exchanged freely always looking to end the fight with a big blow. Though each were hurt at times, neither showed signs of relenting.
From the eighth through the 10th round Cuadras seemed to find a second wind, or maybe it was desperation. The Mexico City native known as "Principe" fought possessed and managed to swing the momentum back toward his way for maybe two of those rounds.
In the 11th round both exchanged blows and Estrada connected with a left and right and down went Cuadras. The former world champion got up and was then floored with a counter right cross. He got up again a little shaky and Estrada attacked with a four-punch combination that forced referee Lupe Garcia to stop the fight for a technical knockout at 2:22 of the round.
Estrada retained the WBC super flyweight world title and will now meet Chocolatito.
Chocolatito
Nicaragua's Roman "Chocolatito" Gonzalez (50-2, 41 KOs) proved that an opponent like Mexico's Israel Gonzalez (25-3) can be faster, taller, longer and younger but the Nicaraguan will find a way to beat you. He did that with a convincing unanimous decision win after 12 rounds to retain the WBA super flyweight world title.
Chocolatito will now probably meet Juan Francisco Estrada for a long-expected rematch. In their first encounter back in 2012, the Nicaraguan won by decision in Los Angeles.
Chocolatito looked dominant in his ability to deflect the speedy combinations by the young Mexican fighter Gonzalez. Nothing worked against the Nicaraguan who skillfully manipulated his way through barrage after barrage and connected inside with body shots and uppercuts.
It was a masterful performance.
JC Martinez
Mexico City's Julio Cesar Martinez (17-1, 13 KOs) was defending his WBC flyweight world title against Moises Calleros (33-10-1) a virtual bantamweight weighing more than 7 pounds over the 112-pound flyweight limit. Even the extra weight could not help him.
In the first round, Martinez exploded with a blistering three-punch combination the sent Calleros to the floor dazed and confused. He beat the count and survived the round.
The second round wasn't too kind for Calleros who became the punching bag for the quick-fisted Martinez who opened up with a nine-punch salvo that forced the referee Cesar Castanon to end the slaughter at 2:42 of the second round.
Other Bouts
Diego Pacheco (10-0, 8 KOs) used his height and reach to score a knockout with a snapping right uppercut to the chin of Mexico's Juan Mendez (12-3-2) in a super middleweight fight. The end came at 2:02 of the second round with Mexican referee Rafael Saldana stopping the fight at the perfect moment.
Austin "Ammo" Williams (6-0, 5 KOs) powered through Esau Herrera (19-12-1) with body shots and combination punches to win by knockout in a middleweight battle. The end came at 1:36 of the fifth round.
Otha Jones III (5-0-1, 2 KOs) and Mexico City fighter Kevin Montiel (6-0-1) fought to a split draw after six rounds in a super featherweight clash. Both fighters started quickly with Jones having good rounds in the middle portion of the six-round fight, but he tired and allowed Montiel to rally from behind. The scores were split with 58-56 for Jones, 58-56 for Montiel and 57-57.
Photo credit: Ed Mulholland / Matchroom
Check out more boxing news on video at the Boxing Channel 
To comment on this story in the Fight Forum CLICK HERE
Boxing Odds and Ends: Fury's Next Opponent, Lomachenko Redux and More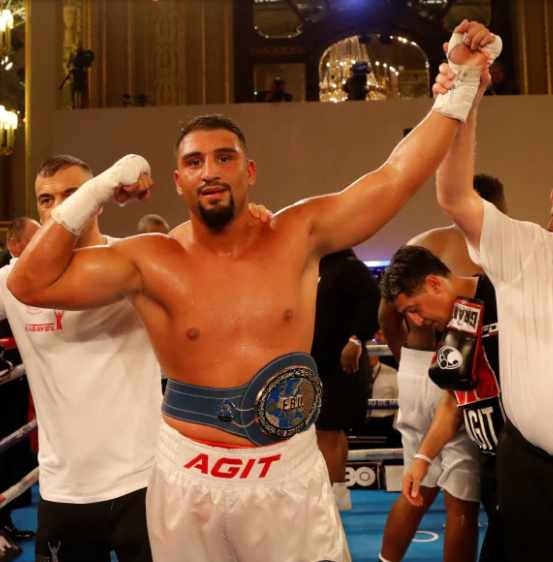 Boxing Odds and Ends: Fury's Next Opponent, Lomachenko Redux and More
It wasn't long ago that Bob Arum was talking about potting Fury-Wilder III at Las Vegas' new Allegiant Stadium in December. But Arum and his business partner Frank Warren have switched gears. Fury-Wilder III is on hold indefinitely.
According to Team Fury, Wilder invalidated the rematch clause in the Articles of Agreement for Wilder-Fury II by failing to activate it within the required time frame. That opened the door for Fury to choose a different opponent for his next fight. The frontrunners are reportedly Agit Kabayel and Carlos Takam. The fight is expected to come off in December in London.
Agit Kabayel, a 28-year-old German of Kurdish descent, is 20-0 (13 KOs). He came to the fore in November of 2017 when he upset dangerous but erratic Dereck Chisora, winning a 12-round decision at the Casino in Monte Carlo. In his most recent fight, in July of this year, he won a lopsided 10-round decision over an obscure opponent before a small gathering (per COVID policy) at a public park in Magdeburg.
Carlos Takam (39-5-1, 28 KOs) is best known for taking Anthony Joshua into the 10th frame before succumbing when they met three years ago this month at Principality Stadium in Wales. Takam was called in from the bullpen when Kubrat Pulev was forced to pull out with a shoulder injury.
In his most recent fight, the 39-year-old French-Cameroonian won a 10-round decision over unheralded Jerry Forrest at the MGM Bubble. As had been true when he was matched up against Joshua, Takam got the call when his opponent's original opponent fell out. Takam replaced Jarrell "Big Baby" Miller who failed his pre-fight drug test, as was his custom.
In the words of fight writer Kenneth Friedman, regardless of whether it's Kabayel (pictured) or Takam, "this will be a stay busy fight for Fury, and not one meant to be serious entertainment for the boxing public."
We appreciate boxing writers who refuse to sugarcoat, but this strikes us as a bit harsh. Kabayel can fight more than a little, and should he get the call he may prove to be as pesky as Otto Wallin.
Lomachenko
It has come out that Vasiliy Lomachenko was damaged goods heading into his bout with Teofimo Lopez. He had a shoulder ailment that forced him to miss a week of training in the gym. This past Monday, Oct. 20, the noted orthopedic surgeon Dr. Neal S. ElAttrache – the head team physician for the LA Dodgers and LA Rams – put Lomachenko under the knife.
Dr. ElAttrache told Yahoo! boxing writer Kevin Iole that Loma had a bruised rotator cuff and a chipped piece of cartilage and that the injury was in the same area in his right shoulder where Vasiliy suffered a torn labrum in his bout with Jorge Linares in May of 2018.
Lomachenko's promoter Bob Arum said he had no knowledge that the Ukrainian was less than 100 percent. Neither did the bettors. Had the word got out, the wiseguys would have "steamed" the underdog.
We're reminded of the 1995 fight at the Caesars Palace outdoor arena between Oscar De La Hoya and the late Genaro "Chicanito" Hernandez. It leaked out that Hernandez had suffered a broken nose in his final sparring session and the odds favoring De La Hoya zoomed from 4/1 to 17/2.
In the sixth round, a punch from Oscar broke Hernandez's fragile nose. The blood came down in torrents, Hernandez quit at the conclusion at the round, and the bookies took a bath.
From a betting standpoint, injuries are far more relevant in an individual sport such as boxing than in a team sport. A heavy sports gambler of our acquaintance, now deceased, invariably bet on an NFL team missing one or more key players. "The back-ups were All-Americans too," he said by way of explanation.
The contract for Lomachenko-Lopez did not include a rematch clause. Teofimo has no interest in a rematch and has earned the right to move on. However, we would bet that most fight fans would love to see them go at it again. Lomachenko is expected to be fit to resume his regular training regimen in January.
Davis vs. Santa Cruz
"In what is being billed as a 50/50 fight…." reads a SHOWTIME press release heralding the forthcoming match between Gervonta "Tank" Davis and Leo Santa Cruz.
What an interesting choice of words. Who exactly is it that is billing this as a 50/50 fight? Certainly not the bookies. As of Friday, Oct. 23, Davis was anywhere from a minus-460 to minus-680 favorite at prominent betting establishments offshore. (For the sake of convenience, let's just say that Gervonta is a 5/1 favorite.)
No, this is hardly a 50/50 fight, at least not in the view of the bet-takers who have no choice but to be transparent. But in defense of SHOWTIME, this is an intriguing contest between a brash upstart who has yet to taste defeat and a 32-year-old veteran who has suffered only one defeat in 39 starts, a defeat that he avenged.
Gervonta Davis (23-0, 22 KOs) will walk right through Leo Santa Cruz if he fights as well as he did against Jose Pedraza in 2017. But if "Tank" fights as he did later that year against Francisco Fonseca, Santa Cruz (37-1-1, 19 KOs) will make it warm for him.
Davis vs. Santa Cruz will play out on Halloween before a live audience in the San Antonio Alamodome. It is the main attraction of a PPV event with a suggested list price of $74.99. It will be interesting to see what numbers it draws since the show goes head-to-head against an ESPN+ card featuring the U.S. debut of Naoya "Monster" Inoue.
Leonard Ellerbe, the CEO of Mayweather Promotions, which handles Tank Davis, has predicted that Davis will someday command "Mayweather money." He bases this not merely on Davis's talent, but on his large social media following. The 25-year-old Baltimorean has a big presence among the hip-hop crowd.
At stake in the Davis vs. Santa Cruz fight are a pair of WBA titles hitched to different weight classes. One of the belts at stake is the WBA lightweight title.
Hey, wait a second, didn't Teofimo Lopez just win this very same title?
In Deadwood, South Dakota, one can visit the saloon where Wild Bill Hickock was shot dead while playing poker. Or one can walk down the street and visit a different saloon that claims to be the place where Hickock was shot dead while playing poker.
WBA president Gilberto Mendoza doesn't own those two saloons, but he could have.
Check out more boxing news on video at the Boxing Channel 
To comment on this story in the Fight Forum CLICK HERE