Such t-shirts, and a refusal to bow down and apologize for stuff like the Escobedo scale fail mean Broner will have plenty of haters. But the writer saw another side of the brash boxer at HBO headquarters, and had his eyes opened. (Hogan)
I do not know if I saw the future of boxing at HBO headquarters on Wednesday. All due respect to then music critic Jon Landau, who knew what Bruce Springsteen was and would be when he saw the Jerseyite do his thing at a Harvard Square concert on May 9, 1974, but I cannot be sure that Adrien Broner will be seen as "the best boxer who ever put on a pair of gloves" when the 23 year-old Cincinnati boxer-entertainer hangs up his mitts.
But I did exit the building Wednesday after hearing Broner answer press queries for almost an hour with a a new outlook on the 24-0 hitter, who at times had struck me as someone whose talent for self-hype outstripped his skill set.
No, Broner didn't back off the boasty side of himself. He didn't seek to stroke the egos of the fightwriters in the room, cunningly telling them that he thanked them for attending, and for helping keep him "relevant." Indeed, he gently lobbed a shot at us, dismissing us in so many words as "bu–holes," at one point.
Yet, after the session, because he explained in more depth where he came from, and some of what he has gone through to form his personality, I found myself veering closer to the territory of being a straight-up fan. Yes, as I heard Frank Deford admit on an NPR essay a couple days ago, it is true. Writers do have their favorites, and just because they manage to put a lid on the rooting interest in press row when one of their faves gets it done, that doesn't mean that they can maintain a robotic streak of objectivity. And, of course, writers can grow to dislike an athlete, be it for their fighting style, or more often, for personality or behavior traits which don't mesh with their own preferences or world view. Me, I've told you over the years, I prefer the "do, not say I will do" types, I lean towards the strong silent types Tony Soprano labeled a "Gary Cooper" type character when bemoaning the dearth of them in today's society. But in the last couple years, I've spent a fair amount of time puzzling with myself why a Floyd Mayweather talks and acts like he does. And I figured out not that long ago that it bordered on the semi-useless for me to devote too much time to solving that puzzle. Because without walking a mile in the shoes he walked in growing up, experiencing some of the traumas and dramas he did growing up, in the places he grew up in, so unlike the Wellesley, Mass. fancy-schmancy household I grew up in, I would never be able to wrap my brain around all sides of Floyd.
And on the subject of perhaps the second-most polarizing man in the game, Broner…When I hear him say that in one, two, three fights, he could well be the man in the game, I could hear that, and tsk-tsk him in my head, or on this page, for boasting, for being excessively cocky, for driving off the road of confidence, into a ditch of ludicrous hubris.
If I wanted to to, I could, when I hear Broner say, "Critics are like buttholes, I don't listen to 'em. If I want to hear a butthole, I pass gas," I could get into a thin-skinned tizzy, and mutter to you about a manner that screams "punk."
But instead, after hearing the 23 year-old let down the guard, and tell us a bit more about where he came from, and what hurdles he's gotten over, hurdles such as needing to fill his belly with syrup and bread sandwiches, and tap water, to quell a grumbling stomach, I'm inclined to see Broner and hear his trash-talking differently.
I'm quite sure many of you will not change your take on the kid, will still cringe when he says that it isn't a matter of whether he will fight the Brandon Rios', and Canelos, and Robert Guerreros, but whether they have the stones to accept a fight with him.
I'm sure I won't budge some of you when Broner says himself at 23 is superior to Floyd Mayweather at age 23, or when you hear the guy who had a hard time with Ponce De Leon say he doesn't think Nov. 17 foe Antonio Demarco will be able to do much against him.
Some of you might look at Mayweather put him and Broner side by side in your head and pick Floyd as the humbler of the two. When asked if his progress keeps up, in a year or two years he could see himself at 147 pounds or more, fighting Floyd Mayweather, Broner replied in the affirmative: "Of course, if he's around, I don't see him staying around too much longer. I don't know why he'd do that, that'd be dumb. Everyone know that age catches up to everyone, there's always the young lion with the same talent as you…that's too dangerous, I don't think he'd do it."
Wait, did he just really say that he didn't think Mayweather would be wise to fight him in a year or two, that that was a "dangerous" and foolish endeavor? He did, and it is those sort of statements which make Broner more of a must-see fighter…because he is building an immense wall of expectations for himself to try to climb over, and there will be no shortage of people who watch him like they do Nascar races: hoping for him to crash and burn.
I asked Broner if after Demarco he'd fight Mayweather, leap from 135 to 147 pounds. "I love him and all but anyone who's on the other side of ring from me, I got five kids …I love Floyd to death but I don't care who is on the other side of the ring..when I get in there I have tunnel vision."
So, Broner versus Mayweather, in a ring, tomorrow, would you beat Floyd? Broner paused…"Honestly, I'm going to be honest with you and myself I have a lot to work on, but at 23 I would have kicked his ass. I do what he do now, in his prime."
You give him points for chutzpah…or do his words make you see him as a villain, as public boxing enemy number one, who you'd pay to see get some humble pounded into him? That likely depends on where you came from. Broner came from Cincinnati, which doesn't ring a bell with me, but the way he said it on Wednesday, means he came from a place that most of your movers and shakers pass by on their way to less complicated, more opulent locations.
"I come from Cincinnati," he told the press Wednesday, describing how he intended to fight for the US in the 2008 Olympics, but instead got taken off that path because he "got into some trouble."
What he did, he wouldn't specify, but here's how Broner put it: "Some big trouble too. They tried to give me football numbers but for the grace of God I came out on top." I didn't get the "football" reference, so I asked for a clarifier. "A receiver, like 85 years, stuff like that," Broner explained.
Without us asking explicitly, he led us into a detailed explanation of how and why he got into the sport. "I'm smart, my mom she was on dean's list and all that, so after school I would have school at home, I would have to read books, do all this, all this really burned me out." He said he was bored in school, because he already knew what was being taught, and as teen knew he wouldn't grow to adore school. He knew he could sell drugs, he said, but realized that was a dead end. Basketball would be a fine path, but he knew Spud Webb was an exception, not a rule, in the NBA. "Boxing," Broner said, "I always found boxing, always came back to boxing, boxing, boxing. Boxing, this is it, this is gonna be the thing gonna take me over the top." He was 18.
Before he got full-tilt into boxing, he had to do some time, more than a year, but Broner said that was made more palatable because family and some friends stood by him. He promised God and himself he'd go hard after the boxing goal if He saw it fit to help him through the rough stretch.
I know it made me better comprehend what could be seen as cocky talk when he admitted, "I know what it's like to wake up in the middle of the night and say 'I'm hungry,' and see what's to eat and say, 'F—, I got to eat syrup and bread again … and water. I know what that feels like."
And I don't. And so I think it's wise for me to give extra respect to, and latitude to, people who have come from that, to where Broner is today. It is fashionable in many circles today to blast the Have Nots for not having enough character to rise above meager circumstances, to dismiss as loafers, as Takers, the jobless or those needing government assistance to stay afloat. One candidate for the Vice President post was just seen in an interview saying that, basically, the inner cities could be cleaned up if the citizens living there were taught "good discipline." I don't subscribe to that one-size-fits-all-wretches view; I am not under the illusion that I am made of such solid stuff that if I were born into a sub-optimal economic situation, and wasn't Caucasian, I would rise above, and triumph over sub-humble beginnings.
I have to say, boxing is blessed, because we have this every man for himself system, with no commissioner strong-arming athletes into toeing the line, and sticking to politically correct speech. You saw that when Broner got into the issue of race. On Oct. 3, Ring TV ran a story, a Q 'n A, on Broner. He'd chatted with Lem Satterfield, who I know as a decent soul and a total professional. Broner touched on the matter of whether he'd get props if and when he beat Demarco. "Like I've told you before, man, they will never give me the credit when it's due," he told Satterfield. "Even if I go in and I knock this guy out in the first round, they're going to always find something, you know? They're going to always find something. But what can they say? I was supposed to do it? I was faster and I've got more talent? What? I mean, he's the world champion at 135, and he just came off of some great stoppages, and so whatever I go in there and do, of course I want them to give me what I deserve. But just being me, and, you know, I'm an African American. So, you know, they're going to always find something wrong, and they're going to always find something to say. So that's why I just do what I do, and I don't even worry about the critics, man."
Satterfield asked him to expound, asking, "What do you mean about your being an African American?"
"I really don't want to get into it because I don't want to make it a racial thing because I love the Hispanics, I love the Mexicans," Broner said. "You know, I love all races of people. But at the end of the day, man, we all know that it's so hard for us. It's so hard. I don't really want to get into it, but you know what's going on." So Satterfield let the subject drop, understandably. The subject was again brought up Wednesday.
Asked to clarify that Oct. 3 story, Broner said he meant that African-Americans don't support other African-American fighters, not the way Hispanic fans support other Hispanic fighters. "It's so hard for us to support our own, coming up from where we come from, they don't want to see the next man doing better than them, " Broner said. So, black fans don't support black fighters like some other groups support boxers of the same race or ethnicity? "Exactly," Broner said. "It's the truth."
He said he though the Ring piece made him look like he was "racist or something" but I didn't get that from reading it, and knowing Satterfield, and how much he cares, I have to stick up for Lem, and his professionalism, and put it out there that any sort of tabloid-y exploitation is not his way, not ever. Also, you might recall Lamont Peterson touched on the same subject back in April 2011, with Satterfield. "Black people are not showing the support that's necessary to make household names in boxing," Peterson said then.
I'm looking forward to keeping tabs on Broner's arc. He could be a stellar role model for many of those kids in Cincy, and other Have Not neighborhoods, to look up to, so I'm hoping he will embrace that power he will be able to dispense. I suspect you sort of had to be there to have that change of heart, that new depth of appreciation for Broner that washed over me. Hey, the kid himself noted that the cameras and the editors know what to capture and splice and present to stir the pot and draw viewers. His brashest statements and behavior will be collected and disseminated. "I'm not a villain," Broner explained at HBO. "I'm just being me. I know it can rub off on some people some way, 'This guy is too cocky, too arrogant, this and that. But when they get to know about me they fall in love with me."
Maybe not, but I think moving forward, if not love, more boxing fans will at least grow to better understand, and respect Adrien Broner.
Buatsi Flattens Dos Santos in Manchester; Charr KOs Fraudulent Lovejoy in Cologne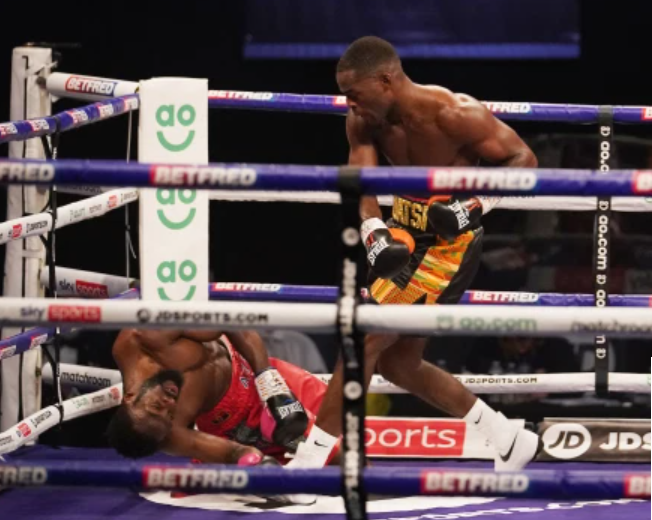 In a Knockout of the Year candidate, rising light heavyweight contender Joshua Buatsi (14-0, 12 KOs) leveled Daniel Blenda Dos Santos, an unheralded Frenchman, in the fourth round, closing the show with a pulverizing right hand – and for good measure, touching him with another right as he fell. A 2016 Olympic bronze medalist for England, the Ghana-born Buatsi trained for two months in the California Bay Area under his new trainer Virgil Hunter and his American sojourn paid dividends.
Dos Santos, who found his way to boxing after serving three-and-a-half years in prison, was undefeated (15-0, 8 KOs) coming in, but hadn't fought beyond six rounds. He was knocked down earlier in the fight with a chopping right hand. There were less than 20 seconds remaining in the fourth when Buatsi put Dos Santos to sleep, and to his credit he did not celebrate but consoled his distraught victim.
Other Bouts
In a shocker, 31-year-old southpaw Jason Cunningham improved to 29-6 (6) with a unanimous decision over Gamal Yafai (18-2) who was making the first defense of the European bantamweight title that he won in Milan.
Cunningham had Yafai on the canvas three times — knocking him down with left hands in the second, fourth and sixth rounds — but Yafai, the younger brother of former 115-pound world title-holder Kal Yafai — wasn't deterred and kept coming forward. In the end, however, Cunningham's lead was too big for Yafai to overcome. The judges had it 115-110 and 114-111 x2 for the southpaw who was a consensus 10/1 underdog.
Super middleweight Lerrone Richards breezed to a lopsided 12-round decision over Italian veteran Giovanni DeCarolis to snatch a vacant European title. Trained by Dave Coldwell, who previously handled Tony Bellew, Richards was content to rack up points and the one-dimensional DeCarolis, who was making his first start in 23 months, had no way to stop him.
The judges had it 120-108 and 119-109 twice. The London-born Richards, whose family roots are in Ghana, improved to 15-0 (3). This may have been the last rodeo for the 36-year-old DeCarolis who fell to 28-10-1.
Belfast's Tommy McCarthy (18-2, 9 KOs) was fed a softie for his first defense of his European cruiserweight title in the form of 36-year-old Romanian Alexandru Jur who brought a 19-4 record but had defeated only four men with winning records. Except for a few brief moments, Jur showed little inclination to mix it up. McCarthy put Jur down with a body punch in round four and finished him off two rounds later with another body punch. The official time was 2:09.
McCarthy, who is of Irish and Jamaican descent, moves on to a date with fellow Brit Chris Billam-Smith. Jur lost for the fourth time in his last six starts.
Cologne
Credit Christopher Lovejoy for having the gumption to defy Don King who threatened legal action if Lovejoy went ahead with his match today with WBA "champion in recess" Mahmoud (Manuel) Charr. But the 37-year-old Lovejoy, who arrived in Germany all by himself, traveled a long way to destroy whatever credibility he may have had. Fighting off the grid, he had rung up 19 fast knockouts in 19 fights against 19 presumptive Tijuana taxi drivers.
Carrying 306 ½-pounds, the six-foot-five Lovejoy lasted less than two full rounds against Charr who was making his first ring appearance in 42 months. Lovejoy was counted out after being dropped with a volley of punches in the second round.
Photo credit: Mark Robinson / Matchroom
Check out more boxing news on video at the Boxing Channel
To comment on this story in the Fight Forum CLICK HERE
Avila Perspective, Chap. 135: Danny Roman and Super Bantamweights Perform in L.A.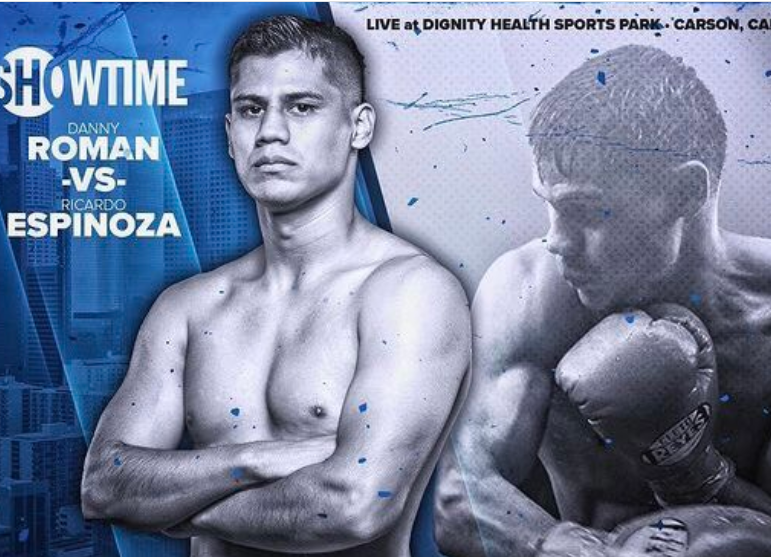 Avila Perspective, Chap. 135: Danny Roman and Super Bantamweights Perform in L.A.
The super bantamweight division was virtually unknown by most fans of prizefighting for the last decade.
Then Danny Roman arrived and re-booted the 122-pound division virtually by himself by challenging and defeating world champions from Japan and the United Kingdom.
Roman (28-3-1, 10 KOs) no longer holds the world titles but itches to regain his footing when he fights Ricardo Espinoza (25-3, 21 KOs) at Dignity Health Sports Park on Saturday May 15. Showtime will televise the battle on the Premier Boxing Champions card.
"Everything I do in boxing from here on out is to regain my status as a world champion," said the normally ultra-reserved Roman, 31.
Ironically, both Roman and Espinoza turned their careers around with numerous battles at boxing shows in Ontario, California. They entered as boys and emerged as battle-tested men.
For the last 20 years Thompson Boxing Promotions has been pumping out world champions and contenders at a furious rate despite their small size in Southern California. They do not pamper or cajole their prospects.
Both Roman and Espinoza suffered their first losses as professionals at Thompson Boxing's bloody battles at the Doubletree Hotel in Ontario. But despite losing, they continued to learn and evolve. Now they meet in Los Angeles on the big stage.
When Roman lost to Japan's Takashi Okada in 2011 and Juan Reyes in 2013, that could have derailed the Los Angeles-based fighter for good. Instead, he re-grouped and reloaded to become a unified world champion. Roman traveled to Japan and won the WBA super bantamweight world title by stoppage of Shun Kubo in 2017. A couple of years later after several defenses, he clashed with WBO super bantamweight titlist TJ Doheny to win an incredible battle by decision in Los Angeles. It was perhaps the Fight of the Year in 2019 and gained Roman the WBO belt.
Though Roman lost both the WBA and WBO titles to Murodjon Akhmadaliev, it was a disputed split decision. Many felt Roman was the true winner. So now he must battle back toward the top.
Espinoza also fought many bloody affairs at the Doubletree Hotel in Ontario including his first two losses. He lost to Sam Rodriguez in 2016 and Christian Nieto in 2017. Then the power-punching fighter from Tijuana, Mexico knocked out 12 of 13 of his opponents to gain a world title fight that he lost in April 2019. Since then, he has returned to his winning ways and upset undefeated Brandon Valdes last year.
"Danny Roman has fought some really quality opponents that are high in the rankings, but this is my time. This is when I show that I can step up in competition and prove that I belong with the best," said Espinoza who is very familiar with Roman.
The Tijuana fighter is a punching machine.
"This is not going to be an easy fight because I know my opponent is a tough fighter from Tijuana who is coming with everything he's got. He's got a lot of power, so I must be smart on how I throw my combinations," said Roman who lives within 10 miles of the event. "I believe my experience in big fights is going to be the difference on May 15. I'm expecting a rough fight and I'm ready for an intense battle."
Now the two veterans of the Ontario, California wars finally meet each other to see who advances toward a world title fight. They won't have to look far. The main event pits two titleholders against each other.
Unification Battle for Super Bantam Belts
Mexico's Luis Nery holds the WBC super bantamweight world title and faces Texan Brandon Figueroa who holds a version of the WBA super bantamweight title in the main event on the Dignity Health Sports Park card on Saturday. Showtime will televise.
Nery formerly held the bantamweight title too. But the Tijuana-based fighter had problems making weight and wisely moved up a weight division. So far, the extra pounds hasn't been a problem.
The problem facing Nery is Figueroa has a solid chin.
Figueroa may look like a pretty boy but he fights like he's ugly. The Weslaco, Texas native has firepower and a rock chin but does he have the skills to match Nery?
"I come forward. I bring the pressure and I'm definitely going to bring the power, the size and all the advantages I have to make sure that we give the fans a great show. I do respect him as a fighter but we're just going to have to find out Saturday," said Figueroa whose brother Omar Figueroa fought in the same venue two weeks ago.
Nery has quickness and agility to supplement his power. He also has experience in world class opposition and that's something Figueroa lacks.
"Brandon's style really fits with what I want to do in the ring," said Nery, a boxer-slugger. "This is going to be an all-out war from the first round on. People are going to be talking about it for a long time after."
The winner of this clash will hopefully meet the winner of Roman and Espinoza. That would really heat up the super bantamweight division to blue hot levels.
Some of my favorite fighters of the past occupied the super bantamweight division like Wilfredo "Bazooka" Gomez, Marco Antonio Barrera and Israel "Magnifico" Vazquez who twice fought in this same venue. His third fight with Rafael Marquez on March 1, 2008 was voted Fight of the Year for its brutal but spectacular display of super bantamweight power.
The winners of this quasi-super bantamweight tournament can equally achieve the same kind of greatness those former stars achieved. This is a good start.
Fights to Watch (All times are Pacific Coast)
Friday UFC Fight Pass 5:30 p.m. Heather Hardy (22-1) vs Jessica Camara (7-2); Melissa St. Vil (13-4-4) vs Olivia Gerula (18-18-4).
Friday Telemundo 11:30 p.m. Denilson Valtierra (14-0) vs Emanuel Lopez (30-12-1).
Sat. DAZN 10 a.m. Lerrone Richards (14-0) vs Giovanni De Carolis (28-9-1).
Sat. Showtime 7 p.m. Luis Nery (31-0) vs Brandon Figueroa (21-0-1); Danny Roman (28-3-1) vs Ricardo Espinoza (25-3).
Check out more boxing news on video at the Boxing Channel
To comment on this story in the Fight Forum CLICK HERE
Charr vs Lovejoy: Better Late Than Never, or Not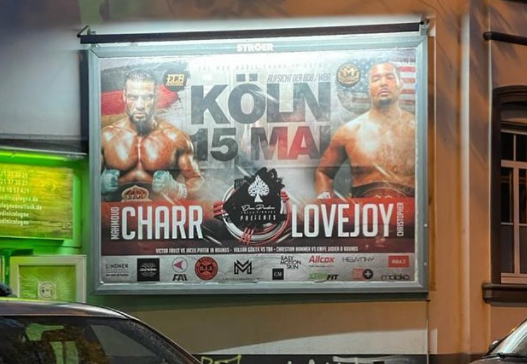 COLOGNE – There are many questions to be answered regarding Mahmoud Charr's scheduled fight against Christopher Lovejoy this Saturday night at a training facility along the Rhine. The most primary point to be determined is whether the contest actually occurs.
Charr has been idle since capturing a WBA title belt against Aleksandr Ustinov way back in November 2017. Since then numerous delays and cancellations, many of them out of Charr's control, have kept the erstwhile ranked heavyweight out of the championship picture and far from the international public eye.
The most recent of such situations found Charr unable to obtain a travel visa for a defense against Trevor Bryan in Florida last January. Machinations by Don King and the WBA in relegating Charr to "in recess" status further tarnished both the promoter and the organization's already disgraceful reputations.
King has also had a hand in keeping Lovejoy off the rumbling radar, after the boxer previously claimed retirement as a way out of King's contractual clutches. When Lovejoy attempted to face Dave Allen in London on the undercard of Usyk-Chisora, King contacted Matchroom's Eddie Hearn with enough of a claim that Lovejoy's appearance was cancelled.
According to Lovejoy, King has also attempted to block Saturday's fight, so uncertainty remains until the first bell rings this weekend. That said, everything else about the relatively low key card seems to be well in place, and there is plenty to look forward to, questions and all. A subscriber-based live stream on German news outlet Bild.de will broadcast the bout.
How the long layoff, which began way before the coronavirus pandemic, has affected Charr is probably the most crucial factor, but what the rarely seen Lovejoy brings to the table is as compelling as it is curiously noteworthy. His record of 19-0 with 19 quick knockouts, compiled completely off-grid in frequent madhouse Tijuana could mean damn near anything.
Charr, 31-4 (17), has been stopped three times and in two of those KOs (by Maris Briedis and Alexander Povetkin) he was blasted into one-shot oblivion. Under Saturday's scenario one of the few possible surprises might be if Lovejoy doesn't try to get Charr out of there immediately.
Lovejoy, listed at 6'4", looks substantially larger than 6'3" Charr, but not any taller. An uneducated guess indicates a strong possibility that the more proven Charr is capable of wearing Lovejoy down, especially considering how he did it against a respectable version of Ustinov.
When Lovejoy refused to shake Charr's hand and insulted his courage during their press conference photo op, there was a slight but very significant twitch in Charr's almost constantly upbeat countenance. If Lovejoy doesn't indeed carry huge power in his punches, he may have inspired a painful night.
To put Charr's simmering anger in perspective, it must be remembered that he still looked like he was calmly waiting for his food while being carried out on a stretcher after getting shot four times in the lower abdomen during a 2015 ambush in nearby Essen. When his assailant, a former boxing protégé, confessed by saying he only meant to shoot him in the leg, Charr told an emotion packed courtroom bygones were bygones, saying "I am a man who forgives."
A refugee at five years old whose father was killed in the Lebanese civil war, Charr seems to clearly envision a bigger picture than just his boxing career, and he consistently posts positive motivational copy on social media, including an end of Ramadan message stressing nonpartisan hope for the current Gaza conflict.
The 10-round fight carries no title designation but whatever they may or may not step into the ring with, one thing Charr and Lovejoy share is the potential for a make-or-break performance.
If Charr wins, people will dismiss Lovejoy's merit in the first place but it still keeps a bit of shine on his championship claims, increasing his leverage regarding Bryan or even bigger game. If Lovejoy wins, especially by dramatic KO, he has definitely upped his recognition factor marketability.
The only safe bet is that the winner will probably hear from somebody representing Don King.
And maybe even Fres Oquendo.
Questions, questions.
Check out more boxing news on video at the Boxing Channel
To comment on this story in the Fight Forum CLICK HERE