Mexico's Juan Manuel Marquez Shocks Boxing World With KO of Pacman
LAS VEGAS-Mexico's Juan Manuel Marquez had promised a knockout win and delivered with a wicked right that Manny "Pacman" Pacquiao never saw and will probably never forget on Saturday before a stunned crowd.
Even the Mexican faithful seemed shocked by their compatriot's win over nemesis Pacquiao.
Marquez (55-6-1, 40 Kos) finally beat Pacquiao (54-5-2, 38 Kos) in the most exciting of their encounters before 16,348 rabid fans at the MGM Grand Casino. It was the fourth encounter and only win on the record books for the Mexican hero, but probably the most satisfying for either fighter.
"It was very important to win this fight," said Marquez.
It was a conservative first two rounds with both Pacquiao and Marquez looking to counter instead of attacking. Marquez proved more adept in the first round but Pacquiao landed a flush left lead that made a mark on Marquez's left eye.
An overhand right hand from hell floored Pacquiao for the first time in many years. Marquez didn't attack after Pacquiao beat the count but fired uppercuts and some body blows to end the round three.
Marquez carefully attacked Pacquiao who seemed intent in returning a knockdown but the Mexican fighter did not cooperate. Marquez connected on a three punch combo at the end of round four.
In a wild round five Pacquiao floored Marquez with a lead left hand that caught the Mexican perfectly running into the punch. But when Pacquiao tried to finish the fight he was met with some furious exchanges.
"Manny came back and he was in charge," said Pacquiao's trainer Freddie Roach after.
With Marquez looking like he was going to be run over from a Pacquiao attack, he fired a counter right hand that connected perfectly and sent Pacquiao senseless for more than a minute at 2:59 of round six. There was no arguing this time who was going to win this fight. Marquez shocked the crowd and the millions watching at home with a single blow.
"I knew in the last two rounds Manny was going to go for the knockout," said Marquez. "I could have been knocked out at any time. I threw the perfect punch."
Although the sight of Pacquiao lying face down senseless scared the fans, he seemed very coherent. And was very matter of fact about the outcome.
"I got hit by a punch I didn't see," Pacquiao said.
Top Rank's Bob Arum said a fifth fight could be made. Both Marquez and Pacquiao agreed.
Gamboa holds on
Cuba's ultra-athletic Yuri Gamboa (22-0, 16 Kos) survived a crushing knockdown at the hands of tough Filipino slugger Michael Farenas (34-4-4, 26 Kos) to win a hard fought unanimous decision after 12 rounds.
Now promoted by musical artist 50 Cent, the fleet Gamboa seemed to be cruising to an easy victory after knocking down southpaw Farenas once in round two and another in round seven. But when Gamboa gambled to finish the Filipino in round nine, he was too busy unloading a speedy combination to notice the trap Farenas had set. Down went Gamboa from a crushing left cross. The Cuban was still woozy but managed to move and hold when necessary to avoid more contact.
Farenas seemed to gain new energy from the knockdown and attacked even more ferociously, but the slick Gamboa used his defensive footwork and side steps to avoid any more big shots. Farenas never stopped working hard and showed to be a very dangerous opponent for anyone else in the future. All three judges scored in favor of Gamboa 117-109, 118-108, 117-108.
Title fight
IBF lightweight titleholder Miguel Vazquez (32-3, 13 Kos) used his quick feet and long arms to win by unanimous decision against San Diego's Mercito Gesta (26-1-1, 14 Kos) after 12 rounds. The Filipino southpaw usually is the faster fighter and could not make the adjustments.
If you ever watched Vazquez fight before it's always hit and run while taking advantage of a long reach and quick hands. Gesta wanted to engage in a firefight but this was strategic battle from long range. Though the San Diego fighter was never hurt, he seldom attacked the body and paid the price for the head hunting as Vazquez quickly scooted out of danger.
Gesta adjusted in the late rounds by going to the body and head but never put on full pressure against Vazquez who unlike most Mexican fighters, never goes mano a mano. It's one-two and sciddily doo. All three judges scored it for Vazquez 117-111, 119-109, 118-110.
Javier Fortuna (21-0-1, 15 Kos) jumped out to a fast lead over Patrick Hyland (27-1, 12 Kos) with his speed and agility in the first four rounds. Then, the Dominican who trains along with middleweight world champion Sergio Martinez slowed down and Hyland began to gain points. It just wasn't soon enough for the judges who all gave it to Fortuna 118-110, 116-112, 115-113. Fortuna becomes the number one contender for the WBA featherweight title.
Former U.S. Olympian Jose Ramirez (1-0) erupted on Colorado's Corey Seigwarth (2-2) with a flurry of tight punches in the opening round. A Ramirez left hook to the body had Seigwarth nearly quitting but he resumed. Ramirez then attacked the body again and smacked another left hook and down went the Coloradan. He beat the count but was swarmed by Ramirez who would not allow Seigwarth a moment to breathe. Referee Vic Drakulich stopped the lightweight bout at 2:05 of the first round. Freddie Roach trains Ramirez.
Southpaw Dodie Boy Penalosa (10-0, 10 Kos) had all of the advantages going in against Mexico City's Juan Raya (6-5) and used them to perfection in winning by knockout. Penalosa was taller, faster and stronger in blasting out Mexico's Raya with a short counter right hook at 1:12 of round two of the featherweight clash. No count was necessary by referee Jay Nady.
After suffering a slow start Philippine fighter Ernie Sanchez (14-3, 5 Kos) turned things around midway through the fight against Philadelphia's Coy Evans (10-2-1, 2 Kos), including a knockdown. Once Evans slowed down, Sanchez used lead right hands to keep the Philadelphia boxer from using his speed and power. The final three rounds saw both featherweights turn up the heat and slug it out. Sanchez emerged more convincing with his right hands. Two judges scored it 77-73 and one 77-74 for Sanchez.
In a swing bout Las Vegas prizefighter Alexis Hernandez (3-1, 1 KO) and New Mexico's Jazzma Hogue (2-4-1) came out banging. Hogue got an early jump but when Hernandez connected with a solid right, he stopped to shake his head that it didn't hurt. At that very moment Hernandez came back with the express and dropped the New Mexico boxer. Hogue got up but was met with another combination and down he went again. Referee Jay Nady inspected the dazed fighter and ruled him unable to continue at 2:20 of the first round.
There Was a Smorgasbord of Tasty Delights in Dueling TV Fight Cards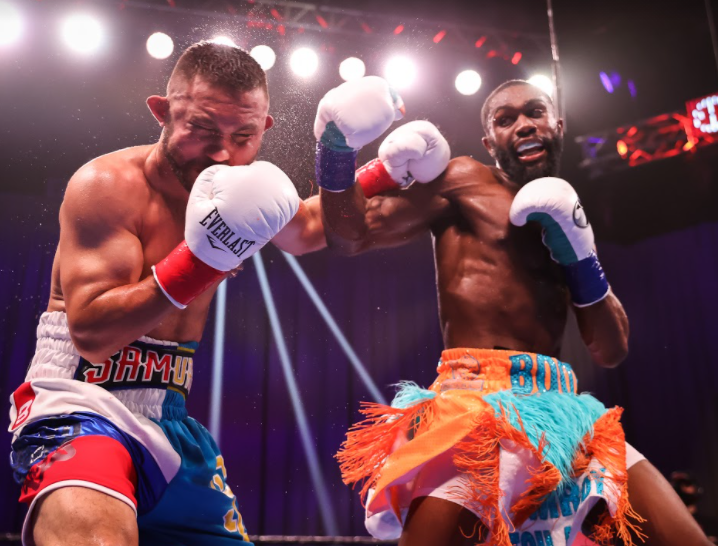 Technology has not advanced to the point where someone can actually be in two places at the same time, but until that happens, the next best thing is the wonderful consolation prize of being able to watch one fight card live on television while recording the other for delayed perusal.
Maybe there can be too much of a good thing sometimes. If I were in a position where I had to make a choice to physically be in attendance at one site or another on Saturday night, it would have been difficult choosing between being there to witness Philadelphia's emerging welterweight sensation, Jaron "Boots" Ennis, put on another spectacular show in dispatching former junior welter world champion Sergey Lipinets in the Showtime-televised main event in Uncasville, Conn., or another gritty performance by blue-collar, working-class hero Joe Smith Jr. as he finally won a world light heavyweight title with a hard-fought, typically inelegant and somewhat controversial majority decision over Russia's Maxim Vlasov in the ESPN/ESPN+ card-topper at the Osage Casino in Tulsa, Okla.
In and of themselves, the two featured bouts, so different in execution and outcome but each compelling in their own way, would have satisfied most fight fans. But like a buffet line where diners can snack on tasty hors d'oeuvres –type fare before loading their plates with a preferred entrée item, each card offered additional value by way of televised undercard bouts.
The most dominant performance, and the one of highest potential value moving forward? That would be still another star-making turn by the 23-year-old Ennis (27-0, 25 KOs), who did pretty much whatever he wanted in becoming the first fighter to knock out Lipinets (16-2-1, 12 KOs), the 32-year-old former IBF junior welterweight titlist who had gone the distance with Mikey Garcia and had never been decked as a professional until he went down twice against Boots, who looks like he has the goods to soon take his place in the pantheon of outstanding fighters to represent the city of his birth.
OK, so the first ruled knockdown by referee Arthur Mercante Jr., which came in the fourth round, likely was an error of judgment as replays showed that Lipinets actually tripped on Ennis' foot. But there was no mistaking what happened in the sixth round, when Ennis, who had been casually teeing off on the stocky Russian as if he were just another heavy bag to be pounded on in the gym, caught Lipinets with a right hook followed by a left uppercut. Lipinets went down flat onto his back, and Mercante immediately waved the massacre off, dispensing with the formality of initiating a count.
The ending meant that Ennis still had not been extended beyond the sixth round as a pro, but this relatively swift termination of a bout whose outcome seemed predetermined from the outset was more significant given Lipinets' reputation as a tough, durable former champ who had never been so outclassed in matchups with other top-shelf performers. If Ennis hadn't already stamped himself as a force to be reckoned with in the 147-pound weight class, his domination of Lipinets sent that message out loud and clear.
"Another special fighter from Philadelphia. Imagine that," said Showtime blow-by-blow announcer Mauro Ranallo.
"More Boots Ennis," studio host Brian Custer said when asked what he wanted next. "This kid is spectacular. Say his name. Jaron `Boots' Ennis is going to be a problem in the welterweight division."
What wasn't there to like? Ennis has a smorgasbord of ring skills that would be difficult for even other elite 147-pounders to solve. He switches from orthodox to southpaw as fluidly and effectively as does arguably the top pound-for-pound fighter in the world, Terence "Bud" Crawford (37-0, 28 KOs), the WBO welterweight ruler. He occasionally employed the shoulder roll that was a staple of the great Floyd Mayweather Jr., and his penchant for finishing off his man when he has him in trouble pretty much is beyond dispute at this stage of a career whose best days might yet come.
According to CompuBox statistics, Ennis landed a ridiculously high percentage of his power shots (91 of 172, 52.9%), going to the body frequently as part of a well-thought-out strategy crafted by his father-trainer, Derrick "Bozy" Ennis. His next fight may well be against the formidable Yordenis Ugas (26-4, 12 KOs), a Miami-based Cuban, but by now it doesn't seem much of a stretch to imagine him giving the welterweight division's crème de la crème, Crawford and WBC/IBF titlist Errol Spence Jr. (27-0, 21 KOs) all they could handle. Perhaps Ennis would benefit from a bit more seasoning against higher-tier opponents, but if his time isn't exactly right now, that time is fast approaching.
"I was just in there, having fun, doing me," Ennis said of his unhurried but quite thorough thrashing of Lipinets. "You know, being real relaxed and putting on a show … I just coasted, I took my time and I broke him down."
Joe Smith Jr. MD12 Maxim Vlasov
The backstory of Joe Smith Jr. – a card-carrying member of Local 66 from Long Island, N.Y., who spends his days pouring concrete, digging trenches, laying sheetrock, power-washing septic tanks and knocking down walls with a sledgehammer, and his nights training as a light heavyweight contender with a dream of making it all the way to a world title – always have been a bit more intriguing than what his limited skill-set has been able to produce inside the ropes.
This 31-year-old Everyman with a most common name is tough, determined and a dangerous puncher, but all that will carry him only so far now that he finally has that bejeweled belt (as winner of the vacant WBO 175-pound championship) he so long has coveted, by virtue of his hardly clear-cut majority decision over the unorthodox Russian Maxim Vlasov. Seemingly behind through 10 rounds, a bloodied and perhaps desperate Smith reached deep inside himself to win the last two rounds, drawing even on my unofficial, watching-at-home scorecard at six rounds apiece. He fared better with the judges in Tulsa, however, with David Sutherland joining me in seeing the fight as a 114-114 standoff, a determination overruled by the cards submitted by Gerald Ritter (115-112) and Pat Russell (115-113).
Presumably next up for Smith is a unification showdown with WBC/IBF ruler Artur Beterbiev (16-0, 16 KOs), the Canada-based Russian who is an even bigger puncher than Smith and is widely regarded as the best light heavyweight on the planet. Such a bout likely would mean a career-high payday for the newly wed Smith, but just as likely the end of his brief reign as an alphabet titlist.
"I want other belts," Smith, who fought from the first round on with a worrisome cut above his left eye. "I want the big fights out there. I believe I'm going to start unifying belts."
Finally the favorite – Smith (27-3, 21 KOs) had made his reputation on his inside-the-distance upsets of Andrzej Fonfara and nearly 52-year-old Bernard Hopkins – the easy-to-like Everyman's coronation proved to be no easy task as Vlasov (45-4, 26 KOs) confused him in the early going with an unorthodox style that had him delivering punches from odd angles.
But Smith is difficult to discourage, and he kept pressing his attack in the hope he could find an opening to deliver the kind of put-away shot that had vanquished Fonfara and B-Hop. He got in some wicked licks, too, several times hurting Vlasov, who bled from the mouth from the seventh round on.
The 11th round was perhaps pivotal, as Vlasov went down, clearly from a punch. But referee Gary Ritter ruled that the delivered blow was an illegal rabbit punch, and he waved off the knockdown and gave Vlasov additional time to recover.
"I believe that round where I hurt him, he stuck his head down (and into the disputed punch)," Smith said. "I should have got the knockdown on that. I think I would have got the stoppage that round, but he pulled it off and made it out on his feet."
It also could have been that, not getting credit for the knockdown, which conceivably might have opened the door to a knockout or a TKO, made Smith – who originally was to have fought Vlasov on Feb. 13, a date postponed when the Russian tested positive for COVID-19 – fight even harder the rest of the way. CompuBox listed him as landing a career-high 174 power shots, 68 coming in the last two rounds that he so clearly needed.
Whatever viewers might have thought of the decision, Smith-Vlasov was entertaining and competitive.
Efe Ajagba KO3 Brian Howard
Ajagba, a 26-year-old Nigerian, delivered one of the most emphatic one-punch knockouts of the year when he landed a jolting overhand right to the left ear of Howard, who went down in a heap, unconscious, his legs twisted beneath him. Referee Tony Crebs signaled the end of the fight immediately.
It was the second fight for the 6'6" Ajagba, who signed with Top Rank in August 2020, with his new support team of manager James Prince and trainer Kay Koroma. Whether he has bettered his circumstances for those changes (he previously was with Richard Schaefer's Ringstar Sports, and worked with manager Shelly Finkel and trainer Ronnie Shields) is a matter of conjecture, but the promise – and punching power — he had exhibited beforehand seems to have remained intact.
"It's my time to shine," Ajagba said. "I'm coming for the heavyweights to become heavyweight champion of the world."
He could get his shot, and maybe more quickly now that he is with Top Rank, which promotes the WBC titlist, Tyson Fury (30-0-1, 21 KOs), with a full unification matchup with WBA/IBF/WBO champ Anthony Joshua (24-1, 22 KOs) close to being finalized.
Nigeria has a history for producing good fighters, the most renowned being the late former middleweight and light heavyweight champion, Dick Tiger, an enshrinee into the International Boxing Hall of Fame. The best Nigerian heavyweight likely was Ike Ibeabuchi, who might have been good enough to win a world title had it not been for mental and legal issues that landed him in prison. It remains to be seen if Ajagba can match or surpass Ibeabuchi, but he would appear to have a reasonable chance of doing so in comparison to Samuel Peter, Henry Akinwande, David Izonritei and Duncan Dokiwari.
"Efe Ajagba is one of the most gifted young heavyweights I've seen in quite some time," Arum said when he signed him. "He has immense physical tools and a great work ethic. I have the utmost confidence that we're looking at a future heavyweight champion."
The two televised lead-ins to Ennis-Lipinets were IBF junior bantamweight champion Jerwin Ancajas' unanimous decision over Jonathan Rodriguez and rising welterweight Eimantas Stanionis' UD12 over former world title challenger Thomas Dulorme.
Jerwin Ancajas UD12 Jonathan Rodriguez
Ancajas (33-1-2, 22 KOs), who years ago drew the attention of fellow Filipino Manny Pacquiao, retained his title for the ninth time against mandatory challenger Rodriguez (22-2, 16 KOs) of Mexico, who was decked for the first time in his pro career in round eight.
Eimantas Stanionis UD 12 Thomas Dulorme
Stanionis (13-0, 9 KOs), from Lithuania, could eventually become a factor in the loaded welterweight division. He certainly didn't do himself any harm with his win over tough Puerto Rican Dulorme (25-5-1, 16 KOs).
Photo credit: Amanda Westcott / SHOWTIME
Check out more boxing news on video at the Boxing Channel
To comment on this story in the Fight Forum CLICK HERE
The Hauser Report: Notes and Nuggets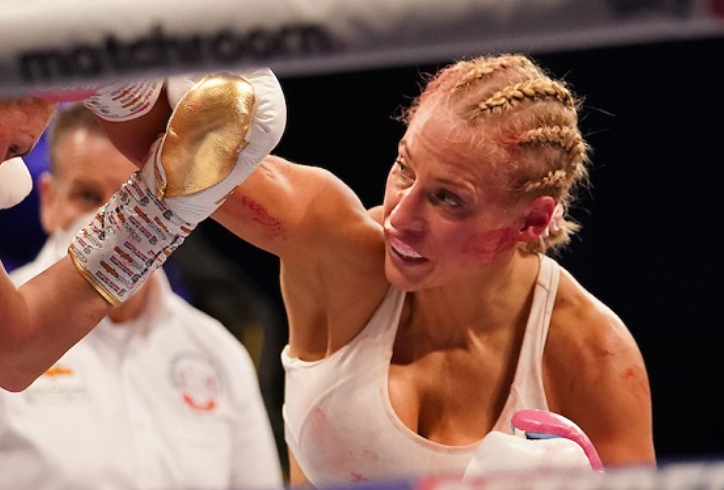 On Saturday, April 10, Ebanie Bridges fought Shannon Courtenay for the vacant WBA world bantamweight championship. The fact that Courtenay-Bridges was a "world championship" fight is an embarrassment.
John Sheppard (who oversees BoxRec.com) reports that one out of every seven women's fights is for a sanctioning body belt, with "world" championships near the top of the pyramid. Indeed, Sheppard notes that boxing's world sanctioning bodies have created more women's "championship" belts than there are active women boxers.
Bridges entered her "world championship" fight with a 5-0 (2 KOs) ring record. But the caliber of her opponents was appalling. Taken in order, they were:
*         Mahiecka Pareno, whose two career wins came against a woman named Jean De Paz (who has never won a fight)
*         Laura Woods, whose only pro fight was against Bridges
*         Kanittha Ninthim, who has lost twelve of thirteen fights
*         Crystol Hoy, who has won one of eleven fights since 2010.
*         Carol Earl, age 45, whose only career victories came against fighters with a composite ring record of 0-16.
So how did Bridges quality for a "world championship" fight? Well, Bridges is – shall we say – voluptuous with long blonde hair and given to wearing bikinis. As Boxing Scene recently reported, "There is more footage and photos found online of Bridges in bikinis than there are of her actual fights."
One might find further elucidation in statements that Bridges made recently to various outlets:
*         "There's plenty of girls with more fights than me. The difference? It's the way I look. Let's be real. If I wore what everyone else wore, people wouldn't be interested. You can criticize me as much as you like. But if I looked plain, then you wouldn't even know this fight was happening. People will tune in to see if this girl wearing lingerie can actually fight or is she just a model? This is an entertainment business. Everyone wears underwear at weigh-ins. Do you want me to wear a paper bag?"
*         "It doesn't matter what society thinks what you should be doing. If you want to do it, you just f****** do it. I want to stay strong with it. I won't hide the fact that I'm beautiful. What the f***! I'm going to go over there and going to flex in my lingerie. I'm going to be who I am."
*         "Hey for people who judge me on first sight, open your mind a little bit and maybe you can see that this girl is pretty f****** real even though she has fake tits."
Prior to fighting Bridges, Courtenay had compiled a 6-1 (3 KOs) record against mediocre opposition. Shannon isn't close to being a world-class fighter. But during the pre-fight promotion, she indicated that she took her trade seriously, saying, "I look at people like Katie Taylor that has done everything she could to raise the bar to allow women like me to fight for a living. And I don't like it being disrespected by not talking about the boxing, talking about what someone's gonna wear at a weigh-in. People like Katie Taylor didn't work her backside off to pave the way for women like me and you to be in this position to talk about underwear."
The fight itself was a pleasant surprise. Bridges was the physically stronger of the two women and the aggressor for most of the bout. Courtenay landed the cleaner punches but didn't hit hard enough to keep Ebanie off her. A clash of heads in round two bloodied the scalp of each combatant.
Neither woman had a credible defense. A right hand wobbled Bridges in round five and began the process of closing her left eye. By round nine, the skin around it was a bulging purple mess and the eye was completely shut. At that point Ebanie couldn't see right hands coming, but Shannon lacked the power to put her away. It was a good, honest, low-level club fight.
The judges ruled unanimously for Courtenay by a 98-92, 98-92, 97-94 margin. She deserved the nod but not by that much.
Ebanie Bridges has the right to present herself to the public the way she wants to. But for the WBA to sanction Courtenay-Bridges as a "world championship" fight shows how absurd WBA "world championships" can be and why today's better women boxers don't get the respect they deserve.
*     *     *
And now for boxing purists . . .
I correspond regularly by email with a reader named John. Most of our exchanges are about boxing. Some go beyond the sweet science. Among the thoughts he has expressed that are worth sharing are:
*         "No real fighter takes pride in losing with everyone watching. When did that become an act of courage, to make money on losing? That is not a fighter's mentality. Never has been. That is an entertainer's mentality, an actor's job. Sometimes I get so angry to see people who have the chance of a lifetime do just that. If you want to let people use you, go ahead. But then you are no longer a fighter."
*         "The loss of Hagler so suddenly really has affected people. His reach was deep into the boxing world. He carried himself as a Champion. Many people who are very critical of what boxing has become still look to Hagler as an example of what boxing is. Or should I say was? When did it all become a circus atmosphere in the ring? All this talking that means nothing. All the noise that drowns out the quiet truth of a fighter, men who walk into the ring and do what few men are gifted to do. We had something special. I hope we do not lose sight of that. It takes a lot to get my attention. But the loss of Hagler has stayed with me."
*         "Things used to start with the idea of building something up in the boxing ring based on certain principles. I give you an honest display of good boxing, and you pull your money out and say you appreciate it.  Now everyone is so wrapped up in getting money. Every step of the way, every person has got to stick their hand in the pocket of the fight fan. It sickens me."
*         "I do not expect everyone to know from experience what it is like to suffer from hunger. It is not a pleasant thing. Most people think being hungry is having lunch a few hours late. There are people who have grown up and gone to bed hungry many a night. And either you are one of them or you are not."
Photo credit: Dave Thompson / MATCHROOM
Thomas Hauser's email address is thomashauserwriter@gmail.com. His most recent book – Staredown: Another Year Inside Boxing – was published by the University of Arkansas Press. In 2004, the Boxing Writers Association of America honored Hauser with the Nat Fleischer Award for career excellence in boxing journalism. In 2019, Hauser was selected for boxing's highest honor – induction into the International Boxing Hall of Fame.
Check out more boxing news on video at the Boxing Channel
To comment on this story in the Fight Forum CLICK HERE
Jaron Ennis KOs Sergey Lipinets and Other Results from the Mohegan Sun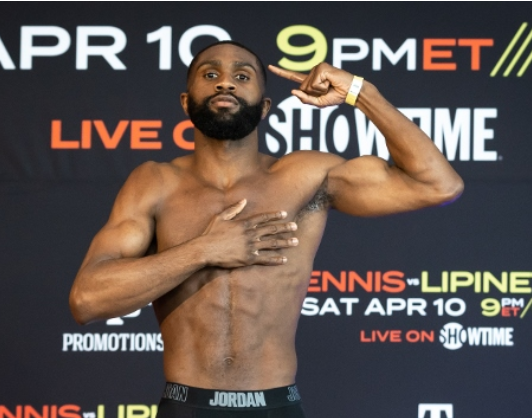 Jaron Ennis KOs Sergey Lipinets and Other Results from the Mohegan Sun
Philly is on the up. Again.
Jaron "Boots" Ennis kicked his stature into another gear with an impressive knockout of former world champion Sergey Lipinets on Saturday.
"It's on the up now for bigger and better fights," said Ennis.
Those Philly fighters know how to do it.
Before a small audience Philadelphia's Ennis (27-0, 25 KOs) showed that he's ready for the elite level class by dominating the always tough Lipinets (16-2-1, 12 KOs) at Mohegan Sun Casino in Uncasville, Conn.
Is there any other American welter looking for action?
Ennis walked into the arena with all of the physical advantages, but experience can be a tricky matter in the fight game. Lipinets was ready to provide the lesson.
For the first two rounds Ennis used his superior reach, height and speed to keep the former super lightweight world titlist from entering his domain. The Philly fighter wacked at the Russian fighter's body and head while taking minimal return fire.
Lipinets finally found his way inside and both fighters traded big blows. A wicked right uppercut by Ennis connected and Lipinets bounced a right cross on the Philly fighter. Both absorbed the big blows with little effect.
Still, Ennis was winning all of the rounds and Lipinets realized that maintaining the status quo was not doing him any good. He increased his attack and slipped on Ennis foot and went down. It was incorrectly ruled a knockdown by the referee but it was the least of the Russian fighter's problems.
Both fighters attacked the body but Lipinets shot one far below the belt and the fight was stopped for a moment. Lipinets was warned. Both went into attack inside and it seemed to be Lipinets best round. He seemed to find his way back into a groove.
"I saw he wasn't as skilled on the inside as I was so that's when I started getting a little closer," Ennis said.
Ennis may have realized that Lipinets had a good round and he wasn't about to allow another. As the two fighters re-engaged in their war inside, Ennis connected with a right hook to the chin and a left uppercut finished the job. Down went Lipinets and referee Arthur Mercante waved off the fight at 2:11 of the sixth round without a count.
"We worked on a lot of power shots and a lot of speed. That's what we did," said Ennis. "Everything is all natural."
The impressive knockout of Lipinets proved that Ennis has more than enough ability to hang with the best welterweights around.
"Maybe one of the guys will want to fight me. Who knows?", said Ennis.
Other Bouts
IBF super flyweight titlist Jerwin Ancajas (33-1-2, 22 KOs) floored Mexico's Jonathan Rodriquez (22-2, 16 KOs) and hammered out a win by unanimous decision. But it wasn't an easy fight. It never is when you put the Philippines versus Mexico.
Ancajas needed the win to keep his name handy for a possible match in the now heated super flyweight division that features Juan Francisco Estrada, Roman Gonzalez, and Carlos Cuadras.
A battle between welterweight contenders saw Eimantis Stanionis (13-0) power his way to a unanimous decision win after 12 rounds versus Thomas Dulorme (25-5-1).
Check out more boxing news on video at the Boxing Channel
To comment on this story in the Fight Forum CLICK HERE