You're Floyd Mayweather, Jr.
Borrowing from the classic style and prose of hall of fame sportswriter Jimmy Cannon (April 10, 1909 – December 5, 1973), the writer takes a look at the career of Floyd Mayweather, Jr. and discovers that time is not the only vandal.
You're Floyd Maweather, Jr., aged thirty-five, the preeminent star in the sport of boxing. People love you, and they hate you. They love you because of how great you could be. They hate you because you seem unwilling to prove it. Still, you are the alpha figure in boxing today, and you love it. You make more money than any other fighter in the sport. In fact, you have the fantastic ability to make in one night more than what ninety-nine percent of fighters make for their whole careers. You're Floyd Mayweather, and you're the best fighter in the world…maybe.
Oh sure, you're still undefeated. No one can take that away from you. You wouldn't give them the chance. Yeah, you've beaten some of the very best fighters of your era. The names on your resume are nothing to scoff at. Not at all. Ricky Hatton, Oscar De La Hoya, Shane Mosley, Juan Manuel Marquez, Miguel Cotto. Big names. Huge. But there's more to a legacy than just "names," isn't there?
You started out the right way. No doubt about it. You began your career as good a prospect as any. Your hands were fast; your feet too. You were an exceptional amateur talent with the litany of accomplishments to prove it. You weren't just another athlete who boxed, you were a real fighter, born and bred. That picture of you in the gym as a tyke with boxing gloves on, it's legit. That was you. You were born for this. God made you to be a boxer.
You won amateur titles all through your youth, national titles even. Then you went to the Olympics and did your country proud. You earned a bronze medal in the 1996 Olympics. Almost everyone thought you got jobbed in your loss to eventual silver medalist Serafim Todorov of Bulgaria. That Bulgarian judge did all he could for the other kid. He did you in. You won it for sure, and you would've won the gold medal, too. Impressive stuff. Men have been well reasoned to be prouder for doing less. Not you, though. You aspired for something more. Greatness.
You were a "can't miss" prospect, and you didn't. You coasted through the rite of passage palookas and hobos they put in front of you with ease, just like you should. Your handlers did everything right. They lined up marks for you to look good against, and you did. They patted you on the back. Said you'd be champion one day. Told you that you could be the greatest. You ate it up. We all did. You were something special. Everybody saw it. Heck, after your seventh professional fight, Manny Steward said he thought you'd go on to be the best ever. Ever!
You won your first title in 1998 at junior lightweight by obliterating tough guy Genaro Hernadez. You'd been a professional for just two years, and you were already champion. By the end of the year, you started getting listed among the pound-for-pound elites. All you did was win, no matter who or what they put in front of you, and you did it convincingly. You started getting noticed. You said you wanted to be like Oscar De La Hoya and Roy Jones, Jr. You didn't just want to be the best in the business, you wanted to make the most money, be the biggest star.
Your junior lightweight run culminated in maybe the most impressive win of your career. When you met undefeated slugger Diego Corrales in 2001, you were sure to be up against your stiffest test. But you weren't. You beat Corrales like he was an amateur, knocking him down five times en route to the TKO.
After a few more wins, you were ready to move up in weight. You had dreams to chase. And money. Then it happened, the unthinkable. You almost lost. You! Lightweight champion Jose Luis Castillo gave you all you could handle. Kept you on the ropes with punches coming from all angles. Worked you over good. You were lucky. The judges gave you the nod, even though Castillo out-landed you, even though the crowd booed you. It was close. Too close.
You did the right thing. You took an immediate rematch. At the end of it, the official scorecards were closer than last time, but you got the call again. It was a tough test, but you passed. They wouldn't have robbed Castillo twice, right? You deserved to win. Maybe you learned something there, though. Maybe you learned taking the toughest fights might not be all it's cracked up to be. Maybe you learned you liked winning more than anything else. Winning and money.
You didn't let it deter you. Not at first. You moved up in weight again. You potshotted Demarcus Corely to an easy decision win in your junior welterweight debut. By now, you were one of HBO's bell cows. You were setting up big PPV dates, so they gave you something easy. It's understandable. You'd earned it. Next up, was blood and guts warrior Arturo Gatti. He had world class heart, but not the skills to match it. Not like you. You destroyed him. Easy money, and lots.
You skipped over light welterweight champion Kostya Tszu and moved up to welterweight instead. People were disappointed, but it wasn't like you had some kind of history with this type of thing. Not yet. HBO gave you another gimme in Sharmba Mitchell. It was your first fight at the weight, after all. You had big fights to set up. You wanted Zab Judah and you got him, even though he lost the championship in his previous fight against Carlos Baldomir. You beat Mitchell and got what you wanted.
Against Zab Judah, you really showed your stuff. He was just as fast as you. Maybe faster. You found that out quickly. You adjusted, though. You had more than just fast hands. Much more. You had skill. You had stamina. After maybe losing three of the first four rounds, you won the last eight with ease. It was vintage stuff. A glimpse of perfection, perhaps. You showed how great you can be. For good measure, you followed it up by nabbing that linear title from Baldomir. He probably didn't win a round against you.
Your ship was about to come in. You figured out you didn't just want to be like Oscar De La Hoya, you wanted to beat him. A fight against the Golden Boy would open a lot of doors for you, and you knew it. You even moved up to junior middleweight to do it. It would be a tough test, but you believed in yourself. Besides, you reasoned, you'd make more money than you had ever made before in your life. It was worth the risk. It had to be. He was passed his best. You were not.
The fight was close. De La Hoya was bigger than you, and it showed. You made the adjustments. You eked out a majority decision win. Most people didn't see it that close. You were the clear winner. Your undefeated record remained intact. You took De La Hoya's title, but more than that, too. You took over his mantle as boxing's biggest draw. You called yourself "Money" Mayweather now, and for good reason. Money became your primary reason for fighting. You didn't care about titles. Or history. Or legacy. After all, you said you had proved all you needed to prove. What else could keep you fighting? Not the challenge of Miguel Cotto or Antonio Margarito at welterweight. Let them fight each other, you told yourself. Not Paul Williams. He was too big, a freak of nature. Not anyone that presented too much risk, you told yourself.
You saw an opportunity in Ricky Hatton. The junior welterweight from Britain was undefeated but a little crude. He was a huge draw like you, though, and you knew it. You signed the fight, and had him come up to welterweight to do it. You wanted all the advantages you could get. As boxing's new golden goose, you deserved them. Hatton came out fast. He knocked you off balance with a jab, but you settled in. He was no match for you. By the middle of the fight, you were dominating. You knocked him out in picturesque fashion in round number ten. He had rushed at you like a bull, and you made him pay.
After defeating Ricky Hatton in December of 2007, you decided to do that thing fighters do where they say they're retiring from the sport only to resurface a year or so later. Everybody knew it. You wanted some time off. It's understandable.
That's when you saw him for the first time really. Everybody did. He was smaller than you. He had all those losses. But he was mesmerizing now. How did he destroy Oscar De La Hoya like that? How? How could he be so fast, so strong, so terrifying? That's when you decided to come back. Was it that he was taking attention away from you? Did you intend to fight him? It certainly seemed so at the time.
You returned in September of 2009. You picked the guy he had all that trouble with, Juan Manuel Marquez. You needed a tune-up first, and what better way to prove your superiority over him than by using his big nemesis as a tune-up? You made Marquez jump a couple weight classes to do it, but he took the fight. He was no match for you, especially after you didn't even bother to make weight. You won a wide, unanimous decision victory. You promised to fight him soon.
You decided to go after Shane Mosley first. Mosley was older than you, but he was one of the best of his era. He caught you with a huge right hand in the second round and almost put you down. You recovered nicely though. You still had your legs. His were gone. You out boxed him like everyone thought you would. It was a nice win, but it wasn't the win people wanted for you. You knew it. You promised to fight him next. You just wanted him to take drug tests. That's all. You're cleaning up the sport. He had to be on PEDs, you reasoned. He just had to.
You didn't fight again for sixteen months. When you decided to come back this time, you chose Victor Ortiz reasoning it'd be good preparation for who you really wanted to fight. At least it seemed that way. Why else would it have been Ortiz? Was he on your level? He had lost to Marcos Maidana. Still, both Ortiz and the one you said you really wanted to fight if only Bob Arum weren't stopping it, were hard-hitting southpaws. Ortiz was young and strong, but you would handle him. He proved to be dumb in that he let his hands down in front you after he tried to intentionally foul you. You starched him without mercy and won by knockout. It was all set up again.
You didn't fight again until May of the next year. You decided not to fight him this time because he wouldn't take the drugs tests or something. People started to lose track of the reasons. You decided to take on Miguel Cotto instead. You didn't want to fight him at MSG. After all, one of his opponents likened it to fighting the devil in hell. Why would you do that? You took home court in Las Vegas, just like the big money guy should. It was a big event. Cotto wasn't the same Cotto you didn't fight all those years ago. Antonio Margarito had suspiciously beat much of that out of him. What was left was demolished by the fighter you said you wanted to fight but never did. Still, Cotto had rebounded nicely of late. He'd won three in a row, including a redemption match against Margarito.
The fight was more than you bargained for. He bloodied your nose. Nobody does that, but he did. He out-boxed you at times. You were winning, but you started to look your age. You seemed slower, more tired. You beat him with grit and determination. It was a good win. You closed the show like you should have. You swept him over the championship rounds. That's what you do. Those were your rounds, champ. In the last round, you staggered him. He looked like he was ready to fall. But there was that risk there. You saw it. You knew you had the fight won. Why risk losing your undefeated record? You didn't have anything to prove, you said to yourself. You'd play it safe. It doesn't matter what that other guy did against him. You were still undefeated. He wasn't.
Your outside the ring lifestyle may have gotten out of control a little bit. You liked partying with people you shouldn't be around. You liked going to the club and making a scene. You loved the attention, the worship of the sycophants. The Money Team, you called them. They're still with you. They're still your people. They weren't there when you went to jail, though. You were alone. That's okay. Everybody makes mistakes. It happens. You had a lot of time to think in there. No one messed with you. They knew who you were. You liked it.
When you got out, you didn't rush right back into boxing. Why would you? You'd been behind bars for three months. You weren't in a rush. Your legacy was secure, at least to you. You didn't need to fight him. Not yet.
He lost that December. That guy you beat easily a few years before, his nemesis Juan Manuel Marquez, knocked him out cold in the fifth round. See? You didn't need to prove anything against that guy. See?
You're getting ready for your return now. Time for you to fight again. You've targeted Cinco de Mayo weekend. After all, that's the most lucrative date in the sport, and you're boxing's big money star. You have to fight. You'll make more than anyone else in the world that night, and that's what it's all about, you say. You don't have anything else to prove. You've done it. You're the money man, now. Money Mayweather. And you'll make plenty of it fighting guys like Robert Guerrero or Devon Alexander, guys who you'll be heavily favored against just like always, for as long as you want. What else does a guy fight for?
But to some it seems that it should have been for more than just money. You could've been the greatest, just like Steward said, but you're not. And it's too late for it now. Too late. That's why you've affected people so. You can't help it if a whole lot of people feel lousy every time you fight now. But they do. They do.
Jan. 29, 1994: A Stunning Upset Animates the Debut of Boxing at the MGM Grand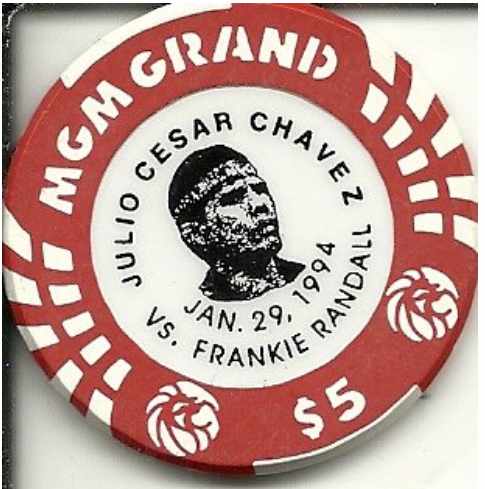 Twenty-six years have elapsed since the first boxing card at the MGM Grand Hotel in Las Vegas. The inaugural show took place on Jan. 29, 1994, the eve of Super Bowl XXVII.
A little background: The MGM Grand opened on Dec. 17, 1993. With its 5,005 rooms, it was the largest hotel in the world. The MGM Grand Garden arena, effectively the municipal auditorium of the self-styled "City of Entertainment," was christened on New Years Eve with a concert by Barbara Streisand. Twenty-nine days later, the bill of fare was an 11-fight boxing card promoted by Don King.
Looking back, seven of the participants – boxers Julio Cesar Chavez, Felix Trinidad, Hector Camacho, Thomas Hearns, and Christy Martin and referees Richard Steele and Joe Cortez – would go on to the International Boxing Hall of Fame.
Hearns, who was nearing the end of his career, having grown into a cruiserweight, was matched soft, as was Christy Martin who was making her Las Vegas debut and was then looked upon as a sideshow novelty act. Two other notables, heavyweight Razor Ruddock and welterweight Meldrick Taylor, were likewise deployed in stay-busy fights. The undercards of Don King's major promotions typically took this tack – big names in little fights.
Topping the bill were three world title fights. WBC 154-pound title-holder Simon Brown opposed Troy Waters. Trinidad defended his IBF welterweight title against Camacho. And in the grand finale, the great Chavez, who held a junior welterweight title, was matched against Frankie Randall.
Simon Brown had a more difficult time than expected against Troy Waters, a teak-tough Australian, but prevailed on a majority decision. Trinidad, at age 21 the younger man by 10 years, chased Camacho all over the ring en route to winning a unanimous decision. And Chavez….
The MGM Grand Garden was scaled to hold 15,200, but there were a lot of empty seats; the announced attendance was 12,777. One would have expected a sellout as Las Vegas is chock-full of revelers on a Super Bowl weekend, but there was an extenuating circumstance.
Twelve days before the fight, at 4:30 am on Jan. 17, Southern California was struck by an earthquake. Centered in the San Fernando Valley, about 20 miles northwest of downtown Los Angeles, the Northridge Earthquake damaged buildings as far as 85 miles away. It buckled portions of some heavily-traveled freeways, forcing their closure and repairs were hindered by a scattered series of aftershocks that lasted the better part of two weeks.
Visitors from Southern California are the backbone of the Las Vegas tourism industry. Most arrive by car. The earthquake had the effect of reducing hotel occupancy as many Southern Californians cancelled their reservations and that assuredly spilled over into the fight, hurting attendance. But those that were there witnessed a memorable main event.
Frankie Randall, nicknamed the Surgeon, hailed from Morristown, Tennessee. He had an excellent record (48-2-1, 39 KOs), but Julio Cesar Chavez, who owned the most eye-catching record in boxing (officially 89-0-1), was so highly regarded that he was listed as a 17/1 favorite in the MGM sports book.
Randall started strong, an indication that he would be a hard nut to crack. But the middle rounds belonged to Chavez with his patented body attack. In round seven, one of those body punches strayed too low and Richard Steele deducted a point.
In round 11, Steele deducted another point for the same infraction and, worse for Chavez, he was knocked down for the first time in his career. It was a straight right hand that did the damage, a clean punch, and although Chavez was up at the count of "three," it was a 10-8 round for Randall.
During the early rounds, shouts of "May-hee-co, May-hee-co" reverberated through the arena. Late in the fight, when one could sense that an upset was brewing, shouts of "USA, USA" punctuated the din.
The 11th round proved decisive. When the scores were read, the Mexican judge favored Chavez 114-113, but he was overruled by the Puerto Rican judge (114-113) and the Las Vegas judge (116-111). If not for those two points deducted by referee Richard Steele – the same referee who had controversially stopped Chavez's fight with Meldrick Taylor with one second remaining on the clock in the final round – Julio Cesar Chavez would have retained his title — and his undefeated record — on a split decision.
Chavez did not take losing very well. He bellyached that he was robbed, an opinion that found few sympathizers. A fast rematch was arranged which took place at the MGM Grand on Cinco de Mayo weekend. In this fight, an accidental clash of heads late in round eight left Chavez with a bad gash on his forehead and the fight was stopped. By rule, it went to the scorecards where Chavez emerged the winner by split decision, a very controversial denouement (and a story for another day). There would be a rubber match in Mexico City when both gladiators were in their 40's, a dull 10-round affair scored in favor of Chavez.
By the way, on the day following the debut of boxing at the MGM Grand, the Dallas Cowboys defeated the Buffalo Bills 30-13 at Atlanta. As Super Bowls go, this one didn't attract all that much buzz. The same teams had met in the Super Bowl the previous year and Dallas had won by "35."
By all indications, the forthcoming Super Bowl will be a doozy. Enjoy the game.
Check out more boxing news on video at The Boxing Channel 
To comment on this story in The Fight Forum CLICK HERE
Introducing Top Prospect Raeese Aleem, the Pride of Muskegon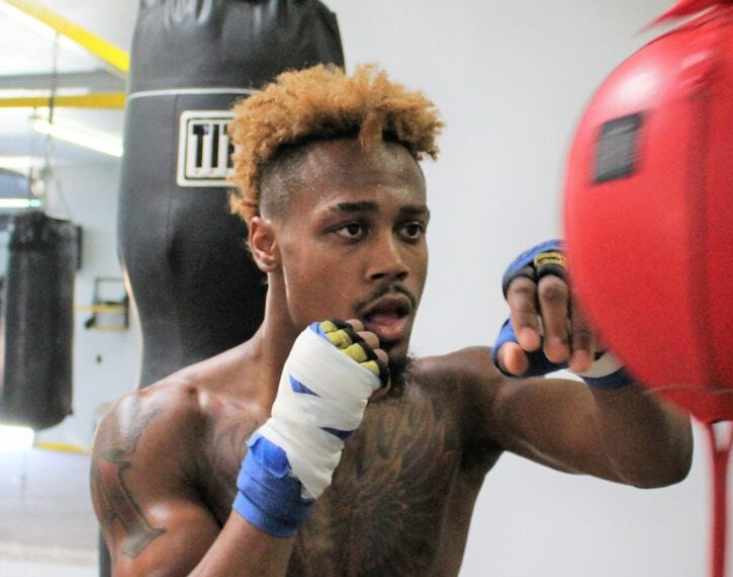 At age 29, Raeese Aleem has yet to appear in a 10-round fight, but that will almost assuredly happen this year. The undefeated (15-0, 9 KOs) super bantamweight from Muskegon, Michigan, takes another step in that direction on Friday, Feb. 14, when he opposes San Antonio's Adam Lopez (16-3-2) at Philadelphia in a bout that will air on "ShoBox," the long-running SHOWTIME series that's been a springboard for 81 fighters who went on to win world titles.
Aleem earned a black belt in karate before taking up boxing and becoming a four-time Michigan Golden Gloves champion. As an amateur, he and his coach Terry Markowski did a considerable amount of traveling between meets to find good sparring. Grand Rapids, an amateur boxing hotbed, was just down the road, but Detroit and Chicago were a good three hours away and on occasion they went on an even longer excursion into Ohio.
Aleem turned pro in 2011 and had his first 10 fights on the Midwest circuit, venturing as far north as Green Bay and as far south as Cincinnati. At the time, he worked in the produce department of Meijer's, a regional rival of Walmart. His bosses, he notes, were generous in letting him juggle his work schedule around his boxing assignments.
For a boxer with designs on winning a world title, the Midwest circuit is like a bicycle with training wheels. Aleem had to shake free of it to see how far he could go. Besides, getting fights was getting tougher and tougher. There's a 28-month gap in his pro timeline that includes all of 2013. He had several fights fall out during this frustrating quiescence.
If you're an aspiring film actor, you go to Hollywood. If you're an aspiring boxing champion, you go to Las Vegas. Not a week goes by without a young fellow turning up here to test his mettle in one of the many local gyms with the hope of attracting the eye of one of the major promotional firms.
"When I came to Las Vegas," says Aleem who has a daughter back in Michigan, "I had no family here, no friends." He was directed to Barry's boxing gym, run by ex-boxer Pat Barry and his wife Dawn, retired Las Vegas police officers, and started training under their son-in-law Augie Sanchez. But Sanchez, the last man to defeat Floyd Mayweather Jr (accomplished when they were amateurs), had other priorities. He is an assistant coach with Team USA which obligates him to spend a good deal of his time at the U.S. Olympic Training Center in Colorado Springs.
Things started looking up for Aleem when he joined the Prince Ranch stable under the management of Greg Hannley. At the Prince Ranch Gym, where the head trainer is Bones Adams, he has sparred with such notables as Nonito Donaire and former WBO 122-pound champion Jessie Magdaleno.
Aleem doesn't miss the weather in Muskegon, a lakefront city where sub-freezing temperatures are the norm in the dead of winter and snow is forecast for all of next week. But he still has one foot in his hometown, as evident by his unbroken bond with Terry Markowski. In an era when some boxers appear to change trainers as often as they change their underwear, Aleem has remained loyal to Markowski who has been in his corner for all of his pro fights and will be there again on Feb. 14.
Markowski, who teaches boxing at the Muskegon Rec Center, is a protégé of Muskegon's most esteemed boxer, the late Kenny Lane. The epitome of a crafty southpaw, Lane, a lightweight and junior welterweight, was a three-time world title challenger during a 100-fight career that began in 1953.
The relationship between Raeese Aleem and Terry Markowski dates back to 2003 when Aleem resided in the nearby village of Ravenna, where Aleem's father, the patriarch of a large blended family, planted Raeese and his siblings to get them away from the temptations of Muskegon which has several blighted areas. "It was a culture shock for me when I started going to school in Ravenna," says Aleem, looking back, as none of his schoolmates looked like him.
This will be Aleem's fifth fight in Pennsylvania where he has made four of his last five starts. The connecting thread is Reading, Pennsylvania gym operator-turned-promoter Marshall Kauffman who has been credited with keeping boxing vibrant in the Keystone State.
This being Aleem's national television debut, it's important that he make a good showing. His Las Vegas trainer Bones Adams, a former world champion in Aleem's weight division, expects nothing less. "I'm confident he will be a world champion someday," says Adams.
Photo credit: Mario Serrano / Prince Ranch Boxing
Check out more boxing news on video at The Boxing Channel 
To comment on this story in The Fight Forum CLICK HERE
A Bouquet for Danny Garcia in This Week's Edition of HITS and MISSES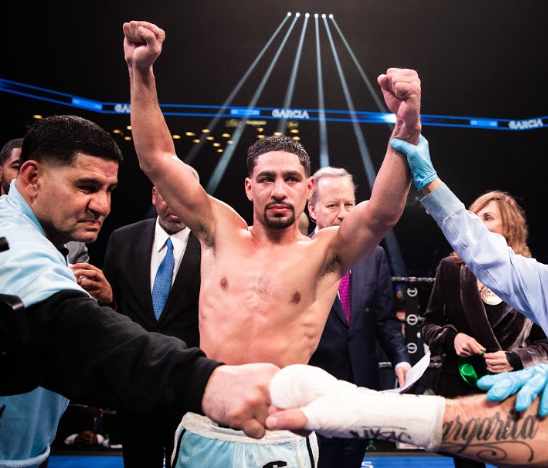 Two-division champion Danny Garcia had the spotlight all to himself over the weekend in a stay-busy fight against Ivan Redkach on Saturday night at Barclays Center in Brooklyn. It was the main event of a Showtime Championship Boxing tripleheader that had the odd privilege these days of not being counterprogrammed by a Top Rank show on ESPN or any other kind of boxing card on DAZN.
So Garcia, 31, from Philadelphia, had the chance to remind people how excellent a fighter he is in full force, which would help him greatly in his effort to secure an unlikely bout against WBA champ Manny Pacquiao or remain first in line to face WBC and IBF champ Errol Spence whenever the Texan recovers from the injuries he sustained in a car accident in October.
But did Garcia pull it off? Here's the latest edition of HITS and MISSES.
HIT – Danny Garcia's Pristine and Precise Technique 
The best parts about Garcia were on full display against Redkach. That was made easier by Redkach's lack of anything that might have given Garcia any real problems, but nonetheless Garcia was able to show the lovely footwork and balanced countering ability that made him so formidable at junior welterweight. There's just something special about seeing Garcia fight. The economy of his movement inside a boxing ring is something that is just plain different than just about any other world-class fighter in the world today. In a fight that most people probably would have preferred he just skipped, and one that didn't turn out to be any different than everyone expected, at least Garcia's beautiful boxing was on display.
MISS – Showtime Sparring Sessions
In addition to Garcia-Redkach, Showtime rounded out its tripleheader with undefeated junior featherweight Stephen Fulton taking on former Muay Thai fighter Arnold Khegai and former unified junior middleweight champion Jarrett Hurd taking on career welterweight Francisco Santana. While Fulton's fight against Khegai seemed like a legitimate prizefight, there was something about the other two bouts that screamed sparring sessions. That was especially the case for Hurd's bout. Not only was Hurd in there with a middling welterweight, but he also used the rounds of the fight to work on vastly different boxing techniques than what made him so popular in the first place. Showtime might not have the pull they once had with the people over at the PBC offices, but they for sure need to get more involved in vetting matchups if they hope to remain afloat within the competitive boxing landscape of today.
HIT – Stephon Fulton's Title Chances at 122 Pounds
Fulton is a very solid boxer who digs to the body and has a fast, clean jab. Khegai was the perfect kind of opponent for the 25-year-old. He was very game and never stopped trying to win. Additionally, his background in Muay Thai offered some different looks to Fulton that should help him on his way toward world title contention. In the end, Fulton outworked Khegai to hand the tough 27-year-old the first loss of his career. Now let's hope Fulton is off to bigger and better things such as challenging for a world title. He's ready right now.
MISS – Andy Ruiz's Continued Soap Opera
The best thing former unified champion Andy Ruiz could have done after blowing the rematch against Anthony Joshua in December is getting right back to work in the gym. What better way to show trainer Manny Robles that he was taking responsibility for his actions than to get right back to work with the same team he had just let down so badly? Instead, Ruiz fired Robles and is considering other trainers. That would make more sense if there had been some sort of tactical error in the fight. But Ruiz already admitted he simply didn't train for arguably the biggest fight of his life, and that's not anyone's fault but his own.
HIT – Former Middleweight Titleholder Andy Lee's Second Act
It appears former WBO middleweight champion Andy Lee found his second act in life as a trainer, which makes a ton of sense if you followed Lee's career under the tutelage of the late Emanuel Steward. Lee, 39, left Ireland after his amateur days to live with Steward in Detroit and train at Kronk. The two had a very close personal relationship and that experience ultimately helped Lee win the world title in 2014 two years after Steward's passing. Now, Lee is passing on what he knows in the same way Steward did with him to other fighters. He trains and manages Irish upstart Paddy Donovan, is guiding Jason Quigley back to contention and even helped orchestrate distant cousin Tyson Fury bringing on Javan "SugarHill" Steward for the heavyweight's upcoming rematch against Deontay Wilder.
Photo credit: Amanda Westcott
Check out more boxing news on video at The Boxing Channel 
To comment on this story in The Fight Forum CLICK HERE