Boxrec.com is boxing's indispensable website and the most heavily-trafficked boxing website in the world. Its main competition (such as it is) comes from Fight Fax, which is the only record-keeper whose reports are officially accepted by members of the Association of Boxing Commissions in the United States. Boxrec is free to users. Fight Fax is a pay-for-use service.
Every state athletic commission in America is required by law to send bout results, suspensions, and federal ID numbers to Fight Fax (as are ABC associate members in Canada). Boxrec tries to get this information. Some commissions provide it to the site as a matter of course. Some send it upon request. A few commissions refuse to send the information to Boxrec even when asked.
ABC president Tim Lueckenhoff says, "All our member commissions have been asked to submit results to both Boxrec and Fight Fax. I believe it is even contained in the minutes of the ABC meeting from South Carolina several years ago. However, some commission refuse to send those results [to Boxrec]. There are just a handful that I am aware of. I think all commissions use Boxrec as a reference, but not as the official record keeper. Therefore, it is in the best interest of the sport for all commissions to send their results to both. It is just a few key strokes to get that done, as we all know.""
New Jersey, by virtue of its hosting fights in Atlantic City, is the most visible of the states that refuse to send bout results and suspensions to Boxrec. Neither Aaron Davis (director of the New Jersey State Athletic Control Board) nor Deputy Attorney General Nick Lembo (counsel for the NJSACB) returned telephone calls asking about the reasons for their refusal.
Perhaps that's because there's no good explanation.
*     *     *
The Nevada State Athletic Commission embarrassed itself on February 28, 2013, when it fined Julio Cesar Chavez Jr $900,000 and suspended him for nine months because he tested positive for marijuana use after his September 15, 2012, fight against Sergio Martinez.
Chavez, of course, started the idiocy when he smoked grass and, after testing positive, proclaimed, "I have never smoked marijuana. For years, I have had insomnia, so I went to the doctor and he prescribed some drops for me that contained cannabis. I stopped taking them before the fight with Martinez, and I didn't think I was going to test positive."
Then the grandstanding WBC got into the act, announcing on October 3, 2012, that it had fined Chavez $20,000 and ordered him to enter a drug rehabilitation center.
Chavez responded, "I do not condone what the World Boxing Council said, about their desire to send me to rehab. That's for drug addicts, and I'm not. The Council has not even seen me. How can they say that?"
Perhaps some of the people who pull the strings at the WBC could enter an eating disorder clinic.
But back to Nevada.
Last week, Chavez belatedly and penitently explained his marijuana use to the Nevada State Athletic Commission as follows: "I was told it would help my stress. I was tense for the fight and someone mentioned it to me and that's why I did it eight or nine days before the fight. I couldn't tell you the exact reason why I did it. I just can tell you I was under a lot of stress and had family problems, a lot of things going on in my life. It was the biggest mistake and I'll never do it again."
Chavez also told the commission that he hadn't smoked marijuana before any other fight, but declined to say whether he'd smoked marijuana at any time in his life other than "eight or nine days" before the Martinez fight.
Nine hundred thousand dollars? For smoking marijuana?
Let's get real! What do you think would happen if all NSAC commissioners and commission employees were subjected to random testing for recreational drug use?
As for the WBC; maybe Jose Sulaiman and his executive committee will ask the Nevada commission for three percent of the $900,000 fine as a sanctioning fee.
*     *     *
With the baseball season fast approaching, it seems appropriate to reference what Top Rank's extraordinary director of public relations Lee Samuels describes as his greatest moment in sports outside of boxing.
"I played second base for the Kurland's Drug Store team in the Pennsville [New Jersey] Little League," Samuels recalls. "We wore white jerseys with blue trim. Across the front, it said "Kurland's." I was very proud to wear that jersey. I couldn't hit or field well, but I loved being on the team."
"My father was a rough guy," Lee continues. "He wasn't a people person. He'd been in the Army for seven years and fought in World War II. When I was growing up, he watched wrestling on television every Friday night and loved it. We played catch occasionally, but that was about all. We never went to a ballgame together or anything like that. And he'd never come to any of my games."
"This time, I rode my bike to the game. And there he was, standing on the first baseline. In my first at bat, I hit the hardest ball I'd ever hit. It bounced over the fence in left field for a ground-rule double. That was it as far as moments of glory are concerned. To be honest, I don't think I ever hit a home run. A few years later, I got to high school and saw my first curve ball. I just stood there and said to myself, 'Oh, my God. This isn't going to work.' That's when I stopped playing baseball and started writing."
*     *     *
Do you remember when Manny Pacquiao was criticized in some circles because he supposedly was avoiding "slick African-American fighters" as opponents?
Floyd Mayweather has fought one African-American opponent (an aging Shane Mosley) since April 2006. And Adrien Broner, who's being touted as Mayweather's heir apparent, has faced only one African American (John Redish) in his last fourteen fights. In fact, as best I can tell, "The Problem" has fought only five African Americans (Henry White Jr, Eric Ricker, Terrance Jett, and Allante Davis being the others) in his entire 26-bout pro career. As of this writing, those five Broner opponents have a composite ring record of 21 wins in 69 fights.
*     *     *
THINGS YOU'LL NEVER READ ON A BOXING WEBSITE
Our regular baby-sitter isn't available, so we've asked Roger Mayweather to take care of the kids tonight.
Thomas Hauser can be reached by email at thauser@rcn.com. His most recent book (And the New: An Inside Look at Another Year in Boxing) was published by the University of Arkansas Press.
Tonight's 'ShoBox' Telecast is Another Milestone for the Long-Running Series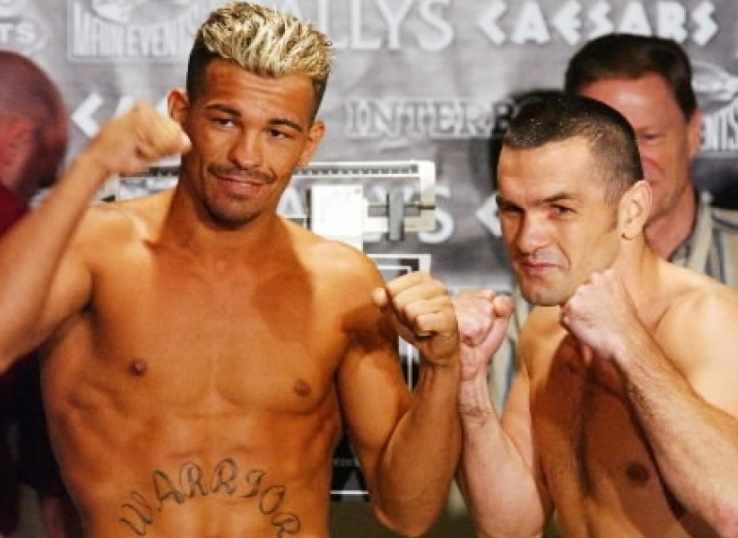 ShoBox: The New Generation hits another milestone tonight. The long running, late night boxing series will air its 250th episode. The Hall of Fame broadcasting team of Barry Tompkins and Steve Farhood, assisted by analyst Raul Marquez, will call the action from the WinnaVegas Casino in Sloan, Iowa (near Sioux City; 77 miles north of Omaha).
Partly because of its time slot (it's tape-delayed for viewers outside the eastern time zone; meaning that everyone gets it at 10 pm) ShoBox doesn't draw big ratings. But it's must-see viewing for hard core fans and people in the industry.
The initial show in 2001 – when ShoBox aired late Saturday afternoons – featured two fighters with identical 17-0 records in the main event: Leonard Dorin and Martin O'Malley.
O'Malley, who hailed from the state of Washington where he was trained by former two-division world champion Greg Haugen, was in too deep but lasted nine rounds before the fight was stopped. Dorin, a two-time Olympic bronze medalist for Romania, then based in Montreal, went on to win the WBC 140-pound title, making him the first what are now reportedly 81 ShoBox alumni to have won a world title. (That's Dorin on the right pictured with the late Arturo Gatti who took the title from him.)
Years from now, when the history of ShoBox is written, historians will note the synergy between it and Native American casinos. One wonders if the show would have lasted as long if not for the Indian Gaming Regulatory Act, the 1988 federal law that legalized gambling on tribal lands, opening up a new horizon for boxing promoters. There are now full-fledged Native American casinos (i.e., with table games and slots) in 28 states. Many are off in the boondocks, a good distance from a major airport, and this is where ShoBox has frequently set up shop. (Don't get into a U.S. geography trivia contest with any of the longtime members of the ShoBox gang.)
Over the years the #1 destination for ShoBox has been the Chumash Casino in Santa Ynez, California (a cowboy town in California wine country), which has hosted 36 shows. In recent years, the Buffalo Run Casino in Miami, Oklahoma, has been a popular destination but that relationship, like that with Chumash, appears to have run its course.
Tonight's ShoBox show is the eighth at WinnaVegas. Looking back, the most interesting card was the July 20, 2018 card that marked the ShoBox debut of Jaron "Boots" Ennis. Two rising Chinese fighters, light heavyweight Fanlong Meng and jumbo-sized heavyweight Zhilei Zang, appeared in off-TV bouts, and there was a zesty 8-round encounter between undefeated lightweights Thomas Mattice and Zhora Hamazaryan, a bout unfortunately marred by a horrendous decision. (The BWAA took the unprecedented step of publicly shaming the two Omaha judges that scored the bout for Mattice; the rematch produced a draw.)
A match-up of undefeated fighters has become a ShoBox staple. Tonight's show was to feature a bout between undefeated super lightweights Shohjahon Ergashev (17-0, 15 KOs) and Keith "The Bounty" Hunter (11-0, 7 KOs) but Hunter's management thought better of it and had him pull out.
The 28-year-old Ergashev, a southpaw from Uzbekistan, remains on the card. Filling in for Hunter is Adrian Estrella (29-4, 24 KOs), a fighter from Mexico who trains in Fort Worth.
In the other bouts on the TV portion of the card, Vladimir Shishkin (9-0, 6 KOs) opposes Ulises Sierra (15-0-2, 9 KOs) in a 10-round super middleweight affair and super flyweight Jarico O'Quinn (13-0-1, 8 KOs) meets Oscar Vasquez (15-2-1, 3 KOs).
The show has a distinct Detroit flavor. O'Quinn was born and raised in the Motor City. Ergashev and Shishkin, a Russian, train with other Eastern European fighters at the reconstituted Kronk Gym where the headmaster is Javan "Sugar" Hill. The nephew of the late Emanuel Steward, Hill has been in the news a lot lately as the new trainer of Tyson Fury.
On paper this is far from the strongest ShoBox card. Shishkin, who reportedly had more than 300 fights as an amateur, in particular is matched soft. His opponent has defeated only three fighters with winning records. But over the years, ShoBox has produced more than its share of upsets so yet another tonight wouldn't be all that shocking.
The executive producer of ShoBox is Gordon Hall who has been there from the very inception. We here at The Sweet Science extend our congratulation to Mr. Hall and his cast and crew on the occasion of their 250th anniversary.
Check out more boxing news on video at The Boxing Channel 
To comment on this story in The Fight Forum CLICK HERE
Avila Perspective, Chap. 81: Robert Garcia's Boxing Academy, 'J-Rock' and More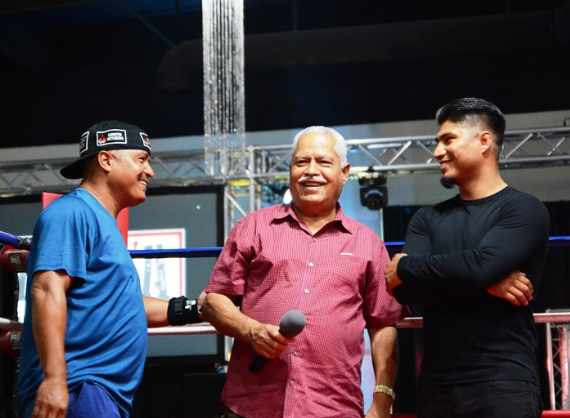 Stacked cars block the long entrance to Robert Garcia Boxing Academy where many of the best prizefighters in the Southwest prepare.
It's Wednesday afternoon and the first shift has arrived.
Just last weekend two RGBA-trained fighters Hector Tanajara Jr. and Joshua Franco returned to their native area San Antonio, Texas and showed off their fighting skills polished in the hills of Riverside, California. It's a human factory of prizefighters of all sizes and ethnicities.
Trainer Robert Garcia, with help from his sons, runs the sizeable gym that includes three boxing rings like a choreographer. He doesn't need charts or tablets, he simply directs the fighters to the ring and tells them the number of rounds they will be trading punches.
Gabriel Flores Jr. of Stockton is chosen to open up the sparring. He's a 19-year-old speedy lightweight from Stockton, Calif. and so far has remained undefeated after 16 pro bouts.
First to spar with the Stockton fighter was Saul "Neno" Rodriguez, the slim power-punching super featherweight from Riverside. Early in his career he was trained by Garcia, first in Oxnard, then, when the Riverside operation was opened, he made the transition too. For more than two years Rodriguez had trained elsewhere but has returned to the Garcia machine. It's hard to get better training.
Flores and Rodriguez sparred for multiple rounds of action that featured what each fighter does best. One is a counter-puncher and the other stalks and punishes. One utilizes speed and agility to offset attacks and the other pressures and pursues while looking for openings and mistakes.
It's a perfect mesh of styles.
Next up was Luis Coria another lightweight with speed and aggressiveness like a wound-up top.
Coria was scheduled to fight Adam Lopez last November in Las Vegas, but when the main event featuring former WBO featherweight titlist Oscar Valdez fell out due to the opponent weighing 10 pounds over the limit, Lopez was asked to step in. That left Coria without an opponent.
"He was well paid to step aside," said Robert Garcia trainer and manager for Coria.
That night Lopez impressed the boxing world by flooring Valdez although eventually losing by stoppage. That could have been Coria. No problem, he will be fighting soon enough.
Coria sparred several rounds with Flores and both showed speed and a contrast in styles.
The gym always operates at crank level and somebody is always preparing for the next big fight. Coming up soon will be WBC and WBO super lightweight titlist Jose Carlos Ramirez who will be traveling to China to defend against Viktor Postol on Feb. 2.
Later in February, Mikey Garcia returns to the ring for the first time since last March. The former featherweight, super featherweight, lightweight, and super lightweight titlist is set to meet former super lightweight and welterweight titlist Jessie Vargas on Feb. 29, at Frisco, Texas.
Pick any season in the year and RGBA is always humming.
J-Rock
WBA, IBF and IBO super welterweight titlist Julian "J-Rock" Williams (27-1-1, 16 KOs) finally returns to the ring and makes his first defense against Jeison Rosario (19-1-1, 13 KOs) on Saturday Jan. 18, in Philadelphia. FOX will televise.
It's homecoming for Williams who grabbed the title with a riveting win over former champion Jarrett Hurd in what I felt was the Fight of the Year in 2019. Both engaged in trench warfare and exhibited the beautiful art of inside fighting rarely seen or allowed by trigger-happy referees anxious to create space. Close-quarter fighting takes talent.
Fighting in front of friends and family can be pretty stressful. Philadelphia is a true fight town and it could be an added distraction for Philly boxer J Rock.
"I try to just block myself from the world. Especially with a hometown fight, people are pulling you 50 different ways, tickets, asking me stupid questions. It's crazy, so I just try to block myself from the world," said Williams about the upcoming fight with Rosario. "Rosario brings ambition to the table. I think he's an ambitious kid. I don't think it's a difficult fight (for me), to be quite honest. I just think it's a matter of being focused and on top of my game, and I think I'll take care of him. I don't think it's difficult, though. He's a decent fighter. We're not going to make him out to be Ray Robinson."
Top Rank in NY
If you are one of the many who wondered whatever happened to Puerto Rico's Felix Verdejo here's your chance to watch the former phenom in action as he meets Manuel Rey Rojas (18-3, 5 KOs) at Turning Stone Resort and Casino in Verona, NY. ESPN+ will stream the Top Rank card.
Verdejo (25-1, 16 KOs) fought once in 2019 and defeated cagey veteran Bryan Vasquez by decision last April in New York City. He remains a big draw but since turning pro nearly 10 years ago has failed to live up to expectations as the next Felix Trinidad. There's only one "Tito" Trinidad.
Rumors abound when it comes to Verdejo who was supposedly involved in a motorcycle accident and other escapades. Life can get in the way. Here he is now 26 years old and looking to conjure up some of that old fervor he had as a teen.
Fights to Watch
Fri. Showtime 7 p.m. Shojahon Ergashev (17-0) vs Adrian Estrella (29-4).
Sat. ESPN 4 p.m. Eleider Alvarez (24-1) vs Michael Seals (24-2); Felix Verdejo (25-1) vs Manuel Rey Rojas (18-3).
Sat. FOX, 5 p.m. Julian Williams (27-1-1) vs Jeison Rosario (19-1-1); Chris Colbert (13-0) vs Jezzrel Corrales (23-3).
Photo: Eduardo Garcia, the Garcia family patriarch, is flanked by sons Robert and Mikey. Photo by Al Applerose.
Check out more boxing news on video at The Boxing Channel 
To comment on this story in The Fight Forum CLICK HERE
Julian "J-Rock" Williams: From a Homeless Teenager to a World Boxing Champ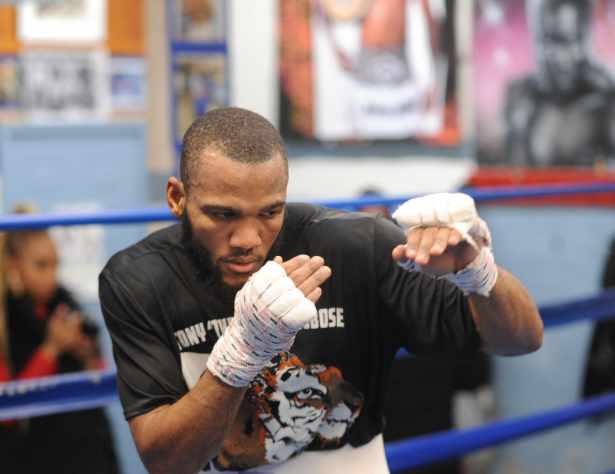 Last weekend was a mixed bag for Philadelphia fighters. Undefeated welterweight Jaron "Boots" Ennis looked sensational on Friday while scoring a fourth-round stoppage of Bakhtiyar Eyubov. The next night, a raggedy performance by Jesse Hart in a super middleweight contest with Joe Smith Jr scraped away some of the city's prestige as an incubator of great fistic talent. (Thirteen fighters identified with Philadelphia are in the International Boxing Hall of Fame; bet you can't name seven.)
On Saturday at Philadelphia's Liacouras Center, WBA/IBF 154-pound world title-holder Julian "J-Rock" Williams (27-1-1, 1 NC, 16 KOs) seeks to right the ship, so to speak, when he opposes Jeison Rosario (19-1-1, 13 KOs) in the first defense of the titles he won from Jarrett Hurd last May in one of the most entertaining fights of 2019. It's a homecoming for Williams, 29, who trains at the James Shuler Memorial Gym, named for the former middleweight contender who died at age 26 in a 1986 motorcycle accident. "J-Rock" last fought in Philly in 2011 at a small show at a National Guard armory when he was still a 6-round fighter.
Williams, like so many professional boxers, had a rough upbringing. According to an article by Frank Fitzpatrick in the Philadelphia Inquirer, during his school days Williams lived in an old motel that had been converted into a homeless shelter. His mother battled substance abuse and his father was in prison.
The shelter was located a long distance from his high school, Overbrook, in gritty West Philadelphia. Getting there required a trip on two buses sandwiched around a ride on the "el" train.
The faculty at Overbrook High School, who work in a 95-year-old building, face all the challenges that are endemic to inner-city schools populated by students from economically disadvantaged homes. But the school is famous because of the achievements of certain alumni. The great NBA player Wilt Chamberlain went to Overbrook High, as did the actor Will Smith and Guion S. Bluford Jr, America's first African-American astronaut. If "J-Rock" can keep winning, he may etch his name on that roster.
Williams will go to post a big favorite over Rosario, a 24-year-old Miami-based fighter from the Dominican Republic. They have a common opponent in Nathaniel Gallimore who was out-pointed by Williams after previously saddling Rosario with his lone defeat (TKO by 6). Rosario got this coming assignment when Jarrett Hurd changed his mind, declining a rematch with Williams after initially activating his rematch clause. (Hurd has a stay-busy fight later this month on the undercard of the Danny Garcia vs. Ivan Redkach bout at Brooklyn's Barclays Center.)
Williams vs. Rosario will air on FOX and FOX Deportes as part of a triple-header. In the co-feature, 23-year-old Brooklyn super featherweight Chris Colbert (13-0, 5 KOs) is matched against Panamanian southpaw Jezzrel Corrales (23-3, 9 KOs) in a match billed for an interim WBA title. The flashy Colbert, reportedly 103-3 as an amateur, has a big upside if he can improve his punching power.
As for Julian Williams, down the road he figures to meet up with Jermell Charlo who recently recaptured his WBC 154-pound title while avenging a controversial loss to Tony Harrison. Williams' lone defeat was inflicted by Jermell's twin brother Jermall Charlo who now competes a weight class up at 160. If that fight materializes, "J-Rock" would be the second person to lock horns with both Charlo twins at the pro level following Austin Trout.
That may be putting the cart before the horse, but Williams, who is a good interview because of his forthrightness, is supremely confident. "I don't think it's a difficult fight for me, to be quite honest," he says. "We're not going to make (Rosario) out to be (Sugar) Ray Robinson. But he has the ambition to win, so you can't underestimate him."
Considering the obstacles that "J-Rock" has already overcome, it would seemingly be foolish to bet against him.
– – –
Philadelphia fighters in the International Boxing Hall of Fame listed in order of their year of induction: Joe Frazier (1990), Tommy Loughran (1991), Philadelphia Jack O'Brien (1991), Joey Giardello (1993), Harold Johnson (1993), Bob Montgomery (1995), Matthew Saad Muhammad (1998), Lew Tendler (1999), Battling Levinsky (2000), Jeff Chandler (2000), Benny Bass (2002), Harry Lewis (2008), Bernard Hopkins (2020).
Photo credit: Darryl Cobb / TGB Promotions
Check out more boxing news on video at The Boxing Channel 
To comment on this story in The Fight Forum CLICK HERE