Klitschko – Pianeta: Easy Win, No Win Situation
ANOTHER LONG, LONG SHOT – There are occasions when the outcome of a scheduled boxing competition, even a big money, high profile bout that generates millions of dollars at the live gate and millions of viewers for the broadcast seems to have a result so obvious that it's not unreasonable to question why the fight was made in the first place.
Such seems to be the case in this Saturday's scheduled 12 round, consensus heavyweight engagement between champion Wladimir Klitschko and challenger Francesco Pianeta, 28-0-1 (15KO).
The most realistically accurate ways to define how Pianeta's chances shape up are either extremely slim or absolutely none at all. On paper, this is not the fight to revive the big boy division. We anticipate the word pinata will probably come to mind, but hopefully not reenacted by the bat in Wlad's right mitt.
The only good news for skeptics may be that there are always enough upsets to maintain the point about why the fights have to be fought. In the case of Klitschko-Pianeta there are two sides to the coin.
Will Pianeta fight the smart, heads-up defensive battle he needs or will he get ahead of himself and be flipped flat on his tail before everyone gets done at the beer line? Could we see another of those long shot upsets, the sort of which Klitschko was the loser of in debacles against Ross Puritty or Lamon Brewster.
28 year old Pianeta, a lefty from Cosenza, Italy who relocated to Germany,is generally listed around 6'3 to 6'5. Standing next to Klitschko, who's regularly listed at 6'6 and looks the part, Pianeta appears closer to 6'3. Since using his southpaw/right jab as both a range finding and combination-opening weapon,those few inches will be crucial (Klitschko's approximately 81″ reach could be nearly half a foot longer than Pianeta's if Klitschko throws straight up the middle).
Having seen Pianeta live four times recently, including a sloppy ten round waltz against Frans Botha last September, I'd have to say a realistic proposition on the over/under distance is six full rounds. If both men show up in similar shape to their most recent appearances,I'd have to strongly recommend betting the under.
The best performance I've seen from Pianeta, a sturdy counter puncher,came against Albert Sosnowski, a tough mauler who came in with twice as many fights as Pianeta when they met for an EU belt in April 2009 and fought to a draw. Sosnowski subsequently showed good durability before being stopped by Vitali Klitschko.
Pianeta beat then undefeated Johan Dubhaupas in a hard fought brawl on the undercard of Nikolai Valuev – Evander Holyfield after he stopped hard headed Scott Gamer on the undercard of Valuev – John Ruiz II. Among recognizable names on his resume,Pianeta also had a harder than anticipated go against Oliver McCall in 2012.
McCall and Botha were once legitimate, world class heavyweights, maybe even top 5, during days when Holyfield, Lennox Lewis and Mike Tyson were still ruling the heavyweight heap. Neither the Atomic Bull nor White Buffalo were real threats when Pianeta met them.
No one can question Pianeta's determination, or the likelihood he trained to the utmost of his ability. Pianeta is credited with successful cancer therapy, so he's used to daunting challenges. What he probably couldn't do is double his punching power and add footwork more resembling Tony Thompson than David Price.
As for Klitschko, it will be interesting to see how much longer he remains to rumble among the ranks of active pro fighters once older brother Vitali reties. Vitali's milestone day that may have already occurred,pending hindsight from future Ukrainian political events.
Pianeta has never faced a top flight fighter during their prime years. Wherever Klitschko is in terms of his overall, present day ability level, he's probably near top form or not far from it, making more and more progress in the public school of thought regarding his Hall of Fame qualifications.
Klitschko, quite likely,has not lost a single round since his last visit to SAP Arena in Dec 2008, when he scored a one sided TKO 7 over Hasim Rahman. Even back then the K2 brothers were so hard up for feasible foes that even Riddick Bowe, who appeared, thankfully one time only, got mentioned as a possible opponent.
Klitschko's amazing string of eight fights, or 72 rounds of duke-out domination, should make measuring specific probabilities a simple math. In our conking calculations the odds come out to way over 10 – 1. As in closer to 20-1.
This is what is most likely to unfold in Mannheim this weekend: Klitschko leads, Pianeta follows, both too slowly at first. What happens when Klitschko picks up the pace at the end of round 1 determines the rest of the fight. If Pianeta follows too fast, a la Thompson against Klitschko last summer, wave goodnight early. One overhand right will bounce Pianeta off the ropes, the other will bounce him off the canvas.
If Pianeta can stand his ground for a few rounds, moving side to side behind southpaw counters, he'll find his best chance at getting Klitschko open defensively, but the words slim and none echo.
Pianeta is a likable fellow who's battled cancer. That doesn't mean he can be considered a live underdog.
Klitschko may be trying to send some message regarding a much discussed fall fight in Moscow against Alexander Povetkin. The reality of Klitschko-Povetkin is that this fight is a preview, a measuring stick situation.
I can't get the image of Pianeta struggling in the last couple rounds with a faded and fattened Botha. There's always a chance Pianeta jolts everyone with a perfectly timed surprise flurry from inside, but realism dictates Klitschko scores the TKO well before the halfway point. I'll jump out of my seat as fast as anybody if it looks like the apple cart is tipping.
Klitschko TKO 5, with the lack of serious challengers squawked about more than Klitschko's power or permanence.
Fair or not, paychecks aside, by some measures Klitschko – Pianeta is an easy, no win circumstance for each participant.
Unless things get crazy, the media will be asking more about Povetkin than Pianeta.
Introducing Top Prospect Raeese Aleem, the Pride of Muskegon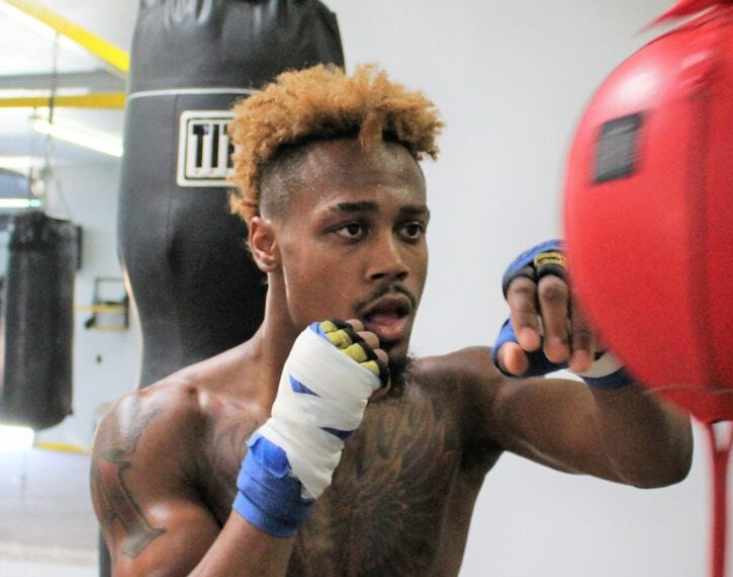 At age 29, Raeese Aleem has yet to appear in a 10-round fight, but that will almost assuredly happen this year. The undefeated (15-0, 9 KOs) super bantamweight from Muskegon, Michigan, takes another step in that direction on Friday, Feb. 14, when he opposes San Antonio's Adam Lopez (16-3-2) at Philadelphia in a bout that will air on "ShoBox," the long-running SHOWTIME series that's been a springboard for 81 fighters who went on to win world titles.
Aleem earned a black belt in karate before taking up boxing and becoming a four-time Michigan Golden Gloves champion. As an amateur, he and his coach Terry Markowski did a considerable amount of traveling between meets to find good sparring. Grand Rapids, an amateur boxing hotbed, was just down the road, but Detroit and Chicago were a good three hours away and on occasion they went on an even longer excursion into Ohio.
Aleem turned pro in 2011 and had his first 10 fights on the Midwest circuit, venturing as far north as Green Bay and as far south as Cincinnati. At the time, he worked in the produce department of Meijer's, a regional rival of Walmart. His bosses, he notes, were generous in letting him juggle his work schedule around his boxing assignments.
For a boxer with designs on winning a world title, the Midwest circuit is like a bicycle with training wheels. Aleem had to shake free of it to see how far he could go. Besides, getting fights was getting tougher and tougher. There's a 28-month gap in his pro timeline that includes all of 2013. He had several fights fall out during this frustrating quiescence.
If you're an aspiring film actor, you go to Hollywood. If you're an aspiring boxing champion, you go to Las Vegas. Not a week goes by without a young fellow turning up here to test his mettle in one of the many local gyms with the hope of attracting the eye of one of the major promotional firms.
"When I came to Las Vegas," says Aleem who has a daughter back in Michigan, "I had no family here, no friends." He was directed to Barry's boxing gym, run by ex-boxer Pat Barry and his wife Dawn, retired Las Vegas police officers, and started training under their son-in-law Augie Sanchez. But Sanchez, the last man to defeat Floyd Mayweather Jr (accomplished when they were amateurs), had other priorities. He is an assistant coach with Team USA which obligates him to spend a good deal of his time at the U.S. Olympic Training Center in Colorado Springs.
Things started looking up for Aleem when he joined the Prince Ranch stable under the management of Greg Hannley. At the Prince Ranch Gym, where the head trainer is Bones Adams, he has sparred with such notables as Nonito Donaire and former WBO 122-pound champion Jessie Magdaleno.
Aleem doesn't miss the weather in Muskegon, a lakefront city where sub-freezing temperatures are the norm in the dead of winter and snow is forecast for all of next week. But he still has one foot in his hometown, as evident by his unbroken bond with Terry Markowski. In an era when some boxers appear to change trainers as often as they change their underwear, Aleem has remained loyal to Markowski who has been in his corner for all of his pro fights and will be there again on Feb. 14.
Markowski, who teaches boxing at the Muskegon Rec Center, is a protégé of Muskegon's most esteemed boxer, the late Kenny Lane. The epitome of a crafty southpaw, Lane, a lightweight and junior welterweight, was a three-time world title challenger during a 100-fight career that began in 1953.
The relationship between Raeese Aleem and Terry Markowski dates back to 2003 when Aleem resided in the nearby village of Ravenna, where Aleem's father, the patriarch of a large blended family, planted Raeese and his siblings to get them away from the temptations of Muskegon which has several blighted areas. "It was a culture shock for me when I started going to school in Ravenna," says Aleem, looking back, as none of his schoolmates looked like him.
This will be Aleem's fifth fight in Pennsylvania where he has made four of his last five starts. The connecting thread is Reading, Pennsylvania gym operator-turned-promoter Marshall Kauffman who has been credited with keeping boxing vibrant in the Keystone State.
This being Aleem's national television debut, it's important that he make a good showing. His Las Vegas trainer Bones Adams, a former world champion in Aleem's weight division, expects nothing less. "I'm confident he will be a world champion someday," says Adams.
Photo credit: Mario Serrano / Prince Ranch Boxing
Check out more boxing news on video at The Boxing Channel 
To comment on this story in The Fight Forum CLICK HERE
A Bouquet for Danny Garcia in This Week's Edition of HITS and MISSES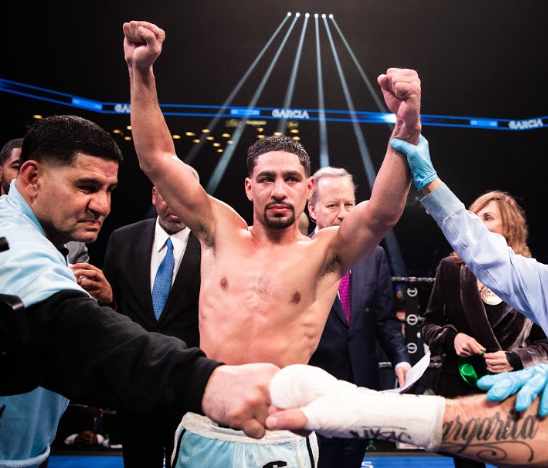 Two-division champion Danny Garcia had the spotlight all to himself over the weekend in a stay-busy fight against Ivan Redkach on Saturday night at Barclays Center in Brooklyn. It was the main event of a Showtime Championship Boxing tripleheader that had the odd privilege these days of not being counterprogrammed by a Top Rank show on ESPN or any other kind of boxing card on DAZN.
So Garcia, 31, from Philadelphia, had the chance to remind people how excellent a fighter he is in full force, which would help him greatly in his effort to secure an unlikely bout against WBA champ Manny Pacquiao or remain first in line to face WBC and IBF champ Errol Spence whenever the Texan recovers from the injuries he sustained in a car accident in October.
But did Garcia pull it off? Here's the latest edition of HITS and MISSES.
HIT – Danny Garcia's Pristine and Precise Technique 
The best parts about Garcia were on full display against Redkach. That was made easier by Redkach's lack of anything that might have given Garcia any real problems, but nonetheless Garcia was able to show the lovely footwork and balanced countering ability that made him so formidable at junior welterweight. There's just something special about seeing Garcia fight. The economy of his movement inside a boxing ring is something that is just plain different than just about any other world-class fighter in the world today. In a fight that most people probably would have preferred he just skipped, and one that didn't turn out to be any different than everyone expected, at least Garcia's beautiful boxing was on display.
MISS – Showtime Sparring Sessions
In addition to Garcia-Redkach, Showtime rounded out its tripleheader with undefeated junior featherweight Stephen Fulton taking on former Muay Thai fighter Arnold Khegai and former unified junior middleweight champion Jarrett Hurd taking on career welterweight Francisco Santana. While Fulton's fight against Khegai seemed like a legitimate prizefight, there was something about the other two bouts that screamed sparring sessions. That was especially the case for Hurd's bout. Not only was Hurd in there with a middling welterweight, but he also used the rounds of the fight to work on vastly different boxing techniques than what made him so popular in the first place. Showtime might not have the pull they once had with the people over at the PBC offices, but they for sure need to get more involved in vetting matchups if they hope to remain afloat within the competitive boxing landscape of today.
HIT – Stephon Fulton's Title Chances at 122 Pounds
Fulton is a very solid boxer who digs to the body and has a fast, clean jab. Khegai was the perfect kind of opponent for the 25-year-old. He was very game and never stopped trying to win. Additionally, his background in Muay Thai offered some different looks to Fulton that should help him on his way toward world title contention. In the end, Fulton outworked Khegai to hand the tough 27-year-old the first loss of his career. Now let's hope Fulton is off to bigger and better things such as challenging for a world title. He's ready right now.
MISS – Andy Ruiz's Continued Soap Opera
The best thing former unified champion Andy Ruiz could have done after blowing the rematch against Anthony Joshua in December is getting right back to work in the gym. What better way to show trainer Manny Robles that he was taking responsibility for his actions than to get right back to work with the same team he had just let down so badly? Instead, Ruiz fired Robles and is considering other trainers. That would make more sense if there had been some sort of tactical error in the fight. But Ruiz already admitted he simply didn't train for arguably the biggest fight of his life, and that's not anyone's fault but his own.
HIT – Former Middleweight Titleholder Andy Lee's Second Act
It appears former WBO middleweight champion Andy Lee found his second act in life as a trainer, which makes a ton of sense if you followed Lee's career under the tutelage of the late Emanuel Steward. Lee, 39, left Ireland after his amateur days to live with Steward in Detroit and train at Kronk. The two had a very close personal relationship and that experience ultimately helped Lee win the world title in 2014 two years after Steward's passing. Now, Lee is passing on what he knows in the same way Steward did with him to other fighters. He trains and manages Irish upstart Paddy Donovan, is guiding Jason Quigley back to contention and even helped orchestrate distant cousin Tyson Fury bringing on Javan "SugarHill" Steward for the heavyweight's upcoming rematch against Deontay Wilder.
Photo credit: Amanda Westcott
Check out more boxing news on video at The Boxing Channel 
To comment on this story in The Fight Forum CLICK HERE
The Hauser Report: Garcia-Redkach and More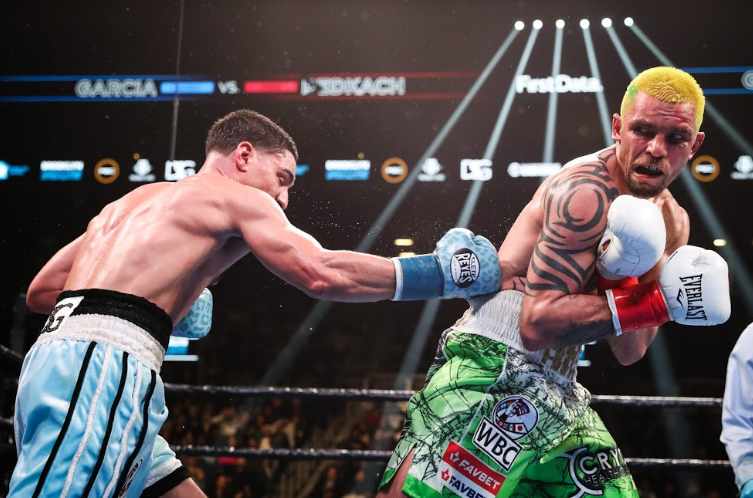 Boxing made its debut at Barclays Center on October 20, 2012, with a fight card headlined by four world title bouts. Danny Garcia, Erik Morales, Paulie Malignaggi, Peter Quillin, Devon Alexander, Danny Jacobs, and Luis Collazo were in the ring that night. The franchise grew nicely. Fans who went to Barclays saw good featured fights with solid undercard bouts. But as of late, the arena's fistic offerings have faded.
Barclays cast its lot with Premier Boxing Champions. And PBC has moved its prime content to greener pastures (green being the color of money). There were five fight cards at Barclays Center in 2019. Each one struggled to sell tickets.
January 25 marked the thirty-ninth fight card at Barclays. The arena was half empty. The announced attendance was 8,217 but that included a lot of freebies. There were six fights on the card. As expected, fighters coming out of the blue corner won all of them. That's what happens when 6-0 squares off against 2-10-1.
Three of the fights were televised by Showtime Championship Boxing, which has also been diminished as a consequence of a multi-year output deal with PBC.
In the first of these bouts, Stephen Fulton (17-0, 8 KOs) and Ukrainian-born Arnold Khegai (16-0, 10 KOs) met in a junior-featherweight bout. Each had fought the usual suspects en route to their confrontation. There was a lot of holding and rabbit-punching which referee Steve Willis ignored. Eventually, Fulton pulled away for a unanimous-decision triumph.
Next up, Jarrett Hurd (23-1, 16 KOs) took on Francisco Santana (25-7, 12 KOs).
Hurd is a big junior-middleweight who held the WBA and IBF 154-pound titles until losing to Julian Williams last year. Santana is a career welterweight who had lost three of his most recent four fights and had won only three times in the last five years.
Hurd was expected to walk through Santana. But he was strangely passive for much of the fight, which led to the strange spectacle of Santana (the noticeably smaller, lighter-punching man) walking Jarrett down for long stretches of time. Francisco is a one-dimensional fighter and was there to be hit. When Jarrett let his hands go, he hit him. But he fought like a man who didn't want to fight and didn't let his hands go often enough.
By round seven, the boos and jeers were raining down. Hurd won a unanimous decision but looked mediocre. That's the most honest way to put it. One wonders what tricks losing to Julian Williams last year played with his mind.
Also, it should be noted that, when the winning fighter thanks God in a post-fight interview and the crowd (which supported Jarrett at the start of the bout) boos at the mention of The Almighty, there's a problem.
"The crowd didn't love it," Hurd acknowledged afterward. "But you gotta understand; I got the unanimous decision and I did what I wanted to do."
The main event matched Danny Garcia (35-2, 21 KOs) against Ivan Redkach (23-4-1, 18 KOs).
Garcia had a nice run early in his career, winning belts at 140 and 147 pounds. But later, he came out on the losing end of decisions against Keith Thurman and Shawn Porter. Other than that, he has gone in soft for the past five years.
Redkach is a junior-welterweight who had won 5 of 10 fights during the same five-year time frame.
There was the usual pre-fight nonsense with Garcia telling reporters, "We picked Redkach because he's dangerous and we knew he'd be tough." But in truth, Redkach had been whitewashed by Tevin Farmer at 135 pounds and was knocked out at the same weight by John Molina Jr (who never won again).
Garcia, like Hurd, was a 30-to-1 betting favorite.
Redkach fought a safety-first fight. Also, safety second and third. There wasn't one second when it looked as though he had a realistic chance of winning the fight or fought like he did.
One of the few proactive things that Ivan did do was stick out his tongue from time to time when Garcia hit him. Then, at the end of round eight, he bit Danny on the shoulder while they were in a clinch. At that point, one might have expected referee Benjy Esteves to disqualify Redkach. But Esteves seemed to not notice.
Rather than go for the kill after the bite, Garcia eased up and cruised to a unanimous decision. Meanwhile, by round eleven, the crowd was streaming for the exits. Most of the fans were gone by the time the decision was announced.
Garcia and Hurd had set-up showcase fights scheduled for them. And neither man delivered the way he should have.
Meanwhile, a final thought . . . Sunday, January 26, would have been Harold Lederman's eightieth birthday.
Harold was the quintessential boxing fan and loved the sport more than anyone I've known. He never missed a fight at Barclays Center unless his health prevented him from coming or he was on the road for HBO. He died eight months ago.
As Saturday night's fight card unfolded, I imagined Harold sitting beside me. He would have had a kind word for everyone who came over to say hello and loved every minute of it. Harold Lederman at the fights was a happy man.
Photo credit: Amanda Westcott
Thomas Hauser's email address is thomashauserwriter@gmail.com. His most recent book — A Dangerous Journey: Another Year Inside Boxing — was published by the University of Arkansas Press. In 2004, the Boxing Writers Association of America honored Hauser with the Nat Fleischer Award for career excellence in boxing journalism. On June 14, 2020, he will be inducted into the International Boxing Hall of Fame.
Check out more boxing news on video at The Boxing Channel 
To comment on this article in The Fight Forum CLICK HERE