Avila's Las Vegas Fight Journal: May Day 2013
Springtime in Southern California can be the best time of the year. With temperatures in the 80s and a brisk wind blowing through the Cajon Pass, we breezed up the mountain freeway toward Las Vegas in speedy fashion with the wind at our backs.
Of course, we had to look out for the Highway Patrol.
It was Thursday morning and after a three hour drive or less, we motored right up to the 50 Cent Boxing Gym on the west side of the Las Vegas Strip. A group of cars including a sterling looking Bentley were parked in front of the spanking new boxing facility.
Media types roamed outside of the gym so we looked for a doorway and walked right through. The place was packed with reporters and boxers. In one of the boxing rings a fighter was getting his hands wrapped. On the corner was Roy Jones Jr. who looked our way. As I scoured the gym I spotted Muhammad Mubarak, a boxing journalist and artist who waved me over.
Mubarak showed us around the brand new gym including the sauna, lunch room, weight room and treadmills. The inside of the spacious boxing gym was designed with red, white and some black. And on the west corner of the gym was an artist rendering of "The Greatest," Muhammad Ali.
"I did that," said Mubarak, who has produced some great artwork over the years.
Over all, the boxing gym was very impressive, including the art work.
Finally the boxer's hands were fully wrapped and he began to do mitt work. Once I saw the boxer's face I realized it was Canada's light heavyweight Jean Pascal. He was in the middle of preparations for his clash with fellow Canadian Lucian Bute. A few days later the fight would be canceled because of an injury suffered by Bute.
Pascal looked over toward me as if trying to figure out who I was. So did Roy Jones Jr. Maybe I've changed a bit. Or maybe they recognized me but can't remember from where. Pascal hit the mitts but kept dropping his hands after connections. It seemed like a bad habit forming right before my eyes. Nobody said anything.
Later on, Yuri Gamboa showed up and was standing up on the ring watching Pascal do his mitt work. A few other fighters are mulling around the media guys with cameras, recorders and notebooks.
After an hour I and photographer Al Applerose decided we had seen enough and headed toward our hotel that we booked for the weekend.
We killed time waiting to meet with a boxer and trainer at a designated time. During our wait we received a phone call from a very good friend. We decide to change course and meet with our friend at an Italian deli. Meanwhile, the trainer and boxer couldn't make the appointment so things worked out fine. After a few deli sandwiches we headed out to a comedy club inside the Plaza Hotel. It's called The Guidos of Comedy at the Bonkerz Club. We all had some laughs from the three comics and head out toward another section of Las Vegas. This time we're going to see a new movie, Iron Man 3. It's in 3D. It starts at midnight. I'm falling asleep during the commercials and previews then the movie started and I definitely can say that the film was never boring. Around 3:30 a.m. we all go our separate ways. By the time I sleep it's already 4:30 a.m.
Friday
I can't really sleep past 8 a.m. so I head to a Starbucks to grab a cup of Joe. It doesn't really taste good. But I start receiving phone calls from the boxing trainer we missed the previous evening and make an appointment to meet in North Las Vegas.
We meet at Nevada Partners where a boxing gym used to be located. Now it's more of a community center and we eat at the cafeteria with two trainers and a conditioning coach. These are really good people that I've known for just a few years but it seems I've known them for longer. They're real boxing people who know the sport and though they don't need it in their lives, they still are big contributors in their own ways. After a great breakfast and good conversation we leave our separate ways.
After a short drive we reach the MGM Grand and park in its monstrous parking structure. I've heard of people getting lost in there for hours. We find an open space right near the stairwell and close to the casino itself. I feel like George Costanza in "Seinfeld" who keeps talking about the great parking spot he found like some conquering hero. "Can you believe that parking space I got? Is that a great spot or what!"
We walk a short way to get our press credentials. I notice that security has been beefed up quite a bit. It's a sign of the times. The weigh-ins are going to start in a few hours and we file our way through the crowd already gathering. I'm about 20 feet from the media center when I spot a familiar face and she spots me at the same time. It's Brandy Badry, a female prizefighter from Canada that I met several years ago in Palm Springs. She's a tall brunette with striking looks and numerous tattoos. She loves the fight game and always has enthusiasm about anything related to prizefighting. We talk a short while and she introduces her friends and I introduce her to photographer Al Applerose, then we part ways. She promises to let me know when she fights again.
People are trying to gain entrance to the media room but security guards are vigilant. They wave us through. One of them recognizes me and says "I'm not ignoring you, it's just these people are trying to get in."
Inside there must be over 100 reporters sitting, standing or mulling around with their heads pointed down as they look at their cell phones. We head toward the front of the room that is less crowded and I spot some open tables and outlets to sit down. Along the way I shake hands with LA Times' Lance Pugmire, BoxingScene.com's Rick Reeno reaches out, as does Norm Frauheim of the Phoenix newspaper Arizona Republic. I end up finding a space near Ryan Maquinana, a young talented sportswriter. I see Mia St. John who is being questioned or interviewed by a couple of people. We wave at each other. She's wearing red. She's dressed to kill. She's always dressed to kill.
Once I sit a few of my friends drop over and we discuss the fights. Everyone wants to know who is picking who. I usually don't reveal my picks because it causes discord with the fighters especially if I don't pick them to win. So I usually refrain. Press agents get upset by this but they don't know our end. They just want to publish in their press releases which reporters are picking which fighters. I'd rather piss off a press agent than a fighter. Years back, I lost touch with Fernando Vargas because of a pick. For years I couldn't get an interview with the "Ferocious" one. Things are cool now, but back then I had to improvise. Since then I rarely give predictions on record.
Around 2:30 p.m. most of the reporters and photographers run toward the arena to record the weigh-ins. Floyd Mayweather's team and Robert Guerrero's team are already in the arena awaiting their turn to stand and pose.
I stay behind and watch the whole thing in the media room. It's being televised on a big screen and it's more comfortable to sit back and watch and type out a report if necessary. Nothing much happens.
After the proceedings the reporters begin filing back into the media center. One of the people that walk up to me is Mia St. John so we talk a while about this and that. I've known Mia for about 15 years now. She hasn't changed in appearance much. She still dazzles. Later, Sue Bird of the WBC walks over and we all chat. Women's boxing is the topic and later a few more women's boxing advocates walk over too. Everyone has a theory on women's boxing and why it hasn't succeeded so far. It's obvious, but most do not see the obvious. They point toward other more ridiculous reasons. Those that know women's boxing understand its all about exposure. Female boxing is rarely televised. You can count the number of times female boxing has been shown on TV by the number of total eclipses that take place. It's rare. Most people don't understand that simple fact.
Around 4:30 p.m. we began gathering our equipment to head toward the Cosmopolitan Resort nearby on the Strip. It's a swanky hotel casino with an incredible chandelier in the main room and has been a hot spot for every well-dressed 20 to 40-year old since it opened. I've yet to watch a boxing match in its confines so I'm a little curious. We go through a maze of configurations trying to locate the ballroom where the fight card is going to take place. On the fourth floor we're guiding to a desk where a kind woman checks the list and gives our credentials to us. Inside there are many journalists and boxing fans waiting to get inside. A few boxing people ask me where to pick up credentials. I run into an old boxing fan who I hadn't seen in many years. He was an avid reader of mine and lets me know that he has moved to Lancaster and can't read my stories any more. He doesn't have Internet so he relies on newspapers. He complains that La Opinion doesn't cover boxing as much as La Prensa in the Inland Empire or Riverside Press-Enterprise. But here he is alone, anxious to watch boxing. He says his friends all like soccer instead. So he comes to the fights alone. We talk awhile until its time for media to take their seats.
As we walk inside I'm caught by surprise at the enormity of the ballroom. On the far side is a slew of blackjack tables with dealers. On the other side is a food cafeteria. I spot Paul Malignaggi but decide not to bother greeting him, he's busy covering the fight card for Showtime. I also see a number of fighters in street clothes who are there to watch the fights and be seen. Jesus Soto Karass, Andre Berto, Gamboa, Ana Julaton, Artemio Reyes Jr., Andre Dirrell and rap artist and promoter 50 Cent are all there.
Julaton, who is working as a journalist that night, asks to sit next to me. The seat is vacant. Doug Fischer is on the other side of me and we all exchange boxing conversation until the fight card begins. Fischer is the best boxing writer in the world in my estimation and not just for his writing skills, but for his overall knowledge about the sport. It's the kind of knowledge that most so-called boxing journalists do not have simply because they seldom visit boxing gyms. Fischer visits them constantly. Other journalists merely visit gyms on media day and only know about the sport from watching it on television. Boxing writers from other eras must be kicking in their graves at most boxing writers today. They used to literally camp out in boxing gyms like the Main Street Gym in Los Angeles or other places around the country.
There are very few true boxing writers today like Fischer. I've known him for about 14 years and he knows his craft. A few others like Gabe Montoya, Joe Miranda, Francisco Salazar, Elie Seckbach and Igor Frank are journalists that actually visit various gyms and see the new kids being groomed for the big time. They know who's good long before the so-called experts on television declare them as newly discovered talent.
A few of the guys I've been watching for years are fighting on the Cosmo card like Antonio Orozco against Jose Reynoso. It's the main reason I'm attending this card. These guys have battled in sparring and now it's for real. In the end Orozco ends it with a knockout win over southpaw Reynoso. It's a good fight and sad at the same time for someone like me who has seen the Riverside fighter as an amateur and climb to main event status. I also saw Orozco as an amateur and here he is too.
Another fighter of interest is Anthony Dirrell, who had been out of action for more than a year because of a motorcycle accident. His opponent Don Mouton is a tough cookie that I've seen before. They walloped each other mercilessly trying to prove who was tougher. After the beating they hugged and shook each other for giving such a great show. People were impressed. Dirrell won the decision but Mouton won the hearts of the fans with his effort. It's a tough sport.
Recent U.S. Olympians Joseph Diaz Jr. and Errol Spence Jr. both won their respective fights by knockout. They looked very good, probably the best I've seen them since they turned professional. Another Olympian heavyweight, Dominic Breazeale, also won by knockout.
Between fights female prizefighter Julaton gave a few of her opinions on the fights and proved insightful and intelligent. No surprise. She's a former world champion and has experienced the good and bad of the sport. She's looking for another world title bid, but in the meanwhile, Julaton is working as a journalist. She says she can appreciate the other side of boxing now.
After I file my story I looked around to see who was still around. Nobody. I'm last man standing. Photographer Applerose is waiting for me and we head to our hotel. It's 12:30 p.m. but in the main casino area the Cosmopolitan is flooded with girls walking hand in hand through the glitzy hotel. It's late.
Saturday
At 7 a.m. I awake and grab coffee downstairs instead of at Starbucks. The coffee at the hotel is much better. I walk to the sports book to see what transpired the night before and discover that my favorite team the L.A. Clippers got trounced again. The Clippers have been my favorite team since Bill Walton joined them in the mid-80s. I used to have season tickets that I paid only $180 for because nobody wanted to see them play. They were mostly bad all of these decades until the last two years. But they lost. So did the Lakers earlier in the week. Oh well.
After showering and dressing I head out toward an auto parts store to get some fluid for my steering column. It's making noise and we can't take a chance waiting to get back to Southern California. I get a number of phone calls as we drive to the MGM Grand for a press conference at 10:30 a.m.
I grab my media credential outside the arena and literally run into Gabe Rosado who is fighting later in the day. We both go through the guard rail and I head up an escalator for the media center.
To my surprise there are a couple of hundred reporters at the morning press conference for Paul Malignaggi and Adrian Broner. They're scheduled to fight on June 22 at Barclays Center Arena in Brooklyn. It's going to be good.
Broner speaks first and starts ranting about some supposed ex-girlfriend of Malignaggi that now likes "the Problem." It gets chuckles from his group of followers all dressed in red but not too much from the press. It's kind of like an inside joke I guess. He then talks about his willingness to move up in weight and challenge Malignaggi, a true welterweight and holder of the WBA welterweight world title. It's good stuff. Broner is talented and has the ability to make the jump.
Malignaggi gets his turn and rebuts several of Broner's comments including the so-called ex-girlfriend. By the time the Brooklyn speedster finished both he and Broner are exchanging remarks and quips at machine gun pace. This is Malignaggi's pace. He's whip quick with the verbal exchanges. It gets x-rated at times but everyone is a grown up in the media center. I see a couple of women wince during the verbal warfare. It doesn't bother me. It all rolls off my East L.A. bred-back like dry leaves.
After the conference Mia St. John and I discussed her retirement and also talked about the challenges of quitting the game. She recently was stopped by welterweight champion Cecilia Braekhus but received a hefty payday. It took place in Denmark and St. John said the Danes treated her first class. She plans to attend the fight and I tell her I will look for her inside as we part.
We had missed the breakfast set up for the media so Applerose and I decide to grab something to eat. Wolfgang Puck sounds good. As we leave Bernard Hopkins is about to be interviewed by Jerry Hoffman on radio. All you need is one opening question and Hopkins will take over the show. Two hours later I return from eating lunch and picking up my wife and Hopkins is still talking. He's the great orator, believe it. Plus, he's one of the few master boxers of the 21st century.
Around 2 p.m. I walk outside to meet fellow reporter Katherine Rodriguez who is covering the fight card too. It's been awhile since we saw each other so we talk awhile. She has come to Vegas with her boyfriend and we converse a little about the fight card.
It's already fight time so I scurry inside and find out I missed two fights. I hate missing fights because a lot of these young fighters depend on us journalists to cover them. Many of them will never be on televised bouts so this is their moment. It turns out Badou Jack won by third round knockout in a light heavyweight bout and Lanell Bellows scored a knockout in the fourth round of a super middleweight match.
By the time I enter the arena DonYil Livingston is fighting undefeated Luis Arias in a six round battle of 168-pounders. It's a good even match that ends with Arias winning by majority decision. A draw seemed like a better call.
Other winners on the night were Ronald Gavril by knockout. Leo Santa Cruz moved up to junior featherweight and knocked out Alexander Munoz. And in a good scrap J'Leon Love beat Gabriel Rosado.
Probably the most entertaining fight took place between Abner Mares a former bantamweight and junior featherweight world champion moving up in weight to challenge friend and WBC featherweight champion Daniel Ponce de Leon. They really are friends and both are managed by Frank Espinoza one of the best boxing managers in the world. It was a fight proposed by Golden Boy Promotions and neither fighter nixed it so it went through. Mares and Ponce de Leon are also former Mexican Olympians and they also have the city of Montebello as yet another connection. Ponce de Leon has his gym located in that suburban town and Mares lives in Montebello, which borders East L.A.
Friends cannot exist in the boxing ring once the bell rings. To prove that point Mares floors Ponce de Leon in the second round with a vicious left hook-right cross combination. The champion had a look of shock as he got up off the floor as if surprised by Mares' power. Ponce de Leon rallied a bit during the next few rounds and it looked like he might return the favor. Instead, in rounds seven through nine Mares began finding the range again. In the ninth round especially Mares hit Ponce de Leon with a right hand that dropped him in a heap. He beat the count but Mares cornered him and fired at least eight more right hands through Ponce's guard. After one of the blows connects, Ponce's eyes rolled back a la Jose Luis Castillo when Diego Corrales belted him in their most famous fight. Referee Jay Nady stops this fight.
"It hurt me," said Mares after he knocked down Ponce de Leon. "He's a friend."
Espinoza, who manages both fighters, said it was one of the strangest feelings he ever experienced in boxing.
"It was an awkward situation," said Espinoza who formerly managed Israel Vazquez, Martin Castillo and Yonnhy Perez. "On one side it was a great feeling but on the other it was heart breaking."
The main event was the reason many of the nearly sold out crowd came in person to witness.
Was Floyd Mayweather going to be able to ward off the younger southpaw power-boxer Robert Guerrero?
Based in his previous fight against Miguel Cotto which saw Mayweather get beat up quite a bit using the shoulder roll defense, I was convinced he could not beat "The Ghost." Apparently Mayweather realized that too and allowed his father Big Floyd Mayweather to train him for this fight. It worked out perfectly. Big Floyd taught Little Floyd how to fight like Old Floyd and use his legs to move around like skates. It was the only way he could beat Guerrero and he did it with smoothness and a lot less punishment than against Cotto.
"The less you get hit the longer you can last," is what Mayweather said his father told him.
Great advice.
We arrived home at 4 a.m. in Southern California.
Buatsi Flattens Dos Santos in Manchester; Charr KOs Fraudulent Lovejoy in Cologne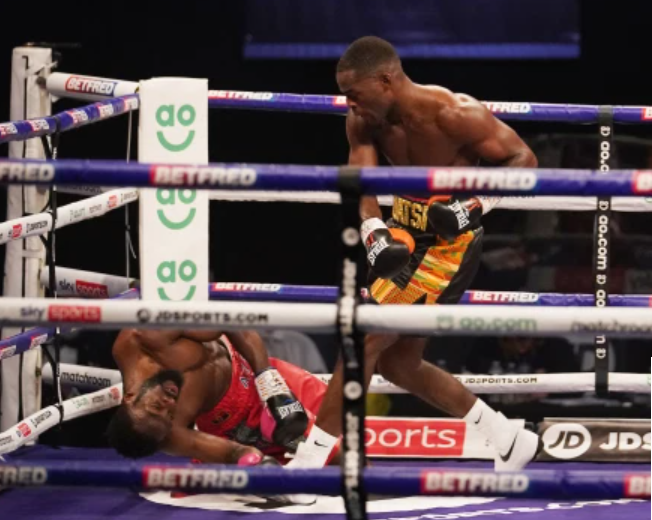 In a Knockout of the Year candidate, rising light heavyweight contender Joshua Buatsi (14-0, 12 KOs) leveled Daniel Blenda Dos Santos, an unheralded Frenchman, in the fourth round, closing the show with a pulverizing right hand – and for good measure, touching him with another right as he fell. A 2016 Olympic bronze medalist for England, the Ghana-born Buatsi trained for two months in the California Bay Area under his new trainer Virgil Hunter and his American sojourn paid dividends.
Dos Santos, who found his way to boxing after serving three-and-a-half years in prison, was undefeated (15-0, 8 KOs) coming in, but hadn't fought beyond six rounds. He was knocked down earlier in the fight with a chopping right hand. There were less than 20 seconds remaining in the fourth when Buatsi put Dos Santos to sleep, and to his credit he did not celebrate but consoled his distraught victim.
Other Bouts
In a shocker, 31-year-old southpaw Jason Cunningham improved to 29-6 (6) with a unanimous decision over Gamal Yafai (18-2) who was making the first defense of the European bantamweight title that he won in Milan.
Cunningham had Yafai on the canvas three times — knocking him down with left hands in the second, fourth and sixth rounds — but Yafai, the younger brother of former 115-pound world title-holder Kal Yafai — wasn't deterred and kept coming forward. In the end, however, Cunningham's lead was too big for Yafai to overcome. The judges had it 115-110 and 114-111 x2 for the southpaw who was a consensus 10/1 underdog.
Super middleweight Lerrone Richards breezed to a lopsided 12-round decision over Italian veteran Giovanni DeCarolis to snatch a vacant European title. Trained by Dave Coldwell, who previously handled Tony Bellew, Richards was content to rack up points and the one-dimensional DeCarolis, who was making his first start in 23 months, had no way to stop him.
The judges had it 120-108 and 119-109 twice. The London-born Richards, whose family roots are in Ghana, improved to 15-0 (3). This may have been the last rodeo for the 36-year-old DeCarolis who fell to 28-10-1.
Belfast's Tommy McCarthy (18-2, 9 KOs) was fed a softie for his first defense of his European cruiserweight title in the form of 36-year-old Romanian Alexandru Jur who brought a 19-4 record but had defeated only four men with winning records. Except for a few brief moments, Jur showed little inclination to mix it up. McCarthy put Jur down with a body punch in round four and finished him off two rounds later with another body punch. The official time was 2:09.
McCarthy, who is of Irish and Jamaican descent, moves on to a date with fellow Brit Chris Billam-Smith. Jur lost for the fourth time in his last six starts.
Cologne
Credit Christopher Lovejoy for having the gumption to defy Don King who threatened legal action if Lovejoy went ahead with his match today with WBA "champion in recess" Mahmoud (Manuel) Charr. But the 37-year-old Lovejoy, who arrived in Germany all by himself, traveled a long way to destroy whatever credibility he may have had. Fighting off the grid, he had rung up 19 fast knockouts in 19 fights against 19 presumptive Tijuana taxi drivers.
Carrying 306 ½-pounds, the six-foot-five Lovejoy lasted less than two full rounds against Charr who was making his first ring appearance in 42 months. Lovejoy was counted out after being dropped with a volley of punches in the second round.
Photo credit: Mark Robinson / Matchroom
Check out more boxing news on video at the Boxing Channel
To comment on this story in the Fight Forum CLICK HERE
Avila Perspective, Chap. 135: Danny Roman and Super Bantamweights Perform in L.A.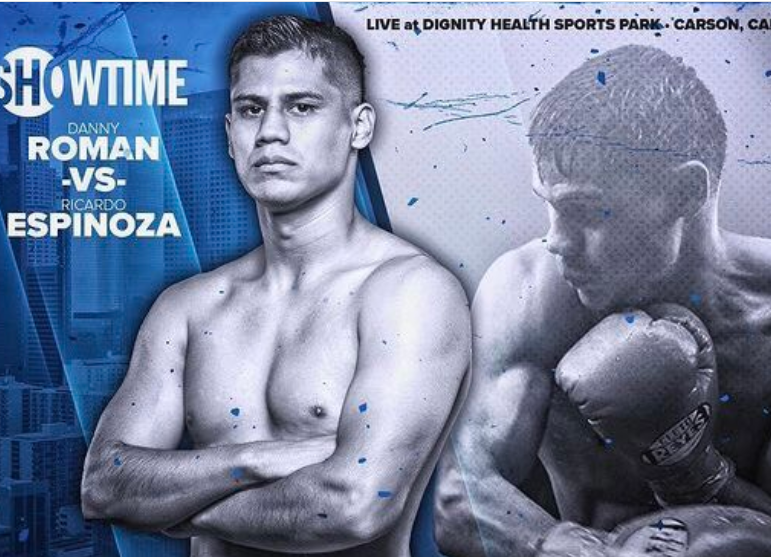 Avila Perspective, Chap. 135: Danny Roman and Super Bantamweights Perform in L.A.
The super bantamweight division was virtually unknown by most fans of prizefighting for the last decade.
Then Danny Roman arrived and re-booted the 122-pound division virtually by himself by challenging and defeating world champions from Japan and the United Kingdom.
Roman (28-3-1, 10 KOs) no longer holds the world titles but itches to regain his footing when he fights Ricardo Espinoza (25-3, 21 KOs) at Dignity Health Sports Park on Saturday May 15. Showtime will televise the battle on the Premier Boxing Champions card.
"Everything I do in boxing from here on out is to regain my status as a world champion," said the normally ultra-reserved Roman, 31.
Ironically, both Roman and Espinoza turned their careers around with numerous battles at boxing shows in Ontario, California. They entered as boys and emerged as battle-tested men.
For the last 20 years Thompson Boxing Promotions has been pumping out world champions and contenders at a furious rate despite their small size in Southern California. They do not pamper or cajole their prospects.
Both Roman and Espinoza suffered their first losses as professionals at Thompson Boxing's bloody battles at the Doubletree Hotel in Ontario. But despite losing, they continued to learn and evolve. Now they meet in Los Angeles on the big stage.
When Roman lost to Japan's Takashi Okada in 2011 and Juan Reyes in 2013, that could have derailed the Los Angeles-based fighter for good. Instead, he re-grouped and reloaded to become a unified world champion. Roman traveled to Japan and won the WBA super bantamweight world title by stoppage of Shun Kubo in 2017. A couple of years later after several defenses, he clashed with WBO super bantamweight titlist TJ Doheny to win an incredible battle by decision in Los Angeles. It was perhaps the Fight of the Year in 2019 and gained Roman the WBO belt.
Though Roman lost both the WBA and WBO titles to Murodjon Akhmadaliev, it was a disputed split decision. Many felt Roman was the true winner. So now he must battle back toward the top.
Espinoza also fought many bloody affairs at the Doubletree Hotel in Ontario including his first two losses. He lost to Sam Rodriguez in 2016 and Christian Nieto in 2017. Then the power-punching fighter from Tijuana, Mexico knocked out 12 of 13 of his opponents to gain a world title fight that he lost in April 2019. Since then, he has returned to his winning ways and upset undefeated Brandon Valdes last year.
"Danny Roman has fought some really quality opponents that are high in the rankings, but this is my time. This is when I show that I can step up in competition and prove that I belong with the best," said Espinoza who is very familiar with Roman.
The Tijuana fighter is a punching machine.
"This is not going to be an easy fight because I know my opponent is a tough fighter from Tijuana who is coming with everything he's got. He's got a lot of power, so I must be smart on how I throw my combinations," said Roman who lives within 10 miles of the event. "I believe my experience in big fights is going to be the difference on May 15. I'm expecting a rough fight and I'm ready for an intense battle."
Now the two veterans of the Ontario, California wars finally meet each other to see who advances toward a world title fight. They won't have to look far. The main event pits two titleholders against each other.
Unification Battle for Super Bantam Belts
Mexico's Luis Nery holds the WBC super bantamweight world title and faces Texan Brandon Figueroa who holds a version of the WBA super bantamweight title in the main event on the Dignity Health Sports Park card on Saturday. Showtime will televise.
Nery formerly held the bantamweight title too. But the Tijuana-based fighter had problems making weight and wisely moved up a weight division. So far, the extra pounds hasn't been a problem.
The problem facing Nery is Figueroa has a solid chin.
Figueroa may look like a pretty boy but he fights like he's ugly. The Weslaco, Texas native has firepower and a rock chin but does he have the skills to match Nery?
"I come forward. I bring the pressure and I'm definitely going to bring the power, the size and all the advantages I have to make sure that we give the fans a great show. I do respect him as a fighter but we're just going to have to find out Saturday," said Figueroa whose brother Omar Figueroa fought in the same venue two weeks ago.
Nery has quickness and agility to supplement his power. He also has experience in world class opposition and that's something Figueroa lacks.
"Brandon's style really fits with what I want to do in the ring," said Nery, a boxer-slugger. "This is going to be an all-out war from the first round on. People are going to be talking about it for a long time after."
The winner of this clash will hopefully meet the winner of Roman and Espinoza. That would really heat up the super bantamweight division to blue hot levels.
Some of my favorite fighters of the past occupied the super bantamweight division like Wilfredo "Bazooka" Gomez, Marco Antonio Barrera and Israel "Magnifico" Vazquez who twice fought in this same venue. His third fight with Rafael Marquez on March 1, 2008 was voted Fight of the Year for its brutal but spectacular display of super bantamweight power.
The winners of this quasi-super bantamweight tournament can equally achieve the same kind of greatness those former stars achieved. This is a good start.
Fights to Watch (All times are Pacific Coast)
Friday UFC Fight Pass 5:30 p.m. Heather Hardy (22-1) vs Jessica Camara (7-2); Melissa St. Vil (13-4-4) vs Olivia Gerula (18-18-4).
Friday Telemundo 11:30 p.m. Denilson Valtierra (14-0) vs Emanuel Lopez (30-12-1).
Sat. DAZN 10 a.m. Lerrone Richards (14-0) vs Giovanni De Carolis (28-9-1).
Sat. Showtime 7 p.m. Luis Nery (31-0) vs Brandon Figueroa (21-0-1); Danny Roman (28-3-1) vs Ricardo Espinoza (25-3).
Check out more boxing news on video at the Boxing Channel
To comment on this story in the Fight Forum CLICK HERE
Charr vs Lovejoy: Better Late Than Never, or Not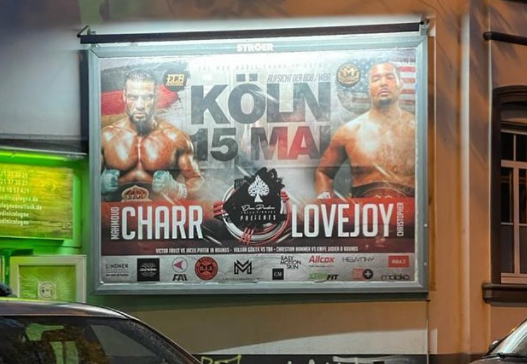 COLOGNE – There are many questions to be answered regarding Mahmoud Charr's scheduled fight against Christopher Lovejoy this Saturday night at a training facility along the Rhine. The most primary point to be determined is whether the contest actually occurs.
Charr has been idle since capturing a WBA title belt against Aleksandr Ustinov way back in November 2017. Since then numerous delays and cancellations, many of them out of Charr's control, have kept the erstwhile ranked heavyweight out of the championship picture and far from the international public eye.
The most recent of such situations found Charr unable to obtain a travel visa for a defense against Trevor Bryan in Florida last January. Machinations by Don King and the WBA in relegating Charr to "in recess" status further tarnished both the promoter and the organization's already disgraceful reputations.
King has also had a hand in keeping Lovejoy off the rumbling radar, after the boxer previously claimed retirement as a way out of King's contractual clutches. When Lovejoy attempted to face Dave Allen in London on the undercard of Usyk-Chisora, King contacted Matchroom's Eddie Hearn with enough of a claim that Lovejoy's appearance was cancelled.
According to Lovejoy, King has also attempted to block Saturday's fight, so uncertainty remains until the first bell rings this weekend. That said, everything else about the relatively low key card seems to be well in place, and there is plenty to look forward to, questions and all. A subscriber-based live stream on German news outlet Bild.de will broadcast the bout.
How the long layoff, which began way before the coronavirus pandemic, has affected Charr is probably the most crucial factor, but what the rarely seen Lovejoy brings to the table is as compelling as it is curiously noteworthy. His record of 19-0 with 19 quick knockouts, compiled completely off-grid in frequent madhouse Tijuana could mean damn near anything.
Charr, 31-4 (17), has been stopped three times and in two of those KOs (by Maris Briedis and Alexander Povetkin) he was blasted into one-shot oblivion. Under Saturday's scenario one of the few possible surprises might be if Lovejoy doesn't try to get Charr out of there immediately.
Lovejoy, listed at 6'4", looks substantially larger than 6'3" Charr, but not any taller. An uneducated guess indicates a strong possibility that the more proven Charr is capable of wearing Lovejoy down, especially considering how he did it against a respectable version of Ustinov.
When Lovejoy refused to shake Charr's hand and insulted his courage during their press conference photo op, there was a slight but very significant twitch in Charr's almost constantly upbeat countenance. If Lovejoy doesn't indeed carry huge power in his punches, he may have inspired a painful night.
To put Charr's simmering anger in perspective, it must be remembered that he still looked like he was calmly waiting for his food while being carried out on a stretcher after getting shot four times in the lower abdomen during a 2015 ambush in nearby Essen. When his assailant, a former boxing protégé, confessed by saying he only meant to shoot him in the leg, Charr told an emotion packed courtroom bygones were bygones, saying "I am a man who forgives."
A refugee at five years old whose father was killed in the Lebanese civil war, Charr seems to clearly envision a bigger picture than just his boxing career, and he consistently posts positive motivational copy on social media, including an end of Ramadan message stressing nonpartisan hope for the current Gaza conflict.
The 10-round fight carries no title designation but whatever they may or may not step into the ring with, one thing Charr and Lovejoy share is the potential for a make-or-break performance.
If Charr wins, people will dismiss Lovejoy's merit in the first place but it still keeps a bit of shine on his championship claims, increasing his leverage regarding Bryan or even bigger game. If Lovejoy wins, especially by dramatic KO, he has definitely upped his recognition factor marketability.
The only safe bet is that the winner will probably hear from somebody representing Don King.
And maybe even Fres Oquendo.
Questions, questions.
Check out more boxing news on video at the Boxing Channel
To comment on this story in the Fight Forum CLICK HERE