Floyd Mayweather To Fight Canelo Alvarez Sept. 14
You wanted it, you're going to get it.
Shortly after 10 PM ET on Thursday evening, Floyd Mayweather Tweeted the news about his next fight, and foe.
"I chose my opponent for September 14th and it's Canelo Alvarez. I'm giving the fans what they want. It will be at the MGM Grand."
Showtime boxing boss Stephen Espinoza confirmed to TSS that the Tweet is the truth, that Floyd will test the kid in Vegas.
The pound for pound ace, who looked as good as he has in God knows how long in having his way with Robert Guerrero on May 5, will be in with another younger, fresher foe.
The Mexican Alvarez is 22, and turns 23 on July 18. He has a 42-0-1 mark, with 30 KOs, and last gloved up on April 20, when he scored a UD12 over Austin Trout. That fight was closer than some of the cards had it, many said, however, so I'm doubting that any and all Floyd haters will be silenced with the pick.
Alvarez is a certified 154 pounder, while the 36-year-old Floyd (44-0) fought Guerrero at 147 pounds. He fought Miguel Cotto, in his previous scrap, at junior middleweight, however. Richard Schaefer on RingTV said the Mayweather-Canelo clash will be a "catch-weight" clash, set for 152 pounds or less. Floyd will draw some scorn for that move, seeing as how he's taken aim at Manny Pacquiao plenty for seeking catchweights. His backers and mega-rooters will note that despite the catchweight clause, the beefy Canelo will likely have a good 15 plus pounds on Floyd on fight night.
I don't see anyone from 147-160 being able to really test the Floyd who moved so masterfully against Guerrero and hold smaller-than-miniscule hopes for a catch-weight dream fight with Mayweather against Andre Ward. That's a long way of saying I don't think Alvarez does more than two rounds better than Guerrero did; but I could be wrong, Lord knows I prove that every day. Readers, what say you about Mayweather-Canelo on Sept. 14?
Follow Woods on Twitter here.
Jerry Forrest: When Heart Counts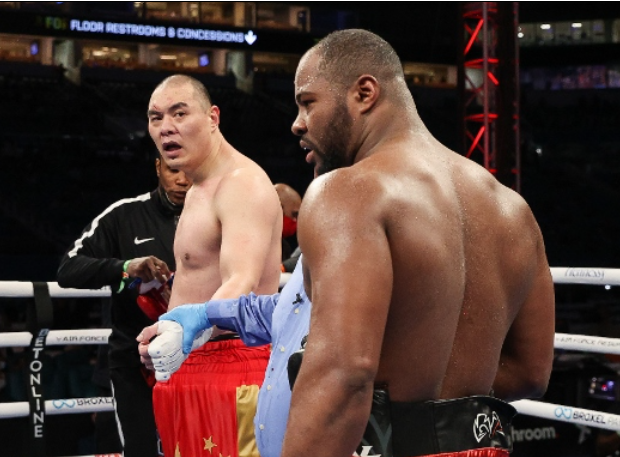 While many Canelo fights end up in some fan's memory bank, that probably won't be the case given what occurred this past Saturday night in Miami. However, the show was salvaged by the entertaining heavyweight draw between China's Zhilei "Big Bang" Zhang (22-0-1) and Jerry "Slugger" Forrest (26-4-1) on the undercard. This one had the fans up and roaring but for different reasons.
The 6'6" Zhang (with excellent amateur credentials) floored the American once in each of the first three rounds and the crowd sensed a stunning KO was on the way. But lo and behold, it didn't come.
Then things began to change, subtle at first, as a determined Forrest survived the onslaught and began to fight back working well inside and landing shots both upstairs and to the body.
A Shift in Momentum
The momentum clearly changed in the fifth as Zhang used his body to lean on "Slugger" to tire him out, but in the process he didn't mix and thereby lost rounds. Soon this strategy (albeit illegal) backfired and served to tire "Big Bang" more than Forrest and making matters worse for Zhang, he was deducted a point in the ninth by referee Frank Gentile for holding. (Given that he had been holding since the fifth round, the deduction was spot-on and could well have come earlier.)
Going into the last round, the fight seemed to be up for grabs and the fresher Forrest obliged as he landed crunching shots that had the fickle fans (are there any others?) now in is corner. He was actually chasing the gassed Chinese monster at the end and had the fight gone another minute, "Slugger" likely would have lived up to his moniker.
"For Jerry Forrest, this is a momentous result after a terrible start, and keeps him in the mix as a high-level gatekeeper, someone who will take on basically anyone and give it the effort. He's a danger to prospects and mid-tier veterans alike," wrote prominent boxing writer Scott Christ.
The scores were 95-93 Forrest and 93-93 twice for a majority draw. Zhang was lucky to keep his undefeated record intact.
Jerry Forrest showed a tremendous amount of heart. Hopefully, when folks look back at this card, Canelo's blowout of Avni Yildirim won't completely overshadow this entertaining heavyweight match.
(Note: Zhang was taken to a hospital for observation when his handlers noticed some concerning symptoms in the locker room after the fight. According to a published statement from Terry Lane of Lane Brothers Management, Zhang was found to be "suffering from anemia, high enzyme levels, and low-level renal failure, which may have been caused by severe dehydration. The good news is that all of his neurological signs are clear…Credit and respect to a game Jerry Forrest who battled back for a ten-round draw…Zhilei will be back.")
Photo credit: Ed Mulholland / Matchroom
Ted Sares can be reached at tedsares@roadrunner.com
Check out more boxing news on video at the Boxing Channel
To comment on this story in the Fight Forum CLICK HERE
The Canelo-Yildirim Travesty was Another Smudge on 'Mandatory' Title Defenses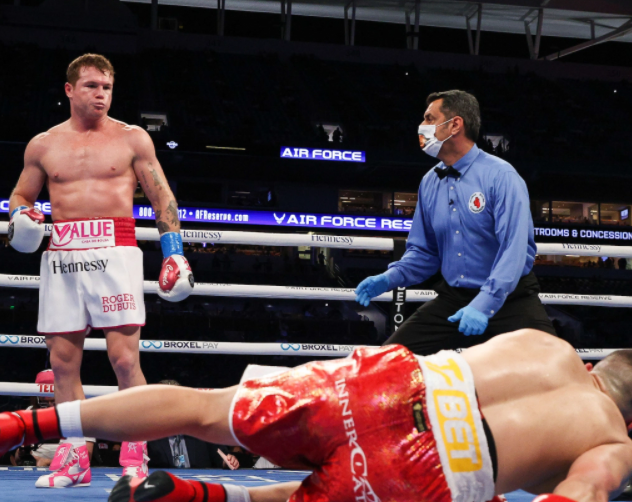 Canelo Alvarez's rout of grossly overmatched Avni Yildirim has once again cast a harsh light on the "mandatory challenger" gambit employed by the sport's world sanctioning bodies. Canelo successfully defended his WBC 168-pound belt this past Saturday in Miami when Yildirim's corner pulled him out after only three rounds.
During the nine minutes of actual fighting, Yildirim was credited with landing only 11 punches, none of which appeared to have been launched with bad intentions. A person posting on a rival web site likened Yildirim's woeful performance to that of Nate Robinson's showing against Jake Paul. Another snarky poster said that faint-hearted Adrien Broner, by comparison, had the heart of a lion. True, the 29-year-old Turk was sent in against a beast, but one yet has a right to expect more from a contest packaged as a world title fight.
Yildirim was coming off a loss. In his previous fight, he lost a split decision to Anthony Dirrell in a bout that was stopped in the 10th round by the ringside physician because of a bad cut over Dirrell's left eye that resulted from an accidental head butt. He hadn't won a fight in three-and-a-half years, not since out-pointing 46-year-old Lolenga Mock who predictably faded late in the 12-round fight, enabling Yildirim to win a narrow decision. Earlier in his career, he was stopped in the third round by Chris Eubank Jr in a fight that was one-sided from the get-go.
So, how exactly did Avni Yildirim build himself into position to become the mandatory opponent for the sport's top pound-for-pound fighter? Did he "earn" this opportunity and the rich payday that came with it by submitting the winning bid in an auction? Is that a rhetorical question?
In an ESPN Q & A, the award-winning writer Mark Kriegel said that Canelo-Yildirim was payback for certain favors that were granted to Canelo by the WBC, citing the organization's new "Franchise Champion" category and to their decision to countenance Canelo's fight with Callum Smith for their vacant 168-pound title. But this doesn't answer the question as to how Yildirim ascended to the role of a mandatory challenger; it merely informs us why Canelo agreed to take the fight.
This was the second great mismatch in 10 weeks involving a mandatory challenger. On Dec. 18, Gennadiy Golovkin opposed Poland's Kamil Szeremeta in the first defense of the IBF middleweight title that he won with a hard-earned decision over Sergiy Derevyanchenko. The feather-fisted Szeremeta was undefeated (21-0, 5 KOs) but hadn't defeated an opponent with a recognizable name.
This was a stroll in the park for GGG. Szeremeta was a glutton for punishment – he lasted into the seventh round — but at no point in the fight did he pose a threat to the 38-year-old Kazakh. Golovkin knocked him down four times before the plug was pulled.
In theory, the "mandatory challenger" ruling forestalls the very abuses with which it has become identified. It prevents a champion from fighting a series of hapless opponents while a more worthy challenger is left out in the cold. One could say that it stands as an example of the law of unforeseen consequences, save that it would be naïve to think that the heads of the sanctioning bodies didn't foresee this versatility and venally embrace it.
Historians will likely lump Avni Yildirim with such fighters of the past as Patrick Charpentier and Morrade Hakker who were accorded mandatory contender status by the WBC so that they could be fodder for a title-holder in a stay-busy fight. Charpentier was rucked into retirement by Oscar De La Hoya who dismissed the overmatched Frenchman in three one-sided rounds at El Paso in 1998. Hakker was thrown in against Bernard Hopkins at Philadelphia in 2003. He brought his bicycle with him, so to speak, and thus lasted into the eighth.
In common with Yildirim and a slew of other mandatory challengers (Vaughn Bean comes quickly to mind), Charpentier and Hakker had misleading records. Steve Kim, in an article for this publication, said that Hakker's record was more inflated than the Goodyear blimp.
A mandatory title defense isn't always a rip-off. One wonders where Tyson Fury would be career-wise today if the WBO hadn't established the Gypsy King as the mandatory challenger to Wladimir Klitschko, setting the wheels in motion for a changing of the guard. That worked out well for the good of the sport as Fury, after some disconcerting speed bumps, would prove to be a breath of fresh air.
But a mandatory title defense between evenly-matched opponents remains a rarity and there's no end in sight to the charade.
Photo credit: Ed Mulholland / Matchroom
Check out more boxing news on video at the Boxing Channel
To comment on this story in the Fight Forum CLICK HERE
Canelo Pummels Yildirin Into Submission in Three One-Sided Frames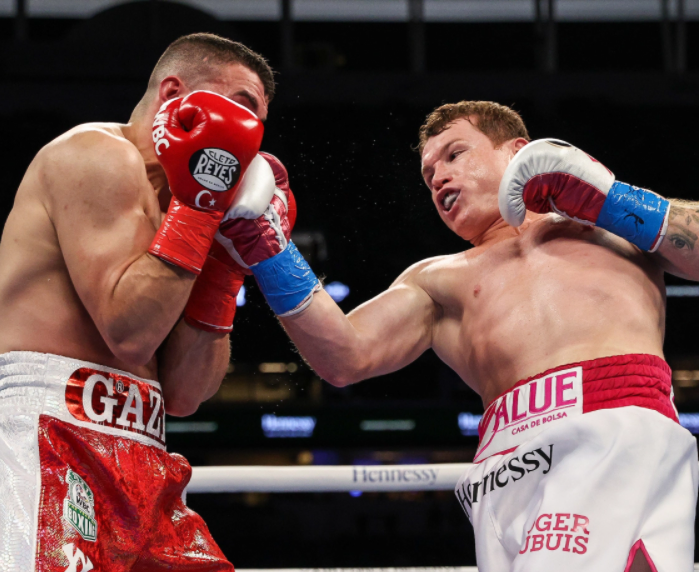 Mexico's Saul "Canelo" Alvarez dismissed Avni Yildirim like a bothersome fly to retain the WBA and WBC super middleweight titles by technical knockout in a mandatory fight on Saturday.
Challenge completed.
After less than three months from his last victory, Canelo (55-1-2, 37 KOs) returned to the boxing ring and battered Turkey's Yildirim (21-3, 12 KOs) to submission at the Hard Rock Stadium in Miami, Florida. Callum Smith or Yildirim please take your seat.
It was just 70 days ago that Alvarez took the WBA title away from England's Smith but the Mexican redhead was eager to return to the ring and dominated Yildirim like the former sparring partner he was.
It was hardly a contest.
Yildirim spent most of 2020 working with Southern California's famed trainer Joel Diaz, but there is only so much a teacher can teach. Regardless of the expertise given to the Turkish fighter the trainer can't jump in the boxing ring. Despite repeated admonishments by Diaz, his fighter just could not pull the trigger.
"It doesn't matter who trains him I just do my work and listen to my corner," said Alvarez "I feel very strong at this weight."
Alvarez pummeled Yildirim like a punching bag early and often during the first two rounds. Left and right uppercuts pierced through Yildirim's guard and body shots pummeled the body. Return fire was seldom exchanged.
After two rounds of sustaining punishment to the head and body, Yildirim attempted to fire back. He paid for his gamble with a counter right fired through the guard by Canelo and down went the challenger.
Though Yildirim survived the third-round knockdown, as he returned to the corner his trainer Diaz warned that another round like the third would force a stoppage. Diaz decided after further inspection to end the fight then and there at the end of the third round.
"I said I would get the knockout and I got the knockout," said Alvarez.
The win sets up a showdown with England's Billy Joe Saunders who holds the WBO super middleweight world title.
"This year it's going to be very special against BJ Saunders," said Matchroom Boxing promoter Eddie Hearn who is planning their encounter for May 8. "It's going to be one of the biggest fights of the year."
Canelo said he is eager for the pending encounter.
"He's a difficult fighter. He has the WBO title and we need to go for him," said Alvarez.
Alvarez said his plans are to continue making history as a Latino fighter winning undisputed world titles in the super middleweight division.
"In Latin America it hasn't been done," Alvarez said. "I want to make history."
Other Bouts
McWilliams Arroyo walked through Abraham Rodriguez's punches and won by technical knockout in the fifth round to win the interim WBC flyweight title.
Despite a change of opponents within the last week Arroyo (21-4, 15 KOs) was able to adapt to last-minute opponent Rodriguez (27-3, 13 KOs) and work the body and head until the Mexican fighter's corner tossed in the white towel to end the fight at 1:41 of the fifth round.
A battle of heavyweights between China's Zhilei Zhang (22-0-1, 17 KOs) and America's Jerry Forrest (26-4-1) ended in a majority draw after 10 rounds. Despite three early knockdowns scored by Zhang, the momentum changed after Forrest attacked the body inside. The scores were 95-93 Forrest and 93-93 twice for a majority draw.
In a super middleweight fight between two extremely tall prospects Diego Pacheco (11-0, 8 KOs) won by unanimous decision over Rodolfo Gomez Jr. after eight rounds. No knockdowns were scored between the two fighters who each towered at 6-feet 4-inches.
Photo credit: Ed Mulholland / Matchroom
Check out more boxing news on video at the Boxing Channel
To comment on this story in the Fight Forum CLICK HERE