The Bite Fight….And The King of Cowboys
The review copy of The Bite Fight: Tyson, Holyfield and the Night That Changed Boxing Forever arrived in the mail a couple of weeks ago. The promotional flyer that accompanied the 222-page book called it "An unparalleled account of the infamous bite felt 'round the world."
Written by George Willis, the excellent New York Post sports columnist, this behind-the-scenes account of one of the most bizarre nights in boxing history delivers on that heady promise. Everything you know, or think you know, about the fateful night of June 28, 1997, is in there, as well as some stuff you might not have heard at all.
But even George, gifted wordsmith and hard-digging reporter that he is, doesn't know every tiny detail of what went on after Tyson's teeth sank into Holyfield's ears as if they were a medium-rare filet mignon at Ruth's Chris. I have my own particular recollections of the aftermath of the "Bite Fight," and they can't be found in any book, magazine, newspaper or web site.
Until now.
TSS readers, you are about to learn of the (mostly) secret connection between Holyfield-Tyson II (Holyfield won their first matchup, and Tyson's WBA heavyweight championship, on an 11th-round TKO on Nov. 9, 1996) and the "King of the Cowboys," Roy Rogers.
Well, at least there is a connection as far as my wife Anne, our youngest daughter Amy, our foreign-exchange student, Izumi Tirado, and I are concerned. When Tyson got the munchies and the spit hit the fan, he altered what I somewhat foolishly had presumed would be a working vacation, with three days scheduled to be spent with my female entourage in and around the Los Angeles area following the big bout. I had arranged for lodging at a nice hotel in Marina del Rey, Calif., where the plan was for our group to do Disneyland, Universal Studios and, you know, the whole tourist bit in the brief time allotted. I'd been to L.A. before, of course, but this was to be the first such experience for the missus, Amy and Izumi.
But then Tyson chewed off a one-inch chunk a Holyfield's right ear in the third round, prompting no-nonsense referee Mills Lane to disqualify him prior to the start of Round 4, and … hey, you know what they say about the best-laid plans of mice and men.
June 29 was not spent by our group in southern California; I was obliged to remain in Las Vegas, as was the army of media types who changed their travel plans to accommodate the post-bite set of circumstances. Anne, Amy and Isumi hung around the MGM Grand while I tried to find out what the very perturbed members of the Nevada State Athletic Commission planned to do in terms of disciplinary action for Tyson. On July 9, the NSAC socked him with a "lifetime suspension" subject to annual review (his boxing license was reinstated on Oct. 18, 1998) and a record $3 million fine, the maximum allowable under Nevada law.
So we got a late start for SoCal, on June 30, traveling by rental car across the desert. I can't recall whether I possessed a cell phone in that technologically unadvanced age – if I did, the reception in the desert must have been pretty bad – so I stopped en route to call my editors at the Philadelphia Daily News and find out if there was anything new and interesting about the ongoing story on which I might need to be brought up to speed. It was like asking if the sun is hot and it gets dark at night. Of course there were fresh developments; I was told to check into the nearest hotel so I could make a few calls, gather any pertinent information and crank out another story or two or three.
On the way to that hotel, in Barstow, Calif., we passed a sign advising us that just ahead was the Roy Rogers Museum, where it was said that Roy himself and wife Dale Evans (birth name: Lucille Wood Smith), the "Queen of the West," were on-site nearly every day, regaling visitors with tales of their many screen adventures amidst a treasure trove of memorabilia, including Roy's stuffed palomino, Trigger.
"Oh, we have to stop there!" exclaimed Anne, who, like me, was an unabashed fan of Roy – born Leonard Slye on Nov. 5, 1911, in that noted Wild West outpost of Cincinnati, Ohio — through our constant Saturday-morning exposure to his movies and TV shows when we were children.
"Sorry," I had to tell her. "I have to get to work on this Tyson stuff as quickly as I can. We can catch Roy the next time we're out this way."
You can probably guess the rest. Our three days in Los Angeles had been reduced to part of a single day, which meant the only place I got to take Anne and the girls was nearby Universal Studios. Amy seemed to particularly enjoy that experience, probably because she spotted comedian/actor Pauly Shore on the grounds, which probably seemed like a big deal to your average 15-year-old. Pauly Shore? All I could think was, he's no Bob Hope. Or Roy Rogers, for that matter.
We flew back to Philadelphia from LAX, which meant no return trip across the desert to Vegas and no stopping off at the Roy Rogers Museum. Then, on July 6, 1998, it was reported that Roy Rogers was dead at the age of 86. He was physically beyond our reach, at least in this dimension.
To this very day, I don't think Anne has forgiven Mike Tyson for the missed opportunity he caused her.
The Roy Rogers Museum in Victorville, Calif., closed a few years later and in 2003 its contents were moved to Branson, Mo., where another museum was operated by Roy and Dale's son, Roy "Dusty" Rogers Jr. But Roy Sr. had left instructions to Dusty to shut everything down once the museum started to operate at a loss, which it did, and it shut its doors permanently on Dec. 12, 2009. A public auction of Roy's most treasured keepsakes was held in New York City on July 15, 2010, with sales totaling $2.98 million. Among the items which sold at much higher prices than the auctioneers had expected was Roy's 1964 Bonneville, which went for $254,500; an even more cherished ride, stuffed Trigger, was purchased by a Nebraska cable TV network for $266,500. Trigger's fancy saddle and bridle fetched a whopping $386,500, one of Roy's shirts sold for $16,250 and one of the beloved hero's favorite cowboy hats – white, of course – for $17,500.
Which got me to thinking: What would the most distinctive memento from the front end of our Bite Fight adventure, the chewed-off piece of Holyfield's ear, be priced at if it still existed and were somehow made available to a collector looking for that extra-special piece of boxing history?
I went back through my own voluminous files – sorry, George, you weren't the only reporter to assiduously chronicle the event – and rediscovered that that the missing part of Holyfield's ear was, in fact, really missing. To the best of anyone's knowledge, it still is.
Mitch Libonati, a member of the MGM Grand's Convention Services staff, took possession of the severed piece of flesh, at least temporarily. "A buddy of mine said Evander had been bitten," Libonati said. "I didn't see it, but I did see that Tyson had spit something out. There was a melee in the ring after the fight and when it cleared up, I found it. I picked it up, put it in a latex glove and ran back to the locker room.
"I told some of Evander's people, `I have a piece of Evander's ear. I'm sure he wants it.'" According to Libonati, heavyweight Michael Grant, a member of the Holyfield camp, took the piece of ear and placed it in an ice bucket that included several other latex gloves.
"But the piece didn't get (to Valley Hospital)," Tim Hallmark, Holyfield's conditioning specialist, said on June 29. "Somewhere in the locker room to the ambulance to the hospital, it never turned up. The plastic surgeon (Julio Garcia) and I were rooting around in three or four gloves in the ice pack, but we never found it.
"I'm not a doctor, but I imagine if somebody found it at this point, it wouldn't be in very good shape."
I'll leave it to George to provide additional details, which he does in Chapter 12 of his book, cleverly entitled Ear Piece.
Garcia, who was born in Cuba and came to this country with his father, an orthopedic surgeon, 37 years prior to the Bite Fight, was watching the pay-per-view telecast at a pool party in Southwest Las Vegas when Holyfield and the upper portion of his right ear became separated.
"Some poor guy is going to get called in to sew him up," Garcia, in Willis' book, recalled thinking. Five minutes later, Garcia's beeper began to buzz. He was being immediately summoned to the emergency room at Valley Hospital.
"Traditionally, human bites are the most prone to infection," Garcia said of the task he was being asked to perform. "They're worse than a dog bite. We have more bacteria in our mouth than a dog has."
But Garcia had an even more daunting task. The latex glove containing the piece of Holyfield's ear had been placed in a red biohazard bag, but when Garcia examined the bag's contents, he found only a piece of skin, not the cartilage. And matters got worse from there; after Garcia left to change into operating garb and to scrub, he returned to find the red biohazard bag missing. He suspects it might have accidentally been thrown away, but who knows for sure? Perhaps a souvenir-seeking hospital employee or bystander had grabbed it.
"It's not a locked facility," said Garcia, who nonetheless performed a 45-minute procedure to repair, as best he could, Holyfield's raggedy ear. "Any person could have come into that area and taken it."
One story that has made the rounds is that someone from Holyfield's camp wound up with the cartilage and sold it in New York where it was purchased for $25,000 by a stockbroker. Another has it that the cartilage lies in a trophy case displayed in the memorabilia section of a restaurant in Cincinnati (Roy Rogers' hometown!) although the granddaughter of the founder of the restaurant says the gristly thing on display there is actually from a chicken and was placed in a glass case as "a joke."
Perhaps you have heard of the "Six Degrees of Separation" theory involving Kevin Bacon, in which virtually every other actor you can think of can be linked to fellow actor Bacon or one of Bacon's movies within six easy-to-connect dots. For our family, that premise more or less holds true with Mike Tyson.
But first let it be noted that where we missed out on seeing the "King of the Cowboys," we did not miss out on seeing the "King of Rock 'n' Roll," Elvis Presley, in an eerily similar situation. Anne and I, natives of New Orleans, were living down South in the 1970s when an entertainment reporter friend advised me he could procure tickets for us, if we wanted them, to the May 5, 1975, Elvis concert at the Mississippi Coliseum in Jackson. Elvis diehards were pitching tents days in advance of those ducats going on sale, and Anne was, at best, lukewarm about attending in any case. We liked Presley's music for the most part, but it wasn't as if we thought he walked on water or anything.
"But the guy is not in real good shape," I said of the fat Elvis, whose health was obviously deteriorating. "We better see him now, because we might never get another chance."
It didn't happen quite as quickly as it did with Roy Rogers, but Elvis passed away on Aug. 16 (Anne's birthday), 1977, at the too-young age of 42. Which brings us to …
The night of June 8, 2002, in Elvis' longtime home of Memphis, Tenn. WBC/IBF heavyweight champion Lennox Lewis – who had had a piece of his left leg chomped by Tyson during a scuffle at a New York press conference to officially announce the much-anticipated matchup – savagely kayoed the erstwhile "baddest man on the planet" in eight rounds. A pundit might say that Lewis had sunk his own teeth into Tyson and chewed off a chunk, without so much as opening his mouth in the ring. Lewis' fists had served as his incisors.
I thought of all this when I made the obligatory pilgrimage to Graceland, Elvis' mansion-turned-museum, a few days before Lewis-Tyson, and every time I grabbed a, um, quick bite at a Roy Rogers Restaurant, a chain of fast-food joints in the Northeast and Mid-Atlantic states that, as of August 2012, have been reduced in number to 49 from its previous high of 650. There probably are more people around today who think of roast beef sandwiches, cheeseburgers and fried chicken rather than blazing six-guns and a galloping Trigger when they think of Roy Rogers, if they think of him at all.
Hard times, it would seem, can descend even on the most heroic of figures, as well as the most villainous. Tyson and Holyfield are bereft of all or most of their nine-figure fortunes, the aura of their fame dimming along with the boxing skills that made them icons. Tyson, now a reasonably placid stay-at-home husband and father, tours the country as the star of a one-man stage show in which he essentially beats himself up for the snarling pit-bull image he so relishly created when his bite was even more dangerous than his bark. Most of whatever income he brings in these days goes to the Internal Revenue Service and a long line of creditors.
On Nov. 14, I will be one of 14 inductees into the New Jersey Boxing Hall of Fame's Class of 2013, along with – you guessed it – Mike Tyson. I figure the ghosts of Elvis and Roy will be floating somewhere around the room, so connected are they in their own way to Mike and me.
Boxing Odds and Ends: The Sept. 26 Horn of Plenty and Other Notes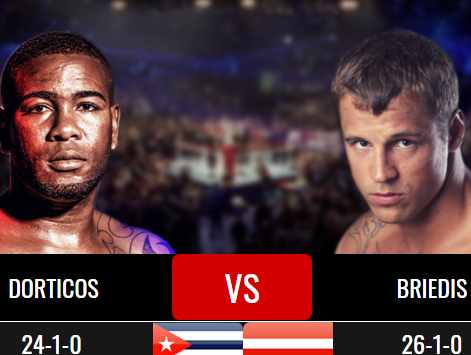 Considering the constraints, the month of September has been a pretty good month for professional boxing. And the month will close with a flourish. Eight world title-holders will be in action on the 26th, the last Saturday of the month.
Five of the belt-holders will appear on the SHOWTIME PPV doubleheader featuring the Charlo twins. The most intriguing fight on that card finds Jermall Charlo risking his belt and his undefeated record against rugged Sergiy Deveryanchenko. At last glance, Jermall was a consensus 17/10 (minus-170) favorite. In baseball, a 17/10 favorite is a heavy favorite. In boxing, not so. A serious handicapper who wouldn't think of laying 17/10 in a baseball game would have no hesitation about laying these odds in a boxing match.
When Deveryanchenko steps into the ring, 51 weeks will have elapsed since his last fight, his bruising tiff with Gennadiy Golovkin. Jermall Charlo hasn't been on the shelf for quite that long, having last fought in December.
A more interesting match on this particular Saturday, at least in the eyes of this reporter, will unfold earlier that day in Munich when the curtain finally comes down on Season 2 of the long-drawn-out World Boxing Super Series. Two titles will be on the line when Mairis Briedis (26-1, 19 KOs) meets Yuniel Dorticos (24-1, 22 KOs).
Briedis' lone defeat came at the hands of Oleksandr Usyk in a very competitive fight. Briedis won five rounds on two of the cards and won six rounds on the other. Dorticos' lone defeat came on enemy turf in Sochi, Russia when he was stopped with eight seconds remaining in a doozy of a fight with Murat Gassiev.
Forget the titles; titles are a dime a dozen. These two guys are plainly the two best cruiserweights on the planet.
"The tickets are flying out the door and we expect to sell out within hours, if not days," said co-promoter Kalle Sauerland at a pre-fight press conference.
That assertion was made way back on January 22 when the fight, originally targeted for late December of last year, was headed to Riga, Latvia, on March 21. That date didn't work, nor did the re-scheduled date of May 16, and ultimately Riga didn't work either.
Whatever tickets were sold, had to be refunded. There will be no fans in attendance when Briedis and Dorticos finally lock horns on Sept. 26 at a TV studio in Munich. The fight will air on DAZN in the U.S.
"Rest makes rust" was an often-heard caution when big gamblers of yesteryear dissected a boxing match. The late, great pricemaker Herb Lambeck reflexively shied away from boxers that had been inactive for a considerable period of time. For him, the Briedis-Dorticos match would likely be a head-scratcher. Both combatants have been inactive since June 15 of last year when they appeared in separate bouts on the same card in Riga, Briedis's hometown. And they aren't getting any younger. Briedis is 34 and Dorticos is 35.
The odds got nicked down somewhat when the site shifted from Riga with fans to Munich without, predictably so as Briedis, the first fighter from Latvia to win a world title, has an avid local following.
Briedis, the superior boxer, is a consensus 9/5 favorite. That seems a shade high as he won't be able to feed off the crowd – there won't be a crowd – and Dorticos, the Cuban KO Doctor, has a better chance of ending the fight with one punch. It wouldn't be shocking if the fight followed a similar tack as the recent fight between Dillian Whyte and Alexander Povetkin.
In case you missed it, Whyte was dominating his Russian adversary when things changed in a flash in the fifth round. Out of nowhere, Povetkin, the underdog, unleashed a picture-perfect uppercut that left Whyte flat on his back, unconscious before he hit the canvas. There have been other smashing one-punch knockouts this year – Ryan Garcia's demolition of Francisco Fonseca comes quickly to mind – and there may be a few more, but it's hard to visualize anyone topping Povetkin in the voting for Knockout of the Year.
By the way, if he wins it, Povetkin, 41, would be the second-oldest boxer to score the Knockout of the Year. George Foreman was 45 when he knocked out Michael Moorer in 1994. The source is The Ring magazine which has been issuing this award since 1989.
And if you happen to know the youngest fighter to score The Ring Knockout of the Year, then you're pretty sharp. No, it's not baby-faced Naoya Inoue, who is older (27) than he looks. The honor goes to the long-forgotten African-American/Filipino southpaw Morris East who was 19 when he knocked out defending WBA 140-pound champion Akinobu Hironaka in 1992.
In a rarity, it didn't take long for Alexander Povetkin and Dillian Whyte to agree on a rematch. They will meet again on Nov. 21. The venue is undecided, but Eddie Hearn is hopeful that he can pot the fight somewhere outside his backyard "fight camp" with fans in attendance. The first lines on the fight show Whyte the favorite in the vicinity of 13/5. Povetkin-Whyte II will be a nice appetizer for the Errol Spence vs. Danny Garcia match that goes off later that day.
In an unrelated development, Fury-Wilder III is purportedly going to Allegiant Stadium, the new home of the Las Vegas Raiders, in late December. Bob Arum anticipates a crowd of 10,000-15,000 with social distancing protocols in place.
Check out more boxing news on video at the Boxing Channel 
To comment on this story in the Fight Forum CLICK HERE
Meekins vs. Kawoya: File It Under Bizarre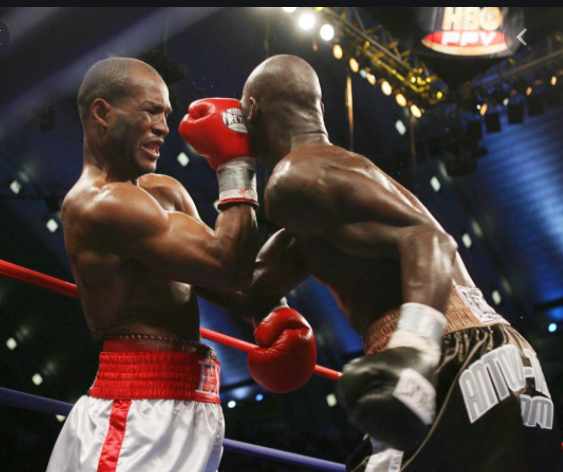 It was August 8, 1988. The location was Resorts International in Atlantic City. The main event featured New Yorker John Wesley Meekins (18-1-2) vs another New Yorker (via Uganda and Denmark) Mohammed Kawoya (11-3).
The rangy and skilled Meekins with a stellar amateur career was a clear favorite over the lesser known Kawoya who had fought only once in the US, losing to Jorge Maysonet on cuts at the Felt Forum. Meekins was expected to move on to a world title fight after dispatching Kawoya.
Meekins enjoyed a successful career between 1984 and 1994, fighting the likes of Davey Montana, Mike Mungin, Harold Brazier, Saoul Mamby, Santos Cardona, Darrin Morris (who won his last 16 fights in a row), and Terence Alli. He would lose to a prime Meldrick Taylor (20-0-1) in 1989 with the IBF World Super Lightweight title at stake.
On June 15, 1990, Meekins beat Santos Cardona over 12 rounds to win the NABF light-welterweight championship, but would lose it to Terence Alli some seven months later. It was downhill after that and he retired in November 1994 with a record of 24-5-2 after being stopped by so-so Darryl Lattimore.
Back to Meekins vs. Kawoya
 This one did not go as expected. After being decked in round 2, Kawoya dropped Meekins in the opening seconds of round 3. An exciting fight with multiple knockdowns and furious exchanges was in progress and the fans loved it.
An aroused Meekins then went after the Ugandan with a vengeance and set up one of the most bizarre endings that few boxing fans have ever heard about, much less witnessed, as he again dropped Kawoya this time with a fast left hook. He then went for the kill. Referee Paul Venti sensed it and moved in—perhaps prematurely– as Meekins unleashed what he hoped would be a fight-ending volley of hard shots.
 As soon as Venti stepped in to stop the fight, Kawoya landed a right that dropped Meekins and had him crawling on the canvas and holding on to the ropes devoid of his senses for at least ten seconds. The punch was thrown at the exact moment that Venti ended matters and Venti didn't realize what had occurred.
 While Kawoya thought he has scored a clean KO and celebrated wildly, the fact was that Venti had ended the fight a fraction of a second before and his decision would stand.
The fans not only enjoyed a great fight, they witnessed something truly memorable—something that had to be seen to be believed; namely, a winner struggling to get up and a loser celebrating what he thought was a knockout.
Kawoya pulled out of the rematch because of a throat infection and Saoul Mamby took his place as a late sub. The Ugandan never fought again, while Meekins never got the title shot that a more impressive effort might have gotten him.
Ted Sares can be reached at tedsares@roadrunner.com or on Facebook and welcomes comments.
Check out more boxing news on video at the Boxing Channel 
To comment on this story in the Fight Forum CLICK HERE
Price and Programming Lineup for Sept. 26 Charlo Twins PPV Doubleheader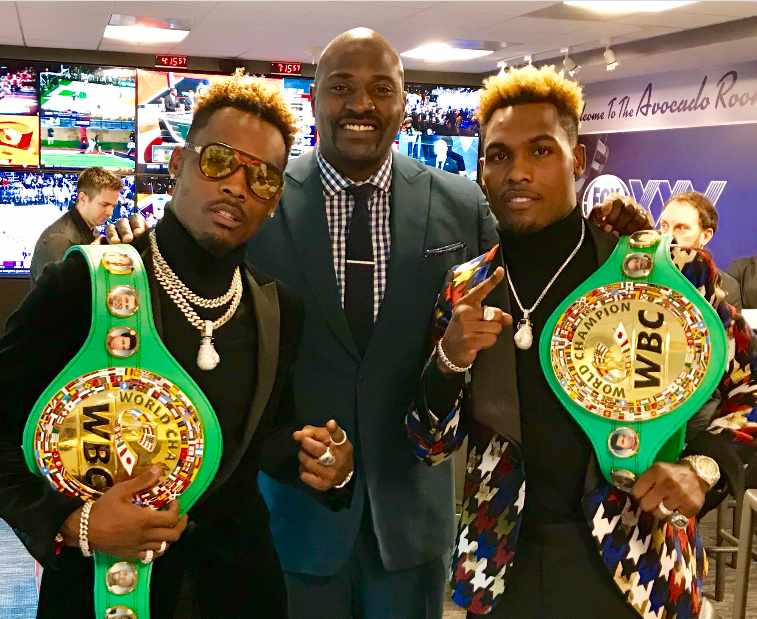 PRESS RELEASE — SHOWTIME Sports has announced the price and programming lineup for the first-of-its-kind pay-per-view doubleheader on Saturday, September 26, featuring two stacked fight cards each headlined by one of the world champion Charlo twins in an event presented by Premier Boxing Champions. THE SHOWTIME PPV event, CHARLO DOUBLEHEADER, is available for purchase at a suggested retail price (SRP) of $74.95 and includes six compelling fights, five of which are world championship bouts.
 THE EVENT
The first card of the SHOWTIME PPV telecast will be headlined by undefeated WBC Middleweight World Champion Jermall Charlo defending his title against Sergiy Derevyanchenko. WBA Super Bantamweight Champion Brandon Figueroa will defend his title against Damien Vázquez in the co-featured bout, while WBO Bantamweight World Champion John Riel Casimero faces off against Duke Micah in the pay-per-view opener. Following the main event and a 30-minute intermission, the second three-fight card headlined by WBC Super Welterweight World Champion Jermell Charlo facing unified 154-pound World Champion Jeison Rosario will begin. Luis Nery will battle Aaron Alameda for the vacant WBC Super Bantamweight World Championship in the co-feature, while former unified champion Danny Román faces former champion Juan Carlos Payano in a WBC Super Bantamweight title eliminator bout to open the second three-fight card of the pay-per-view.
TELECAST TEAM
The announce team for the SHOWTIME PPV telecast is comprised of the most experienced and decorated boxing team on television. Veteran sportscaster Brian Custer is the host. Versatile combat sports voice Mauro Ranallo handles blow-by-blow action alongside Hall of Fame analyst Al Bernstein and four-time world champion Abner Mares. Two Hall of Famers round out the telecast team: boxing historian Steve Farhood as unofficial scorer, and world-renowned ring announcer Jimmy Lennon Jr.
THE JOURNEY: CHARLO DOUBLEHEADER and DIGITAL PROGRAMMING LINEUP
In the leadup to the unprecedented two-event pay-per-view, SHOWTIME Sports will produce and premiere THE JOURNEY: CHARLO DOUBLEHEADER, a 30-minute show that chronicles the unique story of Jermall and Jermell, twins born one minute apart in Houston, Texas, as they rise through the ranks and put themselves in position to become global boxing stars. Voiced by SHOWTIME boxing host Brian Custer, THE JOURNEY: CHARLO DOUBLEHEADER features rarely seen footage and gives viewers a behind-the-scenes look at their most pivotal career moments, motivations, and life outside of the ring.
THE JOURNEY will premiere on SHOWTIME on Sunday, September 13 at 11:30 p.m. ET/PT and will be available for free on the SHOWTIME Sports YouTube channel and all SHOWTIME On Demand platforms.
SHOWTIME Sports will also release new episodes, of the original, digital franchiseRING RESUME which examines the career progressions of boxing's top stars, available on the SHOWTIME Sports YouTube channel. Beginning Monday, September 21, the SHOWTIME Boxing Snapchat page will focus on high-energy fight and training camp highlights featuring the Charlos. In addition, the Snapchat page will feature the Charlos' RING RESUMES and THE JOURNEY to expand reach to young audiences with short-form, fast-paced storytelling. Plus, Brendan Schaub and Kenny Florian will preview the keys to the fights on BELOW THE BELT BREAKDOWN, available on the BELOW THE BELT YouTube channel.
MORNING KOMBAT INTERMISSION
Combat sports aficionados Luke Thomas and Brian Campbell will host a 30-minute intermission show after the conclusion of the Charlo vs. Derevyanchenko main event and the start of the second three-fight card. The duo, hosts of the popular live combat sports talk show and podcast MORNING KOMBAT, will also host live streams of the main events press conference and official weigh-in in addition to providing in-depth coverage on MORNING KOMBAT throughout the week. The official weigh-in and main events press conference will stream live on the SHOWTIME Sports YouTube channel and SHOWTIME Boxing Facebook page.
Check out more boxing news on video at the Boxing Channel 
To comment on this story in the Fight Forum CLICK HERE