Jennings Has Sparred With Idea of Sparring a Klitschko
The date was May 7, 2002, after the Philadelphia 76ers had been bounced from the NBA playoffs a year after they had advanced to the Finals, and the team's superstar guard, Allen Iverson, was going off on the perceived difference – at least as it pertained to him – between actual competition and the work that presumably needed to be put in to get ready for games that counted.
Known for his notoriously lackadaisical practice habits, when he practiced at all, Iverson treated a beat writer's question about the matter as something beneath a player of his magnitude. His infamous rant at a press conference that day has become a YouTube staple.
"We're talkin' about practice," Iverson responded in a mocking tone of voice. "I mean listen, we're sitting here talkin' about practice. Not a game. We're talkin' about practice , man."
Eleven years and one month have passed, and another reasonably notable Philadelphia athlete was explaining – albeit to a much smaller media audience – his disdain for a certain element of practice. It's not that Bryant Jennings (16-0, 8 KOs), the IBF's third-ranked heavyweight who takes on Russia's Andrey Fedosov (24-2, 19 KOs) Friday night in a scheduled 10-rounder to be televised by the NBC Sports Network from Bethlehem, Pa. – has anything against sparring, per se. His trainer, Fred Jenkins, says the sculpted 6-2, 225-pounder has "a work ethic that, I think, supersedes every other heavyweight."
It's just that, well, Jennings doesn't think he needs to cross an ocean to spar somebody – even if that somebody happens to be a heavyweight champion of the world with the power to grant him a high-profile, high-paying shot at a version or versions of the title.
Jennings is steadfast in his belief that his refusal to serve as a practice partner to either Klitschko (Wladimir holds the IBF, WBO and The Ring magazine belts, while older brother Vitali is the WBC champ) is holding him back from the dream matchup he and his support team so obviously covet.
"I think you have to go to their camp (as a sparring partner) so they can test you, see what you're all about, so they can figure out what they're getting into … whether or not they can handle you," Jennings, speaking to reporters at the ABC Recreation Center in North Philly, said of the Klitschkos' propensity for selecting onetime sparring partners as challengers for their belts. "That seems to be the only way. A lot of their opponents have been their sparring partners, so that's one strategy (for moving to the front of the line).
"But I don't want them to figure me out just yet. I want them to find out what I'm all about when we get in the ring."
Jenkins confirmed Jennings' take on the situation, although he was a bit sketchy on details. He does recall that the trip would have taken them to Germany, which is the preferred base of operations for each of the Ukrainian giants.
"It's something that would have paid very well and, I won't kid you, we could have used the money," Jenkins said. "But Bryant and I talked it over and we agreed that we didn't want to go over there to be anybody's sparring partner. We want to fight those guys for real, with a world championship on the line."
So, which Klitschko did the inviting?
"I don't know which one," Jenkins said. "They both look alike to me. They fight alike, too."
For sparring partners and non-sparring partners alike, the window of opportunity to swap punches with a Klitschko would appear to be closing. Vitali (45-2, 41 KOs) is 41 and has a history of injuries that have kept him idle for long stretches, and Wladimir (60-3, 51 KOs) is 37 and already has his next opponent lined up. He's scheduled to square off with Russia's Alexander Povetkin (26-0, 18 KOs) on Oct. 5 in Moscow.
This might not be a golden age of heavyweights, but Team Jennings correctly points out that there is a glut of wannabes, both from Europe and America, who would leap at the chance to take a beating from a Klitschko for a sizable chunk of cash. U.S. heavyweights who conceivably could be on the Klitschkos' radar are another Philadelphian, Malik Scott (35-0-1, 12 KOs), as well as Tony Thompson (37-3, 25 KOs), Johnathon Banks (29-1-1, 19 KOs), Chris Arreola (35-3, 30 KOs), Deontay Wilder (28-0, 28 KOs), Amir Monsour (18-0, 14 KOs), Joe Hanks (21-0, 14 KOs), Kevin Johnson (29-3-1, 14 KOs), Seth Mitchell (25-1-1, 19 KOs) and Reading's Travis Kauffman (24-1, 18 KOs).
It should be noted that the 41-year-oldThompson is 0-2 against Wladimir and that Arreola and Johnson each has lost to Vitali. It seems reasonable to assume that some of the other American candidates might have decided that their best course of action will be to wait for the Klitschkos to retire, then try to wangle a shot at a vacant title against someone far less dangerous.
Jennings, though, is a young man in a hurry. So what if he didn't even take up boxing until the relatively advanced age of 24? So what if he has fewer pro fights than any of the other Americans who would love to become the first heavyweight champion from this country since Shannon Briggs briefly held the WBO crown in 2006? Time waits for no man, and Jennings, at 28, is an impatient sort.
"It's been done before," he said of relative neophytes (see Pete Rademacher and Leon Spinks) who bid for what used to be known as boxing's grandest prize. "I could see waiting if it hadn't been done before, but I'm not trying to do something that's all that unusual.
"I'm on my path. I got the heart, I got the will, I got the skill. I couldn't possibly do worse than some of the guys who have been in there (with the Klitschkos). And I would go in there to win , not just to lay down and draw a paycheck. Look at some of the other guys that fought them. When it was over, it was like you didn't hear anything about them again. They took their check and pretty much disappeared."
Jennings has always been supremely confident in his own abilities. A three-sport athlete at Benjamin Franklin High School, he is used to being the top guy at whatever sport he tried. But being king of the neighborhood is not the same as being king of the world.
"Jennings came in (to the gym) thinking he was big, even in the beginning," said Jenkins, who in his 31-year training career has worked with, among others, 1996 Olympic gold medalist and former WBA junior middleweight champion David Reid, '96 Olympian Zahir Raheem and three-time world title challenger "Rockin'" Rodney Moore. "He's always thinking he's better than anybody else. He's used to winning, to being a standout at whatever he tried. Boxing is just his latest challenge. He wants to accomplish great things, and I think he can.
"Every 20 years or so a fighter comes along that's extraordinary. This is one of those fighters. If you want to be great, you have to dare to be great. Instead of waiting for the Klitschkos to retire, he'd rather step in the ring and earn his greatness now.
"This kid moves like a lightweight and he hits twice as hard as most heavyweights. He'd be competitive right now with anybody in the division, no matter what their record is or how experienced they are. I want him to get his shot now because he's eager and he's hungry. He's willing to take more gambles than maybe a more seasoned guy would."
Jennings' Philadelphia-based promoter, J Russell Peltz, appreciates eagerness in a fighter. But he said his personal preference would be for the man known as "By-By" to take things just a bit slower in his scramble toward the top.
"I honestly don't know how good Jennings is," Peltz said. "I know he's got the style, with all that in-and-out speed, to beat the Klitschkos. Whether he can pull it off is the question. He was on the floor in his last fight against a B-level fighter (Bowie Tupou, whom Jennings knocked out in five rounds on Dec. 8). But that can happen to any fighter in any fight. (Note: Referee Blair Talmadge ruled Tupou's apparent knockdown of Jennings a slip.)
"It's tough to hold fighters back today because of the money. Even if he loses to a Klitschko, well, everybody else has, too, or probably would. But Jennings has a chance. The Klitschkos are old-style heavyweights, plodding along. Jennings is an athletic kid with a lot of confidence in himself. And he knows how to win.
"When he beat Maurice Byarm (on a unanimous, 10-round decision on Jan. 21, 2012), Byarm was the better fighter that night. But Jennings is a winner. He finds a way, maybe because he is so athletic. You don't see many heavyweights with his speed and reflexes."
There is the matter of possible ring rust to consider. Although he was very busy in 2012, fighting five times, Friday's clash with Fedosov will be his first actual bout in six months. Jennings said it's no big deal because "that's just the fight game. Boxing has a lot of politics. But I stay in the gym and keep myself sharp. Shouldn't be any problem."
Should Jennings get past Fedosov, he could be in line for a bout with the IBF's top-rated contender, Bulgaria's Kubrat Pulev (17-0, 9 KOs). A victory could catapault him into the position of mandatory contender, at least for the IBF version of the title. Not that Jennings is expecting much movement on that front. He said he and his support crew were offered a bout with Pulev for what they considered to be an "insulting" amount of money, said to be $25,000.
"He's sitting around, clogging up that No. 1 spot and he doesn't seem very anxious to fight anybody," Jennings said. "It gets real frustrating in this boxing business. Look, we all know what Pulev is doing. He's not the big, bad wolf he makes himself out to be. He's not getting turned down for fights because everybody's scared of him. He made us a bum offer. He makes a lot of guys bum offers, and wasn't nobody going to accept them."
Nor is Jennings impressed by Thompson, the soft-bodied veteran who made himself a factor again when he took out unbeaten British contender David Price on a second-round stoppage on Feb. 23 in Liverpool, England.
"Tony Thompson is living proof of just how shallow the heavyweight division is, that he can come off his toilet seat and just knock a guy out," Jennings sneered. "Tony Thompson didn't even wipe his ass. He got back in the game and beat the crap out of David Price. Doesn't say a whole lot about David Price now, does it?"
So Bryant Jennings plays the waiting game, whether he wants to or not, and while he waits he keeps calling out the Klitschkos because that's all he can do for now. Unless, of course, he wants to become one of their sparring partners.
"It's hard, man," he said of his efforts to draw the attention of one or both of the Klitschkos. "Boxing is not a sport you're supposed to be in very long. Who has time to sit around?"
Boxing Odds and Ends: The Sept. 26 Horn of Plenty and Other Notes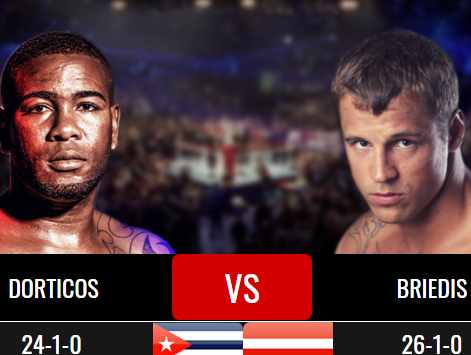 Considering the constraints, the month of September has been a pretty good month for professional boxing. And the month will close with a flourish. Eight world title-holders will be in action on the 26th, the last Saturday of the month.
Five of the belt-holders will appear on the SHOWTIME PPV doubleheader featuring the Charlo twins. The most intriguing fight on that card finds Jermall Charlo risking his belt and his undefeated record against rugged Sergiy Deveryanchenko. At last glance, Jermall was a consensus 17/10 (minus-170) favorite. In baseball, a 17/10 favorite is a heavy favorite. In boxing, not so. A serious handicapper who wouldn't think of laying 17/10 in a baseball game would have no hesitation about laying these odds in a boxing match.
When Deveryanchenko steps into the ring, 51 weeks will have elapsed since his last fight, his bruising tiff with Gennadiy Golovkin. Jermall Charlo hasn't been on the shelf for quite that long, having last fought in December.
A more interesting match on this particular Saturday, at least in the eyes of this reporter, will unfold earlier that day in Munich when the curtain finally comes down on Season 2 of the long-drawn-out World Boxing Super Series. Two titles will be on the line when Mairis Briedis (26-1, 19 KOs) meets Yuniel Dorticos (24-1, 22 KOs).
Briedis' lone defeat came at the hands of Oleksandr Usyk in a very competitive fight. Briedis won five rounds on two of the cards and won six rounds on the other. Dorticos' lone defeat came on enemy turf in Sochi, Russia when he was stopped with eight seconds remaining in a doozy of a fight with Murat Gassiev.
Forget the titles; titles are a dime a dozen. These two guys are plainly the two best cruiserweights on the planet.
"The tickets are flying out the door and we expect to sell out within hours, if not days," said co-promoter Kalle Sauerland at a pre-fight press conference.
That assertion was made way back on January 22 when the fight, originally targeted for late December of last year, was headed to Riga, Latvia, on March 21. That date didn't work, nor did the re-scheduled date of May 16, and ultimately Riga didn't work either.
Whatever tickets were sold, had to be refunded. There will be no fans in attendance when Briedis and Dorticos finally lock horns on Sept. 26 at a TV studio in Munich. The fight will air on DAZN in the U.S.
"Rest makes rust" was an often-heard caution when big gamblers of yesteryear dissected a boxing match. The late, great pricemaker Herb Lambeck reflexively shied away from boxers that had been inactive for a considerable period of time. For him, the Briedis-Dorticos match would likely be a head-scratcher. Both combatants have been inactive since June 15 of last year when they appeared in separate bouts on the same card in Riga, Briedis's hometown. And they aren't getting any younger. Briedis is 34 and Dorticos is 35.
The odds got nicked down somewhat when the site shifted from Riga with fans to Munich without, predictably so as Briedis, the first fighter from Latvia to win a world title, has an avid local following.
Briedis, the superior boxer, is a consensus 9/5 favorite. That seems a shade high as he won't be able to feed off the crowd – there won't be a crowd – and Dorticos, the Cuban KO Doctor, has a better chance of ending the fight with one punch. It wouldn't be shocking if the fight followed a similar tack as the recent fight between Dillian Whyte and Alexander Povetkin.
In case you missed it, Whyte was dominating his Russian adversary when things changed in a flash in the fifth round. Out of nowhere, Povetkin, the underdog, unleashed a picture-perfect uppercut that left Whyte flat on his back, unconscious before he hit the canvas. There have been other smashing one-punch knockouts this year – Ryan Garcia's demolition of Francisco Fonseca comes quickly to mind – and there may be a few more, but it's hard to visualize anyone topping Povetkin in the voting for Knockout of the Year.
By the way, if he wins it, Povetkin, 41, would be the second-oldest boxer to score the Knockout of the Year. George Foreman was 45 when he knocked out Michael Moorer in 1994. The source is The Ring magazine which has been issuing this award since 1989.
And if you happen to know the youngest fighter to score The Ring Knockout of the Year, then you're pretty sharp. No, it's not baby-faced Naoya Inoue, who is older (27) than he looks. The honor goes to the long-forgotten African-American/Filipino southpaw Morris East who was 19 when he knocked out defending WBA 140-pound champion Akinobu Hironaka in 1992.
In a rarity, it didn't take long for Alexander Povetkin and Dillian Whyte to agree on a rematch. They will meet again on Nov. 21. The venue is undecided, but Eddie Hearn is hopeful that he can pot the fight somewhere outside his backyard "fight camp" with fans in attendance. The first lines on the fight show Whyte the favorite in the vicinity of 13/5. Povetkin-Whyte II will be a nice appetizer for the Errol Spence vs. Danny Garcia match that goes off later that day.
In an unrelated development, Fury-Wilder III is purportedly going to Allegiant Stadium, the new home of the Las Vegas Raiders, in late December. Bob Arum anticipates a crowd of 10,000-15,000 with social distancing protocols in place.
Check out more boxing news on video at the Boxing Channel 
To comment on this story in the Fight Forum CLICK HERE
Meekins vs. Kawoya: File It Under Bizarre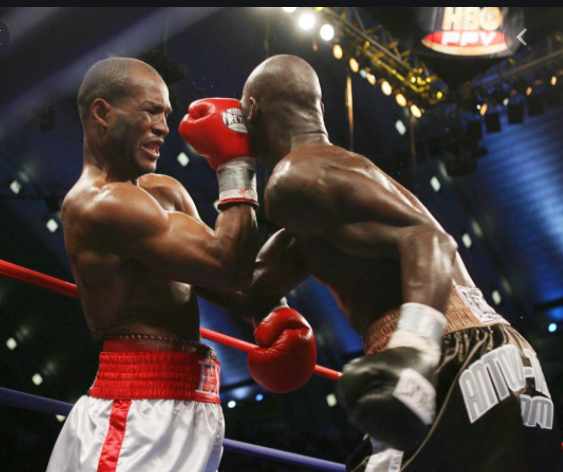 It was August 8, 1988. The location was Resorts International in Atlantic City. The main event featured New Yorker John Wesley Meekins (18-1-2) vs another New Yorker (via Uganda and Denmark) Mohammed Kawoya (11-3).
The rangy and skilled Meekins with a stellar amateur career was a clear favorite over the lesser known Kawoya who had fought only once in the US, losing to Jorge Maysonet on cuts at the Felt Forum. Meekins was expected to move on to a world title fight after dispatching Kawoya.
Meekins enjoyed a successful career between 1984 and 1994, fighting the likes of Davey Montana, Mike Mungin, Harold Brazier, Saoul Mamby, Santos Cardona, Darrin Morris (who won his last 16 fights in a row), and Terence Alli. He would lose to a prime Meldrick Taylor (20-0-1) in 1989 with the IBF World Super Lightweight title at stake.
On June 15, 1990, Meekins beat Santos Cardona over 12 rounds to win the NABF light-welterweight championship, but would lose it to Terence Alli some seven months later. It was downhill after that and he retired in November 1994 with a record of 24-5-2 after being stopped by so-so Darryl Lattimore.
Back to Meekins vs. Kawoya
 This one did not go as expected. After being decked in round 2, Kawoya dropped Meekins in the opening seconds of round 3. An exciting fight with multiple knockdowns and furious exchanges was in progress and the fans loved it.
An aroused Meekins then went after the Ugandan with a vengeance and set up one of the most bizarre endings that few boxing fans have ever heard about, much less witnessed, as he again dropped Kawoya this time with a fast left hook. He then went for the kill. Referee Paul Venti sensed it and moved in—perhaps prematurely– as Meekins unleashed what he hoped would be a fight-ending volley of hard shots.
 As soon as Venti stepped in to stop the fight, Kawoya landed a right that dropped Meekins and had him crawling on the canvas and holding on to the ropes devoid of his senses for at least ten seconds. The punch was thrown at the exact moment that Venti ended matters and Venti didn't realize what had occurred.
 While Kawoya thought he has scored a clean KO and celebrated wildly, the fact was that Venti had ended the fight a fraction of a second before and his decision would stand.
The fans not only enjoyed a great fight, they witnessed something truly memorable—something that had to be seen to be believed; namely, a winner struggling to get up and a loser celebrating what he thought was a knockout.
Kawoya pulled out of the rematch because of a throat infection and Saoul Mamby took his place as a late sub. The Ugandan never fought again, while Meekins never got the title shot that a more impressive effort might have gotten him.
Ted Sares can be reached at tedsares@roadrunner.com or on Facebook and welcomes comments.
Check out more boxing news on video at the Boxing Channel 
To comment on this story in the Fight Forum CLICK HERE
Price and Programming Lineup for Sept. 26 Charlo Twins PPV Doubleheader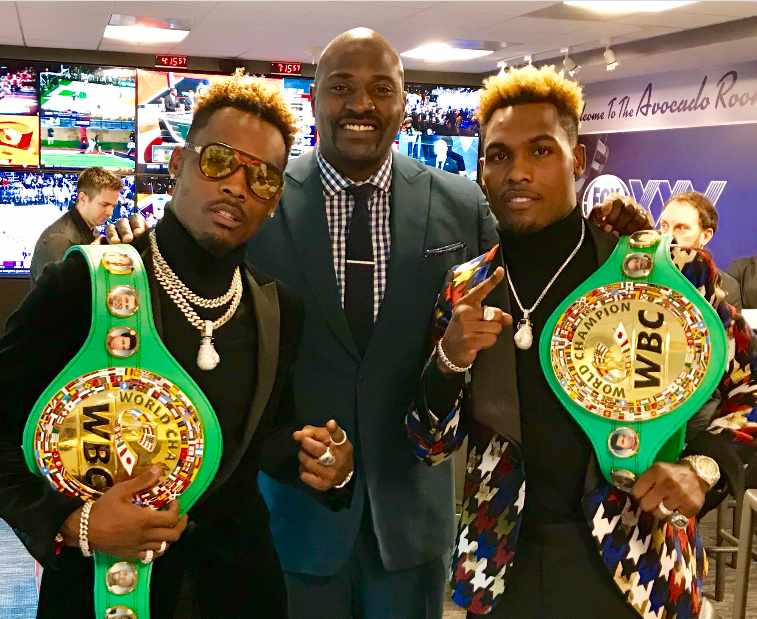 PRESS RELEASE — SHOWTIME Sports has announced the price and programming lineup for the first-of-its-kind pay-per-view doubleheader on Saturday, September 26, featuring two stacked fight cards each headlined by one of the world champion Charlo twins in an event presented by Premier Boxing Champions. THE SHOWTIME PPV event, CHARLO DOUBLEHEADER, is available for purchase at a suggested retail price (SRP) of $74.95 and includes six compelling fights, five of which are world championship bouts.
 THE EVENT
The first card of the SHOWTIME PPV telecast will be headlined by undefeated WBC Middleweight World Champion Jermall Charlo defending his title against Sergiy Derevyanchenko. WBA Super Bantamweight Champion Brandon Figueroa will defend his title against Damien Vázquez in the co-featured bout, while WBO Bantamweight World Champion John Riel Casimero faces off against Duke Micah in the pay-per-view opener. Following the main event and a 30-minute intermission, the second three-fight card headlined by WBC Super Welterweight World Champion Jermell Charlo facing unified 154-pound World Champion Jeison Rosario will begin. Luis Nery will battle Aaron Alameda for the vacant WBC Super Bantamweight World Championship in the co-feature, while former unified champion Danny Román faces former champion Juan Carlos Payano in a WBC Super Bantamweight title eliminator bout to open the second three-fight card of the pay-per-view.
TELECAST TEAM
The announce team for the SHOWTIME PPV telecast is comprised of the most experienced and decorated boxing team on television. Veteran sportscaster Brian Custer is the host. Versatile combat sports voice Mauro Ranallo handles blow-by-blow action alongside Hall of Fame analyst Al Bernstein and four-time world champion Abner Mares. Two Hall of Famers round out the telecast team: boxing historian Steve Farhood as unofficial scorer, and world-renowned ring announcer Jimmy Lennon Jr.
THE JOURNEY: CHARLO DOUBLEHEADER and DIGITAL PROGRAMMING LINEUP
In the leadup to the unprecedented two-event pay-per-view, SHOWTIME Sports will produce and premiere THE JOURNEY: CHARLO DOUBLEHEADER, a 30-minute show that chronicles the unique story of Jermall and Jermell, twins born one minute apart in Houston, Texas, as they rise through the ranks and put themselves in position to become global boxing stars. Voiced by SHOWTIME boxing host Brian Custer, THE JOURNEY: CHARLO DOUBLEHEADER features rarely seen footage and gives viewers a behind-the-scenes look at their most pivotal career moments, motivations, and life outside of the ring.
THE JOURNEY will premiere on SHOWTIME on Sunday, September 13 at 11:30 p.m. ET/PT and will be available for free on the SHOWTIME Sports YouTube channel and all SHOWTIME On Demand platforms.
SHOWTIME Sports will also release new episodes, of the original, digital franchiseRING RESUME which examines the career progressions of boxing's top stars, available on the SHOWTIME Sports YouTube channel. Beginning Monday, September 21, the SHOWTIME Boxing Snapchat page will focus on high-energy fight and training camp highlights featuring the Charlos. In addition, the Snapchat page will feature the Charlos' RING RESUMES and THE JOURNEY to expand reach to young audiences with short-form, fast-paced storytelling. Plus, Brendan Schaub and Kenny Florian will preview the keys to the fights on BELOW THE BELT BREAKDOWN, available on the BELOW THE BELT YouTube channel.
MORNING KOMBAT INTERMISSION
Combat sports aficionados Luke Thomas and Brian Campbell will host a 30-minute intermission show after the conclusion of the Charlo vs. Derevyanchenko main event and the start of the second three-fight card. The duo, hosts of the popular live combat sports talk show and podcast MORNING KOMBAT, will also host live streams of the main events press conference and official weigh-in in addition to providing in-depth coverage on MORNING KOMBAT throughout the week. The official weigh-in and main events press conference will stream live on the SHOWTIME Sports YouTube channel and SHOWTIME Boxing Facebook page.
Check out more boxing news on video at the Boxing Channel 
To comment on this story in the Fight Forum CLICK HERE