CHAMBERS DECIDES IT'S TIME TO CRUISE (FOR NOW)
What is the difference between being heavyweight champion of the world and cruiserweight champion of the world?
Well, some would say the difference is zero.
Plus another number.
Even now, a quarter-century after his final bout as a cruiserweight, Evander Holyfield probably remains the greatest fighter ever to compete in that netherworld that exists between light heavyweight and heavyweight. On April 9, 1988, the "Real Deal" added Carlos "Sugar" DeLeon's WBC cruiserweight championship to the WBA and IBF belts he already possessed when he stopped DeLeon in eight one-sided rounds at the Caesars Palace Sports Pavilion in Las Vegas. It was Holyfield's fifth defense of the then-190-pound title he ascended to when he outlasted rawhide-tough WBA champ Dwight Muhammad Qawi to take a memorable 15-round split decision on July 12, 1986, in Atlanta.
Holyfield had no difficulty making 190 pounds back then. Presumably, he could have held onto his cruiser titles for damn well as long as he pleased. With the exception of Qawi, the other fighters he defeated in his relatively brief reign – Henry Tillman, Ricky Parkey, Ossie Ocasio, Qawi again and, finally, DeLeon – hadn't posed particularly significant challenges to his reign.
But Holyfield knew his history, and, obviously, his math. His purse for fully unifying the cruiserweight title against DeLeon was $300,000. Even as he was winning that matchup with almost casual ease, it was public knowledge that undisputed heavyweight champion Mike Tyson had signed to defend his WBC, WBA and IBF titles against former champ Michael Spinks on June 27, 1988, in Atlantic City's Boardwalk Hall. Tyson was to receive a minimum of $15 million for that much-anticipated showdown to Spinks' $13.5 million.
Is it any wonder Holyfield's promotional company, Main Events, brought in Houston-based conditioning expert Tim Hallmark to bulk up their muscular yet lean king of the cruiserweights to make a run at possible eight-figure paydays? Holyfield would have had to fight and win 50 times to rake in what he received against DeLeon equal to what Tyson got for 91 seconds of demolition work against Spinks just 2½ months later.
Holyfield, of course, made the transition seamlessly, going on to win some version of the heavyweight crown four times while establishing himself as one of boxing's all-time best big men. He stands as Exhibit A for why so many cruiserweights (and more than a few light heavyweights) have attempted to follow the same path, packing on pounds in the quest for greater glory and a heftier bank account. And it's relatively easy to gain weight, right? Just pass the doughnuts or a six-pack of beer.
But sometimes it is more prudent to go in the opposite direction, at least temporarily, which is why smallish heavyweight contender "Fast" Eddie Chambers (36-3, 18 KOs) is slimming down to the cruiserweight limit (now 200 pounds) for his debut bout in the lower weight class, a scheduled 10-rounder against South Africa's Thabiso Mchunu (13-1, 10 KOs) on Aug. 3 at the Mohegan Sun in Uncasville, Conn. The bout will be televised by the NBC Sports Network, which doesn't appear to have the same aversion to cruiserweights that HBO, Showtime and other American broadcast outlets have shown since the division was introduced to scant enthusiasm in 1979.
Interestingly, Main Events president Kathy Duva – a publicist for the company which was then run by her late husband, Dan Duva, who oversaw Holyfield's move up to heavyweight – not only has approved Chambers' strategy of mixing it up with fighters more his own natural size, but she has readily endorsed it. Sometimes it is prudent for David to avoid Goliath, and for Jack to not climb that beanstalk.
"Our suggestion to Eddie was that it's good to be able to walk around the rest of your life and say you were champion of the world," said Duva, who now promotes Chambers along with Dan Goossen, of Goossen Tutor. "Eddie Chambers should be able to do that. He is that good. He has that kind of skill. In the cruiserweight division, he can dominate.
"Eddie still wants to win the heavyweight championship, and we're OK with him moving back up to heavyweight eventually. But there is a better way to move him at this particular time. I'm playing chess. That's what we do here. I need to position him, and it's better to position him as the cruiserweight champion than as just another pretty good heavyweight, most of whom only have a goal in life to go to Germany and have somebody twice their size (read the Klitschko brothers, Wladimir and Vitali) beat the living hell out of them."
The 6-1 Chambers knows what it's like to almost always be the little guy trying to chop down much heavier opponents who tower over him. Although he was well behind on points in his March 20, 2010, title bout in Dusseldorf, Germany, against IBF/WBO/IBO/The Ring champion Wladimir Klitscho – who was 5 inches taller and outweighed him by 34¼ pounds – he hung in there until being stopped with less than a minute remaining in the 12th and final round.
"These super heavyweights operate in a system that's patently unfair," Duva said. "Guys that big may be less skilled, but they're still going to beat guys who are more talented, but are so much smaller. You never see that kind of disparity in the lighter weight classes. Look at (Floyd) Mayweather-(Canelo) Alvarez. How much of a big deal was it that Alvarez had to give up two pounds to fight at a catchweight demanded by the Mayweather camp? But when Eddie Chambers gets in the ring against some of these huge heavyweights, he's expected to give up 30, 40, even 50 pounds – and still win.
"But guess what? With only a couple of exceptions, he still did win those kinds of fights. He went into the last round with Wladimir Klitschko and the only reason he got knocked out is because he was still trying to win, unlike most of the Klitschkos' opponents."
It's hard to dispute Duva's assertions. In his last six fights, Chambers was outweighed by an aggregate 232 pounds – an average of 38.7 pounds. The last time he fought someone lighter than himself was Oct. 3, 2008, when he came in at 219 pounds to 205 for Livan Hernandez, himself a bulked-up former cruiserweight.
Chambers, 31, a Pittsburgh native who since 2002 has been based on the other side of Pennsylvania, in Philadelphia, was a trim and career-low 202 pounds for his most recent ring appearance, a 12-round unanimous-decision loss to Tomasz Adamek for the vacant IBF North American heavyweight title on June 16, 2012, in Newark, N.J. But it should be noted that Chambers tore a muscle in his left biceps early on, an injury that reduced him to throwing almost nothing other than right-hand leads and is a major reason why he will have been inactive for 13½ months by the time he steps inside the ropes against Mchunu. Oh, yeah, and Adamek (a former light heavyweight and cruiserweight titlist) outweighed Chambers by the obligatory 23 pounds.
"I think it's a good idea to go down to cruiserweight, maybe dominate for a few years, then come back up to heavyweight with a stronger position as a world champion," said Chambers, who noted he is usually at 196 or 197 pounds after a workout these days. "I really want to become a world champion, regardless of what class it's in. When you're a world champion, you can take satisfaction in having that distinction for as long as you live. There are great fighters who never became world champions, but there is a tendency to feel that your career is not complete until you earn that title.
"I've been a ranked heavyweight for a long time, but I don't have that world championship. My detractors will say that's why I'm moving down. That's all right. Let them say whatever they want. Now I get to fight guys my own size for a while. When you look at the size differential with some of these really big heavyweights – I'm mainly thinking about the Klitschkos – it can change your mind a little bit about the notion of entering the ring with at least an equal chance to win."
Perhaps Chambers' expectation of domination at 200 pounds is overly optimistic. The reigning cruiserweight champions might not pose quite as large a hurdle to clear as the brothers Klitschko, but it would be wrong to presume that Poland's Krzsztof Wlodarczyk (48-2-1, 34 KOs; WBC), Panama's Guillermo Jones (39-3-2, 31 KOs; WBA), Germay-based Cuban Yoan Pablo Hernandez (27-1, 13 KOs; IBF) and Germany-based Serbian Marco Huck (36-2-1, 25 KOs; WBO) are chopped liver. But the path to the world title "Fast" Eddie so cherishes has to have fewer potholes than the one to the heavyweight crowns hoarded by the Klitschkos. Besides, Chambers is not even ranked at heavyweight by any of the world sanctioning bodies at present.
It should be noted that WBC lightweight champion Adrien Broner successfully stepped up two weight classes to challenge for Paulie Malignaggi's WBA welterweight title in Broner's first bout as a 147-pounder. Is it so unreasonable to believe that someone with Chambers' credentials, should he impressively take care of Mchunu, could step to the front of the line for a shot at one of the cruiser kings?
Even Chambers, however, admits that the cruiserweight division, at least in the United States, traditionally has been regarded as the "black sheep" of boxing, which is why he even briefly
contemplated paring all the way down to the light heavyweight limit of 175. But then he thought of the debilitating effects that sort of downsizing had on Chris Byrd and Roy Jones Jr., who skipped over the cruisers altogether after having won heavyweight championships. No, trying for light heavyweight definitely would be a bridge too far.
"As much as I would love to try my hand at light heavyweight, which is one of the eight traditional divisions, and a division in which there was and is a lot of interest, I know what trying to go all that way down did to Chris and Roy," Chambers said. "Trying to take off 20 or 25 pounds of muscle is harder, much harder, than trying to put it on. By skipping over the cruisers, those guys did damage to themselves. They never were the same."
The cruiserweight division, for whatever reason, never gained the popularity some thought it might have gained when it was created as a bridge between light heavyweight and the larger heavyweights who were beginning to emerge in the late 1970s. It takes a real boxing history buff to recall that the WBC was the organization to sanction a cruiserweight title bout, which pitted Marvin Camel against Mate Parlov on Dec. 8, 1979. In what might be considered an omen, that fight did not even produce a champion; it ended in a draw. But Camel etched his name in the record books when he defeated Parlov in a rematch three months later. The WBA then went into the cruiserweight business in 1982, the IBF in 1983.
Alas, Camel is far less celebrated as the first cruiserweight champ than is former New York Yankee Ron Blomberg, who became the first designated hitter in Major League Baseball when he strode to the plate on April 6, 1973, for his historic first at-bat against the Boston Red Sox in Fenway Park.
To her credit, Duva is no Johnny-come-lately when it comes to heralding the potential glories of the cruisers. Prior to Adamek's IBF cruiserweight defense against Bobby Gunn on July 11, 2009, Duva mounted her soap box to proclaim that there should be a more prominent place of honor for the 200-pounders.
"All these huge heavyweights are the reason the division is in the sorry state it's in," Duva said. "Big, lumbering guys who can't get out of their own way are never going to make exciting fights. Let's face it, if you've got a 6-5, 240-pound, athletic guy in the United States, he's probably playing basketball or football.
"Evander Holyfield, Mike Tyson … those were small heavyweights. They could have gotten down to 200 if they had to. And think about some of the great heavyweights throughout history – Jack Dempsey, Rocky Marciano, even Joe Louis. They'd probably be cruiserweights today."
Four years later, Duva is beating the same drum.
"If I had my way, I would rename the cruiserweight division the heavyweight division, because that's what it really is," she said. "I would call anything about, say, 220 the super heavyweight division, like they do in the Olympics. That's what I would do if I were in charge of the world. Cruiserweight is a terrible name. It doesn't sound tough enough, or something. If the cruiserweights were called
heavyweights, and bigger heavyweights were called super heavyweights, a lot more people would be interested in seeing today's cruiserweights.
"Let's be honest. Super heavyweights are slower. They often win by imposing their size on smaller opponents. But cruiserweight fights are fun to watch. They're more exciting. I'm just fortunate I have this platform at NBC where we can do things that network TV executives elsewhere generally don't want to do, which is to give these guys a chance.
"Some of the best fights I've ever seen were in the cruiserweight division, or involved small heavyweights or big light heavyweights who could make cruiserweight if they tried. The best fight I ever saw in person was Matthew Saad Muhammad and Yaqui Lopez, who were big light heavys. Great cruiserweight fights were Holyfield-Qawi, the first one, and Adamek-(Steve) Cunningham, also the first one. We were fortunate to promote both those fights."
Duva's plan is to have Chambers fight regularly on the NBC Sports Network, which will help him develop more of a following if he can get more eyeballs in the U.S. to see what he can do at a weight that presumably fits him better.
"I think the way for him to go is to dominate the cruiserweight division, and to be seen on television doing it," she continued. "This is an American athlete, a tremendously articulate young man, nice personality, good-looking, charming as hell. He's got everything. But he's always portrayed as the little guy with no chance.
"But that little guy went to Germany and beat (Alexander) Dimitrenko, a guy twice his size. But nobody on this side of the Atlantic saw it, so what good did it do him? We have to change that."
Holyfield, of course, is the most notable exception to the widely accepted rule of thumb that cruiserweight champions – think Al "Ice" Cole and Jean-Marc Mormek — don't make much of a splash at heavyweight. So maybe Chambers' second expedition at heavyweight, if and when he makes it, won't be any more of a breakthrough journey than the first.
"Some cruiserweights will move up and do well, and some won't," she reasoned. "What the goal should always be is to provide entertainment to boxing fans. With Eddie, we think it's best to take a step back, figure out what's broken, and how to fix it.
"One of the things I've been on the warpath on for quite some time is the idea that being a cruiserweight is somehow second-rate. It's so absurd. Somehow, some way, we have to change that kind of thinking."
Tony Yoka Makes Quick Work of Duhaupas; Yoka's Wife Wins Too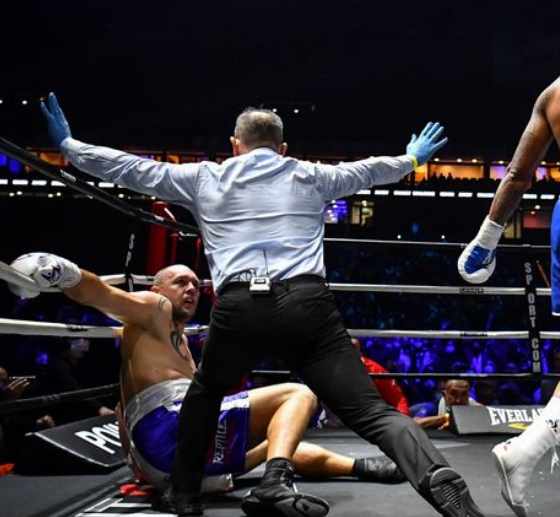 An indoor rugby stadium in Nanterre, a township in an inner suburb of Paris, was the site today of a five-fight boxing show featuring Tony Yoka and his wife Estelle Mossely in separate bouts (when they fight each other, they do it in the privacy of their home). Attendance was limited to 5,000 with social distancing protocols in place.
Yoka and Mossely, the parents of two young children, the youngest a boy born in May, were each gold medal winners in boxing at the 2016 Rio games. The six-foot-seven Yoka defeated Filip Hrgovic in the semis and Joe Joyce in the gold medal round.
Today Yoka, in his first scheduled 12-rounder, was matched against 39-year-old French warhorse Johan Duhaupas who was 38-5 (25) heading in. Duhaupas went 12 rounds with Jarrell Miller, extended Deontay Wilder into the 11th frame, and knocked out Robert Helenius, the conqueror of Adam Kownacki. Despite his advanced age, he represented a step up in class for Yoka, 28, whose pro career was disrupted by a one-year suspension from the French Boxing Federation for being a no-show at three PED tests. At the very least, Duhaupas was expected to give Yoka some rounds.
But Yoka had other ideas. He needed only 121 seconds to dismantle his countryman and show that he belongs in the conversation with Daniel Dubois, Jared Anderson, the aforementioned Hrgovic and others when talking about the next generation of heavyweight stars.
Yoka (8-0, 7 KOs) dropped Duhaupas midway through the opening round with an overhand right. Duhaupas didn't appear to be badly hurt, but he had no antidote for the barrage that followed. The coup-de-gras was a big right uppercut that sent him flying backward against the ropes. The referee stepped in immediately.
Yoka's U.S. promoter is Top Rank which is seeminly out to corner the market on bright young heavyweight prospects. When Yoka turned pro it was under the tutelage of Virgil Hunter, the trainer of Andre Ward. Yoka has spent considerable time in Las Vegas while serving as the chief sparring partner for Joseph Parker.
—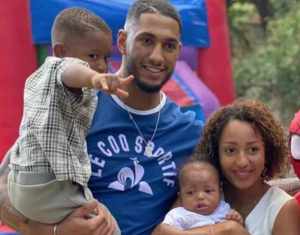 Estelle Mossely kept pace with her hubby. Mossely, 28, advanced her record to 7-0 (1) with an 8-round unanimous decision over countrywoman Aurelie Froment. The scores were 80-72 across the board.
This was an assignment designed to shed the rust. Froment, 33, entered the fight with a 3-0-1 record, but hadn't previously met an opponent with a winning record. In fact, none of Froment's previous opponents had ever won a fight. In the aggregate, the foursome was 0-32-5 at the time that she fought them. Even the world sanctioning bodies steered clear of this affair, refusing to cloak the fight in some sort of title.
That observation aside, it was a nice win for Mossely coming so soon after giving birth. Born in France of Congolese and Ukrainian descent, she is rated the world's best active female lightweight by BoxRec.
Hot prospect Souleymane Cissikho was originally scheduled to be on the card, but pulled out for an undisclosed reason. An Olympic teammate of Tony Yoka, Cissikho is a  special talent.
Check out more boxing news on video at the Boxing Channel 
To comment on this story in the Fight Forum CLICK HERE
Season 2 of the World Boxing Super Series Concludes on Saturday in Munich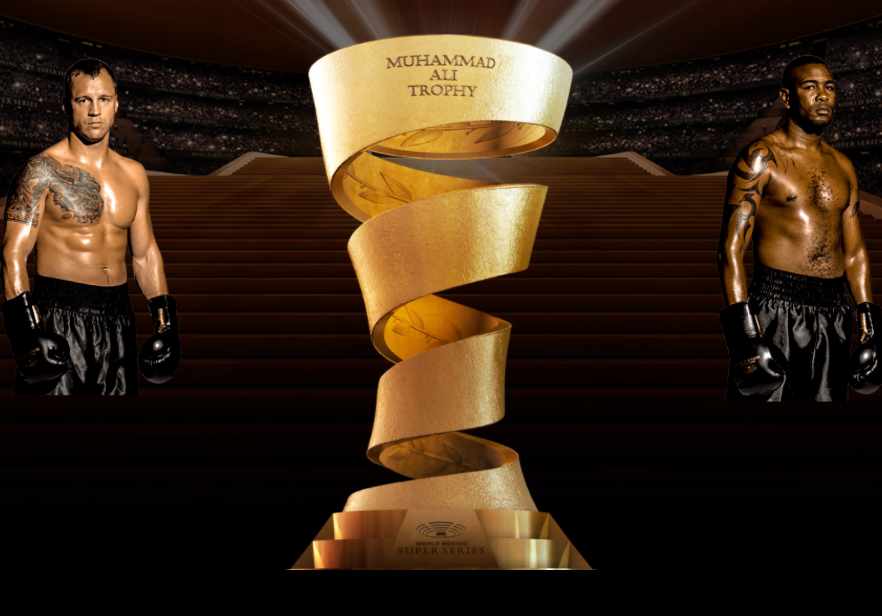 PRESS RELEASE: The hotly-anticipated World Boxing Super Series Season II Cruiserweight Final between Mairis Briedis and Yuniel Dorticos takes place behind-closed-doors in a film studio at Plazamedia Broadcasting Center in Munich, Germany on Saturday, 26 September. On the line: The Muhammad Ali Trophy, IBF World Title, and vacant Ring Magazine 200 lbs belt.
The final will be shown live on DAZN in the US and Sky Sports in the UK.
"A final for the Muhammad Ali Trophy has proved to be something extraordinary. We have seen that it brings out the best in boxers which reflects the DNA of our tournament as to deliver and continue to deliver boxing at its very best to fans of the sport," said Andreas Benz, CEO of Comosa, the event organizer.
"Plazamedia is a phenomenal solution, the studios are providing a controlled environment which is of huge benefit to us and the production team to keep everyone safe while also putting on a great show.
"At the same time, we have done everything to secure fair conditions for both teams, and to ensure they remain healthy and isolated until the action starts."
Mairis Briedis, tournament No. 1 seed, qualified for the final through wins over Noel Mikaelian (UD) and Krzysztof Glowacki (TKO3), while Dorticos, No. 2 seed conquered Mateusz Masternak (UD) and Andrew Tabiti (KO10) to enter the 200 lbs decider.
"We are very happy about the announcement of the final," said Latvia's Mairis Briedis. "I love the fact that it will be in Munich as it reminds me of every time I went to train with the Klitschko brothers in Germany and the flights were always via Munich. Those are some great memories of the time spent with them there."
Said Miami-based Cuban, Yuniel 'The KO Doctor' Dorticos, IBF World Cruiserweight Champion: "To all my fans worldwide, In Europe and especially in Munich, Germany: I am super happy the World Boxing Super Series final will take place in Munich, Germany, and I will see you all on Saturday, September 26th. The KO Doctor is back and ready to prescribe another dose of pain and take the Muhammad Ali Trophy back to Miami."
Kalle Sauerland, Chief Boxing Officer of the WBSS, said: "On 26 September we will not only crown the best cruiserweight on the planet but also send a sign to the world that boxing is back with the first major transatlantic championship bout between the undisputed number one and two in their division.
The final is not only about honour and glory, but cementing a legacy. The winner will become a member of an exclusive 'Ali Trophy Winner Club' that includes Oleksandr Usyk, Callum Smith, Naoya Inoue and Josh Taylor. It doesn't get much bigger in boxing, and we expect Briedis and Dorticos to have an absolute barnstormer!"
The Muhammad Ali Trophy was created by the late world-renowned artist Silvio Gazzaniga who also designed the iconic FIFA World Cup Trophy.
Check out more boxing news on video at the Boxing Channel 
To comment on this story in the Fight Forum CLICK HERE
Avila Perspective, Chap. 106: Return of LA Boxing, Josh Taylor, Charlos and More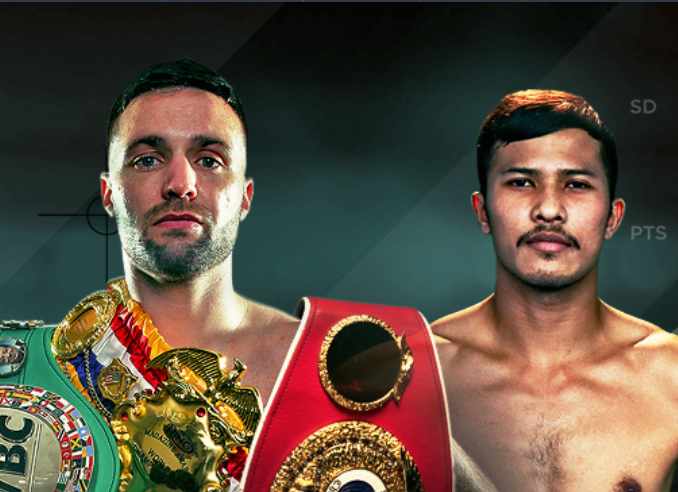 Avila Perspective, Chap. 106: Return of LA Boxing, Josh Taylor, Charlos and More
Let's call this week the Big Build Up.
Back in the 1920s to the 1950s the City of Angels was known as the place where Humphrey Bogart lived and played characters out of Raymond Chandler's novels. Books like the "Big Sleep" and "Lady in a Lake" were made into movies based in Los Angeles.
Well, here we are back where boxing thrives, people or not.
Los Angeles kicks off the big boxing week starting with a televised fight card that features home grown featherweight Vic Pasillas at the Microsoft Theater in the downtown area. Fox Sports 1 will televise the Premier Boxing Championship card on Wednesday, Sept. 23.
Pasillas (15-0,8 KOs) faces Dominican fighter Ranfis Encarnacion (17-0, 13 KOs) in the co-main event at a fan-less event that begins a crowded week of boxing as we near the end of 2020.
"Coming out on top against Encarnación is going to catapult me into some big fights at featherweight. The division is wide open and I know with hard work I can take it over," said Pasillas who is originally from Los Angeles. "This is by far the most important fight of my career. I'm coming with everything I got, because I know this is the turning point that will lead to bigger and better fights. I am ready to bring an exciting fight to the fans and get my hand raised in victory."
Both Pasillas and Encarnacion are undefeated and unknown to most of the boxing world. A win changes everything especially when it's difficult to even stage a boxing card.
Promoters are anxious to get their fighters in the ring by any means necessary.
On Thursday in Biloxi, Mississippi, super lightweight Michael Williams Jr. meets Thomas Miller in the headline attraction of a boxing card that will be streamed by UFC Fight Pass.
On Friday in southern Mexico, Serhii Bohachuk (17-0, 17 KOs) meets Alejandro Davila (21-1-2, 8 KOs) in Merida, Yucatan. No word if it will be streamed. The super welterweight from Ukraine has a 17-fight knockout streak and has become a main attraction in Hollywood, California for 360 Promotions.
"Serhii has become one of the most talked about rising stars in boxing," said Tom Loeffler, promoter of 360 Promotions. "Boxing fans are excited to see if he can continue his knockout streak against Alejandro Davila, the toughest opponent he's faced. He's been training very hard with Manny Robles for this fight and if victorious, we're certain there will be bigger opportunities for him in the near future."
These are all tasty appetizers for the big buffet coming on Saturday.
Breakfast, Lunch and Dinner
Saturday morning, especially if you live in the California area, ESPN+ will showcase the IBF, WBA super lightweight world title fight between champion Josh Taylor (16-0, 12 KOs) and Apinun Khongsong (16-0, 13 KOs) in London. It will be streamed live on Sept. 26, Saturday morning, starting at 11 a.m PST.
This is an important match for Taylor (pictured on the left) who needs a win to nail down a unification clash with Jose Carlos Ramirez the WBC and WBO titlist. If Scotland's Taylor emerges victorious the super lightweight clash will be one of the top fights of the year.
And if that fight happens to take place, then that winner more than likely meets WBO welterweight champion Terence Crawford.
But first things first. Taylor needs to defeat Thailand's Khongsong on Saturday.
"I didn't want a warm-up fight, so getting straight back in there against my mandatory challenger is great, as it's kept me fully focused. I want big fights in my career, so this is an important fight with my belts on the line," said Taylor.
Charlos Pay-per-view
The Charlos brothers asked for it and they got it.
Long have the brothers from Houston, Texas asked for a pay-per-view fight card and it never seemed possible until now. The Charlos will headline a pay-per-view double-header on Saturday via Showtime.
Beginning at 4 p.m PT/ 7 p.m. ET the Showtime pay-per-view card begins with three top notch bouts:
WBO bantamweight titlist John Riel Casimero (29-4) vs Ghana's Duke Micah (24-0, 19 KOs).
WBA super bantamweight titlist Brandon Figueroa (20-0-1, 15 KOs) vs Damien Vazquez (15-1-1, 8 KOs).
WBC middleweight titlist Jermall Charlo (30-0, 22 KOs) v Sergiy Derevyanchenko (13-2, 10 KOs).
Charlo was not impressed with Derevyanchenko's performances against Daniel Jacobs and Gennady Golovkin because both were losses. He expects to dominate.
Derevyanchenko says he's ready for Charlo.
"Golovkin is a very different fighter than Charlo, but Jacobs is similar stylistically, so that's something I'll be used to," said Derevyanchenko. "This training camp has been very similar to camps for my previous fights though. We just brought in different sparring partners for this one. We're using fighters who can show us what Charlo will bring to the ring."
After a 30-minute intermission the second half of the boxing card begins.
Former bantamweight world champion Luis Nery (30-0, 24 KOs) moves up in weight to face Aaron Alameda (25-0, 13 KOs) for the vacant WBC super bantamweight world title. Both fighters are from Mexico.
Former super bantamweight titlists Danny Roman (27-3-1) and Juan Carlos Payano (21-3) meet in a 12-round bout.
In the grand finale WBC super welterweight titlist Jermell Charlo (33-1, 17 KOs) challenges IBF and WBA super welterweight titlist Jeison Rosario (20-1-1, 14 KOs) in a fight for all three belts.
"We lions," said Charlo.
It's a very big week for boxing that begins on Wednesday and ends Saturday.
Check out more boxing news on video at the Boxing Channel 
To comment on this story in the Fight Forum CLICK HERE