A Prayer For Rickey Womack
On January 19, 2002, at age 40, undefeated heavyweight Rickey Womack died in a hospital bed with a hole where his eye should have been.
Rickey was not always this way. Once upon a time, Rickey was young and free. He had big dreams and, perhaps more importantly, the talent to make them real. Everything was set. Rickey was going to be a star.
Except that maybe everything wasn't set. Rickey had secrets. Rickey had doubts. There was darkness inside.
His childhood had been rough. He and his eight brothers and sisters had to be removed from their home and placed into foster care because Daddy wasn't good at bringing up kids. Momma didn't help. Daddy would get mean and make things rough. Too rough. It was bad. All too often, it was just plain savage. No one deserved it. It's just what it was. Rickey learned the law of the world: brutality. It never left him. Never.
But Rickey found a way to use it. He found success inside a boxing ring. As an amateur, he was the best light heavyweight in the world, national champion in 1983. He missed out on the 1984 Olympics by losing a box-off against some tough kid from Atlanta he'd beaten twice before named Evander Holyfield.
Tough break.
Rickey was fierce in the trenches. He had fast hands and real power. More than that, he fought lean and mean. He wasn't just a machine when the bell rang though. He fought with passion. He was a savage killer in the ring, the kind that makes real money in the sport when the headgear comes off. Despite his Olympic dream washout, he was sure to be a fantastic professional. Everybody knew it.
"Rickey was a light heavyweight, but he had the speed of a lightweight," said former cornerman Rick Griffith. "He had speed, punching power, the chin…I mean the guy could fight. Rickey Womack was the truth, man. The truth."
Rickey's professional career started fast. After suffering a draw in his professional opener, Rickey reeled off ten straight wins as part of Emanuel Steward's illustrious Kronk boxing team in Detroit. Soon enough, Rickey had everything he needed. He had a mentor in Steward, a promotional deal with Top Rank, a boxing contract with ESPN that was set to pay him a minimum of $100,000 in 1986, and a pristine professional record that was sure to set him on the path to future glory.
"He was just a young guy having fun and boxing," said Griffith. "He was a joy then. You know how it is, when you're young and you don't have a care in the world. He was a great guy back then."
But Rickey's life outside the ring was moving even faster. And there was still that darkness.
Rickey always had trouble walking the straight and narrow. Amateur teammates reported multiple thefts by Rickey during his reign as national champion, and the behavior didn't stop when he hit the professional ranks. Rickey was a rough dude.
By 1985, Rickey had turned to violent crime. Rickey pistol-whipped a female clerk with a 9mm handgun for just a few hundred dollars and a handful of videos. Months later, he attempted another robbery that ended with him panicking and shooting a passerby who happened to walk into the store that night to rent a movie. His victim lived, but Rickey's career was now on life support.
Rickey was arrested for the shooting on June 9, 1986. Police found Rickey's car keys and wallet at the scene of the crime. It was an easy trial for the prosecution. At the tender age of 22, Rickey was sentenced to serve 12–25 years in prison.
Years passed, but as Rickey aged, he found things in prison he had never had before. He found a faith in God, and he found friendship in the form of pen pal and visitor Dr. Stuart Kirschenbaum.
Kirschenbaum is a boxing guy. A Detroit-area podiatrist, he's done just about everything one can do in the sport of boxing. He's been a fighter, a judge and even Michigan's state boxing commissioner. Like any good Detroit fight fan, Kirschenbaum had followed Rickey's amateur exploits as he was coming up ranks, and the two men got to know each other through letters and phone calls during Rickey's stay at the Ryan Correctional Facility in Detroit. They kept at it, even when Rickey was moved to other prisons around the state.
Rickey was still troubled, but having a friend like Kirschenbaum helped him.
"Man, Dr. Kirschenbaum has been such a great help to me," Rickey told The Detroit News back in 2000 as he waited to face the parole board. "Whenever I needed someone to talk to, to chastise me, he accepted my call. I cherish it."
Kirschenbaum cherished it, too, and the day Rickey was finally released from prison in November of 2000 (paroled almost fifteen years into his sentence), Kirschenbaum was there to pick him up.
"My life, I can't play it back," Rickey told the parole board before his release. "I can't change the past. The only thing I can do from the past is to learn from it."
Rickey left Jackson state prison with basically nothing. Now 39 years old, the man who once had the world in the palm of his hand was reduced to simple things: a change of clothes, hand wraps and a check for $28.82. But Rickey was free now, and he'd kept himself in good enough shape to look almost as if he'd never been there at all.
Rickey probably thought about a lot of things on the 77 mile ride with Kirschenbaum back to Detroit. He must have been full of wonder, fear and hope. Rickey had told Detroit sports journalists who'd kept in touch with him while he was incarcerated that boxing was the furthest thing from his mind, but that probably changed on his trip back into the city. Boxing is what Rickey knew.
"We've talked about Rickey getting a job in real life," Kirschenbaum told The Detroit News before Rickey's release. "He can get a job working construction, or anything, just like anyone else. If Rickey wants to go to the gym and work out and maybe have a fight, that's OK. But it's going to be his avocation, not his job."
Nevertheless, it didn't take long for Rickey to find himself back inside the boxing ring. Just three weeks after his release, Rickey met his new team at Detroit's Johnson Recreation Center. It consisted of Kirschenbaum, head trainer Bill Miller, assistant coach Rick Griffith and promoter Bill Kozerski. Rickey was right back where he belonged. He was a highly skilled boxer with a topnotch team behind him.
Even at his advanced age, Rickey still had promise. Boxing was what he was born to do, and it was almost immediately apparent to Rickey's team that he still something left in the tank.
"I was amazed a guy could come back after 14 years and look that good," Miller told the Detroit Free Press.
"He basically was the same fighter he was before he went to prison," added Griffith. "His body was basically preserved."
Rickey had support from his fellow 1983-84 counterparts as well. Griffith said both Mike Tyson and Evander Holyfield, by now multi-millionaire stars of the sport, reached out to Rickey after his release to offer their support. Tyson even supplemented Rickey's income to help him get back on his feet.
Rickey had it all now. Again.
Griffith said no one on Rickey's team had delusions of grandeur, but once they witnessed him back inside the boxing gym, optimism was high. Rickey was a beast when he trained. He was the real deal.
"Now, I'm not going to say he would've been world champion," said Griffith. "But with the promoter he had (Kozerski also represented James Toney and Chris Byrd) he would have been put into a position to fight for the title. I know he would've at least gotten a shot."
On Thursday, March 29, 2001, Rickey Womack returned to the boxing ring against a 10-4 heavyweight from New York named Curt Paige. The Yankee was tough. Every one of his wins had been a knockout. But Rickey Womack was the truth. He knocked Paige out halfway through the scheduled 6-rounder. Rickey was back.
Griffith told TSS it wasn't long before Rickey was living the highlife again. The 39-year-old indulged himself in new clothes and nice a cars, and he married a beautiful lawyer named Angela.
"Rickey was getting $10,000 a bout to fight journeymen," said Griffith. "He should've been happy."
But Rickey wasn't happy.
Rickey picked up two more victories after defeating Paige. He defeated Gesses Mesgana by TKO in the fourth round that May and outpointed Kenny Snow just two months later.
Despite his success, people began noticing a change in Rickey.
"There were some days he was a great guy," said Griffith. "But some days, he'd just shut down."
Griffith said Rickey suffered from terrible mood swings, and that unbeknownst to those at the gym, his relationship with Angela had turned sour.
"Rickey was so incredibly jealous," Kirschenbaum related to Frank Fraser. "He used to lock her in the house if he had to go somewhere and she wasn¹t allowed to leave. Rickey had a hard time understanding what a marriage was about. He looked at her as a possession and kept her away from his career. He had a lot of trouble sharing with her his problems. He treated her as if he was the warden and she was the prisoner…"
Griffith said Rickey was also immensely distrustful of people he didn't know.
"As a person, he was very standoffish. He didn't really want to be around people. If you weren't in our clique, you didn't have much coming with Rickey. Even us, some days he'd just come and say he didn't want to talk. He'd just work out, get his bag and leave."
Despite it all, Rickey still looked great in the gym. But it was fight night that mattered most, and Rickey had issues when it counted.
"In the gym, he looked like a million dollars, but when we used to go the fight and the lights came on, he was always worried about what people thought."
Griffith said Rickey was obsessed with the past. He'd constantly ask Griffith if he thought people were laughing at him.
"You think they think I don't look as good as I did in the 80s?" he'd ask.
Rickey's last fight was November 23, 2001 against Willie Chapman at The Palace at Auburn Hills. Rickey won a unanimous decision in front of 10,000 raucous Motor City fight fans but appeared sluggish and disinterested throughout the bout. The boo-birds let him hear it, too, and Rickey did not take it well.
"He was just so worried about what the audience was thinking that he wouldn't pull the trigger," said Griffith.
Griffith said Rickey was so obsessed with the crowd that he even began talking about it between rounds. Spotting legendary champion Thomas Hearns at ringside seemed to make things worse. As "The Motor City Cobra" was milling around with friends and fans during the fight, Hearns cracked a smile and laughed.
"Is Tommy laughing at me?" Rickey angrily asked Griffith.
"What?" Griffith replied. "Well, he's laughing, but I don't know if he's laughing at you. Should we even be thinking about this right now?"
Rickey was dead within two months.
It's hard to say what Rickey could've accomplished as a professional had he never turned to crime. There are plenty of amateur standouts that never pan out in the pros, but something about Rickey strikes a chord with people. Evander Holyfield dedicates a portion of his autobiography to telling Rickey's story, and goes so far as to say the hardest part of his Olympic journey was getting past him.
"No fighter I'd go up against during the Games was as good a fighter as Rickey Womack," Holyfield wrote.
For his part, Griffith believes Rickey could've been just as good a professional as Holyfield, a surefire all-time great, turned out to be–maybe even better.
"Had he never gone to prison, all the accolades Evander Holyfield got would've been Rickey Womack's. All the guys Evander beat, Rickey would've beaten. Now, Rickey would've had problems with Riddick Bowe the way Evander did…but Rickey would've beaten all the guys Holyfield did, including Mike Tyson."
It was not meant to be.
"That armed robbery: it was dumb. And honestly, he got what he deserved. But after he served his time, after he paid his debt, he should've been able to live his life and move on. And Rickey just couldn't do it. He just couldn't do it."
Rickey didn't tell anyone he was going to kill himself. Maybe he thought he'd already done that. Years before, Rickey had sent Kirschenbaum a letter from prison. Rickey was especially distraught that day. He felt the walls of life closing in on him, and he was losing hope he'd ever be free.
Doc,
Hello to my one true friend in life whom I have adopted as a father figure. It's sad but true, I don't like getting sad news and yet this is a sad goodbye. As I write this letter I'm trying to fight back the tears of my inner pain.
As I once told you, my dear friend, there are doors that are open, and that no man can close them, and there are those that are closed that no man can open.
Doc, in this life it has been bittersweet and untastefully sad. To the Creator, at the sad end of my life, I was a bit mad. I used to fear death until I understood death. When I muster up enough courage I will take this physical life of my own through the death of hanging. Tell not my twin brother of this, but let him know that he was and always will be the shadow of life in my every thought.
Love,
Ric
Or maybe Rickey thought he'd said enough to Kirschenbaum on his way back home after his last fight inside the boxing ring where he took the win over Chapman.
"Don't worry about me anymore, doc," he said.
"Don't do anything you'll regret," Kirschenbaum replied, but Rickey didn't answer.
Maybe Rickey Womack died in prison after all.
"I remember one day we were in the ring doing hand work," Griffith said. "He just stopped and said Rick, man, I'm still in prison."
"I said what are you talking about? You're out here, you're making good money, you have a beautiful wife, and you're in the thick of things as far as making money as a fighter. I mean, he was making good money for those little 4-5 round fights he was having. I was like man, you're out, you're doing your thing, and he says: nah, man I'm still in prison in my mind."
Griffith paused a bit, as if he was hearing it for the first time.
"And when he made that statement, that's when I knew that this was going to be rough. Because he still felt he was in prison. Not in a physical prison, but in the prison of his mind. And the prison of his mind was his past."
One Friday night, after a heated argument with his wife, after holding her hostage, after threatening to kill her and almost everyone else in the world who still loved or cared for him, including Kirschenbaum, Miller, Griffith and Kozerski, the undefeated Rickey Womack decided to remain that way forever. He pulled out a pistol he'd borrowed from his nephew, loaded it, placed the unforgiving barrel up against his head and squeezed the trigger.
"The day Rickey killed himself, I was so hurt, and this really shocked me: his wife explained he had said he was about to go to the gym and kill all of us. He named all of us. I don't know where that came from. We were nothing but supportive to Rickey…"
Almost a decade later, there is still hurt in Griffith's voice.
"I felt as close to him as I could have with the short time we were working together."
It had to be even more painful for Kirschenbaum, who dedicated well over a decade of his life to the friendship.
"Rickey wouldn't share his problems with people…he distrusted people too much," Kirschenbaum lamented to the Oakland Press after Rickey's passing. "He was still incarcerated in his own mind. I'm distraught over the whole thing."
Some things are just plain lousy. Rickey Womack died at St. John Oakland Hospital under a two police guard with a bloody bandage over his eye. There was no happy ending for Rickey in this world. Instead, there was only hurt and only pain.
I asked Griffith if he's a praying man. Griffith said he believes in God, but isn't sure what to call Him: Jesus, Allah or Buddha. I ask what his prayer for Rickey Womack is today.
It does not take long for Griffith to answer.
"To the Creator, wherever Rickey is now, I pray he has peace that he couldn't get on earth. Wherever Rickey is, to whoever is in charge, I hope they show mercy to his soul. And that he's at peace now.
"He was not at peace here."
+++
Author's note: Heaven—I choose to believe in such things for many reasons. There's not much time for it here, but Faith and Reason are hallmarks of my personal belief system, Catholicism.
But I do not believe in heaven just for my own sake. I do not believe in it just for my wife, my mom and dad, my sister, my pets, best of friends, etc. I do not believe in it just for the Saints, the Mother Theresa's and the Mahatma Ghandi's of the world. I do not believe in it just for the people I know, the smiling, happy people who are nice to one another, or the admirable people I read about in books or see in movies.
Sure, I believe in heaven because of these people and things, but mostly, I think, I believe in heaven because of people like Rickey Womack. I believe in heaven because there has to be more to life than love overcome by hate, more to it than joy snuffed out by misery, more than just the imprisoning of a heart and a bullet to the brain, more than bloody bandages over a hole where an eye should be.
There just has to be a heaven for people like Rickey Womack, because they certainly do not find it here.
My past is history. My future is a blessed mystery. Thank the Lord.– Rickey Womack, 2001
Remembering 'Rocky Estafire,' One Tough Syrian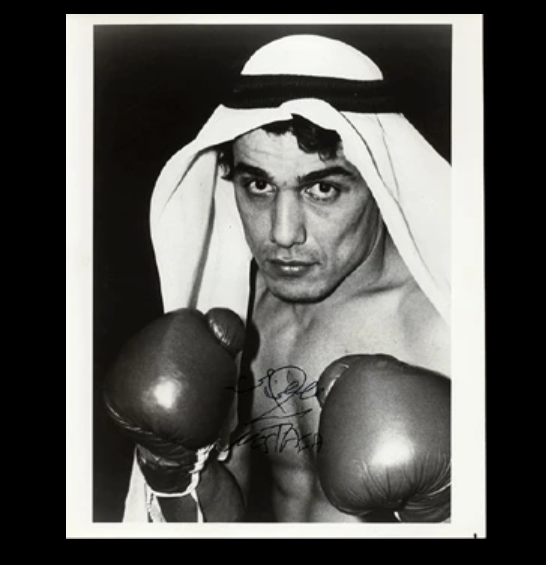 On Sept. 9, 1978, a Bayonne, New Jersey brawler who was billed as Rocky Estafire when he was first starting out, stopped slick Bobby "Boogaloo" Watts in Jersey City giving notice that he was becoming a force to be reckoned with in the middleweight division. Watts was no slouch having split a pair with Marvelous Marvin Hagler.
"Strictly LaMotta style," said Paddy Flood of his fighter who would come to be known by his real name, Mustafa Hamsho.
In 1980, he beat undefeated Wilford Scypion and followed that up with close wins over Curtis Parker and Alan Minter in 1981 leading to his first of two title clashes with Hagler. This bloody encounter, won by Hagler on an 11th-round TKO, left both fighters needing stiches.
"Throughout Hagler's nonstop, 11th-round barrage, Hamsho kept coming on. He didn't win a round, but he did take the battle of the stitches, 55-5," wrote Pat Putnam in Sports Illustrated. "I don't know what his corner was waiting for…The meat from his eyes was hanging down. But I can't let that bother me. I just have to think, better him than me," said Hagler.
More from Putnam: "When Hagler had left the hospital, the doctors were still working over Hamsho, who, until his trainer, Al Braverman, jumped into the ring to stop the fight, looked as though he would run out of blood before he ran out of heart. He was badly cut under both brows: Each wound was at least two inches long and half an inch wide. There was another slice under his left eye. He didn't win a round from any of the three officials."
Al Braverman, who co-managed Hamsho with the aforementioned Flood, once described the Syrian's style as follows: "…."He's got no style. He just wades in, throwing punches from any angle."  He also possessed great stamina, a granite chin and incredible courage, along with head and shoulder butts, elbows, low blows, shoves, holding, chops behind the head, and whatever he could get away with.
The Matinee Idol
Bobby Czyz was 20-0 when he met Hamsho at the Convention Center in Atlantic City on Nov. 20, 1982. The undefeated New Jersey lad with the somewhat strange moniker of "Matinee Idol" and the high IQ had solid wins over Danny Long, Teddy Mann, Oscar Albarado, Elisha Obed, and Robbie Sims. Against Hamsho he was stepping up in class but he was a solid opponent for the Syrian who was 34-2-2 coming in.
If Bobby won, he would position himself for a shot at Marvelous Marvin, but Hamsho mauled and mugged the future world light heavyweight champion over ten rounds and won a convincing UD. (The rest of the Bobby Czyz story is told in "The Boxer Who Became a Bagger," a remarkable and poignant article by sports columnist Steve Politi that first appeared in the Newark Star-Ledger.)
Wilfred Benitez
HIs UD victory over Wilfred Benitez (45-2-1) in 1883 was pure Hamsho featuring elbows, butts, and low blows. The third round was difficult to watch as the compact Syrian rendered a brutal beating on "El Radar," using accurate nonstop shots coming from all directions. Between slips and knockdowns, Wilfred hit the deck four times.
Clearly, Benitez had faded, but Hamsho hastened the process and helped point the legendary Puerto Rican in a downward direction. Wilfred looked sluggish and poorly conditioned; he was not the same Benitez who knocked out Maurice Hope in spectacular fashion or out-boxed Roberto Duran for 15 rounds. Something was wrong.
But even in top shape, Benitez would have struggled against Hamsho with his mauling, brawling, non-stop pressure. Hamsho could make anyone look bad.  (Wilfred Benitez would lose several more outings after the Hamsho beatdown. Matthew Hilton finished the job with a terrifying KO in 1986. Wilfred's story is a terribly sad one as he now requires constant care.)
Hamsho would lose another fight with Hagler—this time quickly and badly– and then go 6-2 before retiring in 1989 with a record of 44-5-2.
Those who were fortunate enough to see him fight remember a fan-pleasing, all-action combination of Vito Antuofermo, Michael Katsidis, Antonio Margarito, and Gene Fullmer.
Amir Khan and Prince Naseem Hamed are two very high profile, proud Muslim fighters. Mustafa Hamsho's name can be added.
Ted Sares can be reached at tedsares@roadrunner.com
Check out more boxing news on video at the Boxing Channel
To comment on this story in the Fight Forum CLICK HERE
Miguel Madueno Scores His 12th Straight Knockout at Ontario, Calif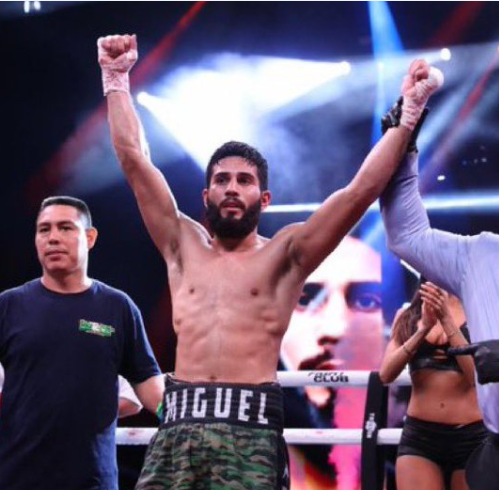 Ontario, CA — A return of fans to the Inland Empire saw Mexico's Miguel Madueno extend his consecutive knockout streak to a dozen at the Doubletree Hotel in Ontario, California on Friday.
It was the first fan-filled event for a Thompson Boxing card in the "I.E." in almost two years.
Lightweight contender Madueno (26-0, 24 KOs) of Culiacan powered his way to his 12th consecutive knockout and this came at the expense of fellow Mexican Jose Luis Rodriguez (25-15-1, 13 KOs) with a focused attack to the body.
Rodriguez was clever and tough and would not allow Madueno to overwhelm him during the first four rounds. But in the fifth he was not as lucky as a four-punch barrage to the body sent him to one knee. He beat the count but was overwhelmed by Madueno who forced referee Raul Caiz to end the fight at 2:46 of the fifth round.
"In reality I thought I would end it early," said Madueno about seeking an early knockout. "But he could take it."
In the co-main event Japan's Katsuma Akitsugi (7-0) outhustled Northern California's Eros Correa (10-1) after eight rounds in a bantamweight scrap to win by majority decision.
Akitsugi, a southpaw, and Correa both showed quick hands and good chins. But the Japanese fighter was always on attack and Correa resorted to holding from the second round on. He was never warned by the referee for excessive holding. It could have helped him get back in the fight.
Every time Akitsugi entered the danger zone Correa would grab ahold like an MMA fighter instead of fighting on the inside. While Correa held Akitsugi punched and that proved the difference as two judges scored it 78-74 for Akitsugi, while a third saw it 76-76.
"I could not box my style at all," said Akitsugi, 23. "I'm glad I brought the win home."
Other Bouts
San Bernardino's Esteban Munoz (5-1, 3 KOs) knocked out Tijuana's Manuel Martinez (6-5-4) with a body shot in the first round. He could not beat the count. Munoz had stunned Martinez earlier with a counter right. Then he found an opening to the body and delivered a right to the gut and down went Martinez. He was counted out at 1:50 of the first round.
Coachella's Lazaro Vargas (4-0) out-worked Ulises Rosales (0-5) over four rounds of a super bantamweight match to win by unanimous decision 40-36 on all three cards.
Check out more boxing news on video at the Boxing Channel
To comment on this story in the Fight Forum CLICK HERE
Oscar Rivas is Boxing's First Bridgerweight Champ; Tops Spunky Ryan Rozicki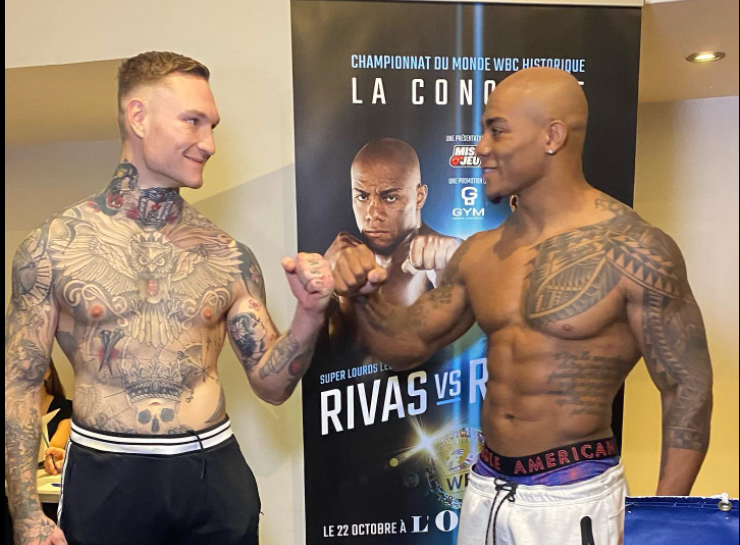 Back in January, the World Boxing Council announced that they were creating a new weight division. Tailored to boxers weighing between 200 and 224 pounds, they named it Bridgerweight. Tonight, at the Olympia Theatre in Montreal, the first WBC bridgerweight champion was crowned. Montreal-based Oscar Rivas, a 2008 Olympian representing his native Columbia, turned the trick with a unanimous 12-round decision over fellow Canadian Ryan Rozicki, advancing his record to 28-1 (19).
Rozicki, who is from Nova Scotia, out-performed expectations. Although he had knocked out all 13 of his opponents since turning pro in 2016, he hadn't defeated anyone of note and hadn't fought beyond six rounds. He drew the assignment when Rivas's original opponent Bryant Jennings was scratched because of his refusal to accept Canada's COVID protocols for unvaccinated foreigners. (A match between Rivas and Jennings would have been a rematch of their Jan. 18, 2019 contest in Verona, New York, a rather ho-hum match that had a dramatic ending when Rivas turned up the heat in the 12th round.)
Rivas, 34, was making his second start since suffering his lone defeat, a setback on points in a 12-round contest with Dillian Whyte in London. The heavier man by 19 pounds, he dominated the first two frames, rocking Rozicki in the opening stanza, but the Nova Scotian clawed his way back into the fight. Rivas had a strong penultimate round and although he had a point deducted for holding in the final stanza, it did not factor into the outcome. The judges had it 116-111 and 115-112.
What's next for Oscar Rivas? Logically a bout with Evgeny Romanov. A 36-year-old Russian with a 16-0 (11-0 mark), Romanov was ranked #2 behind Rivas in the WBC's latest set of bridgerweight rankings. Romanov's claim to fame is that he TKOed Deontay Wilder is in amateur days, but that was way back in 2008.
Another possibility, and one likely to attract more buzz, would be a bout with Alen Babic. A 30-year-old Brit by way of Croatia, the colorful, free-swinging Babic (8-0, 8 KOs) has a date later this month in London with Texas trial horse Eric Molina.
The best guess, however, is that Rivas will discard the belt and go back to competing as a heavyweight. The bridgerweight title, we suspect, like many of the lesser titles, will be perpetually vacant, which likely wouldn't trouble the WBC at all as they will gather up a sanctioning fee from a bridgerweight title fight whether there is an incumbent or not.
There were two 8-rounders offering chief support, but both were cancelled when the opponents failed to pass muster. Left in the lurch were "A side" Canadians Sebastien Bouchard, a welterweight, and Steve Rolls, a middleweight.
Check out more boxing news on video at the Boxing Channel
To comment on this story in the Fight Forum CLICK HERE