A Prayer For Rickey Womack
On January 19, 2002, at age 40, undefeated heavyweight Rickey Womack died in a hospital bed with a hole where his eye should have been.
Rickey was not always this way. Once upon a time, Rickey was young and free. He had big dreams and, perhaps more importantly, the talent to make them real. Everything was set. Rickey was going to be a star.
Except that maybe everything wasn't set. Rickey had secrets. Rickey had doubts. There was darkness inside.
His childhood had been rough. He and his eight brothers and sisters had to be removed from their home and placed into foster care because Daddy wasn't good at bringing up kids. Momma didn't help. Daddy would get mean and make things rough. Too rough. It was bad. All too often, it was just plain savage. No one deserved it. It's just what it was. Rickey learned the law of the world: brutality. It never left him. Never.
But Rickey found a way to use it. He found success inside a boxing ring. As an amateur, he was the best light heavyweight in the world, national champion in 1983. He missed out on the 1984 Olympics by losing a box-off against some tough kid from Atlanta he'd beaten twice before named Evander Holyfield.
Tough break.
Rickey was fierce in the trenches. He had fast hands and real power. More than that, he fought lean and mean. He wasn't just a machine when the bell rang though. He fought with passion. He was a savage killer in the ring, the kind that makes real money in the sport when the headgear comes off. Despite his Olympic dream washout, he was sure to be a fantastic professional. Everybody knew it.
"Rickey was a light heavyweight, but he had the speed of a lightweight," said former cornerman Rick Griffith. "He had speed, punching power, the chin…I mean the guy could fight. Rickey Womack was the truth, man. The truth."
Rickey's professional career started fast. After suffering a draw in his professional opener, Rickey reeled off ten straight wins as part of Emanuel Steward's illustrious Kronk boxing team in Detroit. Soon enough, Rickey had everything he needed. He had a mentor in Steward, a promotional deal with Top Rank, a boxing contract with ESPN that was set to pay him a minimum of $100,000 in 1986, and a pristine professional record that was sure to set him on the path to future glory.
"He was just a young guy having fun and boxing," said Griffith. "He was a joy then. You know how it is, when you're young and you don't have a care in the world. He was a great guy back then."
But Rickey's life outside the ring was moving even faster. And there was still that darkness.
Rickey always had trouble walking the straight and narrow. Amateur teammates reported multiple thefts by Rickey during his reign as national champion, and the behavior didn't stop when he hit the professional ranks. Rickey was a rough dude.
By 1985, Rickey had turned to violent crime. Rickey pistol-whipped a female clerk with a 9mm handgun for just a few hundred dollars and a handful of videos. Months later, he attempted another robbery that ended with him panicking and shooting a passerby who happened to walk into the store that night to rent a movie. His victim lived, but Rickey's career was now on life support.
Rickey was arrested for the shooting on June 9, 1986. Police found Rickey's car keys and wallet at the scene of the crime. It was an easy trial for the prosecution. At the tender age of 22, Rickey was sentenced to serve 12–25 years in prison.
Years passed, but as Rickey aged, he found things in prison he had never had before. He found a faith in God, and he found friendship in the form of pen pal and visitor Dr. Stuart Kirschenbaum.
Kirschenbaum is a boxing guy. A Detroit-area podiatrist, he's done just about everything one can do in the sport of boxing. He's been a fighter, a judge and even Michigan's state boxing commissioner. Like any good Detroit fight fan, Kirschenbaum had followed Rickey's amateur exploits as he was coming up ranks, and the two men got to know each other through letters and phone calls during Rickey's stay at the Ryan Correctional Facility in Detroit. They kept at it, even when Rickey was moved to other prisons around the state.
Rickey was still troubled, but having a friend like Kirschenbaum helped him.
"Man, Dr. Kirschenbaum has been such a great help to me," Rickey told The Detroit News back in 2000 as he waited to face the parole board. "Whenever I needed someone to talk to, to chastise me, he accepted my call. I cherish it."
Kirschenbaum cherished it, too, and the day Rickey was finally released from prison in November of 2000 (paroled almost fifteen years into his sentence), Kirschenbaum was there to pick him up.
"My life, I can't play it back," Rickey told the parole board before his release. "I can't change the past. The only thing I can do from the past is to learn from it."
Rickey left Jackson state prison with basically nothing. Now 39 years old, the man who once had the world in the palm of his hand was reduced to simple things: a change of clothes, hand wraps and a check for $28.82. But Rickey was free now, and he'd kept himself in good enough shape to look almost as if he'd never been there at all.
Rickey probably thought about a lot of things on the 77 mile ride with Kirschenbaum back to Detroit. He must have been full of wonder, fear and hope. Rickey had told Detroit sports journalists who'd kept in touch with him while he was incarcerated that boxing was the furthest thing from his mind, but that probably changed on his trip back into the city. Boxing is what Rickey knew.
"We've talked about Rickey getting a job in real life," Kirschenbaum told The Detroit News before Rickey's release. "He can get a job working construction, or anything, just like anyone else. If Rickey wants to go to the gym and work out and maybe have a fight, that's OK. But it's going to be his avocation, not his job."
Nevertheless, it didn't take long for Rickey to find himself back inside the boxing ring. Just three weeks after his release, Rickey met his new team at Detroit's Johnson Recreation Center. It consisted of Kirschenbaum, head trainer Bill Miller, assistant coach Rick Griffith and promoter Bill Kozerski. Rickey was right back where he belonged. He was a highly skilled boxer with a topnotch team behind him.
Even at his advanced age, Rickey still had promise. Boxing was what he was born to do, and it was almost immediately apparent to Rickey's team that he still something left in the tank.
"I was amazed a guy could come back after 14 years and look that good," Miller told the Detroit Free Press.
"He basically was the same fighter he was before he went to prison," added Griffith. "His body was basically preserved."
Rickey had support from his fellow 1983-84 counterparts as well. Griffith said both Mike Tyson and Evander Holyfield, by now multi-millionaire stars of the sport, reached out to Rickey after his release to offer their support. Tyson even supplemented Rickey's income to help him get back on his feet.
Rickey had it all now. Again.
Griffith said no one on Rickey's team had delusions of grandeur, but once they witnessed him back inside the boxing gym, optimism was high. Rickey was a beast when he trained. He was the real deal.
"Now, I'm not going to say he would've been world champion," said Griffith. "But with the promoter he had (Kozerski also represented James Toney and Chris Byrd) he would have been put into a position to fight for the title. I know he would've at least gotten a shot."
On Thursday, March 29, 2001, Rickey Womack returned to the boxing ring against a 10-4 heavyweight from New York named Curt Paige. The Yankee was tough. Every one of his wins had been a knockout. But Rickey Womack was the truth. He knocked Paige out halfway through the scheduled 6-rounder. Rickey was back.
Griffith told TSS it wasn't long before Rickey was living the highlife again. The 39-year-old indulged himself in new clothes and nice a cars, and he married a beautiful lawyer named Angela.
"Rickey was getting $10,000 a bout to fight journeymen," said Griffith. "He should've been happy."
But Rickey wasn't happy.
Rickey picked up two more victories after defeating Paige. He defeated Gesses Mesgana by TKO in the fourth round that May and outpointed Kenny Snow just two months later.
Despite his success, people began noticing a change in Rickey.
"There were some days he was a great guy," said Griffith. "But some days, he'd just shut down."
Griffith said Rickey suffered from terrible mood swings, and that unbeknownst to those at the gym, his relationship with Angela had turned sour.
"Rickey was so incredibly jealous," Kirschenbaum related to Frank Fraser. "He used to lock her in the house if he had to go somewhere and she wasn¹t allowed to leave. Rickey had a hard time understanding what a marriage was about. He looked at her as a possession and kept her away from his career. He had a lot of trouble sharing with her his problems. He treated her as if he was the warden and she was the prisoner…"
Griffith said Rickey was also immensely distrustful of people he didn't know.
"As a person, he was very standoffish. He didn't really want to be around people. If you weren't in our clique, you didn't have much coming with Rickey. Even us, some days he'd just come and say he didn't want to talk. He'd just work out, get his bag and leave."
Despite it all, Rickey still looked great in the gym. But it was fight night that mattered most, and Rickey had issues when it counted.
"In the gym, he looked like a million dollars, but when we used to go the fight and the lights came on, he was always worried about what people thought."
Griffith said Rickey was obsessed with the past. He'd constantly ask Griffith if he thought people were laughing at him.
"You think they think I don't look as good as I did in the 80s?" he'd ask.
Rickey's last fight was November 23, 2001 against Willie Chapman at The Palace at Auburn Hills. Rickey won a unanimous decision in front of 10,000 raucous Motor City fight fans but appeared sluggish and disinterested throughout the bout. The boo-birds let him hear it, too, and Rickey did not take it well.
"He was just so worried about what the audience was thinking that he wouldn't pull the trigger," said Griffith.
Griffith said Rickey was so obsessed with the crowd that he even began talking about it between rounds. Spotting legendary champion Thomas Hearns at ringside seemed to make things worse. As "The Motor City Cobra" was milling around with friends and fans during the fight, Hearns cracked a smile and laughed.
"Is Tommy laughing at me?" Rickey angrily asked Griffith.
"What?" Griffith replied. "Well, he's laughing, but I don't know if he's laughing at you. Should we even be thinking about this right now?"
Rickey was dead within two months.
It's hard to say what Rickey could've accomplished as a professional had he never turned to crime. There are plenty of amateur standouts that never pan out in the pros, but something about Rickey strikes a chord with people. Evander Holyfield dedicates a portion of his autobiography to telling Rickey's story, and goes so far as to say the hardest part of his Olympic journey was getting past him.
"No fighter I'd go up against during the Games was as good a fighter as Rickey Womack," Holyfield wrote.
For his part, Griffith believes Rickey could've been just as good a professional as Holyfield, a surefire all-time great, turned out to be–maybe even better.
"Had he never gone to prison, all the accolades Evander Holyfield got would've been Rickey Womack's. All the guys Evander beat, Rickey would've beaten. Now, Rickey would've had problems with Riddick Bowe the way Evander did…but Rickey would've beaten all the guys Holyfield did, including Mike Tyson."
It was not meant to be.
"That armed robbery: it was dumb. And honestly, he got what he deserved. But after he served his time, after he paid his debt, he should've been able to live his life and move on. And Rickey just couldn't do it. He just couldn't do it."
Rickey didn't tell anyone he was going to kill himself. Maybe he thought he'd already done that. Years before, Rickey had sent Kirschenbaum a letter from prison. Rickey was especially distraught that day. He felt the walls of life closing in on him, and he was losing hope he'd ever be free.
Doc,
Hello to my one true friend in life whom I have adopted as a father figure. It's sad but true, I don't like getting sad news and yet this is a sad goodbye. As I write this letter I'm trying to fight back the tears of my inner pain.
As I once told you, my dear friend, there are doors that are open, and that no man can close them, and there are those that are closed that no man can open.
Doc, in this life it has been bittersweet and untastefully sad. To the Creator, at the sad end of my life, I was a bit mad. I used to fear death until I understood death. When I muster up enough courage I will take this physical life of my own through the death of hanging. Tell not my twin brother of this, but let him know that he was and always will be the shadow of life in my every thought.
Love,
Ric
Or maybe Rickey thought he'd said enough to Kirschenbaum on his way back home after his last fight inside the boxing ring where he took the win over Chapman.
"Don't worry about me anymore, doc," he said.
"Don't do anything you'll regret," Kirschenbaum replied, but Rickey didn't answer.
Maybe Rickey Womack died in prison after all.
"I remember one day we were in the ring doing hand work," Griffith said. "He just stopped and said Rick, man, I'm still in prison."
"I said what are you talking about? You're out here, you're making good money, you have a beautiful wife, and you're in the thick of things as far as making money as a fighter. I mean, he was making good money for those little 4-5 round fights he was having. I was like man, you're out, you're doing your thing, and he says: nah, man I'm still in prison in my mind."
Griffith paused a bit, as if he was hearing it for the first time.
"And when he made that statement, that's when I knew that this was going to be rough. Because he still felt he was in prison. Not in a physical prison, but in the prison of his mind. And the prison of his mind was his past."
One Friday night, after a heated argument with his wife, after holding her hostage, after threatening to kill her and almost everyone else in the world who still loved or cared for him, including Kirschenbaum, Miller, Griffith and Kozerski, the undefeated Rickey Womack decided to remain that way forever. He pulled out a pistol he'd borrowed from his nephew, loaded it, placed the unforgiving barrel up against his head and squeezed the trigger.
"The day Rickey killed himself, I was so hurt, and this really shocked me: his wife explained he had said he was about to go to the gym and kill all of us. He named all of us. I don't know where that came from. We were nothing but supportive to Rickey…"
Almost a decade later, there is still hurt in Griffith's voice.
"I felt as close to him as I could have with the short time we were working together."
It had to be even more painful for Kirschenbaum, who dedicated well over a decade of his life to the friendship.
"Rickey wouldn't share his problems with people…he distrusted people too much," Kirschenbaum lamented to the Oakland Press after Rickey's passing. "He was still incarcerated in his own mind. I'm distraught over the whole thing."
Some things are just plain lousy. Rickey Womack died at St. John Oakland Hospital under a two police guard with a bloody bandage over his eye. There was no happy ending for Rickey in this world. Instead, there was only hurt and only pain.
I asked Griffith if he's a praying man. Griffith said he believes in God, but isn't sure what to call Him: Jesus, Allah or Buddha. I ask what his prayer for Rickey Womack is today.
It does not take long for Griffith to answer.
"To the Creator, wherever Rickey is now, I pray he has peace that he couldn't get on earth. Wherever Rickey is, to whoever is in charge, I hope they show mercy to his soul. And that he's at peace now.
"He was not at peace here."
+++
Author's note: Heaven—I choose to believe in such things for many reasons. There's not much time for it here, but Faith and Reason are hallmarks of my personal belief system, Catholicism.
But I do not believe in heaven just for my own sake. I do not believe in it just for my wife, my mom and dad, my sister, my pets, best of friends, etc. I do not believe in it just for the Saints, the Mother Theresa's and the Mahatma Ghandi's of the world. I do not believe in it just for the people I know, the smiling, happy people who are nice to one another, or the admirable people I read about in books or see in movies.
Sure, I believe in heaven because of these people and things, but mostly, I think, I believe in heaven because of people like Rickey Womack. I believe in heaven because there has to be more to life than love overcome by hate, more to it than joy snuffed out by misery, more than just the imprisoning of a heart and a bullet to the brain, more than bloody bandages over a hole where an eye should be.
There just has to be a heaven for people like Rickey Womack, because they certainly do not find it here.
My past is history. My future is a blessed mystery. Thank the Lord.– Rickey Womack, 2001
A Halloween-Inspired Homage to Bernard Hopkins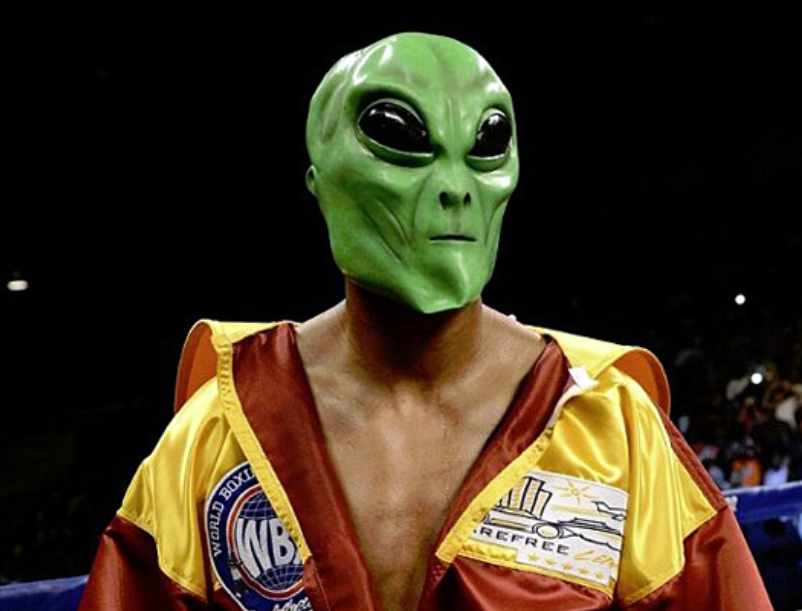 A Halloween-Inspired Homage to Bernard Hopkins
A TSS CLASSIC — It is that time of year. The late-October autumn air on the East Coast is crisp and cool, and throughout America kids are looking forward to trick-or-treat. Go into any neighborhood and you'll see jack-o-lantern faces carved into pumpkins, ghosts fashioned out of old bedsheets hanging from tree branches, cardboard witches taped to front doors.
Only two of Bernard "The Executioner" Hopkins' 55 professional bouts have taken place in October, but in a very real sense this is his special time, too. Why? Because he is boxing's equivalent of Michael Myers, the impossible-to-kill night stalker of all those "Halloween" movies, the bogeyman who offed an inordinately high number of unsuspecting teenagers and routinely transformed Jamie Lee Curtis into a screaming, quivering mass of terrified victimhood.
Saturday night, in that haunted mausoleum known as Boardwalk Hall where he has done some of his best work, boxing's ageless hobgoblin again came out of the shadows to spoil someone else's party. This time it was the much-younger Kelly Pavlik –OK, so he isn't exactly a teenager–who was executed. And that grimacing older fellow playing the role of Jamie Lee Curtis was Top Rank founder Bob Arum, who didn't shriek out loud but looked like he just had swallowed a whole mess of something foul-tasting. Hopkins' ridiculously easy, 12-round unanimous decision over Pavlik hadn't followed the predicted script that called for him to finally be battered senseless and forever dragged from his bully pulpit.
"At least (Pavlik) gets to keep his titles," a glum Arum said of Pavlik's retention of his WBC and WBO middleweight belts that were not on the line in the 170-pound catchweight bout.
When will they ever learn? Arum has been bewitched, bothered and bewildered by Hopkins before. A few years ago, when Arum still had some promotional dibs on his once-favorite cash cow, Oscar De La Hoya, he promoted a Las Vegas doubleheader in which the Golden Boy and Hopkins were featured in separate bouts. The idea was that De La Hoya would remain loyal, Hopkins would also join the Top Rank fold and everyone would profit nicely from the arrangement. But De La Hoya formed his own company, took Hopkins with him and Arum, who can hold a grudge with the best of them, was left to simmer longer than Grandma's home-made soup.
Of course, Hopkins has had that effect of any number of exasperated promoters who have tried to make him toe their company line. This guy not only marches to the tune of his own drummer, he has his own percussion section. Butch Lewis can't string together five or six words, when speaking about Hopkins,  that do not include at least one expletive. Try as he might, even Don King never could bring B-Hop to heel. Lou DiBella still bristles when he thinks about what he believes to be Hopkins' acts of betrayal. And Dan Goossen regards his brief but stormy association with Hopkins as something along the lines of a Greek tragedy.
"My biggest disappointment in boxing," Goossen has often said of the pitched battles he waged with his most recalcitrant client behind the scenes. This from a guy who worked with Mike Tyson when Leg-Iron Mike was at or past the point of total mental meltdown.
To Hopkins' way of thinking, promoters – well, perhaps not Golden Boy, in which he is a limited partner and, at least for now, on kissy-face terms – represent boxing's power structure, which he claims is hell-bent on making fighters indentured servants with little or no charge over their own destinies. Other than beating up or embarrassing their gloved minions in the ring, there is nothing Hopkins enjoys more than tweaking the noses of those he is convinced have pooled their considerable resources to drive him from the sport.
So there Hopkins was, Michael Myers resurrected for the umpteenth time, chortling over the fact he had again rained on the parade of a perceived enemy. To the Philadelphian's way of thinking, spoiling the undefeated record of Pavlik, Top Rank's current marquee attraction, wasn't just an isolated thundershower drenching Arum's suddenly soggier operation; it was the landfall of a Category 5 hurricane capable of blowing a familiar tormentor right off the map.
"After Oscar beats (Manny) Pacquiao … look, I don't want to wish nothing bad on anybody, but that might be the end of Top Rank," said Hopkins, who might not daydream of such an outcome but clearly would not be despondent were it to come to that.
No wonder the Arums, Lewises, Kings, DiBellas and Goossens probably offer up nightly prayers that their favorite deity, or fate,  humbles Hopkins, or at least makes him grow old fast. Hasn't this codger been on the verge of retirement now since, what, the first Clinton Administration?
"A few years ago we were here (at Boardwalk Hall) with our jaws on the floor, marveling at Bernard's performance against Antonio Tarver," said Mark Taffet, the HBO Pay Per View chief. "We had a beautiful retirement party for Bernard. I still have the big banner on our 11th floor at HBO. We made a beautiful framed photograph of that fight. But here we go again.
"I think I'll ask Bernard for the $48 (cost of) the frame. I mean, where does he go now? I can't believe anything this guy does. He continues to amaze us."
Truth be told, Hopkins is the most accomplished fortysomething fighter the world has ever seen, and the competition for that designation isn't even close. OK, so George Foreman flattened Michael Moorer to win the heavyweight championship for the second time at 45, unquestionably an inspiring feat, but Big George had lost every round until he delivered the takeout shot in Round 10, and he took terrible beatings in post-40 matchups with Alex Stewart and Axel Schulz, even though he won dubious decisions in those bouts. Archie Moore, the "Old Mongoose," was the light heavyweight champ well into his 40s, but a French-Canadian fisherman with rudimentary skills, Yvon Durelle, knocked him down four times, including three in the first round, in their Dec. 10, 1958, first meeting in Montreal. Hopkins has been on the canvas exactly twice in his entire career, both of those coming in his Dec. 17, 1994, matchup with Ecuodorean Segundo Mercado, in Quito, Ecuador, for the vacant IBF middleweight crown. Even those flash knockdowns probably owed more to the thin air in Quito, which is 9,350 feet above sea level, and the fact Hopkins arrived there only four days before the fight, not nearly enough time to get acclimated to the altitude, than to the power in Mercado's punches. Nonetheless, Hopkins salvaged a draw and he battered Mercado en route to a seventh-round TKO 4½ months later, in Landover, Md.
Almost from the time he broke through to the throne room Hopkins has busied himself making enemies, which might seem counterproductive until you examine those emotions which fuel his internal fire.
Hopkins is one of those athletes who seems happiest when he's unhappy, like tennis' John McEnroe. He doesn't get mad, he gets even. Even the slightest provocation can get Hopkins stoked, and nothing lights that particular fire like the notion he is being dismissed, disrespected or disenfranchised.
Take his Sept. 29, 2001, battle with Felix Trinidad for the undisputed middleweight championship of the world. Everybody remembers how Hopkins twice grabbed and threw down the Puerto Rican flag at open-to-the-public press conferences, but the key to his finest performance ever, or at least until the dismantling of Pavlik, was Hopkins' controlled rage at discovering that his own promoter, King, had had the Sugar Ray Robinson Trophy pre-engraved with the name of Trinidad, another King client, on it.
Like fellow paranoids Richard M. Nixon and Bobby Knight, Hopkins reads and listens to every negative thing anyone has written or said about him. He has compiled an enemies list, at least in his mind, and it pleases him greatly when those who would draw pleasure from his toppling are again left red-faced and embarrassed.
"They say Bernard is old," Hopkins said at the postfight press conference early Sunday morning. "Yes, I am. They say Bernard is finished. They ain't saying that now.
"I'm tired, man. I'm tired of proving myself to the same naysayers. Don't y'all know you motivate me? I mean, what do I got to do, kill somebody? I'm the most underrated fighter when it comes to defense, when it comes to offense, when it comes to my heart. That's why I always fight like I have to prove something."
From a technical standpoint, Pavlik – who went off as a 5-1 favorite – probably was toast once Hopkins, who studies film as if he were Roger Ebert, detected that the Youngstown, Ohio, fighter's big right hand was neutralized whenever he had to throw his payoff punch across his body. That's why B-Hop continually moved to his right. But for emotional purposes, his victory might have been assured when one Internet writer beseeched Pavlik to "do boxing a favor" and "forever free him" and other dissidents of the torture of watching Hopkins, a defensive genius, make good fighters look bad.
Trash talker supreme that he may be, nothing inspires Hopkins like being on the receiving end of a really mean-spirited insult.
So, what if nine of his last 10 bouts have gone the distance, the exception being his ninth-round knockout of De La Hoya on Sept. 18, 2004? Hopkins is allowed to evolve, just as a strikeout pitcher has to resort to guile as he loses steam off his fastball. What we get nowadays is more a recital of chamber music than a KISS concert, but that does not detract from the fact he still produces classic material. Asked what it was that Pavlik found troubling about Hopkins' unorthodox style, Pavlik's trainer, Jack Loew, said, "Kelly had trouble adjusting to everything."
If Hopkins has his way – and, gee, doesn't it seem as if that happens quite a bit at this late stage of the game – then another aging legend, Roy Jones Jr., will find a way to win his Nov. 8 fight with Joe Calzaghe in Madison Square Garden, paving the way for a rematch of Jones-Hopkins I, which took place way back in May 22, 1993? Jones won that fight, for the vacant IBF middleweight championship, by close but unanimous decision.
"I'd like to fight Roy Jones again before I die," Hopkins said.
Might be a long time coming. After all, everyone knows that you can't eradicate the common cockroach, Michael Myers and Bernard Hopkins.
EDITOR'S NOTE: This story originally ran on Oct. 20, 2008, under the title "Halloween's Early for Hobgoblin Hopkins." The two Bernards – Hopkins and Fernandez – will be formally inducted into the International Boxing Hall of Fame next year with the class of 2020. Fernandez joins TSS classmate Thomas Hauser in the "Observer" category.
Check out more boxing news on video at the Boxing Channel 
To comment on this story in the Fight Forum CLICK HERE
Avila Perspective, Chap 111: Munguia, Tank and The Monster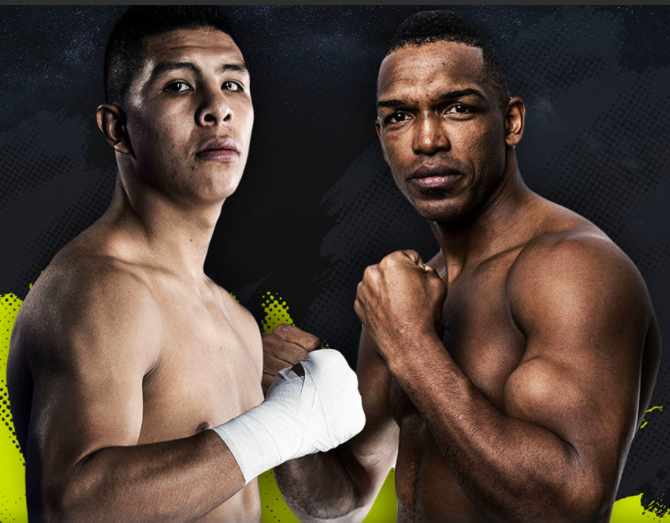 Avila Perspective, Chap 111: Munguia, Tank and The Monster
Here come some more hardcore fights.
As the end of the year approaches contracts must be honored. That's a good thing for fight fans even during a pandemic.
Golden Boy Promotions brings a loaded fight card led by Mexican swing-from-the-heels fighter Jaime Munguia (35-0, 28 KOs) moving into the middleweight division against Tureano Johnson (21-2-1, 15 KOs) at Fantasy Springs Casino in Indio, California. DAZN will stream the Friday night fight card on Oct. 30.
Munguia (pictured opposite Johnson) just recently turned 24 years old; a couple of weeks ago. The former super welterweight world titlist out of Tijuana grew out of the division and now is mentored by boxing great Erik "El Terrible" Morales. No more swinging at anything that moves. Now it's technical savagery.
Johnson, 36, hasn't fought in over a year but in that last fight he knocked off Ireland's undefeated Jason Quigley. That was not supposed to happen. The Bahamian native only has two losses and those were stoppages in the last round by Sergiy Derevyanchenko and Curtis Stevens. He has the technique, but does he have the chin?
Another savage battle involves welterweights.
New England's Rashidi "Speedy" Ellis (22-0, 14 KOs) faces Orange County's Alexis Rocha (16-0, 10 KOs) a hard-hitting southpaw in a showdown set for 12 rounds. Will it go that long?
Both have power and I doubt the fight goes beyond seven rounds. Both have ended fights in the opening rounds before. If someone blinks at the wrong time it could be over quickly.
Others on the card including super featherweight contender Lamont Roach and super middleweight prospect Bektemir Melikuziev. Also, female contenders Sulem Urbina and Marlen Esparza square off. Opening bout begins at 5 p.m. Pacific Time.
Crazy Saturday
A Matchroom Boxing fight card stemming from England showcases a Southern California-based world champion Oleksandr Usyk (17-0, 13 KOs) meeting Dereck Chisora (32-9, 23 KOs) in the heavyweight main event.
Usyk, now 33, just recently conquered the cruiserweight division and was undisputed world champion and now deigns to move up in weight where the money is much better fighting the big boys. He's a speedy Ukrainian southpaw who uses plenty of movement and has shocking power when he sets his feet.
Chisora, 36, has fought all of the top European heavyweights including another Ukrainian heavyweight named Vitali Klitschko. Though it hasn't always been violets and roses for Chisora, he does pack a wallop and if he catches Usyk it could be all over. But his feet are made of stone and he will have problems moving in rhythm with the fleet-footed Usyk.
A co-main event features lightweight contenders Lee Selby (28-2, 9 KOs) pitted against George Kambosos Jr. (18-0, 10 KOs) in a Great Britain versus Australia battle.
Two female bouts with extra power are also on the card as Savannah Marshall (8-0) battles Hannah Rankin (9-4) for the vacant WBO middleweight title; and Amy Timlin (4-0) meets Carly Skelly (3-0) in a battle of undefeated super bantamweights.
The fight card will be streamed on DAZN at 11 a.m. Pacific Time.
Showtime
World champions collide with three-division world champion Leo Santa Cruz daring to move up yet another weight division and challenge the ultimate danger in super featherweight and lightweight world titlist Gervonta "Tank" Davis for his titles.
Danger is written all over this Showtime pay-per-view card on Saturday Oct. 31.
Davis (23-0, 22 KOs) has yet to be truly challenged by anyone. Santa Cruz (37-1-1, 19 KOs) has always been a risk taker and could be going way over his limit against Tank.
"I'm facing the best fighter in the division. If you want to be the best, you have to beat the best. I have to go against the best fighter," said Santa Cruz. "I wanted to challenge myself. I know this is a dangerous fight for me, but I want to test myself."
If Santa Cruz is still standing after 12 rounds then a big salute to him. Davis won't allow that to happen. He's not a guy who looks to win by decision. Tank looks to knock opponents unconscious so he can take pictures of them asleep.
"I don't think I have to knock him out, I just have to go out there and be great. Forget everything else, I just have to go out there and show everyone that I'm the top guy in the boxing world. That's my main goal," said Davis.
Right.
It's not the only good fight on the card.
Mario Barrios (25-0, 16 KOs) defends the WBA super lightweight title against Ryan Karl (18-2) in the co-main event.
Also, on the same card Regis Prograis (24-1, 20 KOs) meets Juan Heraldez (16-0-1, 10KOs) in a super lightweight matchup. Whoever wins will probably meet Barrios for his title soon after. That's if Barrios beats Karl.
It's a boxing card that could see the end of the line for one or two of the fighters.
Monster and Mayer
Japan's Naoya Inoue (19-0, 16 KOs) defends the WBA and IBF bantamweight world titles against Australia's Jason Moloney (21-1, 18 KOs) at the MGM Grand Bubble in Las Vegas on Saturday October 31. It will be his Las Vegas debut and will be televised on ESPN+.
Inoue will be a big favorite and how can you blame odds makers when Moloney's only loss was to Emmanuel Rodriguez who was blown out by the Monster?
But you never know.
"There are a lot of expectations, and I want to meet those expectations. I take those big expectations, and I use them as motivation and power to keep getting better with every fight," said Inoue.
Inoue's last fight nearly a year ago was an epic clash against Nonito Donaire in a classic battle that saw both deliver bombs and take them in a 12-round fight that ended in a close but unanimous victory for the Japanese star.
Boy was it close.
Until the 11th round it was nip and tuck as Donaire proved why he is destined to be a surefire Hall of Fame inductee when he retires.
Both punished each other and during their confrontation it was evident that Inoue does indeed have a solid chin. One big question will be if Inoue took too much punishment and can he handle a rough customer like Moloney.
"Every fighter should want to fight the best. That's why we're in this sport. My dream and my goal is to be the best bantamweight in the world, and the only way to make that happen is to beat Inoue," said Moloney.
It should be an interesting match.
Also, female American Olympian Mikaela Mayer (13-0) challenges Poland's Ewa Brodnicka (19-0) for the WBO super featherweight world title. Expect no quarter given by Mayer who has been gunning for a title challenge for the past two years with most of the titleholders in Europe ignoring her.
Brodnicka expects a tough fight.
"I have a lot of things against me. But I'm ready. I don't care if she says that she doesn't respect me. She makes a lot of mistakes, and I'm going to take advantage of all of them," Brodnicka said.
Mayer is not in a good mood.
"I have been calling out the champs for a while. It's been something I feel like I've been ready for a few fights, but now in hindsight looking back, I think everything worked out perfectly. Like Bob Arum said, I've had some really great fights, and I've really been able to settle in to my pro style. I'm more ready than ever to take on these world champions. I feel like I'm the best in this division," said Mayer.
Sunday
A Sunday afternoon boxing card by Thompson Boxing Promotions takes place at the Omega Products International in Corona, CA but will not include fans.
Undefeated lightweights Mike Sanchez (6-0-1, 2 KOs) faces Israel Mercado (8-0, 7 KOs) in the main event on Sunday Nov. 1. It will stream on Thompson Boxing Promotions web page and also on its Facebook page beginning at 4 p.m. PT.
Go to this link to watch the fight card: www.thompsonboxing.com
Check out more boxing news on video at the Boxing Channel 
To comment on this story in the Fight Forum CLICK HERE
Usyk vs. Chisora Sets the Table for a Strong Night of Boxing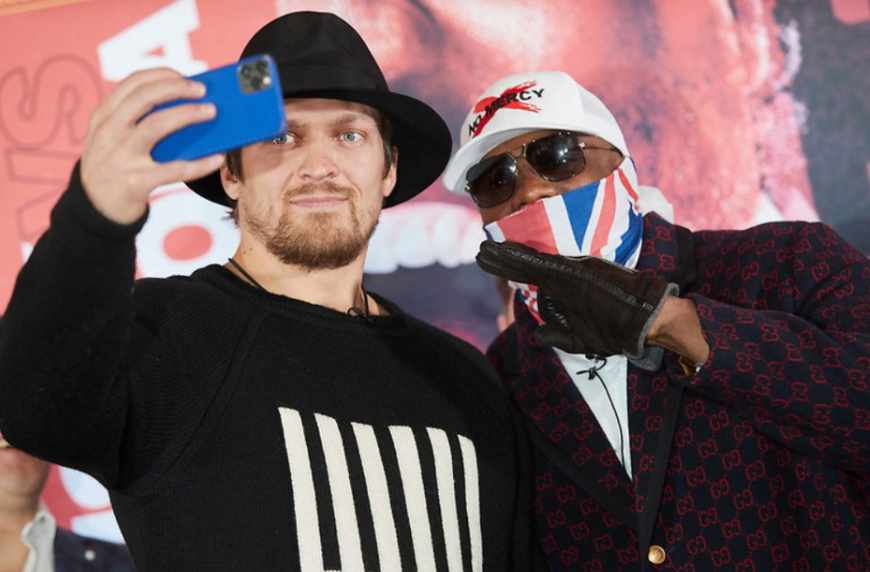 It's been largely lost in the ragout, at least on this side of the pond, but Saturday's busy fight docket includes the return of Oleksandr Usyk, the former Olympic gold medalist who left the cruiserweight ranks as a legitimate four-belt champion. The 33-year-old Usyk (17-0, 13 KOs), opposes tough but erratic Dereck Chisora, a 36-year old Londoner by way of Zimbabwe. Chisora (32-9, 23 KOs), has won five of his last six, the setback occurring in his second encounter with arch-rival Dillian Whyte.
Usyk vs. Chisora, a Matchroom promotion, will play out at Wembley Arena with no fans in attendance. The Ukrainian southpaw is ranked among the top three heavyweight contenders by all four major sanctioning bodies although he has fought only once as a heavyweight, turning away under-trained late sub Chazz Witherspoon who was all in after seven frames. Usyk weighed 215 for that contest and is expected to come in about 230 for Chisora.
Usyk, who has anglicized his first name to Alexander on his English-language twitter feed, is a big favorite, but this is a tricky fight for him. The consensus 2018 Fighter of the Year, Usyk has fought only twice since unifying the cruiserweight title with a lopsided decision over Murat Gassiev in July of that year and 55 weeks have elapsed since his last start. If he needs the early rounds to shake off ring rust, he could find himself clawing out of a hole, and sometimes the hole is too deep as Usyk's stablemate Vasiliy Lomachenko can attest. Moreover, Usyk has yet to face a naturally bigger man who can bang as hard as "Del Boy."
The Usyk-Chisora card will air in North America on DAZN with the main event ring walks anticipated about 6 pm ET.
The tiff is hitched to an interesting undercard. Once-beaten Welshman Lee Selby, briefly the IBF featherweight champion, tangles with Australia's undefeated (18-0) George Kambosos Jr. Savannah Marshall, who saddled Claressa Shields with her only amateur loss, meets former Shields opponent Hannah Rankin with a vacant world middleweight title at stake, Belfast's Tommy McCarthy opposes Belgium's Bilal Laggoune for a domestic cruiserweight title, and then there's the heavyweight fight attracting buzz between popular Yorkshireman David Allen and Christopher Lovejoy.
The buzz surrounds the mysterious 36-year-old Lovejoy who is 19-0 as a pro with all but two of those KOs coming in the opening round.
All of Lovejoy's fights were staged in Tijuana. Only one of his opponents brought a winning record. For a certain stripe of fighter, Tijuana is the equivalent of a feed lot, a place where livestock go to get fattened up before they are sent off to the slaughterhouse. David Allen is limited, but the most likely scenario in this fight is that it ends with Lovejoy sitting on his stool.
Check out more boxing news on video at the Boxing Channel 
To comment on this post in the Fight Forum CLICK HERE