Pacquiao: "I Need To Prove I Can Still Fight Like Old Pacquiao"
BEIJING (July 30, 2013) — Stop No. 2 on the Manny Pacquiao – Brandon Rios 23,722-mile international media tour to promote their historic 12-round welterweight rumble has landed them in Beijing. On Monday, Pacquiao, Rios and their respective trainers, Hall of Famer Freddie Roach and Trainer of the Year Robert Garcia, began the day with a little morning roadwork – approximately 3,000 steps worth — as they climbed a portion of the Great Wall, at Shuiguan, which was built during the Ming Dynasty (1368-1644), and is famous for its precipitous cliffs and beautiful views.
Before embarking on the massive climb, Rios and Garcia ducked into a souvenir stand and emerged wearing cowboy hats. "The rancheros have hit Beijing," exclaimed Rios to the delight of the hundreds of tourists visiting and the media covering.
Pacquiao and Rios (pictured above, in Chris Farina-Top Rank photo), trailed by media crews and newly-made fans, began the steep and arduous climb of the Great Wall, a military structure that was built from the 3rd Century BC to the 17th Century. With a total length of more than 20,000 kilometers, it is the only work built by human hands on this planet that can be seen from the moon.
"I hadn't planned on beginning training camp until August 12, but I think I began it today," said Rios, who raced up a portion of the steps against Pacquiao.
"Now I know that I've got my work cut out for me after racing against Brandon up those steps," said Pacquiao. "He's already in good condition! This is my third visit to Beijing and it always seems so new to me. It's a great cultural experience that is saturated in history."
Following a festive traditional Chinese lunch, the duo made a stop at Tiananmen Square where they walked around the historic area snapping photos and signing autographs for fans who recognized them.
Today, beginning at Noon, Pacquiao, Rios, Roach, Garcia, Hall of Fame promoter Bob Arum and Edward Tracy, President and CEO of Sands China Ltd, will host a news conference for national media at the Park Hyatt Beijing, followed by several hours of one-on-one interviews. Then it's off to Shanghai for a Wednesday news conference at the Four Seasons.
QUOTABLES FROM THE NOTABLES:
Brandon Rios:
I can't believe the beauty I have seen in Macau and Beijing. I have seen a life and culture I never imagined. It's been an incredible experience for me. The media and the fans have been wonderful. I know I take a little getting used to but they seem to understand my sense of humor. I think some of them think I'm Chinese. The only other time I fought outside the U.S. was in Mexico back in 2008, against Ricardo Dominguez, and a lot of people thought I was Chinese there, too.
I want everyone in southern California to know that traffic on the 405 has nothing on Beijing's rush hour.
I was surprised at how nervous I was before the first press conference in Macau. I don't think the enormity and the significance of this event dawned on me until I walked out on the stage and saw hundreds of media there. All of a sudden I realized that I was headlining a major pay-per-view for the first time. It was emotional for me. But I'm over that now and I look forward to Beijing's press conference today and the press conferences on the rest of the tour
My first impression of meeting Manny Pacquiao in Macau was that he was smaller than I thought he would be. I have an enormous amount of respect for him and what he has accomplished.
I will begin training camp on August 12 and work on conditioning and will start sparring right away. I love to kick off training camp with a 12-round sparring session within the first week or two to get me in the proper mindset. I will be sparring with a lot of southpaws in camp. It's been a good while since I have fought one. I am looking forward to fighting at 147 pounds.
Manny makes a lot of mistakes and Robert Garcia and I will be working hard on making a plan to exploit them. I can't let this opportunity slip through my fingers.
Manny Pacquiao:
I am very excited to be fighting in Macau. It's a fertile market for boxing. New market and new people provide great exposure for boxing and it is a great way to increase the sport's popularity globally. Hopefully this will help develop interest in boxing in mainland China. I think it's good for boxing to have more good Asian boxers to turn pro. I think Macau can be a boxing capital of the world.
It will be nice to fight in a location where I will not have any jet lag. Macau and the Philippines share the same time zone and the same climate. No adjustments for me this time. Since Macau is only a 90-minute flight away from the Philippines, I expect a lot more Filipinos to be in the arena for this fight.
I have seen Rios fight and I am confident that I will win the fight. One of my advantages is my experience against better opposition. I think the question that needs to be asked is, "Is Rios ready for me?"
Rios is an aggressive fighter. He likes to fight on the inside and toe-to-toe. He likes to fight, period. I am 100% confident of winning this fight. The fans will really enjoy the action.
I will begin three months of training in August when I return to the Philippines after the media tour. I'll do six weeks of conditioning and building up my stamina, followed by a six-week training camp with Freddie Roach when he arrives in October. I'm 34 and I now need to train over a longer period. The focus of this camp will be on speed and footwork, which have been my advantages in previous successful fights. I'll be more careful to avoid the careless error I made against Márquez.
I was in my best shape when I fought Márquez last December. I was winning the fight. I had taken control. But I got careless and made a mistake, being in the wrong place for him to land that final punch. But that's boxing. That's what makes it so exciting.
I am feeling a little pressure for this fight since I have lost my previous two. An impressive victory against Rios will raise my name again in boxing. My belief in God and training as hard as I can will help to relieve that pressure.
I need to prove I still can fight like the old Manny Pacquiao. I need to restore the public's confidence in me and my abilities. It's important that this be an impressive victory. I have already begun to visualize my fight with Rios.
*******************
Fighter of the Decade Congressman MANNY "Pacman" PACQUIAO and former world champion and reigning hellion BRANDON "Bam Bam" RIOS will battle each other in a 12-round welterweight rumble, Saturday, November 23, from The Venetian® Macao's CotaiArena™, in Macao, China. Promoted by Top Rank® and Sands China Ltd., in association with MP Promotions and Tecate, Pacquiao vs. Rios will be produced and distributed live by HBO Pay-Per-View, beginning at 9:00 p.m. ET / 6:00 p.m. PT.
Remaining tickets, priced from $1,275 to $115, and various ticket-hotel packages at Sands China's Cotai Strip Resorts Macao, are now on sale and can be purchased online at www.venetianmacao.com/manny.
Emerging Heavyweights: Three to Watch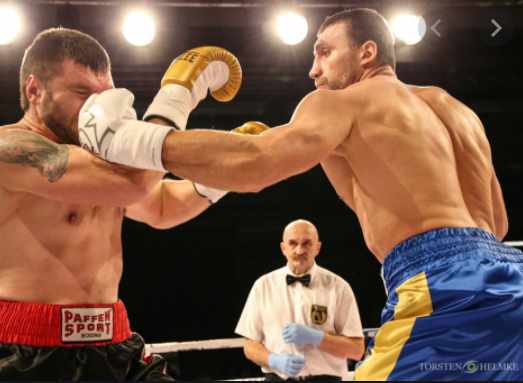 Victor Faust (Viktor Vykhryst), a 6'6" 232-pound Ukrainian heavyweight (and long-time amateur) is a product of the great amateur program in the Ukraine–one that has produced the likes of the Klitschko brothers, Oleksandr Usyk, Vasily Lomachenko, and more recently Sergiy Derevyanchenko.
At first glance, his amateur record does not appear stellar, but a closer review indicates several SD's or MD's.
Earlier this month, on Sept. 20, he scored a frightening one punch KO when he fought the more experienced Gabriel Enguema (10-9) in the Ukrainian city of Dnipro. It was his third KO victory in three professional fights—all in 2020. The end came as a result of a Doctor Steelhammer-like perfect straight right to knock the Spaniard out cold. It brought back memories of Wladimir's KO of Calvin Brock in 2006. Faust displayed skills, size, a solid chin, and power in dispatching his opponent.
"…Soon everyone will …see how skillful he is. He's the complete package and will compete in massive fights sooner rather than later." Erol Ceylan (Faust's German promoter)
Oh yes, Faust beat Romanian Mihai Nistor in the amateurs and the talented Nistor in turn halted Anthony Joshua in the amateurs back in 2011. (Nistor also went 1-2 with Filip Hrgovic and lost to Tony Yoka in 2012.) Of course, one must be circumspect when using logic in boxing. Now that Nistor has turned pro, he will be worth following as his style is very much Tysonesque.
There are others who have—at a minimum– the same potential as Faust.
Tony Yoka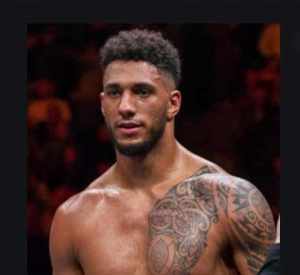 Hard-hitting Frenchman 6'7" Tony Yoka (8-0) has beaten far better opposition than Faust and has a far better amateur record. In fact, he beat Filip Hrgovic and Joe Joyce in the 2016 Rio Games on the way to a Gold Medal. Recently, he dismantled veteran and fellow Frenchman Johan Duhaupas, a fringe contender with some notable notches on his belt. The end came in the first round by virtue of a crunching right uppercut.
Yoka perhaps could be slotted above Faust at this point.; he just might be the best of the new guys on the block. However, there are some dicey anti-doping issues that have tainted his reputation, though they do seem to be mostly resolved at this point.
Arslanbek Makhmudov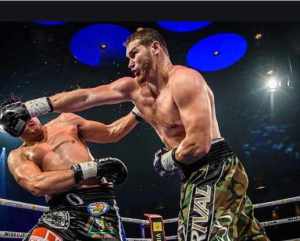 This Russian "Lion," 6'5 ½", 260 pounds with an imposing muscular frame, is still another hungry prospect ready to break into the next tier. Nicknamed the "Lion," — he also has been called "Predator" and "Beast — he is 10-0 (10 KOs).
He now lives and fights out of Montreal. The holder of two regional titles, he stopped a shot Samuel Peter in one round this past December.
"I'm confident that with my team, Eye of the Tiger Promotions and Golden Boy Promotions, I will reach my goal of becoming heavyweight champion of the world," —Makhmudov.
This all said, The Lion needs some work on his technical skills as size can only go so far.
Makhmudov's next opponent is Canadian heavyweight Dillon "Big Country" Carman (14-5) whose claim to fame is that he KOd comebacking Donovan Ruddock in 2015 in Toronto. This one will end differently for "Big Country."
Others
Arguably, classy Americans Stephan Shaw (13-0), and Jared Anderson (6-0 with four KOs in the first round) could be added to the above. Filip Hrgovic and Efe Ajagba, both 6'6", have already moved up.
A good yardstick is 6'5" American Jonathan Rice who lost a 10-round bout to Ajagba, was TKO'd in the seventh round Makhmudov, lost a 6-round decision to Tony Yoka, and a lost 6-round decision to Shaw.
Have I missed any?
Ted Sares can be reached at tedsares@roadrunner.com of on Facebook.
Check out more boxing news on video at the Boxing Channel 
To comment on this story in the Fight Forum CLICK HERE
Jermell Charlo Unifies Super Welterweights Via Solar Plexus Punch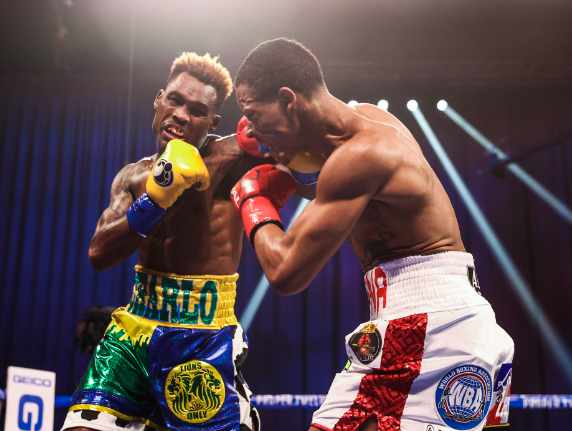 WBC super welterweight titlist Jermell Charlo knocked out IBF and WBA titlist Jeison Rosario with a knockout punch delivered to the solar plexus on Saturday to add two more belts to his collection.
"I'm definitely bringing home the straps," said Charlo.
Shades of Bob Fitzsimmons.
Back in 1897, Fitzsimmons used the same solar plexus punch to dethrone Gentleman James Corbett for the heavyweight title in Carson City, Nevada.
In another casino city Charlo (34-1, 18 KOs) floored Dominican Republic's Rosario (20-2-1, 14 KOs) three times at the Mohegan Sun Casino in Uncasville, Conn. He and his brother co-headlined a heavy duty pay-per-view card with no fans in attendance on the Premier Boxing Champions card.
Charlo jumped on Rosario quickly in the first round when he charged and clipped him with a left hook to the temple. Down went the two-belt champion for the count. But he got up seemingly unfazed.
For the next several rounds Rosario was the aggressor and put the pressure on Charlo who was content to allow the Dominican to fire away. Occasionally the Houston fighter jabbed but allowed Rosario to pound up and down with both fists.
After allowing Rosario to get comfortable with his attack, suddenly Charlo stopped moving and connected with a short crisp counter left hook and right cross in the sixth round. Down went Rosario again and he got up before the count of 10.
Charlo said it was part of the game plan.
"I'm growing and I realize that the knockout will just come," he said.
Charlo was in control with a patient style and allowed Rosario to come forward. But the Dominican was more cautious in the seventh.
In the eighth round Charlo jabbed to the head and then jabbed hard to Rosario's stomach. The Dominican fighter dropped down on his seat as if felled by a gun shot. He could not get up and convulsed while on the floor. The referee Harvey Dock counted him out at 21 seconds of round eight.
"That jab that got to him must have landed in a vital point," said Charlo after the fight. "I hope he recovers and bounces back."
Charlo now has three of the four major super welterweight world titles.
WBC Super Bantamweight Title
Luis Nery (31-0, 24 KOs) captured the WBC super bantamweight title by unanimous decision over fellow Mexican Aaron Alameda (25-1, 13 KOs) in a battle between southpaws. The war between border town fighters was intense.
Nery, a former bantamweight world titlist, moved up a weight division and found Alameda to be a slick southpaw with an outstanding jab. At first the Tijuana fighter was a little puzzled how to attack but found his groove in the fourth round.
But Alameda, who fights out of Nogales, Mexico, began using combinations and finding success.  A crafty counter left uppercut caught Nery charging in a few times, but he managed to walk through them.
In the final two rounds Nery picked up the action and increased the pressure against the slick fighting Alameda, He forced the Nogales fighter to fight defensively and that proved enough to give the last two rounds for Nery and the victory by unanimous decision. The scores were 115-113, 116-112 and 118-110 for Nery who now holds the WBC super bantamweight world title. He formerly held the WBC bantamweight title.
Roman Wins
Danny "Baby-Faced Assassin" Roman (28-3-1, 10 KOs) managed to rally from behind and defeat Juan Carlos Payano (21-4, 9 KOs) in a battle between former world champions in a nontitle super bantamweight clash. It wasn't easy.
Once again Roman fought a talented southpaw and in this fight Payano, a former bantamweight titlist, moved up in weight and kept Roman off balance for the first half of the fight. The jab and movement by the Dominican fighter seemed to keep Roman out of sync.
Roman, who fights out of Los Angeles, used a constant body attack to wear down the 35-year-old Payano and it paid off in the second half. Then the former unified world champion Roman began to pinpoint more blows to the body and head. With seconds left in the 12th and final round, a left hook delivered Payano down and through the ropes. Sadly, the referee missed the knockdown. It didn't matter as all three judges scored it identical at 116-112 for Roman after 12 rounds.
"I made some adjustments and picked up the pace and got the win," said Roman who formerly held the WBA and IBF super bantamweight world titles.
Photo credit: Amanda Westcott / SHOWTIME
Check out more boxing news on video at the Boxing Channel 
To comment on this story in the Fight Forum CLICK HERE
Jermall Charlo UD 12 Derevyanchenko; Figueroa and Casimero Also Triumphant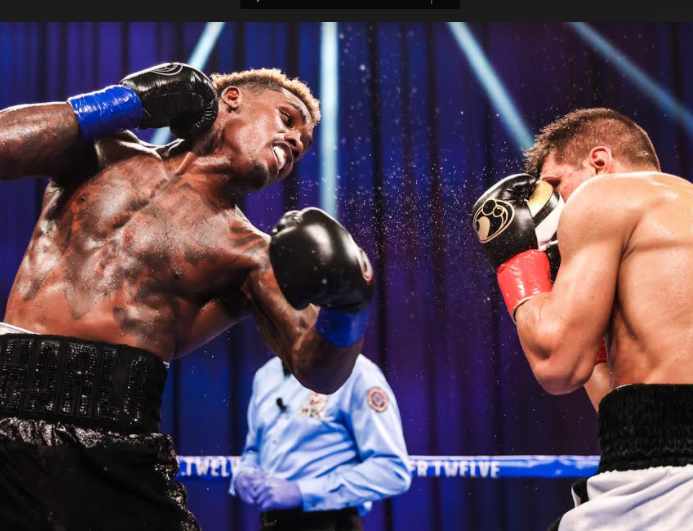 Jermall Charlo UD 12 Derevyanchenko; Figueroa and Casimero Also Triumphant
The Mohegan Sun Casino in Uncasville, Connecticut, was the site of the first pay-per-view boxing event in the United States since the Fury-Wilder rematch on Feb. 22. There were six fights in all, five of which were title fights and the other a title-eliminator. They were divided into two tiers but bundled into a package that cost approximately a dollar a round with a facile intermission tossed in at no extra charge.
The headline attraction of the first "three-pack" – and the most anticipated fight of the evening – found WBC world middleweight champion Jermall Charlo defending his title against Sergiy Derevyanchenko. The Ukrainian gave Gennady Golovkin a hard tussle when they fought in November of last year at Madison Square Garden – GGG won a unanimous decision but the scores were tight and many thought Derevyanchenko deserved the decision – and the expectation was that tonight's match would also be very competitive.  But it really wasn't although the rugged Derevyanchenko rarely took a backward step.
The fight went the distance and there were no knockdowns, but Charlo buckled his knees at the end of round three and Derevyanchenko ended the fight with cuts above both eyes. The judges had it 118-110, 117-111, and 116-112.
With Canelo Alvarez apparently headed to 168 and GGG showing his age at 38, one can make a strong case that the undefeated 30-year-old Jermall Charlo (31-0, 22 KOs) is now the top middleweight in the world. Derevyanchenko, who was 23-1 in the semi-pro World Series of Boxing before turning pro, saw his pro record decline to 13-3 with all three losses in middleweight title fights.
—
The middle fight of the first tier was a lusty encounter between Mexican-American super bantamweights Brandon Figueroa and Damien Vazquez. Figueroa, one of two fighting brothers from the Mexican border town of Weslaco, Texas, was a huge favorite over Vazquez, a Colorado native who moved to Las Vegas as a freshman in high school and had fought extensively in Mexico where he made his pro debut at age 16. But Vazquez, the nephew of former three-time world super bantamweight title-holder Israel Vazquez, came to fight and gave a good effort until the fight turned lopsidedly against him.
In the middle rounds, Figueroa's high-pressure attack began to wear Vazquez down. Vazquez had a few good moments in rounds six and eight, but when his right eye began swelling from the cut above it, he was fighting an uphill battle. He took a lot of punishment before referee Gary Rosato halted it at the 1:18 mark of round 10.
Figueroa, 23, successfully defended his WBA 122-pound title while improving his record to 21-0-1 with his 16th KO. Vazquez declined to 15-2-1.
—
The lid-lifter was a WBO bantamweight title defense by John Riel Casimero with Duke Micah in the opposite corner. Micah, from Accra, Ghana, came in undefeated at 24-0, but Casimero had faced a far stronger schedule and was a substantial favorite.
A Filipino who was been training in Las Vegas under Bones Adams, Casimero took Micah out in the third round. The Brooklyn-based Micah was somewhat busier in the opening frame, but the tide turned quickly in favor of the Filipino. Casimero hurt Micah with a left hook in round two and went for the kill. He wasn't able to finish him, but Micah was on a short leash and referee Steve Willis was quick to step in when Casimero resumed his attack after the break. The official time was 0:54.
Casimero (30-4, 21 KOs) was defending the title he won last November with a third-round knockout of favored Zolani Tete in Birmingham, England. He was slated to fight this past April in Las Vegas against Naoya Inoue, but that fight evaporated as a result of the coronavirus. After the bout, Casimero called out Inoue (and others): "I'm the real monster," he said. "Naoya Inoue is scared of me. You're next. I would have knocked out anyone today. If Inoue doesn't fight me, then I'll fight Guillermo Rigondeaux, Luis Nery, or any of the top fighters."
Check back shortly for David Avila's summaries of the remaining fights.
Photo credit: Amanda Westcott / SHOWTIME
Check out more boxing news on video at the Boxing Channel 
To comment on this story in the Fight Forum CLICK HERE