The Ultra Even-Keeled Canelo: "I Still Think Floyd's At His Peak"
Mexican sensation Canelo Alvarez hopped on a conference call on Tuesday afternoon, to hype his Sept. 14 showdown against Floyd Mayweather in Las Vegas.
Oscar De La Hoya started out the call, after being handed the reins by PR ace Kelly Swanson.
Oscar said it's trending like that the PPV for the bout will break records, and "these are exciting times for boxing."
Oscar introed Alvarez, who has been a pro since age 15, a topic which is discussed in an ESPN The Magazine feature which hits newsstands this week. Oscar said that Canelo is the most popular man in the sport and that he hasn't yet reached his true potential.
The fighter spoke Spanish, and Golden Boy matchmaker Eric Gomez translated for him. Canelo said he's in Vegas, ready to rock n roll.
Canelo was asked why, he thinks, that this superfight has caught on, arguably, more than other recent superfights, such as ones involving De La Hoya, or Pacquiao "I believe it's because of the fans..it's the one that they wanted to see..there's a euphoria," he said. "They know it's a fight that's not going to be easy for either of us," he said.
De La Hoya was asked why he thinks this fight has caught on so bigtime. He said it's because many are thinking Mayweather will get beaten by Canelo ( pictured above in Tom Casino-Showtime picture).
Alvarez was asked if he thinks Floyd can hurt him at all. "I think that any fighter at any given point can land and hurt anybody," he answered.
He said Floyd is a different breed and he can't be thinking that any other foe he's met is of a similar nature.
The Mexican said that his weight, and making 152 pounds, won't be a problem. "It's not going to bother me at all," he said. "My most recent fights, I've been under." He said he thinks that weighing 152 will make him faster, in fact.
And what will be his top asset come fight night? His counterpunching ability? His physicality? Counterpunching will help, he said, but he'll need to do it all. After the first round, he will see what he will be able to do. "Smart pressure" is his aim.
Canelo was asked about Oscar predicting that Alvarez will KO Mayweather, within eight rounds. "It's actually an honor to hear those comments from Oscar, that I'm going to win," he said. He will not press for a KO, though. He did predict that he will win. Oscar said he thinks Canelo can handle the pressure. "I can see it, I can envision it, because I know what he's capable of, I understand his potential," Oscar said. Canelo hasn't shown "one bit of what he's capable of," he said. "He's the whole package, he hasn't put it all together because he hasn't fought Floyd Mayweather, the best pound for pound fighter in the world."
Won't he be overwhelmed by the expectations of his countrymen and women? No, he said, he's grateful for the opportunity, and isn't weighed down by the hopes of his nation. He's also happy, he said, to get love from red-heads, and all other hair colors too.
Sparring with partners who gave him Floyd-like looks helped him immensely, Canelo mentioned. (Of course, someone can try to imitate Floyd, but the real deal is another level or two higher, right?)
Canelo said that when they fought, Ricky Hatton made mistakes by coming in "wide open" against Floyd. We can surmise he thinks he will be wiser when he exerts pressure.
Is he the No. 1 fighter in Mexico now, he was asked. The humble boxer said that question has to be asked of the fans and media, he can't answer it.
Floyd should be ready for everything from him, because "one punch is all it takes." And how will he win? Any way will do, he said. And could Floyd get dropped and stopped, as Abner Mares did two weeks ago, versus Jhonny Gonzo? "I'm working hard for this fight, one punch can change everything, anything can happen, you really don't know," he said, reiterating that we will have to see how things play out, and predicting is basically useless.
Would a win make you a pound for pound giant? Of course, he said, "it would be a great win. It can change history."
And does he think Floyd might be underestimating him, saying he thinks he's faced better men than him? "Yes", he said, he believes he might be, but he may also be worried about him.
Canelo noted that Floyd does use his elbows and forearms but he doesn't think Floyd is dirty.
Ten days out, how is he feeling? "I feel very, very well, physically and mentally," he said. It is the best he's ever felt.
Julio Cesar Chavez said yesterday that Canelo might lose some stamina coming to Vegas now, after training in Big Bear. "Everybody thinks differently," he said, saying he wanted to get acclimated to the heat in Vegas.
And regarding Floyd saying that the Cotto fight was and would be tougher than this fight? "That's good he's thinking this way," he said, noting Floyd will see up close how hard it will be, soon enough.
And if Mayweather pressures him, brings the attack to him? "I will make my fight, and not allow Floyd to dictate the tone and pace", he said.
Would he like to dedicate this fight to anyone? My supporters, family and teammates, he said.
I wondered if Floyd has gotten under his skin, as he's so even keeled. "No," he said, "he never got under my skin, I've always been very, very strong mentally, I like to be very, very strong. He likes to do his talking in the ring, he said".
He admitted that the right punch can hurt anyone, even him, when asked if Floyd could possibly KO him.
At 23, is there only upside, since he's so young, and could come back from a loss? No, he said, "I have a lot to lose," he asserted.
Oscar was asked if he senses this could be the next great trilogy. There would be a rematch if Canelo wins, and he thinks both would want a sequel.
How could Canelo get that KO he's talked about, Oscar was asked. The promoter said Canelo has what it takes to "land that perfect punch."
Oscar was asked if there are any stipulations if Canelo comes in overweight. "There would be a penalty", Oscar said, but "Saul is going to have no problem whatsoever."
Canelo was asked to compare his popularity to that of Juan Manuel Marquez. "I don't like to talk about that stuff," he said.
"A Canelo win would be the top two or three all-time wins for Mexican fighters", Oscar said. Canelo said that a win would be massive for Mexico, and he will let the people decide if that win would be bigger than Julio Cesar Chavez' biggest wins.
What edges does he hold, and why is he so confident he will get the W over Floyd? "I can't say that I have that many advantages," he admitted, but he likes his game plan, and knows he's going to win. Has he seen any decline in Floyd? No, he said, not al all. "He maintains himself very well, I still think he's at his peak. He's still Mayweather."
The International Boxing Hall of Fame Announces the Class of 2022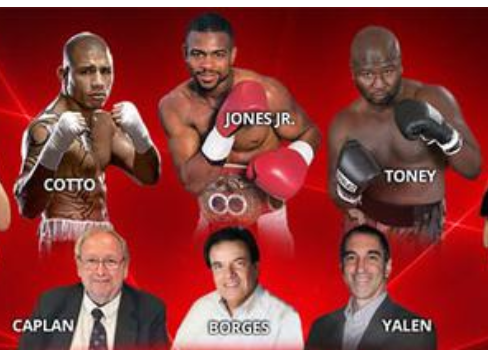 PRESS RELEASE: (Dec. 7, 2021) — The International Boxing Hall of Fame and Museum announced today the members of the Class of 2022. Living inductees include champions Miguel Cotto, Roy Jones Jr., and James Toney in the men's Modern category; champions Regina Halmich and Holly Holm in the women's Modern category; publicist Bill Caplan in the-Non-Participant category; and journalist Ron Borges and historian producer Bob Yalen in the Observer category.
Posthumous inductees are junior lightweight champion "The Seattle Flash" Tod Morgan in the Old Timer category and ring announcer Chuck Hull in the Non-Participant category. Inductees were voted in by members of the Boxing Writers Association and a panel of international boxing historians.
"We're extremely excited about the Class of 2022 and are very much looking forward to honoring the newest class of inductees to earn boxing's highest honor," said Executive Director Edward Brophy.
Due to the cancellation of the two previous Induction Weekends, the Classes of 2020, 2021, and 2022 will be honored at a "Once in a Lifetime" Hall of Fame Weekend Induction Trilogy scheduled for June 9-12th in "Boxing's Hometown."
With today's announcement, we are thrilled to have the final piece of the Induction Trilogy in place," said Brophy.
The Class of 2020 includes Bernard Hopkins, Juan Manuel Marquez, Shane Mosley, Christy Martin, Lucia Rijker, Barbara Buttrick, Frank Erne, Paddy Ryan, Lou DiBella, Kathy Duva, Dan Goossen, Bernard Fernandez and Thomas Hauser.
The Class of 2021 includes Wladimir Klitschko, Floyd Mayweather, Andre Ward, Laila Ali, Ann Wolfe, Marian Trimier, Jackie Tonawanda, Davey Moore, Freddie Brown, Dr. Margaret Goodman, Jackie McCoy, George Kimball and Jay Larkin.
The 2022 Hall of Fame Weekend Induction Trilogy will feature many events in "Boxing's Hometown," of Canastota throughout the four-day celebration, including a 5K Race / Fun Run, boxing autograph card show, Parade of Champions and the official Induction Ceremony on the Hall of Fame Museum Grounds. The Hall of Fame evening events include Friday night's Fight Night at Turning Stone and Saturday's Banquet of Champions. Both events will take place at Turning Stone Resort Casino in nearby Verona, NY.
Check out more boxing news on video at the Boxing Channel
To comment on this story in the Fight Forum CLICK HERE
Renowned Author Leigh Montville Talks About Muhammad Ali, The Myths and The Man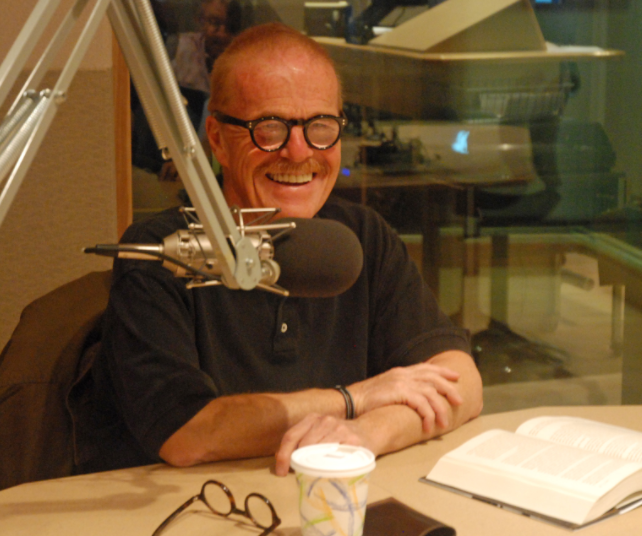 Over the course of five-decades-plus, Leigh Montville has delivered books on the careers of Babe Ruth, Ted Williams, Dale Earnhardt, Jim Calhoun, Manute Bol, Evel Knievel, John Montague and Muhammad Ali. Each is well-written and researched and tells an interesting story, but it's the 2017 book "Sting Like A Bee: Muhammad Ali vs. The United States Of America, 1966 – 1971," that somehow stands apart.
The reason is because it deals with a five-year block when he wasn't boxing and had a legal battle on his hands after refusing to be inducted into the military for religious reasons.
"I was looking for a book topic and floated one to my editor at Random House, Jason Kaufman, but he rejected it. He said I should look for an iconic figure, someone like Ruth or Williams or Earnhardt, who had been previous subjects. I made a list of iconic sports figures, all kinds of people, but felt I was missing someone," explained Montville, whose most recent literary offering is, "Tall Men, Short Shorts: The 1969 NBA Finals: Wilt, Russ, Lakers, Celtics, And A Very Young Reporter." "Bing! It hit me. Muhammad Ali. The most iconic sports figure of our time."
Montville then went searching for everything that had been written about Ali in book form.
"I looked to see what had been done on Ali. The best book was 'King Of The World'' by David Remnick, which I had read. His story stopped when Ali beat [Sonny] Liston and became a member of the Nation of Islam," he said. "I thought that this end was when Ali's most interesting period really began, all of the legal stuff, his time of banishment, his grand return to face [Joe] Frazier in the Fight of the Century. I had no interest in doing a full-scale biography, but this five-year period was fascinating to me."
Montville's time researching that period unearthed several interesting finds.
"A bunch of misconceptions have developed about Ali in the rush to confer a sort of secular sainthood on him. He wasn't a big civil rights guy. He wasn't a great resister of the Vietnam War," he pointed out. "He promoted a sort of segregationist philosophy, the idea that black people should have their own land, their own society, a place away from white people. It was a sort of Give Us Kansas and let us live by ourselves. He never marched once with Martin Luther King. During the war, he went to one rally, and didn't like it. He never went again. He was fighting to keep himself out of the army, not anybody else."
Montville, a sportswriter and columnist at the Boston Globe for more than two decades and a senior writer for a dozen years at Sports Illustrated, added: "He was a kid who had fallen into a cult. His white-guy, businessmen backers in Louisville sent him to Miami and set him up with Angelo Dundee as a trainer, but they didn't set up anything for his down time when he wasn't training," he said. "That was when he fell under the spell of the Nation of Islam's rhetoric."
Views and opinions were extremely varied on Ali then. Where did Montville, who has been honored with the Red Smith Award and the PEN/ESPN Award for Literary Sports Writing, fit in?
"I'm only 18 months younger than Ali and I was going through the worries about the draft at the same time he was," he said. "I joined the National Guard. I thought he had just found a clever way to get out of it, a way that was open if you had money and lawyers. He was never a villain in my mind, just a guy working the angles."
Montville's view is somewhat different more than five decades later. "I give him a bit more credit now," he said. "I think he said a lot of those things that got him in trouble just off the top of his head and then had to back them up. I give him credit for seeing them through. I never thought he was a hero during this time, though his views on Vietnam were a lot like mine. It was a bad war."
During this period the Black Muslims played an important role in Ali's life.
"The Black Muslims ultimately were very good for Ali. They made him who he was. He would have been another boxer – a very good boxer, to be sure, maybe, yes, the greatest – if it were not for the Muslims," Montville said. "The time period of my book, the stretch where he was cast out of boxing, followed by the comeback, was what made Ali different. He became a world figure, not just an athlete. Ali never would have been Ali if it were not for the Muslims. He would have been Cassius Clay, a very good fighter, but not much more."
During the turbulent decade of the 1960s, Ali was front and center and a folk hero to some.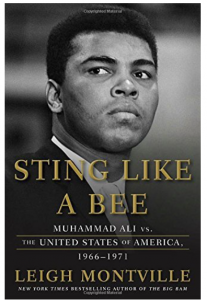 "I think he's been captured forever as the face for the Sixties. No documentary of the time can get more than 30 seconds in without having his image flash on the screen, usually backed by some music by the Doors," said Montville, a graduate of the University of Connecticut. "I don't think this will change. His importance only has grown in recent years and, as memories of the time get reduced to catch-phrases and sound bites, he is perfect. 'I got nothing against them Viet Cong!'"
Was Ali a tool for the Nation of Islam? "I think he was a pawn in the beginning. He was the religion's big catch, the convert brought into the boat and posed in public relations pictures with the Honorable Elijah Muhammad," Montville said. "I think things got sketchy when the Honorable Elijah Muhammad realized that Ali had become bigger than he was, the embodiment of the faith. The pawn became the king. That was the problem."
What period of Ali's storied life appealed most to Montville? "The part of Ali's life I liked best was when he didn't have money and was going around to the colleges, often with his wife, doing his talks, sort of an evangelical minister," he said. "There was a purity about him then. He was young and misguided, for sure, but he believed what he was doing. When he came back to boxing, all of that disappeared. He became much more venal, sometimes nasty, a creature of the world."
Montville continued: "The sainthood all came after he retired, after he became sick," he noted. "I think the sainthood is a myth, but the man underneath, the narcissist, was human and fascinating. You look at his success and he used a lot of the same messaging that [Donald] Trump used. Except he used it first."
If Ali was boxing today, would he stand out?
"No. Not at all. He came along at a time when boxing was much more important than it is now and when network television was much more important," Montville said. "He had a captive audience when only three networks were in operation. He would be competing now with other sports, leagues, the constant stream of games and people and other entertainment. His greatest act has been copied by so many people, it would sound ordinary today, kind of ridiculous. At best, he would be a Colin Kaepernick kind of rebel, but on a smaller stage because boxing is a much smaller stage now."
Is it justified that Ali has been looked at differently since he retired from the ring?
"His years of illness probably did more for Ali's image than anything," Montville said. "He became like one of those celebrities who died young – Marilyn [Monroe], James Dean, whoever – captured in their prime forever. No matter that he was still alive. He wasn't out in the world, living, doing things no one expected."
Montville added: "When he came into the public eye for the last 30 years or so, he was a shambling, Mother Teresa kind of character, beloved by all. If he hadn't been sick, he would have been out in the everyday world, living, falling into the pitfalls of divorce, drink, whatever," he said. "Joe Namath, another idol of that time, does those stupid commercials for Social Security supplement insurance. Ali would have done the same and his star would have been diminished."
Editor's Note: "Sting Like a Bee: Muhammad Ali vs. the United States Of America, 1966-1971," is available via Amazon and found at better bookstores everywhere.
Check out more boxing news on video at the Boxing Channel
To comment on this story in the Fight Forum CLICK HERE
Jake Paul Re-Ups with Tyron Woodley on Dec. 18 after Tommy Fury Pulls Out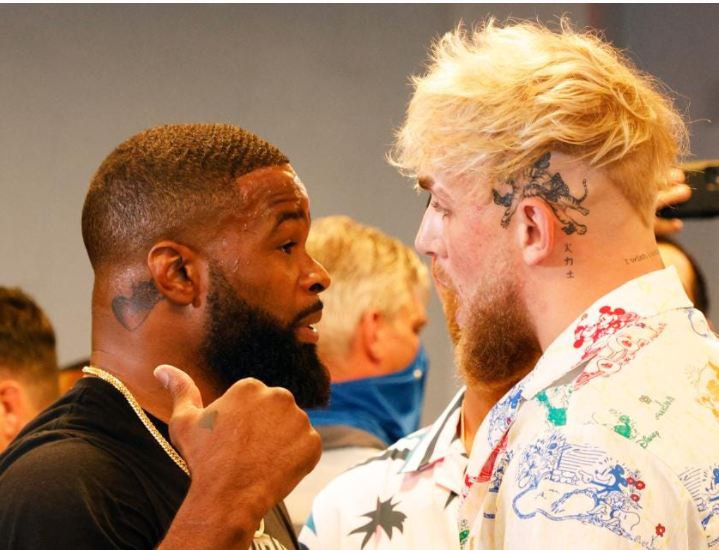 Tommy Fury has pulled out of his Dec. 18 match in Tampa with Jake Paul on Showtime PPV. Stepping in for Fury is Tyron Woodley. This will be a rematch. Paul defeated Woodley by split decision on Aug. 29.
Fury cited a broken rib and a bacterial chest infection in a formal statement in which he said he was "absolutely heartbroken" by this development. "The beginning of my camp was going so incredibly and I never expected anything to come in my way from a victory on December 18th," he said. "I can't express how disappointed I am and I really do hope we can get this fight rescheduled in the new year…"
Tommy Fury, 22, is the younger half-brother of lineal heavyweight champion Tyson Fury. As a pro boxer, he's 7-0 but against motley competition. In the aggregate, his opponents were 14-175-5 at the time that he fought them.
In England, Fury is primarily known for his appearances on the 2019 installment of the reality TV show "Love Island." Paired with supermodel and social media influencer Molly May Hague, he made it to the finals. Fury and Hague subsequently became real-life partners and now share a home together. Needless to say, their relationship has been great sauce for the tabloids.
Tyron Woodley, a 39-year-old father of four, grew-up in Ferguson, Missouri, a crime-plagued community that borders St. Louis. At the University of Missouri where he majored in agricultural economics, ostensibly with the intent of becoming a farmer, he was a two-time All-American wrestler. He went on to become a UFC welterweight (165-pound) champion. However, he would end his MMA career with four straight losses.
In Paul-Woodley I, Jake vaulted to an early lead. "During the first three rounds, it was painful to watch Woodley who seemed lost inside a boxing ring instead of a cage," wrote TSS mainstay David A. Avila. But Woodley landed the best punch of the fight in round four, hurting Paul with a left hand, and things got a bit dicey from there. At the end of the 8-round contest, the judges had it 78-74, 77-75, and 75-77, giving Paul the nod by split decision.
Before today, Paul showed no interest in a rematch. "I don't think people wanna see Tyron vs. Jake Paul again; he had his chance," Paul told TMZ. But Jake is too valuable a commodity for Showtime to lose the date. The Paul-Woodley match in August attracted a sell-out crowd of more than 16,000 to the NBA arena in Cleveland with many in attendance arriving with a parent in tow, being too young to drive.
Jake Paul vs. Tommy Fury was given the tagline "One Will Fall." Paul-Woodley II, an 8-rounder contested at the catchweight of 192 pounds, has been christened "Leave No Doubt."
Paul, who is 4-0 as a pro, having feasted on thirty-somethings, would have been the underdog against Tommy Fury, barring late developments. One prominent online bookmaking establishment was quoting odds of 9/5 Fury before the fight was taken off the board. They re-posted Jake Paul a 3/1 favorite over Tyron Woodley.
The Dec. 18 card at Tampa's Amalie Arena, which remains a Showtime PPV, includes an intriguing 10-round contest between unbeaten super lightweights Liam Paro (21-0), and Yomar Alamo (20-0-1). In another bout of note, the great Amanda Serrano (41-1-1) opposes Mariam Gutierrez (14-1).
Check out more boxing news on video at the Boxing Channel
To comment on this story in the Fight Forum CLICK HERE