Somebody's 'OH' Must Go? Floyd Has More To Lose Than Canelo
It is a declarative statement that is uttered, and often, whenever two boxers with undefeated records square off.
"Somebody's `oh' must go" is the familiar refrain. And that is true in most cases, although it does not account for the possibility of a draw which would leave somebody's "oh" at least somewhat smudged. In the case of Saturday night's Showtime Pay-Per-View extravaganza at the MGM Grand in Las Vegas, pitting pound-for-pound king Floyd Mayweather Jr. (44-0, 26 KOs) vs. emerging superstar Canelo Alvarez 42-0-1, 30 KOs), the 23-year-old Mexican sensation already has one standoff on his professional resume (a four-round split draw with Jorge Juarez on June 17, 2006, when Alvarez was only 15) removing the veneer of total perfection.
Maybe the fight – at a mutually agreed-upon catch weight of 152 pounds, five more than the welterweight limit WBC champion Mayweather is most accustomed to and two below the junior middleweight limit at which Alvarez, the WBC/WBA titlist, usually works – will live up to the astounding hype. Alvarez's 154-pound belts, despite the catch weight, will be on the line.
Many predict that this fight will surpass the record 2.5 million PPV buys for Mayweather's 2007 showdown with Oscar De La Hoya, which he won on a split decision, and because of higher subscription prices – $64.95 for standard television, an even heftier $74.95 for high-definition – and the fact the bout will be shown in 500 movie theaters around the country, it almost certainly will be the highest-grossing boxing event of all time. But no matter the outcome, Mayweather is assured of a record $41.5 million payday (shattering the previous high of $33 million that Evander Holyfield received for his "Bite Fight" rematch with Mike Tyson), which could rise to $50 million if the more optimistic PPV projections are accurate. Alvarez is supposedly guaranteed a minimum $12.5 million, with that figure apt to jump significantly if the PPV buy rate meets expectations.
To hear the headliners tell it, each man has as much to win, or lose, as the other.
"I think it's a lot of pressure (on Alvarez)," a supremely confident Mayweather said during a teleconference with the media last week. "Sometimes when there's pressure, a guy fights better. We have to see how this fight plays out.
"This is a whole different ballgame. (Alvarez) may be predicting a knockout, but all you have to do is look at the opponents he's faced. And we're not just talking about `A-plus' fighters but `D-minus' and `C-minus' fighters … guys that he should have knocked out in the fourth round, they were able to go into the eighth and ninth rounds even though they were caught with numerous shots.
"I don't think Ricky Hatton's brother (Matthew Hatton, whom Alvarez dominated over 12 rounds in winning a unanimous decision on March 5, 2011) is on the level of a Floyd Mayweather. This is chess, not checkers. These are moves you have to think about. At this level, you've got to get 10 steps ahead of your opponent."
For his part, Alvarez is just as convinced that it is Mayweather who has to be feeling the most heat as he attempts to extend, at the old-for-boxing age of 36, the unblemished record which he frequently cites as proof that he really must be the greatest fighter of all time.
"If I win – when I win – it will change history," said the red-haired, freckled, pale-skinned Alvarez, who at various times has been described as resembling Howdy Doody, Richie Cunningham and Chucky, said when the question was raised as to which fighter is under the most pressure.
"I think that the way he's talking, he's underestimating me. But at the same time, I think he's worried. I think that he's very, very worried. He's always been like that. He's always been a (trash) talker because that's the way he is. But I don't care what he's saying and I don't care what he's thinking. What I care about is what I'm saying and what I'm thinking."
Opinions will vary, of course, and the prevailing sentiment among those not swayed by emotion or personal preference (like Las Vegas oddsmakers, who have installed Mayweather as a slightly more than 2-to-1 favorite) is that enough of "Money's" prime remains that he will school the kid as he has done so many previous befuddled opponents. This is the second fight in the 30-month, six-bout deal Mayweather signed with Showtime PPV/CBS in February. His first ring appearance on that contract – which could bring him $250 million-plus if all six fights are staged within the specified time frame — resulted in a standard 12-round decision over an outclassed Robert Guerrero on May 4. Mayweather earned $32 million for that one, although few fireworks were set off. While many analysts applaud Mayweather's technical artistry, especially his seemingly impenetrable defense, they also are honest in their assessment that he has never been considered a crowd-pleasing "action" fighter who engages in the sort of risk-taking that quickens the pulses of spectators.
So why is Mayweather, if he is indeed too good for his own good, as some have opined, such a box-office smash? Some say it is because of a carefully orchestrated attempt to market himself as a controversial lighting rod that everyone loves or hates, depending on their particular proclivities.
Not since Mike Tyson was offending polite society with his profligate spending and frequently outrageous behavior has any boxer been as much of a proponent of the "If you've got it, flaunt it" lifestyle as has Mayweather. In the most recent issue of ESPN The Magazine, he graces the cover and, in the story authored by Tim Keown, it is duly noted that on one shopping trip for even more bling-bling, Mayweather was adorned by $3 million in diamond-and-gold jewelry, including a $1.6 million necklace. He wears his boxer shorts and pricey sneakers just once before tossing them out, and his unwieldy entourage (more than 20 fulltime employees, including four husky bodyguards) are at his constant beck-and-call, even when he fights only once in a given year. And even though he shaves his head, among his team members is a personal barber.
Also reminiscent of Tyson, who owned a fleet of luxury cars despite the fact he ran up hundreds of thousands of dollars in limousine rentals fees, is Mayweather's fondness for high-end rides. He keeps identical sets of color-coded, ultra-expensive cars at his mansions in Las Vegas (they're white) and Miami (black), as if to remind himself of where he is at any given moment.
If this is the way Mayweather chooses to roll simply because he can afford it and it suits him, that is one thing. It is quite another if it is the cultivation of an image he has crafted for the purpose of setting himself apart from other elite fighters, as if his abundance of ring skills didn't already do that. In the spring of 2004, during a brief and ill-advised association with women's hair-care products magnates Lewis Hendler and Neal Menaged, an attempt was made to make Mayweather more palatable to those Americans who found it difficult to relate to him.
"Our plan is not to tap into the thug image as a way to build Floyd up," Hendler said prior to Mayweather's bout with DeMarcus Corley. "We'd like to see him make the transition to mainstream, rather than to pin himself to a particular culture which is fairly limited in terms of marketing potential."
That plan failed, or wasn't allowed to succeed, depending upon your point of view. Mayweather quickly broke away from the hair-care guys, and prior to his 2005 fight with Arturo Gatti in Atlantic City, he said that "I am always the villain. That's all right. I know how boxing works. You have to have a good guy and a bad guy. I don't mind being the bad guy."
Leonard Ellerbe, CEO of Mayweather Promotions, seemingly seconded that notion in 2012 when he said, "Floyd is one of the most despised athletes in the world, but he's also the most talented athlete in the world. What other athlete do you know who has dominated his sport for 16 years?"
Which raises a question. Is Mayweather – despite having zero endorsement deals – the highest-grossing athlete in the world (Forbes magazine had him No. 1 for 2012 with an income of $85 million, a figure he might reach or surpass this year) because of his anti-hero status, or despite it? And is his bleep-you public persona a put-on or for real? There is ample evidence to suggest that what you see, like courtroom appearances and visits to the hoosegow, is really what you get. Mayweather's running afoul of the law includes the mandatory impulse-control counseling after he was convicted of misdemeanor battery after a confrontation with two women at a Las Vegas nightclub and, most notably, his serving of two months of a six-month sentence after pleading guilty to domestic violence against Josie Harris, the mother of three of his children, in 2011. Had it not been to a plea deal he accepted which resulted in the dropping of additional felony and misdemeanor charges, Mayweather conceivably could have been sent to prison for up to 34 years.
"He just continually gets himself into trouble and he is able to get himself out of it as well," prosecutor Lisa Luzaich said of the legal trouble Mayweather was embroiled in as a result of the incident with Harris, who accused him of pulling her hair, punching her in the head and twisting her arm. "Essentially it is because he is who he is and is able to get away with everything."
So here comes Alvarez, with his national-hero status in Mexico and matinee-idol good looks everywhere, an upset victory over the long-standing king of the mountain from becoming the dominant economic force in boxing. He is 23 with a career that comprises much more future than past, unlike Mayweather, who admits to looking no further ahead than the fulfillment of his current contract, and maybe one more bout beyond that if it means making it to the nice, round number of 50-0.
Good vs. evil, as well as young vs. old, are always bankable premises for selling big-time bouts and Mayweather-Alvarez fits comfortably within those parameters. But the paradigm shifts on fight night, when the paying customers expect to be as entertained by what transpires inside the ropes as they were by the compelling story lines going in.
There is the nagging belief in some quarters that the main undercard bout – in which WBA/WBC junior welterweight champion Danny Garcia (26-0, 16 KOs) defends those titles against power-punching Lucas Matthysse (34-2, 32 KOs) of Argentina – could steal the show from the main-event guys. Garcia-Matthysse, because of the attacking styles of the fighters involved, almost assuredly will be exciting for however long it lasts, which might not be the case if Mayweather spends 12 more rounds as a pugilistic Bobby Fischer, grandmaster of chess, toying with a relative newcomer on the brightly lit stage trying to play checkers.
Somebody's "oh" must go? Yeah, that is important when each participant has as much to win, or lose, as the other. An example of just such a matchup might be the Sept. 16, 1981, welterweight unification megafight between WBA champion Sugar Ray Leonard, then 25, and 22-year-old WBC ruler Thomas Hearns. Those future Hall of Famers were young, undefeated, charismatic and exciting, and Leonard's thrilling, 14th-round stoppage of the Detroit "Hitman," while trailing on the official scorecards, gave all that fans could have expected, and more. But while Leonard's career got a boost from that signature victory, Hearns' reputation was not necessarily damaged. He had established himself even more as someone the public wanted to see, as is always the case with fighters who unfailingly provide bang for the consumer's buck.
Is Mayweather-Alvarez apt to be another Leonard-Hearns I, or is it going to be another Mayweather-De La Hoya, which did such booming business yet did not go into boxing annals among the most riveting bouts ever?
Also undetermined is the effect a Mayweather loss would have on both he and his sport. Is there an "out" clause on the part of Showtime/CBS if Mayweather is defeated and thus loses his shield of invincibility? And even if there isn't such a clause, would he voluntarily choose to step aside if his record were to be defaced by an "L"? Hey, the ESPN the Mag story revealed that he has $123 million in his bank account, which should keep his small army of sycophants on the payroll for quite a while, should "Money" continue to live the ostentatious lifestyle of the rich and famous.
But Alvarez doesn't need to emerge victorious to remain a viable force. Unless he is emphatically knocked out or embarrassed by Mayweather from the opening bell, he, like Hearns, can be counted on to remain among boxing's must-see attractions. Defeat is not especially a hindrance to popularity, provided a fighter rates high on the thrill-a-meter. Hearns showed us that, as did the late Arturo Gatti.
Inquiring minds want to see how it all will turn out on Saturday night, when somebody's "oh" has to go.
Emerging Heavyweights: Three to Watch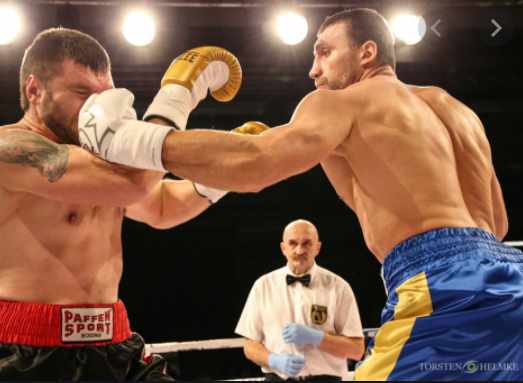 Victor Faust (Viktor Vykhryst), a 6'6" 232-pound Ukrainian heavyweight (and long-time amateur) is a product of the great amateur program in the Ukraine–one that has produced the likes of the Klitschko brothers, Oleksandr Usyk, Vasily Lomachenko, and more recently Sergiy Derevyanchenko.
At first glance, his amateur record does not appear stellar, but a closer review indicates several SD's or MD's.
Earlier this month, on Sept. 20, he scored a frightening one punch KO when he fought the more experienced Gabriel Enguema (10-9) in the Ukrainian city of Dnipro. It was his third KO victory in three professional fights—all in 2020. The end came as a result of a Doctor Steelhammer-like perfect straight right to knock the Spaniard out cold. It brought back memories of Wladimir's KO of Calvin Brock in 2006. Faust displayed skills, size, a solid chin, and power in dispatching his opponent.
"…Soon everyone will …see how skillful he is. He's the complete package and will compete in massive fights sooner rather than later." Erol Ceylan (Faust's German promoter)
Oh yes, Faust beat Romanian Mihai Nistor in the amateurs and the talented Nistor in turn halted Anthony Joshua in the amateurs back in 2011. (Nistor also went 1-2 with Filip Hrgovic and lost to Tony Yoka in 2012.) Of course, one must be circumspect when using logic in boxing. Now that Nistor has turned pro, he will be worth following as his style is very much Tysonesque.
There are others who have—at a minimum– the same potential as Faust.
Tony Yoka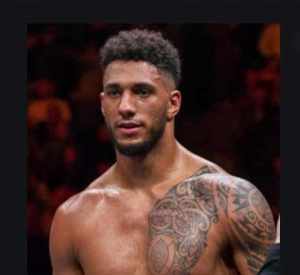 Hard-hitting Frenchman 6'7" Tony Yoka (8-0) has beaten far better opposition than Faust and has a far better amateur record. In fact, he beat Filip Hrgovic and Joe Joyce in the 2016 Rio Games on the way to a Gold Medal. Recently, he dismantled veteran and fellow Frenchman Johan Duhaupas, a fringe contender with some notable notches on his belt. The end came in the first round by virtue of a crunching right uppercut.
Yoka perhaps could be slotted above Faust at this point.; he just might be the best of the new guys on the block. However, there are some dicey anti-doping issues that have tainted his reputation, though they do seem to be mostly resolved at this point.
Arslanbek Makhmudov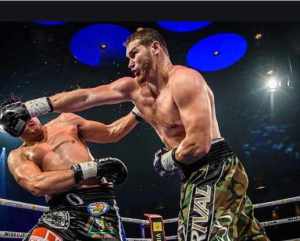 This Russian "Lion," 6'5 ½", 260 pounds with an imposing muscular frame, is still another hungry prospect ready to break into the next tier. Nicknamed the "Lion," — he also has been called "Predator" and "Beast — he is 10-0 (10 KOs).
He now lives and fights out of Montreal. The holder of two regional titles, he stopped a shot Samuel Peter in one round this past December.
"I'm confident that with my team, Eye of the Tiger Promotions and Golden Boy Promotions, I will reach my goal of becoming heavyweight champion of the world," —Makhmudov.
This all said, The Lion needs some work on his technical skills as size can only go so far.
Makhmudov's next opponent is Canadian heavyweight Dillon "Big Country" Carman (14-5) whose claim to fame is that he KOd comebacking Donovan Ruddock in 2015 in Toronto. This one will end differently for "Big Country."
Others
Arguably, classy Americans Stephan Shaw (13-0), and Jared Anderson (6-0 with four KOs in the first round) could be added to the above. Filip Hrgovic and Efe Ajagba, both 6'6", have already moved up.
A good yardstick is 6'5" American Jonathan Rice who lost a 10-round bout to Ajagba, was TKO'd in the seventh round Makhmudov, lost a 6-round decision to Tony Yoka, and a lost 6-round decision to Shaw.
Have I missed any?
Ted Sares can be reached at tedsares@roadrunner.com of on Facebook.
Check out more boxing news on video at the Boxing Channel 
To comment on this story in the Fight Forum CLICK HERE
Jermell Charlo Unifies Super Welterweights Via Solar Plexus Punch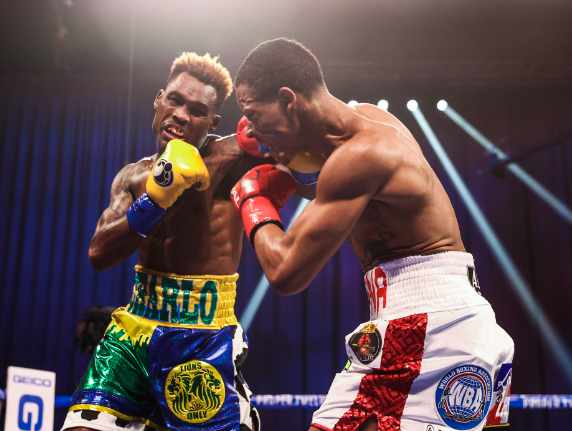 WBC super welterweight titlist Jermell Charlo knocked out IBF and WBA titlist Jeison Rosario with a knockout punch delivered to the solar plexus on Saturday to add two more belts to his collection.
"I'm definitely bringing home the straps," said Charlo.
Shades of Bob Fitzsimmons.
Back in 1897, Fitzsimmons used the same solar plexus punch to dethrone Gentleman James Corbett for the heavyweight title in Carson City, Nevada.
In another casino city Charlo (34-1, 18 KOs) floored Dominican Republic's Rosario (20-2-1, 14 KOs) three times at the Mohegan Sun Casino in Uncasville, Conn. He and his brother co-headlined a heavy duty pay-per-view card with no fans in attendance on the Premier Boxing Champions card.
Charlo jumped on Rosario quickly in the first round when he charged and clipped him with a left hook to the temple. Down went the two-belt champion for the count. But he got up seemingly unfazed.
For the next several rounds Rosario was the aggressor and put the pressure on Charlo who was content to allow the Dominican to fire away. Occasionally the Houston fighter jabbed but allowed Rosario to pound up and down with both fists.
After allowing Rosario to get comfortable with his attack, suddenly Charlo stopped moving and connected with a short crisp counter left hook and right cross in the sixth round. Down went Rosario again and he got up before the count of 10.
Charlo said it was part of the game plan.
"I'm growing and I realize that the knockout will just come," he said.
Charlo was in control with a patient style and allowed Rosario to come forward. But the Dominican was more cautious in the seventh.
In the eighth round Charlo jabbed to the head and then jabbed hard to Rosario's stomach. The Dominican fighter dropped down on his seat as if felled by a gun shot. He could not get up and convulsed while on the floor. The referee Harvey Dock counted him out at 21 seconds of round eight.
"That jab that got to him must have landed in a vital point," said Charlo after the fight. "I hope he recovers and bounces back."
Charlo now has three of the four major super welterweight world titles.
WBC Super Bantamweight Title
Luis Nery (31-0, 24 KOs) captured the WBC super bantamweight title by unanimous decision over fellow Mexican Aaron Alameda (25-1, 13 KOs) in a battle between southpaws. The war between border town fighters was intense.
Nery, a former bantamweight world titlist, moved up a weight division and found Alameda to be a slick southpaw with an outstanding jab. At first the Tijuana fighter was a little puzzled how to attack but found his groove in the fourth round.
But Alameda, who fights out of Nogales, Mexico, began using combinations and finding success.  A crafty counter left uppercut caught Nery charging in a few times, but he managed to walk through them.
In the final two rounds Nery picked up the action and increased the pressure against the slick fighting Alameda, He forced the Nogales fighter to fight defensively and that proved enough to give the last two rounds for Nery and the victory by unanimous decision. The scores were 115-113, 116-112 and 118-110 for Nery who now holds the WBC super bantamweight world title. He formerly held the WBC bantamweight title.
Roman Wins
Danny "Baby-Faced Assassin" Roman (28-3-1, 10 KOs) managed to rally from behind and defeat Juan Carlos Payano (21-4, 9 KOs) in a battle between former world champions in a nontitle super bantamweight clash. It wasn't easy.
Once again Roman fought a talented southpaw and in this fight Payano, a former bantamweight titlist, moved up in weight and kept Roman off balance for the first half of the fight. The jab and movement by the Dominican fighter seemed to keep Roman out of sync.
Roman, who fights out of Los Angeles, used a constant body attack to wear down the 35-year-old Payano and it paid off in the second half. Then the former unified world champion Roman began to pinpoint more blows to the body and head. With seconds left in the 12th and final round, a left hook delivered Payano down and through the ropes. Sadly, the referee missed the knockdown. It didn't matter as all three judges scored it identical at 116-112 for Roman after 12 rounds.
"I made some adjustments and picked up the pace and got the win," said Roman who formerly held the WBA and IBF super bantamweight world titles.
Photo credit: Amanda Westcott / SHOWTIME
Check out more boxing news on video at the Boxing Channel 
To comment on this story in the Fight Forum CLICK HERE
Jermall Charlo UD 12 Derevyanchenko; Figueroa and Casimero Also Triumphant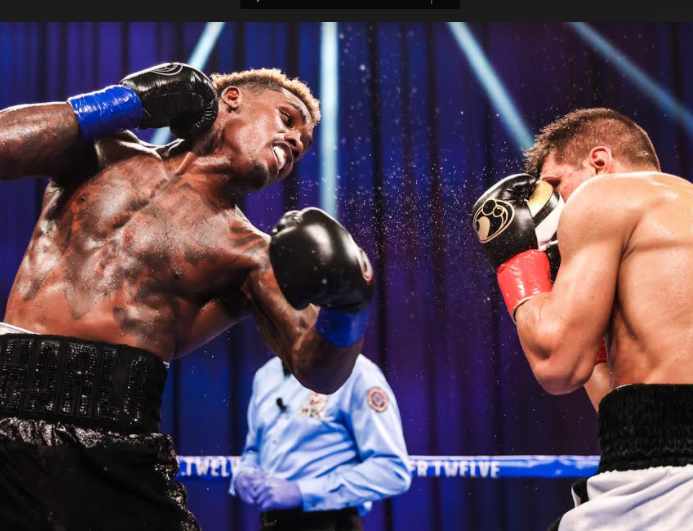 Jermall Charlo UD 12 Derevyanchenko; Figueroa and Casimero Also Triumphant
The Mohegan Sun Casino in Uncasville, Connecticut, was the site of the first pay-per-view boxing event in the United States since the Fury-Wilder rematch on Feb. 22. There were six fights in all, five of which were title fights and the other a title-eliminator. They were divided into two tiers but bundled into a package that cost approximately a dollar a round with a facile intermission tossed in at no extra charge.
The headline attraction of the first "three-pack" – and the most anticipated fight of the evening – found WBC world middleweight champion Jermall Charlo defending his title against Sergiy Derevyanchenko. The Ukrainian gave Gennady Golovkin a hard tussle when they fought in November of last year at Madison Square Garden – GGG won a unanimous decision but the scores were tight and many thought Derevyanchenko deserved the decision – and the expectation was that tonight's match would also be very competitive.  But it really wasn't although the rugged Derevyanchenko rarely took a backward step.
The fight went the distance and there were no knockdowns, but Charlo buckled his knees at the end of round three and Derevyanchenko ended the fight with cuts above both eyes. The judges had it 118-110, 117-111, and 116-112.
With Canelo Alvarez apparently headed to 168 and GGG showing his age at 38, one can make a strong case that the undefeated 30-year-old Jermall Charlo (31-0, 22 KOs) is now the top middleweight in the world. Derevyanchenko, who was 23-1 in the semi-pro World Series of Boxing before turning pro, saw his pro record decline to 13-3 with all three losses in middleweight title fights.
—
The middle fight of the first tier was a lusty encounter between Mexican-American super bantamweights Brandon Figueroa and Damien Vazquez. Figueroa, one of two fighting brothers from the Mexican border town of Weslaco, Texas, was a huge favorite over Vazquez, a Colorado native who moved to Las Vegas as a freshman in high school and had fought extensively in Mexico where he made his pro debut at age 16. But Vazquez, the nephew of former three-time world super bantamweight title-holder Israel Vazquez, came to fight and gave a good effort until the fight turned lopsidedly against him.
In the middle rounds, Figueroa's high-pressure attack began to wear Vazquez down. Vazquez had a few good moments in rounds six and eight, but when his right eye began swelling from the cut above it, he was fighting an uphill battle. He took a lot of punishment before referee Gary Rosato halted it at the 1:18 mark of round 10.
Figueroa, 23, successfully defended his WBA 122-pound title while improving his record to 21-0-1 with his 16th KO. Vazquez declined to 15-2-1.
—
The lid-lifter was a WBO bantamweight title defense by John Riel Casimero with Duke Micah in the opposite corner. Micah, from Accra, Ghana, came in undefeated at 24-0, but Casimero had faced a far stronger schedule and was a substantial favorite.
A Filipino who was been training in Las Vegas under Bones Adams, Casimero took Micah out in the third round. The Brooklyn-based Micah was somewhat busier in the opening frame, but the tide turned quickly in favor of the Filipino. Casimero hurt Micah with a left hook in round two and went for the kill. He wasn't able to finish him, but Micah was on a short leash and referee Steve Willis was quick to step in when Casimero resumed his attack after the break. The official time was 0:54.
Casimero (30-4, 21 KOs) was defending the title he won last November with a third-round knockout of favored Zolani Tete in Birmingham, England. He was slated to fight this past April in Las Vegas against Naoya Inoue, but that fight evaporated as a result of the coronavirus. After the bout, Casimero called out Inoue (and others): "I'm the real monster," he said. "Naoya Inoue is scared of me. You're next. I would have knocked out anyone today. If Inoue doesn't fight me, then I'll fight Guillermo Rigondeaux, Luis Nery, or any of the top fighters."
Check back shortly for David Avila's summaries of the remaining fights.
Photo credit: Amanda Westcott / SHOWTIME
Check out more boxing news on video at the Boxing Channel 
To comment on this story in the Fight Forum CLICK HERE