HOW HE DID IT Mayweather's Mastery Explained
Floyd Mayweather moved one step closer towards finishing his professional boxing career with an unbeaten record after clearly outpointing Saul "Canelo" Alvarez in what was the biggest boxing event of 2013 on Saturday night.
Prior to the fight, I believed Canelo's intelligence, size, power, patience, and explosiveness were destined to give Floyd his toughest outing since narrowly escaping with a "unanimous decision win" over Jose Luis Castillo back in 2002.
More than that, I did the unthinkable and picked Canelo to "shock the boxing world" and pull off an upset for the ages.
I was wrong.
Instead, it was more of the same for Floyd—and for all of us sitting watching at home or at ringside—as he routinely boxed his way to a majority decision victory in a fight devoid of any real action or drama. While Alvarez always carried the punch that could have potentially ended the fight at any given moment, he never really came close to breaking down Mayweather's nonporous defense at any stage during the night.
Although it was far from a career best performance (as some have rashly claimed), Mayweather did put forth a quite beautiful display of boxing that included many of the nuances that set him apart from every single one of his current peers at the moment.
Very briefly then, rather than simply regurgitate many of Mayweather's signature techniques and tendencies (i.e. rolling of the lead shoulder, fade counter etc.) that I previously discussed in part one of my two part pre-fight analysis, I shall instead be focusing on some of the more subtle features of Mayweather's game that quite often go unnoticed.
Today I shall be taking a look at Floyd Mayweather's understanding of range and his probing jab.
Often it is said that success in any endeavor depends upon being in the right place at the right time. This is especially true in boxing. Even if one knows thousands of techniques and can execute each one flawlessly, none will be of any use if they fail to reach the intended target.
When watching Mayweather in the ring, most seem to believe they are witnessing nothing but outrageous speed and reflexes, but the truth is that while Floyd has both of these in abundance, his dominance in the ring comes down to a mastery of what I believe to be—along with timing—the most important aspect of boxing: control of range.
Mayweather knows precisely how to position himself so that his attacks have the greatest probability of landing on his opponent. More importantly, he also knows how to position himself so that his opponent's attacks have the least probability of landing on him.
Being able to manage distance in a fight doesn't necessarily mean one must always keep the opponent on the outside. While this is obviously true if one is looking to keep the opponent on the end of a jab all night long, controlling the range of a fight can also have an adverse meaning.
A lot of people tend to think of staying out of range as being the safest place to be inside a boxing ring. Obviously being out of range is a good defensive measure, but in doing so, one may inadvertently place one's self on the very end of the opponent's punch, where it does the most damage. For example, because speed and power need room to generate, I'd consider being on the inside with Thomas Hearns a far safer place to be in as opposed to loitering on the outside where the difference between being out of range and being on the end of a right cross is just one short step.
This is where Mayweather's appreciation of ring placement truly comes into its own.
Many criticized Canelo for employing a strategy that seemingly neglected his natural advantages in size and weight. However, for anyone who had seen him fight before, it was obvious that his best and most dangerous work was done at mid-range when throwing his imaginative combinations and when looking to land counters.
Instead of using his footwork to keep Canelo mobile and from getting set (which he did later on in the fight after Canelo began pressing the attack once he realized he wasn't quick enough to try and counter Floyd in center ring), Mayweather spent the first part of the fight standing right in front of his man. From the opening bell, it was apparent that Mayweather's initial plan was to get off first and restrict Alvarez's ability to throw anything back in return. Slightly out of range, Mayweather would edge forward before connecting with either a jab or right hand lead, and then immediately force a clinch to prevent Alvarez from retaliating.
Mayweather searches for openings in Canelo's guard.
Floyd threads a jab between Canelo's gloves.
Anticipating Canelo's counter, Floyd ducks underneath…
…and holds on, forcing the referee to intervene.
Mayweather continued to land stiff jabs and right hand leads on Alvarez. Most had expected Floyd to be on his back foot from the very beginning, but here he was, inching forward, getting off first, and smothering any chance Canelo had of throwing an effective counter—a tactic that nullified Canelo's A-game and put a huge dent in his early confidence.
Mayweather closes in on Canelo.
Mayweather lands a straight right hand…
…then immediately dives underneath…
…and forces Canelo to hold.
Never really coming to terms with Floyd's constant flirtation with the pocket, Alvarez always found Mayweather either too far away to be hit, or too close to be hit with his best weapons. Essentially, this was the story of the fight.
Alvarez is looking to create an opening.
Reacting to Canelo's feint, Floyd pushes off his front foot and moves out of range.
Mayweather advances forward and re-enters the pocket.
Just as Canelo is thinking about going on the offensive, Mayweather lands a jab…
…instantly ducks underneath…
…and falls into a clinch, thus preventing any attempted counter or further attack from Alvarez.
In his treatise on boxing Championship Fighting: Explosive Punching and Aggressive Defense Jack Dempsey strongly emphasized that when it comes to the jab, the lead hand should be reserved almost exclusively for delivering what he termed "lead jolts" and should never be used for "fluffing" jabs that are used to "tap, slap, flick, paw or paint".
Well sorry, Mr. Dempsey, but as Floyd has shown during many of his most recent outings, a light, non-contact "probing" jab can be a great way to offset the opponent's timing and create openings.
What I find truly astonishing is that the world's greatest pound-for-pound fighter is still evolving, becoming more and more unorthodox with each passing fight.
Floyd will, of course, step in behind a regular jab and use it for its typical purpose—to establish range and prevent the opponent from getting to the inside position—but Floyd now regularly uses a "blinding" or "flicker" jab (the terminology is far from universal) to occupy and manipulate his opponent's guard in order to set up his straight rights and left hooks, of which, nobody seems to be able to defend against.
For further reading on Mayweather's probing lead hand I suggest reading my post fight analysis on the Floyd Mayweather-Robert Guerrero fight. http://www.tss.ib.tv/news/articles-frontpage/16611-how-he-did-it-mayweathers-scintillating-display
Here is an example of Mayweather using his lead hand to serve as a distraction for his body jab, which in turn, is used to set up a follow-up attack:
Mayweather and Alvarez are posturing in the center of the ring.
Floyd distracts Canelo with a "blinding" jab.
Floyd drops low and lands a body jab. Notice how Canelo has lowered his guard to try and stuff it.
Mayweather takes advantage of Canelo's low guard by following up with a right hand to the head.
Mayweather's entrancing lead hand continued to befuddle Alvarez throughout the fight. Below is an example of Mayweather tapping Alvarez on the head, so that when Canelo retaliates, he affords Mayweather with a momentary opening that he can exploit.
Mayweather looks to distract Canelo with his lead hand.
Floyd touches the top of Canelo's head with an extended lead glove.
Reacting to Mayweather's unusual tactic, Canelo angrily swipes Mayweather's lead glove away.
Mayweather takes advantage of Canelo's defensive lapse and connects with a right hand down the middle.
Regardless of who he has ever fought or sparred with, I can guarantee that young Canelo will have never had anyone dare to stand right in front of him and try to tap him on the gloves or head in an attempt to pry open his guard. Below is yet another example of Mayweather's antagonizing lead hand tactics.
Mayweather and Canelo are looking for openings.
Mayweather touches Canelo's rear hand with his lead glove.
This time, Mayweather touches Canelo's lead hand with his lead glove.
Taking the bait, Canelo tries to swat down Mayweather's lead hand…
…and gets nailed with a hard right.
As these examples clearly illustrate, much of what Mayweather does inside the ring is just as much mental as it is physical. Floyd's unorthodoxy along with his elite level timing and understanding of range makes him nigh on impossible for today's fighters to try and fathom out.
Right now, Mayweather looks as close to unbeatable as one can possibly get. Because of what is currently out there at the moment, it doesn't look like his "0" will be going anywhere anytime soon.
Jaron Ennis KOs Sergey Lipinets and Other Results from the Mohegan Sun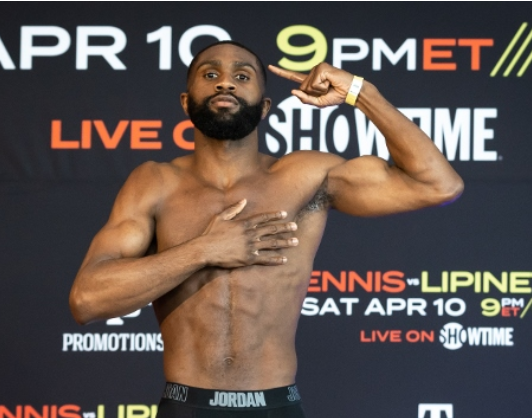 Philly is on the up. Again.
Jaron "Boots" Ennis kicked his stature into another gear with an impressive knockout of former world champion Sergey Lipinets on Saturday.
"It's on the up now for bigger and better fights," said Ennis.
Those Philly fighters know how to do it.
Before a small audience Philadelphia's Ennis (27-0, 25 KOs) showed that he's ready for the elite level class by dominating the always tough Lipinets (16-2-1, 12 KOs) at Mohegan Sun Casino in Uncasville, Conn.
Is there any other American welter looking for action?
Ennis walked into the arena with all of the physical advantages, but experience can be a tricky matter in the fight game. Lipinets was ready to provide the lesson.
For the first two rounds Ennis used his superior reach, height and speed to keep the former super lightweight world titlist from entering his domain. The Philly fighter wacked at the Russian fighter's body and head while taking minimal return fire.
Lipinets finally found his way inside and both fighters traded big blows. A wicked right uppercut by Ennis connected and Lipinets bounced a right cross on the Philly fighter. Both absorbed the big blows with little effect.
Still, Ennis was winning all of the rounds and Lipinets realized that maintaining the status quo was not doing him any good. He increased his attack and slipped on Ennis foot and went down. It was incorrectly ruled a knockdown by the referee but it was the least of the Russian fighter's problems.
Both fighters attacked the body but Lipinets shot one far below the belt and the fight was stopped for a moment. Lipinets was warned. Both went into attack inside and it seemed to be Lipinets best round. He seemed to find his way back into a groove.
"I saw he wasn't as skilled on the inside as I was so that's when I started getting a little closer," Ennis said.
Ennis may have realized that Lipinets had a good round and he wasn't about to allow another. As the two fighters re-engaged in their war inside, Ennis connected with a right hook to the chin and a left uppercut finished the job. Down went Lipinets and referee Arthur Mercante waved off the fight at 2:11 of the sixth round without a count.
"We worked on a lot of power shots and a lot of speed. That's what we did," said Ennis. "Everything is all natural."
The impressive knockout of Lipinets proved that Ennis has more than enough ability to hang with the best welterweights around.
"Maybe one of the guys will want to fight me. Who knows?", said Ennis.
Other Bouts
IBF super flyweight titlist Jerwin Ancajas (33-1-2, 22 KOs) floored Mexico's Jonathan Rodriquez (22-2, 16 KOs) and hammered out a win by unanimous decision. But it wasn't an easy fight. It never is when you put the Philippines versus Mexico.
Ancajas needed the win to keep his name handy for a possible match in the now heated super flyweight division that features Juan Francisco Estrada, Roman Gonzalez, and Carlos Cuadras.
A battle between welterweight contenders saw Eimantis Stanionis (13-0) power his way to a unanimous decision win after 12 rounds versus Thomas Dulorme (25-5-1).
Check out more boxing news on video at the Boxing Channel
To comment on this story in the Fight Forum CLICK HERE
Fast Results from Tulsa: Joe Smith Jr Nips Vlasov, Wins WBO Title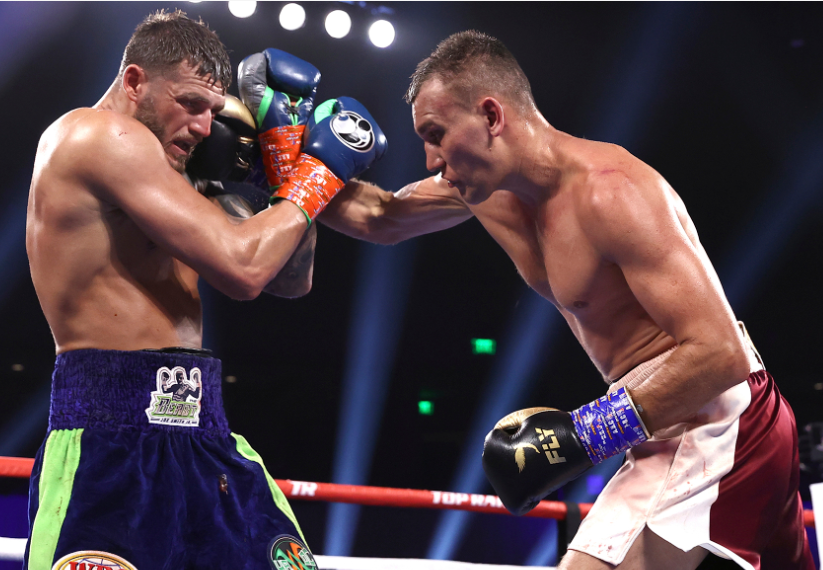 Joe Smith Jr had to dig down deep to upend Russian veteran Maxim Vlasov, but pulled the fight out of the fire with a late rally to capture the vacant WBO light heavyweight title before a sold-out crowd of 500 masked-up fight fans at Tulsa's Osage Casino. Smith prevailed by a majority decision. One of the judges had it a draw (114-114), but he was overruled by his cohorts who each turned in tallies of 115-113.
Smith, the quintessential blue-collar fighter, suffered a cut above his left eye in the first round and it troubled him throughout. Vlasov fought a smart fight, out-working the more one-dimensional Smith in most of the rounds, but a cut inside his mouth and Smith's body punches eventually took their toll. Smith had a strong seventh round but Vlasov recaptured the lead only to let it slip away in a good action fight. There were no knockdowns, but Vlasov went down in the 11th from a punch that landed behind his head, an illegal punch, hence no knockdown.
Smith Jr improved to 27-3 and earned a date with WBC/IBF champion Artur Beterbiev. Vlasov, whose effort commanded a rematch that won't happen — at least not any time soon — falls to 45-4. All four of the Russian's losses have come on U.S. soil, two right here in Tulsa where Vlasov was out-pointed by future world title challenger Isaac Chilemba way back in 2011.
—
The were nine bouts in all the card, the majority of which were intended to showcase up-and-coming heavyweights. The result was a predictable slew of quick stoppages, resulting in plenty of dead time between bouts.
The match between Efe Ajagba and Brian Howard was packaged as the co-feature. Ajagba had been less than impressive in some of his recent starts, but tonight the 6-foot-6 former Olympian for Nigeria scored a devastating one-punch knockout to restore whatever luster he may have lost. The lightning bolt came at the 1:29 mark of round three. Howard was unconscious before he hit the canvas. Ajagba advanced to 15-0 with his 12th knockout. Howard declined to 15-5.
Other Bouts
In the last of the seven preliminary fights on ESPN's subscription channel, Jared Anderson improved to 9-0 (9) with a second-round stoppage of West Virginia southpaw Jeremiah Karpency. The gifted 21-year-old Anderson, from Toledo, Ohio, scored two knockdowns with hard body shots before the bout was halted after only 38 seconds of the second round. The grossly overmatched Karpency was 16-2-1 heading in.
Local fan favorite Trey Lippe Morrison advanced his record to 17-0 with his 17th knockout, stopping 36-year-old Alabama journeyman Jason Bergman (27-20-2) in the third frame. Bergman came to fight and actually scored a knockdown in the opening round that the ref erroneously called a push. Fighting with his back against the ropes, Bergman landed a left that knocked Morrison off his pins.
It was a quirky knockout, coming at the 1:27 mark of round three when Bergman rolled his ankle while throwing an errant punch. He fell to the canvas in obvious pain and the bout was stopped. Bergman had lost seven of his last nine coming in, but was meeting an undefeated opponent for the fifth straight time.
Tulsa native Jeremiah Milton (3-0, 3 KOs) had a successful homecoming, bombing out Mississippi's Jayvone Dafney in the first round. An overhand right by Milton left Dafney out on his feet with his back pinned against the ropes. Milton, realizing that his opponent was seriously hurt, held back, waiting for the referee to intervene. The time was 1:19.
In the ESPN+ opener, Philadelphia's Sonny Conto (7-0, 6 KOs) returned after a 15-month absence and dismissed paunchy Waldo Cortes in the opening round. Conto put Cortes (6-4) down for the 10-count with a perfectly placed right hand. The official time was 1:41.
Photo credit: Mikey Williams / Top Rank via Getty Images
Check out more boxing news on video at the Boxing Channel
To comment on this story in the Fight Forum CLICK HERE
Conor Benn Embarrasses His Detractors, Demolishes Vargas in 80 Seconds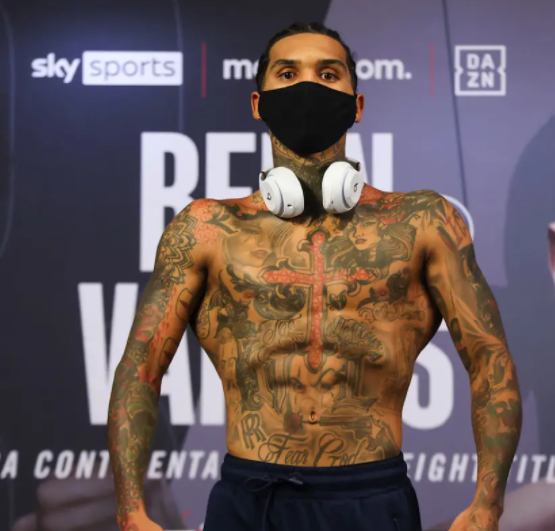 Conor Benn fought Samuel Vargas in London today (Saturday, April 10). Although Benn was a solid favorite, he was stepping up in class. Vargas, a 31-year-old Canadian via Columbia, brought a 31-6-2 record. He had been in with the likes of Errol Spence Jr and Danny Garcia and had extended Amir Khan 12 rounds on Khan's turf in Manchester.
Vargas's best days were behind him , but the prevailing sentiment was that he would make it interesting, likely taking the fight into the late rounds and perhaps lasting the distance. So much for prevailing sentiment. Benn walked right through him. Vargas couldn't cope with Benn's superior speed. He was being battered against the ropes and offering nothing in return when referee Michael Alexander stepped in and waived it off. It was all over in 80 seconds. Benn improved to 18-0 with his 12th win inside the distance.
Benn, 24, is the son of Nigel Benn, a former two-division world champion who was one of England's most celebrated fighters. Conor had a brief amateur career in Australia before turning pro at age 19 in London, the city of his birth. While his record is unblemished, it would be incorrect to say that he passed every test as he was climbing the ladder. His first fight with Cedric Peynaud, a marginally skilled Frenchman, has haunted him.
Benn was knocked down twice in the opening round, but scored two knockdowns of his own late in the 6-round fight and was awarded the decision. Peynaud brought a 5-4-3 record and to say that Conor's performance was underwhelming would be an understatement. At the finish, his right eye was badly swollen.
Scott Gilfoid offered up the most damning criticism: "To say that Benn looked poor tonight is being kind. He was absolutely horrible….The flaws that I saw in Benn's game tonight are ones that likely won't go away anytime soon….His performance has to be viewed as a warning sign that he's not destined to go far in the sport like his famous father."
Benn and Peynaud fought on Dec. 13, 2017. This was Benn's 12th pro fight. He had one more bout under his belt before he and the Frenchman had another go at it. The rematch, scheduled for 10 rounds, took place on July 28, 2018, on a show headlined by the heavyweight match between Dillian Whyte and Joseph Parker.
Benn knocked Peynaud down three times but couldn't finish him. However, the outcome was never in doubt. He won by scores of 98-90 and 98-91 twice.
Trevor McIntyre, a stablemate of the aforementioned Scott Gilfoid (rumor has it that Gilfoid and McIntyre are the same person, and that both are aliases of the owner of the web site where their bylines appear) conceded that Benn showed improvement, but was otherwise unimpressed: "(He) still looked like someone that would be blown away by a halfway decent journeyman fighter….Benn's defense was leaky, his hand speed slow, and his movements looked uncoordinated throughout."
Benn's most recent fight before tonight came against Sebastian Formella, a sturdy but feather-fisted German who was coming off a 12-round defeat to Shawn Porter, a bout in which he showed great heart but won nary a round. Benn won lopsidedly. The scorecards read 100-91, 99-91, and 98-92.
The mysterious Barry Holbrook, whose byline appears at the same web site as Gilfoid and McIntyre, acknowledged that Benn proved some of his doubters wrong, but wrote that "a top welterweight like Errol Spence, Keith Thurman, Danny Garcia, Terence Crawford, or Vergil Ortiz Jr would have knocked him out. If they didn't score a knockout, they would have battered him to the point where the referee would have needed to stop it."
The respected British scribe Ron Lewis offered a different take: "(Conor) looked a completely changed fighter from the wild youngster of his early professional career, switching well from head to body, being patient, and picking his spots well." Lewis did not speculate how Benn would have fared against some of the division's top guns, but certainly hinted that Nigel's son could become a factor in what is currently a very strong welterweight division.
As today's showing proved, Mr. Lewis is a more perceptive observer than his counterpart(s) at the web site where Benn has been repeatedly 'dissed. Nigel's son has made enormous strides in the last few years. He's also an interesting character. Having spent much of his formative years living on the Spanish island of Majorca, he's fluent in Spanish which is always a useful attribute from a marketing standpoint. But as for how good he is, let's not jump to conclusions, mindful that Samuel Vargas was on the wrong side of the curve, having lost three of his last five heading in.
The question doesn't yet have a definitive answer, but tonight in London, Conor Benn was very good, very very good.
Check out more boxing news on video at the Boxing Channel
To comment on this story in the Fight Forum CLICK HERE