Edwin Rodriguez, PEDs, and Al Haymon
On October 2, 2013, Edwin Rodriguez enrolled in the Voluntary Anti-Doping Agency's 24-7-365 testing program. That means VADA can demand blood and urine samples from Rodriguez without notice anytime anywhere. In so doing, Edwin followed the lead of Nonito Donaire, who announced in early-2012 that he was unilaterally subjecting himself to year-round PED testing by VADA.
Boxing has a serious PED problem. Under the best of circumstances, trying to catch drug cheats is like designing anti-virus computer software. The cheats are always finding new ways to thwart the system.
In boxing, the system is easy to beat. Most states have drug-testing programs that a high school student could circumvent. Testing on fight night or testing once a fight has been announced is better than no testing, but it's not enough. A fighter can use PEDs between fights and cycle off when his next fight is signed.
The Damocles Sword of testing by a qualified testing agency 24-7-365 is essential if boxing is to curtail PED use. But with rare exceptions, this testing hasn't been implemented.
Indeed, one might posit that Rodriguez and Donaire (pictured above, in Chris Farina-Top Rank photo) have put themselves at a competitive disadvantage. Their upcoming opponents have steered clear of 24-7-365 PED testing. That doesn't mean their opponents are dirty. But it doesn't inspire confidence that Edwin and Nonito will be in the ring against clean opposition either.
Jim Lampley was once reluctant to call for stringent measures to curtail the use of performance enhancing drugs in boxing. That changed on December 8, 2012, when Manny Pacquiao was brutally knocked out by Juan Manuel Marquez.
"I saw Manny Pacquiao lying face-down on the canvas in front of me," Lampley recalls. "I thought he might be dead. That imbued me with a sense of urgency on this issue."
One week later, on the December 15th edition of The Fight Game, Lampley designated Donaire as TFG's "Fighter of the Year."
"He committed to random drug testing, 24-7-365 whether he is scheduled to fight or not," Lampley explained to viewers. "At a moment when, elsewhere in the sport, you can find instances of star fighters who are testing positive for performance enhancing drugs, test results which have allegedly been ignored or suppressed in favor of unobstructed commerce, enforcement efforts which get lost or fall short due to improper scheduling, inadequate testing methods, and bureaucratic incompetence; if you are looking for the ray of hope, the light in the forest, his name is Nonito Donaire."
On the same telecast, Lampley honored VADA president Margaret Goodman. After referencing VADA's "state of the art procedures" and "prominent busts" of two elite fighters (Lamont Peterson and Andre Berto), Lampley declared, "It took VADA and Margaret Goodman two fights to establish the will to enforce standards which might help to reverse what many observers now see as an onrushing tide of performance enhancing drugs in boxing. For making her point forcefully, fearlessly, and immediately, Dr. Margaret Goodman is the 'TFG Person of the Year.'"
One can argue that it's the responsibility of state athletic commissions, legislators, and promoters to help rid boxing of PEDs. But most of all, it's the responsibility of THE FIGHTERS and their camps. The fighters are the ones who are at greatest risk.
A fatality would be the most stark evidence of the crisis. But the dangers go far beyond a handful of deaths. Twenty years from now, an entire generation of fighters will have brain damage from having been hit in the head harder than would have been the case without PED use by their opponents.
Thus, it's worth focusing on Edwin Rodriguez and the laudable commitment to 24-7-365 VADA testing that he recently made.
In August of this year, Rodriguez signed with manager Al Haymon. At least three of Haymon's fghters (Andre Berto, Antonio Tarver, and J'Leon Love) have tested positive for PEDs in the past.
Another Haymon fighter (Peter Quillin) was enrolled in a USADA testing program prior to his June 2, 2012, fight against Winky Wright. Then, after blood and urine samples were taken from both fighters, Wright was told that the testing had been abandoned and the samples were destroyed.
Haymon also represents Adrien Broner.
Broner, Antonio DeMarco, Golden Boy (Broner's promoter), and the United States Anti-Doping Agency signed a contract for USADA testing prior to the November 17, 2012, Broner-DeMarco fight. But according to DeMarco, he wasn't tested by USADA for that bout, nor was Broner.
Then, on June 22, 2013, Broner fought Paulie Malignaggi.
"I wanted VADA testing," Malignaggi recalls. "And I was told, 'No, we won't do VADA. If you insist on VADA, there won't be a fight.' Finally, I said, 'F— it. I'm getting seven figures. I'll go ahead and fight.' Would I have been more confident that Broner was clean if there had been VADA testing? Absolutely."
Haymon's flagship fighter, of course, is Floyd Mayweather.
On June 24, 2013, at a media sitdown before the kick-off press conference for Mayweather vs. Canelo Alvarez, Leonard Ellerbe (CEO of Mayweather Promotions) told reporters, "We've put in place a mechanism where all Mayweather Promotions fighters will do mandatory blood and urine testing 365-24-7 by USADA."
USADA declined a request from this writer for comment on the truth of Ellerbe's contention. Al Haymon also declined comment for this article. And questions remain regarding the issue of whether or not, several years ago, Mayweather "A" samples tested positive on three occasions.
Referencing that issue, Dan Rafael of ESPN.com stated during a November 21, 2012, online chat, "I need to see proof before I accuse somebody of something so serious. What is fact, however, is that the settlement in the Pacquiao-Mayweather lawsuit happened after the Pacquiao camp tried to get Mayweather's USADA testing records. So maybe where there is smoke there is fire."
So here's a suggestion. Why doesn't Floyd Mayweather enroll in VADA's 24-7-365 program? And let him state publicly, "Any fighter who wants to be eligible to fight me must enroll in VADA's 24-7-365 program NOW."
And let's take it a step further. In addition to Mayweather, Broner, Quillin, Berto, and Love, Al Haymon currently represents Danny Garcia, Devon Alexander, Lucas Matthysse, Marcos Maidana, Leo Santa Cruz, Keith Thurman, Austin Trout, Omar Figueroa, Gary Russell Jr, Sakio Bika, Josesito Lopez, Erislandy Lara, Shawn Porter, Errol Spence, Chris Arreola, Seth Mitchell, and Deontay Wilder.
Let's assume that all of these fighters are clean. Let them all enter a 24-7-365 VADA testing program. I can't speak for anyone else. But that would certainly make a believer out of me.
Al and Floyd have enough money to fund it.
It's easy to talk the talk. Let's see who walks the walk.
Let's also remember the thoughts of Jim Lampley, who has warned, "Whatever is the worst thing that can happen as the result of boxers employing modern medical science to strengthen their bodies, it hasn't happened yet. But if nothing is done to further strengthen testing standards and applications, it surely will. And when it does, we won't be complaining anymore that boxing can't find its way into mainstream media. We'll be there in a big way, and in no way to our credit."
Thomas Hauser can be reached by email at thauser@rcn.com. His most recent book (Straight Writes and Jabs: An Inside Look at Another Year in Boxing) has just been published by the University of Arkansas Press.
Emerging Heavyweights: Three to Watch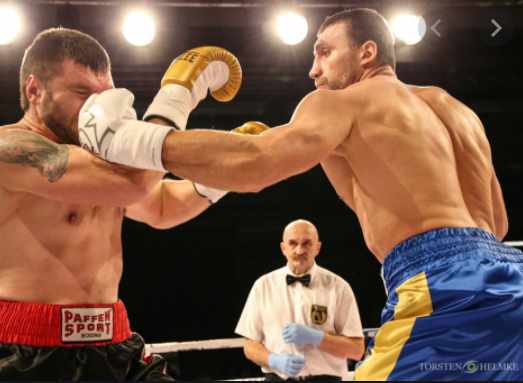 Victor Faust (Viktor Vykhryst), a 6'6" 232-pound Ukrainian heavyweight (and long-time amateur) is a product of the great amateur program in the Ukraine–one that has produced the likes of the Klitschko brothers, Oleksandr Usyk, Vasily Lomachenko, and more recently Sergiy Derevyanchenko.
At first glance, his amateur record does not appear stellar, but a closer review indicates several SD's or MD's.
Earlier this month, on Sept. 20, he scored a frightening one punch KO when he fought the more experienced Gabriel Enguema (10-9) in the Ukrainian city of Dnipro. It was his third KO victory in three professional fights—all in 2020. The end came as a result of a Doctor Steelhammer-like perfect straight right to knock the Spaniard out cold. It brought back memories of Wladimir's KO of Calvin Brock in 2006. Faust displayed skills, size, a solid chin, and power in dispatching his opponent.
"…Soon everyone will …see how skillful he is. He's the complete package and will compete in massive fights sooner rather than later." Erol Ceylan (Faust's German promoter)
Oh yes, Faust beat Romanian Mihai Nistor in the amateurs and the talented Nistor in turn halted Anthony Joshua in the amateurs back in 2011. (Nistor also went 1-2 with Filip Hrgovic and lost to Tony Yoka in 2012.) Of course, one must be circumspect when using logic in boxing. Now that Nistor has turned pro, he will be worth following as his style is very much Tysonesque.
There are others who have—at a minimum– the same potential as Faust.
Tony Yoka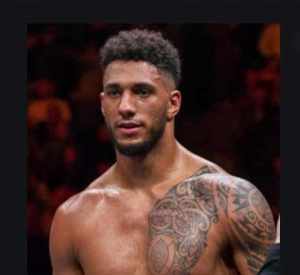 Hard-hitting Frenchman 6'7" Tony Yoka (8-0) has beaten far better opposition than Faust and has a far better amateur record. In fact, he beat Filip Hrgovic and Joe Joyce in the 2016 Rio Games on the way to a Gold Medal. Recently, he dismantled veteran and fellow Frenchman Johan Duhaupas, a fringe contender with some notable notches on his belt. The end came in the first round by virtue of a crunching right uppercut.
Yoka perhaps could be slotted above Faust at this point.; he just might be the best of the new guys on the block. However, there are some dicey anti-doping issues that have tainted his reputation, though they do seem to be mostly resolved at this point.
Arslanbek Makhmudov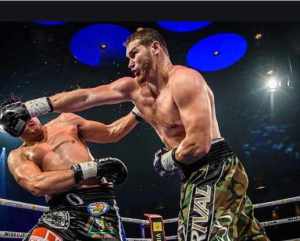 This Russian "Lion," 6'5 ½", 260 pounds with an imposing muscular frame, is still another hungry prospect ready to break into the next tier. Nicknamed the "Lion," — he also has been called "Predator" and "Beast — he is 10-0 (10 KOs).
He now lives and fights out of Montreal. The holder of two regional titles, he stopped a shot Samuel Peter in one round this past December.
"I'm confident that with my team, Eye of the Tiger Promotions and Golden Boy Promotions, I will reach my goal of becoming heavyweight champion of the world," —Makhmudov.
This all said, The Lion needs some work on his technical skills as size can only go so far.
Makhmudov's next opponent is Canadian heavyweight Dillon "Big Country" Carman (14-5) whose claim to fame is that he KOd comebacking Donovan Ruddock in 2015 in Toronto. This one will end differently for "Big Country."
Others
Arguably, classy Americans Stephan Shaw (13-0), and Jared Anderson (6-0 with four KOs in the first round) could be added to the above. Filip Hrgovic and Efe Ajagba, both 6'6", have already moved up.
A good yardstick is 6'5" American Jonathan Rice who lost a 10-round bout to Ajagba, was TKO'd in the seventh round Makhmudov, lost a 6-round decision to Tony Yoka, and a lost 6-round decision to Shaw.
Have I missed any?
Ted Sares can be reached at tedsares@roadrunner.com of on Facebook.
Check out more boxing news on video at the Boxing Channel 
To comment on this story in the Fight Forum CLICK HERE
Jermell Charlo Unifies Super Welterweights Via Solar Plexus Punch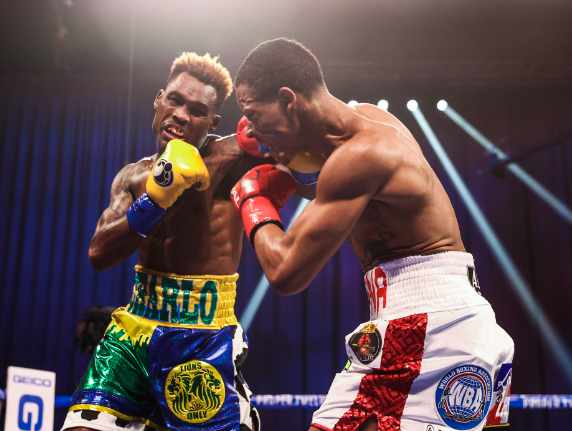 WBC super welterweight titlist Jermell Charlo knocked out IBF and WBA titlist Jeison Rosario with a knockout punch delivered to the solar plexus on Saturday to add two more belts to his collection.
"I'm definitely bringing home the straps," said Charlo.
Shades of Bob Fitzsimmons.
Back in 1897, Fitzsimmons used the same solar plexus punch to dethrone Gentleman James Corbett for the heavyweight title in Carson City, Nevada.
In another casino city Charlo (34-1, 18 KOs) floored Dominican Republic's Rosario (20-2-1, 14 KOs) three times at the Mohegan Sun Casino in Uncasville, Conn. He and his brother co-headlined a heavy duty pay-per-view card with no fans in attendance on the Premier Boxing Champions card.
Charlo jumped on Rosario quickly in the first round when he charged and clipped him with a left hook to the temple. Down went the two-belt champion for the count. But he got up seemingly unfazed.
For the next several rounds Rosario was the aggressor and put the pressure on Charlo who was content to allow the Dominican to fire away. Occasionally the Houston fighter jabbed but allowed Rosario to pound up and down with both fists.
After allowing Rosario to get comfortable with his attack, suddenly Charlo stopped moving and connected with a short crisp counter left hook and right cross in the sixth round. Down went Rosario again and he got up before the count of 10.
Charlo said it was part of the game plan.
"I'm growing and I realize that the knockout will just come," he said.
Charlo was in control with a patient style and allowed Rosario to come forward. But the Dominican was more cautious in the seventh.
In the eighth round Charlo jabbed to the head and then jabbed hard to Rosario's stomach. The Dominican fighter dropped down on his seat as if felled by a gun shot. He could not get up and convulsed while on the floor. The referee Harvey Dock counted him out at 21 seconds of round eight.
"That jab that got to him must have landed in a vital point," said Charlo after the fight. "I hope he recovers and bounces back."
Charlo now has three of the four major super welterweight world titles.
WBC Super Bantamweight Title
Luis Nery (31-0, 24 KOs) captured the WBC super bantamweight title by unanimous decision over fellow Mexican Aaron Alameda (25-1, 13 KOs) in a battle between southpaws. The war between border town fighters was intense.
Nery, a former bantamweight world titlist, moved up a weight division and found Alameda to be a slick southpaw with an outstanding jab. At first the Tijuana fighter was a little puzzled how to attack but found his groove in the fourth round.
But Alameda, who fights out of Nogales, Mexico, began using combinations and finding success.  A crafty counter left uppercut caught Nery charging in a few times, but he managed to walk through them.
In the final two rounds Nery picked up the action and increased the pressure against the slick fighting Alameda, He forced the Nogales fighter to fight defensively and that proved enough to give the last two rounds for Nery and the victory by unanimous decision. The scores were 115-113, 116-112 and 118-110 for Nery who now holds the WBC super bantamweight world title. He formerly held the WBC bantamweight title.
Roman Wins
Danny "Baby-Faced Assassin" Roman (28-3-1, 10 KOs) managed to rally from behind and defeat Juan Carlos Payano (21-4, 9 KOs) in a battle between former world champions in a nontitle super bantamweight clash. It wasn't easy.
Once again Roman fought a talented southpaw and in this fight Payano, a former bantamweight titlist, moved up in weight and kept Roman off balance for the first half of the fight. The jab and movement by the Dominican fighter seemed to keep Roman out of sync.
Roman, who fights out of Los Angeles, used a constant body attack to wear down the 35-year-old Payano and it paid off in the second half. Then the former unified world champion Roman began to pinpoint more blows to the body and head. With seconds left in the 12th and final round, a left hook delivered Payano down and through the ropes. Sadly, the referee missed the knockdown. It didn't matter as all three judges scored it identical at 116-112 for Roman after 12 rounds.
"I made some adjustments and picked up the pace and got the win," said Roman who formerly held the WBA and IBF super bantamweight world titles.
Photo credit: Amanda Westcott / SHOWTIME
Check out more boxing news on video at the Boxing Channel 
To comment on this story in the Fight Forum CLICK HERE
Jermall Charlo UD 12 Derevyanchenko; Figueroa and Casimero Also Triumphant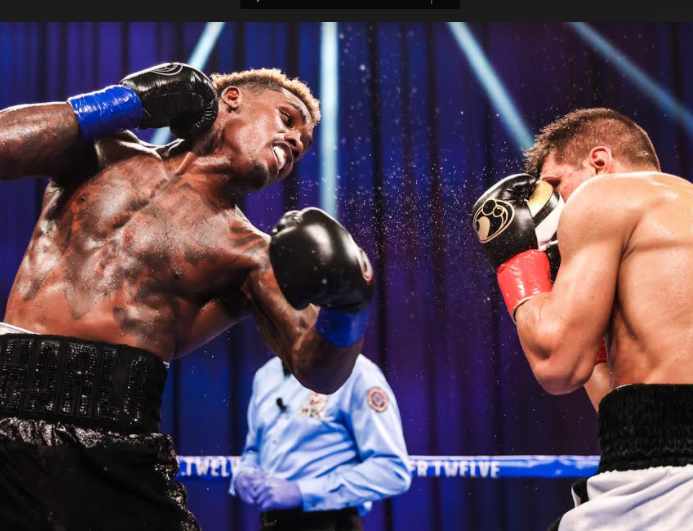 Jermall Charlo UD 12 Derevyanchenko; Figueroa and Casimero Also Triumphant
The Mohegan Sun Casino in Uncasville, Connecticut, was the site of the first pay-per-view boxing event in the United States since the Fury-Wilder rematch on Feb. 22. There were six fights in all, five of which were title fights and the other a title-eliminator. They were divided into two tiers but bundled into a package that cost approximately a dollar a round with a facile intermission tossed in at no extra charge.
The headline attraction of the first "three-pack" – and the most anticipated fight of the evening – found WBC world middleweight champion Jermall Charlo defending his title against Sergiy Derevyanchenko. The Ukrainian gave Gennady Golovkin a hard tussle when they fought in November of last year at Madison Square Garden – GGG won a unanimous decision but the scores were tight and many thought Derevyanchenko deserved the decision – and the expectation was that tonight's match would also be very competitive.  But it really wasn't although the rugged Derevyanchenko rarely took a backward step.
The fight went the distance and there were no knockdowns, but Charlo buckled his knees at the end of round three and Derevyanchenko ended the fight with cuts above both eyes. The judges had it 118-110, 117-111, and 116-112.
With Canelo Alvarez apparently headed to 168 and GGG showing his age at 38, one can make a strong case that the undefeated 30-year-old Jermall Charlo (31-0, 22 KOs) is now the top middleweight in the world. Derevyanchenko, who was 23-1 in the semi-pro World Series of Boxing before turning pro, saw his pro record decline to 13-3 with all three losses in middleweight title fights.
—
The middle fight of the first tier was a lusty encounter between Mexican-American super bantamweights Brandon Figueroa and Damien Vazquez. Figueroa, one of two fighting brothers from the Mexican border town of Weslaco, Texas, was a huge favorite over Vazquez, a Colorado native who moved to Las Vegas as a freshman in high school and had fought extensively in Mexico where he made his pro debut at age 16. But Vazquez, the nephew of former three-time world super bantamweight title-holder Israel Vazquez, came to fight and gave a good effort until the fight turned lopsidedly against him.
In the middle rounds, Figueroa's high-pressure attack began to wear Vazquez down. Vazquez had a few good moments in rounds six and eight, but when his right eye began swelling from the cut above it, he was fighting an uphill battle. He took a lot of punishment before referee Gary Rosato halted it at the 1:18 mark of round 10.
Figueroa, 23, successfully defended his WBA 122-pound title while improving his record to 21-0-1 with his 16th KO. Vazquez declined to 15-2-1.
—
The lid-lifter was a WBO bantamweight title defense by John Riel Casimero with Duke Micah in the opposite corner. Micah, from Accra, Ghana, came in undefeated at 24-0, but Casimero had faced a far stronger schedule and was a substantial favorite.
A Filipino who was been training in Las Vegas under Bones Adams, Casimero took Micah out in the third round. The Brooklyn-based Micah was somewhat busier in the opening frame, but the tide turned quickly in favor of the Filipino. Casimero hurt Micah with a left hook in round two and went for the kill. He wasn't able to finish him, but Micah was on a short leash and referee Steve Willis was quick to step in when Casimero resumed his attack after the break. The official time was 0:54.
Casimero (30-4, 21 KOs) was defending the title he won last November with a third-round knockout of favored Zolani Tete in Birmingham, England. He was slated to fight this past April in Las Vegas against Naoya Inoue, but that fight evaporated as a result of the coronavirus. After the bout, Casimero called out Inoue (and others): "I'm the real monster," he said. "Naoya Inoue is scared of me. You're next. I would have knocked out anyone today. If Inoue doesn't fight me, then I'll fight Guillermo Rigondeaux, Luis Nery, or any of the top fighters."
Check back shortly for David Avila's summaries of the remaining fights.
Photo credit: Amanda Westcott / SHOWTIME
Check out more boxing news on video at the Boxing Channel 
To comment on this story in the Fight Forum CLICK HERE