Bradley Has Helped Fans Understand Potential Effects of Boxing
"I wanted to prove to the people that hey, I am a real champion…that I can fight, that I can bring the house down, and I can go through – I can weather any storm and come out on top." – Timothy Bradley
There was no doubt to anyone watching the fight between Timothy Bradley and Ruslan Provodnikov, that it was a brutal one. Starting early in round one, we saw Bradley sustain brutal hits to the head and the classic signs of someone who has sustained head trauma – he loses his balance, his legs seem not to hold well for him, and from the outside we can only assume the symptoms he was also struggling with from within – blurred vision, dizziness, confusion, or nausea…not to mention the pain.
If you watch boxing, this is nothing new, but the level of head trauma might not be something we've seen for quite some time. His level of resilience was truly staggering.
We watched round after round until the very end. In the final round, it seemed inevitable that Bradley (pictured above, at Wednesday press conference, in Chris Farina-Top Rank photo)would finally stay down on the mat, but he stood up to win it. It was a triumph of spirit over the body, but let us not forget the very dangerous and possibly permanent types of injuries he likely sustained in his quest. He said he had something to prove, that people called him a "fake champion," but you wonder whether he proved it through his ability to sustain injury, or if this point may have been better proved by boxing a smarter match – improving defensive skills, and allowing himself a potentially longer career.
Soon after the fight, Timothy Bradley went into an ambulance and was taken to a local hospital for examination. The numerous comments on this from YouTube and other social media were interesting to read: Some individuals commended him on his toughness, others were calling him weak for going to the hospital. Given the amount of impact and trauma to the head, it was an essential that Bradley go to a hospital for evaluation…and his words in the later interview with Max Kellerman on HBO's "Face Off" show the very real effects, and lack of understanding around head trauma that still exists in much of the boxing world.
When Kellerman asked Bradley about the effects after the fight, he seemed almost shocked at the candid response of Bradley, who stated, "A few weeks after the fight I was still affected…my speech was a little bit off and I was slurring a bit after about two months, I got my speech back." It was interesting to me to watch Kellerman make the very real connection – this is brain trauma.
It was commendable that Juan Marquez took the high road, and when asked his thoughts on Bradley, spoke only of his own training and Bradley's toughness. He likely realizes well that boxing takes a very human toll, and one that if truly understood, might make more fans understand the real sacrifices many of these athletes will endure when they are no longer in the ring or in the public eye.
The truth of it, is that the worst effects of multiple concussions often aren't always immediately obvious, and many people are not aware of the seriousness that concussions are in and of themselves. Concussions are considered in the scientific community to be a type of mild traumatic brain injury that actually changes the way that brain cells function…and they have little to do with weakness. Concussions occur because the brain, which floats in cerebrospinal fluid, is literally sloshed against the skull when an impact happens or the head is suddenly jolted in some way. You can see how boxing is primed for these types of injuries. Concussions effect both immediate functioning, but also certainly have the great potential for long-term consequences particularly for boxers as individuals often gather many of them over the course of a career.
A condition known as chronic traumatic encephalopathy (CTE) is a more common long-term consequence in boxing than many realize. CTE is has been linked to professions that sustain multiple concussions that occur over the lifespan. It's a particular type of brain damage that is linked to later memory loss, dementia, and deep struggles with depression. You don't see CTE immediately, and the stories I have heard are devastating. I remember hearing testimony of Dr. Ann McKee where she described a 40 year old retired NFL player who couldn't even go grocery shopping on his own, or remember which movies he had watched. It doesn't always happen at 40, or 50…but whenever it strikes, it is equally tragic, robbing individuals of what would otherwise be a normal stride into older age.
While the Bradley vs. Provodnikov fight was an incredible display of human spirit, as a fan we can't forget the incredible sacrifices they make when the fight ends. Bradley is keenly aware of the aftereffects, and when Kellerman asks if after his fight with Provodnikov he will go back to being a "smart boxer," Bradley quickly replies that he understands that Marquez has a lot of power and he "can't fight a dumb fight."
While many will admire Bradley's courage for his ability to remain standing in the midst of a brutal onslaught of punches, in his own way, he's done something far more courageous by opening a small window to the world that often happens after the fight ends.
—Julie Gurner is a doctor of clinical psychology and public speaker on numerous topics. Her thoughts have been featured on some of the most prominent news outlets, such as NBC, Yahoo, and the Huffington Post. Feel free to chat with her on Twitter @drgurner or find out more about a talk or presentation she can do for your organization at http://www.drgurner.com/about
Canelo Pummels Yildirin Into Submission in Three One-Sided Frames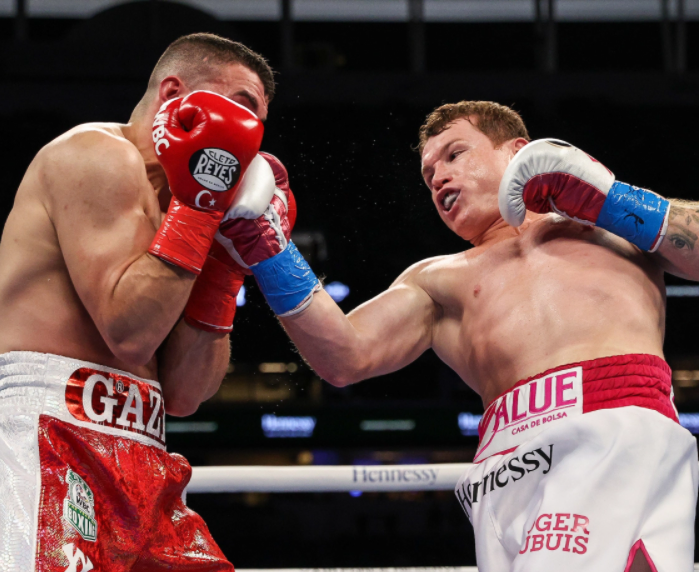 Mexico's Saul "Canelo" Alvarez dismissed Avni Yildirim like a bothersome fly to retain the WBA and WBC super middleweight titles by technical knockout in a mandatory fight on Saturday.
Challenge completed.
After less than three months from his last victory, Canelo (55-1-2, 37 KOs) returned to the boxing ring and battered Turkey's Yildirim (21-3, 12 KOs) to submission at the Hard Rock Stadium in Miami, Florida. Callum Smith or Yildirim please take your seat.
It was just 70 days ago that Alvarez took the WBA title away from England's Smith but the Mexican redhead was eager to return to the ring and dominated Yildirim like the former sparring partner he was.
It was hardly a contest.
Yildirim spent most of 2020 working with Southern California's famed trainer Joel Diaz, but there is only so much a teacher can teach. Regardless of the expertise given to the Turkish fighter the trainer can't jump in the boxing ring. Despite repeated admonishments by Diaz, his fighter just could not pull the trigger.
"It doesn't matter who trains him I just do my work and listen to my corner," said Alvarez "I feel very strong at this weight."
Alvarez pummeled Yildirim like a punching bag early and often during the first two rounds. Left and right uppercuts pierced through Yildirim's guard and body shots pummeled the body. Return fire was seldom exchanged.
After two rounds of sustaining punishment to the head and body, Yildirim attempted to fire back. He paid for his gamble with a counter right fired through the guard by Canelo and down went the challenger.
Though Yildirim survived the third-round knockdown, as he returned to the corner his trainer Diaz warned that another round like the third would force a stoppage. Diaz decided after further inspection to end the fight then and there at the end of the third round.
"I said I would get the knockout and I got the knockout," said Alvarez.
The win sets up a showdown with England's Billy Joe Saunders who holds the WBO super middleweight world title.
"This year it's going to be very special against BJ Saunders," said Matchroom Boxing promoter Eddie Hearn who is planning their encounter for May 8. "It's going to be one of the biggest fights of the year."
Canelo said he is eager for the pending encounter.
"He's a difficult fighter. He has the WBO title and we need to go for him," said Alvarez.
Alvarez said his plans are to continue making history as a Latino fighter winning undisputed world titles in the super middleweight division.
"In Latin America it hasn't been done," Alvarez said. "I want to make history."
Other Bouts
McWilliams Arroyo walked through Abraham Rodriguez's punches and won by technical knockout in the fifth round to win the interim WBC flyweight title.
Despite a change of opponents within the last week Arroyo (21-4, 15 KOs) was able to adapt to last-minute opponent Rodriguez (27-3, 13 KOs) and work the body and head until the Mexican fighter's corner tossed in the white towel to end the fight at 1:41 of the fifth round.
A battle of heavyweights between China's Zhilei Zhang (22-0-1, 17 KOs) and America's Jerry Forrest (26-4-1) ended in a majority draw after 10 rounds. Despite three early knockdowns scored by Zhang, the momentum changed after Forrest attacked the body inside. The scores were 95-93 Forrest and 93-93 twice for a majority draw.
In a super middleweight fight between two extremely tall prospects Diego Pacheco (11-0, 8 KOs) won by unanimous decision over Rodolfo Gomez Jr. after eight rounds. No knockdowns were scored between the two fighters who each towered at 6-feet 4-inches.
Photo credit: Ed Mulholland / Matchroom
Check out more boxing news on video at the Boxing Channel
To comment on this story in the Fight Forum CLICK HERE
Results from Auckland: Parker UD 12 Fa; Ahio KO 7 Long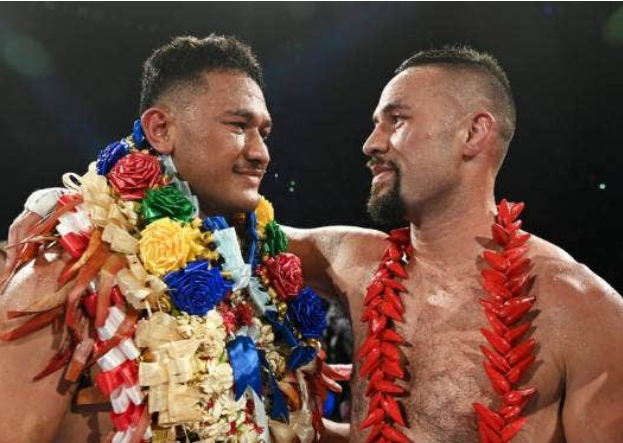 New Zealand heavyweights Joseph Parker and Junior Fa met four times as amateurs and each man won twice. On Saturday night in Auckland, they met for the first time as professionals and the heavily favored Parker broke the deadlock with a 12-round unanimous decision.
The bout beat the clock, in a fashion. During the match the crowd at the waterfront arena, estimated at 8,500, was informed that Auckland was reverting to Phase Three effective at 6:00 in the morning, following the discovery of a new Covid-19 infection. That meant, among other things, that public gatherings would be restricted to 10 people and schools would be open only to the children of essential workers.
The fight was a rather drab affair in which both men had trouble landing clean punches, perhaps owing partly to ring rust. Parker (28-2, 21 KOs) was making his first start in 12 months; Fa (19-1, 10 KOs) had been inactive since November of 2019.
Parker, the former world title challenger who went the distance with Anthony Joshua, had the upper hand in the early rounds and opened a small cut over Fa's left eye in the seventh round, perhaps the result of an errant elbow. The cut became larger and bled profusely as the bout continued but it was never in danger of being stopped.
Parker had a worried look on his face as he awaited the reading of the scores, but he had nothing to fear. The judges had it 115-113, 117-111, and a head-scratching 119-109.
After the fight, Parker said, "It was a lot closer than we expected."
Ahio vs. Long
The undercard was rubbish, but the Ahio-Long fight warrants a mention. A stablemate of Junior Fa, Hemi Ahio improved to 17-0 (12) with a wicked seventh-round knockout of Julius Long who was thoroughly gassed when Ahio caught him against the ropes and landed his haymaker. They had previously met in a 6-round affair that went the distance.
If the name Julius Long sounds vaguely familiar, that's because he's been around since 2001. Listed at seven-foot-one but likely an inch or two shorter, the boxer nicknamed the Towering Inferno came to New Zealand in 2013 to serve as a sparring partner for David Tua and never left.
Nearly 15 full years have elapsed since Long was whacked out in the opening round by Samuel Peter on a Duva Promotions card at Connecticut's Mohegan Sun Casino.
George Kimball was ringside for TSS and described the scene: "The overmatched Long had already been down once when Peter smashed him with a left-right combination…(Long) hit the ropes with such force that he shot back off them like he was bouncing from a trampoline. Unfortunately for Long, the slingshot effect propelled him straight into the path of the right hand Peter had dispatched toward his head, effectively doubling the force of the blow. Long went down as if he had been whacked with a sledgehammer and lay motionless on the canvas. Referee Arthur Mercante Jr waved it off without a count, but he could have counted to 100."
Long is now 43 years old. Since his crushing defeat by Samuel Peter, he is 4-17-1 and counting his defeat last night has been stopped seven more times. For his rematch with Akio, he weighed in at 326 ¾ pounds, more than 100 pounds more than his opponent.
In his adopted home, Julius Long, who grew up in Detroit, is a qualified chef, an occupation that requires an apprenticeship and many hours of training. He supplements his income moonlighting as a freelance prizefighter. By all accounts, he's a very likeable man, but someone needs to take away his boxing gloves and burn them.
Check out more boxing news on video at the Boxing Channel
To comment on this story in the Fight Forum CLICK HERE
The Winning Purse Bid for Teofimo's Next Fight has the Boxing World Buzzing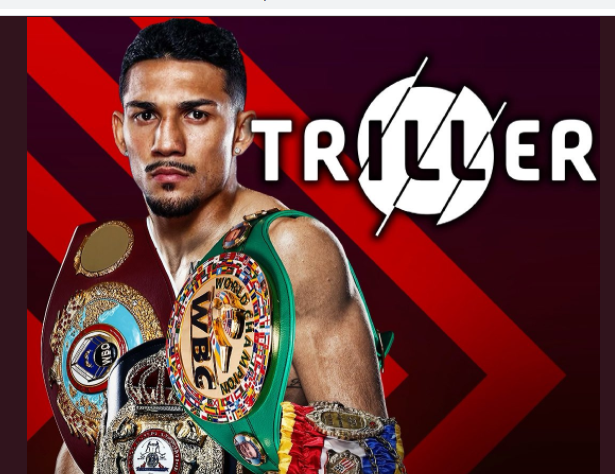 The big buzz this week in boxing was the enormous fee ponied up by the video-sharing, social-networking service Triller to lasso Teofimo Lopez's lightweight title defense against IBF mandatory challenger George Kambosos. Triller didn't merely out-bid Eddie Hearn's Matchroom and Bob Arum's Top Rank, but out-bid them by a whopping margin. Triller's purse bid was $6.02 million compared with $3.51 million for Matchroom and $2.32 million for Top Rank.
Triller's initial venture into boxing was the Nov. 28, 2020 show at the Staples Center in Los Angeles, a three-hour boxing and music festival, the centerpiece of which was an 8-round exhibition between 55-year-old Mike Tyson and 51-year-old Roy Jones Jr. There were four legitimate supporting bouts — legitimate in the sense that the competitors were active professional boxers – plus a freak fight between YouTuber Jake Paul and former NBA point guard Nate Robinson.
When the event was announced, it was panned by hard-core boxing fans, but it was slickly promoted and received a considerable amount of ink from both mainstream sports and gossip magazines. At a list price of $49.99, the event purportedly attracted 1.8 million pay-per-view buys which translated into a gross profit of more than $80 million. The honchos at Triller gambled that folks were still infatuated with Mike Tyson, an astute apprehension, but hedged their bets by conjoining the exhibition with non-traditional boxing fare and they came out a big winner.
Tyson vs. Jones was a pop culture event and the shebang itself, noted Thomas Hauser, was best understood as an infomercial. Triller's core demographic is urbanites aged 15 to 27, the so-called hip-hop generation, and the company is playing catch-up in a fierce two-horse race for market share with China-based TikTok, an Internet phenomenon.
The driving force behind Triller is 47-year-old Hollywood hustler Ryan Kavanaugh who made it big with Relativity Media, a firm that arranged financing for movie projects, but left a few bodies in its wake. The firm filed for Chapter 11 bankruptcy in 2015 and again in 2018.
Kavanaugh's business dealings came under scrutiny again this month when Universal Music Group, the world's largest record company, pulled its catalog from Triller because Triller wasn't paying its artists. In its response, Triller noted that many of the top earners in MSG are shareholders in Triller. Triller's most prominent shareholder is rapper Snoop Dogg whose waggish commentary for the Tyson-Jones exhibition was widely hailed as the highlight of the telecast.
When the Teofimo vs. Kombosos match was announced, it was immediately speculated that it would be hinged to another Mike Tyson exhibition, perhaps against his nemesis Evander Holyfield. Kavanaugh insists that won't happen. As for the date and location, that too is up in the air with the best guess being that it will be anchored in Miami, likely in May. It can't happen in Australia, where Kambosos resides, unless the authorities relax the rule that requires visitors to quarantine for 14 days upon arriving in the country.
The deal with Triller may mark the end of Teofimo's partnership with Top Rank. If so, Bob Arum is nonplussed. By rule, Teofimo Lopez, as the defending champion, is entitled to 65 percent of the purse. He is contractually obligated to give Top Rank 20 percent, nearly $800,000. Lou DiBella, who promotes George Kambosos, also comes out a big winner.
Who is George Kambosos?
The headline in an English-language, on-line publication directed at the Greek community reads "Undefeated Greek boxing sensation…." That's over the top. In the click-bait era, words like "sensation" have wide currency.
Kambosos, born and raised in Sydney, Australia, of Greek ancestry (his grandparents are from Sparta) is indeed undefeated: 19-0 (10 KOs). But until recently he was best known as Manny Pacquaio's sparring partner. He worked in three of Pacquiao's camps and, by his reckoning, sparred about 250 rounds with the Filipino legend.
Kambosos won his last two fights by split decision. On Dec. 14, 2019, he outpointed former IBF world lightweight champion Mickey Bey at Madison Square Garden. On Oct. 31 of last year, he outpointed former IBF featherweight champion Lee Selby at Wembley Arena. Neither bout was the featured attraction. Kambosos vs. Bey was underneath Terence Crawford vs. Egidijus Kavaliauskas. Kambosos vs. Selby was the chief supporting bout to the heavyweight contest between Oleksandr Usyk and Dereck Chisora.
Kambosos punctuated his win over Bey with a knockdown in the final round, but would have prevailed without it. There was no controversy when his hand was raised. Similarly, his triumph over Selby was generally well-received although few fans would have quibbled if the match had been scored a draw.
In a 2019 interview, Freddie Roach said of Kambosos that he was very quick with hand-speed on a par with PacMan. The biggest difference between the two, said Roach, was Pacquiao's superior footwork.
Roach may have been diplomatic when he said that the Aussie had the potential to go all the way as Kambosos will be a big underdog when he steps into the ring against Teofimo Lopez who figures to close in the 12/1 range. And the pre-fight pub will be all about Teofimo, in common with the Tyson-Jones exhibition where all the pre-fight hype was about Iron Mike.
—
This reporter bumped into Mickey Bey yesterday afternoon. Bey noted that he was hampered going into his fight with George Kambosos as he did not have the benefit of a full training camp. He took the fight on three-and-a-half weeks notice and had been out of the ring for 14 months.
The personable Bey, who is transitioning to the role of a trainer, waxed euphoric about Devin Haney who he regards as a once-in-a-generation talent. "I really believe he has a chance to surpass Floyd," he said, referencing Floyd Mayweather's 50-0 mark. "Haney is better right now than Floyd was at the same age."
That's open to debate, but Devin Haney, currently 25-0, is halfway there and he's only 22 years old. Whether he stays at 135 or moves up to 140, he will have to run through a gauntlet to get through the next few years unscathed. Both divisions are brimming with talent.
Check out more boxing news on video at the Boxing Channel
To comment on this story in the Fight Forum CLICK HERE